10 Free Apps similar to Wish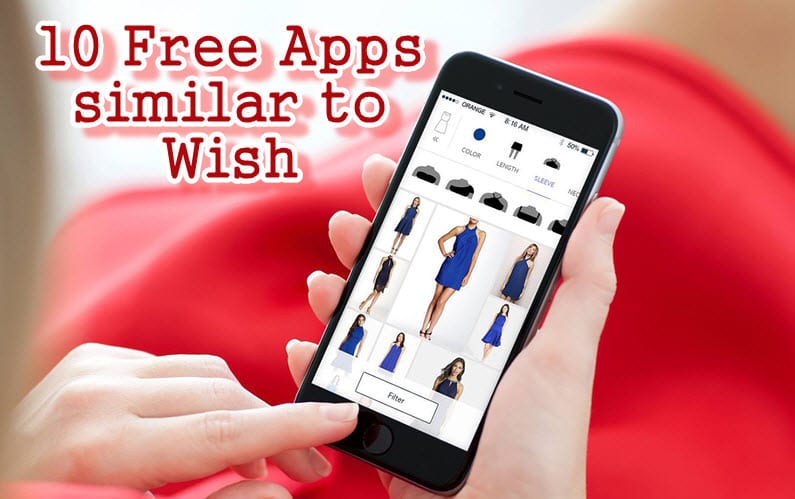 Perhaps you have not noticed yet, but the cardinal changes in the sphere of shopping have already begun. Did you ever go to the store, to examine and "feel" the liked thing, and then order it in the online store at a better price?
A smartphone with mobile internet in the hands of a buyer has become a nightmare for retailers: buyers are increasingly looking for information about goods, compare prices and read reviews right in the store, which means they can easily go to a competitor.
You may also like: 17 Best online shopping apps for Android & iOS
More than 50 million people already make purchases 50-80% cheaper than others do when they go to neighboring shopping centers. The hottest and most popular products at incredibly favorable prices will be delivered right to your door.
How is this possible?
Thanks to the Wish app for example. At your request, shopping becomes fascinating and
enjoyable. This is one of the most famous shopping centers in Europe and North America, providing a wide range of clothing, accessories, and electronics and all this is available in just one click.
Wish is a site for shopping with a "social" character and the mobile application of the same name. Mobile application Wish is widely popular nowadays. The service regularly ranks in the TOP-200 for the general category of applications in the iTunes App Store and often flashes in the TOP-10 and -20 in the "Lifestyle" section. As for Android, the application is included in the TOP-10 in the category of applications for shopping and in the TOP-200 in the general section. However, as any other service, it has its own benefits and drawbacks.
Apps similar to Wish
So, for this article, we have selected the other most useful mobile applications for shopping, which should be in every buyer's smartphone. Let's take a look at the list of free mobile applications similar to Wish that will make your life easier.
Zulily
Right now Zulili is the most optimal and popular alternative for Wish app on the App Store and Google Play – thanks to its generous sales up to 70 percent. It is really similar to AliExpress, however, here you can find goods by European and Americal suppliers.
In terms of an assortment of products, you can find all the possible items here – starting from women's bags ending up with a mirror for the bathroom. If you would like to purchase an item but the price seems a little bit high for you at the moment, you can just mark it as your favorite and wait until the sales season is there.
As soon as the price will decreases you will receive a notification. The shipping does take a little time, however, it is still not that long as in the case with AliExpress. New goods are added every day, however, there are so many of them that life won't be enough to explore everything.
You may also like: 15 Best men's shopping apps for Android & iOS
AliExpress
In China, there is everything! Well, or almost everything. And the prices are very attractive. Of course, the quality of some goods deserves a separate mentioning, but a lot of things are quite good.
The main thing is not to be avid on unrealistically cheap offers and buy from sellers with a good rating in proven locations. For example, on the largest market AliExpress.
On the main page, there are popular offers, deals of the day and categories of goods. At the top, in the Search line, you can enter the product you are interested in and apply the filter. You can filter goods by maximum match to the search, price, the number of orders, rating of the seller, the date of addition, categories, the price range, free shipping, stocks, and sales. Everything is intuitively simple, even a child can cope.
Also, Aliexpress makes promotions, the idea of which is that the price of the product is lower if you order it through a mobile application.
Geek
Geek – Smarter Shopping is a free application like Wish for Android and iOS devices. It is a completely unique and unusual service that gives you the opportunity to purchase the best electronic devices and accessories at the lowest prices.
Coll headphones, comfortable watches, chargers, flashlights, even flying drones – the list of goods is incredibly great. And, most importantly, almost all products have a fairly large discount. Even if you do not believe the loud inscriptions "80 percent of the discount is just for you", the prices are still shocking.
If you do not have enough money for a certain product, you can mark it as you like, and then all your friends from the social network, if you have registered via Facebook or Google+, can see it and give the desired thing for your birthday.
Geek – Smarter Shopping is a service made for those who are interested in convenience and quality assurance. Now you can choose the goods you like, order them and immediately pay. In five minutes. With discount.
Lazada
It is reported that this new mobile application for smartphones has a fast and intuitive interface. Now you can buy goods in Indonesia, the Philippines, Singapore, it became much easier, all stores have proven themselves as reliable partners and suppliers.
Lazada – Shopping & Deals sells goods of any categories: body care products, medicines, clothing, electronics, and much more. This is the place where you will definitely find the thing you need. Smartphones, cameras, cosmetics, and so on, there is absolutely everything.
All goods can be viewed, compared, added to favorites, etc. It is also convenient to track daily stocks from well-known brands while buying something on the Internet, it has never been so convenient before.
You will surely receive a quality product that is completely serviceable and has no defects, and most importantly, matches to the description. In the event that the product is to be exchanged, the procedure will be completed within 7 days. Methods of payment can be of all kinds, choose the one that is most convenient for you.
Mama
For you, products for pregnant women, newborns, babies, children, beginners, and older children WITH DISCOUNT 50-90%!
Mama – Thoughtful Shopping is the No. 1 app in Europe and North America, allowing you to make deliberate purchases at the best prices for those you love.
It works directly with manufacturers to offer you the most popular products at the lowest possible prices. Mama – Thoughtful Shopping app is one of the most convenient for navigation and viewing of goods online stores.
Banggood
Banggood was launched in 2004, the headquarters is located in Guangzhou. The store has several warehouses in China, the US and the UK.
Here you can find everything you need for a happy life, from the latest developments of Chinese manufacturers in the field of electronics (phones, tablets), ending with costume jewelry for a few cents. The store also presents clothes, accessories, household goods, outdoor activities and sports, toys, and auto accessories.
Separately it is worth noting that there is a fairly large and good choice of radio-controlled toys. In addition, there is a separate section for adults. The total assortment of the store totals more than 70 000 items. All products are carefully selected and of the best quality.
We keep up with fashion and constantly update our assortment so that you can buy the latest electronics, gadgets, and much more.
Banggood keeps up with fashion and assortment is constantly updated so that you can buy the latest electronics, gadgets, and much more.
Cute – Beauty Shopping
Cute – Beauty Shopping is an online store program, thanks to which it is easy to buy both women's cosmetics, and good men's watches, sweaters, and T-shirts.
To log in to your account, you do not need to register separately. There is an opportunity to log in through popular social networks, additionally specifying the gender and year of birth. After that, all the functions of the store will be opened.
Switching between categories is done in an unusual way. Instead of finding the right product in the menu on the left side of the screen, you need to switch from one list of products to another.
Each category refers to women's cosmetics or special items for creating beauty: lipstick, gold baubles, powder, manicure palette, pencils, lip gloss, and eyeliner, eyelashes, shadows, and temporary tattoos. In special settings, you can filter the goods by color and rating from customers.
If you specify the male gender when entering the application, in the category of popular products there will be a variety of watches, bracelets, and good clothes for men. The prices are surprisingly democratic, and the reviews are mostly pleased with the positive reviews.
All in all, Cute – Beauty Shopping is a convenient online store application.
LightInTheBox
The assortment of the hypermarket includes more than 60 000 items. All products are manufactured in China, with the main markets for the products being in the USA and Europe. All products are of high quality and of a reasonable price!
Using the Lightinthebox app, in addition to consumer goods, you can buy dresses made by hand, high-quality plumbing, electronics for cars, mobile phones and tablets, and much more.
Advantages for buyers:
 Huge selection of products on one site!
 Real customer feedback.
 Production of goods on individual orders.
 Low prices, due to cooperation directly with manufacturers.
 The products of the hypermarket meet international quality standards.
 Delivery all over the world!
 Different ways of paying for the order.
You may also like: 20 Best Black Friday Shopping Apps for iPhone and Android
Wanelo Shopping
The application was created to represent the service of the same name, which is also available in the form of a website.
The name Wanelo stands for Want. Need. Love, which pretty well reflects the idea of the service itself. Simply put, this is a global stock of online stores, in which there is an opportunity to read independent comments about the thing itself, and about the seller, as well as find the most attractive prices.
To access the content, you must register by e-mail or log in using your Facebook account. Since the developers of the service are in the US, the items presented in the app reflect the range of American online stores. Sorting things is based on the number of votes, so when you first open the app visit you will see the most popular things.
Unlike some other similar applications, this is mostly clothing and accessories. You can choose one of three options: women's things, men's, or interior items. In addition, you can choose a price category (cheap-average price-expensive).
You can save your favorite item in bookmarks, or immediately make an order following the instructions.
You can also create personal collections of different products, add items to a wishlist, track selected people or collections. The application looks very nice both on the tablet and on the smartphone's display, unusual things perfectly harmonize with the minimalist design.
To date, the application is used by millions of people from all corners of the earth. The service is suitable for both women and men who want to dress inexpensively (or expensive) and dress nicely while standing out from the crowd of the townsfolk.
You may also like: Top 8 Garage & Yard Sale apps for android, Iphone
Joom
Joom is the closest substitute to AliExpress – it is basically an identical app that could be viewed as an alternative to Wish as well. The only difference is that the distinctive feature of Joom is the lowest prices possible. It means you will have to spend some time here looking for normal-quality items, but Joom really brings the possibility for the best bargains.
Buying clothes here can be a dubious idea (however, buying such basic things as t-shirts or sweatshirts is not so risky – just look up to the material), you can easily buy some items for home or lifestyle. For example, you can order a huge set of phone cases for literally nothing.
Delivery is quite long so it is only for the patient ones. All the goods are delivered from China. There are always sales and promotions in Joom, and you will receive notifications when something new happens.
Smartphone in the hands of a buyer is a sales consultant and an expert on discounts, and a girlfriend, suggesting if a thing suits you or not. This becomes possible if the right apps are installed on your phone.
Today we talked about applications that will help to keep abreast of new products and find the right products at favorable prices. To make purchases even more fun, try these mobile applications.