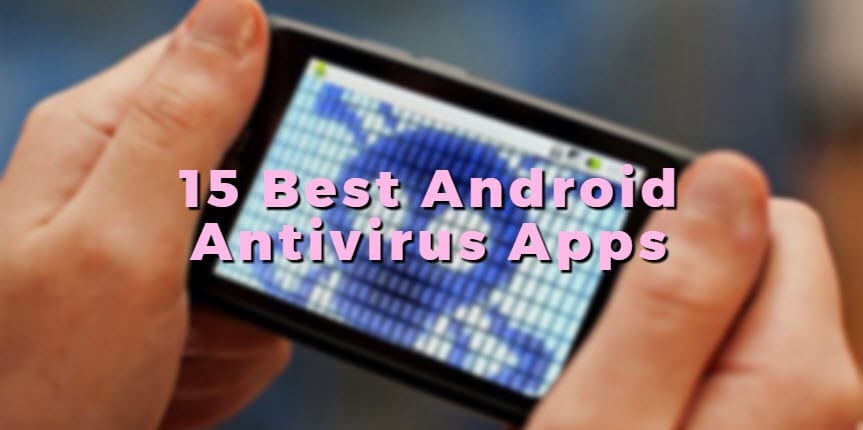 Today's the biggest problem is a safety of your personal data kept on your phone. In this case, on your Android. Everybody knows about destructive programs that fill the world wide web called computer viruses. It is a computer program written to alter the way a computer operates without the permission or knowledge of the user. Talking about a phone, there is the same danger. There are many sites on the Internet that are provided by viruses. And your phone can become a victim of a cracker. And today we give you a list of best Android Antivirus apps here.
What are the consequences of virus attacks? I can ask. Viruses will only duplicate and spread inside processes flowing in your pocket helper. Malicious software cause such problems as the collapse of the system and loss or leakage of confidential information. As wireless phones and PDA networks have become more and more common and have grown in complexity, it has become increasingly difficult to ensure their safety and security against electronic attacks in the form of viruses or other malware.
But we are hurrying up to calm you. There are many ways to avoid a variety of Android malware, including the Ghost Push Trojan and Googlian, Godless, Gunpoder, and Mazar viruses. There are some vital and really good antiviruses for Android which we have chosen very scrupulously.
---
By the way, check our latest posts. I promise you will find a lot of functional and useful collections of apps. For example, 12 Best Call Blocker Apps For iPhone & Android, will relieve you from annoying persons that call you. Moreover, the list of  10 Best WiFi booster apps for Android seems interesting to me. We live in the modern world of wireless internet and gadgets, so I can't believe if you won't find something useful here.
---
1. 360 Security – Antivirus Boost
Let's start talking about the efficient security with extra 360 Security. I suppose, it is one of the most lovely and popular security Android app among users due to its indicators – over 100 million downloads on the Google Play Store and 10 million ratings resulting in a 4.6 overall rating. It is explained very easy: the app provides users with unique features. For example, you visit a suspective website and suppose that your files are contaminated by destructive programs, 360 Security allows you to scan your Android files for malware, all your apps, and games you have.
Moreover, enable real-time protection that allows your phone to be protected all the time.
Another good feature is helpful for those who lost their phones. On iOS devices, this app is " Find my iPhone". This anti-theft feature provides you an opportunity to find out where is your device and inform a person who has found it.
Well, one more point I want to describe is a password protection. How many times you face nosy people touching your phone, keep them away using a function "app lock".
And, of course, I forget to notice about one important thing- it is absolutely free.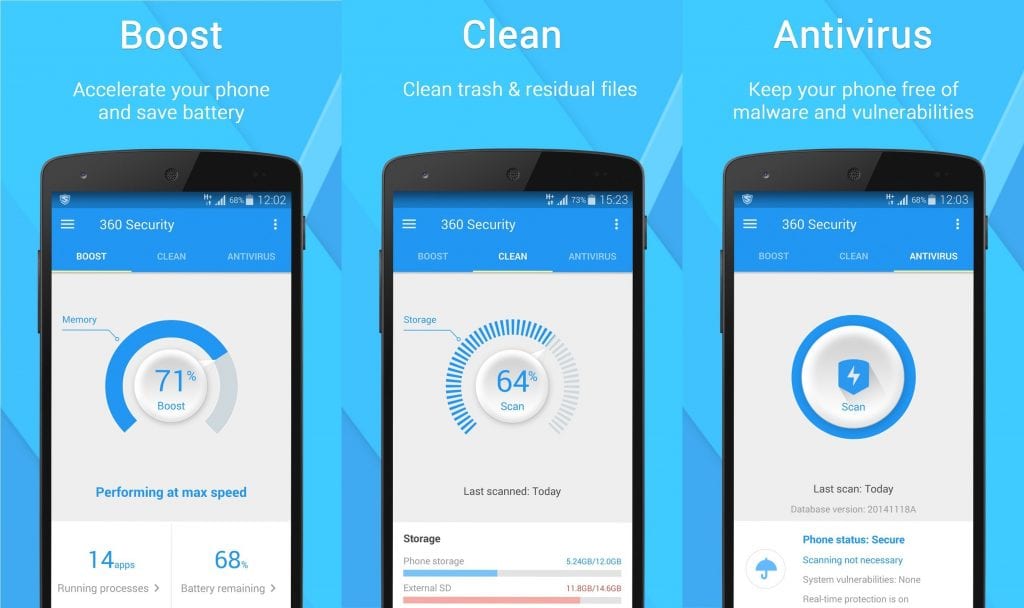 Get it on Google Play Store
2. AndroHelm Mobile Security
Pay a little bit attention to this cool app. I'm joking, pay all of your attention to here. It has up to 5 million downloads all the time and 30 thousand of ratings resulting in a 4.2 overall rating. Be sure, these indicators are shown really good statistics. And it is normal if an app needs some development from time to time. I suppose, this app is known less than the previous, but, believe me, it provides users with a perfect security and has a lot of advantages.
Speaking about the main functionality and features the app provides, I can highlight the most popular and useful:
first of all, it is real-time protection from malware and spyware- our main enemies. Every time you install an application, the Antivirus will scan it to avoid different troubles.
What is more, every hacker knows that the world in search of different ways of how not to get a virus or how to remove it, so they also develop new and new viruses and destructive programs. That's why it is important for antivirus applications to update the antivirus database frequently and turn on quarantine mode if something goes wrong. One of the more useful feature includes a set of functions that let you remotely lock your device and delete stuff.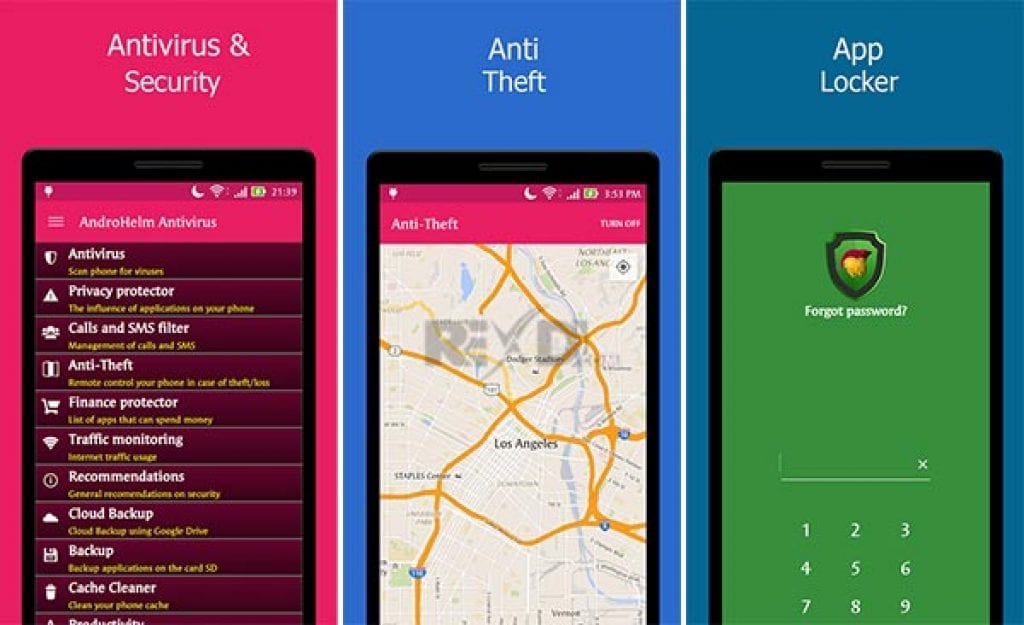 Get it on Google Play store
3.  AVAST Mobile Security
Who doesn't know AVAST as one of the most downloaded and popular apps among its competitors on the market of antivirus apps? I guess, there is no such kind of people. Avast on Android is just as well-known and trusted with over 100 million installs and just shy of four million reviews with a 4.5 overall rating in Google Play.
Now let's talk about its advantages. Users call and assess AVAST as one of the most reliable, efficient and well-designed antiviruses that have a bunch of features. First of all, it is a usual scanning of device and apps upon installing and after that, real-time protection and frequent updates of the antivirus database. As we have seen, it is the important point. What is more, lock your device in case of theft or losing due to special function- anti-theft.
One more point is an ability to scan Wi-Fi connections because they also can cause viruses on your phone.
If you go pro, you'll get even more features including remote data recovery, remote SMS, geo-fencing, ad detection, and app locking.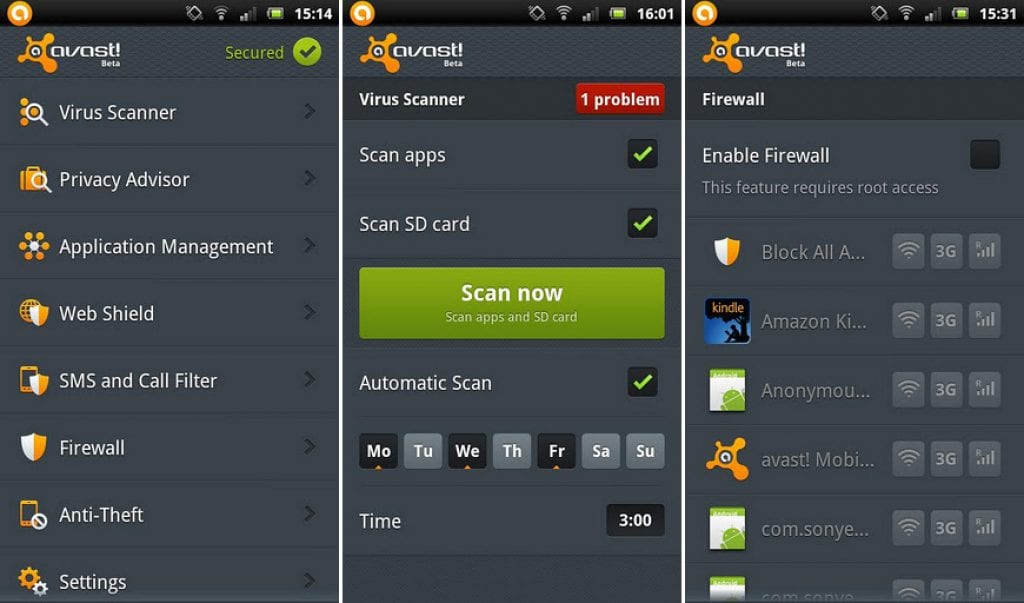 Get it on Google Play Store
4. AVG AntiVirus Security
Ours was the first antivirus app on Google Play™ to break 100 million downloads, and is used today to secure phones and tablets across the globe. Once installed, it runs silently to protect you from the latest viruses, malware, spyware, unsafe apps and settings, unwanted callers, and other nasty threats.
 There are some features that really make life much easier: anti-theft tracker allows users, in a case of losing, remotely find and lock it. Prevent others from snooping on your private photos, messages, and documents by locking any of your apps with a unique PIN code- it is about Lock feature. Camera Trap takes pictures of persons who tried to unlock your phone (really good feature, let's look how many times your GF tried to read your mail). In addition to mobile security, AVG AntiVirus includes App Backup to help you back up your apps to your SD card so you never get caught without your favorite games and utilities.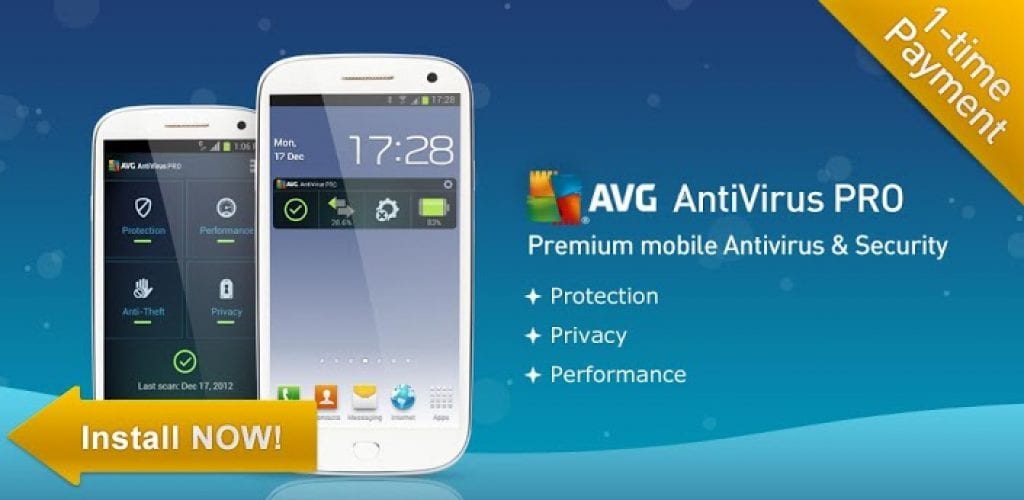 Get it on Google Play Store
5. Avira Antivirus Security
The fifth in our list is Avira Antivirus Security. I don't think that the majority of you hear about it, it is less known than previous antiviruses, but the popularity of Avira antivirus is rapidly growing every day. Seems people really like its functional.  It comes with the basic stuff like device scanning, real-time protection, and even the ability to scan the external SD. But every antivirus has its unique feature and modern development. As for this app, this function is Stagefright Advisor to help you work around that particular vulnerability.
Apart from there are such useful functions as blacklisting to block every unpleasant person, anti-theft function to lock your phone if you lose it and device admin features.
Be sure all you secret personal data are protected strongly. It's worth a shot if for no other reason than to check out the Stagefright Adviser.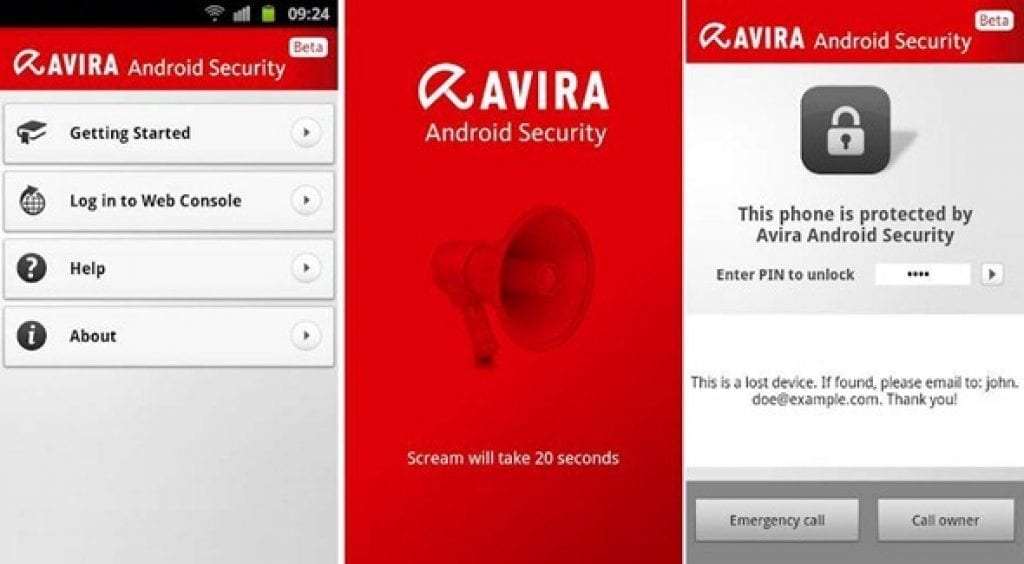 Get it on Google Play Store
6. CM Security
When the market of antiviruses was not as full as it is now, this app was on the increase.The situation today has changed a little bit.It loses according to its functional to other apps, but it is still a good antivirus and anti-malware protection as it has been ranked very high on AV-TEST. Now the statistics show that installs achieved the point of approximately 500 million installs and 1000 million ratings resulting in a 4.7 overall rating.
As for its features, this app guarantees a multifunctional security of all your files, SMS- messages and photos. The app immediately blocks every strange files and app so to avoid every virus. Another good feature is cleaning. Often users forget to clean cookies and unnecessary files, the app does it instead of you.
What is more there is one of the best apps locks ever, that not only able to lock apps but takes pictures of people who try to nose around in your phone? Now it even has fingerprint scanners support now.
Use it for free.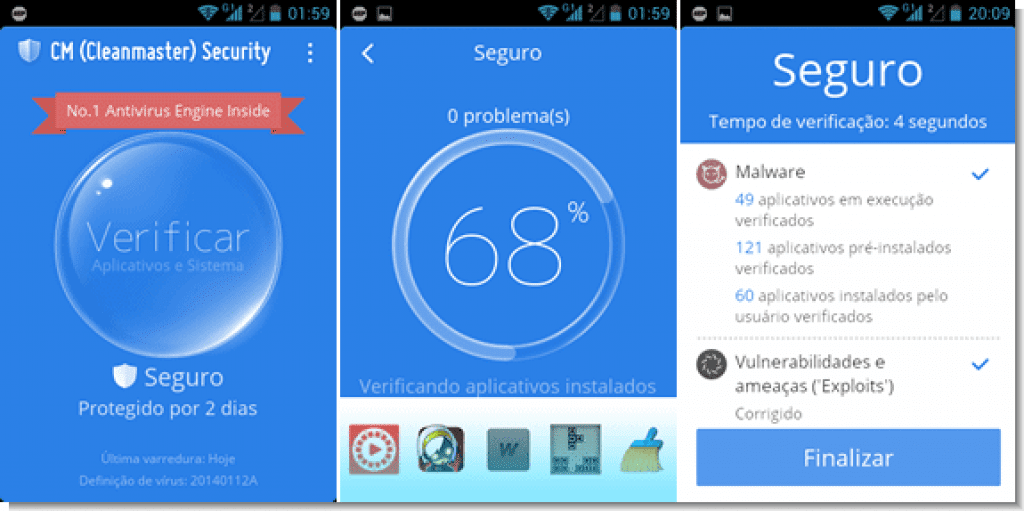 Get it on Google Play Store
7. Dr. Web Security Space
A good old Dr. Web that had provided our computers with a perfect protection before phones. In the world of antivirus apps, it started as very simple and not extraordinary app but sooner has turned into one of the most installed and reliable apps standing out among the others.
Dr. Web provides you a full real-time protection and scanning function. You can scan as all apps and files in a complex as in an individual way. The app guarantees a full detection of malware and destructive programs.
It also has anti-spam features and anti-theft features including remote lock, custom remote messages and that kind of things.
What is more, Dr. Web is able to detect viruses and malware in a cloud! This powerful antivirus will exactly provide you and your files with a great protection.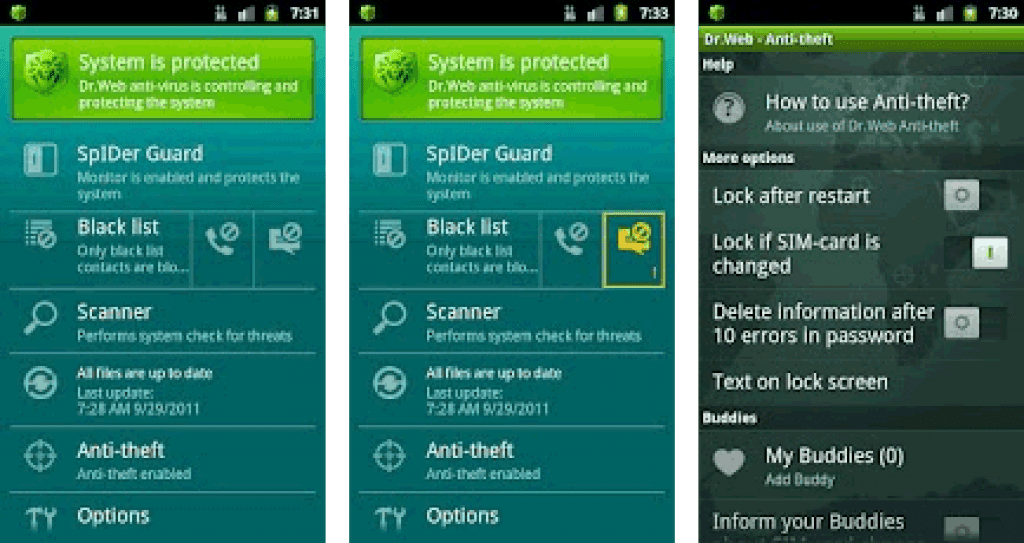 Get it on Google Play Store
8. Eset Mobile Security and Antivirus
And we move on. Next antivirus app for android is Eset. What do we know about it? Not only that it achieved the rating about 4,7  and up to 50 million installs all over the world but about its unique features too. Another important thing is that Eset Mobile Security and Antivirus is another popular name in the PC antivirus space (Nod32). And if you are satisfied with Nod32, Eset will very please you too. According to the statistics, it provides your device with 100 % protection due to frequent updating database.
What is more, the app includes real-time protection, backup copies and scanning features that allow users to scan strange files and apps.  It also comes with a tablet-specific interface which is rare. The free version is a little basic which is okay if you just need something simple to scan your device and provide protection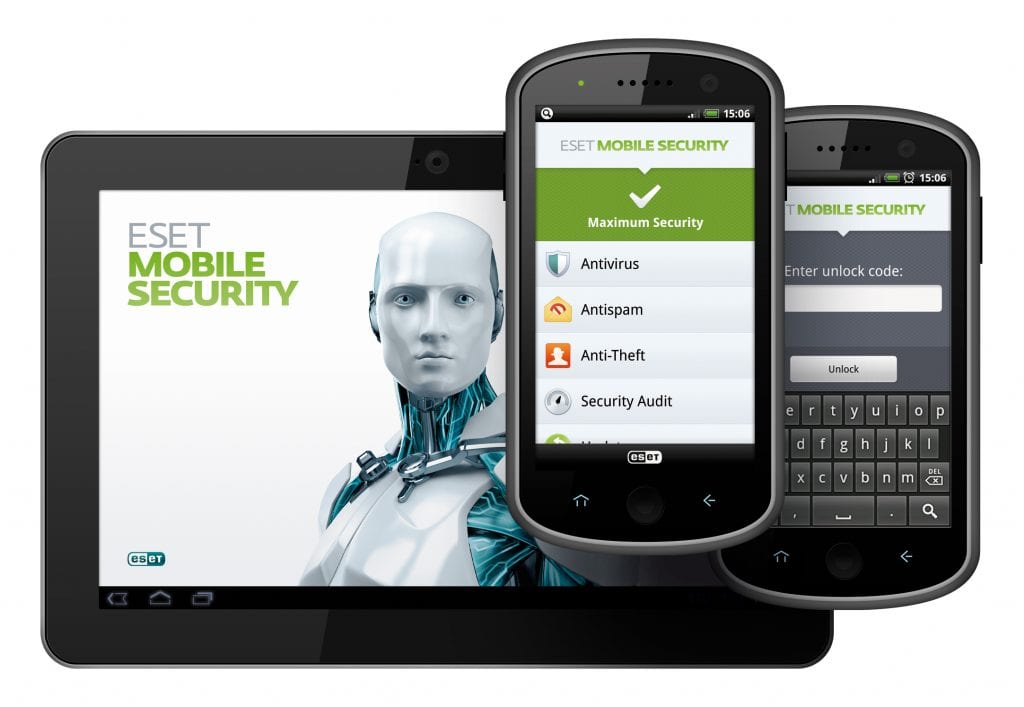 Get it on Google Play Store
9. Bitdefender Antivirus Free
The ninth antivirus from the list of 15 best antivirus apps for Android is Bitdefender Antivirus free. Developers and Support in Google Play advise you to pay attention to the rate and quantity of installs. As for this app, all quantity of downloading achieved 50 million! And over 400 thousand of people voted for this app and rated with 4,7 stars.
As for features, we like the most, it has exactly two which is to scan your device, apps, and files inside and clean cookies and unnecessary files. Apart from, no one antivirus app can't work without real-time protection which is also available on Bitdefender. The real-time protection scans apps as they are installed and also keeps an eye on what they are doing.
The scanning is a very fast process which takes a few minutes to get everything done.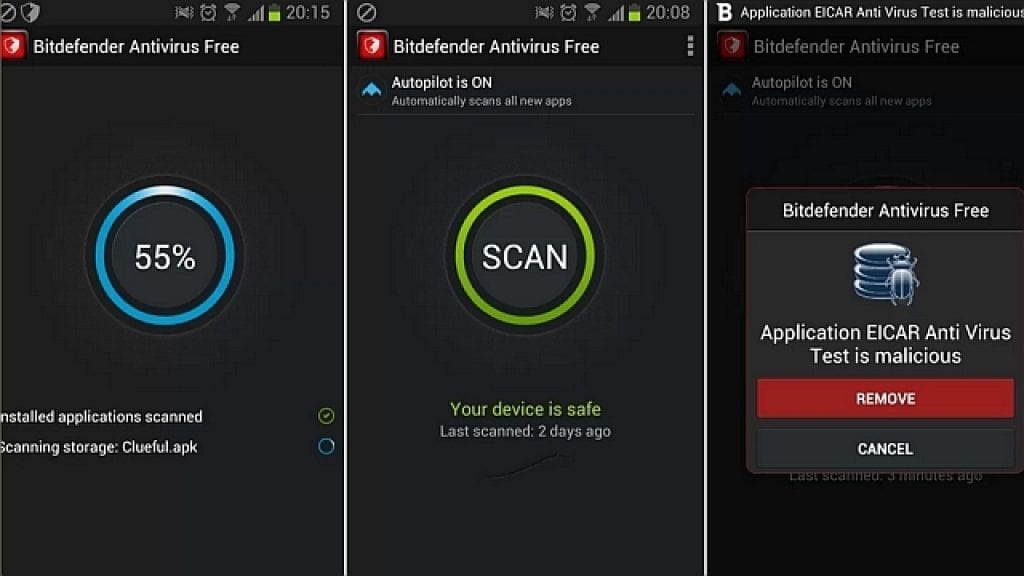 Get it on Google Play Store

10. Kaspersky Internet Security
Kaspersky is on the tenth place today. Don't worry, Kaspersky, it doesn't mean you are not cool. I think over 50 million installs, 400 thousand reviews, and the mark 4.7 can say more than it seems. Like others, it has a free version and a paid version with more features. Scanning for malware and viruses is included in the free version while the paid version gets real-time protection, anti-phishing, cloud protection, and anti-theft, as well as smaller features like sounding an alarm to help find your lost device.
What will you choose? Only you can decide.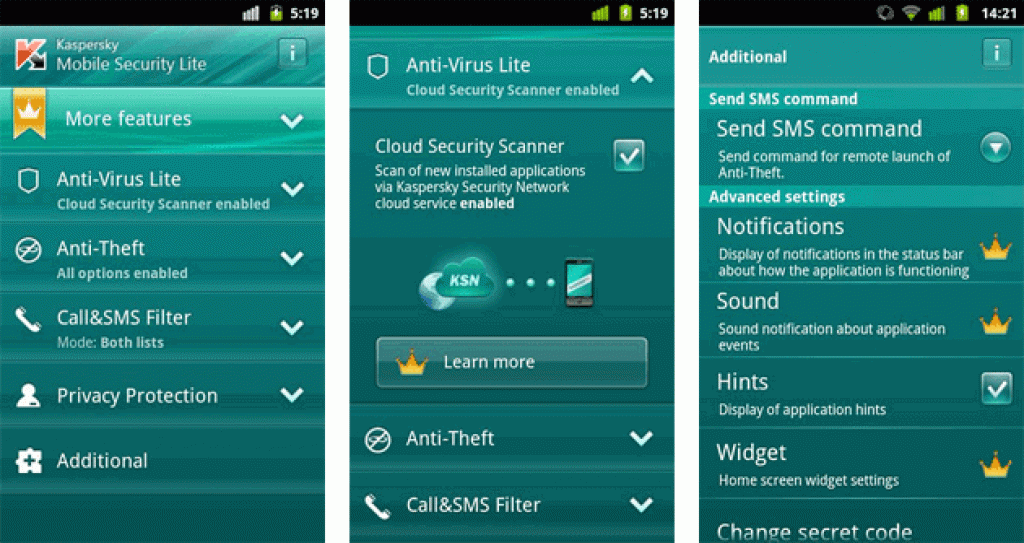 11. Lookout
If you are in search of an easy way to protect your phone from destructive viruses and malware, you find it right now. Lookout Antivirus was created by people interested in a safety of your personal data and important files. So even if your phone is locked,  antivirus is working.  This feature called real-time protection.
Moreover, the app provides you with real-time web browsing protection. Unfortunately, it is the most popular way to get a virus. Lookout block every site with a strange URL. Apart from, you will get anti-theft features and a privacy adviser. Find your phone in a moment, if you lost it or it was stolen.
Last but not least feature is an ability to create backup copies of your data and files. In a case of cyber attacks, you can use your backup to restore the data.
The free version is a bit more comprehensive than most and includes antivirus, anti-malware, and anti-theft protection although the paid version gives more of all of those things.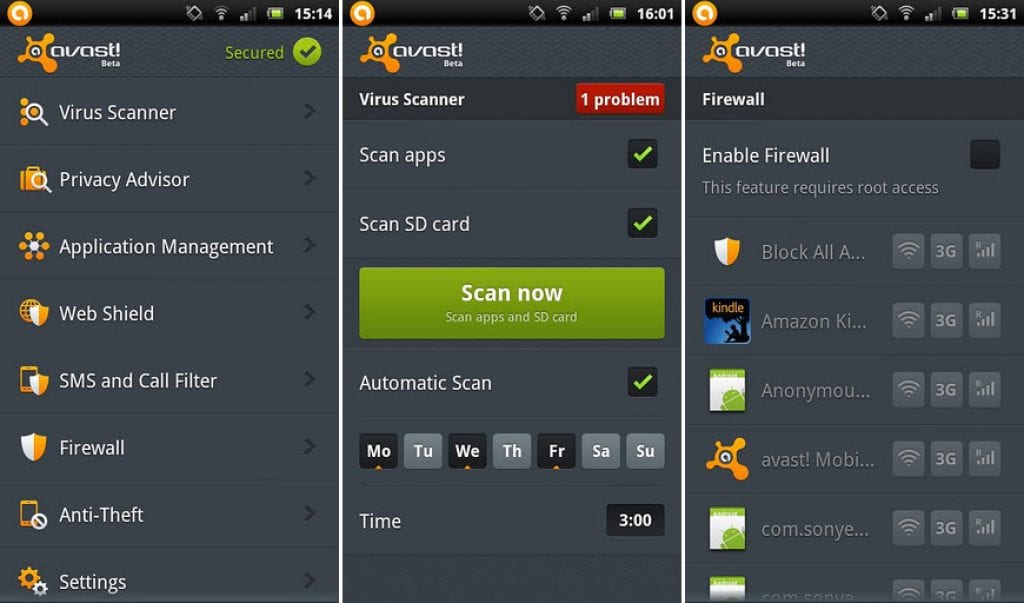 Get it on Google Play Store
12. Malwarebytes Anti-Malware
Malware antivirus rated a little bit less than its successful competitors, but I can say that its functional abilities are as good and efficient as others. If we are talking about a quick scanning, this app doesn't know any analogs. The app scanning your applications and files for malware and s code or Potentially Unwanted Programs. Also, it detects such viruses as spyware and Trojans. What is more, Malwarebytes is able to detect what applications are tracking your location and don't inform you about it.
Malwarebytes Anti-Malware Mobile automatically recognizes security vulnerabilities in your Android device's settings. Then it makes recommendations on how to close those holes.Otherwise, this is a simple app that manages to get out of the way and not use a ton of system resources. This is especially good for older devices, lower range devices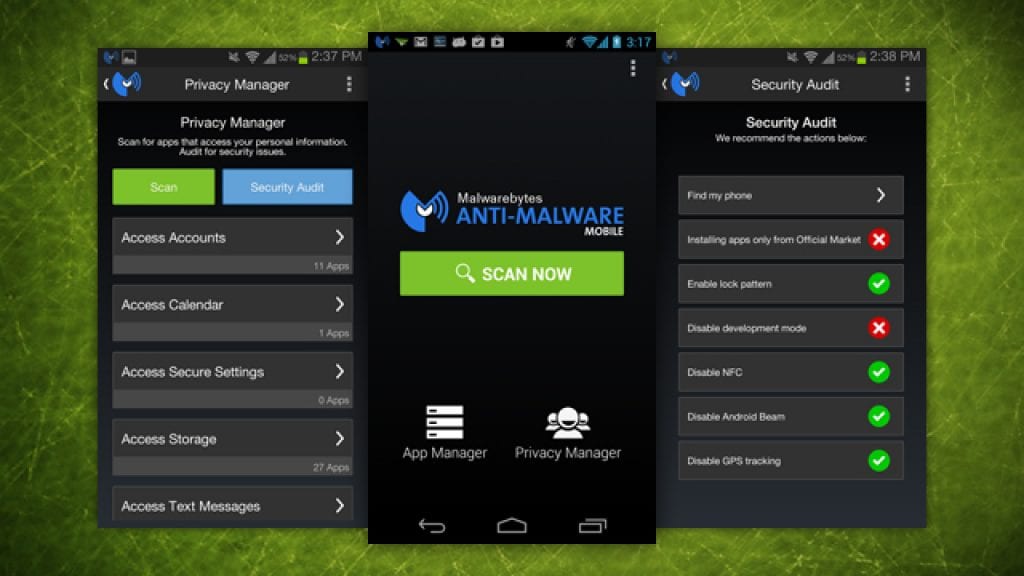 Get it on Google Play Store
13. McAfee Security and Power Booster
McAfee is one of the most well-known names in the world of anti-viruses and anti-spyware programs.  There is virtually no difference between the free and paid version sans a few features. It is normal for this kind of apps to have an ability to scan files and apps for malware. In this way, the antivirus will provide you with a perfect protection.
What is more, mobile security software is typically bloated with location features (Remote Lock, Locate on a Map, etc.) And you can update its database over a WiFi network to reduce your data usage.
The features include such functions as anti-theft, frequent update of the database and blocking every app, consisting important information about personal data.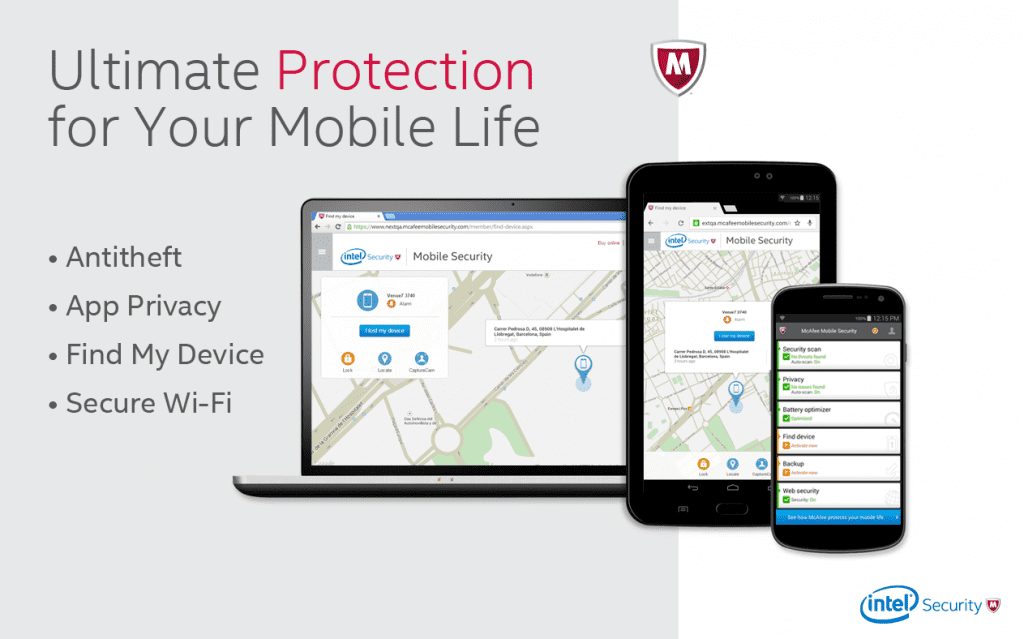 Get it on Google Play Store
14. Norton Security & Antivirus
We are on a way to finish. The fourteenth antivirus in our list is Norton. The app's installs achieved 50 million installs since the date of its last update. The rating of 4.7 stars out of five shows that this app deserves some attention. As many other anti-malware apps, this has real-time protection features, anti-theft features ( an ability to track and find your phone on a map, if you lost it)  Along with that, you get remote locking of your device, alarms to find missing devices and some privacy features as well
What is more, there are features of cleaning cookies and cash. Sometimes it can be a reason of a low productivity.
The paid version has more features as well, but the free version has all necessary tools to provide your phone with the good protection.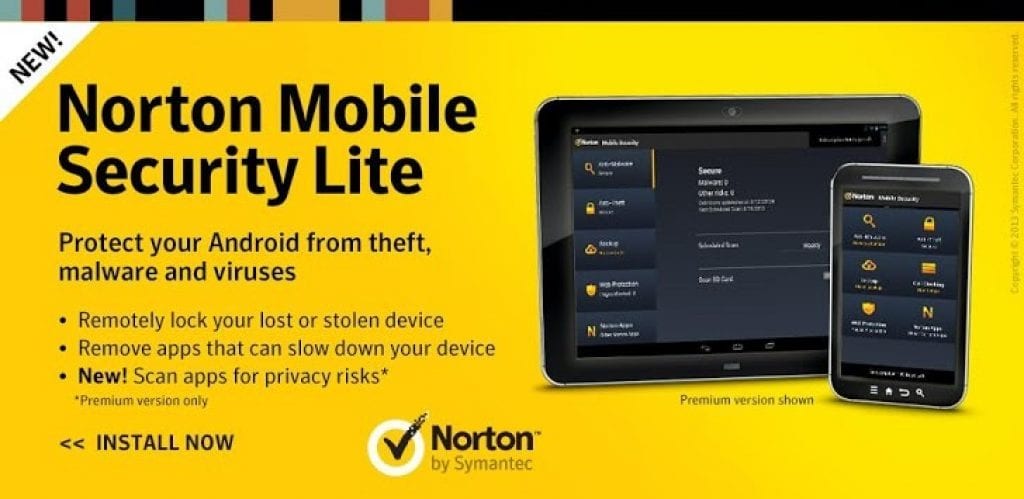 Get it on Google Play Store
15. Antivirus and Mobile Security by TrustGo
The fourth place is awarded to Antivirus and Mobile Security by TrustGo. I want to remember you that all apps in this list are friendly-to-use and work properly and the fourth place doesn't mean that this app is worth than the previous. Can you guess how many installs the app developers have achieved? Over 50 million installs! Users rated this app with 4,6 stars. It has the basic features such as device scanning to look for existing threats, real-time protection, and a privacy guard that helps show you what apps are using which permissions.
What is more, I want to pay more attention to the function " backup copy". It is widely spread function among devices and every software. It allows users to the copying and archiving of mobile or computer data so it may be used to restore the original after a data loss event.
Another feature is that app supports the next languages: Deutsch, Español, English, Française, Português, Português do Brasil, Pусский, Türk, Bahasa Indonesia, Italiano, العربية, ภาษาไทย, Tiếng Việt, 日本語, 한국어, 中文(简体), 中文(繁體)