13 Best Animoji Apps for Android & iOS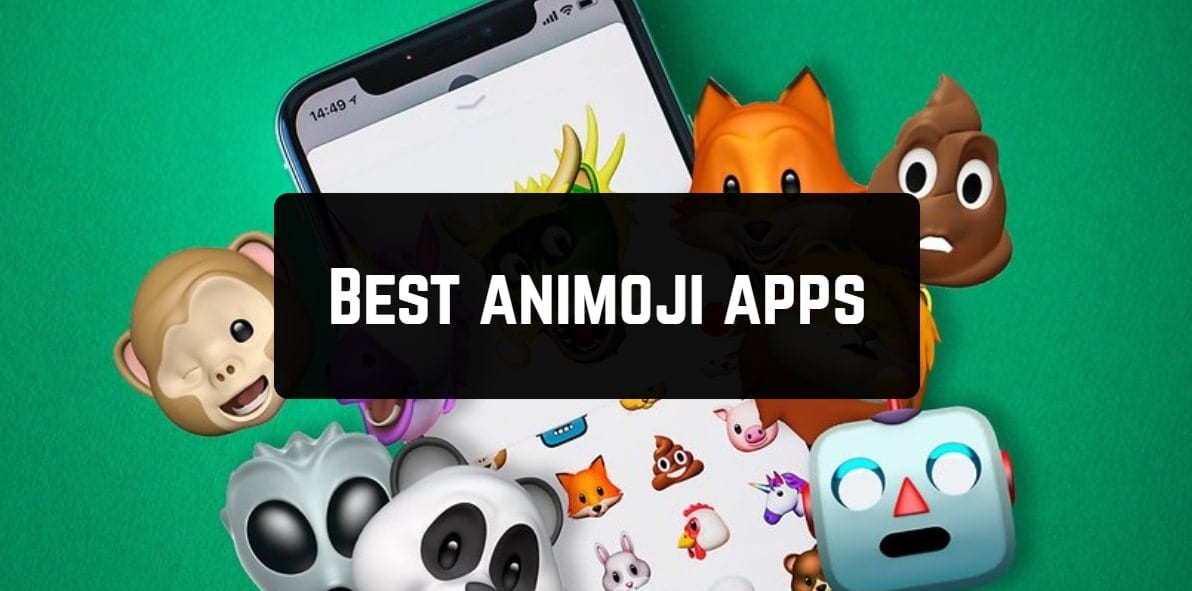 How often do you chat with your friends on social networks and instant messengers? Phones have become part of our lives. Every day we use messaging apps. But not always words can convey emotions. You can use various stickers and emojis for this.
But ordinary emoticons have become everyday. Modern smartphones are getting more and more different features. They are equipped with cameras with high resolution and excellent functionality.
Phones can now recognize your face. This feature helps create animated characters. They are based on your face. You can configure various parameters to make them the most like yourself. These stickers will help you accurately convey all emotions.
You may also like: 9 Best apps like Bitmoji for Android & iOS
The main novelty of recent years in the field of mobile applications has become Animoji. But, this feature is not available on all mobile devices. That is why a huge number of such applications were created. Some of them have even more interesting functionality. This list contains the best apps to help you create your own animated stickers.
ZEPETO
Want to create animated stickers on your phone? Then the ZEPETO application will help you. Use your face as a base for creating emojis. It will imitate your facial features and facial expressions.
You can also perform various movements and actions. An animated sticker will repeat everything for you. Express your emotions and send them to your friends. To use the application ZEPETO, you will need an Internet connection. At the first start, you need to select any smiley from the collection and turn on the camera.
Your phone will automatically place a sticker on your face. So you can take interesting photos or videos. Choose different effects when creating a three-dimensional character. You can also choose a background for your photos or videos. It can be a place where you are or any background color.
Create an animated image of your face. Choose skin and eye color, hairstyle, and accessories. Pick facial features that set you apart from other people. You can even choose clothes to create your personal style.
You can save an animated sticker to the emoticon gallery. You can then use them to send messages to your friends. These stickers can be used on any social networks, instant messengers, and video calls.
The application ZEPETO is very easy to use. You can install a keyboard with a collection of stickers. You can do this in the settings of your mobile device.

You may also like: 11 Best Animoji & Memoji Alternatives for Android & iOS
Bitmoji
You have probably seen photos and videos that show people with various digital masks. Is it possible to put on the face of some beast without having the skills of Photoshop? Everything is possible with the Bitmoji app!
The application puts funny masks on people's faces. For this, the program uses optical recognition methods. Photos and videos can be edited. Sent content is not stored in the phone's memory. It is not stored without your knowledge and does not remain on the recipient's phone.
When you start the application, you always get to the camera. The camera is the most functional that is in the Bitmoji. The camera is the central element of the application. Here you can create personalized animated stickers.
The camera has the ability to immediately send the created image to one or more contacts from the list. The program is quite easy to use. All the main interface elements are located on the main screen.
At the bottom of the screen, there is a button for switching photos/videos. Above is the mask selection. Then you can see the "catalog" and "favorites" buttons. The favorites button is used to provide quick access to your favorite stickers and masks. There is also a button that handles changing the camera to the front and vice versa.
If the application does not see our face or cannot recognize it, it will ask us to nod. In this program, you can choose masks of animals or celebrities. You can also select a story mask or create your own. To do this, click on the button with the inscription "NEW FILTERS".

Bobble Keyboard Fonts, GIF, Stickers & Themes
A funny application called Bobble Keyboard Fonts, GIF, Stickers & Themes will help you have fun. Bobble Keyboard Fonts, GIF, Stickers & Themes combines ease of use and incredible complexity of graphical operations. They allow in real-time to radically change their appearance, makeup or put on a mask.
This app can change your appearance and record videos or take photos of this funny process. It will be funny to everyone, especially if it's good to enter the image. For this, you need quite a bit. Now 33 images are available in the application. They are divided into categories: makeup, emotions, people, masks.
The design of the frame changes, adapting to your hero. In some masks, you need to change the expression for extra effects. For example, to bulge eyes or turn on fountains of tears.
Everything works quite smoothly and simply. Masks are scaled to fit the face and rotate if you move in the frame. Photos fall into the "Camera Roll", and you need to share them from there. Video after saving can be sent to Facebook, Instagram, and other social networks.
The program Bobble Keyboard Fonts, GIF, Stickers & Themes has a lot of funny animated stickers. The principle of the application is quite simple. You yourself choose the front or main camera for shooting. The application automatically turns your face into an animated sticker.
It intuitively adjusts and moves with you. You do not need any manual configuration. The program analyzes facial features, expressions, monitors changes in the trajectory of movement.
Currently, several categories of image changes are available. Makeup, animals, emotions, people, and masks. The result can be presented in the form of a finished photo or even video.

Disney Emoji Blitz
Are you a fan of Disney and Pixar? Well, if you like animojis, then you're probably are. This app is just the paradise for those who would like to have the animojis of their favorite characters.
The Little Mermaid, The Lion King, Cinderella, Zootopia, The Muppets, Disney|Pixar's Toy Story, Monsters – this is just the part of all the characters that you will discover here!
You will get thousand of items from Disney to customize your avatar. You will be able to download everything to your phone and then use those emojis in your regular messengers.
However, the main feature that makes this app stand out from the rest is probably that this app is not just another animoji one – it is a game. Seriously, you are getting more emojis, animojis by playing the game and passing through levels. The game consists of riddles and puzzles that you have to solve in order to get those emojis.
If that doesn't scare you and you're ready to spend some time before you will get more stuff to create the cool animoji for you then you should definitely get this app. It is perfect to use for all ages – that's probably the reason why this app has an extremely simple user interface, so don't expect something authentic and elaborate here.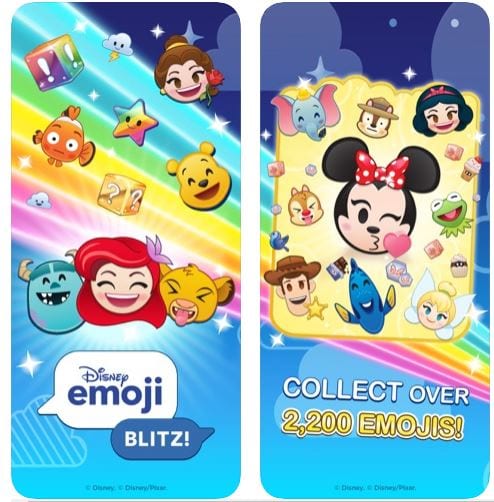 Chudo
The Chudo app is becoming popular even more. Millions of users take hundreds of shots every day. They place animated stickers and filters on them. This application allows you to change pictures and videos by overlaying various emojis. It can be the faces of celebrities, animals, and so on.
Simplicity is the most important feature of the application. All operations take place in just a minute. You need to take a picture of yourself or a friend and scroll through the finished animated stickers.
Then select the finished sticker and send it to a friend using any social network. This program is also convenient for short videos that are popular on Instagram.
Opening the program, you will see an image from one of the cameras. You can change them using the special button in the upper right corner of the screen. At the bottom of the screen is around capture button.
To change the photo on the camcorder, you need to click on the camcorder icon to the right of the camera. After that, you can record your videos using the central button. Under the image is a bar with a choice of filter or mask.
All videos are saved on your phone and do not disappear anywhere. Even if you immediately shared them on a social network. After installing the program, a new folder will appear in your gallery on your phone. It is in it that all your work will be saved.
Thus, you do not need to immediately upload photos and videos. You can make several images in a row, and then choose your favorite.

Face Cam Avatar Face Emoji
Face Cam Avatar Face Emoji is an application that allows you to create personalized stickers. To do this, it uses the camera on your phone. You can use ready-made animated stickers in communication with your friends. This will help you more accurately convey your emotions.
You only need to take a few simple steps. To get started, install the application keyboard in the settings of your phone. Open any messenger and start typing a message. Press and hold a comma on the keyboard. This action will cause the sticker panel to appear.
Click on the icon that depicts a multi-colored face. A suggestion will appear to create a mini-avatar. Click on the Create button Take a picture of your face. A photograph must be taken in a place with good lighting. Then the application will be able to better recognize your face. So it will create the sticker most like you.
The program Face Cam Avatar Face Emoji will analyze your face and offer you an avatar. You can customize its appearance in a special editor. Here you can edit facial features, skin color, eyes, and hair. Choose a hairstyle and accessories.
When you complete these actions, a set of stickers will appear on your keyboard. It can be used in any program for exchanging text messages. You can use personalized stickers in any messengers, social networks, and email.
The application Face Cam Avatar Face Emoji is very convenient to use. All functions are always in the public domain. Since a special keyboard is installed to use the stickers.
Mirror: My Emoji Face Avatar
If you would like to make yourself a cartoon-style avatar then Mirror is your perfect tool for that. Lately, it has been gaining more and more popularity on the market since it allows you to create a really cool avatar that you will be able to use on all your social media accounts – eventually, it's a trend now.
With Mirror you can create up to 1500 emojis and animojis for your device! You can save every single emoji that you create to the library and use it in all the messengers and social networks, such as Instagram, Facebook, Whats App, Snapchat, and so on.
Mirror Keyboard gives you suggestions for emojis you can use while texting – this is another convenient feature of this app. Tap the words like "I love you" or "Happy birthday" and you will see your personal emoji to send! Apart from that, in Mirror you can create the GIF animated emojis as well. In other words, you have plenty of choices.
In order to create an animoji in Mirror, you need to upload your picture to the app and then choose the style that you want to get a makeover in – is it the anime or the classic cartoon one? The anime style is more colorful and acid-colored, the classic style is more neutral. The only thing is that the app
has a free-trial period that lasts only for 3 days. After that, you will have to pay for the subscription – $9.99 per month.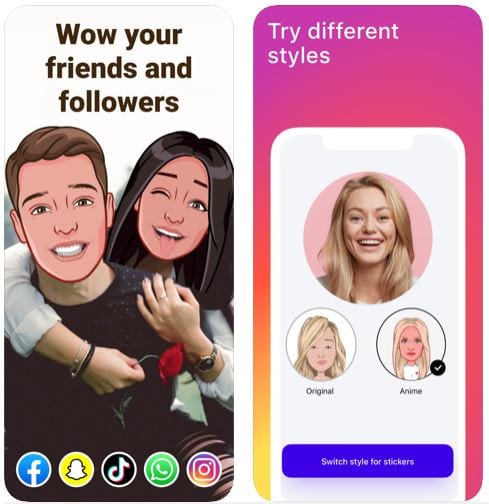 Halo – 3D Emoji
The Halo – 3D Emoji application allows you to instantly apply one of the presented masks to your face. You can take a photo or record a short video and send it to your friend. Diversify boring communication with animated stickers. They will repeat your facial expressions. So you can better convey your emotions.
You can also create your personal emojis. To do this, use the front camera. Adjust settings such as face shape, skin color, and eye color. Choose hairstyles and hair color.
This will make your sticker an exact copy of your face. You can also repeat your own style. To do this, choose clothes from the existing collection. This program allows you to make a picture beautiful, bright, and memorable. You can apply various interesting filters. Share the resulting photos on social networks.
Masks can be changed during and after shooting. Besides, the application has various filters. They allow you to adjust the already captured video. There is also the opportunity to make your face thin and your eyes larger.
Among the masks, you will find not only simple ones that change the color of your eyes. You can also use various animals that will move by the movements of your head.
The application Halo – 3D Emoji has a nice and intuitive interface. All necessary functions are located on the main screen of the application. Besides, you can install a special keyboard. This can be used in any messaging program.
You may also like: 11 Free Face Mask Apps for Android & iOS
Genies The Digital Human Race
The Genies The Digital Human Race application is one of the most popular applications for your mobile phone. Today, almost everyone knows how to use smartphones and take photos with their help. That is why applications for editing and editing photos are increasingly gaining popularity.
Genies The Digital Human Race is the ability to create original pictures and videos that differ from most others. This is a selfie photo editing program. Masks and filters from a wide range of applications are superimposed on the image. So, it transforms the picture beyond recognition.
You can also create personalized animated stickers. They can be used in any social networks and instant messengers. For the program to work correctly, you will need a phone with a camera. The program works on the principle of face recognition. This requires a high-quality and clear image.
If the rear camera opens when you turn it on, then you must click on the icon in the upper right corner. It looks like an ellipse of two arrows. After pressing the camera should change to the front automatically.
Horizontal Ribbon includes a collection of animated stickers and live effects. To select a suitable image, just click on it. After clicking on the image, the camera will detect your face and apply the selected sticker to it.
Decide what type of file you would like to create: a photo or video. Select the appropriate mode by clicking on the icon of the camera or camcorder.
Choose the most helpful camera angle, distance from yourself to the phone. Create facial expressions. Click on the create image button. Immediately after that, the system will prompt you to send, save, edit or delete the media file.

SUPERMOJI
This whole thing with animojis started when the iPhone announced the launch them. Back then only iOS had this feature, now you are able to download such an application for any device. This app is another tool to create the funniest animojis for your gadget and surprise your friends.
In order to use the app, make sure you have an Internet connection, select a 3D Emoji, press and hold the record button. Videos will automatically replay after they are rendered. You can then share the video with others or privately.
But without any doubts, the most prominent feature of this app is the possibility to create your completely unique 3D model of animoji. To do that, you need to upload your picture to the website of the app and ask the developers to turn that into the full 3D animoji.
Well, this app is not so popular as some other ones on our list, but it is free and it works. Well, sometimes the animojis that you are creating here look abrupt and a little bit rough, but maybe somebody likes this style – it really resembles the 3D style of the early 2000s. What is more, some users complain that the app crashes from time to time.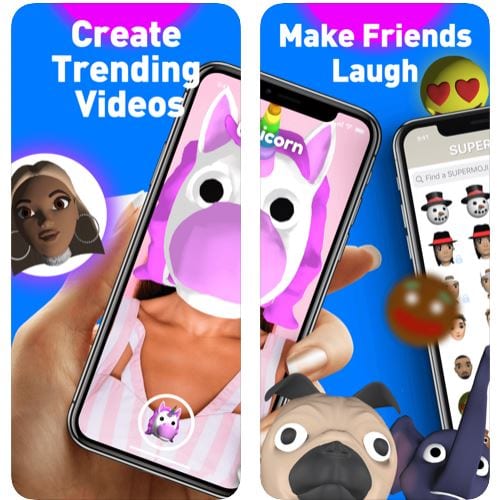 MojiPop
Using the MojiPop app, you can create your own selfie stickers and share them with your friends. All you need to do is take a selfie using your phone or select a photo from the gallery and paste it into the template.
Weekly collections are replenished with new characters and sketches. Besides, you can configure a variety of sticker characteristics. Increase or decrease the size, brightness, and saturation. You can also add text.
Main features of the application MojiPop:
Creating selfies stickers is easy!
In just 3 clicks you can make your own sticker. First, you need to choose the right sized selfie. Then select a template and place a photo on it. Besides, you can change the size and angle, hairstyle, and shape of the face. Attach a message with a text cloud for each specific case.
Share your creations as easily as using regular stickers.
Stickers created using the MojiPop app can be used in chats along with regular collections. The resulting pictures will be displayed on a transparent messenger background. They will completely repeat the style of ordinary stickers.
Send the created sticker without leaving the chat!
In the chat, click the "+" button and select the emoticon to send the sticker you created to the interlocutor. For this, the user does not need to open another application.
You can share your sticker without interrupting the conversation in the messenger chat. The application MojiPop is very convenient to use. Since the keyboard works in any messenger and social network.

Zmoji
The Zmoji app is a great tool for creating personalized emojis. The app works on the basis of artificial intelligence and machine learning.
The sticker is created automatically. If the system did not cope with the task as intended, then the avatar can be customized and changed. Creating a personal sticker takes just a couple of minutes.
The creation process is very quick and easy. First, you need to install the application keyboard on your phone. You can do this in the settings of your mobile device.
Go to notes, messages, or any other program where there is a window for typing. Open the keyboard, press and hold the comma character. The screen of stickers and smiles will open.
Select the animated sticker icon on the screen and click on the "Create" button. Take a selfie or upload a finished photo from the gallery. In a few seconds, the program will analyze the snapshot and show the result.
If you are satisfied with the resulting sticker, then click "Finish" in the upper right corner. You can also select the "Customize" function. Thus, customize the appearance of the sticker.
As soon as you are done creating, a personalized set of stickers will appear in the collection. This can be used in any dialogs, as well as filled with other stickers. These stickers are very convenient to use in any messengers and social networks. So you can diversify your conversation. This is a free application that has only the most useful features.

You may also like: Best 7 emoji apps for iPhone & Android
YourMoji – Custom Emoji Editor
YourMoji – Custom Emoji Editor is a fun game and social network with which you can create your own personalized stickers. The application allows you to create your own three-dimensional sticker from the photo. It can interact with the characters of other users.
If the virtual double turned out to be not very similar to you, then it can be corrected. Change facial features, hairstyle, hair color, and so on.
After setting, you can pick up clothes and even furnish your room in which the avatar will live. Initial purchases can be made for bonus coins, they will be enough for the first wardrobe.
Coins are also needed to buy various emotions and gestures. Your avatar can use them when meeting with other users. There are plenty of options here, from bloating cheeks to an image of wild laughter.
The function of creating stickers with your avatar is also available. There are ready-made templates, but you can make them if you wish. With one click, the finished sticker can be sent to friends in any messenger or via email.
You can also use ready-made sticker templates. Particularly popular are copies of characters from films, musicians or even politicians. Anyone can create them using a photo.
The application YourMoji – Custom Emoji Editoralso deserves special attention because it has a comfortable keyboard. Installation is carried out in the settings of your mobile device. This way you will always have access to your animated stickers.