It's time to admit that vloggers' activities have become ubiquitous. We subscribe to people in Instagram, constantly expand our YouTube subscriptions and keep track of other people's lives on other social networks. But what is behind all this?
Is it that simple? In fact, it's really hard to create a really interesting vlog. You'll need something to entice the viewer, to bring something new, so that the person does not turn off your video in the first minute. All these are the main questions of a vlogger who wants to be interesting. They take a long time to solve, but this process can be easily simplified.
All you have to do is choose the right applications, and they will become real helpers in content creation. Since this topic is not well known among ordinary people, we offer you to get to know the world of vlogs a little better. There are 7 of the most important applications for you to explore the world of vlogging.
YouTube Studio
Well, what other application could we have started with? We think that YouTube Studio is the best way to talk about vlogs. All vloggers and popular personalities release their videos on YouTube, because this is the most popular video hosting among existing ones. This application is presented by official developers – and they know exactly what their service needs.
Now you can work on the design of your channel, even on the road. In YouTube Studio you can also get statistics – almost the same as in the full version of the service. You can also change the titles, covers, descriptions and many other details of your videos.
Edit videos directly from your smartphone – YouTube knows more than anyone what its users need. Stay online anywhere in the world – your subscribers will be waiting for updates if you're interested in your design and bright covers. Now you don't have to disappoint them with your vlogs!
Clips
As a vlogger, if you're just starting your career, you'll love the Clips app. It's perfect for those who don't know much about the technical aspects of video and don't want to burden themselves with this information. Of course, it's not a professional tool for creating vlogs, but if you want to have fun or just diversify your content, Clips will be really great for you.
You won't find any timeline settings, professional tools or anything like that in the app. On the other hand, it allows you to edit videos in real time, either by deleting unwanted fragments or shortening their total duration.
All captions, text inserts, and even animated elements can be inserted on the go, without having to worry about lengthy editing. The Clips catalogue also includes standard music, but you can also upload something of your own to the app.
In addition to video, you can also add a little "life" to your photos in the app. For example, you can add animated Disney and Pixar cartoon characters to them – they will show up in the picture next to you. For the most advanced, there's a TrueDepth shooting feature. Everything will really happen around you, and the dynamics will be at all 360 degrees.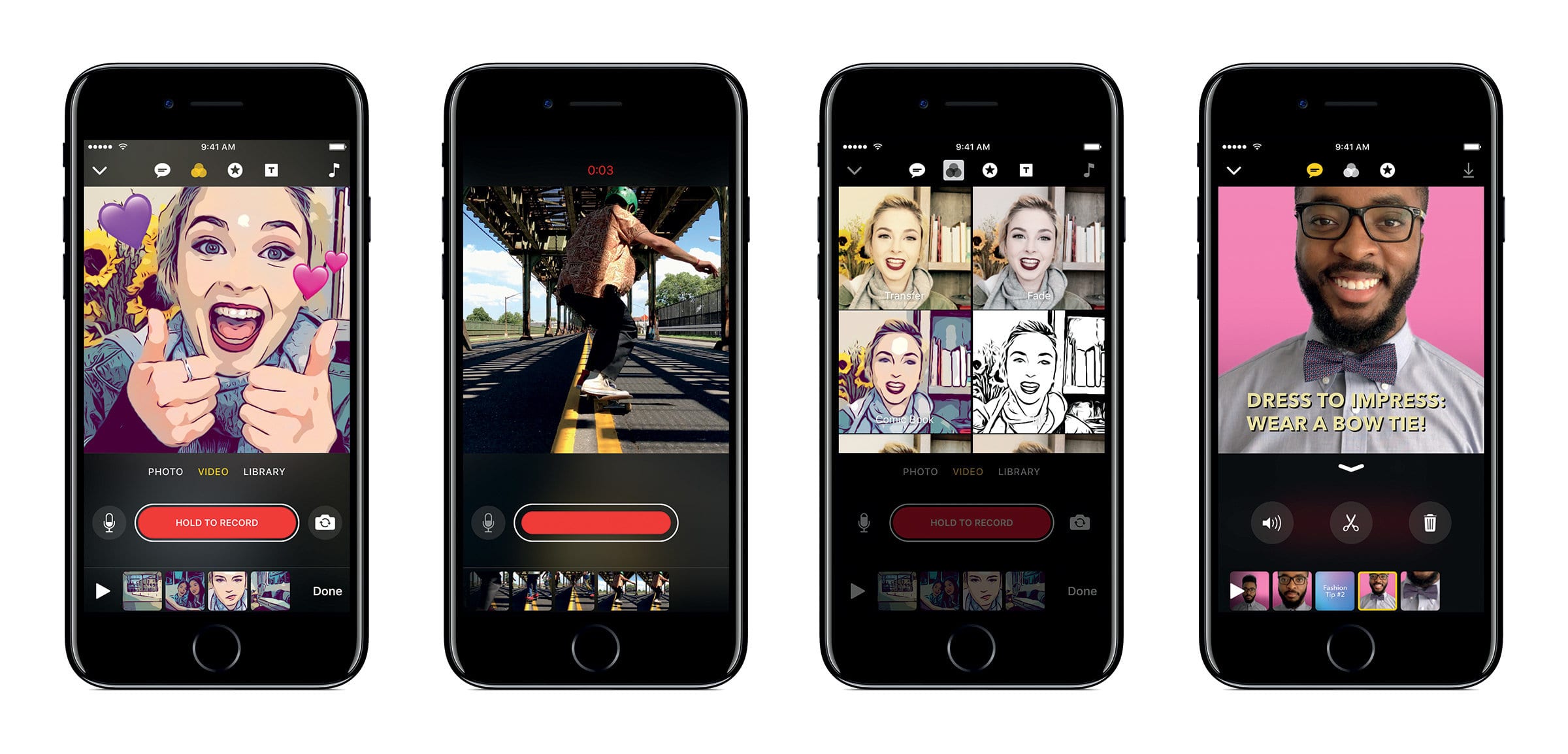 You may also like: 11 Best video compressor apps for Android & iOS
Vlogit – A free video editor made for Vloggers
It is clear from the name that the application is designed specifically for vloggers. In the application you can both shoot clips and edit the finished material.
You don't have to store the source files in your social networks – the application supports importing files from Facebook and Instagram. The most important thing is that even after the changes you will not lose quality. The interface itself supports many languages – German, Japanese, Turkish and many others.
You may need to make a wallpaper to your video. Stickers and animated templates can help. To attract attention, VlogIt has introduced special stickers that will definitely win the hearts of your viewers. Funny sound inserts are also provided – they will bring a little humor to your serious vlogs.
The app is also suitable for people who are used to working with professional instruments. Vlogit has a range of tools – photo and video fusion, time trimming, voice-overs and audio tracks that can be downloaded separately. Everything you do with a video you can watch right away, so you won't miss a thing and you can fix it quickly.
FxGuru: Movie FX Director
Sometimes it's not enough just to edit the video beautifully. You need to make it special – and not just by being in the frame. Have you ever wondered if you can replicate the special effects that professionals use in movies on your own? If yes, we are ready to make you happy: FxGuru gives you this opportunity.
Your vlog will be much more interesting if you add some action and movement to it. You can use effects of different genres – from horror movies you get ghosts and zombies, disasters, as well as animals and themed effects for holidays.
In fact, you will easily master FxGuru. In the application you can crop your file in seconds and start to change it right away. If you really want to highlight your video among the thousands of others – this application is the best option for you.
Each effect is made separately and in order to find the right one, you need to scroll through all the menus. Dynamic effects are applied in the following way: you choose the necessary one, and the application offers you to place it in the right sector of video. While you're editing, watch what you're getting, so you'll be able to get the most out of your Hollywood effects.
iMovie
We believe that iMovie is one of the most famous video editors. It is designed to work on iOS and can create really entertaining clips for you. Want to get a real Hollywood style video? Perhaps you want to create a trailer for your channel? Then you should definitely use iMovie!
There are a total of 14 templates for the most popular Hollywood trailers in the app, which you can use immediately. You can also apply one of 10 special filters. If you apply any video effects – such as slowdown or acceleration, the program automatically improves the quality of the file.
In case you use iPad, you can connect a virtual keyboard to it. iMovie supports all fast keystrokes to help you edit videos even faster. Since the login necessarily requires your voice support, you will be able to voice the entire video directly in the application.
In order not to lose or accidentally delete the result of your work, you can upload the file to the cloud or send it to your other Apple device. iMovie even supports uploading in 1080 and 4K formats to YouTube. Editing in this high quality is available on iPhone 6 and later models. But even if you have an old smartphone, you'll still be able to use many features.
Thumbnail Maker
It's not enough just to take off the video and edit it. To upload videos to YouTube or another video platform, you need to make a cover. The image on the cover must be of interest to the viewer in order for them to want to watch your video.
YouTube channels, for example, also have their own headline template, banner and cover. When a person comes to your channel, he sees them. We think you understand how important they are!
Thumbnail Maker is ready to help you with that. It's a great app that will make it easy for you to create the graphics part of the channel. Some people order it from professional designers, wait for some time and give you a lot of money.
Time and money are one of the most important parts of our lives and work. If you do everything yourself, it will be a guarantee that you will get exactly what you wanted as a result.
Thumbnail Maker has a fairly simple and intuitive interface. A nice bonus will be the presence of templates that will help you start working on your channel. In addition to the channel design, you will be able to create covers for each of your own logos.
The variety of fonts, colors and stickers will help you make your video truly original, and the attention of the audience will be immediately attracted. What other doubts can there be about the superiority of Thumbnail Maker?
You may also like: 33 Best Blogging apps (Android & iOS)
Google Analytics
Every blogger, vlogger and any other person who wants to earn money or be popular on the Internet should keep an eye on their statistics. This way, you can keep track of when you'd better post your logs, what content people are reacting to, and what's most interesting to them. But since it is physically impossible to process such huge data manually, special services come to your aid.
Google Analytics takes data from your account – for example, YouTube, and makes a small report. It can be presented in the form of tables, charts or diagrams – as it will be easier for you to perceive this data.
As a vlogger, it's important to keep track of your video viewing and evaluation statistics. The fact that this application was developed by the Google team only tells us that it really works well and meets all the necessary requirements.
We can assume that even if you've never thought of a vlogging activity before, you might be interested in it after you've read it. Everyone can try themselves as a creator of interesting content. To do this, you will need to have a camera – you can even have your own smartphone – and ideas that will catch your viewer.
The technical part will be easy for you to do if you use the right apps. We hope that our article has helped you to take a look behind the scenes behind the scenes of the vloggers' activities.
Don't underestimate the work of others – just try to become a vlogger for at least one day. This way you will know that the right applications can make it a lot easier to create something interesting.