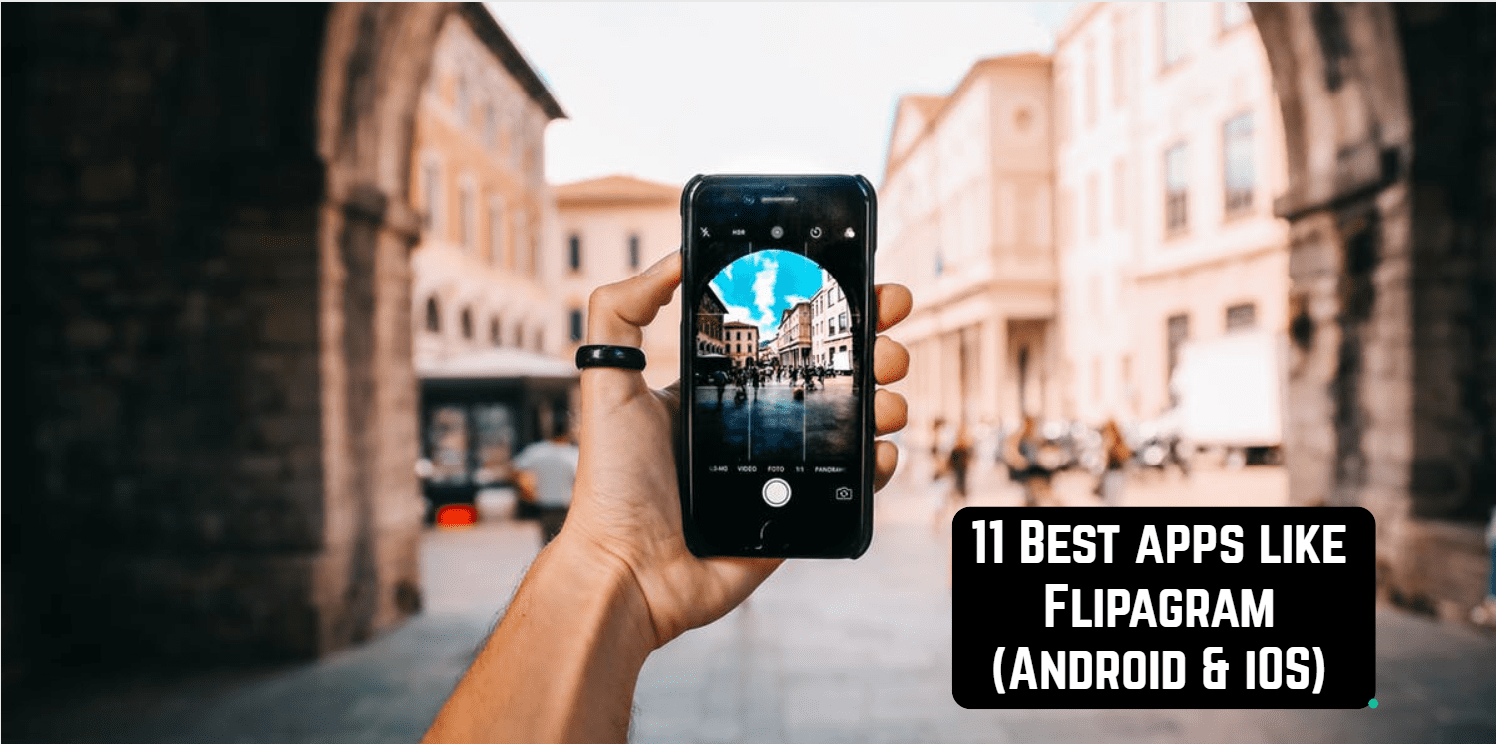 Nowadays, we store a large number of images, music, and videos on our mobile devices. That's why there comes a time when we don't know what to do with all that content or how to manage it. But in fact, there is an excellent way to take advantage of all those files – we can create home movies from the screen of our smartphones, even without having any knowledge on the subject. There are many applications that help you achieve this goal – the applications that are able to merge videos with photos and music, and that have a variety of features so that it was possible to get a truly great result. And can you believe it? They are free to use!
Let me walk you through some of these fabulous apps.
VivaVideo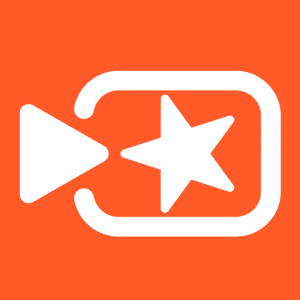 With this app, you will get a chance to personalize your videos and photos, in a simple and intuitive way. It has an option that works very well and allows you to make slideshows called "Photo Movie". You can change titles, use different types of transitions between photos, apply effects, stickers, and filters. Even better, it comes with some interesting camera lenses effects and supports different capture modes.
You can even use the selfie effect to get more natural and illuminated photos. Also, if you have several videos stored on your phone, you can create a video collage using any of the available templates. When finished, you can export and share the results on social media or by email. The best part is that it is a free video editor. Although there are some limitations in the free version, such as watermarks and a time limit per video, it is still worth a try!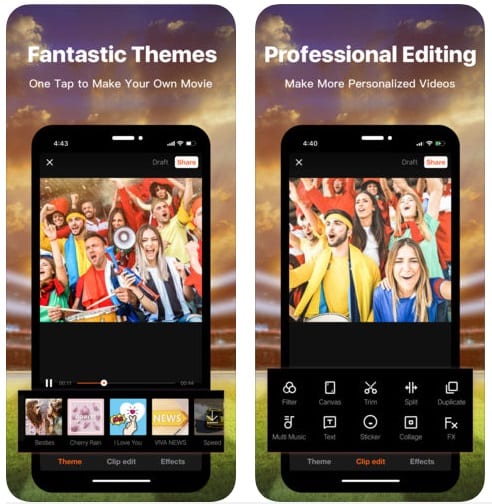 back to menu ↑
Animoto
It is probably one of the best applications to make videos with photos and songs. Animoto offers an amazing catalog of effects and a fun interface. Moreover, the final result might surprise you! Because of the quality, it can be considered semi-professional video editing. Although the videos that you create with this app are limited to a certain length of time, the quality of this editor is exceptional. All you have to do in Animoto is to select the images with which you want to make a video and choose your favorite music, or, if you prefer, you can make a capture in the same moment, then you must select an audio clip and then select one of the more than 50 available templates.
back to menu ↑
Quik
Quik is an automatic video editor, which used to be called Replay App. Although it may resemble Animoto, it is slightly different. Its main feature is that you can let the app assemble your pictures based on the music and the chosen template, and it has a high degree of customization. It is ideal for making videos of your outdoor adventures since it has many templates that are designed to make photo slideshows in a striking and very beautiful way.
back to menu ↑
KineMaster 
KineMaster is a video editor for mobile and tablet devices. It is also a very complete tool for editing videos on Android. It has many options, such as titling, transitions, and themes. It allows you to edit videos and create quality presentations with photos without having to leave your device. The free version lets you export the video to 720p but with a watermark.
The downside of the paid version is that you can not buy the app with a single payment –  you are obliged to pay for a monthly subscription or for each video that you make.
back to menu ↑
MiniMovie
If you don't know how to make videos with photos, MiniMovie is what you need. This app is the best tool ever for the beginners. It was developed by Asus and it includes all the most necessary features, so you can easily produce a video with photos online from the screen of your mobile phone. You will not need to be an expert in editing programs since this app will guide you through the process in an intuitive way.
There is a wide range of templates and themes. You can view and edit a preview from your screen and, if everything is perfect, you can save your video and then share it on Facebook, YouTube, Instagram or even send it via WhatsApp, Line, etc. The app includes an intelligent face detection mode, transitions and offers support for photos in the cloud. Undoubtedly, this is one of the best applications to make videos with photos and music for those who do not have much knowledge of creating videos with smartphones.

back to menu ↑
iMovie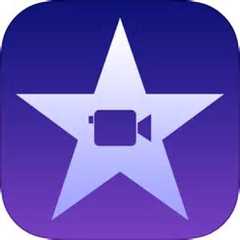 iMovie has no rival for iOS users. It is stable and precise. It can be used on mobile devices, iPod Touch or iPad. When Apple decided that mobile devices could work with video materials in the same way that Mac works with their famous video editor, the company launched the iMovie app and then started to improve it and strive for the best quality that is associated with Mac editor.
With the advent of iOS 9, the app has been updated and got a possibility to edit videos in 4K. With the improvements of the camera on the latest iPhones, this update is exactly what is needed! So, this is how the dream of high quality video edition on iPhone has come true.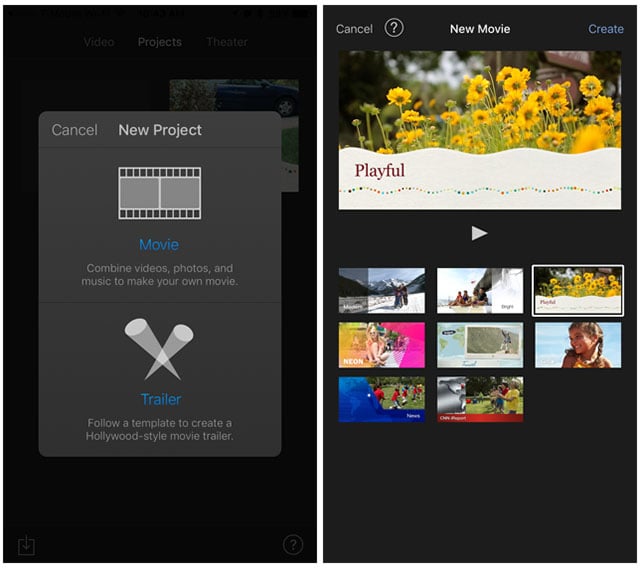 Check also: 15 Best apps to combine videos (Android & iOS)
back to menu ↑
Wondershare Filmora Go
One of my favorite video editors is FilmoraGo. This program aims to create videos easily and feed your creativity. It has many original graphic elements that will allow you to tell your story in an authentic way. In addition, it comes with music free of copyright, which is perfect for creating videos with images and audio. It also has the effects store in case you want to expand the variety of its themes and effects.
The app has a free trial version in which you can play with all the functions but with the awareness that your final result will have a watermark on it. When finished, you can share your videos on Instagram, Facebook, YouTube, and other social networks. Undoubtedly, this is a complete option that needs be taken into account while choosing an image editor for Android and iOS.
back to menu ↑
Music Video Maker
Music Video is a good tool for creating videos that will include your favorite memories. The app is free and is very easy to use. In addition, its usability makes editing easy on all types of screens. It is one of the best options for simple and quick editing.
The app offers three options: you can create a video with music, create a video with photos and edit the videos that have been created earlier by you to add more content or to change the effects. Music Video Maker has an easy-to-use interface that allows you to make eye-catching videos with your favorite photos in just one minute. One more great advantage is that you can add locally stored audio.

back to menu ↑
Photo Video Maker 
This is one of the most complete applications to make videos. It also works as an online video editor. You can use it to create videos with images and music.
Photo Video Maker is not the typical program to make videos – it is more of an app to make slideshows with the images and audio stored on your phone. Once you add the content, you can organize it in the order you prefer. There are several animations that help you to make your videos more visually attractive, as well as allow you to add text with emojis. In the end, you can save your video and then share it with your friends or use it as an addition to a presentation.

back to menu ↑
Scoompa Video 
This is a very nice application to create splendid and animated presentations using pictures. The app is just for Android. After importing photos, you can order them by just dragging and dropping them up or down. Each individual photo can be edited with the possibility of adding text, stickers and some filters. In the same way, you can add background music to the presentation – it can be either one or several songs. In the end, you will just have to choose the theme (Party, summer, love, birthday…) and the style of the transitions.

back to menu ↑
PicPlayPost
This is an interesting app for those who love to experiment with their favorite memory-provoking photos. Instead of a slideshow or a compilation of photos, you get to use a unique interactive frame that can contain different videos and pictures. The first thing you will be asked to do is to select one of the many styles of frames in order to create your own masterpiece. You can merge a maximum of 6 videos to make a collage inside the frame.
The second thing you will have to do is import videos from your gallery. You can also include background music and photos that go along with your videos. If things do not fit, drag the video inside the frame, zoom it in or zoom it out. You can even tilt it if you want. Once you are finished with all of that, just touch any video from the frame to play it. The app can be downloaded for free, however, it has some ads and adds a small watermark to the processed videos.