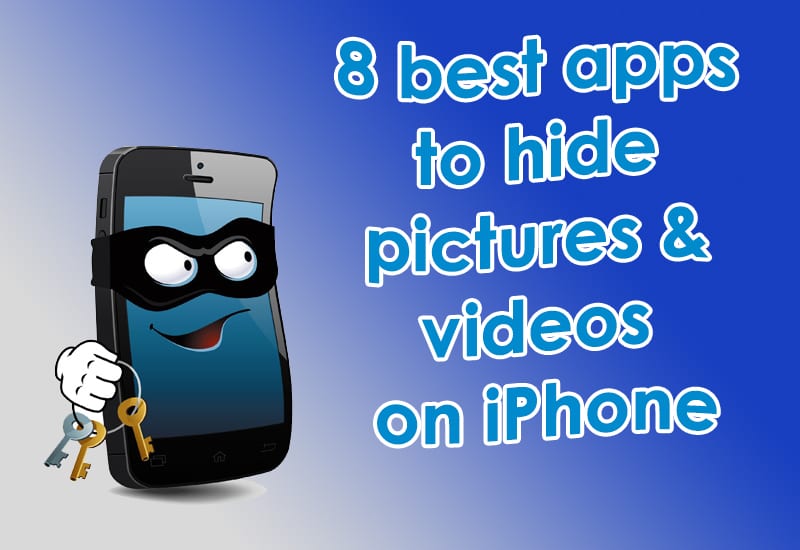 We all sometimes lack privacy in this crazy world of Instagram, Twitter, Periscope… Our modern gadgets enable us to share so many facts about our personal lives that keeping some things in secret becomes a problem. Hardly you can find someone who doesn't have a couple of photos "just for friends" or a bizarre video that is not necessary to show to everyone.
People to whom you may pass your phone might be curious about your personal photos or videos. Fortunately, there are some tricky ways of how to hide those files. With the help of the apps below, you can make your private content invisible to others. Check them out and ensure your privacy!
Best Secret Folder
Best Secret Folder is a perfect way to protect your files from intruders. Now, let's imagine that someone has taken your phone and wants to view your pictures. If you are using Best Secret Folder to store your files, the person will be asked to enter a password. If he fails to do it, the app is going to make loud sounds, so that you can catch the intruder red-handed.
If you are far away from the crime scene, the person might try to enter a password again. After four such attempts, the app will take a picture of that persistent bastard. So, as we can see, the system is perfectly elaborated for keeping hands of curious people away from your data.
Best Secret Folder is indeed one of the best apps to protect photos and videos, because it has a simple intuitive design and is quite handy in use. The app enables you to create inside folders and organise your files the way you like most. It is also possible to import and export files. The last but not least advantage is icons that make it really difficult to notice the app. Download Best Secret Folder now and make sure all the intruders are caught!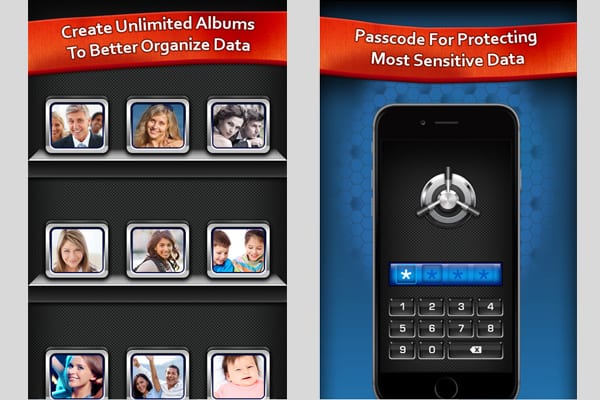 Private Photo Vault
Private Photo Vault is a reliable app for protecting your photos and videos from nosey individuals. The password-protection can be implemented through two different ways – pin-lock and pattern lock. It is quite convenient as you can choose the one you have already got used to.
The interesting feature of the app is a decoy password. It is meant to make your friends believe that you are actually showing them your secret photos or videos, when in reality you don't. The feature works in the following way: you enter two passwords – the one for your private content and the other for your "open" gallery. When someone asks you to show pictures, you just enter the second password and get a nice image of a person who doesn't have anything to hide!
Breaking into the app is not so easy. When someone tries to do it, you get to receive their GPS-location and a photo. The app's design is pleasant to look at. You can create internal albums and work with your private content exactly like you would do it in your phone's gallery. You can even email and message your photos and videos.
The nice addition for those who like surfing the web and saving images is a private web browser. It allows you to download pictures directly to the app, so that you wouldn't bother importing them there afterwards. All in all, Private Photo Vault is an amazing tool that helps secrets to remain secrets. Get in now and be on the safe side!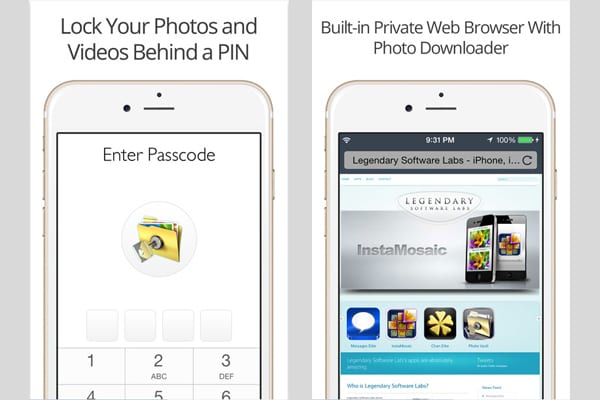 Lock Photos Album & Video.s Safe
This one is an excellent file managing app for advanced users. The app conceals not only your photos and videos, but also all kinds of other files like documents, music, notes, text messages, etc. As for documents, it supports such formats as PDF, PowerPoint, Word, Excel, Html and so on. So if you invented some kind of a genius programme, you can import it to the app and be sure no one will be able to steal it!
Just a joke, of course. But the protection system is indeed powerful. First of all, there are different locks to choose from: dot lock, password lock, touch ID. Files are organised inside the app in a very convenient way and every inside folder can be locked as well. The interface is customizable, so you can set everything as you like.
There are obviously import and export functions. Moreover, files can be easily imported from your PC. To sum up, this app is a great organiser of your files. The privacy is just a cool addition to all the other features. Download Lock Photos Album & Video.s Safe now and as Germans say "Ordnung muss sein" (Order must be)!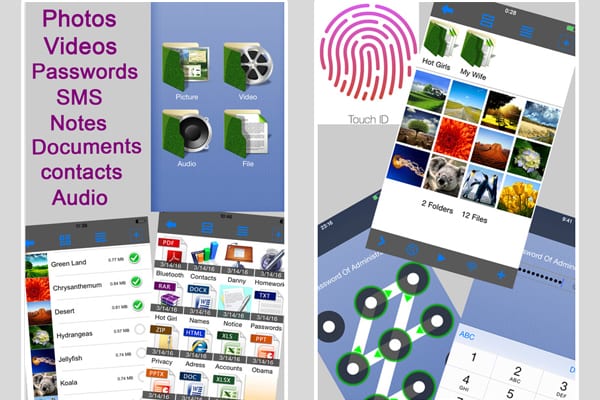 Spy Calc
Spy Calc is a super duper cool vault app. It looks like a simple innocent calculator. Furthermore, it actually works as a simple innocent calculator but… If you know the right combination, you can get access to the secret files that the app is able to store.
This one is just for photos and videos. Documents can also be hidden, however this feature is to be bought. Sky Calc also allows you to download pictures from the Internet right to the app by using the app's web server. All in all, it is a very smooth app. No one will ever guess where you've hidden your private photos! Get it now and try yourself in the role of James Bond!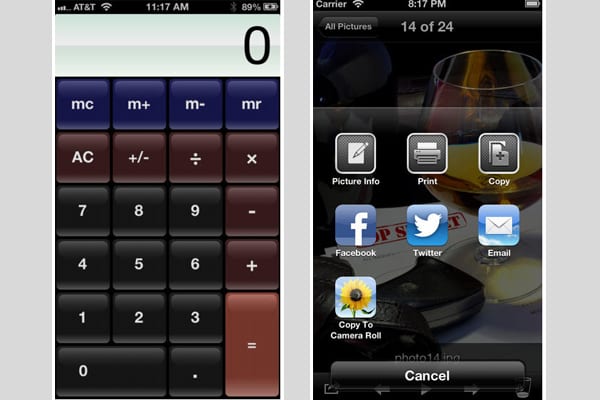 Secret photos KYMS
Secret photos KYMS in one more interesting vault app. Just like the previous one, it works as a usual calculator, but for the one who knows how to break into a vault opens a range of amazing opportunities.
The app can be used for concealing photos, videos and different kinds of documents, including PDF, text, PowerPoint and so on. Inside the app, there are a lot of wonderful features, such as photo editor with over a thousand effects or a possibility to view videos fast and easy right in the app.
A nice plus is an embedded web-browser for downloading stuff directly to the app. The browser is quite fast and friendly in use. Videos can be downloaded as well – all you need is to make a one playing and the browser will show you the download button. Download Secret photos KYMS now and be sure that your privacy is enforced!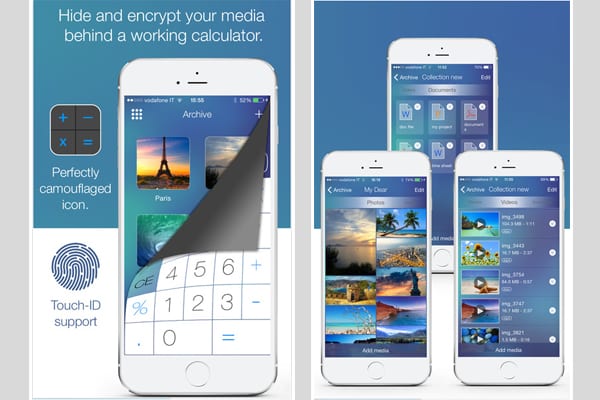 HiFolder
HiFolder is one more interesting vault & file manager app. It is used for hiding photos and videos and includes practically all the features of the previous apps: protection through password or pattern lock, a misleading password, a password for a particular folder and so on. There are also embedded video player and camera which saves photos right to the vault.
HiFolder is quite innovative, because it snaps GPS location and a picture of an intruder. The other interesting feature is making files or folders invisible. This one is for those who are particularly obsessed with security!
The app has a gorgeous design and a convenient file management system. There are two kinds of interface modes to choose from. All in all, HiFolder is a perfect way to protect photos and videos!
Keep Safe Photo Vault
Keep Safe is a simpler version of those apps above. This one protects your photos and videos under a 4-digit passcode – the golden middle – not too long, not too short. Files can be either imported from the gallery (don't forget to delete them afterwards!) or shot through the app's camera.
Inside the app, you are able to access all the feature available in your usual gallery – view both photos and videos, send them via email or in some other way, zoom in and zoom out and so on. If you happen to have a tablet, then you're lucky, because the app works both on iPhone and on iPad. A nice handy interface and a simplicity of this app definitely make it one of the best. If you don't need any new-fangled features, Keep Safe is a perfect choice!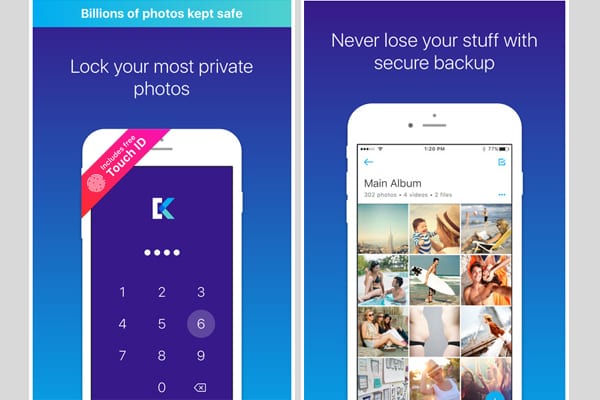 HiDisk
HiDisk is one more amazing vault for all kinds of files – photos, videos, music and documents. Practically all the popular formats are available, including zip. The app is able to zip and unzip, which can appear to be useful. All the files are protected by a pattern lock. The app also includes a decoy password and passwords for individual folders (of course, only if you wish to set them).
If someone tries to reveal your secrets, the potential crime scene and a criminal will be detected and shown to you. HiDisk comprises literally everything a one could think of – a camera, a video player, a note app, a voice recorder and many other cool things. Explore them all by downloading the app right now!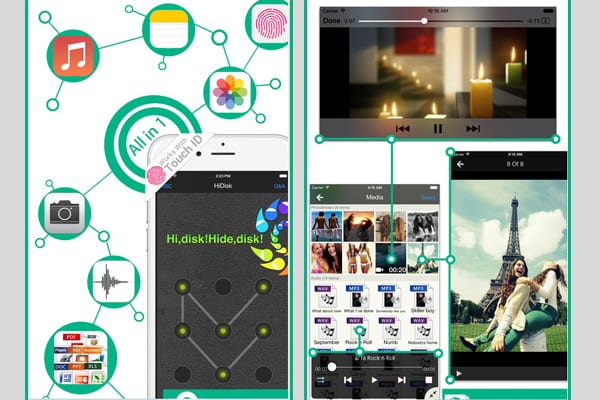 With one of these apps, you can forget your concerns about privacy and, what is more, keep your files in a perfect order! Enjoy a peace of mind and be smart in choosing apps!