11 Best Apps to Buy Cars in 2017 (Android & iOS)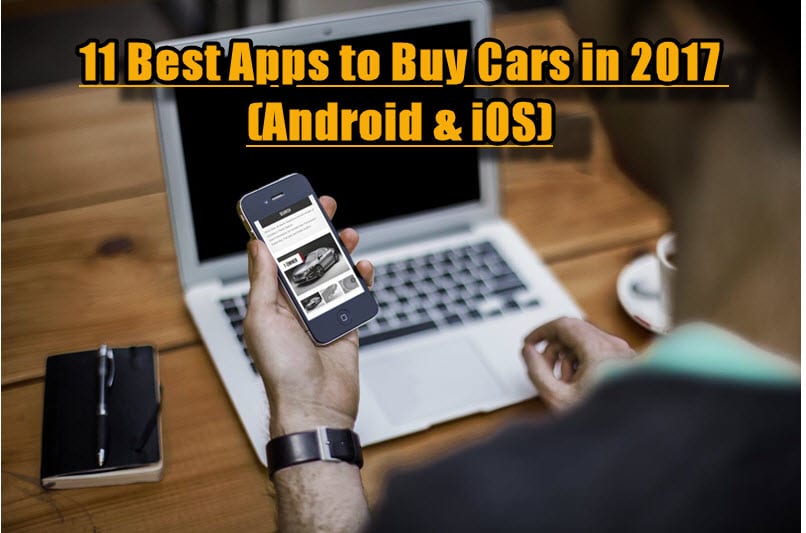 To choose a car is a responsible deal, requiring a lot of parameters to be taken into account. First of all, there is a budget. You need to consider the size of the family – if yo have children, a small car is not good. Those who are used to buying food for a week, need a roomy trunk. To quickly find a car with even the most non-standard requirements, you can use one of the applications presented in our review:
15 Best Apps to Buy Cars in 2017
Edmunds – New & Used Cars Search
Edmunds is the most convenient search for all ads on the sale of new and used cars. It has a very convenient interface for choosing the category of cars you are looking for (using a catalog you can select a specific model).
Specify the parameters of interest, for example, the model, the year and the volume of the engine – the application itself will select the appropriate variants for you. After you have chosen a car, you can connect with a dealer/private seller here.
Price: free
Car Buying
Do you need to buy or to sell a car? This app will serve you. The application offers a simple way to choose a new automobile following step by step instructions.
You can find dealers right in your area using in-app maps and directions. There are more than 100 000 relevant ads with photos and descriptions. The application Car Buying will be a good helper for future drivers, and for those who are already driving!
Price: free
Cars.com – New & Used Cars
Cars.com is the most extensive and popular app on which the ads for car sales are displayed. The main announcements come from dealers, about 10% of ads are from private individuals. A huge number of offers on the app makes it possible to find a car, practically, for every taste.
This app is equipped with an excellent search system, useful information, links to the sellers, and of course, a detailed description of every car, so choosing a car with this service is quite convenient. To search for cars in the filter fields, you need to enter a brand, model, price, area, a zip-cod and then click "Search". For more detailed filtering, there is an extended version of the filter too.
Cars.com is the most popular and visited vehicle sales site, which by default is considered the main in this online segment of free ads for the United States. Every motorist even with the most demanding requirements can select a car here.
Price: free
Autotrader – Find New & Used Cars For Sale
AutoTrader is an application for buying cars like Cars.com, and not inferior to it by volume of sales. But Cars.com is more profiled to car dealers, while Autotrader to private individuals – over 40 thousand car dealers offer their cars and 250 thousand private traders.
Due to a large number of ads from ordinary citizens, Autotrader pays special attention to the reliability of the information provided in the description.
Price: free
CarMax – Used Cars and New Cars For Sale
Install CarMax app on a mobile digital device and keep abreast of new offers in the car market. The program has a clear, friendly interface, convenient and thoughtful tools. It can be used by representatives of any consumer segments – special knowledge or skills are not required for this.
You can save your searches on the phone. Then, you can set notifications when the price of the saved car dropped and contact with a seller fastly.
Price: free
Instamotor – Buy & Sell Cars
Instamotor app is a useful tool while searching for a car.
Advantages of Instamotor app:
-You can chat with the seller right in the app.
-Using maps it becomes possible to search cars in your local area.
-You can save the cars you are interested in and get alerts when the price drops or there are other updates.
Price: free
Droom: Used & New Cars & Bikes
Buying a car? The Droom application will help you in this. It is easy to find a car you need with the help of filters. Specify the features, for example, the model, the year of manufacture and the volume of the engine – the application will give you appropriate variants to choose from.
Price: free
AutoScout24 – used car finder
AutoScout24 is an application for Android and iPhone users, with the help of which you can search for new and used cars and motorcycles on Europe's largest car portal, offering for sale about 2 million cars. There is a function "Alert", thanks to which you will be sent information immediately after the car or motorcycle, suitable for your request will be entered by the seller on the site.In the search criteria, you can choose the brand,
In the search box, you can choose the brand, model, and price of the car, mileage, year, desired location, as well as engine power, used fuel, gearbox, etc. You can save search results, sort them by price, color, and other criteria.
You even have a possibility to share the upcoming purchase with your family, friends, and others via email, Facebook or Twitter.
Price: free
eBay Motors
Today the Internet gives the buyer everything, and the legendary online auction eBay is the place where you will find your car. This trend is not surprising, since buying a car on eBay can cost a potential buyer almost half the price. However, the price is not the only factor that influences the popularity of online purchases. After buying a car, everyone wants to get a loyal and reliable "iron friend", which will bring only joy from trips, and will not force its owner to regularly visit the service station.
It is these cars that are sold on eBay, and you will have to choose a reliable and inexpensive car that will suit you in all respects.
Do you want to buy a car, a motorcycle or a truck? And maybe some parts, equipment, and accessories? You just will be pleased with the price: at your disposal both used and new cars. And if you're lucky, you will find a discount!
Price: free
Used Cars & Trucks for Sale
This application was designed to make the process of selecting, buying or selling cars even easier. Now it is available both on Android and iPhone devices.There are a lot of car search criteria. As a result of the search query, we get a list of cars that meet your requirements and already choose the one you like. Next, the application will tell us about the selected car.
How to find a car here? There are a lot of car search criteria. As a result of the search query, we get a list of cars that meet your requirements and already choose the one you like. Next, the application will tell us about the selected car. Used Cars& Tracks for Sale application can help you much in finding a suitable car, even without sitting at the computer.
If you are tired of searching or didn't find a car yet matching your criteria, you can create an email notification when cars matching your requirements appear on the market. Also, you can be notified if a specific car has a price drop.
Price: free
Wyper: Swipe-Car Buying App – Cars for Sale
If you are searching for a new or used car you can start from using this app. Wyper contains the ads from various car sites. There are more ads than in any other app of this type.
Wyper offers you just to swipe (or "wype") through the results to choose a suitable variant.
Price: free
True connoisseurs of rare cars and simply motorists who wish to get an inexpensive modern car are increasingly looking for it, not in salons or markets but using mobile applications. It so simple and fast! Try it too!
There are some apps that will help you to be aware of new products and to find the right products at competitive prices. Have a look: 15 best apps to buy clothes on IOS & Android.