33 Best Blogging apps 2018 (Android & iOS)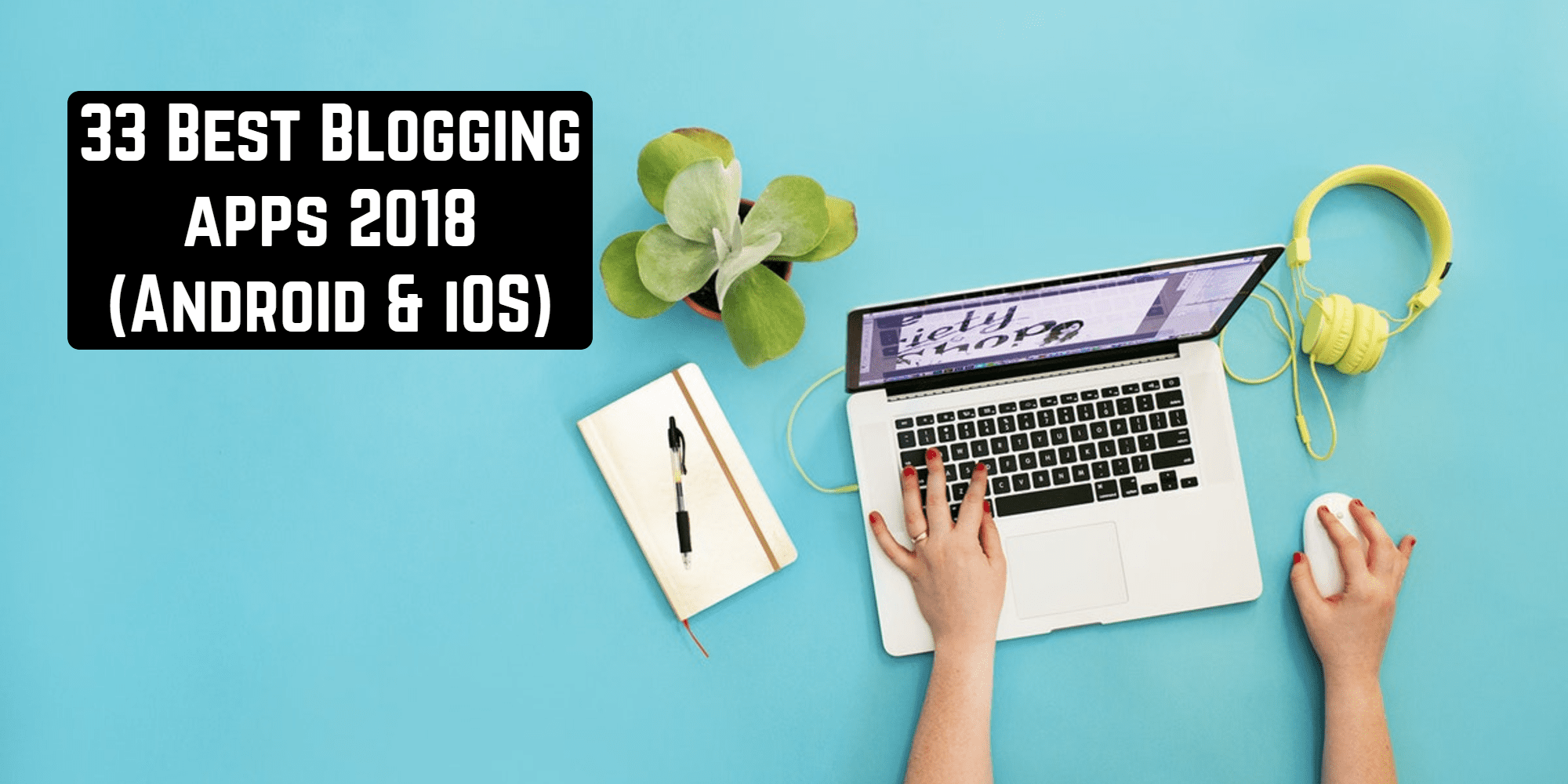 To conduct your blog is to express yourself and share your knowledge on the web. The popularity of the Android and iOS operating systems is growing steadily due to the availability on a variety of smartphones and tablets, as well as the ever-increasing number of applications on Google Play and AppStore. Nowadays, technical progress in the field of mobile phones and applications is rapidly moving forward, and now you can not only write on your blog on the go but also perform many other tasks on your smartphone in case you do not have a desktop computer at your fingertips.
If you are in the ranks of avid bloggers, then you must have in your arsenal 33 applications, with which we now introduce you. So do not deny yourself to try them on your phone.
Blogging is also filling your profile with bright posters. And how to make them – read the article 11 Free apps to make posters for Android & iOS
Tumblr
Many users prefer the Tumblr-blog, also known as microblogging, to the standard deployed. This is due to the fact that placing short posts with quotes, videos or photos is less expensive. This application, created for Tumblr bloggers, has useful options for publishing content, compiling a post, viewing messages and responding to them; you can even manage several blogs at once. And that's not all – the contacts of Tumblr-blogs will be reflected in your address book, and you can begin to follow the news.
There are 7 types of posts on Tumblr
Usually, on most blogging platforms, the post is a simple post. In Tumblr, the post is rather different. You can post, text, photo, quote, link, audio, video or even chat (fragment of correspondence). This (to some extent) simplifies posting, on the other adds some special charm.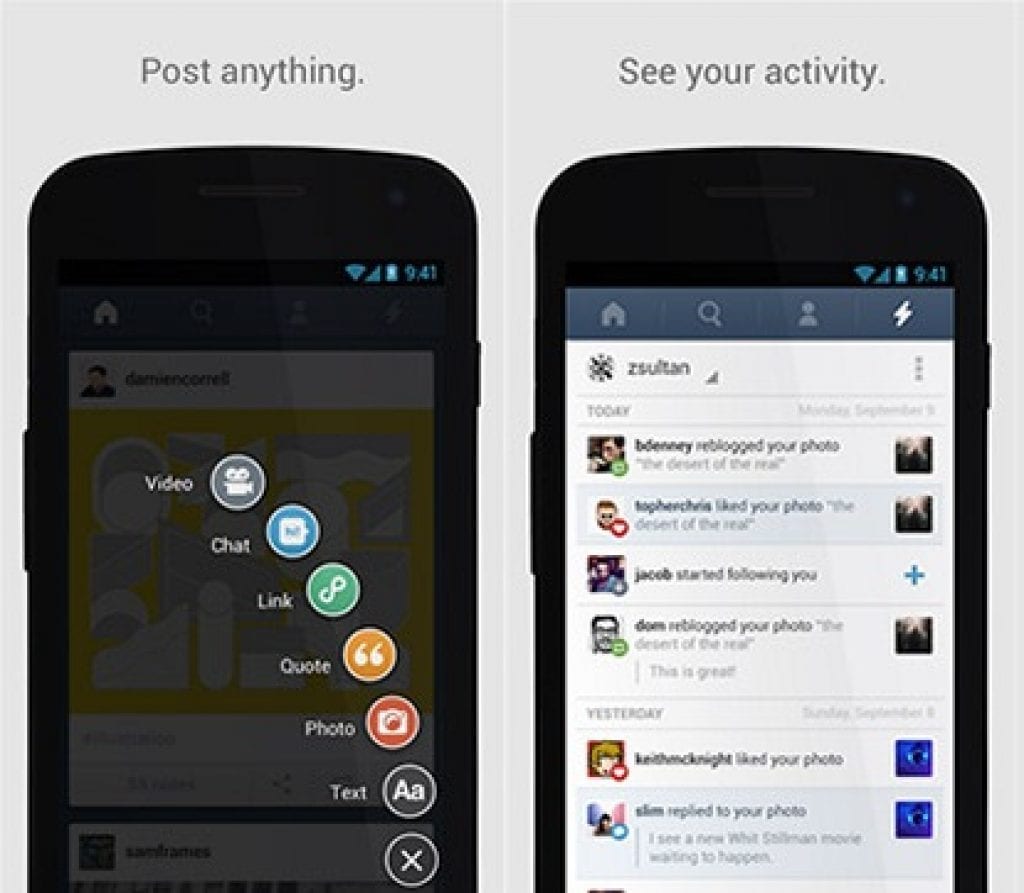 Tumblr blogs have an excellent design
This alone can attract attention. Excellent design is combined with simplicity. You will not find Tumblr blogs with 4 columns, a complicated basement, and another complex layout. A typical blog on the Tumblr platform has a clean, neat design and 1-2 clones. Ugly blogs on the "tumbler" you will not meet.
Tumblr design
In a special section of the site, you will find the so-called Theme Garden with hundreds of free beautiful and bright templates for Tumblr. In this case, of course, you have the opportunity to create your own completely original theme using the HTML editor.
Tumblr blog is very easy to manage
Blogs on the "Toggle" not for nothing have earned the reputation of one of the most simple to handle. This applies to both the management and the posting process. For simplicity and convenience, it is necessary to pay insufficient (in comparison with more advanced platforms like WP) control. The pluses can also include advanced posting by email, which supports many formats and the publication of photos, audio, etc. Using the Tumblr API, various services and mobile, desktop applications for it were developed.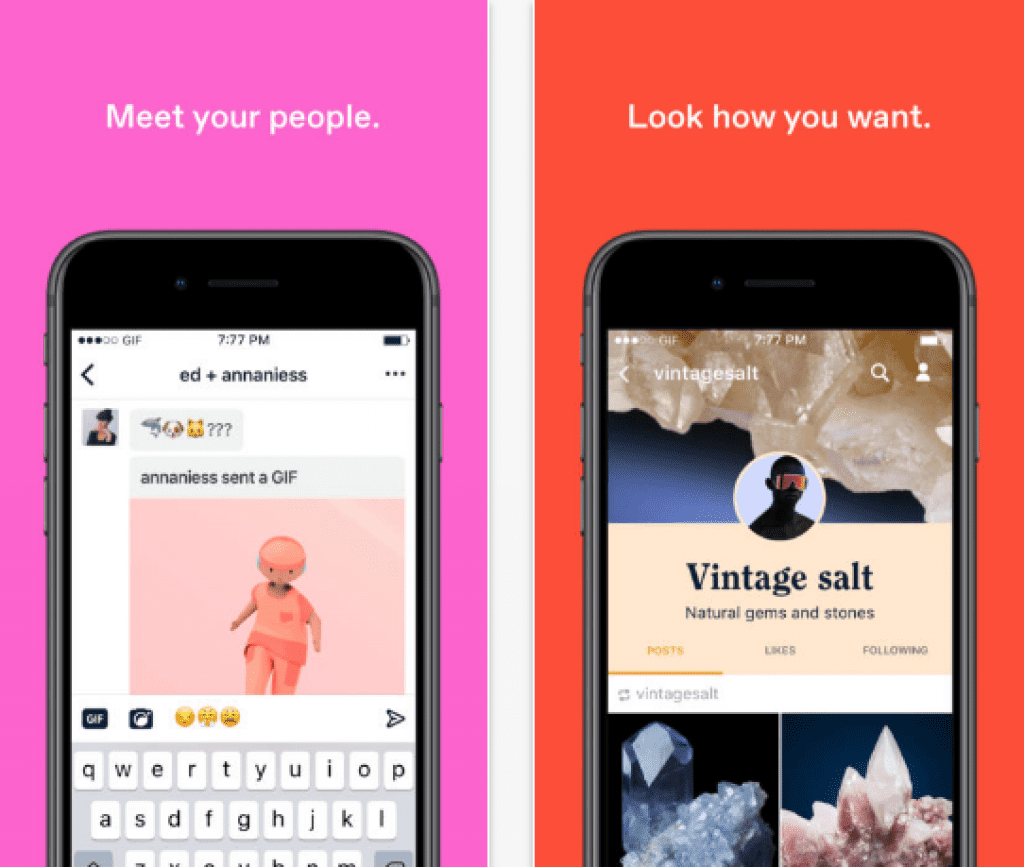 External statistics, Feedburner, optimization
To Tumblr, you can connect, for example, Google Analytics, which is an essential advantage. The platform is very friendly to search engines. There is an integration with the Feedburner service.
Fast sign up in Tumblr
This advantage is most likely to be assessed only once – in Tumblr, the registration process is simple.
Instead of comments – reblog
By default, comments are disabled on Tumblr, instead, there is a possibility to reblog something at home. At the same time, it is possible to connect an external comment system, for example, Disqus;
Integration with Twitter and Facebook
In Tumblr, there are opportunities for integration with Twitter. You can configure automatic posting of new messages to Twitter or Facebook.
This is only part of the capabilities of the Tumblr platform, which are truly stunning and locally unique. You can create joint blogs, "about yourself" pages with different design settings, add a "question-and-answer" mechanism to the blog, upload high-resolution photos and create them in photosets, etc.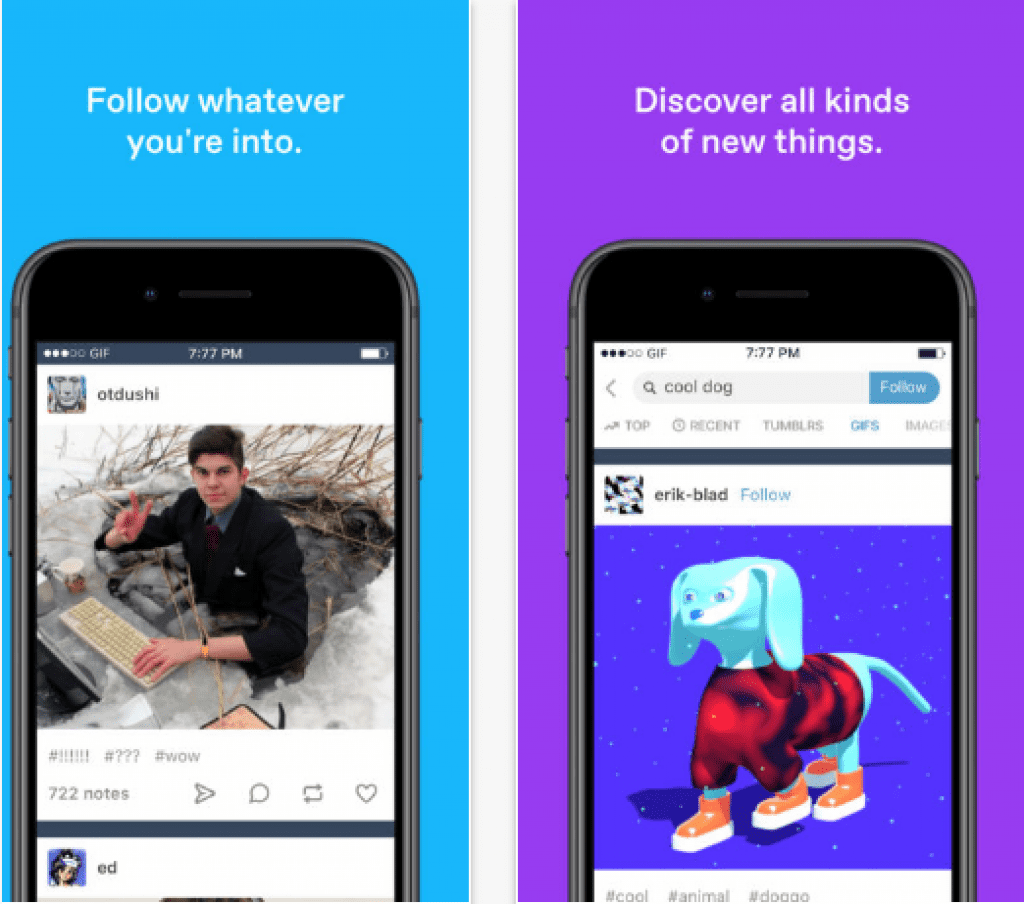 Get it on iOS Get it on Android
Blogger
Another platform popular among bloggers. If you blog on Blogger, then you definitely should try this app in business. However, the functionality of this application is significantly inferior to WordPress. This cannot help but surprise since Blogger is the official Google application.
Create messages that you can publish right away or save as drafts.
Edit the published messages.
View the list of saved and published messages.
Switch between accounts and blogs.
Embed images from the gallery or directly from the application.
Add shortcuts to messages.
Publish information about your location.
With the Blogger app for Android, you can publish blog posts from anywhere in the world.
Get it on Android
WordPress
WordPress – this is truly a salvation for a blogger who is left without a computer, and you need to write to a blog. For example, if you are on a trip, and you do not have a laptop or access to a computer. The app saves extremely. The application after the latest updates began to work more stable, some errors were corrected. In general, working with it and keeping a blog in the field can be quite comfortable.
As an option, if you are not even going to write articles from the phone, you can keep the application for moderation of comments and other things. We advise you to use it.
What can WordPress application do for you?
You can publish blog posts using this application directly from your Android and iOS.
You can view the number of page views on your blogs every day (if you use Jetpack on the WordPress plugin).
You can also save your blog posts as projects.
You can moderate comments on the blog.
Reply to readers' comments and more.
This app is very similar to a live WP dashboard where you can almost do whatever you want.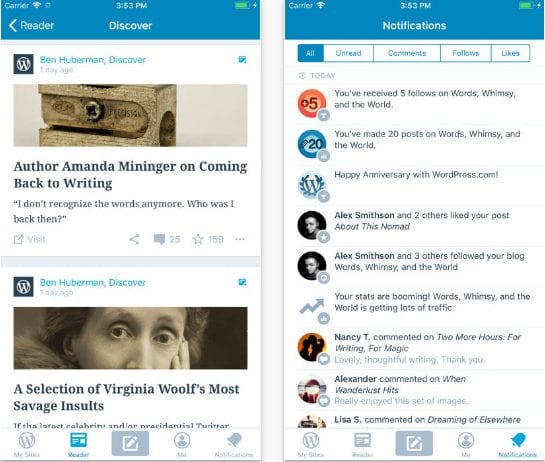 Get it on iOS Get it on Android
Ulysses
Professional audience of the Ulysses application are bloggers, writers, scriptwriters, poets, editors and other people working with the text on a professional level. A convenient system for organizing and storing documents, an excellent and attractive interface, rich typography and support for themes are just a small part of the capabilities of this product.
The text editor will not be able to disassemble the mess in the head and will not help write a good story, the text editor will help focus on the text and not be distracted from the process. Ulysses allows you to organize a project or structure ideas in one place – a single library. In the minimalistic sidebar, you can add an iCloud partition, folders from your computer or external directories. For synchronization and file sharing, iCloud is used.
In the Ulysses library, you can quickly switch between text files, split the work into separate chapters or scenes. The editor supports logical groups and subgroups.
For example, you can add the "Blog" folder and configure 3 groups:
published (for articles in the blog);
in the process (for articles on which work is being done);
ideas (outline for future articles).
But that's not all. In addition to the groups in Ulysses, there is a real find – flexible filters (smart lists), with which you can quickly find the notes you need. The filter can be customized for the text of articles, keywords, the date of creation and the date of the change.
Attention to detail in Ulysses is felt right away. For each group or filter, you can select an icon. Each article or note in Ulysses can be assigned keywords, a description, or a goal – to set the number of words.
The editor supports many combinations of hotkeys, the use of a mouse or a touchpad can be minimized. For iPhone and iPad, the editor supports third-party keyboards. A beautiful interface does not help (most likely) create a new masterpiece but will make this process a little more comfortable and convenient. For the document, you can choose ready-made styles that match any taste.
Blog owners on Medium and WordPress will like the export of the article to the blog. When exporting an article, you can specify many parameters:
assign a deferred publication of the article;
publish an article or add to a draft;
specify categories or tags;
select an image for the screen saver and other blogging platform settings.
For the WordPress platform, you can export to WordPress.com, and to your own server.
The incredibly powerful editor of Ulysses will help you write and demonstrate your masterpiece. With ease and convenience, cool visual effects in Ulysses can do great things. Editor Ulysses will make a strong impression both on professionals and novice authors. Enjoy the use of both in the version for iOS, and for OS X. Choose the option that you need. Ulysses is the right investment, the main thing is to write regularly.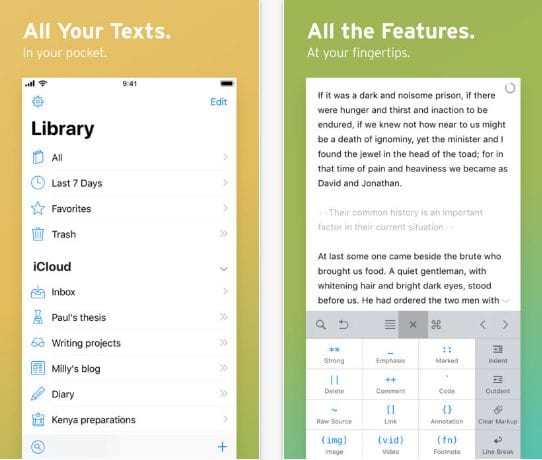 Get it on iOS
Evernote
Agree with each of you it happened that you were sitting on the Internet, and stumbled upon an interesting link that you would like to read, but eventually lost it under different circumstances. So this service is a second brain for a person who allows you to store various information. You can also add an add-on to the browser on your phone and sync the data. To understand how this works, we will give a simple example.
You sit late at night and read an important article on the Internet, but it's hard to sleep and your eyes stick together so that you cannot read anymore, and it's too early to get up and go to work or study in the morning. Therefore, you save the link or the selected piece of the wanderer in the night and read it all on your smartphone on the way in the morning. The idea is excellent, but the program is really useful, so put it unambiguously.
Since Evernote was launched, it has created a great impact on blogging the world. This is the most productive tool that you can use on the Internet.
Evernote is a very useful application for fixing unexpected ideas that have appeared from you. You can take a photo, record a video clip or create a list of necessary cases – all with the help of Evernote. All these materials are synchronized on all your devices, and you can be completely sure that with all notes you can easily use it through the phone, from the desktop, and in the browser.
What will Evernote application do?
You can save your blog posts ideas.
Voice recording.
Create to-do lists.
Image Capture.
Take notes when you are at any place, etc.
Get it on iOS Get it on Android
Google Drive
Google Drive allows any smartphone user to use the cloud storage to upload personal data to it. Using Google Drive, you can download any information on the Internet for personal use or for the ability to share a file with other people.
Many may ask: why is this necessary? And the answer to it is simple, it will allow you to access the necessary data or files pre-loaded on your Google Drive from anywhere in the world where there is the Internet, which is really convenient.
Google Drive allows bloggers to store in the cloud all kinds of documents, including Word documents, Excel spreadsheets, images, audio, video, and much more. The created documents can be opened and edited with the help of the program, if you download a third-party file, then you can open it only with the help of third-party applications. When editing created documents or tables, unpretentious tools are available, such as changing the font or position of the columns.
In addition to storage, the application also synchronizes these documents with the help of various devices connected to your Google account. With this feature, bloggers can easily access their files, wherever they are. If your laptop has an unfinished post, you can return to it using the phone.
Get it on iOS Get it on Android
Dictionary.com
Not quite sure about the meaning of the word that you intend to use in your post? Do you want to choose a synonym to use it in your text? Do not understand the meaning of phrases or words written by your readers in the comments? Dictionary.com is an excellent solution for all these problems. The application will be especially useful for those for whom English is not the native language.
It contains more than 2,000,000 definitions and many synonyms and antonyms. Every day the list of words is replenished or refined. There is the word of the day, the hottest word and slide show. Each word can be heard by pressing a special button, a built-in voice search. In the article about the word, even its origin is written. Abbreviations, slang, abbreviations – there is everything.
Get it on iOS Get it on Android
SwiftKey Keyboard
SwiftKey is a third-party keyboard for mobile devices, which allows you to type texts with amazing speed. This is achieved through a system of predictive input. The application analyzes messages, mail, entries in social networks, and then adjusts to the style of writing of a particular user. Thanks to this, SwiftKey more accurately "prompts" the endings of words, and sometimes offers whole words.
The keyboard supports more than three dozen different languages. Among other things, it includes voice input. Separately it is worth noting that SwiftKey has received many awards.
This application is the dream of those who are tired of typos and a small keyboard in tablets and smartphones. SwiftKey Keyboard not only corrects your typos but also predicts words based on previously printed. You can also ask the keyboard to remember the words you selected on Facebook, Twitter, Gmail and the blog.
Capabilities:
Greater speed of typing.
There are several topics and the possibility of voice input.
There is an input speed statistics, thanks to this keyboard.
Corrects all errors.
A large number of supported languages (Russian, English, German, etc).
Convenient and beautiful interface, with flexible settings.
Convenient arrangement of signs with fast switching between them.
Make typing with the SwiftKey Keyboard the easiest and fastest.
Get it on iOS Get it on Android
VivaVideo
To blog means to share with the world your photos and movies about life. Therefore, for any blogger it is hard to do without a good video editor. VivaVideo is a video editor for Android and iOS phones and tablets. To date, this is almost the only full-fledged analogue of the legendary iMovie program for Apple devices. So now, in order to handle video clips on amateur and semi-professional level, it is not necessary to carry a bulky laptop – after all, this program can give odds to many desktop analogues.
VivaVideo features
Powerful built-in kernel, with the implementation of the mode of multi-capture and support for the PIP function.
Duplicating and multi-loading tracks, as well as support for animation headers.
More than 60 functional filters, various special effects.
Advanced tools for creating animated slide shows and photo compilations.
Ability to embed images into each other.
Ability to customize the control panels.
Convenient export of results to the internal gallery and social networks.
Regular updates and constant expansion of the functionality.
If to believe the feedback from users, then in comparison with the program VivaVideo, even Windows Movier Maker just rests on the sidelines! Judging by the abundance of such comments, it can be concluded that it really came out very good.
Get it on iOS Get it on Android
Snapseed
The application for editing photos with dozens of filters, the ability to cancel any action at any time and an ultra-friendly interface. This is a Snapseed photo editor on the iPhone and Android. With all this, Snapseed is a completely free application.
Snapseed is an alternative replacement for mobile lightning for professional processing of mobile photos. The application is incredibly high quality, as developed by Google.
The main purpose of the application is to process mobile photos directly on the smartphone's screen in a couple of touches. The application can open both files with the extension JPG, and with "raw" RAW photos. There are more than 25 tools for photo processing, including HDR program mode, thanks to which the photo looks more natural, with acceptable saturation and perspective. There is a brush to select the area to be processed. Download Snapseed for Android and iOS for free has a number of features that other photo processing applications do not. So when processing RAW photos, the quality does not deteriorate, and the photo can be saved in another format after processing.
In the application, there are cropping photos, alignment, and rotation by 90 degrees. Of the filters worth noting such as: shine soffit, which is more suitable for photos with portraits, blur adds the effect of bokeh and allows you to select an object in the photo. There is an opportunity to clean various defects on the face due to the automation of the application, everything is cleaned independently and you do not need to spend extra time. Fans of retro photography will definitely like the application, because it has a large number of black and white filters, as well as a few filter noir.
Interesting features of the application:
Intuitive and intuitive interface, in which the minimum of buttons, the presence of gestures.
The presence of a large number of languages.
Processing RAW photos and exporting to JPG.
More than 20 filters and tools.
Adding stylized text to a photo that adds color.
Get it on iOS Get it on Android
Feedly
After about a year ago the Google company closed Google Reader, many users decided to give preference to a service called Feedly. It has a good web interface, and official customers are on the two largest mobile platforms.
In our opinion, it is a good rss-reader which is necessary for all bloggers. If we talk about the mobile application for Android and iOS, then it, like the web version, has a fairly practical interface. It can also be noted that the mobile client does a good job even with large illustrated materials.
With this application, you can easily subscribe and receive updates from your favorite news sources: sites, blogs, magazines. Its interface is well suited for small screens of smartphones, but it's much more convenient to use the program still on the tablets. The content can be displayed in several layouts, including a beautiful tiled view that makes Feedly look like a real magazine. In terms of functionality, the program offers only a basic set of features.
The application supports many popular social networks. All settings are as simple and effective as possible. There is also an instruction that helps to optimally set up a news line for beginners.
Keep your hand on the pulse of the latest news along with Feedly!
Get it on iOS Get it on Android
Flipboard
The application gives its users the ability to easily view their accounts on Facebook, Twitter, Google+. Flipboard also combines interesting stories into one thread so that busy people can not waste time and do not browse everything. If you are a blogger, then using Flipboard and watching daily interesting news will provide you with fresh ideas about what to write about in your new post.
Flipboard is an excellent news portal that will allow you to keep abreast of all the latest developments in the world. Here you can find interesting topics and articles, video and photo information, which you can also share with other people. Choose interesting topics for you, creating a personal magazine filled with the most popular and authoritative news publications.
In addition, if you connect the program to your account on social networks (Facebook, Instagram, Twitter or LinkedIn), you can directly in the application get acquainted with the latest messages from friends.
Key features of Flipboard:
Collection of articles in your own magazine – click on "+" in any article and collect your favorite notes, images and videos.
The ability to manage the logs at https://editor.flipboard.com/.
More than 100 articles selected by the editors, including magazines and blogs that cannot be missed, great photos and special supervised sections dedicated to the news of the day and other topics.
Add content from the network to Flipboard logs via share.flipboard.com.
Get it on iOS Get it on Android
BeyondPod Podcast Manager
Those bloggers who do not have the time or desire to read can listen to audio content or watch videos. With BeyondPod you can subscribe, download, listen to audio podcasts, and watch videos on the go. This application is simply necessary for bloggers who often drive, and they do not have time to read. Externally, the application is very simple, all controls are located exactly where you expect to see them.
BeyondPod is an application for listening to podcasts, as well as reading RSS feeds. But programs with similar functionality are a lot and BeyondPod pulls into the lead for several reasons.
Firstly, it's a well-designed and user-friendly interface, which consists of three parts, switching between which happens with swipes. The first part contains all your subscriptions, as well as the number of saved entries. Also in this window, there is the menu to add a thread, in which you subscribe to your favorite storytellers. In the second – loaded episodes or tracklist. In the third part, there is a player, very informative and beautiful.
But the most important thing in this wonderful program is settings. As for them, then everything is fine too. The developers of Beyondpod did not forget about their lock screen, and about the download settings (for example, only with active Wi-Fi). Also in the settings, you can enable control from the headset or set a sleep timer. In general, the developers have tried to provide for everything.
As a conclusion, we want to say that BeyondPod is a beautiful application with a huge number of settings, which you do not have to come back to. In addition, the program has convenient and beautiful widgets for the screen lock, desktop, as well as curtain notifications.
Get it on Android
Pocket
All bloggers tend to go to the Internet more often through their smartphones, and always on their way, there are interesting articles and blog posts that they would gladly read, but time limits do not allow them to do so. Pocket solves this problem as follows: you save links to articles and read them later. The application saves a shortened version of the article, post, video or at least something so that you can return to them after a while.
The functionality is decent. Pocket stores web pages in full or compact form (as best, the service solves automatically), each entry can be assigned tags. They also replace folders when ordering data in the "store". From the contents of Pocket you can make a selection by the filters: Articles, Videos, Images, Sent to me. Pages can be easily marked as favorites and archived, and unnecessary – deleted. Since eventually, the library of materials "for a while" is thoroughly growing, Highlights are very useful – articles are long and short, popular among users, selective tags and resources.
The reading mode will not disappoint. The web page is saved in the device's memory in a compressed or full form, but the view can be changed at any time (if there is access to the Internet). The reader allows you to select the type of font, type size, and color of the substrate: white, sand, and black. You can scroll the contents of the page with tape or page by page. If the information turned out to be very useful, then a pair of tapes opens the internal, and then the system menu of the scoring.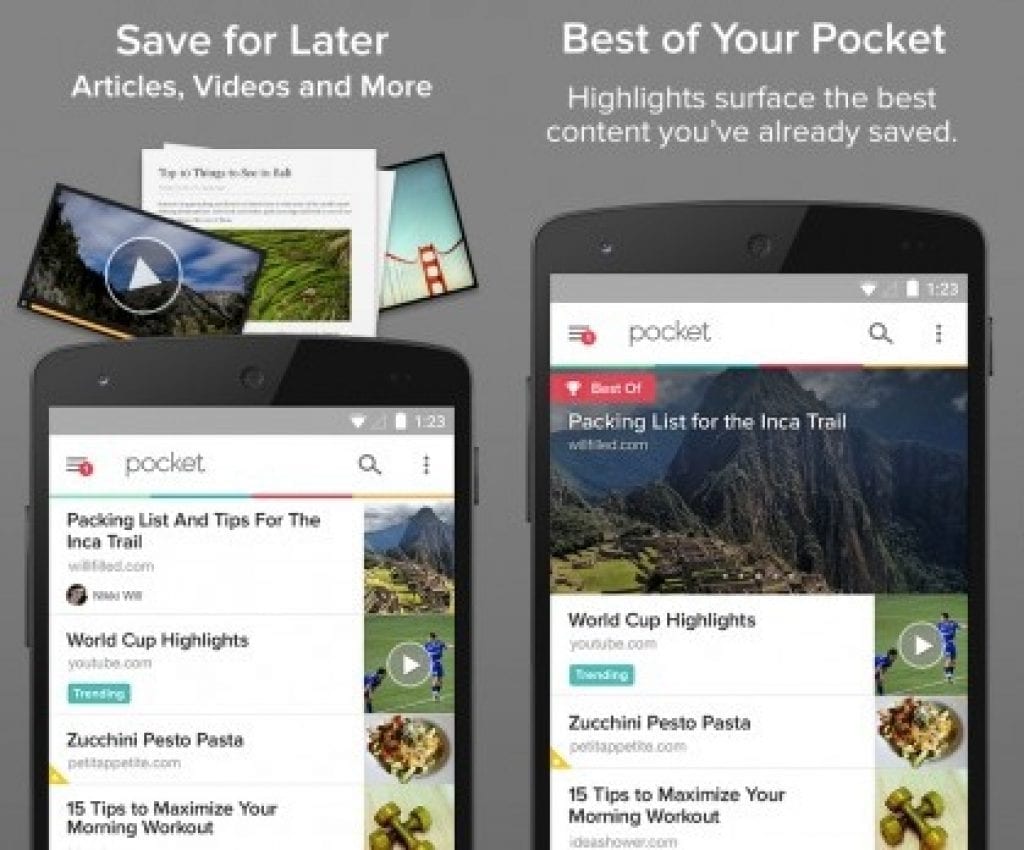 Get it on iOS Get it on Android
LiveJournal
LiveJournal is a mobile blog client. The application is suitable for those who lead an active lifestyle, constantly on the road and at the same time has time to do their own biography or description of the "other life". LiveJournal allows not only to publish another "meme" but also read or send private messages.
With LiveJournal app you can:
autofill tags;
security settings and user preferences for each record separately;
publication of photos in the post from the "Camera Roll" or directly from the camera;
publish location via the link in Google Maps;
edit location coordinates;
geographical coordinates can be converted to a mailing address;
use in the post LJ-user, LJ-cut, font settings and formatting;
autosave typed text.
Get it on iOS Get it on Android
Tape-a-Talk Voice Recorder
It is difficult to overestimate the presence of an application that record audio in the arsenal of the blogger . This app can be used to record an interview with an important figure in your area or create reminders. In addition to this function, Type-A-Talk offers to upload it to a number of services upon completion of the recording.
Tape-Talk-Voice Recorder is useful for those bloggers who record screencasts, audio lessons, interviews, and blogger musicians. The paid version includes basic editing functions, such as trimming, restoration and renaming.
Get it on Android
Dragon Anywhere
Using Dragon Anywhere, owners of devices on iOS and Android can quickly create both small notes and dictate large enough text messages. And the program itself is distinguished by high accuracy of speech perception and a number of interesting features that allow it to be used in the business segment.
In addition to dictating and precise speech recognition, the application promises to learn the voice of the user to improve the accuracy and support of expressions and words specific for various fields of activity. The ability to dictate text is not limited by time or by volume. Options for formatting and editing include selecting words and sentences for editing or deleting, navigating through template fields and applying common text formatting.
You can import and export content from popular cloud-based tools, such as Dropbox, and save text to notes management programs, such as Evernote.
Corporate users can manage the application through the Nuance User Management Center using individual words and administrator-controlled automatic text.
Get it on iOS Get it on Android
Writer
It's not easy to blog and perform other tasks on your smartphone, especially when there are so many attention-grabbing things on the screen. Most often, your productivity is reduced by other applications and notifications. Writer is a simplified version of a text editor that makes it easy to fill your blog with articles, without being distracted by extraneous matters. Very simple, suitable mainly for text publications.
Get it on Android
Dropbox
Dropbox is a cloud-based storage system in the form of folders or files. That is, you store the files not on the computer, but on a third-party service. Up to 2 gigabytes, you can do it for free, or increase the storage capacity by connecting referral links to the friends' service. For each new user, you will receive 125 additional megabytes of volume. Up to 100 gigabytes of additional capacity can be obtained at an additional cost. Using the Dropbox cloud, you can synchronize files, for example, between a home group of computers or smartphones.
It is designed to store information in any form with the ability to synchronize data between the MAC, PC and all kinds of mobile devices. Dropbox is extremely easy to use and manage – in order to start working with it, you do not need much knowledge, it supports any file format. In Dropbox, you can work with a large number of folders and files at once. Dropbox can be installed on any operating system, and it will fine to get along between them.
Support for the joint work of several users at once – you just need to create one shared folder, and other documents will not be visible to this group of users. If the files are changed by one user, then they change automatically with other users, and a service update message appears on the computer.
What you can do in Dropbox on your mobile device:
View the full list of files in your Dropbox account.
View some types of files in the mobile device (docx, txt, pdf, jpg, avi and almost all formats and extensions).
Add video files, images and photos for synchronization. You can easily work in Word and save files in Dropbox.
Create new directories and folders.
Save any available files to other applications.
Get it on iOS Get it on Android
Gmail
No blogger can do without e-mail. Looking for a simple, fast, and convenient email client? Try Gmail! It will instantly report new letters and help find any correspondence. In addition, you can read letters and write answers at any time – even when there is no Internet access.
Gmail is a simple and reliable application for working with e-mail. Gmail instantly notifies you about new emails; in it, you can read messages and write answers even without an Internet connection, as well as easily search through the entire mail.
Gmail benefits
Automatic mail sorting. Notifications from social networks and promotional letters are placed in separate sections so that you can focus on important messages.
Protection against spam. Filtering unwanted letters guarantees security and order in the mail.
15 GB storage. You do not have to delete old letters to free up space.
Support for multiple accounts. In addition to Gmail addresses in the application, you can add third-party services: Outlook.com and other services with POP/IMAP support.
Open files from emails and save them on your mobile device.
Customize notifications for each label.
Get it on iOS Get it on Android
Cogi – Beyond Notes
This is an interesting option for those bloggers who use the recorder as a dimensionless notebook and abstract. The application creates entire collections of audio files, which can be supplemented with text notes, pictures, and tags for quick search.
It is possible to store data in the cloud, save only important moments of conversation and share records with friends and colleagues. You can also record calls from the telephone line. The program received a simple and intuitive interface with quick access to settings and easy navigation of already created audio files.
Get it on iOS Get it on Android
Hootsuite
HootSuite is a free professional web client of Twitter, designed for active Twitter users and bloggers. This wonderful service also works with Facebook, LinkedIn, MySpace, and Foursquare accounts, with blogs on WordPress; connects to Ping.fm, which allows you to update the pages of more than 40 social networks. HootSuite supports multiple Twitter accounts and has an easily customizable multi-column interface.
You can create separate tabs for each account. The tab contains several columns for all tweets: Home Feed, Mentions, Direct Messages, Sent Tweets, Favorite Tweets, etc., as well as columns with search queries and Twitter lists. Tabs and columns can be dragged, changing their places.
There is a separate convenient People module for managing your followers, those you are calling, and lists. Here you can find basic information on each person's profile. The Stats section provides detailed statistics on links in tweets (in aggregate and for each link separately), which helps to better understand your audience and intelligently manage the microblogging.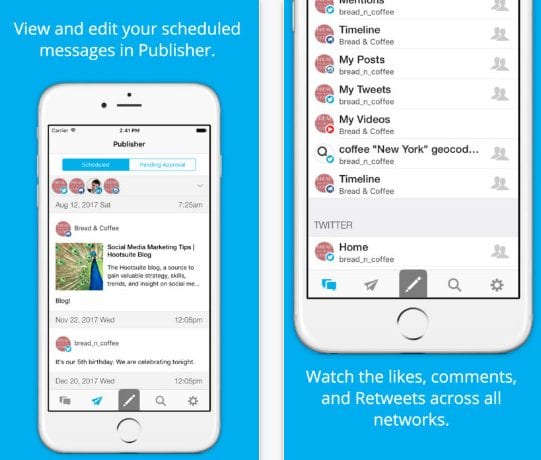 Another function of HootSuite, which is necessary to promote your sites on Twitter: monitoring the RSS site and relaying the headings of new posts on Twitter. Developers also implemented the mechanism of automatic deferred publication with the appointment of a date and time. You can find this a number of applications: greetings of acquaintances, personal reminder system, microblogging life support even when you are too busy or sleeping, etc.
HootSuite allows you to open an account to several people, which is important for groups, together leading microblogging, a page on Facebook, etc. In this case, the one who created the account on HootSuite is appointed by the administrator and can control the access of participants to various Twitter accounts and other supported services.
Other interesting features of HootSuite:
viewing chains of replays, information from Twitter profiles, search results by hashtags – without leaving the HootSuite interface;
the publication of tweets at once in several Twitter microblogs and in other supported services;
the ability to use Google Analytics to maintain statistics for links;
bookmarklet for the browser, which allows you to quickly publish a link to the currently viewed page on Twitter;
download images and files with the automatic publication of shortened links;
save tweets to drafts (you can store in this way and often published template messages);
print and export to CSV format files by link statistics;
visual and audible notifications of updates;
availability of applications for the iPhone (paid version and lite free, limited by the number of accounts) and Android (with the same division for paid and free versions).
Get it on iOS Get it on Android
Buffer
With its help, you can greatly simplify and accelerate the exchange of information with users of several social networks.
The client interface is simple and intuitive. The application uses a free account that provides access to 4 accounts. After installation, it is suggested to enter the above accounts, if there is a registration, of course. Authorization in each of the accounts is carried out through the application, the login and password for each are entered. After that, the application will be able to post updates on behalf of the user. However, this does not mean that every time you have to climb into the application itself, after installation, the Buffer will appear in the submenu "Share".
The service has a paid subscription for a year or for a month with the amusing name "Go Awesome". When buying a subscription, you have access to 12 accounts of various services with unlimited number of messages and the ability to conduct one profile by two users, which, according to the developers, is the ideal solution for a small business. Also, Buffer offers solutions for large corporate structures from 25 to 250 employees and more.
Summing up, it's worth noting the integration of the application with many clients for Twitter (developers recommend Echofon, Twidroyd, Plume, Seesmic, Tweetdeck, UberSocial, Hootsuite, Tweetcaster, works with Falcon Pro) and Facebook (Pocket & Instapaper, Zite, Hooha, Twicca, Plume, Flipboard, Pulse News, Google Currents, Taptu, Evernote, Feedly, etc.).
Get it on iOS Get it on Android
Todoist
Todoist is a professionally made software product that greatly can help you to streamline and properly organize your life! In it, you will find an "advanced" manager of to-do lists and reminders, a comfortable diary, a calendar, an alarm clock, a clock displaying time in different belts and many other very necessary and useful things for those people who are used to appreciate and rationally use their own time.
Unlike most conventional organizers, Todoist allows you to create not just individual notes, but even entire projects and add a lot of tasks to them. In addition, for each task, you can create subtasks and so on. Should not be afraid, the interface of the program is so competently thought out, simple and convenient, that you will never get confused in your own, even very complicated, matters.
Using some of the network features of this program, you can also take part in other people's activities or create your own common projects: set tasks, assign performers and monitor the execution of instructions. An automated instant notification system will always provide you with up-to-date information on the progress of all scheduled tasks.
Among other interesting additional features of Todoist, one can note the availability of cloud storage for the reliable keeping of user information and quick access to it. In addition, the application, without fail, supports automatic synchronization of all data between different devices (for example, a computer, a tablet, a smartphone). Also, the program can be automatically integrated into web browsers so that the user can literally "in one click" get instant access to all to-do lists and e-mails, without the undue necessity to open the application itself.
Get it on iOS Get it on Android
Pingdom
Every webmaster is interested in the stability of his sites. Every minute of downtime in the operation of the site, or mail, can lead to serious consequences. Especially if your site is the source of your income. It's not so hard to understand that if the site does not work, accordingly, customers and visitors cannot get to it. The income is lost, the reputation and customers are lost. We do not think that someone wants to lose visitors and customers. In this case, The Pingdom service will come to the rescue.
To work with the service there are mobile applications for the iPhone and devices running on Android. The application allows you to connect to monitoring the operation of the Pingdom service and view the current status of the servers and websites you are following. Believe us, this is very convenient when you receive an error message directly to your smartphone.
After installing the application, you will be able to receive Push Notifications directly to your phone (requires Android 2.2 or later). It is possible to view the current state of availability, statistics of the response time of your sites or servers. You can select the type of verification you want (HTTP, Ping, DNS, SMTP, IMAP, POP3, TCP port, etc.)
To use the Pingdom application for Android and iOS, you first need to be registered in Pingdom, and of course, install the application on your smartphone.
Forewarned is forearmed! Minimize the simplicity of your website! Do not miss a single visitor and customer!

Get it on iOS Get it on Android
Facebook Pages Manager
Facebook Pages Manager is an application for those Facebook users who have their own pages (not profiles, namely pages).
The settings section is extensive. In addition to the typical – information about the page, role management, and action log – there are options for push notifications. It's great that you can react quickly to the mentions and comments on the page. However, there is an alternative mode – a summary of "Overview".
Through Pages Manager, you can monitor notifications, respond to group messages, analyze page statistics, view photos, and manage events. With the help of the program, you can make new publications – text, photos, and videos. And also create events. The features of the editors are quite typical, the timer is present.
Get it on iOS Get it on Android
Weebly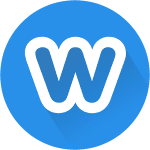 Weebly is a powerful site builder, which, according to the service itself, has already benefited millions of users from around the world. And despite the fact that the proposed language localization is not always correct, the functionality of the site designer is at an altitude and allows you to believe in the declared success of the service.
The main task of the founders of Weebly throughout the history of the company is to help ordinary people create and host high-quality sites on the Internet.
The intuitively understandable interface is perfectly combined with the wide functionality and allows you to realize the embodiment of creative ideas to people of different spheres of activity without additional preparation.
To start working with Weebly, just fill in 3 fields, specify the direction of the future site (site, blog, online store) and select the appropriate template and domain name for it. After that, your site is already available on the Internet, and the depth of its further customization and content are an exclusively individual matter.
Get it on iOS Get it on Android
IFTTT
IFTTT is an excellent application for creating certain algorithms that allow you to automate various actions, for example, turn off Wi-Fi when leaving home, publish on Facebook your updated status in Tumblr or LinkedIn, publish your favorite videos on YouTube or Vimeo on your blog, etc.
There is a number of ready-made templates, and it is also possible to create such algorithms yourself. The program supports integration with various services, including Facebook, Evernote, Instagram, Twitter, Gmail, Tumblr, Craigslist, YouTube, Vimeo, Google Drive, Pocket, Square, Best Buy, eBay, Reddit, etc. (support for more than 360 diverse applications, services, and devices).
Key features of IFTTT:
Creating algorithms to automate the execution of various actions.
Presence of ready templates.
Ability to create algorithms independently.
Support for more than 360 diverse applications, services and devices.
Get it on iOSGet it on Android
LastPass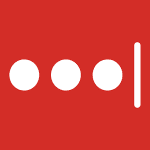 LastPass – a handy tool that allows you to store passwords and logins, and manage them in popular web browsers, on mobile devices, and synchronize on different platforms. The application allows you to fill in the registration data automatically, which will allow visiting sites much easier and safer.
The data in the LastPass manager is encrypted on the user's system, and you can unlock them using a password that is known only to the user. Using the program you can create not only passwords but also import ready-made passwords from browsers, exchange passwords, and store confidential information. Support for checking of the reliability of the entered password and protection from keyloggers are supported.
Main characteristics:
Automatic filling of online forms and accounts.
Create secure passwords.
Import existing passwords.
Storage of confidential information.
Synchronize data between different browsers, platforms, and devices.
Encryption of user data.
Support for browsers Internet Explorer, Firefox, Chrome, Safari,etc.
Get it on iOS Get it on Android
Pushbullet
Pushbullet is one of the best applications that make it more convenient for a phone to work with a PC. It has the function of sending files from the computer to the phone, writing SMS from the PC, and you can see the incoming messages to the phone directly on the computer screen.
However, if you follow the news, you probably know that from now the Pushbullet is not completely free. Now it has two versions, free and for $ 5 a month.
Pushbullet is a very convenient application that allows the user to quickly and easily transfer all kinds of files, reminders, task lists, notes, links, etc. from the desktop computer to the mobile device and back.
Sending files and notes from a PC is done via a web browser, so before you start using Pushbullet, you need to register with the account on the service's homepage, and install an add-on for your browser, after which the mobile device appears in the list of connected devices.
Sent files, links, lists, reminders, and photos will appear in the phone's notification bar as a normal incoming message. Also, there is an opportunity to transfer data to devices to your friends (they also need to have the Pushbullet program installed).
Pleased that the creators of the service took care of privacy. A smartphone is a device much more personal than a computer, and it is not always wise to keep them in an eternal "bundle", especially when it comes to SMS broadcasting, messages from social networks, passwords to Internet banks, etc. Fortunately, Pushbullet connects devices wirelessly (Bluetooth LE), which means that without the presence of a person with a smartphone, push notifications will not be displayed on the computer screen.
Get it on Android
Notegraphy
Do not know how to give your posts a memorable style? With Notegraphy for Android and iOS, you can easily put your words in a bright form, which definitely will not go unnoticed.
If you want to give your thoughts in social networks additional brightness, it's time to get acquainted with Notegraphy. The service is created in collaboration with professional graphic designers and offers a choice of 35 templates for decorating your statements in a memorable form. Try Notegraphy in business. Your posts on Facebook, Twitter, Tumblr, Instagram, and any other corners of the Internet will acquire an individual style and definitely will not go unnoticed.
At its core, Notegraphy is another social network. All the same reciprocal subscriptions to publications, elected posts, privacy settings, notices, news feeds and further on the list. There are many templates – three and a half dozen. And if you consider that each of them contains three variants of execution, then the total number of styles exceeds a hundred. It should be enough for a variety of tastes: from fairly strict to clearly pretentious.
All your creativity is stored in the cloud and can be accessed for editing at any convenient time. Have you decided to change the text or style? You are welcome. With the Share item, your work can be shared via the applications installed on your smartphone.
Drafts
Drafts is a super-functional notepad for iOS. Its feature is integration with other applications, which allows you to share your notes with virtually any service.
The Actions function deserves special attention. Here are all the applications to which you can send a note. Here is a short list:
Cloud storage: Dropbox, Google Drive, Buffer.
Task managers: Clear, Due, "Reminders" (iOS), OmniFocus, Things, "Calendar" (iOS).
Noteholders and notepads: Evernote, Byword, Simplenote, Markdown.
Social networks: Twitter, Day One, Tweetbot, Facebook, Google+, App.net.
And this is an incomplete list. Moreover, you can create new actions by registering URLs to applications that you need.
In Drafts, there is a special mode called Link Mode. With it, you can make addresses, links and phone numbers active to get rid of unnecessary copying and pasting procedures.
In the settings, you can manage your actions, bind accounts and change the graphic elements. For example, enable/disable the status bar. Notes can be divided into groups: all, Inbox, and Pinned (favorites). This is convenient if the number of notes exceeds a few dozen.
Photo Editor by Aviary
Almost always bloggers add to the materials not only text but also a variety of pictures (in some cases, made independently). Therefore, we included in the review a sufficiently functional photo editor from the Aviary company.
Having a smartphone, you can take quick pictures on the go and immediately or in the near future attach them to your posts. From time to time, we need to add something to our photos. In this case, Photo Editor  comes to the rescue. With it, you can edit, crop, and resize images, and add effects, text, and pictures.
A user-friendly interface and intuitive control will allow you to start using the program immediately after downloading, without further studying the functions.
The main functions of a Photo Editor from Aviary:
automatic image enhancement (in one stage);
removal of the "red-eye" effect;
stickers for decorating photos;
alignment of color balance and white;
cropping of the image.
This is only a small part of the capabilities of the photo editor, in the application, there is also a selection of free functions, besides those listed. The user can also purchase additional plug-ins and tools for the photo editor, if he wants something more original than what is already provided in the application.
---
Dear bloggers! Are there any other applications not mentioned in our list, but which you use daily? Do you have any experience using the applications described in the article or any others that you would like to share with us? Leave a comment about this.