12 Best Price Comparison Apps For Android & iOS
The shopping season is open. It is time to buy all the things you wanted for yourself and your friends. Alas, this also means the bad traffic season as well. So you can't drive around checking out prices. And snow does not help either. What we all need are best price comparison apps both for Android & iOS, all year round and with nice deals and coupons. 
Amazon
I can't start this thing with a surprise, sorry. Amazon is the undoubted Titan of commerce and you should check out its exemplary app. The app will make sure that millions of products are at a tap's distance. The range is not really limited, you can shop for anything from books to household appliances, software and clothing are there as well. Part of what makes Amazon an e-commerce gold standard is the many features integrated into its application wishlists, barcode scanner, voice search. Lightning Deals sound good. And you can order in one click. If you decided to go with just one shopping app, this is one. One of the most installed apps ever.
Get Amazon App free for Android here
Get Amazon App free for iOS here
ShopSavvy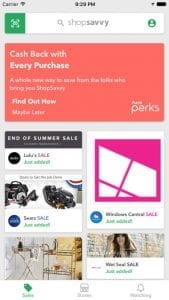 ShopSavvy is just built for comparison: tap that Scan Barcode button at the display bottom, put the barcode precisely on the on-screen box, and you will a get a list of both online and local retailers who are also selling the item. If your item doesn't have the barcode for some reason there is a search tool available. There is even more to ShopSavvy. You can set up notifications for specific categories, items, or searchers so that you'll get notified when a sale comes up, both online and local retailers again.
Get ShopSavvy free for Android here
Get ShopSavvy free for iOS here
BuyVia
One more good app that offers more than just price comparisons, BuyVia lets you know of sales on categories of products of your choice. BuyVia asks you where you like to shop, and prices are shown at the stores you visit rather than the ones you don't. There is a very handy feature where you create price drop alerts for specific items you really want to get the best deal possible. The results page on BuyVia is not quite as nice as the one on ShopSavvy, but it does appear to collect prices for a wide variety of stores in an effort to get you the best deal.
Get BuyVia free for Android here
Get BuyVia free for iOS here
ScanLife
ScanLife lets you scan barcodes, QR codes or Microsoft Tags to quickly get your hands on a wealth of information. With this app, you can look up online and storefront prices, as well as product reviews. You can go into detail and check out nutritional information, where available, as well as local stores who are selling it. In the US only users can earn mPoint rewards as they scan QR Codes and barcodes that can be turned into real gift cards. Another toy-ish feature is syncing with Facebook to share your favorite products with others.
Get ScanLife free for Android here
Get ScanLife free for iOS here
Quick Scan
Quick Scan gives you results from local stores only in the pro version. The free app still does a great job of searching online retailers with results shown to you the results in a way easy to read.  If you go for the upgrade, you will get a bunch of features related to reading and creating QR codes, which is not too helpful with comparing prices. Android version is a bit old for this one.
Get Quick Scan free for iOS here
TTPM
Toy stores are chaotic and harrowing in any season, but around the holidays, they are battlefields between hobbits and humans. And hobbits keep demanding new toys. Save your sanity and cash with TTPM instead. The app offers up a variety of toys, electronics, sports goods, which are also gifts for kids. Don't miss the part where the app compares prices across stores. There are search and barcode scanning features to find gifts and prices. You might want to watch video reviews first, to help find the perfect present.
Ebates
Ebates is one of the best things for strictly online shoppers, Mostly a coupons and rebates app that focuses on online deals rather than real-life locations. Ebates works with 2,000+ stores and websites to provide a great blend of deals, sales, and coupons, alerting you to the latest deals and providing you with cash back rebates on purchases. Users can set up custom notifications for types of deals, and use the app's built-in browser to shop from within the app itself. For comparison – you got it – scan the barcode.
Get Ebates free for Android here
Get Ebates free for iOS here
TripAdvisor
Besides things you can get in a supermarket you also have some traveling needs. You can get help with comparisons here too. The very popular TripAdvisor iOS and Android free app is beloved by users because it helps them find the lowest prices for airplane tickets, accommodation and eating places.
Get TripAdvisor free for Android here
Get TripAdvisor free for iOS here
Walmart App
And we are finishing with another titan of commerce. Walmart's app shows price comparison with your local stores and makes up a list of best prices for you. This app is known to sometimes provide faster results than other apps while providing updates on savings and discounts on the products according to your interests. Walmart app can geo-locate local stores around you and even instantly find products with QR codes. The app also allows you to create wish lists for any purpose. That list can also be for someone else, and you can even share your lists on social media.
Get Walmart App free for Android here
Get Walmart App free for iOS here
Now Discount
Retale
If you are into nation-wide retailers, Retale brings you hundreds of ads, deals, and coupons right into your phone. The app uses your phone's location services to provide you with customized and localized ads and deals that you can easily enjoy at nearby retailers. For avid list-makers, there is an option for creating shopping lists. Notifications on the latest bargains are also available. With holiday shopping raging, Retale will certainly surprise us with deals and doorbusters.
Purchx
Purchx is a comparison shopping app that offers peer and professional reviews, side-by-side product comparisons. Like every respectable app here it features quick barcode scanning for comparisons of local and online prices. Professional reviews for Purchx come from sites such as Tom's Guide, Laptop Mag, AnandTech and Tom's Hardware, whereas user-generated reviews, complete with a rewards system, come from everywhere. Here you can check out beauty products and/or any dozens of product categories.
Other apps usually focus on getting you the largest number of prices (or products) that they can, but Now Discount looks to find you the lowest price in three different categories: a. the lowest price online
b. the lowest online price from a major retailer
c. the lowest price in local stores
When you scan the item you get all three lists.
With these apps you can compare prices for anything you can legally buy, just look out for your budget.