11 Best vlogging apps 2020 (Android & iOS)
Blogging is not an easy job. Vlogging is even harder. Find a great moment and capture it on your cam, collect all photos to one short video that accompanied by attractive text and extra effect. All this is required to do enormous work.
Nowadays we can't complain about the lack of technology. Almost all smartphones can be proud of having high-quality cameras. A good smartphone can capture really amazing Videos. But we need an external software that can turn a video into a breathtaking clip filled with music, effects, texts, and signs. It is also known that Videos captured something interesting can also contain something not appealing or simply boring to watch. Such a moment should be deleted if a blogger wants to share the moment with subscribers. By the way, you can check the list of TikTok video editing apps if you are aiming to have a vlog on this platform of short videos. 
There are many video editing apps for desktops and smartphones. We do not need to upload Videos from smartphones to the pc in order to edit it. We can do all this through simple apps available on the Android Market and Apple store.
Here we collected the Best 11 most popular vlogging apps for Android and ios.
Vlogit
Vlogit is an application for YouTubers and vloggers and for all those who are keen on compiling videos. Overall its ad editing app for video making purposes. There are a lot of nice tools that work well from a smartphone.
The app lets you make new video uploading the data from your device or from the library. You can add headlines to it and emojis. With stickers, you can make your video more attractive and vivid. Add intros and animated texts. You can play with layers and order of the video tracks. Then preview your video and share it through the app on Youtube.
The app is claimed to be free with no watermarks of your videos.
However, there were some complaints about finalizing the video. Simply the audio wasn't matching the video and people face and hands expressions while they talk. The developers must have been fixed this bug by now.
Despite that, the app has a high rate and tons of good comments.
You may also like:  11 Best apps to write text on videos (Android & iOS)
Quik
Quik is yet another popular app for vloggers, for all those videos making fans that keen on creating a video, capturing different moments of their lives or what they see. Surprisingly, this app contains 23 different themes that in their turn contain built-in graphics. So all those built-in digital decorations can be easily attached to any video making it wonderful and attractive.
The ap supports 1080p and 720p HD format videos that can be uploaded to Facebook or Instagram account. The app is of great support for any video blogger.
Splice
Splice is compatible only with ios devices. It offers a vast amount of great editing features for video blogging. Imagine yourself as a professional video maker and impress your subscribers.
Video clips can be Spliced, speeded up or slowed down as a greatly known feature called slow motion. Cut or add some fragments of the video, add one to another, and lay some music or sounds over it. You can crop, rotate, trim the image adding it to the video. The interface of the app is very convenient to use and it goes step by step. There is an option to choose the format either to be cinemas, portrait, or square.
The app has a sounds gallery with more than 100 free songs. Of course, you can upload music from your own device. Splice supports different audio formats like MP3, MP4, AAC, etc.
Videos can be shared straight away to any of the popular social networks or to your device's memory. Supported resolution can be up to 1080p.
Magisto
Magisto is a magic app for all these huge numbers of vloggers and YouTubers who need a fast and easy tool to edit videos. Easy and light with a simple interface Magisto are available for Android and iOS. It is a definitely popular app and has been downloaded millions of times. It's free to download with in-app purchases and subscriptions. For those who need a whole package may find annual subscription a real bargain.
It is advised to download a free version to try if the app can suit your needs and only then subscribe to a Premium account. So, this app lets you create and edit videos for all kinds of Social websites we all know about. In Magisto you can make a slideshow, video collage, or the full made video. Videos and photos can be uploaded from your device or from Google Drive storage.
Magisto offers a whole bunch of different songs and music of different genres. Of course, you can use something else from your smartphone.
Adobe Premiere Rush
Adobe Premiere Rush is a well-known software producer and here we have one of his relatively New products. Premiere Rush is an app for Blogger as you could guess. It is available for Android and ios devices. However, in the beginning, the app was supported only by iPhone and iPads.
As all apps on our list, Adobe offers video editing features. Besides, it videos itself can be recorded through the app. Adobe timeline supports up to four videos and three audio tracks. There is also an enormous amount of other editing features. Note, that most of the valuable features are available after subscription with monthly fees. Free account Will be limited in features and the amount of video that can be exported within one month.
You may also like: 11 Best slow-motion video apps for Android & iOS
FilmoraGo
FilmoraGo is an app for vlogging and video making. Either for joy or for business. It has a desktop version. However, we are interested in the smartphone version that is available for Android and iOS as well. The app has a high rating that proves its efficiency. Here you can make funny videos or just capture the best family moments for history.
To create the best video here you need to follow three steps only. firstly choose photos or videos from your device, Facebook page, or Instagram. Then choose a ready theme and add music. Done. Now you can share it on Social Media through the app.
YouTube Creator Studio
YouTube Creator Studio is somehow a control panel for YouTube if you are a blogger there. It simplifies the process of not only uploading videos there but also following and reacting to comments. It is the app for professional and serious Youtube vloggers. This apps is the fastest way to have control over your blog.
Here you can check the analytics of your channel, monitor it an reply on comments quickly, or even delete them. Needless to say that all these procedures can be done through your smartphone on the go.
Editing of videos includes managing advertising formats. Here you can choose or change where those ads will appear in your video. This app is not for creating or editing videos. It is all ready for managing the whole blog on a purpose to have a profit from it.
Clips
Clips is a perfect tool created by Apple for video bloggers and all those who are keen on creating videos. This app suits best those who like to play with their photos attaching them to each other with some favorite music or song. The app offers numerous video editing features:
Easy to add emoji or other different easy effects.
Different video filter effects and frames.
Possible to flip automatic translation to the video.
Cropping and rotating photos through the editor.
Sharpening and blurring photos to have a better look in the video.
The app is free with different adds popping up.
In shot
In shot is yet another popular video editor that available for Android and iOS devices and really simplifies the process for video bloggers. This app allows you to create real clips merging two or three videos into one.
One of the good features of the app is that after editing you can send the video to the most popular platforms like YouTube, Facebook, Instagram, or TikTok.
The app lets you merge, crop, split the video into different parts.  There are so many different features and all of them are so simple to perform. The interface of the app is really of a high standard. Rotation and trimming of the video are becoming simpler with inShot.
If you want to make some of the parts of your video clip slower or faster this app will do it easily with your finger movement left or right.
Inshot is free with different in-app purchases. Some features that you need may be paid.
Vlogr
Vlogr is a vlogging app with a high rate and a big number of downloads but available only for ios devices. It performs all kinds of features important for editing videos. Certainly, you can add different texts and effects.
The functionality of the app is fascinating. Adding pictures or videos is very easy. Just drag it and pull it to the end. No need to tap all one by one. Moreover, the app offers it own library full of pictures and videos. You may find some of them can fit your clips.
The process of cutting the video is also very easy. Just tap one button and wait when you need to stop. Re-tap it then. Music can be added directly from the app. It offers a huge variety of songs of different genres.
The app has a 3 day trial with monthly payment after that.
You may also like: 11 Best Apps to Add Music to Video (Android & iOS)
VidLab
Vidlab is available only for ios devices. It is free to download but of course, the app has in-app purchases for additional advanced features. Vidlab supports slideshow besides video clips. It means you can upload your photos and combine them in one slideshow adding music and texts. The app has a great number of fonts, so you can add animated text to the video or slides.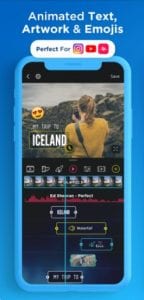 Vidlab offers a lot of video effects and filters, besides mentioned animated texts, it also can be added slow rain simulation effect, Light leaks, and many others.
The free version of the app includes watermarks, so if you want to avoid it go to an-app purchase. Especially if your videos are going to be in your vlog.