Often we install applications on the phone in order to just fill up your free time. But there are times when the game is too exciting, too addictive and interesting. Your eyes get tired of the tension because of the small screen of your smartphone, but you still want to continue playing. What to do in such a situation?
The way out is quite simple. There are many emulators of smartphones on your computer or laptop! They work very simply: the system simulates the Android platform on your personal computer – that is, you get an application, when you run it, you open your smartphone desktop.
There is also Play Market including. The most popular emulator is BlueStacks, but there are also alternatives to this software. We present you 13 applications similar to BlueStacks and not less functional.
Nox Player
Nox Player is a fully optimized and convenient emulator of the Android operating system on your computer. If you are a fan of the mobile version of PUBG, one of the first applications that you will be recommended for transferring the game to your computer is Nox Player.
In addition to games, you can also launch third-party mobile applications. The emulator works with keyboard support – you can open the layout and get full functionality only by clicking a couple of times. All controls can be easily moved to the keyboard or touchpad – set up the game control to achieve great results.
It is possible to run several applications simultaneously – each of them will be opened by a separate tab on the desktop of your "smartphone". The technical characteristics of your PC naturally improve the quality of your game – image quality, response speed, and animation.
Keep in mind that each application puts a lot of strain on your computer's system – that is, the more tabs are opened, the slower the requests will be processed.
The emulator itself is based on the Android 5.0 version. It supports almost all modern applications and is easy to use for those who have been using Android smartphones for a long time.
MEmu
Emulator developed in 2015 – a fairly recent development compared to other well-known emulators. The application is mainly focused on arcades and casino games, but generally supports everything that was released on Android. The simple and clear interface imitates the desktop of a smartphone so that users will be very easy to navigate in the management.
In the settings of the application, you can choose the resolution, quality, and position of the screen. Everything is customizable, but the initial settings are also convenient. Initially, MEmu was released under Android 4.2 but now supports newer versions. A distinctive feature – MEmu works equally productively with both AMD and Nvidia.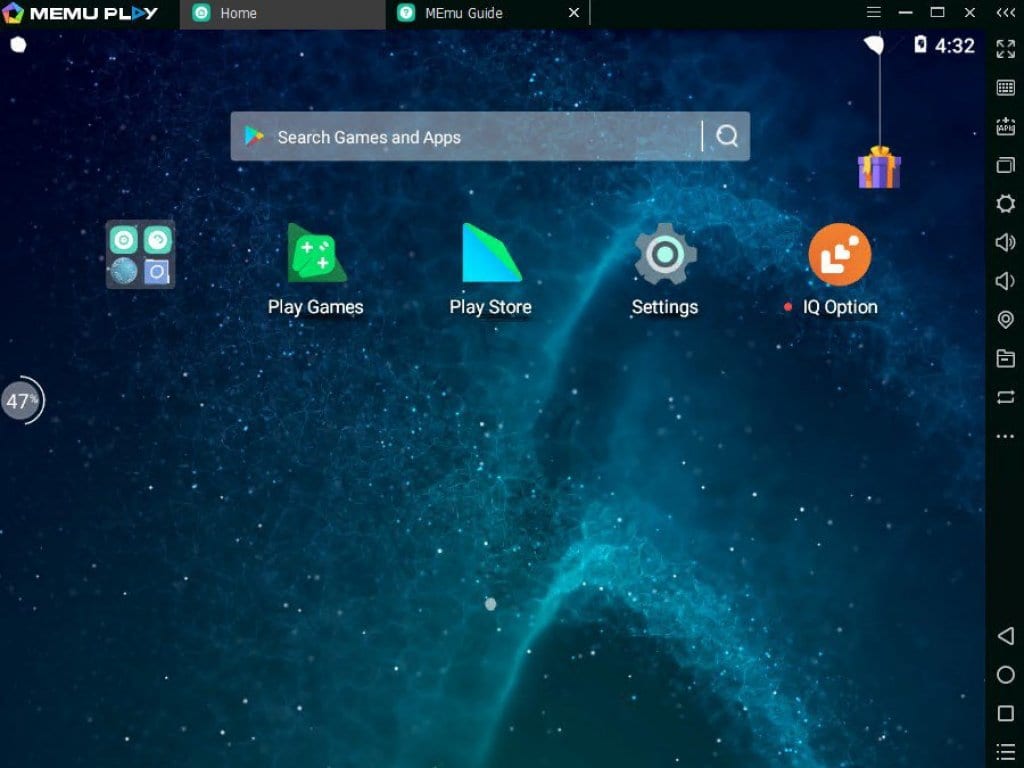 If you want to use MEmu for business – the developers offer to buy a special subscription. There is no advertising, it guarantees Premium service and promises that business customers will get access to new features earlier. In general, MEmu is one of the most powerful Android emulators on the PC, but some games lose their graphic quality when using it.
You can also check: 21 Best cross-platform PC/Android/iOS games 2019
Ko Player
Ko Player is an Android emulator presented by developers from Indonesia and Thailand. The main version of Android is 4.4, but there are regular updates and newer versions available. The work is carried out smoothly on almost all Windows devices, Ko Player is built on the architecture of x86.
Advertising is almost non-existent in the APK itself, but in the process of using it, you will encounter it (although the developers claim that there is absolutely no advertising). The main language is English, but you can download and choose any other language. A simple and clear desktop will not be a problem for users either.
Ko Player is available with hardware acceleration, which in some situations is essential. But despite this, the emulator can still hang up and just "freeze" the gameplay.
As for Ko Player games, it works perfectly. You can set up the controls on the controller or keyboard. And for games that require access to the accelerometer, you can set up data transfer from the device – it is incredibly convenient in races, for example. The emulator can even record avi videos.
Installation of applications can be done by simply dragging and dropping on your desktop. Flexible setup, availability of Play Market and easy system management – all this will allow you to fully enjoy the game.
Genymotion
In case you are not an ordinary Android user, but a real developer or amateur tester, you have already heard about Genymotion. This is the emulator of all the latest Android systems – from version 4.1 to 8.0.
The service allows you to check the performance of applications on different versions of the software, to detect bugs for further correction, and also does not require installation. You can do all the experiments in the webspace and do not burden the memory of your own computer or laptop.
Genymotion launches Android as a complete virtual machine in the cloud, compatible with many test environments. You can run as many virtual machines as you want. And the testing process runs in parallel, so imagine how much time you can save by using it.
Some platforms are paid per minute – for example, PaaS has a rate of 50 cents per hour. For Genymotion developers, this is one of the best solutions, as the emulator has support for Android Studio.
The emulator can be installed on Windows, Mac, and Linux. The use costs more than $100 a year, but if you are really testing products, it is a small price to pay for such a wide range of features.
Remix OS
Not quite the usual Android emulator. Unlike standard emulators, Remix OS does not simulate a smartphone desktop but is represented in the form of the Windows programs. In the window, there is only a classic taskbar – without the upper and lower panels with notifications and control.
The settings are controlled via a special sidebar on the screen. There are also two control buttons – home and back, as well as an imitation of the "start menu". In the Start menu, you get a complete list of installed applications – there you can also easily run them.
Remix OS requires installation in a separate partition. As on real computers (not Android systems), here is supported the sleep mode and reboot. In general, you get another Windows environment that supports the installation of Android applications up to the Marshmellow release. This is the version that the developers have decided to stay on, and not to update.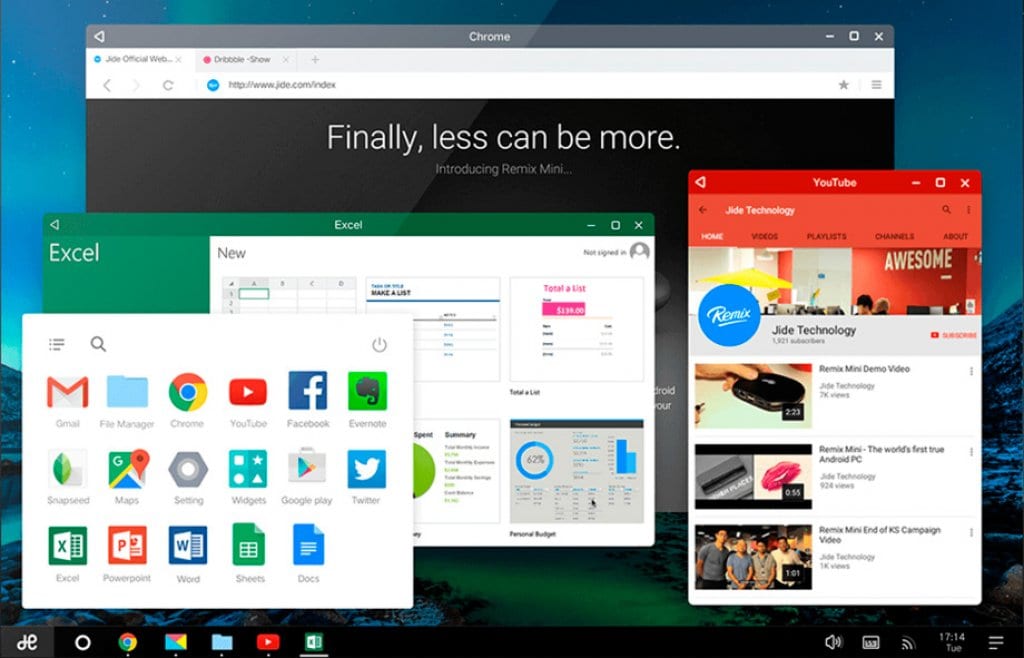 However, the emulator has a lot of fans – users have no complaints about its performance, and the work of applications does not cause criticism.
Go to SourceForge to download Remix OS
Android Studio
Like Genymotion, Android Studio is designed to test and help you develop mobile apps for Android-based smartphones. In general, Android Studio is an integrated processing environment where programmers can test, write and create apps, and target devices can be phones, tablets, and smartwatches.
The application has a huge range of development tools, ready-made code templates, and performance verification tools. When the time comes to try out the product in action, you can use the emulator.
It is much simpler than Genymotion, but it does not get any less functional. During the testing process, you can immediately make changes to the APK and synchronize all your projects with Android Studio cloud storage.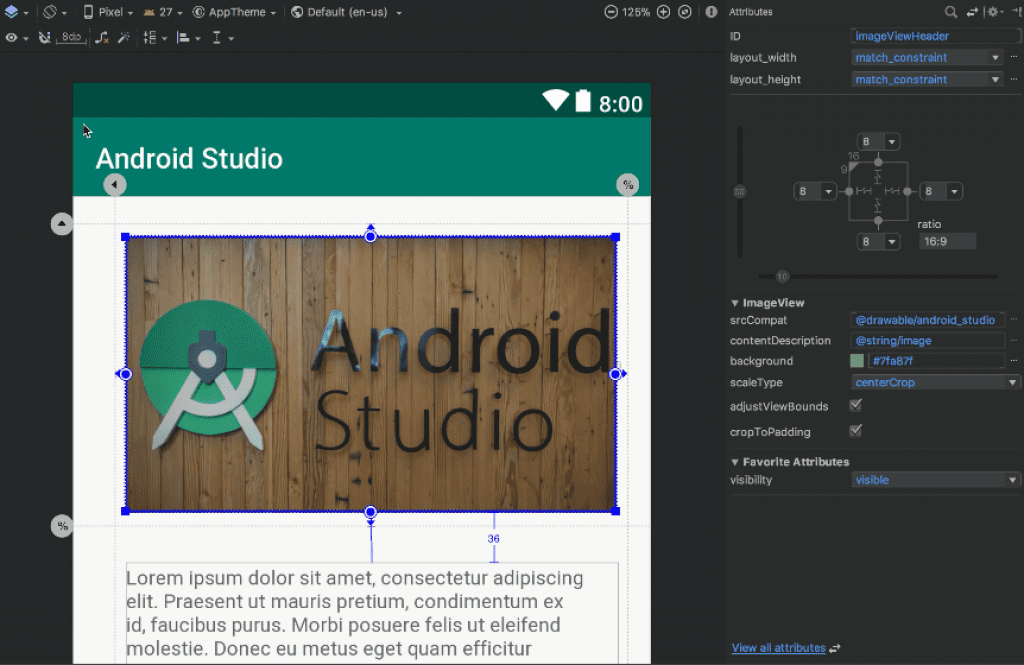 Another obvious advantage is that the emulator is free and official. Android Studio is a direct development of Google, so you can immediately see the connection between the development, testing, and launch of applications in the public domain.
Go to Android Studio download website
Phoenix OS
Phoenix OS is a mobile emulator for your computer. The project is a follow-up to Remix OS emulator, so the main features in their design and functionality are very similar.
The dashboard is also a desktop adaptation of Android. It is presented in a more familiar, "computer" form – a standard taskbar, a guide, as well as a shortcut Recycle Bin. Of course, many smartphones now have a folder "remote", but access to it is not so fast and convenient.
The file manager is also adapted. You get all your data in the form of windows and files – almost like in Windows Explorer. The main feature is that Phoenix OS is free of all Google services.
That is, initially there is no Google Play, YouTube, etc. on the emulator – but if you want you can download them. Among the pre-installed applications are Kingsoft, Adobe and some other standard utilities.
The keyboard is running in constant mode and to disable it, it takes some time. It also supports multi-windowing – run applications, use multiple services and even browser bookmarks all at the same time.
Phoenix OS is a fast emulator, but the load on your processor will be enormous. This is a great option if you are interested not only in games but also in working in the Android environment.
ARChon
ARChon is not a common emulator and does not require installation as an application on your computer. The name stands for App Runtime for Chrome. From this, the way the service works is immediately clear – you install it as an extension for the Google Chrome browser.
The main and key convenience is that the application runs as a native one. You can run multiple apps in one window at the same time without any discomfort or difficulty (of course, if your RAM does a great job with your browser).
The main version of the emulator is designed for the 64-bit version of Chrome but there is also a 32-bit version if necessary. You will need to download the APK and install it as a browser extension.
The extension works equally well on Windows, Mac, and Linux and you can run it as a virtual machine if necessary.
Please note that the application is provided to users in its original form. The ARChon developers are not responsible for any disputable issues and you install them all at your own discretion.
Andy
This emulator Android has long been on the radar among the fans of mobile games. Andy can rightly be called one of the most convenient APK, which allows you to play your favorite games right on your laptop – without even using your smartphone.
Andy has a built-in game store, so you do not have to look for the right apps on the Internet. Settings are already pre-defined and fit most computers. One of the few things you might need to change is to expand your screen. Once you have changed the settings, you will need to restart the emulator.
When using Andy emulator, you do not have to sacrifice games with multitouch elements. Easily use your smartphone to transfer your scores to your laptop or computer, making it easier for you to play. Messengers and social networking apps can also be used – just download them from the pre-installed app store.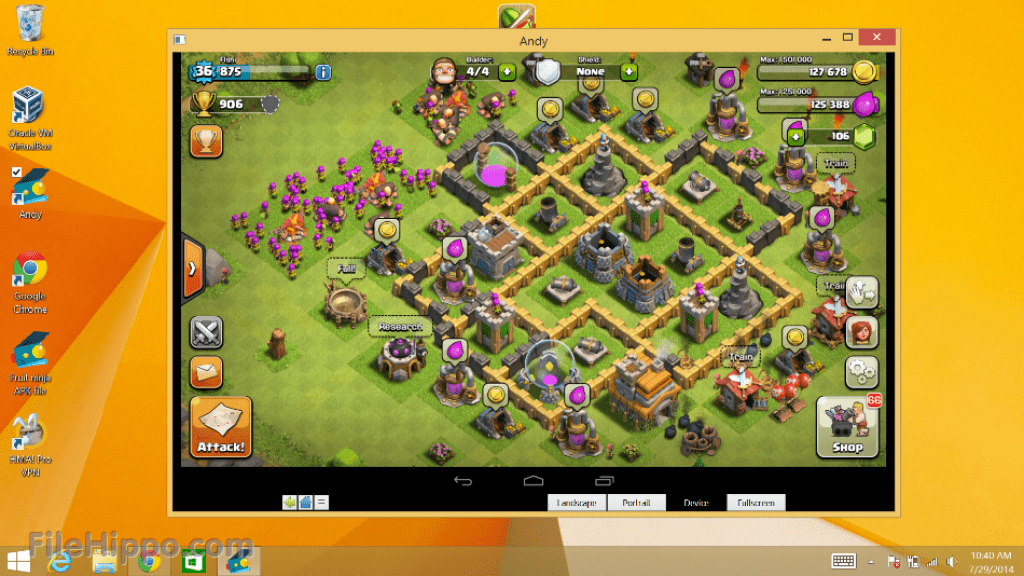 You can create smooth sync between your computer and smartphone. It will not let you miss anything in the game or lose game progress.
Constant updates keep Andy up to date with the latest events – each Android update will result in an emulator update.
Droid4x
One of the first Android emulators for personal computers. It can not be called special, advanced or unusual – it is a standard utility that copes well with its tasks and does not cause serious inconvenience to users. The application is compatible with Mac and Windows operating systems.
Droid4x is perfectly adapted for control from the keyboard and using a computer mouse. Also, the emulator allows you to tie the keyboard buttons to certain points on the window – which is very convenient when playing some games.
With Play Market there are no problems – all applications are quietly installed and run on your computer. If your computer is not older than 50 years, they will not even hang and shut down during the gaming process!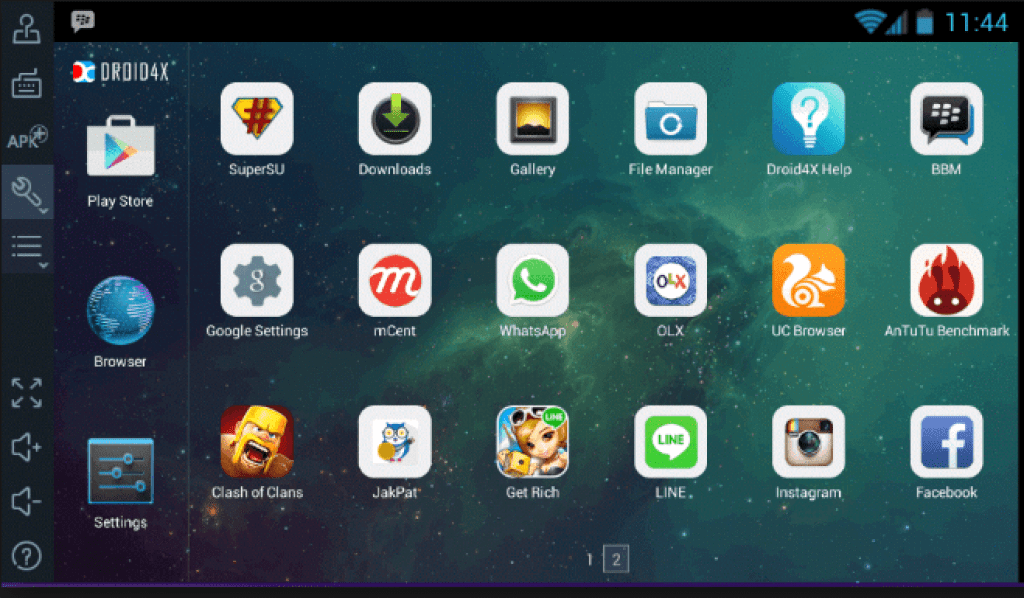 There are some problems with stability, but they happen to only a few users – so that they are not the main or serious. All settings are made in such a way that the emulator works smoothly on all standard computers – it is not necessary to have powerful hardware.
The last update of Droid4x was in 2016, but still, it works perfectly and helps a lot of users. Lack of updates did not affect the capabilities of the emulator.
Bliss OS
It is clear from the name that Bliss differs from standard Android emulators. Unlike others, it does not emulate Android processes on a computer but installs it as a separate operating system.
Bliss OS can be installed either via USB or any other external device. Of course, USB installation is tedious, but it is more convenient to use and allows your PC to work on this system initially.
The obvious advantage is that there is no advertising in the emulator. Open source also does not contain any interference with the system. Support of Substratum thematic engine gives gamers even more pleasure from the game.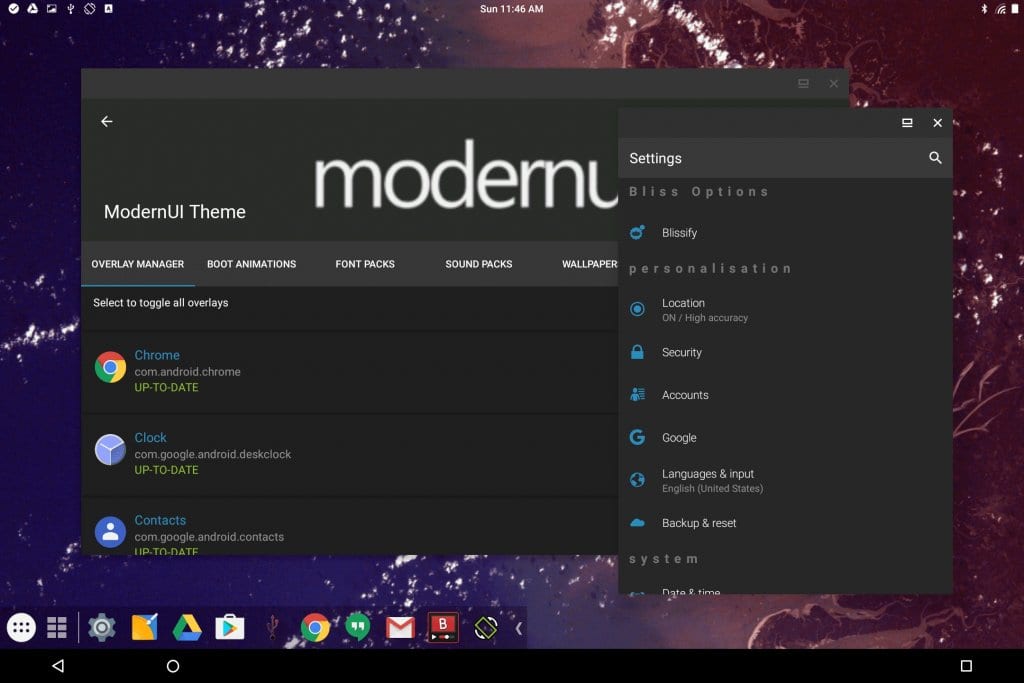 Bliss OS works perfectly and without complaints when compatible with your personal computer. Almost all the latest laptops and computers support Bliss OS. The emulator itself runs on the latest version of Android, but also constantly updated – so that the operating system will always work smoothly, even with the latest changes and innovations.
PrimeOS
It is an operating system that does a great job with applications and games developed for Android. After downloading, you get access to more than 2 million apps and games that you can easily download. Moreover, most of them are absolutely free.
You can also use the emulator to communicate in social networks. Flexibility and freedom in the choice of installed applications perfectly retain your convenience in using Android.
One of the key advantages of PrimeOS is less power consumption. According to the test results, PrimeOS has 30% more than a standard device. This parameter is especially important when working with a laptop.
The performance is as much as 3 times higher than that of an ordinary Android device. You just imagine how your game progress will improve with these figures!
The development team is actively working on partnerships. Expansion of cooperation allows you to install PrimeOS on more devices, as well as to improve performance and compatibility. Try PrimeOS as an additional operating system on your computer – you may like it more than other emulators.
You can also check: 7 Games like Horizon zero dawn for Android
LeapDroid
LeapDroid – One of the popular Android emulators for computers and laptops. In fact, after installing the software, you get an incredibly powerful tablet, with the ability to control it with the keyboard and mouse.
LeapGL speeds up the drawing of graphics – which allows you to play even heavy 3D games. LeapDroid even supports error reporting and can also be opened in more than one session. By default, Google Play Market is already installed on the emulator, so that any available applications are downloaded instantly to your computer. You can even use an existing Google account.
You can set up synchronization and create shared folders between your smartphone and your computer. GPS detection and similar features also work well with synchronization.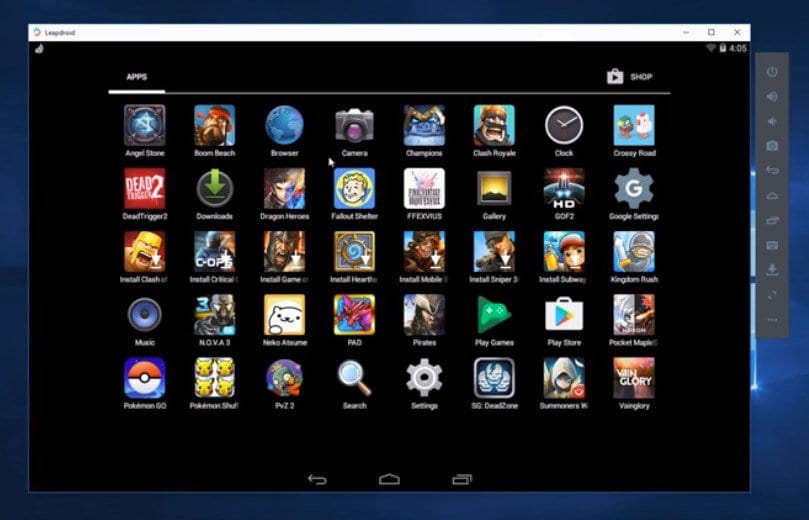 LeapDroid has high system requirements and at least 2 GB of free memory on your hard drive. High load on the RAM is also common. Start-up is only possible via the shell – but all these inconveniences are quite insignificant.
Using a smartphone in everyday life, we get used to its design, functionality, and features. Sometimes, without touching the computer for a few days, the first time you feel like an incompetent user.
Playing games for Android devices, we risk losing our sight or creating other health problems. Or your smartphone is too weak and quickly loses its battery power – then emulators for computers come to the rescue.
More convenient management, familiar interface, and increased technical capabilities – all this allows you to play powerful mobile games from your own computer. We hope that one of the presented emulators will suit you – install and carry on, for points and new levels!