10 Best Cloud VPN apps for Android & iOS
Nowadays, numerous hacker attacks and theft of confidential information of users are forcing many people to reconsider their attitude to Internet security. VPN (Virtual Private Network) – is a technology that provides a high level of safety while using the Internet.
Thus, you can protect your device against tampering and safely use public networks Wi-Fi, which are often the source through which malicious programs fall into the operating system of the mobile device.
Thanks to the use of the VPN, you can change your real IP address on the other, in order to get access to the unavailable sites in your country or region. Below you will find a selection of the most successful VPN tools that can be downloaded from Google Play. In addition, we have also added links to download them from the App Store.
ExpressVPN
VPN for Android is a handy application that will help to protect data while you work in the network via the android device. With this application, fast encryption of your Internet connection is provided.
ExpressVPN allows you to change the IP-address and its location that will be reflected in more than 78 countries. This software will bypass the blocking of many information resources, where there is a strict ban on the country.
You may also like: 7 Best Apps to Fake Instagram Direct Message for Android & iOS
VyprVPN
In all relationships, this is a comfortable VPN-client with a lot of servers around the world. This app can protect your privacy on social networks, get access to blocked sites in your area and resources, and improve the speed of information transmission by connecting to the most optimal server.
Nord VPN
Nord VPN is one of the best and fastest cloud VPN services out there. Here you will find more than 5700 remote servers which are located in more than 60 countries. All your data in the app will stay secure and protected – Nord VPN doesn't save any traces of its users.
The encryption level of this app is really at a high point, so it is almost impossible to hack it. The only possible drawback here is that the app is not completely free. First, you will get the 7-day trial version and then you have to pay to use all the countries presented in the list.
Hotspot Shield
This is a well-known VPN client application that gives you an opportunity to make a virtual private network between the Android device and the selected server in order to protect your data and to get access to the blocked sites.
The application creates an encrypted channel for the "last mile", i.e. from the nearest point of the access on the Internet to the user's device. With this setup, for example, to the unknown WiFi network, no one can get access to your activity from the device.
The application does not require registration, it has its own widget, and shows good speed performance of the access to the encryption servers. Servers are located in the US. However, in the main, this program is used to crawl websites and blocking access to any content, anywhere in the world.
Surfshark VPN
For those who want to stay extra secure with their VPN here is the best app that will keep you safe no matter is which place you are. Many users worry that connecting to VPN services in various sport and in various countries can be tricky – and they have a point here.
With the Surfshark VPN app, you won't face this problem since it will not only connect you to a VPN but will also tell you if the WiFi signal that you're currently connected to is not safe enough. All the traffic will be encrypted so no spooners will catch your data.
Your real location will also stay unknown. It doesn't matter from which device you access the Internet with this VPN app – everything will be happening under the total anonymity. Surfshark VPN has its own servers in more than 50 countries (in total there are around 800 servers) so it guarantees the best connection possible.
F-Secure Freedome VPN
It is a perfect solution for protecting your privacy on the Internet and ensure the safety of using Internet resources.
This application is a powerful VPN-client that can hide your real IP-address and redirect the encrypted traffic by the server over the globe: Australia, Belgium, France, Germany, Hong Kong, Denmark, Spain, Italy, Canada, the Netherlands, Norway, Poland, Singapore, the USA, France, Sweden, Japan, and others.
Thus, the application will be able to protect you from the tracking modules and hacker attacks, to protect against data theft using a public unsecured Wi-Fi-networks, to give access to the forbidden in your area sites and resources, to detect viruses and other unwanted software in real-time.
There are no restrictions on the amount of traffic and there is no bandwidth – feel complete digital freedom. The application has an excellently intuitive interface with easy access to each module of the application on the basis of 1-Click, i.e., to run all the necessary protection levels only in one touch on the screen of your device.
In general, F-Secure Freedome is one of the best applications for digital anonymity and security that can easily provide protection for your device by virtualization location.
Hola Free VPN Proxy
Hola is a browser extension that allows you to use a free VPN service. Expansion Hola provides access to sites with multimedia content (video and audio), as well as to those sites for which the access has been limited at the regional or national level, for whatever reasons.
The principle of service is to make available not only websites and media services but at the same time to speed up the loading of pages and content. In the process of using Hola traffic is encrypted, caching is used.
Data is cached on other users' computers in order to speed up the connection and the transmission of data over a network. Therefore, when using this technique, the more users in your area will work with Hola, the faster the internet connection will be carried out on your computer.
Currently, the Hola application is used by more than 45 million people worldwide.
ZenMate VPN
This application on android is a virtual private network that provides you with anonymity and security while surfing the Internet, it uses a secure, encrypted channel. With this application website banned in your country will become available, indicating your place position as a resident of another state.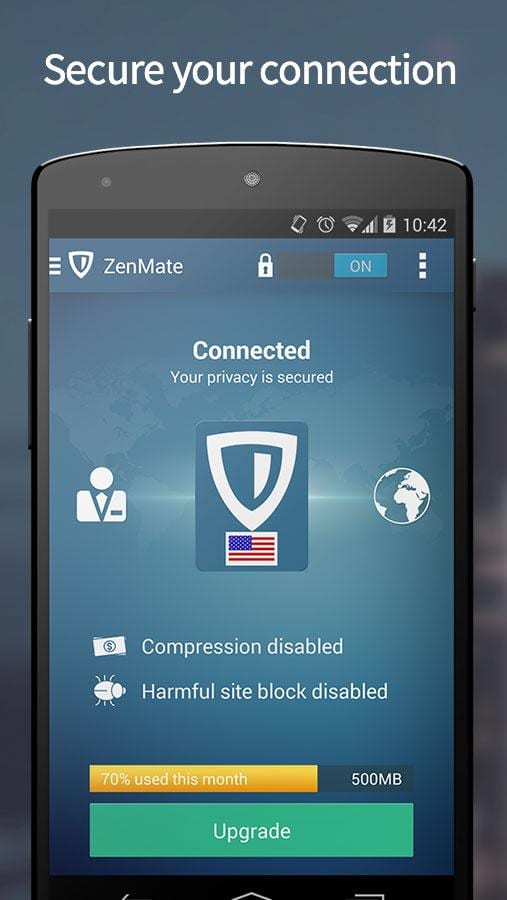 Touch VPN
Browse websites for free, safely, and anonymously via Touch VPN – free unlimited the VPN-service. Do you want not to view several websites or applications? Are you concerned about your safety while connecting to unprotected access point WiFi?
Secure your anonymity and defend the information on your device from hackers and tracking with this application. The program is a safe VPN-proxy service, it will solve most of your problems!
Benefits:
Free: 100% free. You do not need to enter credit card details. Not available for temporary use.
Unlimited: valid without restriction. There no restrictions on sessions, speed, or bandwidth.
Simplicity: unlock (connect) all the sites of the world with only one touch "Connect" button.
Security: persistent SSL-encryption will ensure your complete anonymity (confidentiality) and safety.
IPVanish VPN: The Fastest VPN
An app with a pretty basic interface, but still a useful one. It offers a wide range of countries under which VPN you can browse the web and it also provides the graph statistics on the quality of the signal. When you first launch the app just choose a city from which you want to be connected and press "go".
Another nice feature of IPVanish is that it really cares about the privacy of its users. All the data you put and use in the app will stay secured form the 3rd parties.
In addition, IPVanish is the only true commercial Top Tier VPN service in the world – this means that the company owns their VPN servers, manage their own network, and develop their own apps, ensuring your data remains as secure as possible.
Using the Internet is easy and pleasant with a good Wifi signal speed. How to get it? Read the article 10 Best WiFi booster apps for Android.