25 Best cooking apps for iPhone & Android
A mobile phone as the mean of communication has become a real helper. Housewives do not lag behind fashion. Culinary applications are pulled to the top of the rankings, along with social networks, photo editors, and games, and continue to gain popularity.
Software developers kindly request to download a large variety of applications. It is very difficult to decide what to choose.
So we decided to make your life easier and to choose, in our opinion, the best applications for your smart-phone, which are designed to change your life and eating habits. We represent your attention 25 best cooking apps for iPhone & Android.
BigOven
In this app you will find more than 350 different recipes, thanks to them the cooking process turns into an easy task. Get inspired and create masterpieces with BigOven. You will have access to a huge library of recipes and the ability to upload your photos with your food to the net.
Right in the application, you may create a list of products on which the dish of your choice is based. With the help of this app, the organization of food will be easy. Once you find a social chat, through which you can learn what your friends, family, or favorite application users cook. Get inspired and create!
You may also like: 11 Best Apps For Vegan Recipes (Android & iOS)
Food Network in the Kitchen
It is an indispensable application in your phone. It includes all of your favorite TV cooking shows. And all these are at your phone, and thus are always at hand! There are more than 1,000 recipes, and each month the new ones are added. Here you will find videos and TV culinary programs.
Here you can easily find what you are looking for! In addition, you can add comments to recipes and take notes. Have you started to prepare, but clashed with a unit of measurement of products that you do not know? No problem. Use the unit converter, find out the required volume or weight of the product, and cook with pleasure!
Yummly
Yummly is a great search engine. Sure, you'll find plenty of recipes with which you can experiment. And you can set up a search engine based on your desires and lifestyle. Are you sitting on a diet, but you still want something tasty and healthy?
Yummly will solve this problem. Have you got a food allergy, and you are limited in the choice of products? Yummly copes with it as well.
This app is created to learn about all your tastes, further, the application itself will offer you recipes that are suitable for you. Choose and save recipes, add ingredients to your shopping list.
In addition, this application has built-Instacart. With its help, you can make purchases in the store Instacart and wait for your purchases delivered to your home!
Allrecipes Dinner Spinner
This community includes more than 30 million people. All recipes have photos, reviews, and ratings. With this application, you have the opportunity to see what ingredients are sold in the store, and what recipes are the cheapest to cook every day.
Being in a certain store, the app will tell you the correct recipe, products of which are sold in this very shop. This application also includes all the standard features such as a shopping list, the preservation of favorite recipes, and filter recipes on diet, for the duration of cooking, etc.
Cookpad
If you are used to sharing moments of your life with your friends using social networks, this app is for you. Share your recipes with the world: with friends, family, and strangers. During cooking upload a photo of the finished dish and wait for comments.
Comments will be divided into certain categories, such as diet foods or foods with high caloric content. You can create your profile and see what users from the whole world are prepared!
Epicurious
This is one of the best apps that will help you in cooking. You will find more than 30,000 tested recipes on beautiful and easy to use interface. Manage a list of products and recipes. This application has a great feature – voice control. So cooking will delight you!
SideChef
Your attention submitted more than 2500 different recipes from the top chefs and bloggers. The app is aimed at simplifying the process of cooking, regardless of your experience. Step by step instructions which are accompanied by photos, videos, voice commands, and timer – these all are at your disposal.
If you want to change the serving size – do it. The application itself change the right amount of ingredients. Do you like the dish that is cooked? Share it with your friends and upload pictures to the network!
Weber's On the Grill
The food which is cooked on the grill we eat more often during the summer. However, it is difficult to find the right recipe just on the Internet. We introducing Weber On the Grill app that helps transform the process of grilling on an exciting and simple matter. There are about 250 recipes, including desserts.
Add or remove items on the list of products. The main feature of the application is the presence of the timer and a special function. Beat in the program the approximate thickness of the meat, and the application itself will notify you when it's time to flip your steak! And also it shows you the correct temperature for frying!
Pepperplate
The creators claim that it is one of the applications that you must have on your phone. If you are an avid cook, download this app.
Here you can upload as your own recipes, as well as those that are found on any website. Add descriptive text, leave notes, and upload photos. You can distribute the recipes in different categories for faster searching.
What's on the Menu
Perhaps this is one of the most intuitive and easy to use applications. This is a super simple app, but at the same time, it is very informative and convenient to use. You will enjoy a great number of recipes that you can filter on different topics. Constant updating recipes! Do not forget to check if something new has appeared!
Green Kitchen
This app is perfect for those users who follow vegetarianism. Each dish has a photo and video comments. The app has a large selection of vegetarian dishes and gluten-free meals. All the instructions are clear and equipped with a photo. This application is good, thus it has a timer function! Prepare and create!
Fit Men Cook
Have you ever heard the saying -Our bodies are built in the kitchen and formed in the gym? So this phrase is the motto of this application. At first you might think that the Fit Men Cook's application is designed specifically for men who like cooking, but it is not so.
This app is for all lovers of healthy food and especially for those who keep himself in top form.  If you belong to those, download it, and treat yourself to a delicious meal!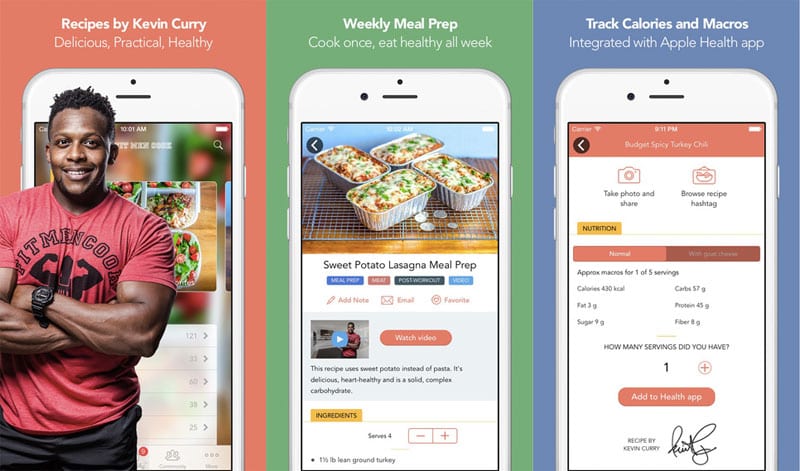 Garden Plate
In general, this application is more suitable for vegetarians, but anyone who loves useful and healthy food can take advantage of it. You can add meat to the already prepared dishes and you will have new eating! Recipes mainly consist of raw, vegan or gluten-free food. Save or share your favorite dishes!
This is a free application, but to see all the recipes, you will have to buy the full version. But in the free part, you'll find quite a number of interesting and delicious dishes! All the food is accompanied by colorful photos.
The Great British Bake Off: Step by Step Better Baking
Do you like to surprise guests with different pastries? Or do you want to learn how to bake delicious cakes? The Great British Bake Off will help you become an enthusiastic cooker and improve your culinary skills! The first 6 cupcake recipes are absolutely free!
Step by step instructions with photos, comments and notes – all these will help you to cook the most delicious cakes in the world! All recipes are divided into groups according to their preparation complexity.
Also in this application, you will find plenty of tips from experienced bakers. There is a timer function that will not allow to burn your buns! Even more additional recipes you can buy for the money!
ChefTap
From the first sight, this app is really similar to TripAdvisor – mainly because of the same green color in its theme, but also because of the image, it has attached to each recipe in it. All the data can be access both online and offline.
What you need to do is to type the name or type of the recipe that you want to find in the search bar. Add the ones that you like to the list of your favorites. Moreover, if you create your account here, ChefTap remembers your choices and suggests to you similar recipes that you might be interested in.
Easy Vegetarian
Making good vegan food is not as difficult as you think. Discover nearly 230 recipes that will make your daily meal more diverse. The cookbook is updated every week! All recipes are provided with beautiful illustrations. Convenient shopping list. Make the best out of your vega diet with Easy Vegetarian!
Foodily
Do you want to know the best app with recipes? You've already found it! Foodily is a huge cookbook with lots of recipes! By the way, you can add your own one! Collect your favorite recipes in one place. Get inspired by the dishes of your friends or professional chefs!
As a matter of fact, this application has a 5-star rating! You can search for recipes by ingredients. Compose a personalized menu for each day. Look for like-minded people in food with Foodily!
Kitchen Calculator PRO
Irreplaceable application for those who do not understand in the units of measurement. Kitchen Calculator PRO translates one unit to another. This calculator takes into account all the nuances (for instance, that cup of sugar and a cup of rice have different weights).
If you do not have enough ingredients that are already marked in the application, you can add your own. The application also helps to calculate the ingredients to the desired number of servings.
SuperCook: Recipes By Ingredient
If you're looking for an app that will provide tons of recipes to you, then this is the best choice to go for. Here you will find more than 1 million of them! They are collected from various cooking websites and apps, so you won't have to browse this app yourself in search of the best of the best.
Apart from that, you can manage this app using your voice. You will find any type of recipes for any life case – for example, if you're on the diet, yon type in "diet food" or if you want to try out something form Japanese cuisine you need to write "Japanese" – and vois-la!
NYT Cooking
The application The New York Times there are more than 17 thousand recipes. You can search for dishes by keywords and tags (there are a lot of tags which help to find what you like, including the type of food, the recipe of dishes, and the author), and you can use the editorial selections.
In the past there will be culinary recipes by the authors of the New York Times, for example, Melissa Clark, Nigel Lawson, Julia Child classic recipes, and also dishes that are easy to cook with your children, for instance, unusual sandwiches and much more.
The application also has a selection of basic guides on cooking, prepared by the authors of this publication, such as how to handle a knife properly and how to cook a pizza, burgers, and pancakes.
You can mark dishes that you have prepared yourself as «Cooked», and your favorite recipes save in a cookbook or add to your own collection. It is very useful, if you, for example, are planning a dinner party.
Perfect Produce
This app will teach you how to choose the best fruits and vegetables. In Perfect Produce, you can find a long list of products with recommendations on what you should focus on when they are selected.
For example, the application's authors advise choosing a hard avocado, which is easily pushed (though it is not necessary to squeeze the avocado strongly, so as not to damage it).
In addition, here you can find information about the nutrients contained in fruits and vegetables, and a variety of recipes, where they act as the main ingredients. The application is useful for those who watch his diet carefully.
Perfect Produce also helps to count how many fruits and vegetables you need to eat in order to perform daily rate of consumption of a particular substance: each product should be marked as RDA – recommended dietary allowance.
Oh She Glows
It is an eye-catching name, isn't it? However, this is not the only reason why this app is overwhelmingly popular in the industry. This is a Bible of healthy recipes. If you are thinking of improving your lifestyle by switching on to healthier food habits, this app is a great point to start with.
The app was created by New York Times bestselling author Angela Liddon. She has received many awards for their healthy recipes blog. She proved, the healthy recipe doesn't mean that it's not going to taste bad. On the contrary, they are incredibly delicious so you will want to make them more and more.
There are around 140 recipes overall, and 120 of them are gluten-free. Moreover, there are recipes even for special occasions, for instance, for the Christmas season. Save your favorite ones to yourself in your personal profile and enjoy healthy food!
Forks Over Knives (Recipes)
This app is relatively new in its segment but already has gained a certain amount of popularity. The overall library here includes around 400 recipes. It is not that many compared to other apps, but this actually could be an advantage fo this one.
Thus you will never get confused with a too wide choice and will spend less time thinking. All the recipes are explained step by step, with pictures and, of course, a list of necessary ingredients. Around 50 prominent chefs took part in the creation of this app, and this is another sign that you will definitely have a good meal.
Kitchen Stories Recipes
This is one of the most popular cooking apps on the market. Millions of users utilize this app every day to enjoy their meals and they can always add delicious recipes themselves. The app contains entertaining video tutorials in HD quality. Besides, in Kitchen Stories you will find dozens of useful articles about cooking.
By the way, uploading your own recipes to this app is a good chance to show off your cooking skills. Or, on the contrary, see the thousands of others and get inspired! Now you will be super motivated to cook yourself every day. Kitchen Stories is an international community, so here you will find the most exotic dishes.
In order to better organize all the information you will find here, it is recommended to create your own profile. Thus, you will be able to better present yourself, save your favorite recipes with images. Another cool feature here is when you choose a certain recipe, the app automatically generates the grocery list for you.
Jamie's Recipes
Are you familiar with a famous chef, Jamie Oliver? If you are, you will probably want to check out the app with his signature recipes that he made.
A cool thing about this app is that it has seasonal recipes, which is really fun and useful. In general, here you will find a recipe for any occasion. Moreover, there are updates every week thus you will be getting more and more recipes. Most of them have well-edited video tutorials.
You have read the 25 best cooking apps for iPhone & Android. Now you have a different application on cooking at hand to prepare tasty food quickly! Bon Appetit!
However, if you are tired of cooking at home and you want to get a snack in some restaurant, check out 11 best free Restaurant Finder apps for iPhone & Android.