9 Best Doctor Games for Android & iOS
Have you ever imagined yourself being a doctor? Do you want to help people or even save their lives? Almost everybody had such a dream in childhood.
It's high time you made your dreams come true! Here is a list of the best doctor games from App Store and Google Play. Most of them are free of charge. The only thing you need to do is to download it and start an amazing career in the sphere of medicine.
All the apps mentioned here have high rankings and good feedback from Android and iOS users. Try them all to decide, which is the best.
Operate now: Hospital
This app gives you a perfect opportunity to become an advanced surgeon, at least in a kind of online hospital. Operate Now is considered to be one of the best simulation games.
You can make surgery of any kind – start from the basic one and become an advanced surgeon. All the types of operations are available, feel free to practice them all.
However, this app is not only about surgery and medical work. The more success you achieve, the more opportunities you get. Make sure you use them to customize your hospital. Extend it and make it unique.
Build your hospitals all around the world and be a good manager! Hire new doctors and staff.
If you are afraid that you progress in the game will be lost, attach it to your Facebook account. By doing this, you save the progress twice.
Keep in mind that the game is rated 17+, making it impossible to play with children. There are many images that some people might find disturbing.
The app is free, but it offers some in-app purchases, which are additional. All the basic stuff is free of charge. 'Operate Now' is available in App Store and Google Play.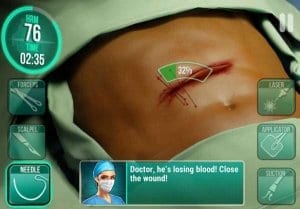 You may also like: 9 Best games with unlimited levels for Android
Heart's Medicine
This is another fun doctor game, but it's is different from the apps listed here in many aspects. In Heart's Medicine not only you will have to be a perfect doctor, but you will also be involved in a kind of a love story, not just a quick fling.
Imagine you are a young woman, who has graduated from nursing school and you came to the hospital for a practice. As you do all the tasks and gain experience, you suddenly realize that you have fallen in love!
There are more than 100 levels in this game. What is more, you can find a new daily challenge every time you start playing. Collect the bonuses to achieve success and unlock new tasks.
For playing this game you will need some time management skills, especially on the advanced levels – there are many patients and only a few doctors.
The game is free, but it offers a few in-app purchases. Use them when you want to unlock new items faster or skip some levels.
Heart's Medicine is rated 12+ due to the fact it has some detailed images of the operations.
The app is available for Android, as well as iOS users.
Pepi Hospital
Pepi Hospital is a fascinating hospital simulator. Here the player is able to treat and examine patients: not only humans but also animals, aliens, and even robots. All the characters are from famous cartoons. The medical staff is also of different origins.
The player runs a medical center with good technical equipment. It allows you to examine patients with various diseases, treat them, and do prevention and rehabilitation after operations and injuries. Patients must also be sedated, interviewed, and cared for. The player can even create his or her own stories.
The hospital has many different rooms: a cafe, a pharmacy, an operating room, restrooms, a garage where ambulances are serviced, and others. The ambulances bring in new patients that the player takes in, then you can also make friends. Each patient has a unique problem and it's up to the player to find ways to treat them.
The game is designed not only for children but also for adults who want to get involved in the development of their child and his or her knowledge of the world.
The hospital has 4 floors, which have their own opportunities for the development of the story of the characters. Thus, the child's vocabulary expands and he or she acquires knowledge of medicine.
Interactive items move between the floors – these are medical tools, toys, and medicines. Several dozens of characters diversify the game process.
Real Surgery Doctor
This is an amazing opportunity to try your best at the surgery. Here you can find all the types of diseases which can be cured by surgery.
You have to be very attentive to perform good and successful surgery. Don't be in a hurry – you need accuracy. Another key factor to success in this game is a fast reaction to the patient's body response.
This game is easy to play due to its simple and friendly interface. You don't have to read any instructions or directions – you will understand what to do at once.
In Real Surgery Doctor you will have a full set of tools to perform a good surgery on any organ – heart, lungs, kidneys, stomach, and other parts of the body.
You can check the temperature of your patient to see the dynamics of the illness. This will help you to control the condition of your patients and cure them effectively.
There is a possibility to zoom during the ongoing operations. It will help you to be accurate and careful.
The game is rated 4.0 in Google Play and it has a lot of positive feedback from users. Real Surgery is completely free, all you need to do is to download.
Unfortunately, this app is available for Android users only.
My Town Hospital
Get your own personal use of an entire hospital. Feel like a doctor or an experienced nurse with the My Town. Have fun in the hospital, help patients, and improve your character.
Today you can become a family doctor who sees people in need of medical care in your private office. Tomorrow you can become an obstetrician, who helps babies to be born.
The simulator game is perfect for users of all ages. Bright design, nice characters, and a big choice of locations are waiting for you.
Do you dream to become a doctor? Love the stories of your fellow medics about their life in the hospital? Immerse yourself in a special atmosphere and try your hand at being a radiologist, surgeon, or nurse. You can choose from 15 different heroes and open any room out of 6 available.
My Town stimulates the imagination and instills in young players a sense of duty. The calm atmosphere and clear routines will carry you away for a long time and give you lots of positive emotions.
The game allows the child to create his or her own world, where only further events depend on him or her. With no timers, no grades, and no fees, the game is free and available to everyone. Install My Town on your cell phone or tablet and play for fun.
You may also like: 11 Best High Graphic Games for Mobile (Android & iOS)
My Hospital: Doctor Game
This game is a real challenge! What you need to do is to keep the hospital operating. Control the work of the staff, try to keep up with new problems, to customize your hospital and extend your business.
What you need to do is to cope with a huge amount of tasks, you have to be a universal doctor.
A key factor to success here is a good concentration and increase your multitasking skills.
This game is so special, because:
 It is perfect for all ages. My Hospital will be interesting for you, your children, your parents, and friends.
 You need to control your time and use your skills wisely.
 A great opportunity to train your skills, practice it on a daily basis and try to learn something new every time you play.
 Do your best to get coins and gems to increase your tools and customize your hospital.
 Share your progress with others via social media.
This app is totally free. You can get it right now in Google Play.
Doctor Kids 2
If you are looking for a game that will be perfect for your little kid, Doctor Kids 2 is a great option. This game was created specially for children aged from 6 to 12. There are no detailed images of organs and operations.
Here you will try a role of a doctor who specializes in treating children. You will help them to recover after a trauma or deal with diseases like flu, measles, smallpox and many other problems.
There are also some problems that can not be cured at once. In this case you will have to see the patient multiple times in order to help him or her recover completely.
What is more, there is a possibility that you will have to perform a medical examination of the whole body to find out what is wrong.
This game is absolutely free of charge, but you will have to put up with some adds. They usually pop out quite rarely, so they are highly unlikely to distract you from the game.
This app is for Android users only. Download it for free from Google Play.
Superhero Dentist
Have you been dreaming about becoming a dentist when you were a child? If yes, here's a great game for you. Superhero Dentist is a typical doctor app that gives you a chance to understand what it's like to be a real dentist.
Here you can choose one out of 6 patients and practice your medical skills on them. What you need to do is to be accurate, careful and well aware of your duties.
There are some instructions that will help you understand what to do. The interface of the game is very simple, even a little child will easily understand it at once.
Use dental tweezers and various mouth sprays to prevent the deterioration of teeth. Fight bacteria to prevent dental decay.
You can create your own toothpaste as well – combine any ingredients to reach the best result.
Superhero Dentist is free with adds. If you find them irritating, you can always remove them from the app.
This game is available for Android users.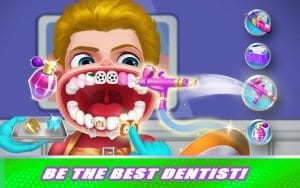 911 Ambulance Doctor
Looking for some adrenalin in your life? No problem – try to put on a role of an ambulance worker!
This is one of the best casual games in Google Play Market. You will never be bored in this app. There will always be someone who desperately needs your professional help.
Fix broken bones, fight with the flu and allergies, help a child who swallowed a piece of plastic. The most important thing here is not to be late. Working for 911 requires being able to react in the blink of an eye and never waste your time.
Fix broken bones, fight with the flu and allergies, help a child who swallowed a piece of plastic.
What you can do in this game is almost limitless – create records, enhance your ambulance car, upgrade your medical tools.
911 Ambulance Doctor is completely free. Still, there are some adds that can appear at any time. Unfortunately, there is no way to remove them, as this the only option to keep the game free.
There are also some in-app purchases that will increase the quality of the game.
The game is aimed at children aged from 3 to 7. Feel free to play it with your little child. 911 Ambulance Doctor is a perfect educational tool that will tell your kid about the work of ambulance.
The game can be downloaded from Google Play Market.
You can also check: 7 Free Beauty salon games for Android & iOS