How to Download and Share Books on Google Play
Books are important parts of our lives. Children learn their first words and letters by books, study new subjects and learn a lot more than just get by, classic literature reflects the real world for those young people, who haven't realized yet  what will happen in the future or some consequences.
Moreover, books increase person's lexicon, broaden new horizons and just make a person interesting in communication.
Earlier, we took books from libraries for some period or buy them in book shops, now it's all about technologies. You can order a paper book through the Internet and it will come over a few days, but we offer you to buy a book directly from Google Play. It is simple, fast and very convenient.
By the way, check our other cool posts 15 Best free wishlist apps for Android and iOS and Top 22 free music download apps for iPhone and Android there are a lot of cool apps which allows you to write down every wish and apps for music downloading.

Let's return to Google's Play abilities. Inside this post you will find the information about:


How to search for Books on Google Play
Step 1:
Find a Google Play icon on your home screen, tap on it and make sure that you are authorized.
Step 2:
Tap on the Entertainment bubble in the green bar next to Apps & games. Then, you will be given the choice of choosing a category.
Step 3: Choose the bubble "Books"

Step 4: If you exactly know the book you search for write the name of the author in a search bar, enter the button "search" and the book icon will appear on your screen.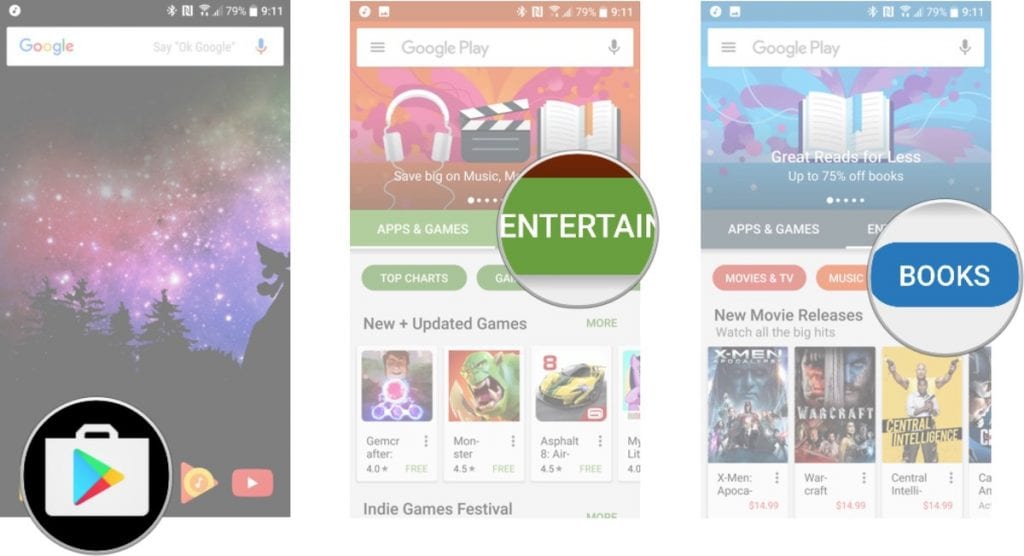 Google play consists of up to 3 million books, so it is impossible that you didn't find the right book. For your convenience, all books are selected by different categories like movies.
How to browse for Books in Google Play
Step 1:
Go to Google Play
Step 2:
Below the section Entertainment find the blue bubble "Books" and tap on it

Step 3:
Swipe left on the carousel to scroll through the different book categories: Top Selling, New Releases, Genres, Comics, Children's Books, Top Free.
Step 4: If you want something more specific and find the right book in-depth, choose a preferable genre and find your book.

Noticed, that you can also share your purchased books with your family. Use your family payment option, slide the Family library toggle directly below the Read Bitton in the books' listing to the right. There you and your family  also will find all purchased movies and music.
How to buy Books on Google Play
Yes, you did it! You have found the right book worth your attention and it is time to buy it immediately and read, of course. Don't forget about Google Play Family library, if you want every member having access to the Library can read this book, you should buy it using the family payment option.
Step 1:
Choose the right book.
Step 2:
Tap on the icon, and tap Buy $XX.XX


Step 3:
Select the preferable payment option
Step 4:
Tap Buy again
Step 5:
Tap Confirm your purchase. For successful confirm use your Google account password or fingerprint.
After, wait for the window "Payment successful"
The main feature is that you can open a book in special app, developed by Google Play Google Play Books and read it on a tablet or switch to your phone and take it wherever you go.