Are you planning to create an interesting event, such as a birthday, a wedding or a New year party? Or maybe you want to celebrate a graduation from college and you have no idea how to do it?
It is not always about celebrations, though. You can make an event for your colleagues or classmates.
Here you can find the list of event creator apps. We have found the best ones for you. The apps are free and available for Android, as well as for iOS users.
Event Planner
If you see that a huge and important event is coming, you need to be organized and well-prepared. But it is easier said than done.
You have to make a list of guests, a detailed plan of the event and other important things that you need to keep in mind.
Is it possible without any help? Probably not, but if you have a special app that is aimed at event management, it is easy and even exciting. Event Planner is one of such apps.
There are 3 main functions:
budget planning
the list of guests
detailed to-do list
There is a system of notification. It helps you not to forget crucial details, such as decorating a room or ordering a pizza. To-do list is also a very advanced and smart option. You can create, download and edit the list.
There is also a possibility of sharing a list with your friends and family or convert a PDF document and print it if you need a written form.
The option of creating a guest list is also a useful one. After you add all the guests you can make invitations and send them at once.
Event Planner is available only in Google Play.

You can also check: 7 Free Christmas song apps for Android & iOS
Appointments Planner – Appoint Book
Are you a responsible person? And your guests and clients? If you are afraid that your guests can forget about the event, this app allows you to send them notifications.
Appointments Planner works like a traditional notebook, where you can put all of the appointments and events you are planning to have.
The app is very easy to use because of its friendly interface. Even if it is your first appointments and event creator app, you will find it surprisingly simple and effective at the same time.
The first 15 appointments are free of charge. If you need more, you can install the full version. The cost varies from 1.5 dollars to 25 dollars per month. The amount of money you need to pay depends on the number of appointments you need.
Appointments Planner is available only for Android users.

Pocket Schedule Planner
This is one of the most universal app. It will be a perfect option for students, parents, businessmen, housewives, and others. If you have events that you need to attend on a regular basis, Pocket Schedule Planner will be a perfect solution.
For example, if you need to visit a doctor every month or pay taxes, the app will automatically remind you of this. You can set the number of notifications, which will be convenient for you.
These notifications can not be ignored, so you will have to do what you need. When all the obligations are fulfilled, you mark the task as a completed one.
You can also sort your events or assignments in order to make your schedule easy to understand and control. You are free to edit it anytime you want.
So if you often forget things this app is a must. Feel free to download it from App Store.
Wedding Planner
Wedding is a very happy event, one of the happiest moments of life. At least, it is supposed to be so. But when this event is poorly organized, it can turn into a real nightmare.
This is why Wedding Planner was created! It will help you to take all the details into account: the menu, the list of the guests, the decoration and animation.
You can also create a detailed timeline of the wedding day and share it with your family members.
There is an option of creating a playlist for the wedding, as well as a photo gallery. These little things will make the wedding special and carefully keep the memory of such an important day.
Budget planning is available, but this function is not different from the other apps mentioned on the list. Another nice feature is adding contacts. You don't have to look for any telephone numbers – all of them will be in the same app.
You can download Wedding Planner from Google Play and App Store.
Planerr
This app is aimed at creating and planning a wide range of events in different spheres of life: sports, school, family or work. Planerr has a smart algorithm that will help you to build a schedule of any event.
Planerr can send invitations to your friend and analyze their response. This will help you to predict how many people are going to visit your event.
You may also create a chat if you are not the only organizer of the event. All the chat members will be able to edit the timelines you create and see all the schedules.
Planerr is quite good for preparing for various appointments, as it has a system of notifications.
Feel free to get this app from Google Play.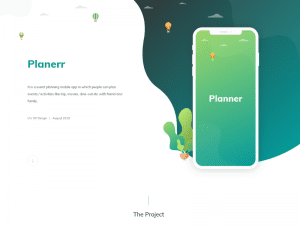 Event Manager
Preparing for any type of event has always been hard. But it is difficult only when you have to keep plenty of details in mind.
If you choose to rely on this app, event planning will be a fun and exciting way to spend your time. Event Manager has a perfectly designed dashboard that helps to inform people about all types of upcoming events.
You can also see how many people are going to visit your event (this option is available if you created the event yourself).
Check-in management is a useful function too. It will be perfect for the events, which require tickets or any way of registration.
If you want to organize many events at the same time, you may create a number of profiles. It will help you not to mix the details of different events neither in your head nor in the app.
Event Manager is free. You can get it in Google Play.
MyWed
This app was created for wedding planning and organizing. It is similar to Wedding Planner that was mentioned before. But the rank of the app is higher – it is rated 5.0 in App Store and 4.8 in Google Play.
Not only does it have a schedule, timeline, and list of guests, but it also has a number of pre-wedding tasks controllers. With MyWed you will never miss anything.
This app is one of the most reliable ones in App Store. Your information security is guaranteed, as well as the absence of bugs.
There is also a countdown option – you can count days before this very day.
The app is free in App Store and Google Play.
EventOrg
This app will be a good option if you are planning to organize an event with many participants. For example, a huge concert or a party.
Any types of corporative events can also be planned and prepared via using this app.
EventOrg is not free of charge, but when you download it for the first time, you can enjoy the basic version for a week. Then you can buy the app and use all the settings and functions available. The EventOrg algorithm will analyze your preferences and customize the app, so that it will meet your demands.
Still, the app has a relatively serious downside. It is its size – almost 60 MB. But don't forget that it is so big because of the fact it's packed with functions and other types of data.
The number of timelines you create and the guests you invite is limitless. So the app of such type can not be small.
This app is rated 5.0 in App Store and is considered to be one of the most reliable event creator apps. EventOrg is used for planning summits, meetings and conferences on an international level.
You can download it from Google Play and App Store.
You may also like: 15 Free party game apps for Android & iOS