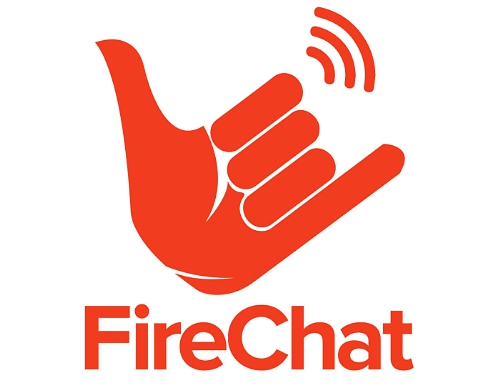 We always chat. And we always use Internet for that. Usually mobile network, and when it is down we try connecting with Wi-Fi. But even with Wi-Fi we still connect to Internet, don't we? Here is a new cool FireChat app to connect without any mobile network at all!!!

FireChat got these superpowers after last year's update. It makes it possible to communicate with other FireChat users even beyond the approximate 70 meters that gadgets can shoot Wi-Fi. Private and public messages can travel real long distances by hopping between other FireChat users until they get to the intended recipient—an approach known as mesh networking. Simply put, other intermediate users become mailmen. Messages are encrypted too, as they travel through intermediate devices. The mailmen can't read your mail. The superpower version of FireChat works both on Apple devices and those running Android OS.

This is also where we should underline news for people who tried using the older version without private messaging. Overcrowded public chatrooms often made people feel overloaded and quit the app. Now private messaging is available and end-to-end encryption makes it a totally different product. Open Garden, the app developer, has tested it with "OMs"—offline messages—making as many as five hops between different devices before they reach their destination, says Daligault, chief marketing officer. Copies of a new message spread out across the network of linked devices searching for a way to reach its recipient. There are neat cleanup algorithms that later tidy up versions that didn't make it. If a message reaches a phone with FireChat that does have access to the Internet, it will also try and route the message that way like a regular messaging app.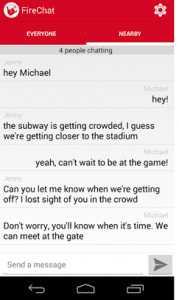 Open Garden's engineers believe their app can work at a larger scale, even linking together whole towns if enough users install FireChat. As an extreme example, they calculate that it would need 5 percent or less of smartphones in a dense city like New York to be able to get messages to the other end of the city in about 10 minutes.
The unique feature has been used in many countries by protesters when government shut down internet. Open Garden says FireChat will always be free, and hopes to see humanitarian organizations make it part of disaster resilience plans in parts of the world with fragile communications infrastructure.
FireChat. Tested by protesters!