Mobile flashlight appeared a long time ago and became an irreplaceable tool for a wide variety of activities and jobs. It doesn't require alkaline batteries and it lights up not worse than a standard torch.
This illumination tool is important in case if you lost something or in situations with a dim light. When you do some work at home and still you need to light up some area with direct light. Some phone has a built-in flashlight while other devices have no such privileges. However, there is an enormous variety of easy-to-download applications for mobile phones. Below we have collected 9 best flashlight apps, particularly for Android. Keep in mind that flashlight will significantly consume your phone battery power.
Flashlight
The first app providing a function of a torch has a simple name Flashlight. So you won't confuse this app with anything else. The app is single-buttoned though it has other additional features. The icon of the app resembles the lamp bulb and lets you know what are you going to use now. In no time it will light up the darkroom and let you find what you`ve lost.
Additionally, it will show the percent of the remaining charger so you can switch off the flashlight at the moment when the battery is running off its last power.
It is also said that you can access the app even when the phone is locked. Surely its a very handy option. The app is easy-to-use overall and works stable. It's free with ads and if it's very annoying for you you can pay something around $1 to pay for adds-free version.
You may also like: 15 Free flashlight apps for Android & iOS
Flashlight HD LED
Flashlight HD is a stunning app for Android devices that gained a good reputation among users and has been downloaded more than 50 million times. It proves its efficiency and convenience. The app has a home screen widget that lets you have faster access to its features.
This flashlight is the brightest one as it uses most of your LED flash. In a situation, when you urgently need to have a strong light this app will do you a great favor.
You may pay a few dollars to get rid of advertisements if you want. However, they are not much annoying.
Flashlight Free
Yet another flashlight app that you can download from Play Market for free and in a few minutes. This flashlight has mo additional features except for the role of bright torchlight.
The app doesn't require any access to your personal information or access to different apps or mobile tools except Flash LED. It does require to get access to the hardware of the mobile though.
Luckily, there is no adds popping up while you launching the app. Thus you have nothing annoying.  The app weight less than 1 MB and considered a tool.
Tiny Flashlight + LED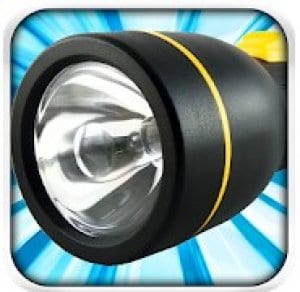 Tiny Flashlight occupies a very tine space of your device. Though it may vary from one phone to another.
Tiny Flashlight can be considered is one of the most popular due to its functionality, compatibility, and ease to use. It has a high rating, more than 100 million downloads and millions of good reviews. And as long as people finding time to leave a good review that only means that the app deserves it.
The app uses a Flash LEd and the mobile screen and it has more advanced features and tools. It also tried to preserve your battery power while switched on. It's free and simple.
Flashlight Artline
The less popular but not less effective app is Flashlight by Artline.  The app will be suitable for those who need something simple. As well as post apps in our list it uses flash LED or screen on the phone. Just turn on the flash on one klick and illuminate the area you need.
You may find some ads though not that annoying as you may think. Place a widget on a screen so it will speed up the using process. Just to add, the app is extremely light and will take almost no space on your device.
Flashlight Lighthouse
Yet another app that you can rely on in extreme situations. It works properly without bags on all android devices that have flash LED. There are more features in the app than just lighting up the torch. We can find a compass there and the ability to change the color of the screen in the app itself. Be a designer in one small and simple app.
Despite all the above, the app provide you the most what you need in this case – the option to use a mobile torch on the maximum of its power.
Icon Torch
Icon Torch differs from other flashlight apps. It has no standard app interface with a set of settings and special design. On the contrary, it just requires the hardware access permissions and it will be attached to the flash LED that is already built-in. You will find a widget on your home screen upon the installment.
The access to the flashlight feature is the simplest as one can imagine. Its a nice alternative to the torch and easy to access as your phone is always with you, unlike the real torch. It has no ads and any further purchases. It also doesn't require to unlock the device to switch on/ off the flashlight.
Galaxy Flashlight
To begin with, Galaxy Flashlight is a standard and easy to use mobile flashlight application. Still, it weighs a little and free to download. It will be helpful to anyone in any situation that requires illumination.
Imagine that the light in your house turned off suddenly in the middle of the evening. How long you search for a real torch hitting everything on your way? While your phone is always near and you know that the flashlight can be turned with one press. Moreover, a screen widget is supported as well as it also uses flash LED.
The developers installed a compass into the app as an additional feature. Perhaps it was done for those cases when people get stuck somewhere in the forest and don't know which way to move better.
Flashlight Splend
This application is using flash LEDs on mobile phones as well and provides the brightest illumination for free for Android devices. After installation, the app will fix a button in the notification area in which access is open even in locked devices. All this makes the app easy-to-use. Especially if to add the fact that it's free to download and weights just a few megabytes.
With this in mind, no matter if you are searching for the lost thing under the bed, having no electricity at home or checking the furthest corners of the cupboard, you will simplify the process with this app.
You may also like: 11 Best Infrared Camera Apps for Android & iOS