If you own a smartwatch, then you've heard more than once about its capabilities. Some people can read short files and messages on their watch, control their smartphone and stay in touch at all times.
In general, some smart devices have several great features that we often don't even know about.
Android Wear is a complete operating system that runs on several smartwatches. It allows you to synchronize your smartphone even better with the clock.
Android Wear also has advanced features for installing various applications that you are used to using on your smartphone. These can be both entertainment apps with which you play or watch videos, and functional apps that monitor your health indicators and send them to your smartphone.
We've found the top 15 apps for you, and most importantly, free apps for smart clocks that will make your life perhaps a little easier.
Wear OS by Google
First, we think we should consider the most important application on this topic. Wear OS by Google allows the user to fully synchronize the work of a smartwatch with a smartphone while getting a full Google Assistant on all devices.
Part of the functionality previously performed by your smartphone will take over the smart bracelet. You can keep everything under complete control with the help of the Assistant, who obeys your voice commands.
In addition to full control and tracking of your messages and data, you will also be able to control your physical activity. You may have noticed notifications with expert advice, such as the use of water or walks, using your smartphone.
Now Google Fit will also work on your smartwatch – you'll also receive cardio points.
You can customize the appearance of even such a small screen with Wear OS by Google. You can check hundreds of different display styles, explore them better and choose the one you like best.
Let the look of your watch please you just like the look of your smartphone desktop.
Wear Audio Recorder
Sometimes we urgently need a voice recorder, and we either forget to turn it on or are too busy to find it on our phone.
Not all people use a voice recorder, of course, but it's a great way to record your idea, case or even instruction, which you can't put into notes on your phone right now.
The application interface is simple and straightforward to use, so you'll know exactly how to use it.
You can organize all your notes the way you want them to be – for example, split them into tags and find them easily when you need them. You can also change them by geolocation and many other criteria.
Once you have made a record, it will be automatically added to your smartphone memory – that is, all information will be synchronized. You can even set up cloud storage if necessary.
By the way, you don't have to worry about privacy at all. Wear Audio Recorder can record even when your watch display is off, so your conversation partner won't know you're recording.
However, if you want to share it, it's also very easy and fast to do.
Because of some applications, the operation of Wear Audio Recorder can be disrupted and it's easy to fix the problem – you will need to give Wear Audio Recorder access to the microphone and the recording, and stop the third-party application for that period.
Wunderlist
Busy people, or those who have very little free time, usually use planners or diaries. Wunderlist gives you the ability to write down your ideas, set tasks for a day or week, set goals and much more.
You can even write down shopping lists here, so you can browse through them, for example in a store. Now you can even do it with smart clocks – without taking your mind off your main business or using your smartphone.
The application itself can be customized completely individually – from notifications to the interface. For example, your family or friends can share a shopping list or holiday plans with you – especially if you're traveling together.
You can access your to-do list from any of your devices – no matter where you completed it. By the way, Wunderlist supports importing tasks into Microsoft To Do.
On your smartphone or computer, you can attach an image to your to-do list or a specific task. You can even view it from the watch – you can also view presentations or PDF files.
Delegate tasks so that you always have free time – your smartwatch can help you with that.
You may also like: 11 Best Sleep Tracking Apps for Android & iOS
Endomondo
Exercising is a great way to get in shape, get rid of stress or just have a good time. By exercising, you can improve your physical abilities, and you can track your progress with various applications.
Of course, there are special fitness bracelets, but you can use your smartwatch for this purpose.
For example, the Endomondo app is great for this – it allows you to get the most out of your workout.
No matter what you do – it can be jogging, walking, cycling or something else. Endomondo uses GPS to track your full workout as well as activity statistics. More than 60 sports are available for tracking and can be monitored using GPS.
After each kilometer, you can receive audio alerts that will inform you of the distance you have walked. A complete workout analysis will include information on speed, time and distance, as well as calories spent during your workout.
Endomondo will record your records – so you will have the goal of getting even better! You can set individual goals for each workout and Endomondo will notify you when you reach them.
Participate in community competitions and get prizes with your friends.
Shazam
Music is what accompanies us everywhere. In shops, malls, clubs and even gyms – you can hear an interesting melody anywhere that won't get out of your head for a long time.
It is not always possible to know the name of the song and its performer, but there is a desire to listen to the song again! Shazam application was developed for such situations, which is available even for Android Wear.
Of course, we got used to using Shazam on our smartphone. But you can't always have it on hand. For example, at workout or on a walk you can hear a melody and you will like it.
Smartwatches are always on your wrist and available for use. You can simply launch Shazam on the watch and it will find you a song title and artist! By the way, it's worth noting that all the information is synchronized on one of your accounts.
That is, even if you have recorded a piece of a song on the watch, you can see the artist on your smartphone, as the information will always be transmitted to your smartphone.
Use Shazam when it's convenient for you – you have no time or song limits.
Stopwatch for Wear OS
Timing things is sometimes a really good idea. Perhaps you're cooking a complex sauce and you need to know the exact time it was cooked; perhaps you're running a distance and you need to know your result down to milliseconds; and overall, the cause can be quite different.
In any case, it will be much easier and more convenient to do it with a smartwatch than with a smartphone or even a traditional stopwatch.
The Stopwatch application can work in several modes: a regular application, a watchface or a more complex watchface. Either way, you will definitely use it as a standard stopwatch.
With your smartwatch, you can view the latest results you've taken and share them with your smartphone or another device. If necessary, you can restart, pause or reset the timer.
Stopwatch works with all watches that support the Android Wear operating system. You can change the settings completely without using a smartphone – only by touching the smart clock screen.
Find My Phone by NICK APPS
How often have you found yourself in a situation where you can't find your own phone? We think that more than once this has happened to you or your friends.
If you have a smartwatch and actively use it, then now you don't have to worry about losing your phone in the room. You can find it easily and quickly using only one application – Find My Phone.
This application is developed for Android Wear and works perfectly with smartwatches. The watch will vibrate when you move too far away from your own phone and you risk losing it.
You can also run the app when you cannot find your own phone – for example, put it in one of the pockets of your bag or leave it in a blanket on the bed. In order to find your smartphone, you just need to press a button on your smartwatch.
You can adjust the signal variant yourself – for example, you can set the volume of the signal, or its amplification and rise. If necessary, you can turn on the screen or flash – for better and faster device detection. Either way, you will choose these settings yourself when setting up the Find My Phone.
Messages for Wear OS
Smartphones have many applications for communication. It can be a work necessity, an attachment to your soul mate, or an ongoing conversation with friends.
Messages always accompany us and you can't always reply to them! In that case, you can do it with your smartwatch – even without touching your smartphone.
Messages works with such services as WhatsApp, Hangouts, SMS and other popular messengers. Your smartwatch can act as a smartphone in this situation and help you answer an important message.
Not only can you answer with a smiley face, but you can also record a few text predictions in advance – for example, "Can't talk, I'll answer later" or something like that.
This way, you can let the other person know that you've read their message and contact them later. You can also reply with voice input – your smart clock will type in the text itself.
You can view not only the last incoming message but also the whole conversation chain. If a photo or document is sent to you, you can also view it. Reply to urgent WhatsApp messages instantly and without delays – just use your smartwatch.
Video for Wear OS & YouTube
Sometimes you want to watch the video without even using your phone, especially a computer. If you have a smartwatch, then you can do it even on the small watch screen.
Unexpectedly, even this device has a video player that works perfectly with different videos. You can either play content that you have already downloaded, or you can start a video from Youtube. It is worth trying to use a Youtube search and start watching some video even for fun.
Video for Wear OS & YouTube can work either offline or fully synchronized with your smartphone. Video can be viewed directly on the smartest watch, and the sound can go either to your Bluetooth headphones or through the speaker.
You can even connect to a live broadcast – Video for Wear OS & YouTube can handle it. By the way, by installing the app on your smartwatch, you can use it as a remote control for Chromecast broadcast.
Your watch will automatically search for related videos and connect to your devices – of course, if you enable this function. Did you expect your smartwatch to be your remote control?
Calendar For Wear OS by Wearable Software
The Calendar is a completely free smartwatch application that you can install on your device. Ranked by users from Google Play, it's the best calendar app you can find.
You can synchronize all events, holidays and upcoming meetings with your smartphone's main calendar. Want to know what awaits you today? Just click on a specific day in your calendar and you can remind yourself of all the things to do!
Calendar management itself is simple and easy enough to manage with a watch. You can change the month easily by flipping through the page, and the days themselves are easily opened by clicking on them.
To start the Calendar, all you need to do is give your watch a voice command and it will open right away.
To easily add events and synchronize those you already have, you'll need to install the app on your smartphone as well.
Your watch also needs to be connected to your phone – but we're sure it's already synchronized. With a calendar, you won't forget any important events for sure.
Cardiogram: Wear OS, Fitbit, Garmin, Android Wear
Not only smartwatches can track your heart rate, but also special fitness trackers. With these devices, you can see how your heart works and what your heart rate looks like.
Statistically, a healthy person's heart beats more than 100,000 times a day – find out if your heart is as active or not?
The Cardiogram will help you understand whether your health, sleep, and stress levels are normal.
All collected data is presented in the form of statistical charts, which reflect the impact of daily stress and activity. With these data, you will immediately see any malfunctions in your body or other disorders.
In fact, with the help of smartwatches, you keep your own digital health diary. All the data is presented to you in detail – if you wish, you can find out how often your heart was beating at a certain moment.
In addition to heartbeat and sleep, the Cardiogram tracks your number of steps so you can even compete with your friends. Once you have all the information you need, you can pass it on to your doctor and, if necessary, draw conclusions about your body condition.
You may also like: 15 Free GPS tracking apps for Android & iOS
1Weather
Almost every day before leaving the house, we want to know what the weather is like outside the window. You can do this with your smartwatch by simply installing a special application on it.
Since your device is constantly in sync with your smartphone, you'll always get the latest information. It's worth noting that 1Weather is the best app on Google Play based on user ratings and reviews.
Most importantly, 1Weather can be installed on your smartwatch and it will work perfectly! The design of this application is designed not only for smartphones but also for other devices, which is why it works without interruptions or errors.
Appearance and efficient tools are the two main keys to 1Weather success.
You get real-time weather information about the weather around you and can see the forecast for 48 hours ahead. Even if you're on the road or moving, 1Weather will automatically update the information depending on your location.
Even animated radar and emergency storm warnings are available for residents of the United States. You can also receive alerts when the weather changes unexpectedly – and your smartwatch will alert you to any surprises.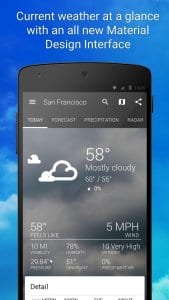 Evernote
We think that many users have already heard about the Evernote application. It's a great service that helps you keep your focus on the most important things and make lists of things to do – they'll help you organize your day properly.
In addition to the lists, you can leave various notes in Evernote – even with a smartwatch. Don't forget about your plans – we recommend you specify them, especially as it becomes very easy to do with a watch.
Evernote stores all your information in any format. If you suddenly have a creative idea or a solution to your problem, you can record a voice note and save it in an app.
Anything you add to your watch can be stored in Evernote and you won't lose it for sure. Synchronize the app with your smartphone and computer, so everything you enter into your watch can be stored in Evernote at the same time.
The app has a well-organized storage process, so you can navigate through all your records at once. By the way, you can even add payment bills and checks to your notes, especially when you use contactless payment.
Wear Music Controller
Many people buy a smartwatch in order to control their physical activity. The most common thing about training is music. You listen to music when you run in the morning, when you clean and when you are just doing something.
You can't always pick up your smartphone and switch songs, turn them up or down by yourself. But now you can do it with your watch – it's always on your wrist.
Wear Music Controller gives users the ability to adjust the sound, pause and start the music, change the play order and even the playlist that is currently being played.
You'll need to set up the interface yourself beforehand, so you'll get the most out of the application. Some designs are designed specifically for training or running, while others are more suitable for driving.
First, you'll synchronize your smartwatch and smartphone to make all the necessary settings. Further, you can use Wear Music Controller without your smartphone.
You can launch the app using Google Voice Assistant. At this point, the music that is currently playing in your headphones will pause and you can restart it with Wear Music Controller.
Bubble Cloud Tile Launcher Watchface
This is probably the only application in our article that is extremely useful visually. The Bubble Cloud Tile Launcher Watchface is an application that will help you structure and beautifully display all the applications that you have on your smartwatch.
Do you want quick access to any programs? Or do you want to use screen scrolling as a volume up button? Then this app will help you better understand how to use your device.
With the Bubble Cloud Tile Launcher Watchface, you can put more application icons on one screen than you could before. You also organize them yourself – for example, sort them by folder or position.
The lock screen always shows you a dial (of course it's a clock!) with current and live information – like your phone's battery or some widgets like weather or messages.
It's up to you to choose what you want to see. There are over a hundred topics to choose from in the Bubble Cloud Tile Launcher Watchface – all you have to do is determine what will be installed on your device.
In fact, people now have many smart devices that are designed to improve their lives. They help you plan your life, stay connected at all times, and generally never fall out of social life.
A smartwatch is a handy device that is always on your arm – even closer to you than a smartphone. Why not use all the features they can give you? Choose the apps that will help you the most and put them on your watch – so it becomes even more functional!