11 Free Apps like Kik for Android & iOS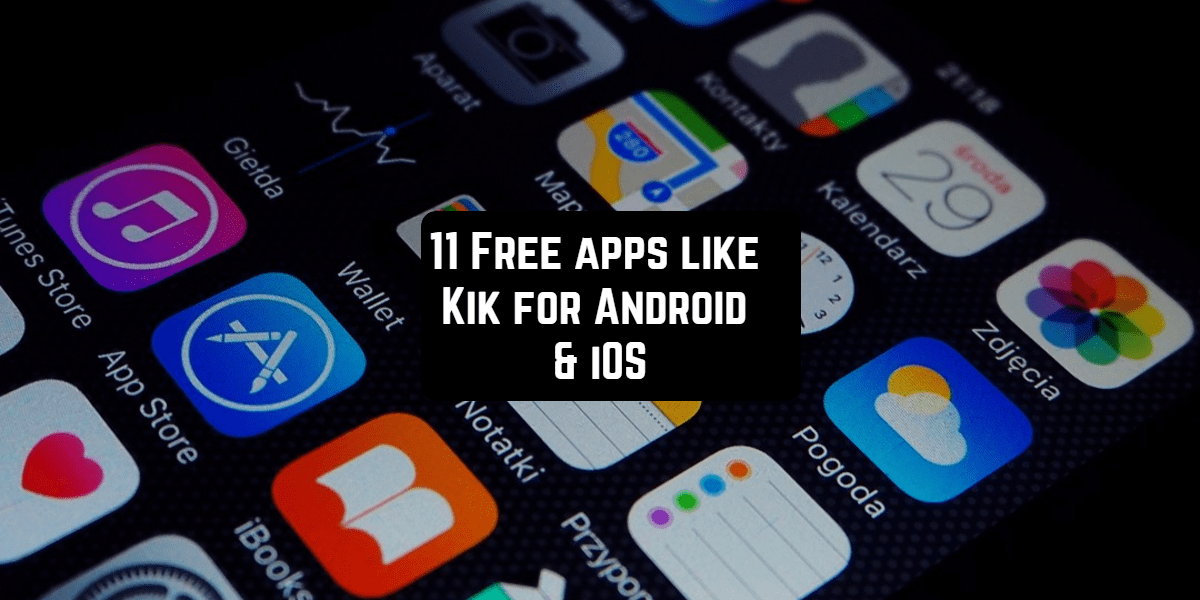 If you are using a smartphone it's almost 100% probability that you are using some of the messengers. The market nowadays offers a huge number of them. Some people prefer simple apps like What's Up, others would like to have a little more extended version such as Kik Messenger, which more reminds of a social network.
You may also like: 11 Best local chatting apps for Android & iOS
But sometimes you feel like you want to have something alike but of another kind, with more or fewer options and functions. The market has several interesting apps in this case which are similar to Kik. Some of them are really famous and you've probably heard of them, others are less popular, yet effective and practical.
Telegram
Although Telegram was originally created as the additional app by Vk's creator, it was designed as a multi-functional messenger that allows its users to create the connection on different levels and scales. The biggest advantage of it probably that it is privacy-oriented and protected and that quality many people find invaluable in apps today.
Here you can chat in person, create large chat groups, create official representative groups with all the latest news about the project or product, or whatever it is. The app also allows uploading photos of the user in endless numbers. Making calls is also possible. Another advantage of the telegram is its speed – it is known to be the fastest one on the market.
It saves all your previous messages without the peril of being revealed. What is more, here you can upload your media files without concerning its weight – the app allows you to upload any type of it. It is simple in use but at the same time has a number of advantages.
You may also like: 17 Best Free Chat Apps to Talk With Strangers for Android & iOS
WeChat
This is the app for instant communication with your friends and family. You can call by the phone, make video calls, send text messages – all these functions are familiar to you.
You can send pictures, videos, and songs. What is also possible here is to create your own group up to 500 members or make group video calls (in groups up to 9 people). Every call is free for any part of the world.
Moreover, there is an option which is called "WECHAT OUT" allowing you to make calls to stationary phones all around the globe at a reasonable price. The app has a huge gallery of fun stickers.
All your personal data will be carefully protected. An interesting function here is that you can make new acquaintances by tapping on the "Friends radar" button or "Users around". The app allows you to share your location data in the real-time mode.
imo
Just like in the previous case this app will become a little social network for you and your friends. The main goal of it always is sending text messages. There is also a possibility for making video and phone calls via the Internet. You and your friends can create group chats and exchange different media files there.
Along with the function allowing you to find new people and get acquainted with them, you can search them by different categories of information.
As a bonus, you can always express your emotions with funny and cute stickers. You can also switch to chat from different gadgets. If you want to review some of your previous messages you can look through history. All your data is protected.
LINE
This app will bring all your friends and family together. It reshapes the communication around the globe. Now all the people you value and love will be gathered in one app just a click away from you.
Now all ways of expressing your feeling are available with video calls, text messages and stickers, and other bonuses which you considered impossible. You can create group chats up to 200 people involved. What is more, you can store messages, photos, and videos in the keep and share them easily with friends.
Video chats will give you a chance to have the best connection with your friends and family at any moment and any place. All messages are free. You can also update your latest news and thoughts by renewing your Timeline or commenting on friends' posts.
A lot of celebrities and companies have their official accounts in Line. This app provides a gateway to entertainment and lifestyle apps that will keep you entertained and bring new convenience to your life.
KakaoTalk
This app definitely has a delicious name. But as it works as good as it sounds? You decide. It is easy to use and the main purpose of it is exchanging messages and calls.
Being more precise, you can send messages, photos, videos, voice notes, and your location for free. While you're chatting, you can express your feeling using stickers or emoticons. More than 150 million people use it worldwide. It is a fun, easy, and fun way to connect with your friends and family.
You will get speedy and reliable messaging whenever you are. You can also send all kind of media files – pictures, videos, etc. All the video call that you make are of the best quality.
Besides, you can create group chats and get coupons and deals from your favorite brands. You will always be able to see who reads your messages. The app has a function of a daily planner – you can schedule your appointments, lunches, and gatherings here.
Dust
For those who are looking for a higher level of privacy, there is a suitable messaging app on the market that is called Dust. Actually, privacy in the messengers in a great issue today and while texting your best friends you can't be fully confident that someone from the FBI isn't giggling at your memes as well.
In all aspects, Dust works like a simple messenger, with the addition that you can always delete a message not only from your phone but also from the receiver's phone as well. All the messages are encrypted. Each time the person you have a chat with makes a screenshot of a message you will get notified.
As a bonus, the app ha a minimalistic stylish interface design in a dark theme. The app was recommended by such famous media sources as Forbes. By the way, keep in mind that in Dust all the messages are getting deleted within 24 hours.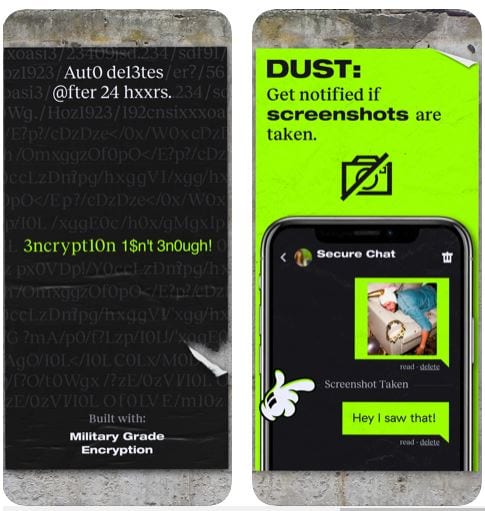 You may also like: 5 Best Music Messenger Apps for Android & iOS
JusTalk
For those who would prefer to have a simple app for conversations, only the market has an app called JusTalk. The name of it speaks for itself. The main feature here is its simplicity, no extra options, or additions that you will not be using anyway. Still, when you will be making video calls you'll be astonished by its excellent quality and high resignation.
The connection is fast, all your personal data is decoded and you can make your call everywhere (where you have the Internet).
Besides the calling, you can doodle, send stickers, play games with your friends, and share pictures right in the middle of the conversation. Each user can create a group chat with the possibility of voice chat or text chat. The number of participants is unlimited.
Another interesting option here is that this app has a "night vision" option, so you can light up the background of both you and your friends. What is ore, you can record all the calls (both phone and video) that you are making? Save to the memory later. All your data will be protected.
Add new friends by shared name cards or QR code; Enjoy customized service including special themes and ringtones. Install this app and enjoy a wide range of possibilities that it gives you!
Discord
Do you still think of the videogames as something not serious and a waste of time? Well, during the last couple of years video gaming has turned into a new kind of sport. Nowadays, there are the whole championships are organized and the awards count millions of dollars.
You might probably ask what all that information has to do with apps like Kik? Discord is a messenger for gamers. Here everything is optimized in the way that you could comfortably play the game and stay connected to your friends.
The app allows you to chat privately with the numbers form your phone and join various communities and chat with their members. Overall, the interface of the app really reminds of Slack – al the chats are sorted in a very similar way. What is more, it is possible to synchronize the accounts on a PC and your mobile device.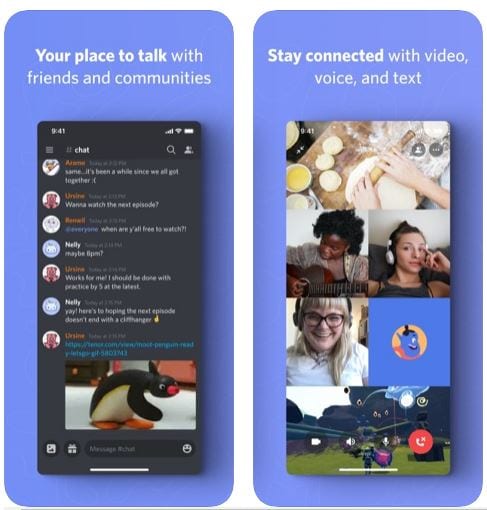 Snapchat
If you haven't heard about Snapchat you probably must be living on another planet. Even though now it's kind of has lost its popularity and sink in the sea of assizes, millions of users are still into it.
A huge variety of functions is available here for fun and exciting conversations. You can only send text messages with stickers or without them, you can send videos of yourself or other people, with you're wearing masks or not wearing them, and so on.
Almost every celebrity now has its official Snapchat. This app gives you a chance to create your own stories and exposes them to the whole world – that's why so many famous people use it.
All the messages which are not saved will be deleted. If you want to save them you need to click on a certain button. Share the moment with your friends and family and make it look as funny as never before.
Signal – Private Messenger
Now those people who are too concerned and worried when it comes to privacy in messages can relax and enjoy this app. You can communicate with people avoiding SMS fees, create group chats, and have conversations with your friends wherever you are. Share any types of video, pictures, and music files without the risk of breaking the privacy.
The server never has access to any of your communication and never stores any of your data. And it wasn't a joke when we say that this app literally guarantees you total privacy and security – you can see an advanced end-to-end encryption protocol that provides privacy for every message every time.
The signal is a unique app that uses special frequencies so it is hidden from any threats to your privacy. You won't need extra logins or passwords – use the stuff from your telephone list. The quality of the connection is relatively good, so you can organize group chats along with personal ones.
You may also like: 5 Best Apps to Save Snapchats for Android & iOS
MeWe Network
This app claims to be an authentic social network, but in fact, it is more similar to something in between a social network and a messenger. It is fair enough to say that MeWe combines elements of Instagram, Facebook, and Kik messenger. Together, they compile a little cheesy, but convenient software where you can connect with your friends.
One of the main advantages of MeWe compared to other messengers similar to Kik is that it doesn't have ads at all. In this app, you can create group chats without limits and exchange private messages as well.
What is more, MeWe is quite liberated considering the censorship and has no propaganda element. The only downside of MeWe Network is that here you will have to pay the monthly subscription.