21 Free Arcade Games for Android 2022
Arcade is one of the most popular genres of mobile games that captures the minds of people of all ages. What are arcades?
It is a genre, the main feature of which is a dynamic story, perhaps the presence of levels or recording new records, as well as complication as the game progresses. Sometimes they have a certain plot and the protagonists who become favorites of users.
Bright and simple gameplay, lack of strict rules and the ability to start the game in any free minute – these are the main advantages of the arcade games genre.
They existed long before the appearance of smartphones – some arcades were popular among fans of Dendi, and many people when buying the first computers immediately installed them.
There are a lot of entertainment games for modern smartphones, and we have found for you the best 21 mobile application in the arcade genre.
Banana Kong
As you know, monkeys love bananas very much. The protagonist of this game Monkey Kong, who ate so many bananas that a mountain of banana peel is going to… crush him!
You have to run away from this huge mountain avalanche and collect new bananas along the way to eat them. There may be obstacles along the way that you can only overcome with tricks. Your goal is to help Banana Kong escape the avalanche without losing his life.
In the course of the game, you will encounter piranhas, scary crocodiles or even boiling fire lava. Overcome them with the help of a bird that will carry you or ride a huge wild boar.
Despite the fact that nature is ruthless and wants to stop you, other animals can help you. Even if you have been able to overcome the obstacle, be prepared to face even more difficult trials on your way.
A powerful engine is responsible for generating constant challenges, preparing new confrontations for you. Superhits and other amplifiers are available for you to use whenever you need them.
Thanks to constant automatic storage, you can compete with your friends and record game progress. Control the monkey with just one finger and entertain yourself whenever you need it.
Subway Surfers
Subway Surfers is a legendary game that has been enjoyed by millions of users around the world. Its release took place more than 5 years ago but is still very popular.
This game in arcade mode allows you to feel like a bully who is running away from the angry Inspector. The dog helps him to catch you, who is no less ferocious! You need to stay out of their hands for as long as possible while collecting as many coins as possible.
Hurry up, duck, and most importantly, run forward! Set a new record, leaving behind all the rivals from the world ranking and even your own friends.
You can use different amps – such as hoverboards and special backpacks – to fly on top of all the trains. Take advantage of your character's acrobatics by swinging him up and down – even on trains.
Want to change your character? Subway Surfers offers that, too! Constant thematic updates, changing cities, characters and their appearance, as well as the purchase of special stylized amplifiers will make the game even more enjoyable.
There are 3 main characters in Subway Surfers – Jake, Fresh and Tricky, who are running away from the inspector. And you are running away with them!
Zombie Tsunami
Would you like to feel like a real zombie? Then we suggest you try the game Zombie Tsunami, where you act as the leader of a real zombie squad! What prevents you from capturing several cities with your horde of zombies and adding more members to your squad.
All over the world, hundreds of thousands of people are already playing this game and taking part in a world race to destroy all the cities that will stand in your way.
Initially, you control only one zombie, who lonely goes forward. You have to help him overcome obstacles and devour other people.
Military planes can fly over you, and there are explosives on your way – you should beware of them because they can destroy you or you will lose part of your zombies. At any moment, your huge tsunami could turn from a zombie into a small wave.
Both zombies and the whole squad can be controlled with just one finger. Every step you take prepares you new interesting bonuses such as dragons, UFOs and many more. Zombie birds can help you achieve your goals.
Different scenery and locations will bring variety to your gameplay, and a lot of different missions will encourage you to go even further. Do not know how to keep yourself busy? Download Zombie Tsunami and challenge your friends to zombie their cities and inhabitants.
Fruit Ninja
"Fruit can be cut, bombs can't" is all you need to know about the rules of the game. Fruit Ninja is a classic arcade game where you can choose your own mode and earn maximum points.
There are several modes at once – classic, arcade or Zen. In Classic mode you just test yourself, in Arcade mode you gain the most points possible, and in Zen mode, you just learn.
Have fun anytime you have a break. Even a few minutes you spend in the game will increase your skill level. Slice fruits and play mini-games that will bring you prizes. You can fight against your friends and beat their records with your skills.
If you want to be the best and pass the real test, we offer you to take part in special tournaments and fight with other experienced opponents. Here you get the opportunity to win real knives, dojos or other useful equipment.
You can use them after receiving them at any time. Receive daily prizes, which can be incredibly rare. Climb to the top, defeating your opponents and breaking your own records.
Drop Stack Ball – Fall Helix Blast Crash 3D
You don't know what to do with your free time? Then you can just install the Drop Stack Ball app, and a few hours will fly by for you like a 20-minute break. In order to unload your own brain, it's great, because you don't have to think too much and count on a few steps ahead.
All you have to think about is which combo is best to do at the moment. In Drop Stack Ball, you keep the ball on the screen, allowing it to go lower and lower without affecting obstacles.
Your ball must break blocks and make a combo to get as many points as possible. You must reach the very end, destroying everything in your way. You will hit, jump, spin and even break spiral platforms.
The speed at which the ball falls is increased by how much you hold it. Black stacks should not be affected by your ball – otherwise, it will mean a loss. The gameplay will capture you and time will indeed pass unnoticed, leaving level after level behind.
There are more than three hundred levels in Drop Stack Ball, each of which you can pass with the best results. Kill your free time by destroying the towers!
Jewel Legend
Games like "three in a row" attract more and more people. Users are really willing to spend a huge amount of time in the application, conquering more levels with each time.
If you think they're ever going to end up, it's not like that at all! As you go through, it really feels like you'll never get to the end and the levels will be constantly generated. Play without stops or breaks, collecting more and more gems.
There are more than a thousand levels in Jewel Legend, the complexity of which is constantly increasing. From time to time new features and steps are added to you – like frozen sectors or even locked partitions.
Every day you will receive magic tools and bonuses that you can use when you have difficulties completing the level. They will help you on complex levels. Big explosions, extra amps and limited passing time will encourage you to finish the levels even earlier.
Collect as many gems as possible in one variation – for example, more than 4 gems can bring you new lightning bolts and amps. The most important thing is that you can play Jewel Legend without internet access.
This means that you can be on the road, in the subway or on an airplane – you can still play with gems and make combinations of them.
Knife Hit
Have you ever been a knife thrower? If not, we suggest you try your hand at precision and speed. Knives can enter a tree very easily – just like in soft oil, the shooter should only aim correctly and throw it.
You earn your own knives, which you will throw – in fact, it will be your earnings and the score of the game. Try to find all the legendary and rare knives, making your own unique collection.
Knife Hit is perfect for those people, who want to kill their time without doing any nonsense. The game perfectly copes with it and does not make you bored.
The only disadvantage is that at some moment the levels can become similar and you will need to pass them again. Each stage that you complete is guarded by the boss, who will bring you legendary exclusive knives. To get it you need to beat him!
When throwing knives into the logs, you should consider where your target is. The level can be complicated by certain parameters – for example, a moving log or several targets at once.
You may have multiple hit attempts – if you run out of them all, you will have to start over again.
How many apples will you be able to pick as you progress through the Levels? And how many knives will you spend?
We suggest you become a marksman who will collect all the apples and get the glory of a real knife master in Knife Hit.
Hungry Shark Evolution
Bloodthirsty games have always attracted people. You can shoot, blow up and kill someone with total impunity. And if it becomes your goal in the game – it's even beautiful!
In Hungry Shark Evolution, your task is to make a real bloody madness in the ocean, devouring everything that is in your way (although you can build your own way so that to eat everything that surrounds you).
Have you noticed a person scuba diving? Eat up! Did you notice another shark? Eat up! Have you noticed any holidaymakers in the boat? Hurry up and eat them!
There are also various exotic creatures in the depths that you can eat (especially if you have already grown to large size). In addition to harmless inhabitants and a little poisonous fish, you can fight real monsters in the depths – for example, a giant crab.
Your goal is to eat as much as possible and also to stay afloat for as long as possible. You are a shark, so you can afford to make the sea red with blood.
During the game, you can collect your own collection of sharks. For example, you will be able to buy the Hammerhead Shark, Big White Shark or even the giant Megalodon, that eats everything on its way.
Each of your attacks is accompanied by sounds and animation, so you will be interested to even just watch what is going on. Compete with your friends in the total score of the game and become the most powerful shark in the Hungry Shark Evolution.
You may also like: 11 Best fishing games for Android & iOS 2020
Tap Tap Dash
Tap Tap Dash can tighten you up so much that you'll just forget to eat, sleep and even walk. Don't say we didn't warn you about this! But to be honest, you can really get so excited about the gameplay that you won't notice how quickly time flies by.
In Tap Tap Dash you can choose the character you like, and it will become your avatar that runs through the levels and collects all the necessary items.
Hedgehogs, dogs and even a zebra – what do you want to be today? From time to time your characters may open up new locations, each one different from the previous.
Like all arcade games, Tap Tap Dash increases in complexity as the game progresses. At some point, the levels can become unbearably difficult for you and will have to make several attempts to pass them.
A thousand levels, the complexity of which is simply unimaginable – sounds like a real challenge, doesn't it? By opening new characters and collecting game currency, you can play together with your friends.
Want to know which of you is more skillful with the characters and levels? And who will be the first to fall out of the way and won't be able to pass even five levels? Find out from the Tap Tap Dash app by simply plugging it into your Facebook account.
Granny: Chapter Two
Granny: Chapter Two is a sequel to the legendary Granny game, that will be suitable for those players, who have already completed 1 part of the application. In the story, your grandmother keeps you in the house and you can't leave it.
Of course, she does not want to let you out, so you have to be as quiet and careful as possible. Any rustle you make, the movement will be heard by your grandmother and you can't get out the same way anymore. Be careful!
You only have five days to get out of the house. Five days, during which you'll be hiding in closets, under beds, and behind walls. The second part of the app also adds a grandfather, who hears not as well as your grandmother.
But… he hits hard! Your relatives will definitely hear and come running if you drop something on the floor. Grandma can hear as well as she hears in the first part of the game!
In Granny: Chapter Two, your escape attempts will become even harder, and also will require more work and reflection. You will need to make a lot of attempts before you can finally escape from the captivity of grandparents.
Be incredibly careful – relatives never lose vigilance. By the way, if you play in the dark, then it will be very easy for you to get scared of some screamers and anxious atmosphere of the whole game.
Ice Scream: Horror Neighborhood
Ice cream sellers always seemed nice and good-natured to us, but is it really so? Ice Scream: Horror Neighborhood will change your idea of ice-cream sellers – now you will be as afraid of them as of scary clowns and maniacs.
In the story of the game, your friend Bob was kidnapped by an ice-cream man and froze him with incredible force. You have to reveal his secret and find out where he gets this power. What if Bob isn't his only victim?
The ice cream vendor's name is Rod. He seems like a nice and friendly man, but there's a terrible plan in his head. You can't get to know him without risking your own life – so get ready for danger and mystery!
You'll have to get inside the van without Rod noticing you, as well as go further with him in different locations. Don't think it will be easy: Rod is not stupid and he hears all your movements, so you have to be cunning and hiding.
In each location, you'll find puzzles and new secrets that will reveal a little more detail in this mysterious story. The most important thing is that people of all ages can play in Ice Scream: Horror Neighborhood, because despite all mystery there are no bloody scenes.
To make the game more complicated, you can switch different difficulty levels, that will give you other possibilities. Try to solve the mystery of Rod and save your friend!
Hole.io
You are the owner of a black hole. It's a surprise, isn't it? Actually, it's a simple description of the game Hole.
Here you control an insatiable black hole that can absorb anything. It can be houses, people, cars and even whole cities – you just need to grow and expand!
You can fight other black holes and win the title of the biggest hole in the city! When you enter the arena, you automatically begin to compete with other players for "food".
You can eat everything that is in your sight. There are several modes to choose from in the game, but the default is to compete for time. The more you consume, the better your result!
You can turn on the Local Multiplayer mode and have real friendly battles. To do this, you'll need to be in the same room literally! You need to go into Hole.io, create a room in a special mode, and your friends just connect via Bluetooth.
So you will fight with each other, quickly and mercilessly! You need to show whose hole is the biggest in the city and who will be able to achieve more success in Hole.io.
Domino Smash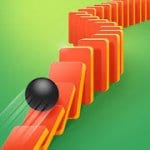 If you are already bored with games where you don't have to think too much, we want to tell you about a completely different game. Domino Smash is a full-fledged exciting puzzle game that you need to solve.
Despite the intellectuality, you will be able to play the arcade game, and at the same time, you will be able to strain your brain a little and even think about the strategy of the game. Do you like to watch domino dice fall? Well, this is the perfect game for you.
In Domino Smash, your main goal is to shoot down the domino dice in a certain way. You need to direct the ball to the very beginning of the chain so that all the dice fall in the correct sequence.
Under all conditions, you will collect the crystals and bonus points that affect your result. New levels are opening as your game progresses, so you won't be able to jump over and return to the unresolved puzzles.
The more challenges you can solve, the more new levels will open up again and again. Falling dominoes form pictures, patterns, and even ornaments.
Their falls look realistic and mesmerizing, and even for this effect, it's worth thinking about which way to launch the ball. Become a master of dominoes and pictures of domino dice – because they are all in your power.
Draw In
All you have to do in this application is circling the pictures. If your hobby for some time was drawing contours or you just like to encircle items in your notebook, Draw In will be your favorite way to kill your free time.
For each correct contour, you get stars that open the way to the next levels and more complex contours. Your goal is to close the contour line as precisely, quickly and correctly as possible.
It has to fit the shape of the drawing, so you can't clean and just draw big circles! The more perfect the line matches the contour of your drawing, the more stars, and points you get. Get the line as close to the drawing as you can – you need it to go just perfect!
Want to know how many pictures you can perfectly circle? It just sounds simple enough, in fact, your first results will be far from perfect. If you create a contour for too long, you'll have to try again and again until you do it fast enough.
Draw In is suitable for people of all categories and ages because there is nothing specific about it. You don't even have to be able to draw, just try your hand at Draw In and get high scores.
Tower Color
Endless levels are what characterizes the arcade genre as a whole. Tower Color is another application that has no limit to the number of levels and will attract your attention with its fascinating colors.
Each level will raise you higher and higher, the tower will grow, and the complexity will increase. Will you be able to withstand the pressure and completely handle Tower Color?
What is the point of the game itself? In each level, you walk across the screen, destroying entire monochrome blocks. You choose the most appropriate angle to destroy the walls of the tower.
Spin the tower for as long as you need to, as that's the only way to know where you can destroy it. At each level, the tower becomes even higher than its previous version, and your goal is to destroy the entire tower.
Bright and colorful details will attract the attention of children and adults will be able to get distracted and relaxed. Beautiful graphics and details in 3D models make Tower Color even more interesting and fascinating.
You'll need to train hard enough to improve your skills. Check to see if you can reach level 100 by destroying your tower over and over again?
Death Worm™ Free: Alien Monster
Monsters are the eternal theme of various computer and mobile games. People have always been interested in controlling or fighting monsters. In Death Worm game you will be on the side of monster – try to imagine your finger as a killer worm.
If it doesn't sound interesting to you, then you may be interested in the appearance of this monster. You just can't tell if it's an alien, an underground monster or just a predator. Either way, the unfortunate victims only have to flee.
In Death Worm, you will find several locations where the monster lives. There are only 4 of them and you can change them by choosing the one you like the most from the menu.
There are 60 levels in total, which you will need to pass all the way from beginning to end. In addition to the main storyline, you have to play 3 bonus mini-games, which are built into the main game. Determine a difficulty mode that you can overcome, making it easier for you to test your skills.
You can eat and kill not only people but also machines, tanks and even flying alien ships. It's up to you to choose where the worm will appear at the moment – perhaps right outside the house with a huge number of people!
Get to the general table of records, where you can take one of the first places and prove to everyone that you are the best in the game.
Bouncemasters!
The main character of this game is a penguin, which you will beat with different batons and methods. Do not worry about the cruelty of the game – the penguin only enjoys such things.
This is not just a meaningless application that is designed to kill your time. Here you will learn the story of friendship between a penguin and a yeti, as well as witness the first fall in love with the main character.
All the penguin wants now is to get to his lover, who he only saw through binoculars.
You can't fly to her – penguins can't fly! Then how do you get to your destination? This is where you start to take part in the gameplay.
You don't care how the protagonist flies. It could be a baton, a slingshot, as well as many other things you'll have at your disposal. The very first action of a penguin is to jump off a cliff, while the duration of the flight is solely your responsibility. The penguin will land on various animals, chests, icebergs and much more.
Your task is to launch the penguin as far as possible and closer to your love. You need to avoid all the obstacles that will be encountered in your way. At Bouncemasters! There's a leaderboard that you can lead – you just have to try!
Stack
Ketchapp is a company that has gained wide popularity in the mobile applications market. They release a huge number of games that have only one goal – to kill users' free time.
It is worth noting that they are doing a great job with their functionality. We suggest you consider the Stack app as the best application. Here you can enjoy real physical performances, as well as the classic mechanics of the old and very first games.
As you could understand from the name, this game is made in the technique of stacking, that is, the imposition of one layer on another. In fact, Stack can be compared to Tetris – here you also have to carefully calculate how the details will overlap each other.
Plates will be floating out and you will need to lower them on your tower. It would seem simple enough – but it's not. The complexity of the game increases with each plate and here opens the main trick.
If you lower the plate before you have to, it will simply cut off. With each plate, a tower can get thinner and thinner, and it will be harder for you to combine the plates.
The game ends the moment you don't put a new layer of the plate on the tower for the first time. Find out how far you can go and how high your tower will be.
Go Escape!
At first glance, Go Escape may seem like a kind of puzzle game that you need to think about for a while. In fact, you will only know about the difficulty of the game when passing through the levels. Check if you are able to cope with such a difficult task and overcome all the difficulties?
Your goal in Go Escape is to get out of a spinning maze that doesn't stop for a minute. The first levels may seem too easy to you, but the further you go, the harder it will be for you to take your next steps.
You will need to pull the ball out of this intricate maze and find your way out. Did you manage to get the ball out after all? You'll automatically be able to move on to the next level and continue through the puzzle.
Finding a way out of each maze isn't easy – not everyone can handle it. You'll need to think long enough to complete each level.
Go Escape is a simple design application. Each level has a different background color, but the main details remain the same and still have the same style. You only have one solution – but the biggest question is, can you find it?
You may also like: 11 Best word association games for Android & iOS
Grow Castle
Would you like to create your own castle, which will be able to withstand the attack of any enemy? Then the Grow Castle game will suit you perfectly. Here you create your own castle, which will be periodically attacked by a crowd of enemies.
They will attack you from the main gate, and their main goal is to destroy your building. Over time, the wave of enemies will grow and the attacks will become stronger. Of course, you will have breaks – during them you will have to restore your own strength and castle.
There are about 120 heroes at your disposal, each of them doing their job. As you develop your defensive abilities, you will be able to place as many people in your castle as possible.
Archers, magicians, knights and more – all these heroes perform exclusively their functions. By hiring workers, as well as creating full-fledged colonies you will be able to earn money, which in the future can be spent to strengthen your defense.
The system of guilds and ratings works in real-time and when connected to the Internet. You will develop your own castle only when connected to the network, so you should consider it if you download arcades for fun on the road.
LEGO® Friends: Heartlake Rush
LEGO is one of the most popular companies in the world, which creates a huge amount of content annually. It can be games, videos, new details, and characters.
If you like the Lego universe, then we're ready to tell you about the wonderful LEGO® Friends: Heartlake Rush arcade.
The game is a dynamic race where you are in the chair of the main character. Lego gives you a racing car, in which you will be passing through many game levels.
LEGO® Friends can be called a runner, with only one condition: you drive a car here. As you drive and go through the levels, you will collect flowers, ice creams, special items, as well as coins that you can spend later on. Special missions can also bring you even more coins.
At each level, you will face different difficulties – for example, pursuers. To overcome some difficulties, you can use amplifiers or improvements to your car.
Most importantly, the main version of the game is free. In this case, you will have the opportunity to buy something extra in the store inside the game and improve your performance with these purchases.
Because of the huge popularity of the genre, people know more about these games. You may have even played them and sometimes were nervous, losing another round or losing a large score in the game.
Arcades can capture a person for a long time, even if he took the phone in his hands for only 5 minutes – you just can not stop!
We hope that you have found at least a few new applications for yourself and will be able to have a nice time during lunch break or rest after a hard day.