The GMAT exam is coming closer and you start getting more and more worried? Calm down, this article has you covered!
Getting a high point on the exam that plays such an important role for graduate management programs is a great responsibility. But there are ways to make your preparation way easier and more comfortable.
There are lots of free GMAT preparation apps for Android & iOS that will be your personal pocket tutors. These apps cover thousands of lectures, tests, and flashcards on all the GMAT-related topics.
In case you have other exams to get ready for, check out this article: 11 Best Exam Preparation Apps for Students (Android & iOS)
Here's the list of the 9 best free apps in that category you should try. Take a look!
Magoosh GMAT Prep & Practice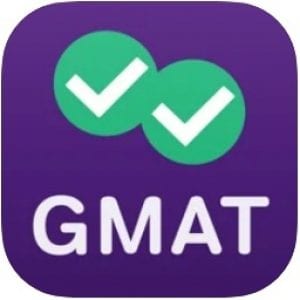 Let's start with an app called Magoosh GMAT Prep & Practice. This is an app that provides you with beneficial video lessons that will get you ready for your GMAT.
In case you've ever tried to get ready for any exam by an app, you've probably come across the Magoosh ones. This developer specializes in educational apps for various exams so you can be sure the quality is on the level. The app itself covers more than 300 video lessons which give you almost 24 hours of studying materials.
Therewith, all the lessons are though by professional tutors and professors which is amazing. There are even some extra live-stream lessons that happen from time to time. All the lessons are easy to understand and include all the info you need. Plus, every vid comes with its doc version you if you prefer to study via text explanations you can do that.
Once you're done with the educational part of the app, you can test how well you learned the theme. The app has more than 40 questions in the free version and almost 800 in the paid one. Besides, the app also has a feed of articles that gets regular updates — which means you'll always have something fresh and useful to read.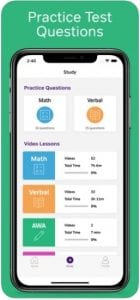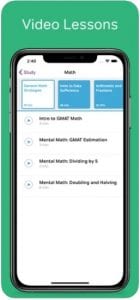 You may also like: 11 Best SAT Preparation Apps for Android & iOS
Ready4 GMAT (Prep4 GMAT)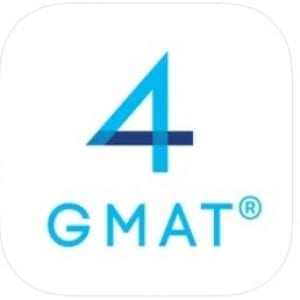 The next app is called Ready4 GMAT and this is an app that gives you an entree to valuable studying anytime and anywhere.
In the first place, the app covers both math and verbal aspects of the GMAT so you won't need any extra apps to get fully prepared. Plus, there are more than 2000 tests and flashcards for you to examine your performance. Thereby, all the quizzes come with full descriptions so if you won't get any topic right you will be able to view the correct answer.
Along with that, the app will track your academic achievement all the way through its usage. Thus, it will detect all your storage and weak points and figure out the material you need to study to be fully settled. Besides, the algorithms of the app will adapt to your results so if you'll get any question wrong you will have to go through it again.
It also needs to be said that the app runs on a unique vocabulary learning program that empowers you to study fast and productive. In case there will be any cards or test questions you'll find extremely tough, tricky, or interesting you can bookmark them and analyze later on.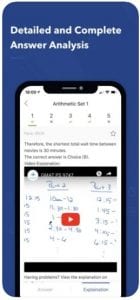 Manhattan Prep GMAT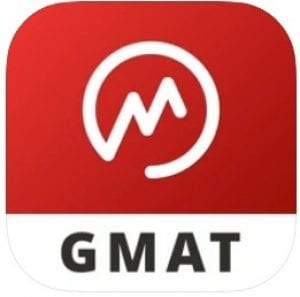 Manhattan Prep GMAT is an app that gives you an elaborative learning system that can shield you from getting overwhelmed.
The making goal of this app is to maximize your study and get the best possible results. There are more than 1000 questions in this app so you can be sure every single theme is incorporated. Plus, all the questions come with detailed explanations so you can fill in all your knowledge holes.
What is more, you can bookmark the flashcards and questions you find tough or just want to review them before the exam. Besides, all the questions in this app have an exam-alike form so you will know accurately what will happen when your GMAT day will come. Another useful thing this app has is the immediate feedback you get from every problem you go through.
All the stats about your skills affect the questions you'll get next (the ones you get wrong will appear over and over again before you'll memorize the answer). Furthermore, you'll be able to view your personal stats to see which topics you may need to read more about. Along with the regular questions, the app also covers flashcards and quizzes so you won't get bored with learning.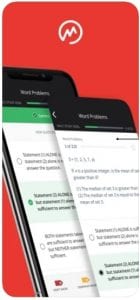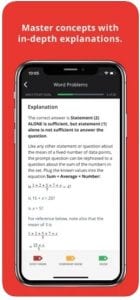 GMAT Prep Course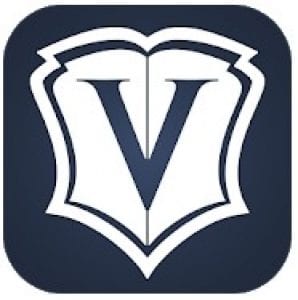 GMAT Prep Course is another studying app that gets to help you prep for the upcoming exam.
This app does exactly what its name says — it gives you an overall training course that covers all the GMAT themes. The app has versatile video lessons that last over 20 hours in general. All the vids have detailed presentations and the audio is clear as well. What is more, the vids are high quality and can be accessed with any extra payments.
Besides, in case you have an unstable Internet connection you can save the vids right on you device. As for the program the app runs on — it is developed and delivered to you by Brian Galvin who was one of the Veritas Prep GMAT course creators. Thus, you can tell all the info you get from those vids will be useful on the exam.
The mobile course covers all the subjects the Veritas one does, it's just more compact. To be more precise, there are more than 10 themes from basic arithmetic to reading comprehension. The only disadvantage of this app is you can't really test your skills in this one. However, there are lots of apps that only focus on questions and flashcards so it's not a big deal.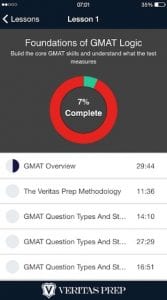 Check also: Top 10 Scientific Calculator Apps for Android & iOS
Bloomberg GMAT Prep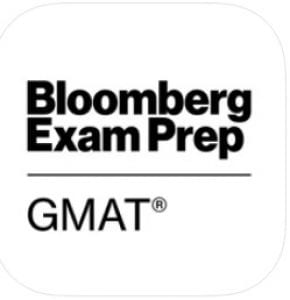 Bloomberg GMAT Prep is an app that aims to help you get the best GMAT point possible.
Apart from the previous app, this one is all about testing your knowledge. The app runs on adaptive technology that reacts to your answers and delivers optimal content according to it. In other words, the app marks all the parts you get wrong and delivers them to you over and over again till you'll get them right.
Plus, the app figures out your strong and low points so you can view which themes and topics you should review before the exam. For now, the app covers more than 5000 and it gets regular updates so you won't miss anything. Therewith, all the questions come with full solutions you can view.
You can also bookmark some questions to come back to them later on. Of course, it sounds too good to be true but the app has its trick — the subscription policy (we all know how it works). However, you can get a week of free trial to see if it's efficient for you or not. Plus, there's some amount of quizzes that don't require a subscription.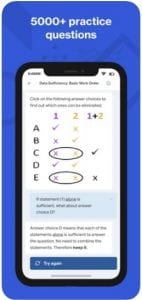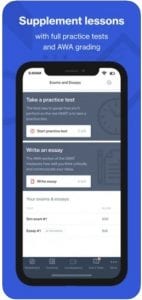 GMAT™ Test Pro 2020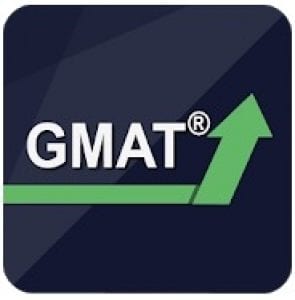 GMATTM Test Pro 2020 is an app that will test your knowledge and help you to prep for the GMAT as effectively as possible.
This app focuses on practice — it is bundled with multiple questions, flashcards, quizzes, and tests that will get you through all the GMT topics. For now, there are more than 3000 questions written by schoolmasters and tutors and this number is growing. The diversity of studying methods aimed to keep you in the academic performance and don't let you get bored too fast.
Therewith, all the tests can be accessed both online and offline which is extremely handy. Along with that, the app tracks you progress as you go through the questions to point out your strong points and vulnerabilities. Plus, the app marks all the questions you've got wrong to deliver them again and again before you'll get it right.
Besides, all the questions come with detailed answers so you can see what your mistake is. In case you have troubles reading something, the app can have a text to speech mode. You can also make you own learning plan according to your lifestyle. Thus, when the studying time will come you'll receive the notification from the app.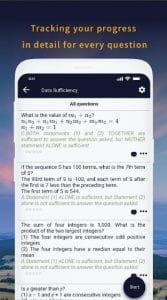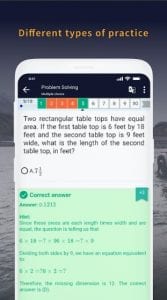 Wiley Efficient Learning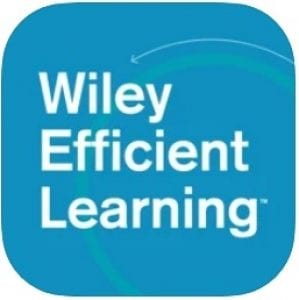 Wiley Efficient Learning is an app that will get you all the way ready for your GMAT exam.
The best thing about this app is it covers both studying and training(which is rare). Thus, you can go through lectures, watch educational vids and then go straight to the tests and flashcards to see how well you've learned the material.
Therewith, both aspects of the app are equally great — the vids are from skillful teachers and the test bank is massive and GMAT oriented. Besides, the app can sync in between the devices so you won't lose lecture or test progress. You can also bookmark the lectures and topics for later use.
In case you have trouble connecting to the Internet, you can easily save the lectures on your device. As for the tests, the app runs on smart algorithms that will offer you the tests and topics you've got wrong over and over again till the mistake is eliminated. Plus, the app tracks your overall score and suggests lectures and themes you need to review.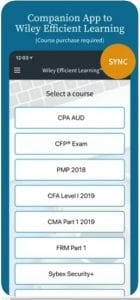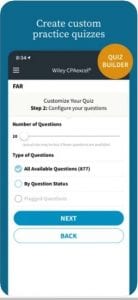 GMAT 2021 prep App-Aptitude Verbal Mock Test Paper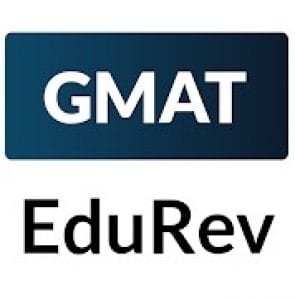 As you can see by the name, the GMAT 2021 prep App is a service that will get you prepped for the exam. Along with the previous app, this one is ultimate as well. The app covers vid lectures, tests, exam simulations, and even the applications to last year's tests. Therewith, the app incorporates all kinds of questions even the MCQs and math tricks.
As for the lectures, all of them are developed by pro tutors, the vids have high quality and clear stable sound. Plus, you can view them with or without the Internet. Speaking of the teats, there are regular ones, quizzes, daily insights, and vocabulary cards. Besides, you get to go through the entire previous year's GMAT tests if needed.
All the cards come with precise solutions so you can work on all your mistakes. The app also traces your stats and indicates the themes you need to learn more about. You can also bookmark the themes you have struggles with to view them later on.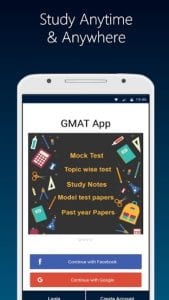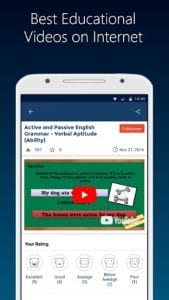 You may also check: 11 Best ACT preparation apps for Android & iOS
GMAT Club Forum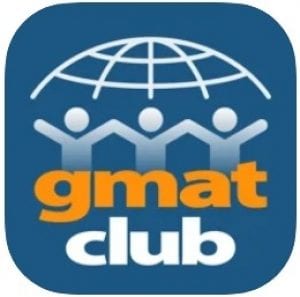 And lastly, GMAT Club Forum is an app that gives you entree to a massive test bank of GMAT oriented tests.
The app covers more than 1000 GMAT tests that will get you through all the needed topics. Therewith, you can rather go through the test in regular mode or the timer one. It also needs to be said that the app considers and the latest innovations of the exam so you will not miss any important topics.
Plus, all the questions come with solutions so you can immediately figure out all your mistakes and work on them. Above that, the app will keep track of your performance to point out your strong and low points.
Thus, the app will suggest to you the themes you need to study more about. Besides, all the questions you've been mistaken it will be delivered to you over and over again till you get it right. Furthermore, you can bookmark the questions you'd like to review later on.