25 Free Movie Apps for Android 2017
Sometimes we are so busy that we absolutely do not have time to watch another novelty of the film industry. In this situation, your mobile phones will come to your aid. Watching movies from such devices is very simple and incredibly convenient, applications for online movies watching will help you in this. You can use any video portals, where you will certainly find something interesting for yourself. A lot of videos of excellent quality, which are in common use will be opened for you.
Such programs provide a convenient search, classification by year of release, by genre and so on. In the settings, you can manually change the quality of the video you are watching, read all the parameters, change the interface language and much more. Also, a brief description of the film and a list of main characters are provided there. Using the applications for watching movies online, you can relax at any time and watch your favorite movie without much effort. An online collection of thousands of movies, cartoons and serials are now in your pocket!
Requirements for the use are minimal: you must download and install any of the applications below on your device and have a permanent Internet connection.
Top List of Best Free Movie Apps for Android 2017:
Tubi TV – Free Movies & TV
Tubi TV is a free application for Android mobile devices, which offers access to premium movies and streaming broadcasts of different TV programs. Tubi TV covers more than 40,000 positions from around the world and is the largest legal provider of free TV shows and movies on devices connected to the network, mobile Internet or Connected TV.
Tubi TV offers films and programs in such genres: comedies, drama, anime, science fiction, horrors, reality shows, fitness, cooking, travels and more.
IMDb Movies & TV
IMDb is the best application for finding worthy films. Now it's hard to find a person who is a movie lover and at the same time has never heard or used IMDb – the largest database and the largest site about cinema, in combination. Here you can find information about absolutely all aspects of cinema.
Using the application, you can view the average rating of each movie (including the voices of users from around the world), detailed information about the actors, directors. In addition, you will find posters, photographs, trailers, gossip, information about box office fees and much more. If you are a registered user (registration on the site is completely free), you can vote for movies and participate in discussions on the forums, sharing your impressions of the movie you watched with users from all over the world.
IMDb Movies and TV is an application created especially for those who like movies and TV series, because thanks to this application, you can always find all the necessary information about the movie you are interested in.
Netflix
Netflix is a provider of streaming-based movies and TV series that originally appeared in the US, but then it has been used in the UK, Canada, some Scandinavian countries, the Caribbean and South America. The popularity of this service is incredibly high in many countries nowadays.
The largest online cinema offers its users access to more than five dozen TV shows and hundreds of films for every taste, and new films appear right on the day of release. Do not wait for the series to appear on various resources. It is enough to install the official application or go to the Netflix website, where a fresh series is already waiting.
SnagFilms – Watch Free Movies
With this service, you will be able to watch full-length movies and TV programs for free. It has gained its popularity due to a wide range of movies and programs that you can choose to watch.
It includes movies (documentaries, action, adventure, comedy, thrillers,  science fiction, romance and more), kids and family-friendly films and shows, foreign films (full-length, subtitled international movies from all over the world) and special interest topics (biographies of  famous people like musicians, pop stars and others).
Kodi
Kodi is a mobile version of the cross-platform media center with an excellent graphical interface and a convenient menu. With the program, you can easily view movies, online TV, podcasts, photos, listen to music from various sources as well as on the Internet or in a local network.
Kodi supports various file formats, can work with playlists, provides full information on video and audio libraries, makes it possible to record TV shows, and also has a built-in web server. It is possible to expand the functionality of the multimedia center with plug-ins.
Viewster – Movies, TV & Anime
Viewster is an entertainment application that allows you to get free access to thousands of movies, documentaries, television series, and anime releases. All of them are available absolutely legally through streaming. The registration here is free.
Through the main window, as well as through the drop-down menu in Viewster, you can quickly navigate to the most important sections of the application: movies and TV shows. In the series section, you will find a large number of episodes of such anime as Naruto, Warrior Samurai, Rogu Horaidzun, and others. The section of movies in the Viewster is also outstanding. Its catalog contains hundreds of films from many different decades: the seventies, the eighties, the nineties, and also modern ones, of course. You can also filter by genre (horror, action, comedy, etc.) and by language (the lion's share of films in English).
Viewster – a perfect application for real fans of movies, TV shows, and anime. It allows you to enjoy thousands of episodes and movies. Even without registration, you can still enjoy the pleasant content.
YouTube
YouTube has become one of the top movie apps of nowadays. Download the official YouTube app for phones and tablets and you will have a possibility to watch the most popular videos from around the world – from hot music novelties to the latest news.
NEW INTERFACE
To navigate through the tabs just press the button or navigate around the screen.
All the necessary YouTube features right in the app: download and edit videos, add comments, share clips and even broadcast content to the big screen.
FAVORITE VIDEO ALWAYS UNDERHAND
Tab with recommendations.
Tab with the news of the channels you are subscribed to.
Tab with the video you like.
Using YouTube, you can quickly access all the videos that are shown every day, and search for topics that you are most interested in.
Crackle – Free TV & Movies
Crackle is the official application which offers movies and TV shows for watching in online mode. It is used worldwide. The Crackle interface allows you to get access to your content easily and quickly through two main sections – movies and TV shows. The application allows you to search by genre. This allows you to find what you are interested in easily.
Having the Crackle application in your pocket, you will not need any external players. Crackle is a very good service that offers a great content, covering both movies and TV shows. It is worth noting that in order to use this application, you need a good connection to the Internet (WiFi, if it is possible).
Yidio: TV Show & Movie Guide
Yidio is a famous service for watching movies on your mobile device which is used worldwide. If you don't know what exactly to watch, you can use an in-app search function to find new movies and TV shows.
You can use different filters and read recommendations of other users here.
You can also mark which films you want to watch and Yidio will notify you when and where they are available.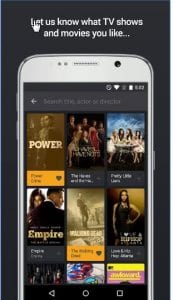 Popcornflix™-Great Movies Free
Popcornflix™ app is a great program for watching full-length movies using your Android device or tablet. With this app, you will have an access to more than 800 films of different genres (comedies, drama, thrillers, horror, documentaries and much more) without paying a penny.
It also doesn't require a subscription. New films are daily added.
Viu – TV Shows, movies & more
Viu is a free movie app which will help you to avoid boredom. It contains plenty of movies, music, and TV shows. You can watch and share them with friends for free. Using Celebrity Tab you can search for movies with your favorite actors. There are push notifications which let you know about the latest movies right when they are released.
You can download films for offline viewing when you have not got an Internet connection.
Hoopla Digital
Hoopla is a service for watching movies similar to Netflix. It is absolutely a new way of completely free viewing and temporarily downloading movies, music and TV shows on demand through the library.
Content is always available without any waiting lists.
You will find here Hollywood best sellers and not such popular content as well.
JustWatch
When there are Redbox, Netflix, Apple TV and hundreds of premium cable television channels around, it's difficult to decide where to get the wanted movie, which just ended on Cineplex. A free service JustWatch will help you quickly find out where you can buy or watch in online mode any movies or TV series. It will sift through the myriad of offers and present you a list where to purchase or view with a cheaper price.
The service JustWatch has built-in links to IMDb and Rotten Tomatoes, where you can read reviews, and there is even a section called "Reset the price", where you can catch "burning" offers.
Hotstar TV Movies Live Cricket
Hotstar TV Movies Live Cricket is an entertainment app for free watching your favorite TV series. You can watch TV shows, films, cartoons, sports and more without any limits. You can download movies to watch them later even in offline mode.
You can also subscribe to the Premium version of the app for the additional price.
Hulu: Watch TV & Stream Movies
Hulu is an official application from the same-name streaming service, which, as you should expect, allows to enjoy movies and programs from its directory through streaming and without any delays. There are a lot of films, serials, cartoons, trailers, and everything else.
Hulu works perfectly, and in fact, you can get an access to the content even without having a premium account, though most of the free content of the app is trailers of movies.
All in all, Hulu is a great service, and its official application works perfectly. One of the most interesting features in this application is that you can continue watching a movie or a TV show from the moment you stopped by watching it on another device (including the TV).
Free Movies & TV
Free Movies & TV is one of the best programs for Android, which allows you to watch online and download movies and TV shows.
The interface of the application is very simple and intuitive, and the amount of content is really surprising. But the most pleasant is still the ability not only to watch but also to download content.
Movies by Flixster
Movies is an Android client for getting access to the site Flixster, which contains descriptions of tens of thousands of movies, trailers, posters and frames from films, a schedule of sessions in theaters. Movies is one of the best apps for Android of this kind.
The Flixster database contains information on more than 65,000 films, 15,000 trailers. You can also read reviews of users here. The rating of films from both Flixster visitors and the RottenTomatoes resource are shown, what allows you to compare ratings and reviews.
Google Play Movies & TV
Google Play Movies is the official application from Google to watch movies on your Android device, rented on the same name service.
You will find more than a thousand films, from novelties to the old classic films, which you can rent. All movies are available in HD and are ready for watching on your smartphone or tablet anywhere, wherever you are. All you need is an internet connection, sufficient to watch the video.
Along with the ability to rent movies, you can also use the Google Play interface to watch any type of videos. Watch your own home videos, as if they were Hollywood blockbusters.
Google Play Movies still needs to be improved, but it's still a great app for watching videos.
Free Movies
Free Movies is a completely free and legitimate application for watching movies on the Internet. You will not find the latest novelties here, since Free Movies, being a legal application, provides access only to movies from the Internet Archive. The application, in general, is a launcher that redirects you to a webpage where there are links to all the free movies in the Archive. There are more than 5,000 films.
It should be noted that to play the movie directly from the browser, you will need to install Adobe Flash Player. Of course, you can also use any browser that has a Flash plug-in.
Free Movies is an application that will be especially useful for all fans of the old movie. If you like black and white cinema, then you are lucky!
Online Movies
Online Movies offers to watch popular movies in full HD quality for free. The app itself is very simple. You can search movies by genre, name, language or year.
Online Movies is a quality service known to everyone who likes to watch movies and TV shows in the original.
Flipps – Movies, Music & News
Flipps is an entertainment application for Android users, with the help of which you can always watch online TV. In the arsenal of the program, there are more than 100 different TV channels, which broadcast movies, music videos, cartoons, news and much more. It is noteworthy that the list includes well-known and large channels, such as FOX, CNN, BBC, Washington Post and others. But in addition to broadcasting in online mode, the application makes it easy and convenient to synchronize the device with SmartTV or the game console, to view video content on a large screen.
The interface of the app looks simple and stylish at the same time. No extra items or artsy menus. We can say that all the charm is pithiness. The color scheme is also perfectly chosen – red with white and a small addition of blue tones. Navigation has turned out to be convenient and thoughtful, what will allow you to quickly understand and easily use the application.
BoxTV Free Full Movies Online
BoxTV is popular service for watching latest movies and different TV programs for free. The content is provided from different channels and studios you love.
Using BoxTV you can download films and watch them even in offline mode. You can search films and TV shows by genre or language. Different video qualities are available here.
To use this service you should simply create a new account or register for free with the help of your Facebook or Google+ account, and then you can watch more all the movies and TV Shows you like absolutely free! Would you like to start right now?
Disney Movies Anywhere
In fact, this app is a huge catalog of more than 400 films and Disney cartoons for all time. In addition, it allows you to show all this content directly from the Internet.
Disney Movies Anywhere offers the following features:
– Watch Disney, Pixar and Marvel movies on all devices and anywhere;
– Possibility to create your own movie library;
– Free access to exclusive Disney content;
– Watch movies during a connection or download to your device for offline viewing.
MobiTV
Now you have an access to your favorite TV shows, films and cartoons having MobiTV app on your smartphone. With MobiTV you will be able to enjoy your favorite TV channels in real time; choose your favorite thematic TV package (sports/movies/children's / music/hobbies / entertainment / foreign news / cognitive). If you are afraid of missing the certain program you can put a reminder. You can add the channels you like to your Favorite list. A convenient search by name of the channel is possible here. One more benefit is that you can start watching a movie on one device and continue watching on another one. Everything is simple with MobiTV! Try it now!
Show Movies HD Box – 2017
Show Movies is an application that allows you to download and watch movies and TV shows in online mode. Show Movies has a standard and functional interface: on the left side of the screen, there is a drop-down menu, from where you will get an access to a large selection of movies, television series, and music. You can also view your downloads and recently added content (especially useful for those who want to watch the latest TV shows).
When you have found the movie or program you need, you can choose to watch it online or to download it to your device. In both cases, all you need to do is to touch the screen.  Another interesting feature of the application is the ability to download subtitles. To do this, however, you will need to create an account in OpenSubtitles.
So, in this article, we have collected the most interesting and useful applications for those who often watch movies and TV shows. They will notify you about the new series, they will help to find a good movie and will show feedback from other users.
New episodes of serials and a favorite movie can travel with you always. Take one of these apps with collections of movies and TV shows and you will have fun in a traffic jam, or at home.
For some of us, it seems to be odd, but for others to watch movies on their phone is a convenient way for free time spending or entertainment. Here are some more tips: How to buy Movies & TV show on Google Play