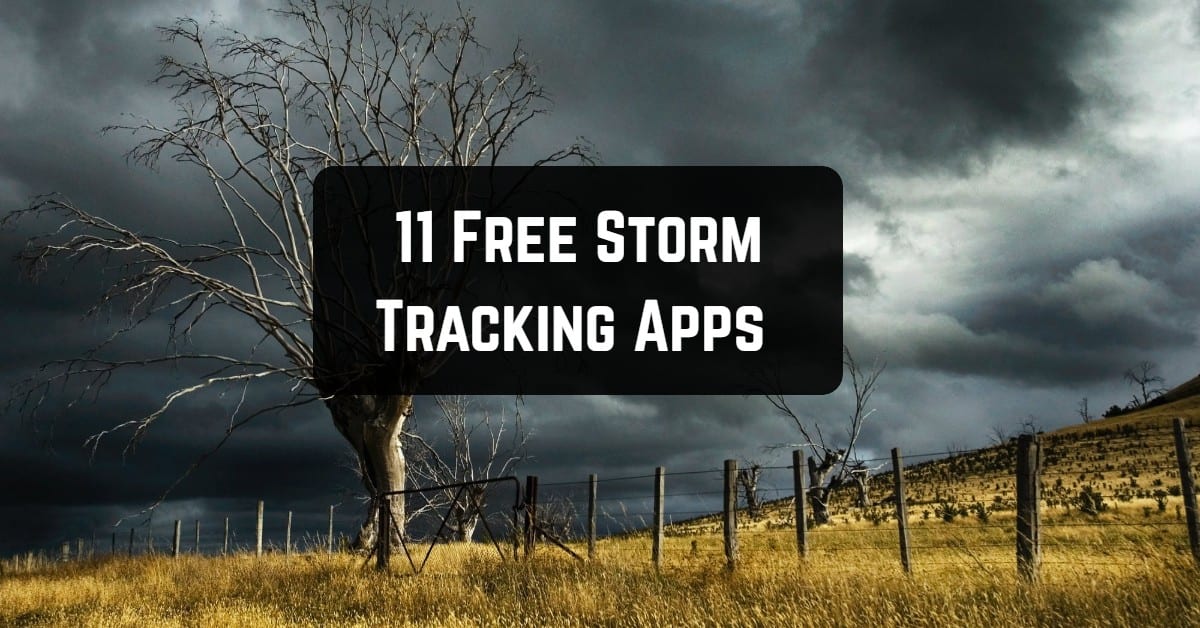 No matter whether you want to avoid stormy weather or vice versa appear in its epicenter, it is of the highest importance to be on top of things about the weather today, a day or a week later, especially if you live in the area prone to natural disasters.
Storm tracking will help you to adapt to the weather and draw up your plans in the best possible way. If you want to go out with your friends and have a picnic, you will hardly like it in nasty weather. On the contrary, if you are in search of incredible views full of energy and adrenaline rush, you should find the place and time of the upcoming storm. In both situations, you should have a portable storm tracking app that will help you to find out about things your interested in to do with the weather not only in your city but also around the world.
This article focuses on free storm tracking apps for iOS and Android that include maps, forecasts, and some additional features that might be useful for you.
Weather Underground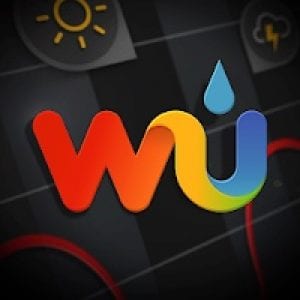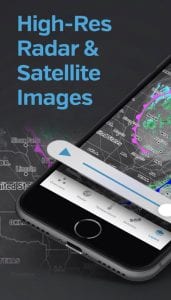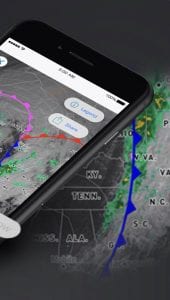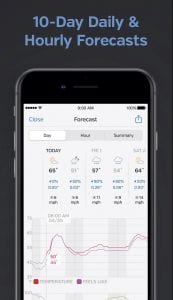 Accurate data on weather and storm occurrences, in particular, is provided by Weather Underground. Forecasts are based on information gathered from more than 250 000 weather stations to create precise predictions not only on a global scale but also on a hyper-local level.
Creators of this app managed information about precipitation, humidity, temperature, "Feels like", pressure, wind speed, and direction, sunrise and sunset in graphs. Track the dynamic and see forecasts up to 10 days in advance for free. In addition to this, you can find the air quality index, UV index, the statistics on flu outbreaks.
The app includes a variety of visualization ranging from images from hi-res satellite pictures from GOES-16 supported by NOAA data to interactive live maps reflecting weather conditions from different sources. It helps to process the whole situation not only in your place but also in the entire world swiftly.
As for the design of the app, there are two modes to chose: black and white.
back to menu ↑
The Weather Channel: Forecast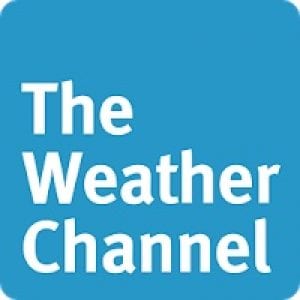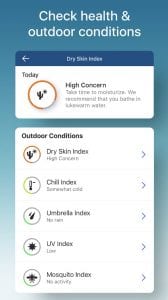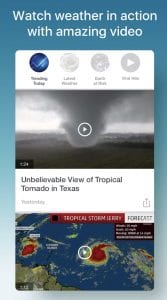 The Weather Channel is a free app with an intuitive interface. The main page is featured with cells filled with information about current weather conditions nearby, forecasts for the whole day, hourly. Also, there is a table for 15 days with precise data about precipitations, temperature, wind strength, and direction for each hour, so it is easy to make up your plans outdoors to not get an unpleasant surprise from nature. It is illustrated on 3 maps, see how the weather is going to change within the time.
If you are an allergic person you may find useful that this app informs about the air quality and whether there is a high level of allergens or not. The Weather Channel will send you pieces of advice about the day planning and alerts about extreme weather conditions.
Do you enjoy jogging? Find Running Index to decide the time and location of your today's exercising. To get more pieces of advice about health consult our article on health coach apps.
Was there any severe phenomenon of nature? Experience it without leaving your comfort zone – watch videos and scroll photos to be closer to beauty.
back to menu ↑
Weather Radar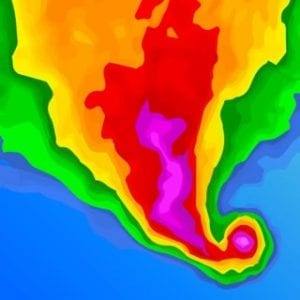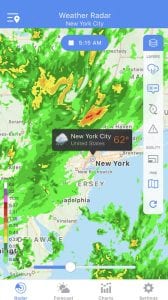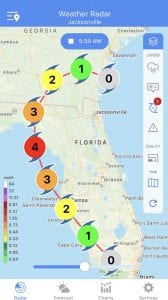 Another free app is Weather Radar. It succeeds in presenting data in different charts and maps daily and hourly tracking temperature, rain accumulation, UV index.
There are signs on maps showing which alert about up-coming hurricanes, floods,  tornadoes, and other harsh weather conditions.
The app shows as much information as previous analogs: precipitation, humidity, temperature, "Feels like", pressure, wind speed and direction, sunrise and sunset, etc; however, it has an extended wind description: speed, direction, gust, wind chill.
An appealing feature is that you may change light and dark themes during day- and night-time.

back to menu ↑
Weather Radar Free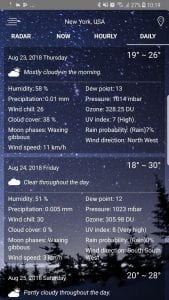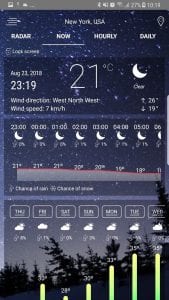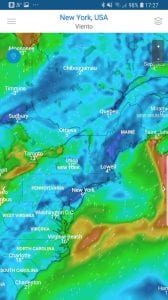 Weather Radar works only on Android but complies with the same features as above-previewed apps to control the weather in your region and in the whole world. There are maps that are easy to use and accurately show all figures.
A great advantage of this app is that you can set all units that are in use for you: C or F, 12h or 24h format, mm or inch; km/h, or mi/h, or m/s, or knot; inHg or hPa or mbar.
The design is quite friendly with pictures set at the background for different weather conditions and time of day. So, without having seen the weather in detail, you already have some idea about what it is like outside.

back to menu ↑
Storm Radar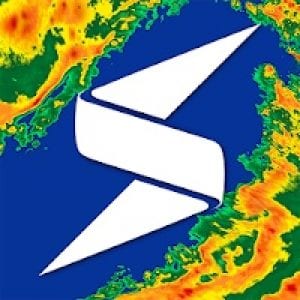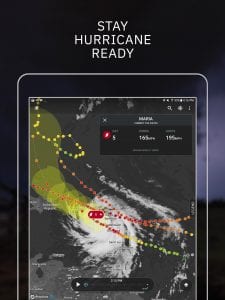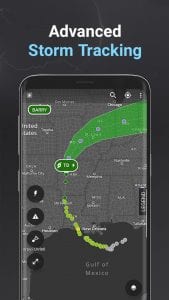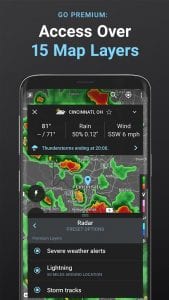 Storm Radar compresses accurate data taken from reputable sources like the National Oceanic and Atmospheric Administration (NOAA) and National Weather Service (NWS) data.
By the way of basic functions shared by all apps of this type, it has especially informative and very-well structured overlays to the map that enables to oversee not only temperatures and seismic activities locally and internationally but also to monitor hurricanes and their routes.
Get notifications about the weather in your region and be on top of storm-tracking.
back to menu ↑
Storm Tracker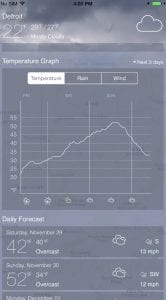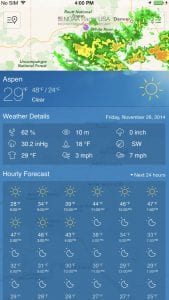 If it is more convenient for you to navigate and search locations on the map, the app Storm Tracker will appeal to you. Choose the place and learn everything about the weather, its dynamic and forecasts in figures and charts. Track hurricanes and see warnings about extreme weather conditions right on the map.
This app has customizable units of measurement to make the data more comprehensible.
The interface is very quick to use as on the left there is a list of places and the whole data springs up from the bottom of the screen and in the background – the map.

back to menu ↑
Live Storm Chasers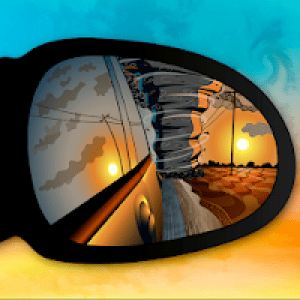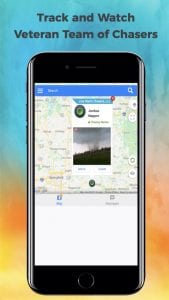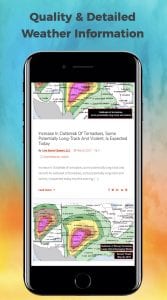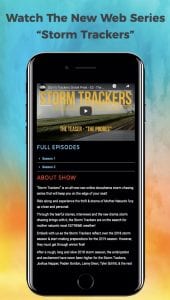 Live Storm Chasers is the app of a fundamentally different kind, for those who are obsessed with storm chasing and look for people with the same extreme hobby. The platform doesn't deal with predicting the weather but it does show reports directly from enthusiastic storm chasers. See videos and direct videos yourself, compete, and share the experience of another caught hurricane, flood, or tornado.
While observing the map you can find people and places where they are located and if they are lucky to occur in a severe storm, they will start streaming and will leave a mark. So, you can manage to reach the same place or trace this very storm and find your emotional inspiration.
If you can't do that, you are still able to scroll down the footage and see recent disastrous releases from professional storm chasers.
back to menu ↑
NOAA Weather Radar Live & Alerts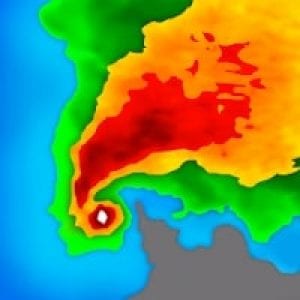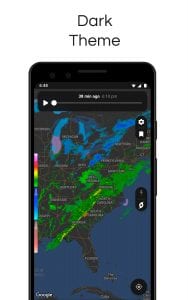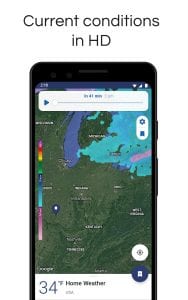 NOAA Weather Radar Live & Alerts is a complete app with tools for weather tracking that may be used for different purposes. You may find customizable interactive maps with layouts and icons that provide you information about the weather in diverse locations around the globe.
It also gives everyday extended reports on weather in your region at this moment and in advance. You may find it in different units of measurement.
To get quick access to this data, you may set resizable widgets on your phone screen. Along with this feature, this app also deals with notifications that alert about extreme weather conditions.

back to menu ↑
WeatherBug – weather forecast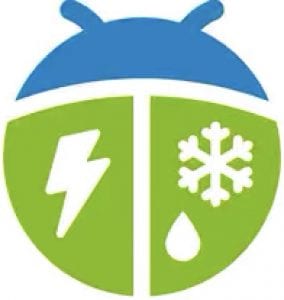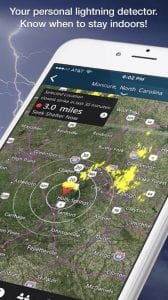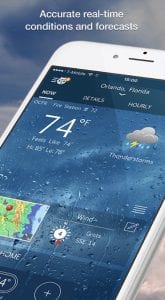 To have weather predictions in your pocket you should download WeatherBug. Its design is pretty and includes pictures that create a beautiful ambiance. The app represents weather conditions for diverse regions on the international level covering temperature, pressure, humidity, wind, etc.
You may look through information set in numbers and graphs, as well as on maps that represent all phenomena of nature in visuals and in pop-ups.
There you can find the seat of the fire, temperatures, thunderstorms. There is a number of zones that might be at risk because of some disaster; it is mentioned in alerts.
If you are a real storm chaser, you may find not only the weather but also traffic condition that is important while you are driving.
back to menu ↑
Live Chasing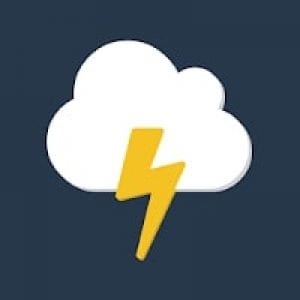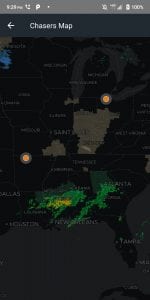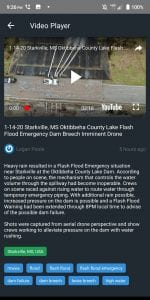 Live Chasing is an excellent app that provides data on forthcoming storms and their locations where you could venture to overview the destructive wonder. Take videos or photos of what you have seen and publish them in Live Chasing. To make them more appealing use apps from our article about photo booth apps and movie maker apps.
You may also see the same storm from other spots and sights by watching releases of other chasers who have shared their views.
The footage is combined in a scroll. People who locate nearby are mentioned and chasers are highlighted at the top.

To search you may take a look at the map with marked places or see the keywords including the place name itself.
back to menu ↑
Hurricane and Storm Tracker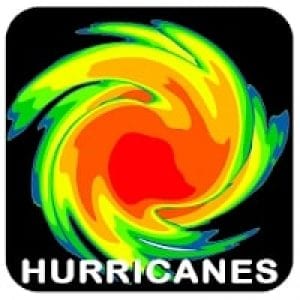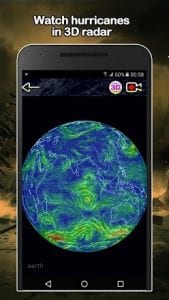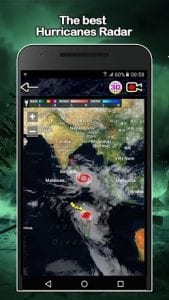 To know about all spots around the globe that are exposed to tropical storms, hurricanes, or typhoons you may use Hurricane and Storm Tracker. It is easy to use and includes various maps for observing the place even in 3D. Hurricane radar and earthquake radar are in the list of its functions.
If you want to see the state of the place, you may find it in video transmitting from different locations.
Notable here is a chat to resolve the problems to do with the app and to share opinions with other users.
You may also like:
5 Best Apps to Check Road Status
11 Best Android Apps for downloading videos online