11 Best Funny Ringtone Apps for Android & iOS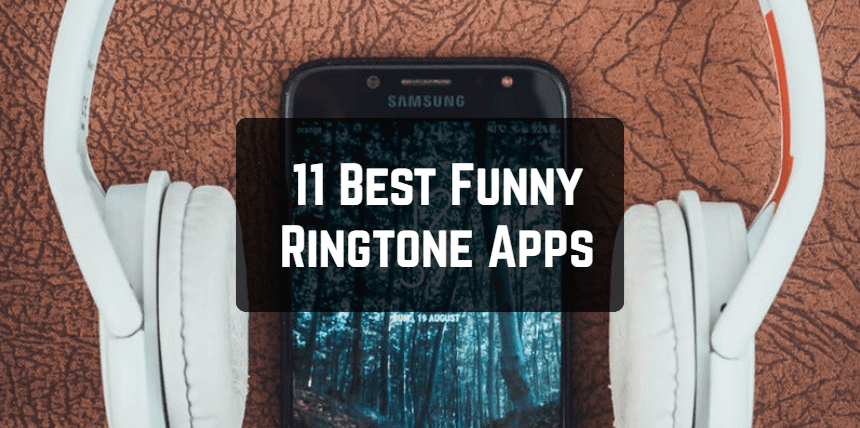 Sometimes our life becomes boring and colorless. Every day is the same. Everyone wants to add something new and funny. We can use our smartphones to get fun. If somebody calls us when we are working or studying, the embarrassing noise will bother us. We can change the ringtone to get a good mood every time when we are phoned.
You may also like: 11 Best music caching apps for Android & iOS
There are many wonderful and interesting app that can change the ringtone in your smartphone. Use funny laugh or comical melody. You can surprise your colleagues or the members of the family. We made up the list of app that will help you to choose a new ringtone on your phone.
Funny Ringtones
The app makes you happy every time when someone calls you. The quality of the sounds is so high. The app has more than 50 different ringtones. The songs are small-sized. You can use the ringtones as an alarm clock or SMS notification. The interface os the app is simple and intuitive. Open the app and choose the tune.
You will get a lot of fun with the app. People around you will be amazed. There are tons of ringtones. You can use baby remix, cock song, toy disco, laughing, funny boy and so on. You can choose an individual ringtone for each contact. It is a perfect decision to be happy.
Put funny music on your call. You can set up a song for every contact so you will always know who is calling. It is really useful. You will be happy with the new ringtones.
You can also check: Audiko Ringtones Pro app review
Ringtones: for iPhone
This app with a simple name is quite popular on iOS. Here you can browse through ringtones you may find in the app or create a new ringtone by using the files in your phone's library. All the ringtones which can be found in the app are divided into the categories.
Moreover, you can create ringtone by using the reorder that you can also find in this app. The trimming tool for music can be found in the same place. All the music and sounds which are here are licensed and unless you publish the ringtones that you made on your own somewhere it is absolutely legal.
Another pleasant bonus of this app is the elegant interface design. The functionality might be not that great and the overall system is a little bit obsolete but the theme colors make this app stand out from others.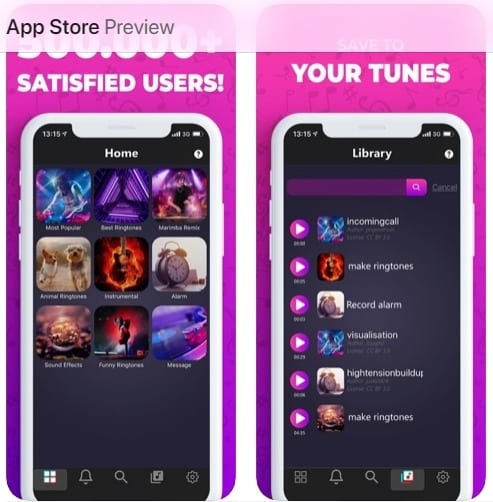 ZEDGE™ Ringtones & Wallpapers
It has millions of tones and ringtones. You can use them as notification sound, alarm clock. You can choose a personal ringtone for any person in your contact list. The app is very popular. It has been downloaded more than 100 million times. The popularity of the app is enormous. Choose the new wallpaper to make your phone better.
There is a lot of different ringtones and wallpapers. The quality of the wallpaper in HD. The quality of the audio is high. The interface of the app can cheer you up. The app is easy to use. You can create your own background with wonderful stickers. There is one of the best collections of ringtones in the app.
Choose funny ringtones and be happy. Good music can make you feel better. The app also has free live wallpaper. Funny ringtones and wonderful backgrounds create an atmosphere of peace and happiness.
Ringtone Maker – MP3 Cutter
If you want to create your own ringtone, then use this app. It is a perfect ringtone maker. There are many features for cutting and editing songs. How to use the app? Download it and install. Then choose the song you want to be a ringtone. The app helps you to cut it. Just decide about the beginning and the and of the song. Create a unique ringtone.
The app will save the ringtone on your phone. The app can be used as a file-searcher. You can easily and quickly find any song on your smartphone. The app can read any formats of songs. The interface of the app is funny and nice. It can't confuse you. Create personal songs for every friend and family member.
People have been downloaded the app for more than 10 million times. Join in the giant community of ringtone makers. Be happy with new ringtones. It is always a pleasure to use what we ourselves have created.
Ringtones for iPhone!
This is a two-in-one app. You can choose a beautiful and funny ringtone or a wonderful background for your smartphone. There is a lot of various tones. Choose them for an alarm clock, calendar notifications, or on your calls. You can choose ringtones from the app library or create your own. The app has a convenient editor.
Accelerate, slow down, cut and connect songs to create your personal ringtones. You can express yourself by creating songs. The interface of the app is perfect for choosing and creating ringtones. The app has a nice blue screen. Ringtones sorted by catalogs. You can choose sad or funny songs.
The content is regularly upgrading. You can also change the wallpaper. There is an enormous quantity of backgrounds. There is also a live wallpaper. Let the music amuse you every time someone calls you!
Funny Ringtones – Free Ringtones
If you feel like you don't have enough funny ringtones apps for Android on this list here is another one. Well, on the other hand, if there are so many apps of this type it means something, right? Probably, these ringtones are highly demanded by users.
Here you will find the wide collection of funny ringtones of any genre. What is more important, unlike in many Android ringtone apps all the stuff that you will find here is licensed and absolutely legal. And, besides, it's completely free!
The interface of this app is also worth mentioning because it's one of the best on this list. All the categories are placed as a list on the main menu and highlighted with different colors. The quality of all the melodies is more than decent. You can easily download ringtones from this app to your device.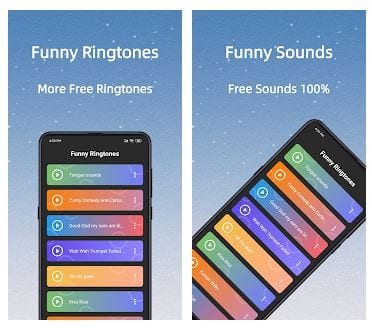 Cool Ringtones: Ringtone Maker
Do you want to have animal sounds, hip-pop songs, or romantic music as a ringtone? This app can help you with it. You can set up them as an alarm clock or calendar notification. Start your call conversation with a funny sound. Your friends will be amazed when they hear it.
You can create interesting ringtones by recording your voice. Then you might edit and change them. Add some sound effects and filters. There are so many options in the app. It works well. It is easy to use. You will get detailed instructions before using them.
You can even use cat meowing as a ringtone! Surprise your friends. Use ringtones as a way to cheer yourself and your loved ones. Create a unique ringtone collection!
You may also like: 21 Best Offline Music Apps for Android & iOS
Audiko
Do you want to use popular songs as a ringtone, alarm clock, or notification? The app can make all your wishes come true. It is easy to edit and cut your self-made tones. The application also works as an audio editor. The design of the Audiko is fantastic and so intuitive. You won't be confused by using it.
There is a giant database of songs. You can connect the app with Google music to add your favorite songs. Collect ringtones into playlists. The app has been used by more than 5 million people. It won't take all the memory on your phone.
All ringtones are stylish and modern. You will definitely find something to your liking. Put a dog barking or singing canary as a ringtone.
MP3 Cutter and Ringtone Maker
If you want to create your personal ringtone, then try this app. The app allows you to cut, copy, and edit audio files. You can also adjust the volume of the song. After editing you can listen to the preview of the new ringtone. Record the voice of your cat of friends. The app uses songs that are on your phone.
The design is elegant. The dark theme calms your eyes. The app has only 1 MB to download. There are no ads. Nothing will bother you. The app scans your smartphone to find all songs. Set up your favorite choruses as an alarm clock, notifications, and calls.
It is a new app although it has been already downloaded more than 500 thousand times. Play self-made tones anywhere and anytime. You will make your own ringtone and become happy! Music works wonders.
Super Funny Ringtones App
Nowadays we almost don't pay attention to the ringtones of our smartphones because they're muted all the time (you don't need to hear the call, because you are looking at your phone constantly anyways). We never change the ringtones – there is a standard one that stays forever.
However, do you remember how it was before? Almost everyone had a different ringtone that was reflection their personality in some way. Changing the ringtone often was a totally normal thing. And funny ringtones were a huge deal back then. Do you feel nostalgic about those times? Use this app to go back to that wonderful time!
Here you will find hundreds of funny ringtones that you can easily download to your device. They are completely free. You just open the app and browse through the latest ringtones. Or, you can use a search bar to find ringtones on a certain theme. Before downloading one you can pre-listen to it.
You can also check: 20 best & free ringtone apps for iPhone and Android
iRingtone
You can find there more than 120 different ringtones. It is easy to set up the tone. Just tap the song and it is done. The app has a lot of categories of ringtones. Choose the sounds of nature, children's laughter, scary sounds, or the voices of famous people. Don't be afraid to experiment.
The app is developed for Android but there is a lot of iPhone ringtones. You can confuse your friends with new sounds. It will be funny. Choose tones for notifications, alarm clock, calendar notification, and text sounds. You will surely find something that you like.
The app works wonderfully. Put the ringtone on your life and it will be bright and fun. Let the app make all the work for you. Don't download and search for new ringtones. You can find everything there. The app has been installed 1 million times!