15 Best GPS Apps for iPhone & iPad
All of us go somewhere every day. We all have a purpose. Going for work or on business on the other end of the city, or traveling at all – we want to get to the right place with maximum efficiency and minimum time spent.
In this case, we come to the aid of navigators. Being in an unfamiliar place or city, we can ask a local how to get where we need to, or just use the navigator. With the use of navigation, any journey becomes easier.
High-quality navigation is an indispensable companion for any trip. And none of the devices, as before, but the real iPhone or iPad with installed navigation software is the best alternative. Our current collection is dedicated to the best GPS apps for iPhone and iPad devices.
With their help, you will never be lost and find a way out of an impasse. So, we present 15 different navigation applications for you.
Google Maps
Google Maps app is an indispensable tool in the road. This application doesn't only support GPS-navigation but also provides information about traffic jams, public transport, and hours of the greatest congestion on the road.  You also will find users' reviews here.
You will spend a minimum of time on the road with Google Maps on your phone. You will quickly get to your destination, using the navigation and get up to date information on traffic and time of arrival. You will not be late for the bus and train with information about public transport routes, which is updated in real-time.
Do not worry about the traffic: Google Maps will automatically rebuild the route, taking into account the situation on the roads. The app will tell in advance what lane choose to turn or exit.
You will easily find gas stations and cafes along the way.
Take advantage of all Google Maps features! You can get directions and use navigation even without an Internet connection. Street views, panorama views of restaurants, shops, museums interiors are available. Indoor maps will help you to navigate the airports, shopping malls, and stadiums.
Here are complete and accurate maps of 220 countries and regions. You will see maps of more than 15 thousand cities with driving directions. Google Maps gives detailed information on more than 100 million places.
You may also like: 10 Best virus simulation game apps for Android & iOS
Waze
Nothing spoils the mood as a long time spent in a traffic jam, isn't it? Waze is a way out for you! It is highly rated and the most used GPS app for iPhone users.
With this app, you will avoid the worst traffic as Waze will help you to find the quickest route. Live maps are constantly edited and updated by Waze editors. If there are changes on the road, your route will be automatically changed at once. Turn-by-turn voice-guided navigation is also available.
Here drivers share the information about traffic jams, road accidents, police traps, road closures, and so on in real-time. Also, you will get the information about the gas stations with the cheapest prices near your location, get other road alerts on your route, and more useful information. In turn, you can share real-time traffic & road info with the community's members.
Plus, you can add friends and sync Contacts. So, you can share your ETA & recent location or see your friends' ETA when you are going to meet.
Just by driving with Waze open, you're already contributing tonnes of real-time traffic information to your local community.
Join the world's largest community-based traffic and navigation app!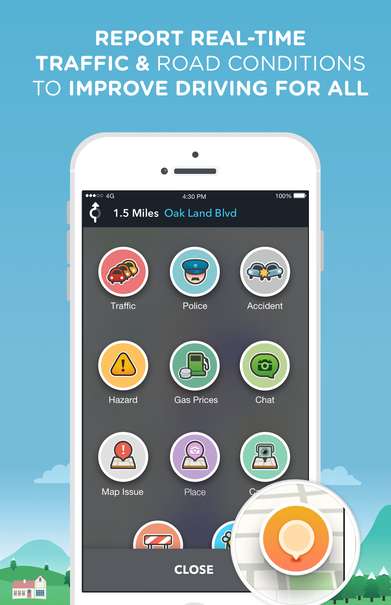 HERE WeGo
With HERE WeGo application you will always find the right route in any city. Are you driving a bike or renting a car, going by taxi or public transport? HERE WeGo offers you the best routes to your destination. Compare the possible variants and select the best one.
On the trip, you will be able to follow detailed voice instructions, so you will not miss your stop and will not turn accidentally in another direction. If there are road conditions changes, you will be notified in time about the detour. So, you do not have to worry.
You can download the app for free and use the easy navigation around the city in your pocket:
– Choose a convenient way to get there: car, bike, taxi, public transport, etc.
– Compare routes by distance, speed, or cost and make the best choice.
– Go to your destination, following the detailed voice and visual instructions for the chosen trip mode.
– Learn all the information about traffic conditions in time. So, you will not suffer from traffic jams and disruptions to public transport.
– Downloading maps, you will be able to navigate, even where there is no Internet connection.
Scout GPS
Scout GPS is a navigation app that helps you to avoid traffic, lets chat, share your ETA, and get turn-by-turn GPS voice directions. Now you are able to find the most suitable route with real-time traffic and get notifications if there are any changes on your route. You can manage your route just with a swipe of a finger!
Now you can communicate with friends right from the app. Here is a voice chat as well as text messaging. You can share your location/ETA easily with them to be in touch. Right in the Scout app you can create Meets up and send them to friends and coordinate together.
You will get live ETAs – Scout shows when Meet Up's members are on the move with real-time ETAs on the map. Now you'll always know when a friend is late and whether "five minutes away" really means "I haven't left yet."
Using Scout you can also set up home and work locations to get traffic alerts so you know when to leave. You will always be on time as you will receive notifications when traffic is slower than usual on your daily commute home or to work. You will get notifications one hour before your Meet Up is set to begin and as your guests arrive.
Make a pit stop on your route and find the cheapest gas, restaurants and other local amenities all while avoiding police speed traps, accidents, and traffic jams along the way. New! Click on different routes to see turn-by-turn direction before you start navigating to your destination.
New! iOS9 users can now search for their "favorites" or "recent" and get quick access to navigation through spotlight search. Do it your way! Save your customized route preferences, favorite map views, and schedule personalized commute departure alerts for home and work.
You will never get lost— Scout, powered by OpenStreetMap (OSM), provides the most up-to-date map information with updates from a community of more than 1.6 million editors.
inRoute
inRoute is a voice-guided navigation app widely used in US and UK areas. It has all the benefits a navigation app should have. Moreover, it has its own specific features that you surely will find profitable.
Using inRoute application you will be able to build optimal routes anywhere and anytime. It allows planning your own course based on weather, elevation, daylight, and more, and safely navigating with peace of mind knowing what's on the horizon. In addition, you can rebuild your route on each leg if it is needed.
You can save your frequently used routes, sync them between devices, print, or share with family members/friends. Your routes are stored on your smartphone. So, if there isn't an Internet connection you will have access to them whatever.
Note: Since continued use of GPS running in the background can dramatically decrease battery life, inRoute will automatically shut down if you haven't used it in a while.
Hit the road with the only voice-guided navigation app that automatically checks your route for severe weather!
MapQuest
MapQuest is one of the easiest voice-guided, turn-by-turn GPS navigation apps as its users say. The information about traffic is updated in real-time and according to traffic conditions, your route will be automatically changed in time.
The information about traffic is updated in real-time and according to traffic conditions, your route will be automatically changed in time. Road closures are taken into account and you will get an alternative route as well.
You will also get the ability to compare cost and ETA from a variety of transportation options.
Using MapQuest you can find nearest places of interest: cafes, gas stations, hotels, compare prices of fuel, browse menus, and order food through OpenTable and GrubHub. You can also book hotels that are nearby right in the MapQuest app. Here you will have direct access on-demand roadside assistance for help.
With MapQuest on your phone, you will easily get to any place you need!
MAPS.ME
Get instant access to detailed maps of all countries and cities from all over the world with MAPS.ME navigator! It is a top GPS app in the "Travel" category in more than 100 countries. It has already been downloaded over 40 million times worldwide!
You even do not need an internet connection. Maps work even where there is no mobile connection. You can find everything you need on the map in offline mode.
You can search through different categories, e.g. restaurants, cafes, tourist attractions, hotels, ATMs, and public transport (metro, bus, etc). Also, it is possible to book a hotel via Booking.com directly from the app.
Do you prefer to travel on foot? Here is pedestrian navigation for you to use. Find the shortest routes along the paths, alleys, bridges, overhead and underground passages. The map shows the most optimal and the right way to your destination.
You can also mark places of interest on the map and share it with friends via email or SMS. Maps are daily updated with hundreds of thousands of users.
CoPilot GPS
Sit back and enjoy the ride with features of the lot navigation app. CoPilot is a high-performance application for GPS-navigation which will bring you to your destination safely, reliably, and what's more important without the mess.
You have a chance to join over 14 million drivers and professional transportation services all over the world who rely on the high quality of CoPilot standalone maps. With the help of these maps, you will get the necessary information quickly and accurately, even in the absence of a mobile network, or when traveling abroad.
Here are complex instruments of planning trips with multiple stops for the detailed route before starting your trip.
Also a huge database of preloaded objects that make it easy to find local restaurants, gas stations, parking lots, and other useful places are available.
TomTom GPS
TomTom GPS is a mobile app that will help you to find the best route available based on accurate, real-time traffic information that gets you to your destination faster, every day. Moreover, you will be able to get world-class traffic information.
TomTom navigator has lots of benefits: You can rely on offline navigation. To plan your route you don't need an internet connection even.
You will get highly accurate traffic information, in real-time. Also, drivers share the information about safety cameras locations and you will get alerts when they are on your route.
You will get quick access to your favorites: Start driving to your favorite places with a single tap on the map. You can see buildings and landmarks in stunning 3D. So, you will know exactly where you are so you never miss a turn.
GET THERE FASTER with TomTom GPS app!
Sygic
Sygic GPS Navigation is the world's most popular stand-alone application of GPS-navigation based on TomTom maps. With the app Sygic GPS Navigation, you can always make free use of the TomTom offline maps, information on attractions, routes, and the function of free map updating.
High-quality maps from TomTom and other providers are stored on your phone, so they can be used without an Internet connection.
Navigator always offers three alternative routes to choose from. The route can be easily edited by dragging its elements on the screen. During the route, you will get detailed voice instructions. Scoring street names will allow you to concentrate on the road. You will also get warnings about speeding, police, and stationary safety cameras.
OsmAnd Maps and Navigation
OsmAnd (Open Street Maps) is a navigation app for travel with open-source e-map users, which allows you to navigate in unfamiliar areas, find the objects on the map and get to them, and also get various tourist information about these objects using data from the Open Street Maps (OSM) without access to the Internet.
Some of the main features of the application:
Display more information on the map, such as GPX or navigation routes, objects (POI), favorite locations, public transport; the imposition of additional maps with customizable transparency; search for addresses and objects (POI) without access to the Internet; getting directions to any distance using Internet services.
It has a car, bicycle and pedestrian modes with the additional possibilities (automatically switch to day/night mode); change the scale of the map depending on speed; compass or direction map rotation; use voice commands (reproduced by generated or recorded voices) while driving on the route; warning about exceeding the permissible speed.
Navitel Navigator
Navitel Navigator is the precise offline GPS navigation, geosocial services, and detailed maps of 64 countries in the world. Using the Navitel app you will get the information about traffic jams on the roads in real-time throughout the maps mode.
Also, the information about the weather anywhere in the world for three days in advance, fuel prices, movie showtimes and other useful information is available with Navitel Navigator. You can chat with friends here, watch their locations, and install the route to meet with them.
Road accidents, road works, speed cameras, and other incidents are marked on the map by Navitel's users. Navitel Navigator will help in quick installation of the route: instant route calculation and construction of any length and complexity.
GPS navigation BE-ON-ROAD
This GPS navigator is used by thousands of drivers throughout the world. Now it is easier to plan your route and search for the points of interest with GPS navigation BE-ON-ROAD. The map is updated for free.
BE-ON-ROAD is a free tool of autonomous GPS-navigation based on maps with QualityMaps updating several times a year. The free version includes seven days of using the premium features and navigation with voice commands. After 7 days you may use offline maps and route planning for free, or upgrade to the premium version and use voice navigation features without any limits.
Free features:
~ Navigation for cars and pedestrians;
~ Speed limit warnings;
~ 3D-map.
Premium version:
~ Navigate with voice commands in different languages;
~ Warnings about speed cameras;
~ Navigate through photos.
CityMaps2Go
Those people who travel often know for sure how essential it is to have a reliable map of the city you're traveling to in your phone. Also, the Internet connection abroad is not the cheapest thing ever that's why it is better when those maps work offline and online.
CityMaps2Go is a great solution for all those problems – this is a cool app with the maps of the cities all around the world. And don't worry that if you're going not to such famous places as Singapore or Los Angeles there will be no suitable map for it.
The database of CityMaps2Go is really impressive – it counts more than 150 countries, 60000 destinations, and 50 million places. All the maps are extremely detailed and reflect the most important sightseeing in a city. Another interesting feature of this app is that it has online maps for hiking tours. Great GPS app for tourists!
Free GPS
Free GPS stores and directs users to waypoints using latitude and longitude coordinates. Free GPS delivers the necessary functionality to utilize the iPhone's built-in GPS in a simple clean interface.
The best thing about Free GPS is its simplicity. If you plug in the latitude and longitude, Free GPS will direct you to your destination. It's as easy as that! With Free GPS there is no need to understand a complicated interface.
Free GPS features maps, metric and customary measurements, speed, and heading. Locations can be entered into Free GPS by entering in coordinates, by marking the user's current location, or by a long press on the map. Now users can share a waypoint with a friend through email!
Users can store multiple waypoints and navigate to them. The user can also save their current position as a waypoint to navigate back to later. In addition, Free GPS can notify you when you get close to your waypoint even while running in the background.
Free GPS does not require users to create an account or share their waypoints in any manner.
You may also like: 11 Best hiking apps for Android & iOS
So, that was the top list of the best GPS applications in the market. We dare to believe that you have identified the best navigator for your device. Of course, the choice of applications is subjective. But taking into account the advantages of GPS navigators which we have presented,  it easier will be easier to make the right choice.