Editor choice
33 Best Health Apps for Android & iOS 2017
Among the many things that "smart" mobile phones have brought in our lives today, one of the most useful is their ability to help us to live a more healthy and active life. Our pocket assistants learn to play the role of a coach, a doctor, a consultant nutritionist and sometimes caregiver. They accompany us in training, watching our pulse and weight, according to how much we eat and what we drink, put us to sleep and gently wake in the morning.
In this review, you will learn about the best applications for Android and iOS, which take care of our health. 
To this post, we have selected the best health apps for 2017 which are divided into several groups: 
GENERAL HEALTH APPS:
HealthTap. Doctor consultations and prescriptions.
A website and a mobile application HealthTap, as it is claimed by its creators, has saved many lives already. The resource work is based on a professional advice system – asking questions about these or other symptoms, users get answers of general practitioners. The credibility of the doctor's opinion is characterized by their reputation and rating in the app. In the app, you can find useful tips on maintaining a healthy lifestyle, information about the best applications on the theme of health and subscribe to the mailing list of the best therapists.
Price: free
Sleep Cycle alarm clock
Sleep Cycle alarm clock is a unique service to be put near your pillow. Because of this, it will be able to track your sleep phase and wake you with ease, at the right time. Also, by using the built-in calendar, it will save all the data, and then you can bring them to the screen, and look at the quality of your sleep for a certain period of time. We all know that healthy sleep – is the key to good health.
Sleep Cycle was developed using proven sleep science and during years of research and development. Sleep Cycle helps millions of people to wake up rested!
Price: free with in-app purchases
MIND AND BRAIN APPS:
Talkspace
TalkSpace is a mobile application that allows you to get advice from licensed psychologists. Communication with the therapist takes place in text mode via messaging. The main target audience of Talkspace, according to its founders – people who have already started treatment, but could not bring it to the end, for various reasons. A startup Talkspace was created for such people. Its developers offer to conduct psychotherapy to users at any time.
According to the developers' opinion, the offered possibility is cheaper, more convenient and not less effective. In addition, this almost anonymous form of communication with the psychologist helps to avoid the discomfort that people often feel wishing to visit a specialist. Experts advise in real time – either in text message format, or video session format.
Users are offered to subscribe for a week, month or quarter. The application allows you to restrict access to your chats with a therapist by a short four-digit code. The sponsors provide a complete anonymity of such consultations.
Price: free with in-app purchases
Happify
Western culture is aimed to ensure that you are happy all the time, but it is often the cause of depression: to be constantly on edge with happiness – exigeant and tedious task. However, do not let the «happy» in the title to push you. This application purports to teach the users not to distance themselves from their feelings and enjoy their life. Happify helps to break the habit of negative thinking and learn how to see the world in a new and positive way. Simple exercises disguised as a simple game that the creators came up, relying on the results of research on the psychology of happiness. As usual, the first time it is free, over time, the app offers a subscription – a month or a year.
According to statistics from the developers, 86% of users of Happify feel emotional improvement after 2 months of using the application.
Price: free with in-app purchases
Calm: Meditation to Relax, Focus & Sleep Better
The name speaks for itself: this app will help you to relax even if you had the most nervous day. People suffering from anxiety disorders are often advised to try meditation in one form or another, and with the help of a smartphone to do it becomes especially convenient. Even the title site Calm instantly helps you to relax, and the application itself offers dozens of meditation tracks with ambient music, nature sounds, and so on – all to make a useful break for the day and go to sleep quietly at night. All the basic meditations are available for free, and those who want more will need to buy a subscription for a month or a year.
Price: free with in-app purchases
Pacifica – Stress & Anxiety
Pacifica is a beautiful application that helps to cope with stress, develop positive thinking and achieve your goals. It is possible to keep a diary to track your mood. There is also a small selection of guided meditations to help you to relax. An interesting feature here is setting goals. They can be chosen from a list broken down by categories, evaluated on a scale from 1 to 10 the alleged complexity of the task, and then put to evaluate its results.
Completion of small but frightening tasks has an extremely positive effect on the psyche and helps to build a new approach to their implementation, even for those who have an increased anxiety.
Price: free with in-app purchases
Headspace: Guided Meditation and Mindfulness
Headspace is an application that teaches its users to meditate. It contains a set of guided meditations – audio instructions that accompany the user during meditation and help to concentrate. The Headspace has a free base course for 10 days, and a huge selection of meditations on all occasions, but they are available only by subscription. Overall, this app is a great tool for those who want to incorporate meditation into their life, reduce overall stress levels and improve mental health.
Beautiful and simple Headspace app helps you choose the program of meditation to your liking, depending on the circumstances and the free time.
Price: free with in-app purchases
7 Cups Anxiety, Stress & Depression Chat & Therapy
7 Cups is a hotline of the XXI century. It is a perfect app for those who have problems and can not or do not want to tell a friend about them. 7 Cups offers free services of professional "listeners". Firstly, the user is offered to select a problem on which he wants to talk, and then a chat opens where you can discuss this problem.
The offered list of problems includes a variety of issues – from depression and suicidal thoughts to study and sexual problems. "Listener" can also be chosen according to different parameters, including the language he speaks. The only disadvantage of the application – latency connection with the interlocutor. However, these moments can be spent with advantage by exploring other possibilities of 7 Cups, for example, the system of exercises for the development of positive thinking or overcoming specific difficulties (the latter, however, for a fee).
Price: free with in-app purchases
FITNESS APPS:
S Health
S-Health app is a utility which allows the user to track the physical activity, a number of calories consumed and spent, as well as receive information on heart rhythm and sleep. The benefit of the program is also the fact that in spite of the impressive feature set it extends for free. Main functions:
Pedometer. Pedometer function in S Health allows you to see the number of steps taken, which converts to the distance traveled and calories burned, depending on age, height and weight entered in the profile.
Running, walking, biking. In addition to counting steps, S Health also has the ability to track running, race walking or cycling.
Sport. In S Health app, except for running, walking and biking there is a section called "Sport", through which you can track activity for different sports and training on simulators. The database of sports is really huge.
Food. Using S Health user can input data about the food, trying not to exceed a predetermined amount of daily calories. Unfortunately, there is no the local database of products in the application yet.
Price: free with in-app purchases
Google Fit – Fitness Tracking
Google Fit is a platform that allows you to monitor the activity and gives you access to all fitness data. This program is a bit inferior to other applications-rivals, but Google certainly improves its new app. So far, it has better support on Android Wear.
Google Fit take into account walking, running and cycling, count the overcome distance, pace, calories burned, and even makes recommendations based on your achievements. You can also set specific goals for yourself, such as the duration of sessions or the number of steps you want to go. After that Google Fit will create a graphical visualization of the easy tracking process.
Google Fit can gather data from other applications, for example, Nike + or Runtastic. Thus, even if you use another program for the training, all the results can be easily combined into Google Fit.
Price: free
Fitbit
Top Fitbit app is designed to keep track of all the daily activity of the user, his training, and health. Count all your daily steps and distance right on your mobile device. Track your stats and your jogging routes, hiking, and walking. Monitor a number of calories consumed with the help of a reliable database of foods. Use the barcode scanner for this. Keep track of your daily diet and manage your weight! Set a goal, enter weight, sleep duration and start to carry out a meal plan. Then, view the results and track your progress with the help of light-to-understand charts and graphs. Enlist the support of your friends and family to reach your goals faster. Share your statistics, join fitness challenges, communicate with each other and compete with the leaders!
All these features and benefits in one place – your Fitbit app!
Price: free
Fitocracy-Fitness Community & Personal Coaching
An app Fitocracy, created by two fans of multiplayer online games, turns exercise into a game. In fact, in the Fitocracy app, there are levels, achievements, quests, groups, friends, and chat – all features of good-quality RPG. this app is like a social network but only for people engaged in sports. You fill out the profile, specify your height, weight and body condition (honestly).
Like getting points in a video game, doing real exercises and marking them in Fitocracy you can pump your "character" and move up the career ladder, ahead of all other participants in the project.
In Fitocracy there are hundreds of exercises, ranging from general entertainment (playing golf, for example, or roller skating) to special exercises (sit-ups or push-ups).
Price: free with in-app purchases
Running, Walking and Biking with Endomondo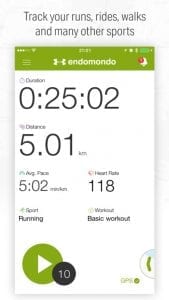 Endomondo is one of the oldest applications of this genre, which deserves the love of millions of users worldwide. As the step counter it is not very good, but for lovers of running nothing better wasn't created yet. The program fixes all key parameters – the distance covered, a number of steps, calories burned, average and maximum speed.
You can use it to set goals (for example, to run a certain number of kilometers), to share the results of training with friends, invite them to beat your record. And Endomondo can fix your route. It can be published and thereby show other users where you run. It helps, for example, to find new and interesting routes in the city.
This app can boast of its accuracy and one of the easiest interfaces.
Price: free with in-app purchases
Runtastic Running & Fitness
This application arose a couple of years ago as a competitor of Endomondo and today by many reasons it is a superior to the opponent. In particular, there are more functions, so we can say with a certain degree of conditionality that Endomondo – for fans and Runtastic is for professionals.
Here are more measurements. The program is able to lay out the run on the fragments with different speeds and accelerations. It also has a memory function that stores detailed jogging routes. Among other things Runtastic can also take into account weather data, to give voice prompts on the route and allows you to control the music player built into the smartphone.
Price: free with in-app purchases
Runkeeper – GPS Track Run Walk
Another program with a set of standard functions (background music, setting goals, tracking distance and pace), but the emphasis is made on the competition with friends. RunKeeper offers to boast of your achievements, attaching to the post in social networks your route.
It also provides hints and a calorie counter (all based on the inputted height and weight). Here are the programs of different levels of difficulty, and they are formed by Mike Dibbler – an American master of sports, the founder of one of the reputable fitness studios in San Diego.
In general, the difference between the Runtastic and RunKeeper is insignificant – the first application is intuitive and concise, and the second – an abundance of modes and detailed instructions.
Price: free with in-app purchases
30 Day Fit Challenge Workout
30 Day Fitness Challenges is a simple way to keep fit, learn new techniques and exercises during the long months of training. The exercises from the app are suitable for beginners, who has never gone to the gym, and to experienced athletes. To make the exercises you do not even need to buy a special season ticket. It will be enough to buy the necessary equipment in the sports shop and improve your figure in a comfortable home environment for you. If you have a little free time, you can choose exercises that will take you just from 5 to 30 minutes.
In the application, there are special exercises for hands, feet, or for general body tone. 30 Day Fitness Challenges will help to develop an individual type of training for you and to achieve the goal set by you!
Price: free with in-app purchases
7 Minute Workout
To be in good shape it is enough to make daily exercises by a special course for seven minutes. Any charge is good and useful. And this complex makes it perfect to cheer up in the morning. It only takes 7 minutes and consists of 13 exercises. 7 Minute Workout has more than 3 million users worldwide already. It is a good way for busy people to get in shape fast and with ease. So, believe that it really helps!
Price: free with in-app purchases
Lifelog
LifeLog by its functionality and features is if not the best, then at least one of the best apps in the category of lifestyle, fitness, and health. Lifelog application registers your physical and social activity. For example, you can learn about the distance you have walked or run, and how long time you communicated with friends. You can also see which photos you've done and what kind of music listened. To start using Lifelog application, you need to download it from Google Play and then set up an account.
Price: free with in-app purchases
Lose It!
Counting calories is one of the most effective ways to reduce and lose weight. But keep track of calories is quite boring and not a very pleasant job. Lose it! will help to cope with this problem. Lose It is one of the best applications for today to keep track of calories. This free app is a great tool for recording your diet and exercise. Lose weight with the app Lose It! It will help you to make the right choices and achieve your goals.
OIt is easy to work with Lose It application. Downloading the app and signing in, you'll first need to enter your personal data, namely: current weight, goal weight, gender, and height. On the basis of these data, an individualized plan for weight loss is created. You can also specify how much weight you want to reset every week. Then you record your food consumption and exercise carried out.
Price: free with in-app purchases
Fitness Buddy: Gym & Home Workout Exercise Trainer
Fitness Buddy has a huge database of exercises. All available exercises are divided into different groups of muscles. Besides images, there is a step by step description of each activity. After reviewing the list and choose the appropriate variants, you can add them to the list of activities as a part of any workout. In this case, a quick search will help, but the interface as a whole may seem somewhat outdated.
Lovers of maximum freedom of choice can create a cycle of training from scratch, but there are several collections, designed for different levels of training. Full version, in turn, includes a greater number of variants for bringing your body to the desired condition.
Price: free with in-app purchases
JEFIT — Workout, Fitness, GymLog
Unlike Fitness Buddy, JEFIT promotes a very serious approach to the matter and immediately offers to create an account for cloud sync of your training data. Modern and contemporary, and analyzing the results via a web interface in a number of cases could be simpler and more convenient.
You will be asked to fill out detailed information about yourself, measuring all relevant parameters, and to aim to improve them.A great number of illustrated exercises will help you, as well as comprehensive training programs, easily modified to the user's needs.
Price: free 
FOOD AND NUTRITION APPS:
Fooducate Weight Loss Coach
One of the main problems in the case of weight loss can be a lack of understanding of what you really need to have. But thanks to technology, we can make the right choice. Fooducate app helps you ещ determine whether a particular product is suitable since it is able to scan the barcode with your smartphone camera. There you will find tips to help you learn more about proper nutrition.
Price: free with in-app purchases
ShopWell Diet, Allergy Scanner
You can use ShopWell Diet to manage your weight. This app will help you eat healthy and right food to achieve high results. ShopWell can be used to assist in managing your weight and control of diseases such as diabetes, high blood pressure, and celiac disease. ShopWell can also help you to maintain a vegan or vegetarian diet. Barcode scanning at home or in the store is very convenient. At once you will find out what fits and what does not.
Price: free with in-app purchases
mySugr: Diabetes logbook app
MySugr application is a kind of a magazine about diabetes. The app not only provides instant feedback and motivation but also have functions of an exciting game. For each data entry, you earn points that help you to "tame the sugar monster", and set tasks for you, help to achieve your personal goals. Here is also a Smart Search: places, food, activities.
Price: free with in-app purchases
Waterbalance: best way to control level of water in your body
Several slides in the app tell about the importance of maintaining the water balance, forming a kind of section FAQ: as it turns out, the water (natural and sparkling) has a positive effect on the brain, skin, liver, and immune system.
Water scarcity is not eliminated by drinking juices, soda water, and beer but drinking ordinary mineral water. Using WaterBalance can fix all drunk water and find out if you have lasted up to the optimal rate of 1.5-2 liters (depending on height and weight) on a particular day. Incentives will provide stickers that can be shared to Facebook.
Price: free
Calorie Counter & Diet Tracker by MyFitnessPal
It is a powerful database of more than 3 million names of products and types of exercises that have helped more than 40 million people to achieve their goals today.
Using MyFitnessPal you can get access to more than 3 million different data on how to lose weight and what to use. The app remembers your choice and provides the information in the shortest time for you. With this application, you can synchronize your data, completed through the site myfitnesspal.com. Depending on the goals you set, the application will calculate how many calories should be consumed on a daily basis.
Price: free with in-app purchases
Calorie Counter – MyNetDiary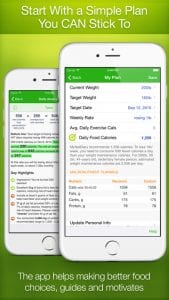 Calorie Counter by MyNetDiary is an application that helps you to control a number of calories consumed more effectively. To do this, you will find more than 225,000 different types of products in the application database. Additionally, you can edit the lists of products to satisfy your diet.
There is also a large database of more than 500 exercises. Therefore, every time you go to the gym, run, play football, etc., you can calculate the number of calories, and calculate how many calories you expend daily.
Calorie Counter by MyNetDiary – a great companion for anyone who wants to lose weight. The app gives you a lot of opportunities that will help you to lose weight more easily.
Price: free with in-app purchases
Lifesum – The Health Movement
Millions of people have become healthier and happier by using Lifesum! Lifesum app is so good that medical journals around the world recommend it to their readers. No wonder, because it works!
Lifesum tells you how to control your diet and physical activity on a daily basis. The program helps to choose the right food and get rid of bad habits. Lifesum – it is the best choice for those who want to lose weight and control their daily die. This application will give you advice on food, the amount of food, and many other aspects of your nutrition. Similarly, it is also your personal schedule, which will store all the information about the water you drink, and the food you eat.
Price: free with in-app purchases
Noom Coach: Healthy Weight Loss, Diabetes & More
Noom Weight Loss Coach is an application for Android and iPhone users, which helps not only to monitor progress in the diet, but it helps to do it right!
Coach takes you through this difficult path with the help of a specially developed plan for long-term weight loss, informative articles, interesting tasks, daily scoring, fun challenges and constant reminders of training.
The application includes:
1. Personal interactive weight loss plan that allows achieving real results (86% of users have successfully coped with being overweight).
2. Specially selected food and exercise plan.
3. The magazine, which helps with one click to track your workouts, nutrition, and weight loss.
4. A simple system of registration with colored stickers, which tells you what the food is beneficial and healthy.
5. The system of tracking training with a GPS-tracker and a pedometer.
Price: free with in-app purchases
iTriage Health
iTriage is a very useful library of symptoms, diseases, medicines and doctors, in which it is impossible to get lost. The information set is easy for understanding and allows you to learn more about the current physical condition, no matter where you are: if you are at home, at the airport, or in the university. One of the most valuable features of the application is the ability to find closest hospitals and other medical institutions. iTriage is really a functional application that allows you to make not only the diagnosis (to the extent that only not a doctor can make)  but also to appease the paranoid thoughts like "I cramped leg, I'm going to die."
Price: free with in-app purchases
Start – Is your medication working for depression?
Start is a perfect app to take a depression test. Here you can track your progress and side effects, and see yourself get better. Start will help you to decide if your antidepressant works for you. It is a wonderful source which will help you to learn more about depression medication options and therapy. So, you will actively monitor your personal progress using this app.
Price: free
Fitness Race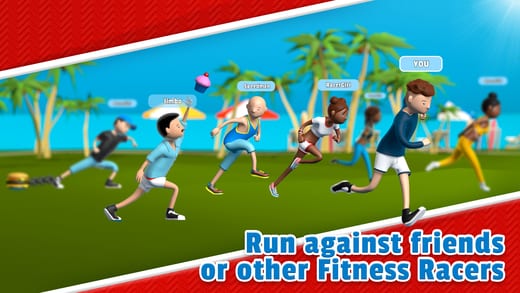 A new and fun app that is a mixture of a game and a step counter will help you to get fit! You will get a great motivation for it! You can challenge your friends here and have fun together. The only thing to have a success is to increase the steps you walk every day. In the app, you can create your own character and explore new locations (London, Hawaii, Australia and so on) while using your real life steps.
Price: free with in-app purchases
Moves
Today it is one of the best apps for tracking your activity. One of the advantages of the application is its simplicity. Download Moves, put the smartphone in your pocket and forget about it. And in the evening you can see the statistics for the day. Through the use of GPS, the program knows where you are at any given time and even builds a movement card. Defines Moves defines the difference between a run, bike ride, and other activities.
Price: free
Mobile applications can help us to give up smoking, get rid of unnecessary thoughts, and in some cases – to cope with the deadly disease. Are you agree? So, we hope that at least one of these 33 health applications can bring into your life the most valuable thing – health.