How to rotate a video on iPhone 6 / 6s / 6 plus
So, you made a bunch of high-resolution videos with your amazing iPhone. You press "Play" and all the beauty is upside down. It would be sad to see that on Facebook. No worries, we will help you.
Lucky you, it is obviously not a hardware issue. You can rotate videos using some software.
You may also like: 7 Free apps for streaming using Android or iOS gadget
Apple software.
iMovie comes free with iPhone 6. 
2. Press on the "Share" button. Looks like a tank armed with an arrow pointing North.
3.  The next step is choosing "Create movie". No worries, you do not have to create a new movie here.
4. With two fingers spaced at an inch or so rotate the video until it is positioned the way, you want it.
5. Once the video positioned correctly tap on "Done" button.
6. Now press the "Share" button again. It is the armed tank.
7. Now press the "Save" button. There are actually a few options for you where you want to save it.
You can also choose the resolution. Lower resolution will save you memory space.
8. When the saving process is done iMovie will inform you that it is in the Photos Gallery now. No worries, it is still a video.
Your video has now been rotated and saved as a separate movie file.
Now, the iMovie app may not work properly or maybe not free on some models.
Here are some other apps for you.
Video Rotate Free is a free tool. It can only do the rotations though.
Rotate Video & Flip. That's a similar rotating tool that cannot do much beyond flipping.
This is how Rotate and Flip works. Download from App Store. Follow the app screen wizard to rotate video.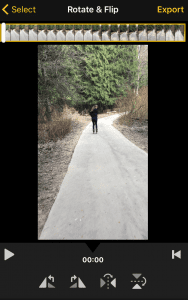 You can do the smart thing and watch that video on your Mac computer first. Check out if your video's OK and flip it if necessary.
a) Open iMovie on the Mac and import your sideways movie.
b) Click "Crop" menu. Above in the crop window, you will see the rotation buttons. Each click will give you 90 degrees rotation. Rotate away.
c) Click "Share" menu and then click "Export using quick time".
PC software
If you have got Windows PC, you probably have already learned that PC does not do much fun stuff with iPhone videos. In fact, windows movie maker doesn't support iPhone video. Of all third party software we advise Wondershare Filmora. That is a powerful editing tool that comes in handy if you want to do a variety of stuff, such as trimming your videos, adding background music, applying video effects. 
a) Import iPhone videos to Wondershare
Wondershare Filmora integrates the feature to load iPhone videos. To load your videos, you just need to connect your iPhone and the software detects and loads it automatically.
b) Double click the video to open the video editing window. You will see 2 buttons for rotation. After rotation just click "OK".
c) This is when you can edit your video if you want.
d) Save the finished iPhone video. When you are done, click "Export" to save the change and then export it to a new video and you can share it to Facebook as well.
If none of these apps help you, you will just have to keep your head sideways as you watch that video.
You may also like: 11 Best & Free media player apps 2020 (Android & iOS)