5 iPhone Apps to Pack for a Next Business Trip
Gearing up for your new business trip? Is everything ready and packed? Read this article and check again. There is a list of best iPhone apps that will help you to pack for the next business trip:
SAP Concur
What is the most important thing when you are going on a business trip? Right, it's money. It should be always stated clear how much of your expenses will the company cover and how you are going to spend the money that you receive. It is also important to keep an eye on unexpected expenses.
Concur gives you the possibility to perpetuate all of your expenses in the slightest details, with photos, addresses, calculations, currencies, and so on. Don't forget to take a picture of every bill you have a save in the app! Moreover, with Concur you can always book a flight or a hotel for an upcoming business trip.
You may also like: 11 Best apps for finding happy hours (Android & iOS)
Hopper
Traveling usually implies spending days looking for the most convenient and affordable flight. Good news! Now you can have a personal travel agent that will do all the unpleasant work for you. Hopper app will help you book the best flight with no effort.
This useful app predicts when is the best time to fly and buy inexpensive tickets. Also, there is an option to watch a trip in order to get notifications the immediate price drop and before they rise. Finally, simple buy tickets with a few taps and gear up for your business trip

CircleBack
Have you ever faced the problem that your contacts on your phone are a mess? It is especially relevant for those who often meet new people and therefore have to add new contacts almost on a daily basis. And this is… You're right – these are business people.
They face this problem 10 times more often when they go on a business trip since it supposes they will meet lots of new people there. And this is what this app is created for – to organize all of your contacts without you putting any efforts and wasting your time!
The app has an intelligent system of determining the category of contact, grouping them, and synchronizing with all the social media accounts. You will see, how much easier your time on your business trip will be with this app.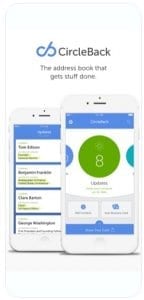 MAPS.ME
Once you have arrived at your destination, it's handy to have an app that will guide you through the unknown city. Unfortunately, not always is a free Wi-Fi available and GPS can drain your battery. That's why an offline map with navigation and directions would be perfect.
That is exactly what MAPS.ME provides! Plus, it's possible to explore points of interest: tourist attractions, cafes, restaurants, and more. Likewise, this helpful travel app allows you to share your location via text message or social media. The fast and stress-free way to get by in the new city.
Image to Excel Converter
Speaking of receipts, given that it's a business trip usually all expenses are afterward reimbursed by the company. However, you should track your spending carefully and keep all the payments.
Luckily, there is a convenient app that will spare you from piling paper receipts. Image to Excel Converter lets you take a picture of your payment record and convert it into an editable Excel spreadsheet.
Later on, you can summarize in Excel all expenses without a hitch. Very practical! Also, you can convert as many receipts as you need since there are no limitations.
You may also like: 11 Best Cashback Apps 2020 (Android & iOS)
What are your favorite travel apps to bring on your business trip? Please share them in the comments.