17 Money Saving Apps for Android & iOS 2018
To save yourself from big expenses and save up for a small house somewhere on the beach, you do not have to deny yourself everything and tighten up your savings in a mattress. Sometimes it's enough just to use personal assistants that can be downloaded on a normal smartphone. FREE APPS FOR ME has collected 17 applications for saving, counting and multiplying your income. Have a look!
Mint: Budget, Bills, Finance
Mint.com is one of the most popular solutions for tracking personal expenses on the Web. It is presented as a separate application for the iPhone and Android devices. Now you will find out where you can spend, and where to save since the functions of budget monitoring and money management are available in one interface.
Keep track of your savings, current account, credit and debit cards, cash receipts, set reminders to pay bills to avoid late payment penalties. Perhaps the monitoring of income and expenses is a boring occupation, but it can have a very positive impact on your well-being, and the Mint.com application will bring to the budget in an understandable and accessible form with the help of graphs and diagrams.
Digit: Save Money Without Thinking About It
The Digit service is designed to help those who can not do anything with their passion for spending money. It helps the owner to save money – gradually transferring money from his primary account to another. The application for managing costs Digit transfers the owner's money to another account in order to create a kind of "financial cushion".
Digit calculates the amount of each write-off, based on the history of previous expenses, the current balance sheet, and a number of other factors. In addition, no money transfer is carried out without the consent of the owner.
Another difference between Digit and other applications for budget planning is that it does not show expenditure statistics. No graphs – in the web version you can only find out how much money is now on the main account, how much was transferred to the second account and what is the average amount of deductions. Every day the service sends SMS to the user with the same information. The request for write-off the money also comes in the form of a message. The user can request information from the service himself – also using SMS. For example, for a message with the text "Last" Digit will respond with an extract on the last three transactions with the account.
Monefy – Money Manager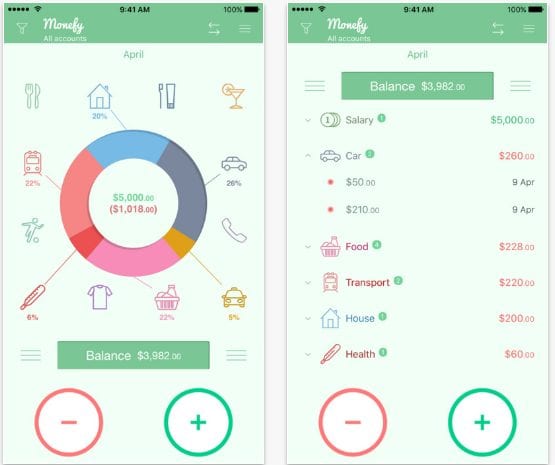 Today, in the market for applications for Android and iPhone, there are several dozen programs dedicated to saving money and accounting of finances. Recently another application with an interesting name – Monefy was added.
How to keep track of finances successfully? We know that this is very simple. You just need to write down everything that you spend … and nothing more! And Monefy will help you with this. Add new notes when you buy coffee or take a taxi. Just one click, since you do not need to fill anything except the amount. It has never been so fast and convenient!
The first point, thanks to which it is worth mentioning this application, is a very convenient view of costs and revenues. It is shown right on the main screen. Secondly, attention is drawn to the simplicity of this application and the lack of a lot of unnecessary, as a rule, functions. The third possibility is Monefy – synchronization via Dropbox, which allows, for example, to use the application on your phone and tablet or to keep a common accounting with someone. What is important, synchronization is safe, because your personal Dropbox account is used, and the data falls only on it. Thus, if you need the most simple and convenient application for tracking expenses, Monefy is a good choice.
CoinKeeper: spending tracker
The CoinKeeper application helps you to plan and manage your home budget – conveniently, quickly, in the right currencies, for an unlimited number of cost categories and revenue sources. At the same time, unlike other financial applications, to see the state of income and expenses and their compliance with plans for all categories, it's enough just to open CoinKeeper – all the basic information about your money is on one screen.
The main screen of the application is a summary of the main financial indicators of the user – income, expenses, and state of accounts. The background color of each icon (red, yellow, green) clearly shows how the current costs for this category correspond to the planned ones. You can add a transaction quickly and conveniently by dragging a coin. If desired, you can also specify a subcategory and add a note to the transaction.
There are three kinds of statistics available: a pie chart with monthly expenses, a general dynamics of incomes and expenses over several months, and daily reports.
The authors tried to make the program as simple as possible and not routine. And they have it turned out – CoinKeeper favorably differs from other home book-keeping by the absence of complex and boring tables, which you need to fill out each time manually. The program stands out among competitors with a simple, intuitive interface.
Wallet – Budget Money Tracker
Wallet is an application that integrates all your accounts in one place, monitors the budget and reminds you about the planned payments in time.
In the application, you can use various types of accounts (cash, bank account, credit card). It supports multicurrency with the ability to update the current rate via the Internet and also allows you to create weekly, monthly and annual budgets.
Wallet is your personal financial assistant in your pocket. You can easily track all your expenses and revenues, use predefined categories or create your own, analyze your cash flow and plan your shopping lists.
Spending Tracker
The Spending Tracker application is an electronic expense manager for every day. With it in your pocket, it's easy to establish control over money.
To control costs, they need to be permanently fixed in the application: every day you drink 4-5 cups of coffee, in different coffee shops, the drink costs several cents more or less. You must register such purchases every time you pay. However, such work will not a routine, as the developers of Spending Tracker realized the automatic filling of the price list. That is, you only need to create a tab for "Coffee" expenses once and then fill in only the price and quantity of cups that have been drunk. This is how the expenses are recorded, and the application calculates automatically, the total amount for a month.
The money spent for a month can be seen in a graphical form: every month, expenses are compared with previous and subsequent ones. Looking at this graph you can understand in what month there were more spendings.
Spending Tracker is a good helper in the management of home and business expenses. With this app, the task to save money will be easier and faster as it automatically calculates the money spent. It is suitable for single-minded people who understand how important it is to save money in order to make a useful purchase or to engage in small business in the future.
Daily Budget Original – Saving Is Fun!
Are you looking for a simple and convenient application for managing your expenses and incomes that can help you save money and the use of which is a pleasure? Then you should definitely try the original version of the Daily Budget application!
If you want to start saving money for something more weighty than a lunch in the dining room, this app will help you to pull yourself together and calculate a number of your daily expenses. First, you need to write in your monthly income, designate the amount of standard monthly expenses (for example, utility bills) and indicate the percentage of total income that you want to put in the piggy bank. A little thought, the application will give you an amount that you can safely spend during the day.
Money Lover – Money Management, Budget & Bill
The right way to save money is the best way to realize your plans: to buy a car, to pay loans, to buy inexpensive housing. The application Money Lover helps to translate dreams into reality through the maintenance of home accounting: you write down all the spendings in the program, every day, and in a month you receive complex data and draw conclusions.
There is a lot of useful functions in the application, but it will be quite easy to work with it if you take the time to initial setup. Each time you open a section for the first time, you will receive a description and a brief instruction. Every day you will need to contribute each transaction to expenses and revenues. If you have debts, you can also write them to the application, like deferred mandatory payments, and bills. Knowing about your debts, bills, and liabilities, the application will help you not to spend more than you should.
Money Lover is a personal electronic accountant. With its help, you can limit your expenses without a deep analysis of the situation (put a limit on the amount and reminders). But there is also an opportunity to trace where the money goes and focus on useless costs (excessive smoking, frequent coffee consumption).
The application is quite popular among users with different budgets, nevertheless, it effectively performs its work.
HomeBudget with Sync
HomeBugget with Sync is a functional application that allows you to take into account daily expenses, breaking them into categories with subcategories, to monitor money in different accounts and in different currencies, and also to use the exchange rates and available revenues in the calculations.
The design of the program is quite simple, the emphasis is made on functionality. There is a possibility of deep customization of categories and subcategories of expenses. The program allows you to configure lists of payers and recipients, create, plan and forecast budgets, including unified and family ones. A calendar, graphs, and reports with filters are implemented in the app. There is a possibility of customization, use of the password, creation of statements. The program is synchronized with the computer and the Internet.
Spendee – See where your money goes
This service for Android and iOS is presented by creators as the most clearly structured and simple manager for financial management, and it's not far from the truth.
The application has a fairly minimalistic functionality, so to write the purchase into the base, it will take no more than a couple of seconds. Strong in spirit users can look into the statistics section of expenses. After this, many users will be guaranteed to refrain from unnecessary trifles, which are usually bought without thinking.
The program provides the user with a basic set of functionalities that may be required for financial accounting. The ability to synchronize data with cloud storage is implemented.
The main advantages of using the application are high speed and simplicity of which you can add financial transactions. If desired, each spending can be accompanied by a photo and other details of the purchase. In general, Spendee leaves a very pleasant impression of itself, thanks to convenient infographics, simple but clear statistics, and effective management of work tools, which is not at all important. Spendee may be considered as one of the best products in our review.
HomeMoney: personal finance and expense tracking
It is worth noting that you can fully use the application if you will also work in the web version of the program. The application allows you to record expenses only, while budget planning, goal setting, analysis and other useful functions are available only in the web version. The interface of the program is understandable and convenient, it is easy to work with it.
The HomeMoney application should be viewed, not as a separate software product, but as an addition to a functional and user-friendly web service. The main screen contains tabs with invoices, expenses, and notes. It is also possible to synchronize data and add a new operation. In the application, there is no way to make a report or create a graph. However, in conjunction with the web service, the program becomes a reliable assistant in the management of home accounting.
Goodbudget Budget Planner: Money & Expense Tracker
Goodbudget is an application to control your personal finances. Its main difference from other programs is that the user is invited to make a financial plan for the month. You indicate how much you would like to spend on entertainment, transportation, food and other expenditure categories, and Goodbudget will track how well you follow your goals.
The application makes calculations, forms them in the form of visual infographics, independently calculates how much more you can spend on this or that purchase. On the idea of developers, it will help to save your money. The authors have put in the application a well-known principle in financial management: plan your budget for the upcoming period, and then strictly follow it and do not go beyond. Any user can master the application from the first minutes of acquaintance. The design is a little conservative, but quite pleasant.
Toshl Finance – Save money, budget, track expenses and bills the fun way
Toshl is quite similar to Spendee on the functionality and, rather, it is its eye-pleasing alternative, since you will keep a record of expenses under the supervision of pretty cartoon characters of Asian origin. What concerns the minuses: you can not specify multiple accounts, but you can separate them with tags.
Probably the only application that absolutely does not need an instruction (although the hints are present at the first use of each function). Everything is simple and clear, funny, cartoon design with monsters – assistants. But behind the simple cartoonish design, the same simple functionality is hidden.
Toshl will be interesting to those who want to control revenues and expenses without going into accounts and other delights of life. Due to the lack of ability to create accounts, the functionality of this product is minimized.
Money Manager Expense & Budget
This is a very functional application. It allows you to monitor revenues, expenses and also provides comprehensive statistics for any period of time you are interested in. Among the most significant functions are the following: access to data from a computer, the use of a double entry system, budget planning for specific categories, management of credit and debit cards.
At any time, you can track the distribution of your income and expenses by category, examine the graphs of changes in the state of assets, track revenues, expenses for each asset.
Ibotta: Cash Back App, Grocery Coupons & Shopping
One more way for saving your money is Ibotta app. It is an easy way to earn from $ 20 for every shopping trip, as well as making purchases on popular Internet portals.
The application guarantees the return of part of the money spent on the purchase of food and non-food products. To receive money, you need to send a copy of the check and after processing the moderator on your virtual account will credit the percentage. You can withdraw earned money only on PayPal or Venmo.
The application highlights profitable offers from retail chains: Walmart, Target, Safeway, Publix, Best Buy, Kroger, Sephora, Express, Costco, Aero, Sports Authority. The partners are the following stores: Amazon.com, Starbucks, iTunes. Regardless of the prevalence of the name of the trading network, as well as geolocation, discounts are available for brands such as Coca-Cola, Nestle, Heineken, Jack Daniels.
You Need a Budget (YNAB)
You Need a Budget is an application for personal finance management, thanks to which your expenses will always be under control, and you will always have up-to-date information about your financial status.
Before you start using You Need a Budget, you can get acquainted with the detailed course on working with the program. This will help you to take advantage of all the benefits that are hidden in You Need a Budget. One such advantage is the ability to store all of your information in the cloud using the Dropbox service. Thus, you will have access to your finances from any computer or mobile phone.You can manage multiple accounts at once, plan automatic payments for specific dates, keep financial records in different currencies within one account, leave all kinds of notes and even use advanced search tools to find new ideas, etc.
You Need a Budget is a very useful tool for managing your own finances. The application has not only an accessible interface and a good training course, but also offers a really useful functionality.
Level Money: Spend Confidently and Achieve Balance
The Level Money application is intended for those who carefully follow the expenses, savings and wants at any moment to know how much money he has now. With it, you can receive information on the latest spending and transfers, on expenses for the day, for the week, for the month, about the balance on the account, to track and analyze information about purchases, to create financial plans for the future. All data are presented in the form of graphs and diagrams, so you will be able to understand where you spend money.
The application sends reports about your spending, transfers and other manipulations with money. All notifications are automatically made immediately after the connection to the bank card. It can be synchronized with other mobile devices. The app has a simple interface.
Are you a creative person who loves to create masterpieces by your own hands? Do you need some money? But don't you know where you can find special sites for selling your creation? In this article, we will talk about some of the most interesting applications, where you can virtually sell an exclusive handmade: 12 Best apps to sell handmade items on Android & IOS. Earn some extra money!
It is known that financial well-being consists not only of high earnings but also in the ability to handle carefully earned money because if you exclude unnecessary expenditure, you can quickly save money for something necessary. And this can be made easier than it seems. It is enough to have one of the presented applications on your mobile device. Start now!