11 Best Gallery Apps for Android
Most people like to make interesting photos and videos. Standard galleries are used to store them. The standard gallery usually seems not very convenient. Since such a gallery does not have the necessary functions.
But on the phone with the Android base, you can choose the most suitable gallery for you. This will replace your regular gallery.
You may also like:  11 Best Apps To Sell Photos Online For The Money
Usually, all the galleries for photos and videos seem the same. Yet, there are a lot of them. Thus, you have plenty to choose from. Many of them have nice design and useful functionality. If you want to get the best application, then this list will help you make the right choice.
F-STOP GALLERY
Do you like to photograph, edit, and share photos with friends? Are you tired of looking for the right photo among the many photos on your phone? The application F-STOP GALLERY will help you solve this problem.
It uses unique algorithms such as rating, smart album, tags, and more. Also here you get a powerful search engine that quickly finds the photo you want.
The application F-STOP GALLERY is a virtual gallery for Android. It appeared in the digital store one of the first. The application has a nice and clear interface and many interesting features.
Yet, the utility is regularly updated, getting new features and improving existing ones. The application has a precise approach to sorting files. Thus, all photos and videos will be sorted into two different blocks in a shared folder.
One of the main features of the application is the creation of "smart" albums. This feature allows you to create a new folder with images for specific parameters. For example, by date of shooting, tags, estimates, geotags, and so on.
Do not forget the developers and the data protection function. In the application, you can set a ban on viewing specific folders.
You can search for necessary photos based on metadata or add tags to them. Besides, the program can play animations in GIF format.
Also, the advantages of this gallery include:
linking pictures to the map
setting the layout
slideshow modes
file caching
The free version contains many features. To use all the features of the utility it is possible to buy the pro version.
You can also check: 5 Best Camera Block Apps for Android
Gallery
The gallery is a fast and stable application for storing your photos and videos. Organize your photos into special albums.
Organize your videos and photos according to your own preferences. This will help you save your time to further spend it on viewing photos. With this application, you can set any image on the background of your phone. Zoom in and out to see the details. This is a great replacement for the base gallery of your phone.
The main characteristics of the application Gallery:
the fastest program for viewing photos and videos
beautiful and nice interface
the ability to edit photos
function "wallpaper"
saving and viewing photos in high quality
Search by photo
the ability to add notes and tags
slideshow function
publish your photos and videos on social networks without leaving the application
the ability to rename a photo
delete, copy, move and edit photos
add your favorite photos to favorites
Sort photos by date, title, or size in your gallery. Increase the size of the photos. Photos and videos are displayed in columns. You can change the number. For this, the application has special gestures.
You can hide your media files using a gallery lock. So, no one can see them or access them. Set a password to protect your files. This gallery will help you keep your photos and videos private.
You can also use the slideshow feature. To do this, you need to turn the phone. The function will turn on automatically. Change the interval, speed, and sequence of the show. Create, edit and name albums. Here you can store your favorite photos.
A+ Gallery – Photos & Videos
A+ Gallery – Photos & Videos is an alternative gallery. It will be the perfect analog of your base gallery. This utility works quickly and efficiently. There are convenient photo and video transfer.
You can easily find the right album. For this, the application has a convenient function "search". You can set the album cover. In the application, there is no advertising. Besides, it saves battery power on your phone. Features of the application A+ Gallery – Photos & Videos:
fast loading
sort by your preferences
restore photos and videos from the recycle bin (if you accidentally deleted them)
organizing media files by date, size, name, and quality
no background processes
hide personal albums
installation of the favorite image on the album cover
no ads
image search
simple and free file transfer between albums
quick download albums
video playback without delay
the ability to change the video format in GIF
change the names of albums and media files
convenient album creation
photo editing (cropping, rotation, reflection, filters)
various application designs and choice
You can sort files ascending and descending. Here you can create albums within the existing folders. You can also group albums by special parameters.
You can share files from the gallery with friends via social networks. This gallery is ideal for permanent storage of photos and videos. You can use a fingerprint. This will help you keep your images private.
Gallery – Photo Viewer Gallery New
Gallery – Photo Viewer Gallery New is your best choice in searching for a gallery for your phone. This application will help you quickly view your photos in the best quality.
This utility has a beautiful and simple interface. You will be pleased to use this application. Enjoy all your photos and videos in one program. Customize your gallery based on your own preferences.
The main features of this utility:
fast loading and operation of the application
automatic sorting
creating albums
convenient transfer of photos and videos by albums
copy images with one click
the ability to share media files with aphid friends on social networks
delete files
setting wallpaper
saving and viewing photos in high quality
The application Gallery – Photo Viewer Gallery New automatically sorts your photos and videos. It is based on parameters such as date, size, and image quality. You can search for necessary photos by date, place, and color of the image. The search works very fast. You do not need an internet connection. You can use it offline.
Create comfortable albums. Organize your photos and videos into separate folders. Besides, you can hide your photos in a secure repository. For this, you need to set a password. This will help you keep your privacy. Hidden photos will not be displayed in the base gallery or other applications. Only you can access your media files.
You can also upload your photos and videos from social networks or the Internet. This is a secure vault where all your photos and videos will be saved. Also, the application has the ability to synchronize with other devices.
Google Photos
Google Photos is an excellent and fast gallery for your phone. It helps you manage your videos and photos. This is a multifunctional program for organizing your media files. Intelligent image management is built into this utility.
You can sort them by albums. All files are saved in high quality. This will give you the opportunity to enjoy them at any time. You can protect your files with a password. Use the live show feature to view all videos and images. Share photos by mail or on social networks.
The main advantages of this application:
create and sort albums, choose your favorite design
for a more detailed view, you can use the functions of zooming in and out of photos.
protect your media files with a password, keep them confidential
the application interface is adapted for phones and tablets
the program has special gestures that simplify the use of the utility.
upload and share your photos via social networks
restrict access to your personal files using gallery lock
edit or delete files and albums
group albums by special parameters
the ability to add photos to favorites
View all photos and videos on one screen
easy access to the phone's camera
support for various photo formats
available in 30 languages
recovery of deleted photos from the recycle bin
the ability to hide individual media files
access to detailed information about photos and videos
The application is free for the Android platform though it has in-app purchases.
Focus Go
Focus Go is a fast and modern gallery. This is the best alternative application for your gallery, created for photo management. It is much more convenient than any other similar application. At the same time, it is one of the most powerful programs.
The design of the application has a variety of themes and modernity. Here you will find multi-layered effects and a unique interface. The application has an instant start and a quick viewing of thousands of photos. It is also optimized for tablet screens. It supports a variety of gestures. No annoying ads or extra permissions.
You can easily hide your photos and videos. Protect out with a password. File management features include sorting, creating new folders, renaming, copying, and moving.
Recover photos from deleted or create the backup. You can quickly return a randomly deleted photo. Photos are stored on application servers. It will help you to keep precious memories forever.
Create and store your photos and videos in high resolution. View from using the convenient slideshow feature. The built-in image editor helps you convert your images. It is easy to use. Crop, rotate, or zoom photos. You can even install them on your phone's wallpaper.
The application Focus Go supports all existing photo and video formats. If you need to find a specific photo or video, then you can use the convenient search. Enter the date, place, or color, and get the desired result.
Piktures
Piktures is an intellectual gallery for your photos and videos. She will select for you the best "moments" so that you can enjoy them again and again. This is a free gallery of the new generation, which will serve as a powerful analog of the base gallery.
Sort your photos. The application automatically sorts of photos and videos. It is based on parameters such as date, event, place, and time. All photos and videos are displayed in the form of a beautiful gallery. The "moments" section collects similar photos by date, place, or event.
You can share a photo or video with just one touch. Share them on your favorite social networks to share your emotions. A smart algorithm will highlight the best and similar photos. It helps you create special albums with the best photos. Also, the application will remind you about the old event by sending you a notification with a photo.
This gallery is a reliable repository of your media files. Here you will find the backup function. Integrate your photos into online storage to never lose them. This application examines your preferences during the work. It saves the most viewed photos and videos and collects them in a separate folder.
To use all the features of the application, you need to provide access to the calendar and camera. The application Piktures does not violate the terms of confidentiality. You can allow backing up your photos and videos to protected servers of the program. Yet, the application will add there only those media files that you personally choose.
You may also like: 11 Best & Free photo viewers for Windows 10
Samsung Gallery
Samsung Gallery is a super-fast gallery with unique three-dimensional styles. There is also a convenient lock function and a better interface.
This is a well-designed application to replace your base gallery. The peculiarity of this program is that all the processes in it are fully animated. Make your photos live using 3D. You can rotate and stretch them in different directions. It will also help you improve your photos. Change the photo style with a single click.
Add a password to keep your media confidential. Application developers have added an innovative way to protect data. Organize your gallery based on your own preferences. Here is a quick search for photos and videos by name, date, or place. Delete, move, or copy your images by double-clicking.
In the application, you can use the function "slide show". With it, you can view your favorite and best photos from your gallery. Easily share your photos and videos with friends. This can be done through the aphid mail social networks.
Gallery Features:
changing the position when turning the phone
user-friendly interface and beautiful design, developed by the best developers
delete and restore media files and album
the ability to install images on the wallpaper of your phone
added favorite photos and videos to favorites
adjust photo sorting according to your preferences
the clear panel that will make using the application more convenient
Enjoy your photos and videos with this great Samsung Gallery app.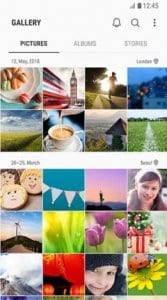 Simple Gallery
Simple Gallery is one of the best galleries for your phone. This is a unique organizer of photos and videos. The fastest application for viewing and storing photos and videos in high quality. Besides, it is a well-designed three-dimensional gallery.
This is the best way to add unusual effects to your images. This will make them original and special. Simple Gallery is not only a utility for viewing and storing media files but also an intelligent editor.
The gallery allows you to copy and move photos and videos with one click. You can easily and quickly access all your photos and videos. The application uses all the advantages of not only your phone but also the tablet. The reason for this is the adaptation of the application for any device.
This program will help you manage your albums inside the phone. This is an easy way to collect all the photos and videos in one place. All files are stored in high quality.
Utility features:
support the most common formats of photos and videos
realistic images
easy and understandable use
the ability to set the image as wallpaper of your phone
photo editing: rotate, flip, crop, various filters
image details
the ability to send files to friends without leaving the application
Search for media files by name, place, and date
function "hide photos and videos"
slide show
the ability to move files between albums
change the name, format, and type of photos or videos
sorting media files
free access
no ads
the best video player
set the theme color to choose from
View all photos and videos
set a password or fingerprint to lock the gallery
This application gives you the ability to easily view and edit your photos and videos. Quickly access all the files that are on your phone. The application Simple Gallery uses all the best features of your tablet or phone.
Gallery & HD Photos Videos App
If you feel like you want to explore more gallery apps, then check out this one – this is quite popular on Google Play as well. Maybe it doesn't have such elaborate features as some other apps on our list, as, for example, Piktures or F-stop, but this app is lightweight and doesn't take long to upload your photos.
Basically, it has all the features that the standard phone picture gallery has – here you can organize your photos into the folders, mark photos as favorites, sort by name, date, and so on. You can search fast as thousands of gallery photos, videos, and use the delete button, copy and move buttons when you need to organize gallery photos.
Some photo editing features are built-in as well. You can regulate the color scheme of each picture, add cool or warm tones, regulate the brightness, crispiness, and sharpness of a photo.
The only big drawback of this gallery app is typical for all the Android apps – it has tons of ads. If you don't mind avoiding annoying banners each time you open your photo gallery app, then this might be a nice choice to go for.
Check also: 7 Best Video Converter Apps for Android
Camera Roll – Gallery
Camera Roll – Gallery is one of the best applications for storing your photos and videos. This is the fastest utility for viewing media files and managing the application. Here you will find features such as photo editor, creating collages, and more. This will help make your photo more attractive.
Features of this application Camera Roll – Gallery:
a quick view of required files
slide show
high-quality images
detailed information about the selected file
the ability to create an album
you can delete, change the name or move the folder
photo and video editor (cropping, format change, reflection, filters, name change)
the application supports all the most popular photo and video formats
In the process of editing photos and videos, you will see amazing filters and frames. They will make your images unique. You can rotate, crop or flip the image. Also available is a function for adjusting colors, brightness, contrast, and saturation.
Here you can also create a collage of your favorite photos. You will have access to a huge number of frame or grid layouts. You can combine 9 photos in one collage.
There are special gestures to rotate and resize in the application. They greatly simplify the work of the application. The application interface is easy to use.
Set a password to log into the application so that only you have access to it. This will help you to save your photos and videos from outsiders. The program is strictly confidential. Manage your images and videos in the easiest and most efficient way in this application.