15 Best pedometer apps 2020 for Android & iOS
Constant physical activity, healthy lifestyle, regular training and many other things – this is what is now actively promoted. People want to be active, walk more and more. But if you want to lose weight, or if you want to have complete control over your calorie intake, you should use pedometers.
Nowadays, you can find a lot of individual devices that will monitor your activity – smart watches, fitness bracelets and pedometers themselves. But if you don't want to spend extra money on new purchases, you can use your phone!
Yes, smartphones can now perform many functions, including tracking the number of steps you take. In order for you to see the exact numbers, it is worth simply installing one of the specialized applications on your phone. We have collected 15 best pedometer apps for you, which are suitable for both iOS and Android.
Google Fit
Google does not stay away from the topic of health and sports. Since many phones have Google apps installed, we suggest you install another one – Google Fit. It will help you to stay active as well as play sports and stay in shape.
Google Fit was developed together with the World Health Organization. We use 2 indicators to track activity: cardio scores and minutes of activity.
The minutes of activity are counted for any action you take – coffee walks, use of stairs or even cleaning. Heart training scores are also counted for activities that speed up your heart rate. For example, you can walk your dog quickly or run in the morning.
It is possible to track it both by using your own smartphone and fitness bracelet. If it is available, the application will connect and automatically update the data. Keep track of your activity at all times and achieve your daily goals with Google Fit.
Fitbit
Fitbit is a popular activity tracker that tracks your steps, training, sleep and more. Of course, you'll get more accurate data when using the tracker-bracelet, but the application does a great job on its own.
Fitbit will send you notifications, literally pushing you in the right direction. If you are close to the target or have already reached it, the application will tell you about it.
For those people who like to run and in general want to track their jogging there is a feature MobileRun. It works to improve your running and hiking performance, and you can also control your music and get voice prompts. At the end of your run, you can use the GPS to track your route to repeat it later.
All the goals you set yourself. They can be different – in the number of calories, the number of trainings, and of course, in the number of steps. Keep track of how your increased activity affects your productivity during the day – and Fitbit will just help you make conclusions!
Leap Fitness Step Counter and Pedometer
Some applications use a GPS sensor to track your activity. Leap Fitness Step Counter, on the other hand, states that it does not use GPS during its operation, which saves you a lot of battery power. You just need to press the Start button and start walking – Leap Fitness Step Counter will immediately count your steps.
If you get on public transport at any point, start cycling or just stop walking, just press Pause and the countdown will stop. Because the app uses your smartphone's sensors to count, they can transmit readings from any movement. For example, Leap Fitness Step Counter will also receive information about your activity when shaking on the road.
It is worth noting the excellent design of the application. All your data is presented in the form of charts, graphs and diagrams, and neon bright colors on a dark background are pleasant to see.
By the way, developers are making changes to the application and adding new themes, so you can change them. Most importantly, the application is free and available to you completely from the first minutes of use.
WalkLogger
Although this application does not have an impressive design, a huge number of features and in general is not so popular, it copes well with the calculation of steps.
The WalkLogger automatically monitors any of your physical activity, whether it's jogging, active tobacco training or walking your dog in the park. The app motivates you to leave your home every day for a little walk and stay active.
The WalkLogger is based on the data that your smartphone's sensors transmit to it. The app automatically detects when you start your walk, and if you keep your phone right next to you – for example, in your pocket – it's even more accurate.
The WalkLogger calculates the amount of calories you've spent in a certain amount of time with your mobility. Depending on the number of steps you take every day, you get medals.
Note that some smartphones turn off the accelerometer in lock mode. Since all WalkLogger data is based on the accelerometer, you may not be able to start the pedometer in lock mode.
You may also like: 15 Best running apps for Android & iOS
Pedometer by ITO Technologies
Pedometer is one of the most downloadable applications among pedometers. To start using it, you need to click the start button and start your walk. You don't need to change anything – hold your phone as usual and the app will calculate everything. The steps will continue to be locked even when you put your phone in your bag or pocket.
If your smartphone is in lock mode, the counting of steps may stop. In the event that Pedometer counts your steps incorrectly, it is worth setting the sensitivity manually.
All information about the past days is stored in the application and you can view the data for a certain day or period of time. Doesn't look good? Simply change the topic in a few clicks.
The developers recommend using Pedometer if you want to check if you are going through the required number of steps per day. Do you want to keep fit or lose weight?
Record all your jogs and walks in the app, upload your results to social networks or just keep track of your performance. You don't have to buy an expensive tracker to keep track of yourself!
Pacer
People often use MyFitnessPal to count calories and track their diet. But when calculating the normal calorie intake, physical activity should also be taken into account.
Often people can't make a reasonable assessment of the level of activity they're adhering to – so MyFitnessPal can be synchronized with an excellent Pacer pedometer. This system allows you to fully monitor your energy balance, as well as to fulfill your daily goals in terms of calories and steps.
With Pacer, you don't need any other equipment to monitor your activity. All calculations will be performed by your smartphone, and Pacer will display them graphically in a perfect way.
In fact, you can track all kinds of physical activity in the app, whether it's running or walking. You can enable GPS tracking to capture your routes.
If you're looking for weight loss, Pacer is a great option. You simply synchronize with your diary and can take into account any changes in your activity.
If your friends or family are also using Pacer, you can chat with them in the app, create walking groups and even compete in performance.
Health Mate – Total Health Tracking
In case you want to monitor your health and physical performance, you should collect information about your health.
Step-by-step with Health Mate, you will achieve your goal of reducing your weight, increasing your own activity or even improving your sleep. The app will collect all the actual information about your health and you will be able to track the trends that are specific to your body.
In addition to collecting information, Health Mate also combines motivational training programs with useful health tips. You get an incentive to keep moving and even increase your activity.
Social motivation also plays an important role: in Health Mate, you can see the progress of your family members and friends, compete with them or have family competitions. You can receive awards and medals for all your successes and goals.
In the appendix on the start page you will immediately see how many steps you have taken today, how many hours of sleep and what your current weight is. It is clear that you enter your own weight data, but the rest of the data is automatically tracked. Your activity is under your control!
Samsung Health
Another company that tries to help people take care of their own health is Samsung. Using Samsung Health gives users the ability to centrally monitor and track nutritional data, sports and overall physical performance.
In some countries, you can even get tips and tricks from professionals to help you make your body strong and enduring.
To use Samsung Health, you will need Samsung Galaxy or Watch. After registering in your account, you will be able to see a list of your friends who are also looking after their health and you can compare your results with them.
Samsung Health has more than 70 languages available, which include the most popular languages. If you can't find your own version, you can use the English version.
The home page immediately shows the user the daily activity in steps, the activity period including activity time and calories spent, and the ability to add your diet. All your achievements are presented schematically and in the form of "levels", each of them showing your new record of steps.
Mi Fit
Mi Fit is similar to Samsung Health in that it is also a specialized application for monitoring activity with branded devices. As you can see, these are Xiaomi devices.
More specifically, you can connect a fitness tracker, smart sneakers, scales and other devices to your smartphone. Based on the data you receive, the application provides you with a complete analysis of your condition and physical activity.
The home page can be customized by the user. By default, the main parameters are displayed – the number of steps, time of the last training session, information about sleep, pulse and weight.
You set the daily rate of steps for yourself, and Mi Fit monitors the longest series of steps. This encourages users to continue to reach their goal every day to set a record for duration in days.
The app can give you recommendations on how to optimize your training and also analyzes the factors that affect the quality of your sleep. If you stay motionless or in the same position for a long time, Mi Fit will remind you that it is worth to go through and stretch a little. Constant reminders won't let you just sit still!
Huawei Health
We continue the series of applications that are presented by developers of smartphones and other smart devices. In this case, it is Huawei Health, a standard application that acts as your activity tracker.
If other such applications require a fitness bracelet or a smart watch, Huawei Health can analyze the number of steps you take and your activity using smartphone sensors.
Huawei Health will be your guide in the world of sports and will also give you all the information about your activity. In addition to walking, you can also record running practice, cycling and other sporting events.
Don't just want to walk, you want to do a real training marathon? Huawei Health supports such trainings from 5 kilometers away.
Of course, if you want to find out more about your physical health, you should synchronize the application with a smart device – this way you can track the number of steps, pulse and even some medical indicators more accurately. But even without them, the application does a great job of counting steps.
Noom Walk
Some of the presented applications that work without synchronization with fitness bracelets require the start of counting. That is, before you go for a walk, you will need to start the counting process itself.
Noom Walk does without any human intervention – you don't have to press start or worry that your night walks won't count. The app calculates the steps around the clock, but still doesn't consume much of your battery.
According to the developers, Noom Walk consumes less than 2% of its battery power per day of active operation. For comparison, if you leave the phone with the screen turned on, but do not use it, your display will consume the same amount of energy in 15-20 minutes.
No additional devices are also a plus for Noom Walk. Don't you want to do the walking marathons alone? Invite friends to the application and together achieve your goals.
Runkeeper-GPS Running Tracker
Sometimes people just need a personal trainer, but they can't afford one. Runkeeper will be your pocket trainer, who will not only plan your training, but will also instruct you while running through your headphones using audio tracks.
You'll also be able to get a dynamic assessment of your own achievements and be motivated to do new things during your workout.
Runkeeper also allows you to get data from other applications to monitor physical activity and overall body condition. Detailed reports are available on what you've achieved, such as the length of your longest run, the number of pounds you've lost, or the number of steps you've taken.
Your profile shows you the number of kilometers you've walked in the current week and last week, as well as the total number of training sessions and kilometers. The news feed shows your friends' achievements – which can motivate you to get up off the couch and go jogging.
Stepz – Step Counter & Tracker
Stepz is an application that is only available for Apple devices. It is convenient for counting steps in the background, as it receives information about movements from Apple Motion Coprocessor.
All data is collected automatically and without wasting battery power. Personal data is confidential and stored only inside the device and is not transmitted over a network connection – so no one will know you're lazy – even if you've been moving from sofa to fridge all day.
Stepz is fully synchronized with Apple Health and automatically logs your steps. And it doesn't need GPS to count, so it doesn't need to take a lot of battery power – the app runs until your smartphone turns off.
By setting up your daily target, you'll be able to keep track of all your activity while you're connected to your Stepz.
The funny thing is that the steps are measured not only by the number, but also by the height of the floors covered. At the end of the day you can see the data "you've gone through 11 floors and 12948 steps".
The application has a premium version. It is not very different from the basic version, but the number of steps is displayed directly on the icon of the application, which is very convenient. So you don't have to go into the Stepz itself to keep track of it all the time.
You may also like: 13 Best Health Coach Apps for Android & iOS
Runtastic Steps – Step Counter
You want to make yourself useful habits? Do you feel you need to get in shape, improve your quality of life? Then you should try Runtastic Steps. It's convenient and accurate to use, and it also helps you unlock your own potential for daily activity.
Runtastic has several applications that are also designed to track your body's performance. You can synchronize them with each other and see the full picture of your activity.
In case you are not satisfied with simple numbers, you can buy a Premium subscription and choose one of the 3 plans that will be customized to your needs. They are based on your goals and current level of activity.
The month-long intensity motivates you to gradually raise the bar and walk more every day. The "step forward" program combines not only walking but also minutes of activity for your own future.
There is also a separate plan for losing weight – for 12 weeks together with Runtastic Steps you will focus on the level of daily activity. It's going to go up and down all the time – and you don't have to do anything! Install Runtastic Steps and motivate yourself for a more fluid lifestyle.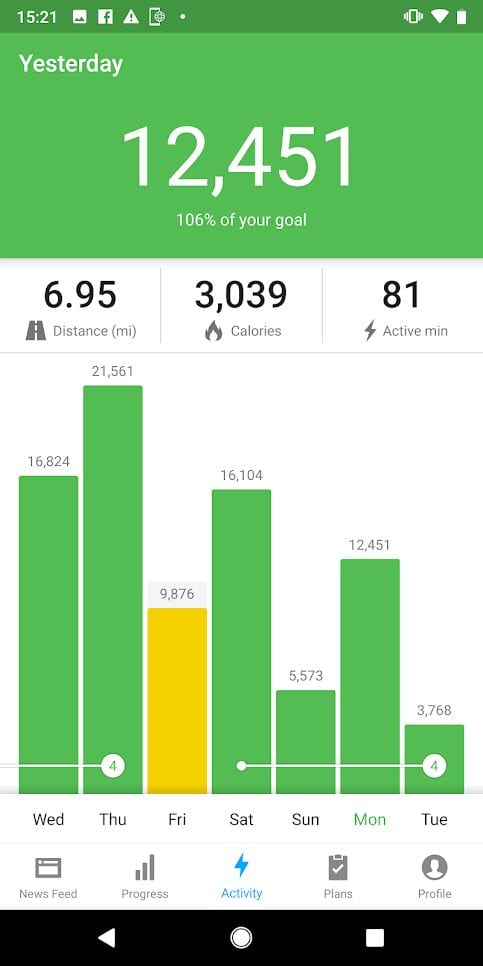 StepsApp
For those people who appreciate the design and the variety of topics available, we've chosen StepsApp. It looks very stylish and has 6 available colors to change.
All of your activity is very accessible, and the charts and diagrams perfectly schematically express all the data obtained. Want to know how many steps you have taken in a month or at what time of day you are most active? StepsApp will give you this information.
If you like to walk, run, lose weight or just want to know how many steps you take every day, StepsApp is the right choice for you. Speaking of goals, we couldn't help but mention that you set them for yourself.
Since the developers understand that all people have different levels of activity and lifestyles, they have tried to take this into account. Every day when you achieve your goals, you will receive a notification that you can share on your social networks.
Don't hesitate to show your friends your own achievements – maybe that's what you want them to do more and become more active.
Indeed, smartphone apps really work for everything. Keep track of your friends' water balance, life, communication, physical activity, and more. Smartphones take your life to a new level, and also make you move.
When you see too little activity, it motivates you to go for a walk, run or even walk your pet. Don't reduce your own activity by keeping it at a certain level every day, so you can maintain your own level of health. The applications presented will help you to do this – choose the one that fits your device and go for a walk around the city!