11 Best Police scanner apps for Android & iOS 2020
There is no need to use a police scanner only for people on duty. Sometimes you may find that ordinary people also use the police radio waves.
The motivation for this can be different – someone works as a journalist and needs the most relevant information, someone is a little paranoid and independently monitors crime in their area and city. Some can simply enjoy and listen to what the police say during their service?
Choosing the right app for your smartphone can help you keep up to date with what's going on in the city. Of course, all of these applications are not very modern and do not have great graphics, but you will definitely get the information you want.
Current road conditions, accidents and crime – for you to know all this, we've picked up 11 of the best police scanners for your smartphone for you in 2020.
Police Scanner
Collecting news from all over the world? Then we suggest you try to collect them yourself with Police Scanner.
This application collects all possible police, emergency and fire radio streams from all over the Internet. More than 7,000 scanners and repeaters are available in the Police Scanner collection for listening.
The most popular police scanners in the world are usually located in extremely dangerous areas. With Police Scanner you can immediately find 25 of the most popular radio lines, the most interesting at the moment.
Besides the police, you can find sea stations, air traffic, as well as emergency and meteorological centers.
Save in your smartphone a full collection of records of stations you are interested in, as well as your favorite radio lines. Always be vigilant and be the first to know about the latest local and world news.
Police Scanner by Sepia Software LLC
Sometimes it is really necessary to monitor the situation in real time. News channels often report on events with delays, and journalists are not always allowed to visit the scene.
Sepia Software LLC has developed a special police scanner that allows users to listen to live conversations of firefighters and police officers around the world.
Do you want to use radio tapping while doing more important things for you? Run Police Scanner in the background and don't distract yourself from other activities.
The home page will immediately show you a list of the 100 best live broadcasts available at the moment. By the way, during the monitoring you can also follow the situation on the map of the area.
Look for your favorite and most interesting channels in the general directory and become a small "secret agent".
Scanner Radio – Fire and Police Scanner
The main and loudest events always gather a huge number of listeners. If you decide to use Scanner Radio – Fire and Police Scanner, you will automatically receive all the notifications about the most important events.
Radio scanners, repeaters, police scanners – in Scanner Radio you will find more than 7 thousand of these sources of information.
Determine which scanners are right next to you on the map. The newly added new communication lines may be especially interesting – they are highlighted separately in the application.
Of course, you will also see the top 50 popular scanners at the moment with each authorization in the application. It is also possible to deliver notifications about the news that appear on your favorite channels.
You can receive notifications every 5 minutes – which is especially important when monitoring dangerous situations.
Besides all the convenience, Scanner Radio converts the button for playback of catalogues into the button for starting listening without the need to start playing through the service itself.
You may also like: 7 Best Shortwave Radio Apps for Android & iOS
Scanner 911
In an emergency, we know what to do – first of all, you need to call the police, rescue workers or simply call 911. Rescue service is a kind of call-center, which can determine your request in a few seconds.
Now you can see for yourself the effectiveness of their work, just listening to how they react to emergencies as quickly as possible.
All scanners closest to you are sorted by distance. So it is possible to find any scanners near your city or any point on the map. Across the country, it is possible to monitor the actions of the police and other operational services, while remaining safe and aware of what is happening at the same time.
To decipher police conversations, you can view a list of "ten codes" while listening to them. Note that you will be able to listen both in the background and by timer – for example, at a certain time to turn off the broadcast to save battery power.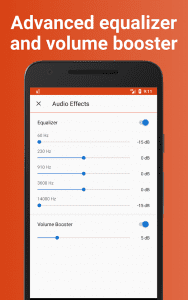 Police Scanner Radio by LogiCord LLC
People who like to watch reality shows usually like to eavesdrop on and find out information by all means. If you are one of those people, Police Scanner Radio is a great replacement for a TV.
Thousands of new users join the application all the time. Thanks to the GPS location and the Wi-Fi detection system, all possible radio transmitters will be identified near your position.
With Police Scanner Radio, you'll know all the news much sooner than your neighbors. The news are presented on TV with delay and without details, and here you will find out everything right at the time of the crime.
In addition to local radio lines, you can also keep track of news by state and county. They all work with 3G or Wi-Fi technology, and that's why they are available.
Keep the lines of communication for your local police patrols and check your guesswork with Police Scanner Radio if you have any suspicions.
Police Scanner X
If the battery level is important to you, you may be interested in Police Scanner X. It includes a streaming and background player that allows you to quickly play all the streaming audio.
When you launch Police Scanner X itself, it can be resumed by itself. If you're only interested in a particular channel, it's the one you should resume when you launch it first.
As we all know, the police use codes to quickly describe situations. Police Scanner X includes them, so you'll know exactly what the police mean when sending the information.
Radio stations from all over the world are available in the app and you can find the connection even at the other end of the world. Each time you start up, Police Scanner X automatically launches the last scanned police station for you, so you can listen to where you left off again.
Police Scanner FREE
People in the United States can easily use this application, because they will have more than 5,000 radio channels at their disposal.
Police Scanner has access to police, fire brigade and rescue communications, which allows for instant access to new information. Is there a maniac in your neighborhood or is there an increase in the number of thefts? Then Police Scanner will keep you informed about the current crime rate.
Many users monitor the frequency and response rate of the police in this way to ensure that they are protected at the right time. If you are interested in your particular area or nearby police patrols, you can use your location to find the source of information closest to you.
You can look for police patrols not only around you, but also in certain U.S. states. Monitoring is available not only for crime, but also for potential disasters and natural disasters.
You won't get tired of listening to other people's conversations – you can always switch to another channel of communication.
Broadcastify Police Scanner
Broadcastify is the most popular application for listening to radio streams. It is indeed the largest application in the world and is popular in the community.
The whole system includes more than 6,000 radio transmission lines, among which you can find police, railway, firefighters and many other radio broadcasts.
If you often enjoy listening to certain radio lines, you can add them to a separate list of favorites for quick access. You can also enable search by location or channel name.
It is worth noting that some radio broadcasts may also use a notification system in addition to voice communication. Notifications of events and incidents will also come to your smartphone.
If you activate the Broadcastify Premium service, all advertising will be disabled, and you will also have access to the recordings. This archive will last for six months, so you will be able to save all the latest major events for sure.
5-0 Radio Pro Police Scanner
Tens of thousands of users already use the 5-0 Radio Pro Police Scanner to keep up to date with the latest developments. Using the application, you are one of the first to know about tornadoes, bombardments or even forest fires.
Since the police are always obliged to inform other patrols about what happened, you will be aware of the crime waves in your area or even the whole city.
The 5-0 Radio Pro Police Scanner has the Active Warning feature. It can be used to track those channels that are currently broadcasting interesting programs or have descriptions of alarms.
You can also listen to your favorite or interesting channels in the background – this will not prevent you from doing your job and at the same time to control the situation.
In addition to police waves, you can also listen to other news, such as the weather conditions around you or airport security conversations. Given the danger in public places, this is a very useful feature.
You may also like: 11 Best hidden voice recording apps 2019
Police Scanner+
Police Scanner+ has more than 40 thousand stations available. They can be used to listen to police conversations. EMS, airports, and standard radio stations.
The application is an implementation of a police scanner from Spider-Man movie, so you can even feel like a real hero of the movie.
In addition to listening, there is a mode of reading news about current events. You can manually set up a search for stations by location – just use GPS.
This way you can create a list of radio stations that you can sort. In addition to police stations, you can use Police Scanner+ as a standard radio receiver.
Here you can find popular radio stations with music and news. It is even possible to record broadcasts and transmit them in mp3 format.
Police Scanner Radio by Next Code
Police Scanner Radio by Next Code gives people the opportunity to listen to police radio around the world for free. It is available in many countries around the world, including the United States, Japan, Italy, Austria and many others. Developers are constantly adding new scanners and radio streams to expand their borders.
You can use Police Scanner Radio to monitor the frequency of police action and response. In addition to police officers, you can also observe rescue workers and firefighters, and to monitor all emergencies in your area as well.
In order to get the latest information, you will need to connect to the Wi-Fi network, as the radio streams are transmitted through the network. If you regularly monitor certain areas, save them to your favorites and observe them as often as possible.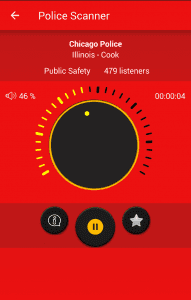 Some may say that eavesdropping on other people's conversations, and even more so, service conversations, is wrong. But if you do want to do so, you need to find a suitable application.
If you have a smartphone, there is no need to buy a separate radio and tune it to the police channel. For you, everything will be done by the application, which you will choose from a list of presented to you. Good luck with your search and entertainment, just remember that you should not get carried away with such things.