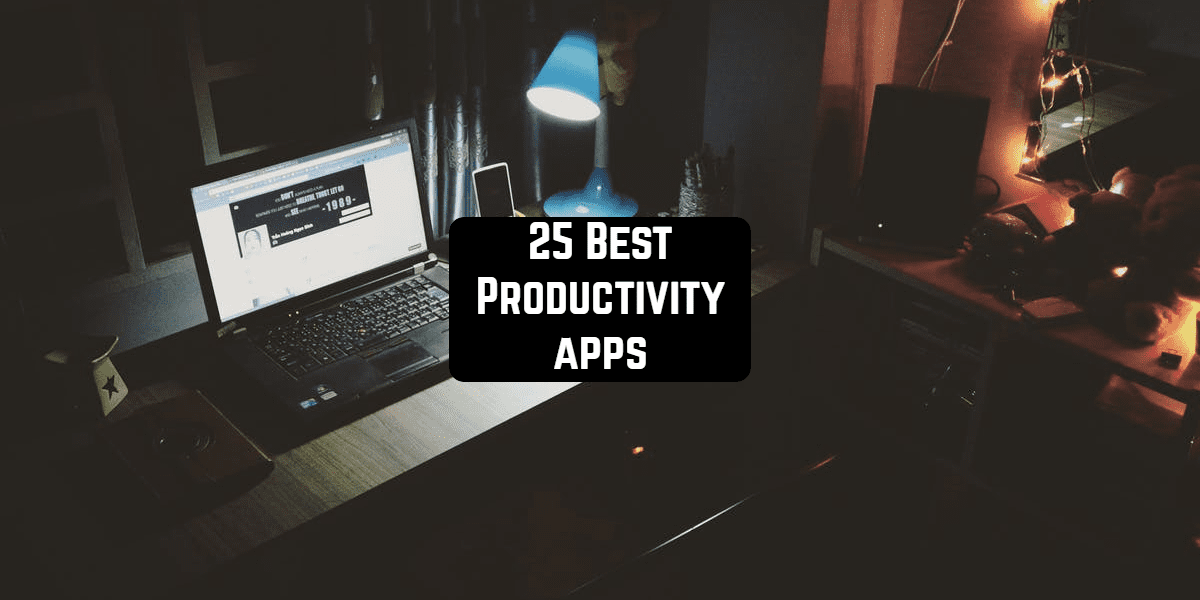 The modern world requires us to be productive in our daily lives. No wonder apps for increasing productivity have become so popular! There are so many tools today that make our work, study or life itself easier and more fruitful. We have created a list that introduces you to the best of them. Check out these wonderful tools and facilitate your life by downloading the ones you like most.
---
Apps for making to-do lists
One of the most effective ways to boost your productivity is starting making plans. When you write down what is it you need to do, you spend less time thinking about your responsibilities and more time actually doing them. These to-do lists apps will help you to relax because you'll know that you'll never forget a thing.
   Any.do 
Any.do is a perfect app for planning. It is simple and gets its work done pretty well. With the help of Any.do, you can create lists of things you are planning do. If you want to, you can use the four main categories to make your plans look more put-together. The app gently reminds you of your plans throughout the day, so that you won't forget anything.
What is great about Any.do is the modern minimalistic look, which is so important for such kind of apps. The interface is pleasant to look at and highly intuitive. As for me, this is the most effective app when it comes to making plans.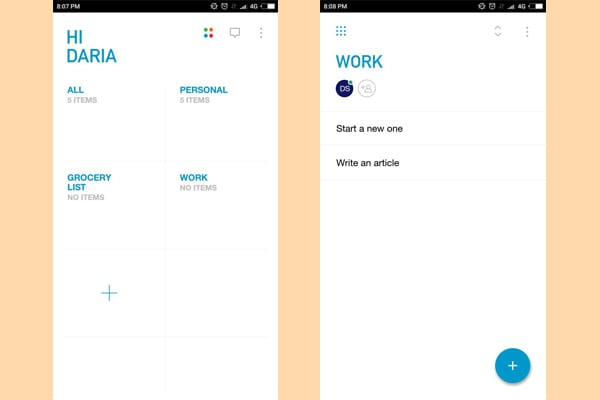 Memorigi
Memorigi is an Android app that is relatively new and still gaining its popularity. The app is not only for making to-do lists, it is also for planning your time in the most effective way. You can create lists of goals and add particular actions to each of them. For example, you can create a list of books you want to read and then, if you wish, set time for reading them.
Gestures that let you get rid of the things you've done intuitively make Memorigi even more appealing. There are three modes of how to look at your plans, which makes it possible both to see the whole picture and to view what is coming soon. The app smoothly reminds you of your plans, but this is a complementary feature, so you can turn it off. The design is very nice. Download the app to fully appreciate its perfection!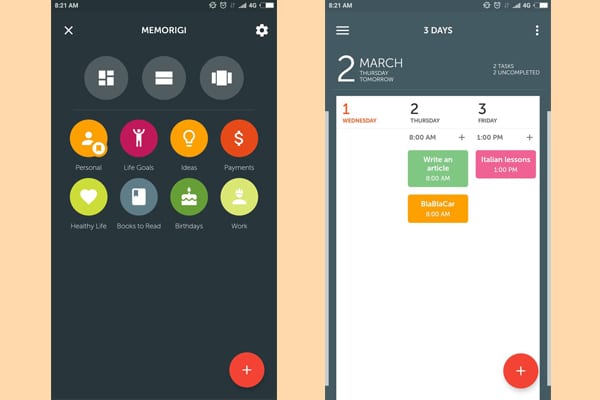 Wunderlist
One more app for creating to-do lists is Wunderlist. This one is classic. You will probably get used to it very quickly and love it because although there are some additional features, the app is really focused on the most important ones – creating lists and marking what's done.
If you need, you can set a reminder or add a note or even a file to your items on a list. One more way to use the app is just to keep it simple. Whichever way you like, Wunderlist is here for you! No adds, lots of themes & familiar design!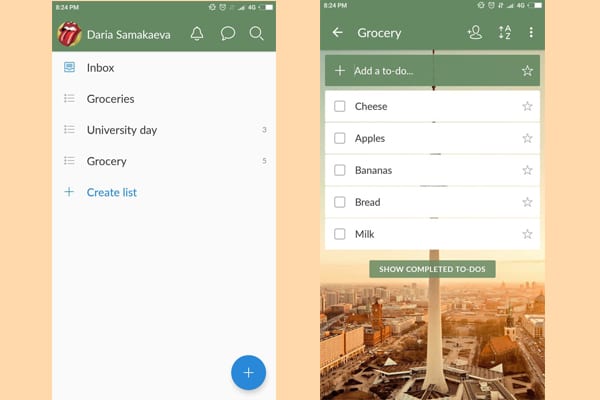 Tasks 
Tasks is made for far-reaching plans. The app is based on the method which comes from a very popular book 'The 7 Habits of Highly Effective People'. This is how it works: you divide all your plans into 4 categories – important urgent, important not urgent, not important urgent and not important not urgent, which helps you decide what is worth acting upon and what is not.
The app is very stylish and easy in use. So if you don't like using paper for little tricks like this one, download Tasks and start using your time wisely!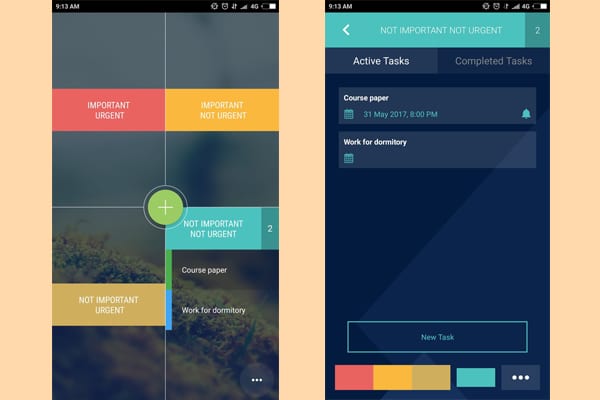 Check out our article to see more to-do lists apps! 
---
back to menu ↑
Apps for creating habits
If you want to master anything, motivation can be not enough. The key to mastery is repetition. Only through repetition can a one achieve real success in any field. So developing habits is very important in increasing productivity. Once again, you don't think about doing one thing or another. You don't think whether you want to do it or not. You just do it! It is that simple but requires a huge amount of willpower. Here are some apps to help you make the process of creating habits easier.
   7 Weeks
7 Weeks is the time you need to develop a new habit. At least that is what most scientists say. And there is really no reason not to trust the scientists. So this app is quite perfect for developing habits. All you need to do is to mark the thing you have done (or haven't done) for about 50 days.
7 weeks is probably even more effective than the previous app since you can really observe your progress and that red cross looks like something very desirable to have. There are many colors to choose from and the interface looks clear and user-friendly. So try this one to really embed useful habits to your life or to get rid of useless ones!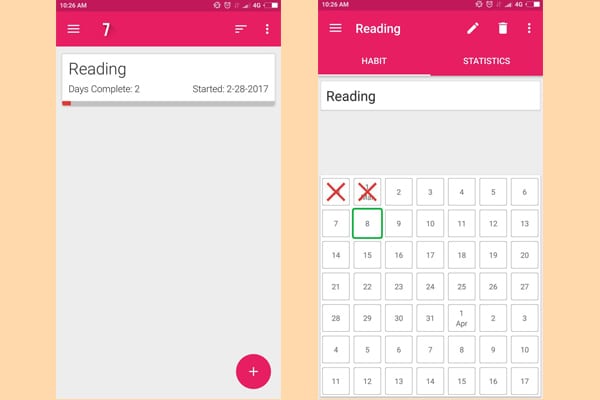 Fabulous
Fabulous is more about a lifestyle than of productivity. The app is designed for creating and following so-called rituals. It is quite amazing how a ritual can make your routine easier. Doing one thing after another in the same consequence all the time gives you more energy because you don't bother thinking of what you need to do. We all have our morning rituals, for example. The app helps to make them healthier and more productive.
Fabulous is based on the recent scientific discoveries about our brain, so you can really trust its recommendations and carry them out in order to improve the quality of your life. That is how it works: you create a ritual and then the app leads you through all the actions. Besides, it gives you tips on how to make your lifestyle healthier.
The only drawback of Fabulous, in my opinion, is too many ads that block the front screen. But as soon as you get to your ritual, nothing distracts your attention. The app is only for Android, but an iOS version is coming soon and you can stay informed about it by going to the website of the app.
Fabulous requires time to get used to because marking every action that you do can be quite challenging. I'd rather choose a simpler app, but it is just me. Upon the whole, the app is super cool. Try it now and boost your productivity levels by following rituals!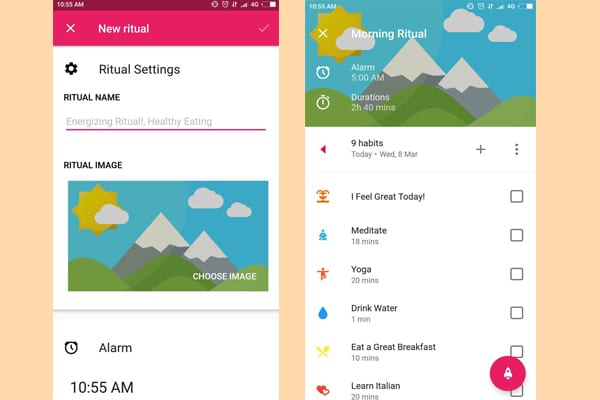 ---
back to menu ↑
Apps for taking notes
Good ideas come to our minds when we least expect them and that is why we let most of them slip away. Taking notes is an extremely useful activity when it comes to productivity especially if your memory sucks at times. So here are some apps for taking notes that can be used anywhere anytime, which kind of makes the process easier.
   Google Keep
Google Keep is one of the best apps that falls into the given category. It is simple and effective. What else would a one need? Actually, simplicity is the main advantage of the app. In order to write a note, you just need to tap on one of the note types at the bottom of the screen. There are 5 types: simple text, to-do list, drawing, voice-note, photo. All the taken notes can be shown in two different ways, so you can choose the one which seems nicer to you.
All in all, the app is a real substitute for a piece of paper. It is easy to use and nice to look at. Get Google Keep now and forget the old ways of note-taking!
   Evernote
Evernote is a little bit more extended than Google Keep, but in general, it includes the same features. Among the unique features are the possibility to lead a few different notebooks simultaneously and scanning documents. Evernote is probably the most popular note-taking app, so the developers have improved a few times already. Get it now and start being more organized!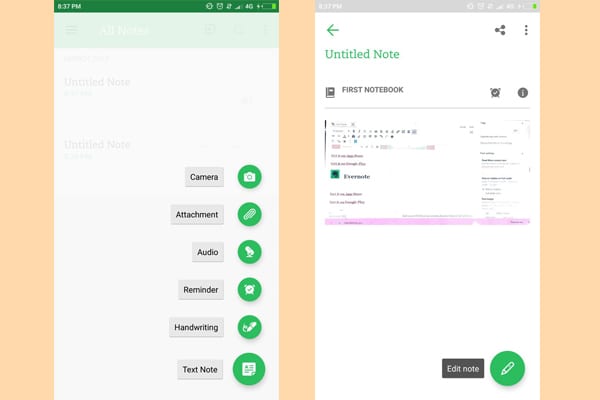 Trello
Trello is a little bit different. It is made for collaboration. Of course, a one can use it for personal needs as well, but the strongest aspect of the app is collaborating on projects. The idea is simple. You can create numerous boards and add ideas or notes to them. So whether it is a simple to-do list or a brand-new business project, the app helps a lot. As for the latter one, boards can be seen and edited by a number of people. Try it now and appreciate the ease of working in such a way!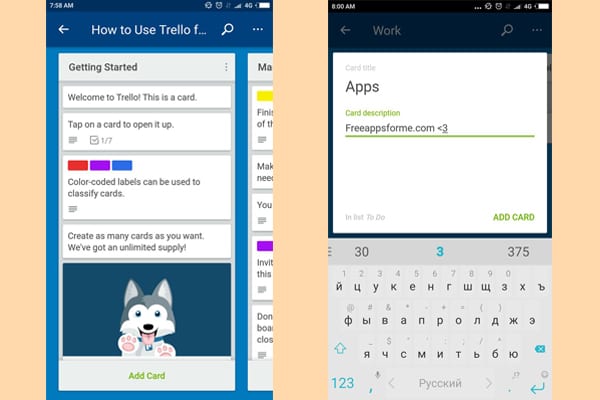 JotterPad
JotterPad is a simple pad with four fonts and a blank screen to write things on. Perfect. It is perfect for writers, perfect for minimalists and perfect for anyone who appreciates simplicity. Every note can be saved as a document and used on any device. There are two modes, so the blank screen can be either white or black. The app is only for Android users. So if you have an Android device and fond of simple things, get this one!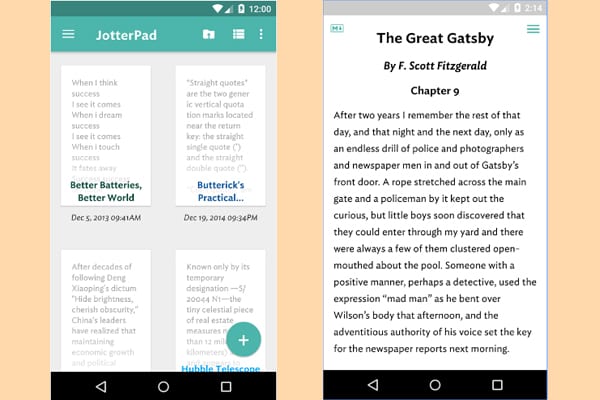 ---
back to menu ↑
Apps for keeping inbox organized 
The time spent on checking e-mail inboxes can be the time spent on doing something productive. If you have a number of inboxes and tired of constantly checking each of them, then you definitely need to download one of the apps below. Collect on your letters in one app and never miss anything!
   Newton Mail
Newton Mail is one of the most modern apps in this category. Its full version, however, is only available for two weeks of usage. The app not only gathers all of your mail accounts together but it also provides you with such useful functions as 'undo send', 'snooze', 'read receipts', etc. After 14 days most of this functions, as well as sync feature, stop working. Some say that it's worth buying a premium version, others consider using another app. It's up to you to decide what is best for you!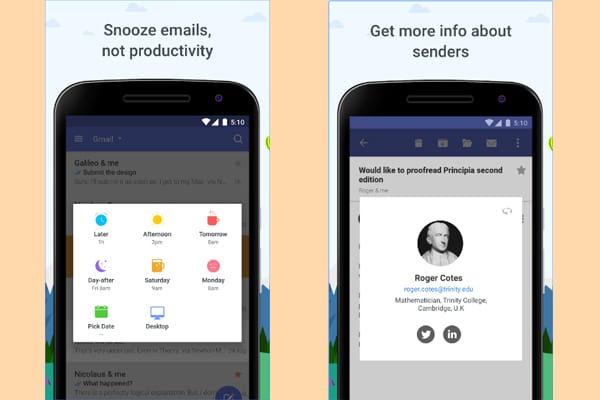 Microsoft's Outlook
Microsoft's Outlook is that old beloved app for collecting all the e-letters. It runs smoothly and is connected to the calendar, which is convenient when it comes to planning your meetings or some other kind of events. The app is stable and perfectly deals with its functionality. What else can one demand?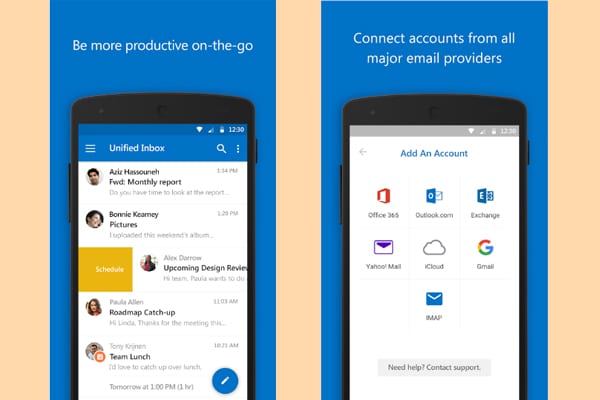 Blue Mail
Blue Mail is my personal favorite. The app is simple, intuitive and gets its work done well. Just like all the other apps, it can deal with all kinds of e-mail addresses. Besides, you can divide mail sent by robots and mail sent by actual people. What is more, you can make the app show you the most important stuff first.
There are two modes – the dark one and the light one; reading letters is quite a pleasant experience. Download Blue Mail now and get rid of the mess connected with your inboxes!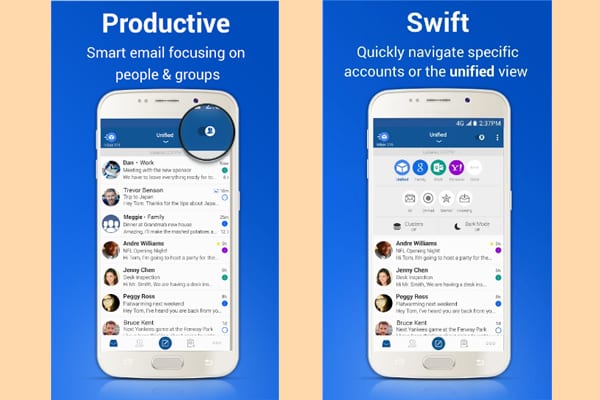 ---
back to menu ↑
Apps for procrastinators
Yes, we all have mood swings and it can be hard to concentrate on doing something. However, if we want to be productive, we have to make ourselves work. The most popular way of how to do it is the Pomodoro method, which represents a focused work on something within a limited time. No distractions, no pauses, just work. Here are the apps to help you master this method.
   Forest
Do you love trees? You don't want to destroy them, do you? If you feel environmentally-friendly or are just a good human being, this app will definitely make you more concentrated. The idea is that you plant a tree, which grows during your concentration time (you can change it – the default is 20 minutes). If you give up, the tree dies. If you wish, you can turn on nice forest sounds to help you stay calm and focused. Get the app right now and start growing your own concentration forest!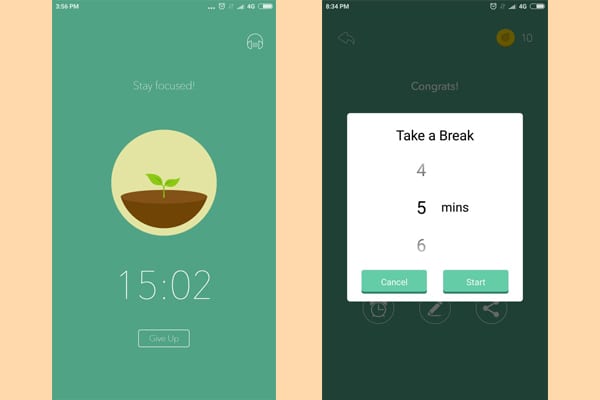 Tide
Tide is one more app based on Pomodoro technique. This one changes like a chameleon depending on the time of day you are using it. The default time is 25 minutes, which is, to my mind, the most optimal time. Every session is provided with a nice quotation. There are also sounds that help to relax & focus. These are the water sounds, which sound very pleasantly. Download Tide now and start to avoid avoiding your work with it!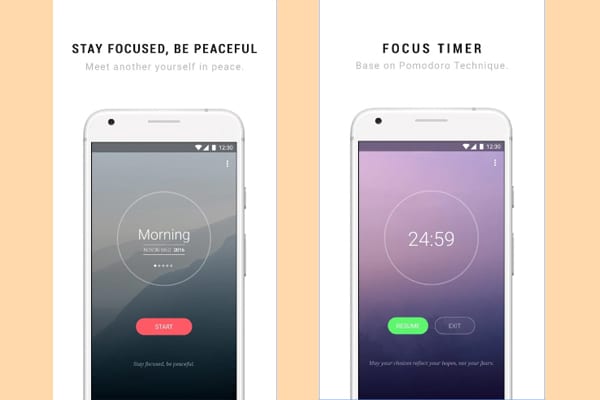 ---
back to menu ↑
Apps for meditation
Today all the scientists agree that the idea of multitasking has failed. Being focused on one thing at a time is considered to be much more productive than depleting your energy on several simultaneous tasks. However, concentrating can be hard, especially if your mind is constantly agitated. So what can a one do in order to improve concentration skill? The answer is to meditate! Meditation is the most effective method to keep the mind clean and relaxed. The apps below will guide your way through the healing world of meditation, which has already changed lives of many people.
   Calm
Calm includes a 7-day program designed to teach a one the basics of meditation. The nice female voice explains how meditation influences our minds and guides you through some elementary techniques. If you wish, you can add relaxing sounds to your experience and/or a beautiful picture.
That 7-days trial is free, but all the other programs require payment. However, even the 7-day program is enough for a beginner. Moreover, the app is provided with a breathing exercise, which you might find to be useful. Download the app and start your daily practice now!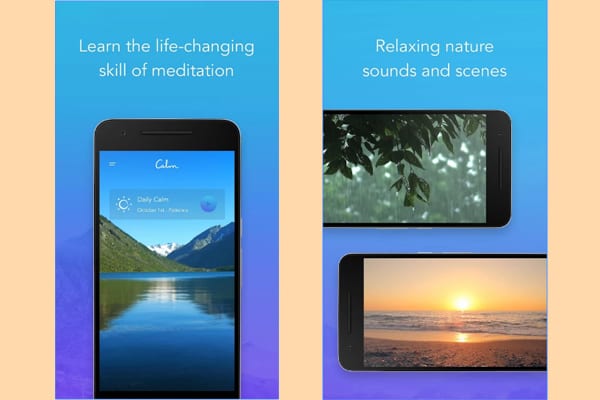 Headspace
Headspace introduces you a 10-day program of mindfulness. Once again, if you like your 10-day experience, you can continue meditating with this app, but no longer free. Headspace has a good motivation system, for example, they send you cute reminders to e-mail, which encourage you to continue the practice. This is just one more great option for beginners. Get the app and start training your mind right now!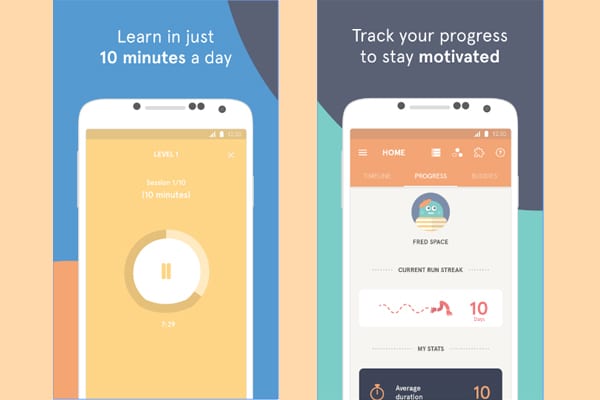 Simple Habit
Simple Habit is a great meditation app that can fit well into your lifestyle. There are different kinds of meditation. You can either choose from the four ones available free of charge or buy the premium version of the app. Those four are morning, break, after work, sleep. Each one consists of several options, so you can easily do without paying for premium.
The greatest part of this app is that you can change the duration of your practice – it can be 5, 10 or 20 minutes. The app also shows your progress and there are many other great features. Get Simple Habit now and explore them all!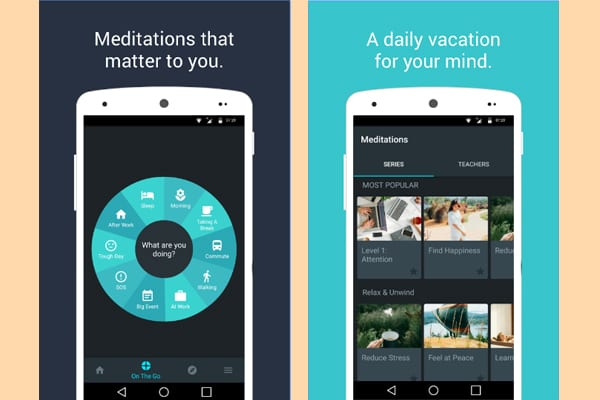 ---
back to menu ↑
Apps for working with documents 
Most jobs today require dealing with documents, which can be tricky at times, especially if you don't have the adequate apps. Here are the adequate apps. Download the necessary ones!
   Google Drive Suite
Google Drive Suite is an excellent app for working with your files. You can access your documents, photos, videos, and any other type of files on any device that you have. If you need some kind of storage for important documents you are dealing with, download the app and be sure everything is kept safely!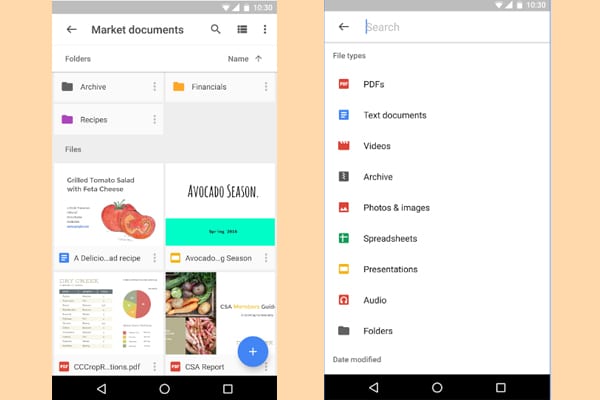 Quip
Quip is for those who deals with collaboration. You can edit docs, spreadsheets, and task lists together with your colleagues and chat about all the made changes without leaving the app. No more lengthy e-mailing! Download Quip now and take your collaborative work to the next level!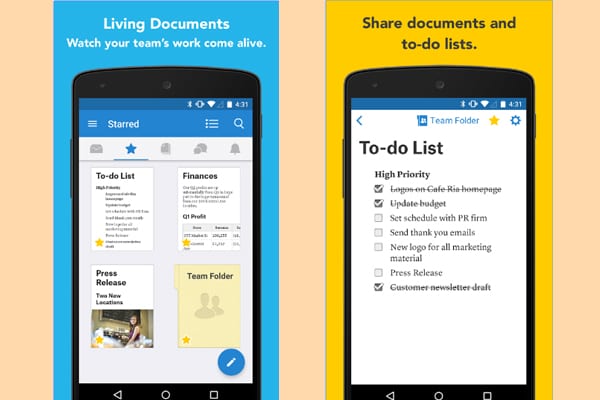 Microsoft Apps
We all have Microsoft programs on our computers, right? Then why not to have them on phones as well? After all, docs, spreadsheets, and presentations sometimes need to be opened and/or edited on phone. If you ever failed to open a .doc file on your device, then you definitely need to get at least one of the Microsoft Apps!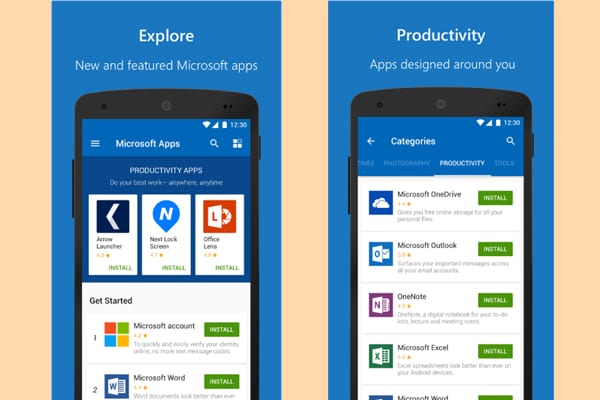 ---
back to menu ↑
Just some cool productivity apps 
The name of this category kind of tells everything you need to know about this category. Just some cool apps that might contribute to your productivity.
   Mindly
Mindly can help you to "organize your inner universe". Sounds great, doesn't it? In practice, the app enables you to create an infinite number of circles with ideas that are interconnected. You can edit these little bubbles, change their colors and even add emojis to them. If you are a visualization-person, this app is for you. Try it now and see how easy it is to get rid of the mind's clutter and focus on the main ideas!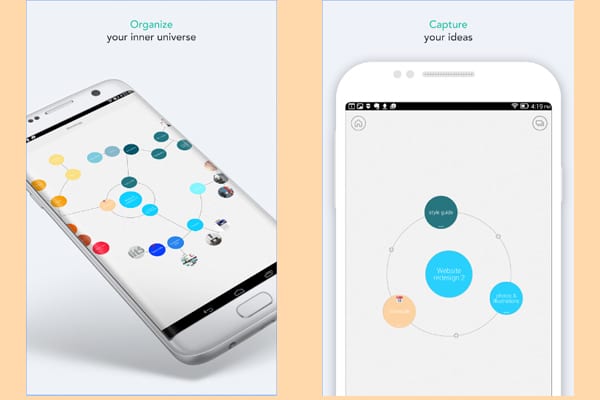 Pocket
Pocket is for the ones who like exploring new stuff, but sometimes lacks time for doing it. With the help of this app, you can save articles from apps like browsers, Facebook, Twitter and so on for later reading. If you don't have time to surf the net, you can take a look at the app's recommendations. The reading mode is very comfortable for eyes. You can choose either white or black background. Get Pocket now and never miss interesting articles!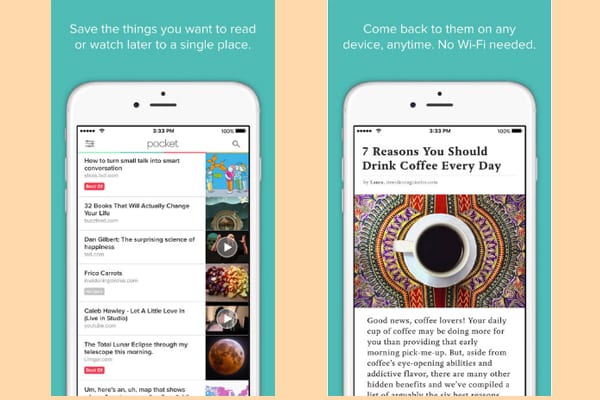 IFTTT
IFTTT is probably the coolest app in this category, our dessert. The app has lots of cool buttons that allow you to automize your phone. As it turns out, our little gadgets are capable of doing incredible things. All we need to do is to ask to do these things. Below, you can see a few examples of 'autonomization'. Want to know if tomorrow it's gonna be raining? Tired of turning off your Wifi connection? Get the app and activate the necessary buttons!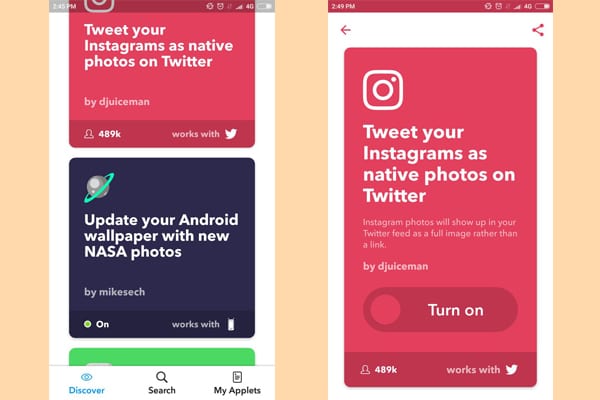 Habit Dots
Personally I am in love with this app! It is so beautiful, simple and useful that it is such a pity it is available only on Android devices. Although I am pretty sure Apple's clients will find something similar on their App Store. The app is made for marking the things that you have done throughout a day. So basically you write down the things you do on a daily basis and then tap on those ones that you accomplish.
How does it help? Well, you see your progress and do not want to miss doing anything. After several weeks a habit becomes a real habit and you can delete the app (although it is so fancy that you might want to keep using it anyway). There are two modes, so you can pick the one which pleases your eyes more. Get the app and start mastering whatever you do!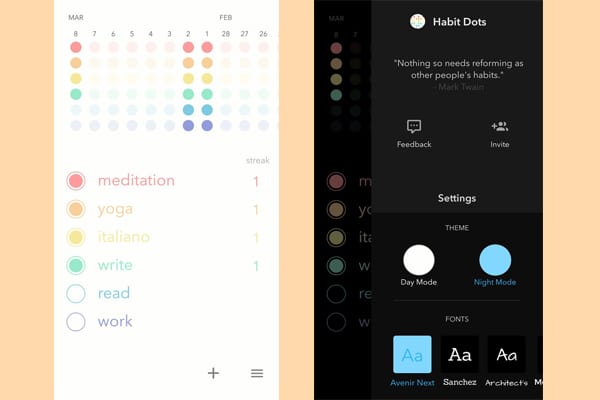 ---
So these were 25 top productivity apps. We wish you to stay productive and, as always, be smart in choosing apps!