11 Best QuickBooks Apps for Android & iOS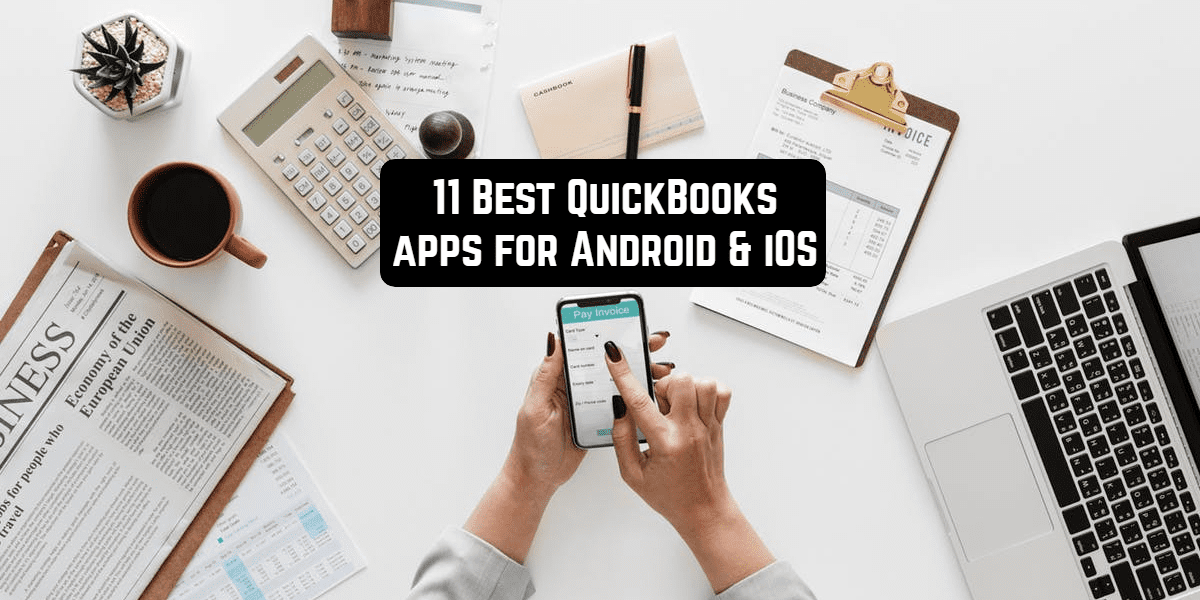 Money, money, money… Money makes the world go round. Some say, however, that it is the root of all evil. Either way, living in a modern world requires you to be responsible for your personal finances, and sometimes not just personal ones. If you want to keep your business afloat, you need bookkeeping.
Thankfully, today there are some QuickBooks apps that make this activity much easier. Check them out and choose the ones that suit you best!
Read also: 17 Money Saving Apps for Android & iOS 2018
QuickBooks Accounting+Invoice
This is the main app on this list. If you don't have it already, you should definitely get it! If you have though, just scroll down for other apps that help to make the work of this one more diverse or can serve as less complicated alternatives with a bit more limited functionality.
QuickBooks Accounting + Invoice is a wonderful tool for those who own a small business and want to keep track of how it is going. The app lets you track the activities of your customers and, more than that, carry out the majority of business-connected operations on all of the platforms available to you.
You can instantly receive and send invoices, take photos of your receipts in order to save up on the taxes, capture signature to pick up bargains, and more.
All of your financial operations are memorized by the app so that later you could view the statistics. With QuickBooks, keeping track of your monthly income and outgoings is easy. The analysis helps you to find out how to make your work more efficient and what is needed to achieve this or that goal.
Among other features, the app offers financial reports and all the recent updates about what is going on in the business world today. Download this app if you want to stay organized and never miss a thing.
You may also like: 10 Best Employee Scheduling Apps for iOS & Android
Expensify: Receipts & Expenses
Expensify is a receipt tracking app that is most suitable for business travelers and those who need to report on their spendings. The app allows you to snap photos of receipts and then deciphers them up until matching the images with your credit card's transactions. So, basically, the main feature of the app is its smart scan that does all the work, so that later you could do anything you want to with your receipts!
You can tag them, group them, or send them to someone else. With this app, you don't have to worry about losing the info of your spendings – all you need to is to take a photo right away!
Bill.com
Bill.com is an app that will help you to pay your bills on time. If you are a person who constantly runs up huge debts and forgets about them, then this one is for you. And even if you have a healthy relationship with your money, Bill.com also won't be a drag. Quite the contrary actually – the app will give you an opportunity to overview, approve and pay all of your bills without wasting your time going through various resources. Who would do that knowing that there's a special tool that helps to cover them all at once?
The app also introduces you to the history of your approvals and payments. Plus, you can upload your paper bills by using your camera. Get it now and never miss a bill = always be on the safe side!
FreshBooks Cloud Accounting
FreshBooks is a nice and new alternative to the QuickBooks app. It is not completely free, but it has a 30-day free trial, so you can download it just to check if it is what you need. The app is created for easy accounting and invoicing.
Dealing with your clients has become so much easier these days with all these apps! You can check your invoices in a moment, keep track of your payments, carry out all of the financial operations that you need – everything is without leaving one single app.
More than that, FreshBooks helps you deal with naughty clients. You can use chat of the app to make your customers payor, on the contrary, to calm them down when something goes wrong.
Upon the whole, the app is quite efficient and, by the way, looks great. A nice and clear interface is appreciated by everyone when it comes to serious business. Even if your business is not that serious (yet), you will definitely enjoy the benefits of the app!
QuickBooks Self-Employed
Freelancing and self-employment becomes more and more popular nowadays and that's how people realize it is million times more difficult to organize your finances when you are working on yourself. That's why this QuickBooks app was developed – to reduce the burden of managing all the accounting on your own.
Just connect this app to your accounts and it will be fixing your every transaction. When a new transaction happens, the app immediately records it and categorized it in order to present the most efficient tex report in the future. What is more, this app allows you to create invoices to get paid faster.
QuickBooks Self-Employed users have found billions in potential tax deductions by using this automatic mileage tracker, attaching receipts to business expenses, creating invoices, and categorizing business expenses.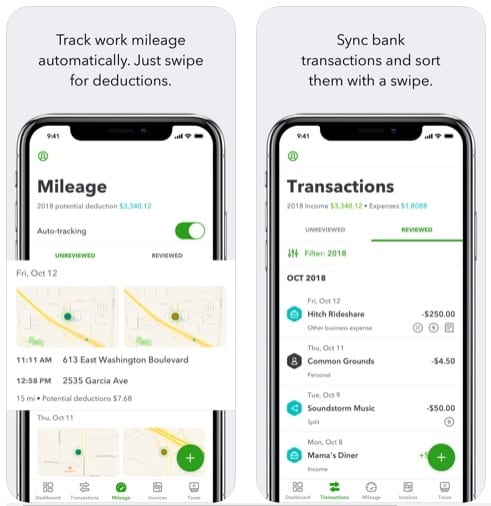 Accounting App – Zoho Books
Zoho app for accounting is one more essential toolkit for every owner of a small business. The app can help you to create beautiful and detailed invoices, track your comings and goings, and provide you with reports on how your business is doing at this or that moment.
The app does not only give you sheer numbers, but it also makes up graphs and illustrations for a better understanding of the situation.
There are lots of other features, of course. Among them: bank feeds, time tracking, notifications, and more. The company that created this app was one of the pioneers in cloud accounting, so it kind of has the experience of how to do it right.
Zoho Books looks simpler than other apps but performs pretty much the same functions. Plus, you should not forget about the beautiful invoices! If you want to look professional and let your clients know that your business is a serious one, then the app is certainly worth consideration. Just remember that the app is not 100% free – there are some monthly fees like in most tools of this kind.
You may also like: 25 Best productivity apps for Android & iOS
Xero Accounting
Xero is another accounting app that is quite popular on the market. You will find Xero is very convenient for tracking business expenses, along with compiling the balances, calculating profit and loss, and creating invoices. The last feature is especially useful because what you might forget in real life – the app won't and will remind you about all the possible accounts receivable.
Xero calculates the right amount of CIS deductions on your invoices the moment you create them. It's all automated, so you can get back to business. An interesting feature here is that Xero allows to convert quotes into invoices in order to speed up the process of payment.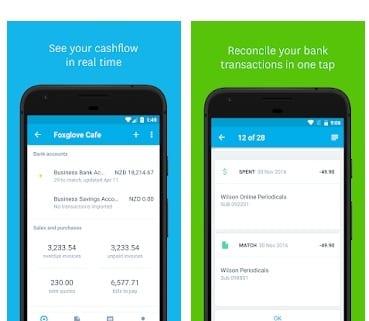 FreeAgent Mobile
FreeAgent Mobile app is based on an online platform for accounting. The app lets you track your cash flow, capture receipts, and in such a way track the expenses, create and send invoices.
It also sends you notifications about taxes and bills that you have to pay. More than that, you can add descriptions to your bank transactions in order to understand later what it is all about.
In sum, the app represents a perfect tool for dealing with your business finances. Last but not least feature that is worth mentioning is tracking billable time – the time that is spent by you working. This one is especially useful for freelancers since it lets you and your employer know how much time you need to finish this or that project.
The app is not free, but it has a 30-day trial, so you can just check it out to see if it is what you need. Available on both Android and iOS. Plus, can be accessed from a desktop – just like many other apps on this list.
Kashoo Cloud Accounting
Kashoo Cloud Accounting app is just for iOS. By the way, the rest two apps that follow this one are also for iOS, so excuse me, dear Android users, you can leave or scroll down to read my beautiful final words.
Back to the point: the app is designed to perform all those same features discussed earlier: making and sending invoices, taking receipts pictures, viewing the history of your financial operations as well as reports on the state of your business.
Kashoo also provides you with support in case anything goes wrong and gives you an opportunity to have a chat with your clientele. For many, this app is quite old or at least it is not as good as it was considered before.
However, if you are new to this kind of apps, you may find it useful. After all, we are not all the same – different things work for different people. If you find at least something appealing in this app, just give it a try!
TSheets
TSheets is one of the most popular business apps because it is so effective and easy to use. It is an employee attendance tracking system that is completely customizable to the needs of your business. This tracker includes GPS tracking so with TSheets you don't need to spend your whole day at the office to make sure the employees actually stay there.
Moreover, with TSheets you can create the job costing reports. In general, this is the app that helps you to stay connected to your office and receive constant feedback even form the distance. What is more, the app saves all the previous files and data in the storage.

You may also like: 11 Best tax manager apps (Android & iOS)
Fundbox – Small Business Loans
Fundbox is a bit different from most of the other apps on this list. This app can be connected to the accounting tools like QuickBooks, FreshBooks, Kashoo, Zoho, and others, but its main purpose is to help you draw funds for your small business.
The app sends you instant notifications about available funds and your task is to accept or reject an offer in 3 minutes. The chosen funds are quite beneficial, but all of them are less than $100 000. After all, this is a tool designed only for small businesses.
So, if you need to tie up some money that you don't have into the business, get this great tool to provide yourself with the best credit offers. With Fundbox, it is more likely to get a good deal!
---
That is it for QuickBooks apps. As we see, there are lots of useful apps that let you have a laid-back attitude about your finances. It doesn't matter what kind of business you have or whether you have it at all – our modern world requires us to be savvy spenders as well as having a steady income. Choose apps wisely & worry less of your money!