15 Best Resume Builder Apps for Android & iOS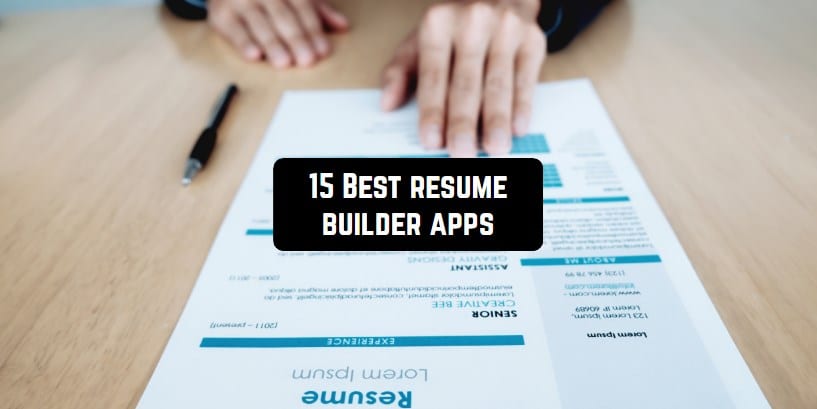 Definitely, one of the most important steps in life is to get a job that will provide you with feelings of satisfaction and fulfillment. In order to do that you will surely have to create a resume that will attract a potential employer. You can do it traditionally using Ms.Word on your laptop or you can download one of the listed below resume builder apps.
You may also like: 11 Best Free Resume Maker Apps
Most of these apps will help you to create an up-to-date resume matching your specialization and potential job requirements. It has many helpful templates, PDF file support, and a sharing function. You will find applications for both Android and iOS devices.
Resume Builder & CV Maker
With the Resume Builder & CV Maker app, it became easier to create an attractive resume without a laptop and Microsoft office software.
This free application has all the necessary features that will help you build a good CV and share it in PDF format. There is a big variety of templates categorized by professions: from a nurse to an accountant. You also can create portfolios and cover letters for job applications.
The app mains features:
Various built-in templates.

Sharing function that covers most social media, messengers, and email services.

Two modes to create a resume from scratch.

Importing information feature: from PDF or LinkedIn.

Editing feature: change font size, color, and section margins in your resume.
To enter the app and start to customize your cv you are required to register via your email address. No need to verify your email. Sign in and begin to work. You will have three options to get started:
The app lets you import a resume or cv in PDF or Word format. After that, all data from the uploaded resume will be extracted into a VisualCV template. Also, you can import data from your LinkedIn profile.

You can choose a template that matches your characteristics. There are 10 categories to choose a template with different CVs from the marketing manager to a software engineer. Some templates include photos, some not. It's up to you whether you want to attach your personal photo to the resume or to leave the resume without it.

The third option for those who like to start from scratch. It presented in Basic and Visual editors. With Basic, you enter important information such as education, and the app fill in the template accordingly. With Visual you just populate your data in ready sections and can choose your template later.
The app has a high rate and lots of positive reviews. The developers quickly fix bugs and respond to complaints.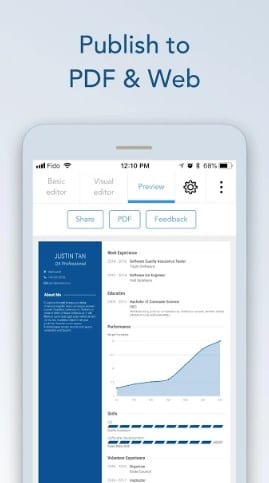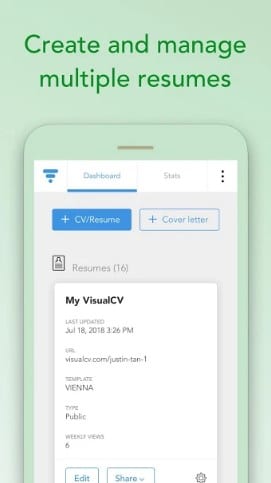 You may also like: Best productivity apps for Android & iOS
Resume Builder – CV Designer
This Resume Builder is one of the most popular free apps among iOS users. There is no Android version and it runs only on iPhone and iPad. The app is easy to customize and it gives you many options to create a stunning CV so you can attract a desirable employer. The application is easy-to-use and won't take much time to get familiar with it.
The apps main features:
Preview the resume after you've added most of the valuable information about yourself to see if there is something missing.

In the free version, you will have one classic CV template starting with an objective and work experience. To unlock the other 8 templates you will be suggested to purchase the premium version for 2.99$ a week or 4.99$ a month.

Send an attached CV created in the Resume Builder straight from the app. Don't forget to add a decent cover letter.

Editing functions. There are three fonts available for you to design your resume. You can also change the font's size and horizontal and vertical margins.
The free version has only one template and many advertisements that can be annoying when you do such an important work as building a resume. The Premium version will let you enjoy the CV building process without advertisements.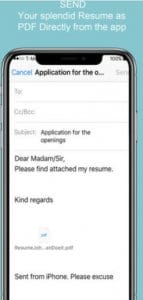 Resume Star
Resume Star is another app supported by iOS devices only. It has a classic well-organized interface. There are distinct sections to help you build a professional resume. Start filling the form with your contact information, introduction, and cover letter. Then add education, work experience, and references.
The app will guide you through the process simplifying that task. So you definitely won't forget any step in resume building.  The result will be a correctly formatted PDF resume that will help you to get scores on your interview.
What app can suggest to you:
The app has 10 different professionally created templates that you can simply fill in with work-related information or use it as an inspiration to create a personalized version from scratch.

A built-in spell checks to avoid mistakes that can negatively impact your chances of success in the application process.

Send your resume once you have done it or download and print it.

Adjust a text changing font size and type.
With the Resume Star app, you can create many resumes to adjust them to a particular employer's requirements with different cover letters and objectives.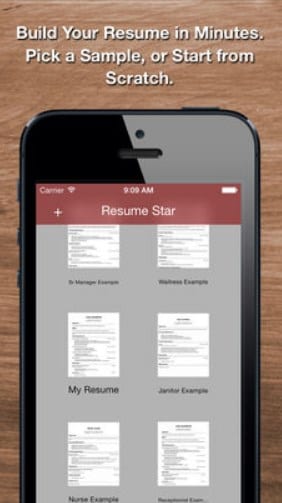 My Resume Builder app
My Resume Builder app is one that you can download on your Android device in order to help you create an appealing resume.
The app will not ask you to register. Simply launch the app and fill in the information step by step. At the bottom of the screen, there is a menu where you will find resume sections listed step by step: from contacts to references.
How to create a resume:
Add contact information. The most important step is to add accurate information so the employer can easily contact you in case he likes your CV. You can update any information anytime you want.

Add your educational background, work experiences, and projects you have completed. You can skip any step and fill it later.

Add your hobbies, skills, and strengths to make the cv more attractive. Don't forget to press the save button, because otherwise, you might have to start from the beginning.

Add your personal photo and signature. This step is optional.

After adding all the important information, choose either one of classic templates or colored and the resume will be formed.
Having done those steps, you can then preview your resume and share it through different applications: social network or email services. The interface has a simple design and is easy to navigate. The app is free but has a lot of advertisements including full-screen ads.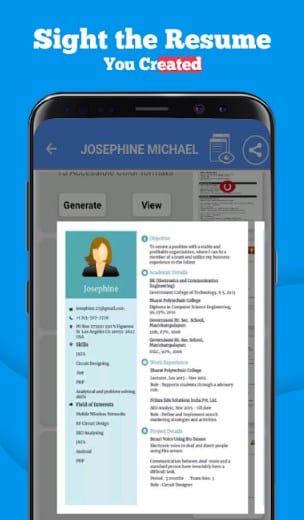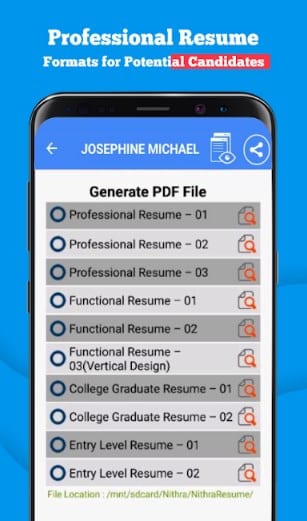 Resume Builder Free
Resume Builder Free is an advanced application for Android that will help you to create an excellent professional resume. With the help of this app, you can create a good resume in 5 minutes.
It does not matter if you are creating a resume for the first time or you have done it many times before in your career. You can create your cv at any place without being attached to the personal computer. The app will guide you through the process and give you some tips that you may not know.
Launch the app and, step by step, start to fill in the blanks. Of course, you will have a lot of different templates to help you make a CV.
There are templates suitable for financial, information technology, and health-related specialists. Having completed the building of your resume, you will able to preview it, check for mistakes, or add missed information.
The application won't take much space in your device. It supports many languages but be aware, that the app was created in English, so some mistakes can appear when you use other languages.
The free version of this app has a lot of advertisements that take a substantial amount of screen space in some sections. It will not distract you during the resume`s building process.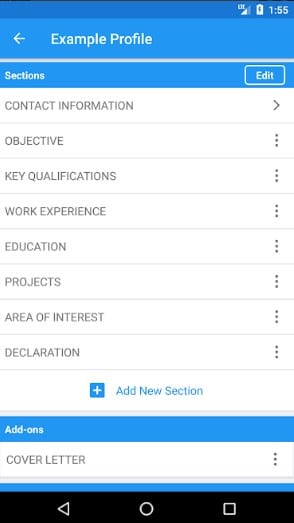 CV Engineer
Each of us at least once faced a problem of finding the right job. One point, that made this problem even more difficult was that you never know which kind of resume will be liked the most by your dream company. Luckily, nowadays we have such apps as CV engineer that helps us to build the universal resume that will be accepted everywhere.
This CV Engineer app is one of the most popular ones in its category on Google Play (yep, unfortunately, it's available only for Android). It helps you to build a very classy-looking CV and organize all the information in a logical and structured way, that it will be easy for an HR specialist to read it and understand your main strengths.
There are dozens of resume templates and you can choose one that suits you the most and which is more suitable for your career story. All the fields of the resume files are customizable.
Plus, here you will find not only bare templates, but also tips for each section on how it is better to describe it. Moreover, the app contains possible interview questions and possible answers so you could train before the actual interview.
You can also check: 12 Best Apps to learn French for iOS & Android
Resume Builder
Resume Builder is free and easy to operate application created to help you build your best resume. It's supported by all iOS devices.
You will not be required to format and design your resume. You will have two readymade templates to help you create it.
There are about 25 more templates and resume formats that are available in the premium version. You can add your work experience, education, and achievements. Describe them as accurately as possible while leaving the resume design to the app.
You can add, remove, or rearrange sections. Preview the resume to see if it looks ready and then share it as a PDF. If you want to upgrade your resume by adding a photo or cover letter you can subscribe for the pro version for 14.99$ a year.
Canva
For all the art professionals out there are in general for people who are working/looking for a creative job, the ordinary resume won't be enough for you. It is too cheesy and doesn't show your authenticity and creativity. Thus, you should go for a resume builder called "Canva".
In fact, Canva is not only a resume builder it is a graphic design app and recently the developers even added a function of video editing here. Considering creating CVs, here you will find dozens of colorful and outstanding templates that will draw the attention of any HR specialist.
Working with Canva is extremely easy. All the fields are already filled and you just need to erase the text and put yours into it. All the templates are fully customizable – you can change colors, patterns, add objects, and so on. There are both kinds of more classy templates and completely crazy, with abstract design.
The only drawback of Canva is sometimes design takes too much space of the sheet and you can't really make the overall objects smaller, so you will have to cut down the information about yourself, or create a second page.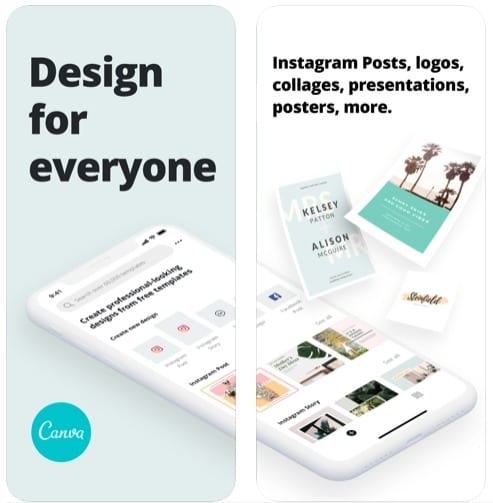 Resume PDF Maker / CV Builder
Like most of the similar apps, this Android application Resume PDF Maker can help create a professional resume in PDF format.
Sometimes it's possible to apply for a job through online platforms where you can fill in all of your professional data. Afterward, you might be required to bring a printed resume to the in-person interview in the case if you have passed that first stage of the application process. This CV builder app can simplify this task.
What can be done through the app:
Choose one of the 7 templates to create a well-organized resume.

Fill in the blanks one by one following the instruction. Add all the necessary information including previous job experience, educational background, successful projects, and achievements.

Make a resume more attractive by adding some extra information like skills, hobbies, and interests. For all of that, the app has distinct sections. You can either fill all suggested sections or remove some of them. It's also possible to edit all the sections separately to correct the information you have put in by mistake.

Mail the resume directly through the app as soon as it's been completed. Add a cover letter to your email. It's an important step that will attract additional attention to your resume. A well-written cover letter will give you a better chance to receive an invitation to come in for the interview.
After completing each step you can preview your resume. Do not be in a hurry to send it straight to the employer. Take a closer look to check for any last-minute corrections.
You can also check: 9 Best Payday loan apps for Android & iOS 2019
Resume Builder+ Professional
In fact, it is difficult to say how important a is resume for a company where you want to work. Some pay meticulous attention to it, others don't give the choice to the live interviews. For other jobs, portfolio is more important. But it is never a misfortune that you have an excellent CV, right?
This is a resume builder for iOS. It is quite a simple app, but here you will find everything you need – templates for building a resume (there are more than 100 professional templates), guides to writing a good CV, quick previews, and, what is more, absolutely no ads.
Just choose one from the app and fill it out immediately. The app is convenient to use even when filling those resumes using your smartphone. After you have completed your CV you can save it as a PDF file.
There are also some premium templates that are available only by buying a subscription, but honestly speaking, it is absolutely unnecessary.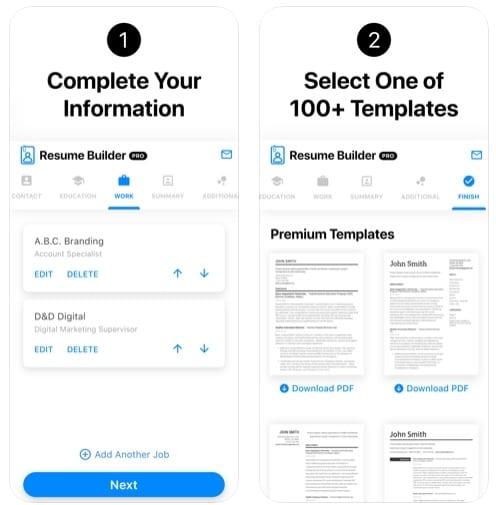 Resume Builder
Resume Builder can be considered as a rather simple resume builder app. The app does not have a big set of functions but all the necessary features are included. Bright design and the well-composed interface will navigate you through the app.
Create as many resumes as you need. You will always find them in a separate section called "saved resume".

Choose one of 26 resume templates and fill your information in. You can fill the information in first then try on different resume formats. Choose to divide the information either into two columns in your CV or into rows. You will be notified if some important information is missing or if you have skipped the important field.

All the information is divided into different sections: qualification, objective, work experience, hobbies, and languages.

Attach your photo directly from the phone`s gallery.

Preview your curriculum vitae and save it in PDF format.
One of the biggest advantages of the Resume Builder app is that you can save your resume via social network and other popular applications like WhatsApp.
Resume Builder by Nobody
From the first sight, this one might look like a standard resume building app without any extra functions, however, if you take a closer look, you will see that there are some additional features that make this Resume Builder by Nobody stand out from the crowd. First of all, here you will find around 20 different resume templates.
It is less than you may find on other resume builders for iOS, however, here you have the extended customization possibilities, so if you have enough imagination you can create something unique and completely authentic. An interesting feature of this app is that you can preview your CV in the AR and see how it would look like when printed.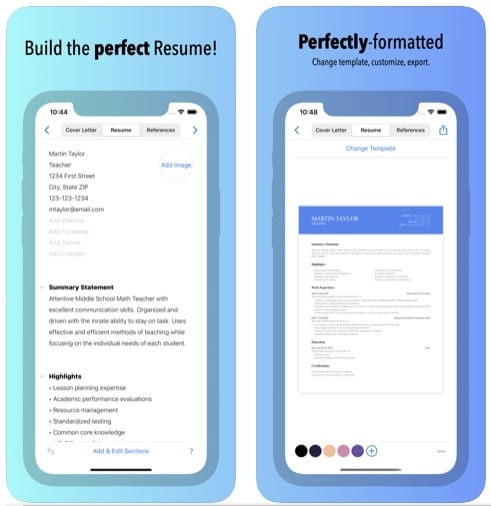 Quick Resume
Would you like to be guided through all the steps of resume writing? Then the Quick Resume app is a good choice. The app supports 10 languages including Japanese and Russian.
With the help of this app:
Choose a ready-made template and generate your own resume.

Fill in the blanks divided into different sections. The app has all the necessary sections to add: education, work experience, contacts, and projects. There are also some additional sections such as awards, references, and interests. You can add your own modules as well.

Add a cover letter to your resume.

Send a ready resume directly through the app or print it in PDF.

Send the resume to Dropbox.
You can create many different resumes and save it. The app has a user-friendly interface that simplifies the resume-building process.
Resume Builder App
As soon as you open the app you will be asked to select a language from the 10 available options. You can change a language at any time in the app's settings. The design of the app is rather ordinary and simple, so some might even find the interface to be designed unprofessionally.
With this app you will be able to make all the important steps to create a resume:
A lot of ready-made templates and resumes to choose from.

All necessary sections to fill in: personal details, objective, references, education, and experience. A user can rearrange the order of sections by himself or herself.

Preview functions.

Download resume as PDF, print or share it through the app.

Edit the document by changing font size, style, and margins.
The app has some minor bugs that occur from time to time.
You may also like: 11 Best Business Card Scanner Apps for Android & iOS
Resume Builder, Resume Creator
The distinctive feature of this app is that it allows you to create a new resume for each job you are applying for. Going back to the subject of each company prefers different kinds of resume it would be perfect if you could create a special CV for each job you are applying for.
However, in real life, it would underestimate a large amount of time that you might not have at all. Well, this resume builder will help you to solve this problem! Creating several resumes here will take you much less amount of time than usual. All you need to do it to fill all the fields about your experience, skills, previous jobs, and so on.
Then the app will be able to put this information into different CV templates. But don't worry, it doesn't mean you will get lame and stamped resumes at the end. The templates are customizable and you will always be able to make corrections in all the fields and change the design. The only drawback of this app is that it costs $3.