15 Best Ridesharing Apps for Travelers (Android & iOS)
If you ask a person if they have a dream, you'll probably get an affirmative answer. All of us work and learn for something, step by step going to our goal and making efforts to achieve it. Travel has become popular among people of all ages.
People plan entire tours and routes, highlighting places to visit and cities to visit. For such large-scale trips you need to have a considerable amount of money. The cost of travel, moving, city travel, accommodation and meals – all this can come in large sums of money.
You may also like: 11 Free fuel calculator apps for Android & iOS
Someone saves money and accumulates it, if they can not pay at once without obstacles. And what if you also crave travel and adventure, but you do not have the money for it? Or are there so few that you may need every cent?
In that case, people are looking for alternatives. One of them was ridesharing. This is the case when you become a traveling companion for a small amount of money or for free. That is, either you rent a car together and share the costs, or this car belongs to one of the travelers.
Something like hitching a ridesharing, but ridesharing has an obvious advantage: more security guarantees for the trip and you know where you will be taken. So, we've chosen the best apps for you to find Android and iOS travelers.
GoCarma
GoCarma is an application that is among the leaders in the field of ridesharing. They position themselves as a collaborative application, i.e. it does not imply the sharing of a car.
Rather, it is a search for travel companions. For example, you and your neighbor go to work on the same route, but each one in his or her own car. What prevents you from teaming up and using only one car?
You do not interact directly with the driver in terms of payment. How it works: The app automatically logs every mile you drive from the moment you board the car. For each of them, the driver receives a fixed fee.
GoCarma is a leader in its field and a partner of government organizations. After all, due to the fact that the use of GoCarma reduces the number of cars on the road traffic jams becomes less.
And of course, it reduces the environmental impact. It is worth paying attention if you have a limited budget for transport or you are worried about the nature!
You can also check: 15 Best Taxi Apps for Android & iOS
BlaBlaCar
Even if you have never practiced a trip like this before, you've definitely heard of the BlaBlaCar service. This is the most popular, well-known and mentioned application ridesharing. Advertising company utility is deployed so widely that you can see it on advertising stands and billboards, as well as on the Internet.
The name itself slightly reflects the idea of the application – communication, namely, interaction with strangers and new people.
How the service itself works: you create your account, fill in the necessary data fields and enter the criteria for travel – destination, time, number of seats and more. BlaBlaCar generates and displays a list of drivers who suit you in one way or another.
When creating a trip, the drivers also specify the stops, time and date of the trip, as well as other qualifying criteria. The price of the trip is also immediately known.
Most often it is a small amount, because the purpose of service is not earnings, but communication. If you are satisfied with the conditions, you send a request to the driver and he already decides whether you can go together.
Some people accuse the developers of sexism, and it is not without reason. Female drivers can customize their journey so that only female passengers can see it in the BlaBlaCar app. Of course, someone explains this with precautions, but the service itself claims to be safe. Despite all the dissatisfaction, the function is actively used.
The profile should be filled in as much as possible, as it will help you and other users to get more pleasure from the trip. For example, you can discuss the latest football championship or sing songs together on the road.
And the main advantage: the application is free on iOS and Android. So if you plan to go somewhere soon, it is worth thinking about finding a driver or travel companion. The application is available in 20 countries around the world!
Uber
If you're surprised now, we understand. For many people, Uber is a taxi service, but it is not really true. Uber is one of the world leaders in ridesharing. Millions of people around the world and in dozens of countries use the Uber app. By the way, the application itself is freely available for download from the AppStore and Google Play.
On a choice of a car Uber has almost no competitors: you can as ride a motorcycle, if you want it, and find for a trip Minivan, if you ride a whole group of friends. Most importantly, the choice of transport is available everywhere.
Even if your budget is extremely limited, then you can find an option. For example, the service has a function of choosing a bus as a means of transportation. Especially since it will take the route you need!
Low price is one of the advantages of Uber. It is generated automatically and in real time, i.e. there is no such thing that the price of a trip is the same all day long. There are a lot of factors: from the availability of cars to traffic congestion. If it's rush hour, then of course, the price will be higher than at 5 am.
It is worth noting that the application is designed to search for short journeys. That is, basically, these are trips around the city or suburbs. But still, for budget travelers it is a great way to save time and money!
Security is a key factor in Uber. You are fully guaranteed the safety of your trip and your safety. Now you can not worry about your life in travel!
Lyft
If you find yourself in another city and have no idea about the transportation system in it, you will probably call a taxi and spend a lot of money on it. Lyft will help you in such a difficult situation!
Firstly, you will be able to communicate with new people in a relaxed and informal atmosphere. In this case, people can be absolutely different strata of the population and society – Lyft has almost no requirements for cars or other vehicles. It means that you will be able to communicate both with the driver of Audi, and with the driver of an old Volkswagen.
You have 9 options to choose from – a joint trip, scooter, fashionable new cars, buses and other options. Depending on the case and requirements, choose your own! Maybe you need to impress your girlfriend and choose a more expensive car, or you just want to have fun and choose a scooter.
Secondly, you save your time and nerves. How much stress you have while traveling! Delays, traffic jams, car quality, evil driver – to avoid these problems, Lyft provides all the necessary measures!
Now you will not be late for a planned concert, date or meeting. Keep in mind that cities do not sleep at night – both in a good sense and in a bad way.
At night you can have a good time in the metropolitan areas as well as get into trouble. Use the ridesharing service to avoid falling into the hands of hooligans or getting caught up in dark alleys. Lyft's motto is "Just sit back and relax". What else do you need on the road other than relaxation?
PopaRide
PopaRide is an application that is mainly active and working in Canada. If you decide to go for maple syrup waffles in their homeland, you will definitely need this application. PopaRide works mainly as a service for travelers between cities, but there are also trips to the United States. So if necessary, you can exchange maple syrup for burgers.
The application guarantees maximum safety for drivers and passengers. First, all accounts are activated through verification. You will not have access to the trips until you confirm your identity. Secondly, PopaRide cooperates with the police and you are under their protection while traveling.
Since you are likely to be a traveler, you will also gain an unforgettable and interesting experience with new people. And if you're planning a group trip, PopaRide is ready for you. The service provides a variant of working group trips.
The service has been in operation for a long time and has already established a base of regular drivers. Many of them have more than 5 reviews, which will allow you to choose the best option. You also leave a review after each trip, helping future travelers. Get a great Canadian experience with PopaRide.
Motar
Motar is a veteran in the field of ridesharing. The service has been active for over 11 years. But this does not prevent users from sometimes complaining about the shortcomings and bugs of the application.
Motar is focused on the European region. Basically, all trips are held in European countries and cities. Probably, this is the only large-scale and well-functioning application that covers the entire region.
Drivers put their route on the service, showing what cities and points they can go to. Passengers decide whether it suits them or not.
When searching for a driver, you specify the cost you are ready to pay for the trip, the date and number of required seats. Motar is looking for options that suit you. If they are not available, you can subscribe to the search results for this route. As soon as one of the future drivers creates such a trip, you will receive an alert.
As with BlaBlaCar, there is a separate point for women drivers. That is, if this point is crucial for you, the developers have taken this into account.
In general, Motar is a proven application that will help you to plan your trip. In addition, it is completely free for Android and iOS.
sRide
sRide is a popular application for carpooling and ridesharing. The application has won the love of users with its simplicity and convenience.
The obvious plus is that you can find or create your own trip in just a few clicks. In addition, you can go not only by car, but also on a motorcycle. You should just specify this item when searching.
Speaking of searching, the app selects the most suitable options for you. All options are safe and sRide guarantees it. Each user is verified. The tool uses SOS-function, travel tracking, user block and much more. These are all security and safety precautions.
The service allows you to save money for both drivers and passengers. Passengers pay less than in a taxi or for car rent, and the driver compensates for the cost of gasoline. Everybody is in advantage!
If there are problems, the support service works constantly. The team is in touch 24/7 and will help you to solve your questions promptly.
Zipcar
Cars are not always completely free. For example, there is a great and convenient Zipcar app. But you won't be able to see the entire car catalogue right away. To do this, you need to become a member of the Zipcar Club.
Carsharing is a convenient thing, but you must have a driver's license. According to the rules of the community, you must have an international driving license and be over 21 years old. If you are already a student, the rules are relaxed and the minimum age is reduced to 18 years.
The next steps are very simple: choose the right tariff (minimum $7 per month), your driver's license is checked – it takes no more than a day – and that's it, you become a member of the club! The card comes to the post office within 3-5 days and you can activate it immediately.
After activation you get access to vans, trailers, cars and bikes all over the world. Activate the transport you need and book on it. Rent includes fuel and parking, so you won't spend time and money on it.
The car reserve is available by the hour and for a few days. When searching, you can sort the car by availability, brand and model, as well as by rental price. Renewal if necessary is also available.
Find your car easily and get to it! You can block and unblock your Zipcar at any time you like, and if you have any questions, the Zipcar team is always available.
Innovations keep going: in a number of large cities, car blocking can be done via Bluetooth. The developers promise that soon they will expand the list of cities where the innovation will be available.
Just become a member of Zipcar and do not deny yourself the pleasure of travel! Whether for an hour or a day, machines are always available! Just download the app and go on the road.
Car2Go
Car2Go is the most popular car sharing application. If your route is so specific, or you want to go through a strictly defined place in one trip, it is worth using it.
Carsharing is renting a car. You can combine ridesharing and carshare by becoming a driver yourself, or you can share the cost of renting a car by several people. Comfortable, isn't it? You don't need to look for a specific driver, you can become one yourself!
Car2Go provides its users with the convenience of renting. Firstly, it is an incredibly low rate for the use of transport. You pay less than 50 cents a minute and the car is at your disposal!
Car2Go takes off your parking costs so you do not have to spend your money on parking spaces. The cost of fuel is also included in the rental already – that is, you won't have to fill up the rented car. Also, you are not asked for additional insurance.
The Car2Go application has a number of advantages over other carsharing services:
1. You are relieved of the hassle of long term rentals, etc. You just apply and everything is yours!
2. You can reserve the car you want. The 30 minute reservation is free of charge.
3. You can take the car directly from the street and you do not need to sit in the office for hours and wait for the car.
4. Returning the car to the starting point is not required. That is, you get to your destination and can leave the car if you no longer need it. This is also complete independence.
Above all, you pay only for the time you use the car. If the car is idle, there is no charge. Car2Go saves you money as much as possible, which is so important for budget travelers.
You have complete control over your journey. Now with Car2Go, your only problem will be "Where else do I want to go?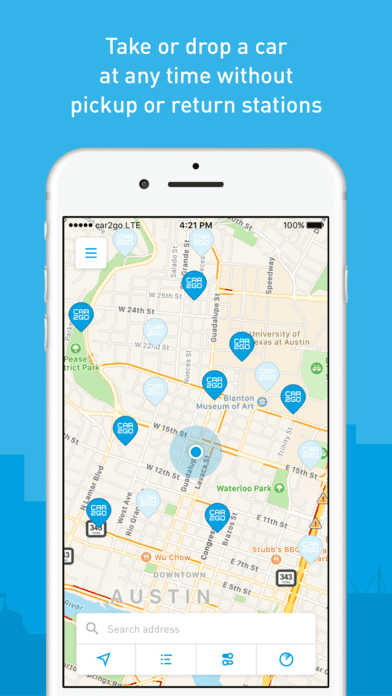 You may also like: 11 Best car locator apps for Android & iOS
Gett
Gett is one of the most famous taxi apps all around the world. It is funny, but many people don't actually know that it also allows you to share the rides with other passengers. An interesting fact about Gett is that it was invented in Israel. Nowadays you can find the Gett app in the biggest cities in the world – like London, Moscow, Tel Aviv, and others.
This is indeed is one of the cheapest ride-sharing apps. One of the reasons why this app is cheaper is because they don't charge the customers extra fees during the rush hours.
What is more, the working policy for drivers in Gett is slightly different than in other companies. Even though Gett is that cheap, it tends to pay its employees more than other taxi services.
Overall, Gett is really similar to Uber. You can share rides here, enter promo codes, choose the type of the car, and so on. You most likely already have this app on your gadget, if not, you won't regret getting it.
Poolmyride
Carpooling develops and becomes more extensive every day. For example, hundreds of people travel to large office centers every day and most often along the same route. What prevents them from uniting and driving together?
Nothing now. Simply install a Poolmyride on your smartphone and find your fellow travelers. So you save fuel and money.
Speaking of money. Poolmyride does not conduct transactions between drivers and passengers. That is, you pay for the trip in person and give the money directly to the driver. There are no risks associated with online payment and credit cards.
It is also possible to create a corporate pool. It is a system where you can find colleagues who travel with you to work in the same place. The probability that you will find such people nearby is more than 70%, and this is a huge number.
This will not only reduce your costs but will also introduce you to new people and improve your teamwork. Why teambuilding when there is a great idea of ridesharing.
Since the service guarantees your safety, you can share your trip details with friends and family at WhatsApp. So they will be calm for your journey.
The journeys you are looking for can be either around the city or long-distance. You only need to specify it in the search criteria of the car.
There is also the possibility of "regular trips". So you will be able to drive with the same driver every day or weekly, without booking a place for each trip.
Become a Poolmyride partner if you have a car and reduce fuel costs right now. Or, if you are a passenger, you will find a pleasant driver and get new acquaintances and impressions not only from traveling but also from ordinary trips to work!
Via – Affordable Ridesharing
Via is an application that generates and selects the right trips for you. You just enter the point you want to get to and the smart application will find you the nearest place to meet the driver. The Via team believes that their users should not have to get to the drivers themselves.
They also unite drivers: this way you can save fuel! And there will be fewer car wear and tear due to fewer trips. Via guarantees savings. This way, passengers can comfortably and quickly get where they want to go. And that's just slightly more expensive than public transport!
That is, instead of a stuffy subway wagon, you get a ride in a car, and you pay for it with a small difference. If you become a regular user of Via, you will be able to pay even without tax. Another advantage!
The application also supports communication with developers and users as much as possible. The support team is ready to solve any of your questions at any time. And communication between users is the main goal of ridesharing. Just order a trip over the phone, share it with your friends, and go on the road!
Bellhop
Bellhop is a free application for people who use ridesharing. It is absolutely accessible to everyone.
The application gives you access to the most popular and well-known services such as Uber, Bolt, Taxify, and others. So you can compare prices, distance, route, and time on the road. There will also be an opportunity to choose a better car and at your request. And all this in one application!
Bellhop simplifies your life and speeds up the search for the best options. It is absolutely free, and all prices for trips are set directly by drivers. The application works in many countries, but the most popular is in the United States.
So if you are planning a trip, do not rush to choose the most popular service ridesharing – Bellhop will help you get the most out of it. Maybe Uber will not be the most budget option for you.
Travel reservations are also provided. Travel can be not only by car but also on bicycles, bikes, scooters and other modes of transport. Everything depends on your criteria!
Try Bellhop next time you travel. On average, it allows you to save about 20% on transport so that you will have more free money for entertainment and recreation.
Zimride
Applications based on ridesharing have their own profiles, both for drivers and passengers. There are points in the profile that are worth noting for the details of your future trip. Zimride is one of those applications.
Music is an integral part of any journey. If the driver will listen to Ramstein, and you are a fan of Bach and Schubert – then the impression will be spoiled. That's why one of the key points in Zimride's profile is your musical preferences.
How the service works: passengers apply to the driver, they approve it and the passenger immediately receives information about the cost of travel through PayPal. Of course, the most common way for drivers to approve trips in a shorter period of time is to set up your profile and find the driver in just a few minutes.
You don't have to worry about the security of online payments: PayPal transfers are encrypted and the driver receives the money 24 hours after the trip. Find your passenger or driver easily with Zimride and go on the road with the benefit of yourself.
You can also check: 25 Free travel apps for Android & iOS
Curb
Considering the worldwide popularity, Curb might be not the first figure in the row, however, it doesn't change the fact that it has great popularity in the US. There are more 50000 taxis in the app – it means that you will definitely be able to find the shared ride.
Curbs work all across the US so it is no problem to get a car in this app at any corner of this country. Share and enjoy the rides in such cities as New York City, Boston, Philadelphia, Chicago, Los Angeles, and others.
There are three ways how you can get a taxi here – in the first case, you call for an immediate pickup and see if someone is out there who is willing to share the ride. You can also reserve a taxi in advance.
All the drivers in the Curb app taxi service have the professional driver license, along with that, they possess the good manners and kind attitude to customers (here you won't meet any barbarians, as it often happens in Bla Bla Car, for example).
A little bit info about how the Curb service works: Curb was acquired by Verifone Systems, a company that deals in providing technology for electronic payment transactions and value-added services. One of the best features on Curb is that it doesn't add the surge pricing.
And by the way: Curb is an excellent option who likes to ride in comfort: if you choose a comfort class taxi, you will get a car with the monitor on the backseat. A small feature, but adds the style!
You can travel without spending a lot of money. With ridesharing, you can save money on the road, stay overnight with new friends, make new acquaintances, and communicate. Even in your city, you can improve the environment by simply using one of the services.
Save on transport, protect the environment, communicate and make new acquaintances – all thanks to ridesharing. And you'll be able to use it with any of the apps on the top. Good luck traveling!