15 Best Running Apps for Android & iOS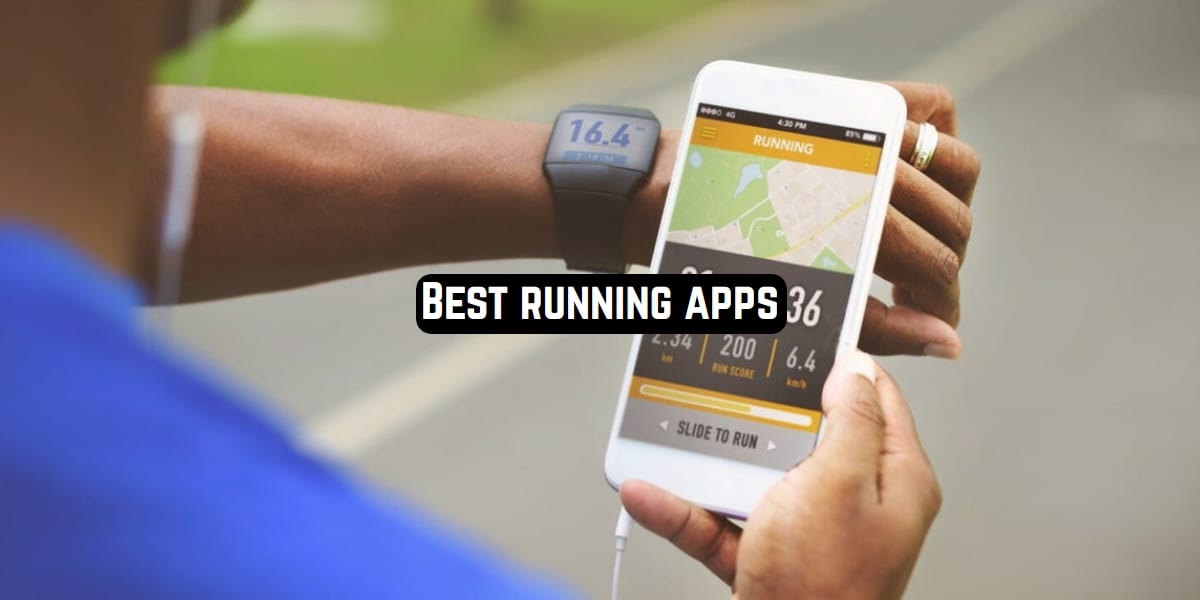 According to the results of many surveys, the majority of people are dissatisfied with their physical fitness. Someone wants to lose weight, someone wants to improve their physical performance, and someone just wants to tone their muscles. Of course, we can't always find time to go to the gym, especially for a personal yoga or fitness coach.
It would seem that the easiest solution is to start running. However, in the morning the bed becomes several times softer and the desire to run becomes less and less. Still, when something can motivate you, it becomes much easier to get up for a run.
We've gathered 15 applications for you to make your jogging activities more productive and cheer you up, and to help you track your progress.
C25K – 5K Running Trainer
Are you guys not starting to run just because you're scared to start? People who are far from sports think it's too late to start, afraid of pain after training or that they won't be able to properly implement the plan.
C25K promises you that it will make a real runner out of "potatoes lying on the couch"! A lot of success stories really prove that the service is working and efficient. In general, the idea of the application is that you are engaged in small training and interval running, gradually increasing the load.
C25K promises that by the end of the program you will be able to easily withstand a race of 3.1 miles not worse than the professionals!
3 times a week, you will have 30 minutes of running practice. In 8 weeks you will overcome your laziness and get closer to your dream of becoming more athletic. C25K is designed for beginners who are inexperienced in running.
The intuitive design will help you to understand the structure of the application, and synchronization with many fitness bracelets and Google Fit allows you to track progress. The main thing is to start by simply downloading the C25K app.
You can also check: 11 Free apps to make running fun (Android & iOS)
Pacer
While some of the running applications require synchronization with your smartwatch, fitness bracelet or pedometer bracelet, Pacer is not. With the help of the application, you can control the number of steps taken per day, physical activity, as well as to record in the Pacer data about your body weight index, weight, etc.
It works in the background, minimizing the use of your battery. On the main screen of the utility you always see the steps, you have passed – with a schedule of activity during the day. But there are a lot of pedometers, so how does Pacer feel about running?
Your running sessions are monitored by the GPS service. All your movements are monitored by mobile phone sensors, and the distance of the race is monitored by location tracking.
At the end of the training session, you will see your route, the length of the distance, the speed and intensity of the run, as well as the number of calories burned. Running is still incredibly motivating to see what route you have already overcome!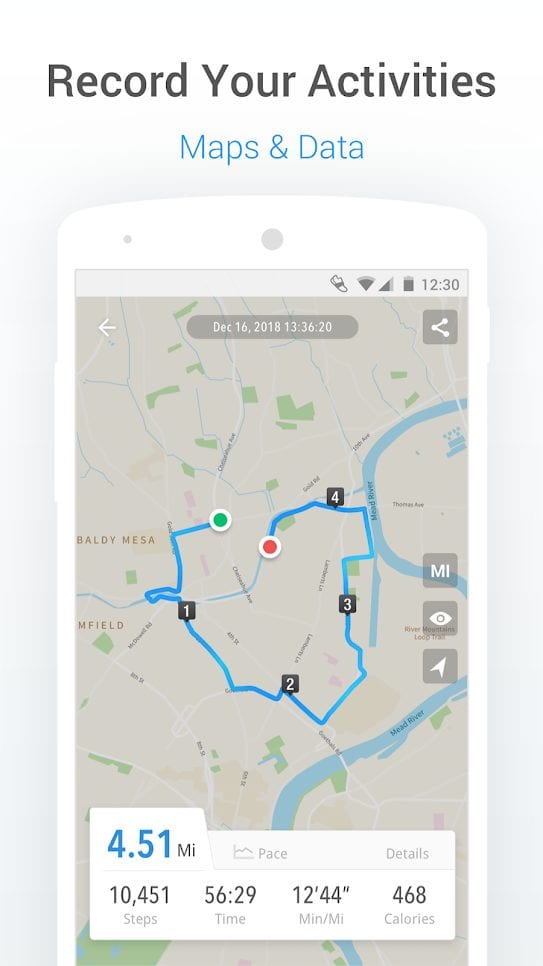 Footpath Route Planner
This is not exactly a run app, but you can turn it into a great run assistant by using the function of manual mapping. It means that you can just highlight the track that you want to run with your finger and the app will automatically measure that distance and, in addition, can record your exercise time specifically on that piece of road.
You might wonder now what is the main advantage here for running? Well, have you ever tried to run the unknown paths? Do you really feel comfortable by checking the map on the way before running? Or, staring at your phone before the actual exercise, trying to understand where you should start and where to finish?
Well, that won't happen when you have this app. Now you can highlight the way in advance and explore the path using the pictures from the satellite. The service then "snaps" the route to roads and trails, measures distance and elevation, and then provides turn-by-turn directions once you're out on your way.
What is more, you can also save your routes in this app. Being more precise, in the free version of Footpath Route Planner you can save up to 5 routes and with the premium paid version you can save up to an unlimited number of tracks. And, by the way, you can also share those routes with your friends via social media.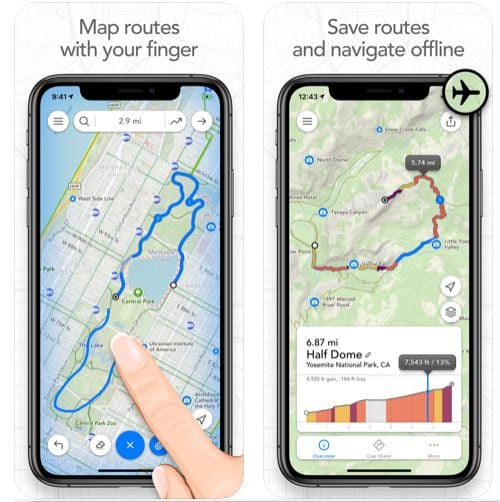 Strava
If you're not a beginner in sports and want more than just a banal step tracker, you should check out the Strava app. Not only will you be able to capture all your training, but you can also make new plans and conquer new heights.
Strava is widely used by professional cyclists and swimmers, in addition to joggers. Thanks to its sensors, the service tracks your movements along with their pace, as well as captures the route. You can analyze and compare your workouts.
Motivate you to train more will be monthly competitions and goals. By reaching them, you demonstrate your superiority over other users. You can also share routes and results with your friends.
If you set goals, Strava will develop a flexible training plan for you. With a Premium account, you'll even get a personal trainer as your smartphone!
Strava doesn't limit itself to running, so you can test yourself in other areas – don't be afraid.
Runcoach
Sometimes it's not enough to just run occasionally or do sports in your spare time. In today's world, we have a clear timetable for the day and responsibilities that we cannot in any way transfer.
Work, obligatory things, meetings, and trips to relatives – in the life of a modern person time is scheduled for nearly minutes. To keep an eye on the world of sports, install a Runcoach smartphone on your smartphone.
Not only will the app plan your workouts based on your physical features and abilities, but it will also schedule them. And one of the main advantages is that you can dynamically change your schedule. Missed a training session? Don't worry, make adjustments in Runcoach and everything will change according to your daily schedule.
The service is synchronized with the main services of tracking the activity and health of smartphones and fitness bracelets. You can set personal goals or reach those that are set automatically.
Receive awards for their achievement – this motivates you even more. If necessary, you can even contact a real trainer and get advice on training or injuries – all to support your running aspirations.
MapMyRun
Do you have any idea where you can run? The only thing that separates you from the great physical shape is the lack of space? Now you don't have to worry – MapMyRun will solve this problem for you. Discover new and unexpected routes and distances to help you achieve your goals.
With MapMyRun, you can keep track of your cardio training – not only running but also other activities (over 600!). Cycling, walking, running, swimming, and more – get full information about your activity.
Your MapMyRun GPS tracking is all you need to do is turn on the service when you start your workout. For greater accuracy, you can synchronize with tracking devices such as smartwatches, pedometers, and fitness bracelets.
MapMyRun also synchronizes with health, nutrition, and more to give you the most accurate view of your health. Look for new routes, run and share your favorite courses with your friends, and MapMyRun will be your true helper.
Nike Run Club
Nike is one of the world's best companies in the field of sports and sports equipment. They produce clothes specifically for running, yoga, fitness, and other activities, which is suitable for each individual person and takes into account the peculiarities of the class.
Not surprisingly, the application developed by the company is ideal for training, in particular running. Nike Run Club differs from other similar applications in the fact that you are not only guided by the data on your condition but also receive tremendous support.
Nike Run Club welcomes you at the start of your workout and compliments you on completing it. Throughout your workout, you'll be accompanied by a true Nike coach, who is a professional athlete and can give advice to others.
For achievements, you get points and awards, as well as raise your position in the ranking. A little competitive spirit with friends only motivates you more while jogging.
All your training sessions can be customized to suit your individual plan. By sticking to it, you can achieve the desired results or lose a certain number of kilograms in a strict time frame – all you have to do is listen to professional Nike Run Club coaches and move towards your goal.
Runtastic Fitness Running App
Another application designed to track your sports, running, and training in general. If you want to keep track of your training and keep track of how much energy you've spent on training, how much you've been running, or how long you've been active, try the Runtastic Fitness Running App.
The name is not randomly combined with the word "fantastic". All your jogs are monitored for statistics to help you or your coach develop a customized training system for your stamina.
When you feel like you're at the limit and ready to give up, Runtastic will turn on motivating music that will cheer you up and boost your mood. You can also turn on the audio track of a professional trainer – so you don't have to look at your smartwatch or your phone screen – the voice in your headphones will give you all the information you need.
Runtastic has already prepared plans on the norm of jogging, so you can set your own, individual goals. You can even team up with your friends and have a little competition among yourselves! Funny – but the app can even remind you when to buy a new pair of sneakers.
You may also like: 11 Free hiking apps for Android & iOS 2020
Runkeeper
Runkeeper is a convenient application for Android and iOS devices, which will be your true helper in achieving certain goals and objectives. You won't lose motivation during training sessions, and you'll also see how you're getting closer to the desired result.
Targets in the application can be set absolutely different – a monthly rate of running, daily or regularity of training, as well as their intensity.
Runkeeper most often monitors your activity using GPS – it can be running, cycling or hiking. The service generates virtual groups of like-minded people, within which you can become the best in the rating – it's a pleasure.
Runkeeper can be synchronized with your fitness bracelet and headphones. In the headphones, you can hear the accompaniment of the trainer, whose voice you choose.
And when you buy Premium, you also get the opportunity to develop an individual competition plan. Do you want to be the best in cross-fit and running in a short time? Now it's real with Runkeeper!
Endomondo
Endomondo is an application with incredible functionality in its paid version. The free version is also useful, but the information can be extracted much less than it should be.
Let's talk about the free version first: you can track your jogging, cycling, record all the data in the application, and get a complete and accurate log of your workouts. Time, distance, pace, and a number of calories burned – a complete analysis of each training session, regardless of its duration. If you set a personal record, you will be notified.
Endomondo has an audio coach that you can turn on for the duration of the activity. It will accompany you, remind you of your goal and inform you of your current condition.
You can also call it a social service: when you connect to your social networks or your iTunes or Google Play account, you can monitor your friends' progress and comment on their successes or failures.
The premium account also has more advanced statistics and the ability to customize your training sessions. No advertising, full monitoring of your heart rate and overall physical condition, HIIT training – perhaps the functionality really makes it worth your money.
RunGo – The Best Routes to Run
Running enthusiasts often tell us that they know the city well. In other words, these people easily navigate the area, know picturesque places, or cute streets. And all thanks to the fact that they are not limited to boring running on the same route.
RunGo- is a unique application that allows people to get to know their city a little better, jogging makes it more interesting.
Running is one of the best ways to explore new places. Do you want to keep up with your training on trips and travels? Install RunGo and find out where to go best! Active community users download their routes, allowing others to navigate.
Like many similar apps, RunGo syncs with Apple Watch, allowing you to leave your phone at home and run without it. Just watch the run statistics at home. Also, one of the proudest things about developers is that there's no advertising at all.
Of course, you have to pay a fee of $2 a month or $10 a year for all this functionality. There is also a Premium version of accounts, but users claim that they have enough functionality in a standard application. You can connect audio tracks, which will carry out your navigation. You can even feel yourself like a car – "Turn right after 100 meters"!
Couch to 5K®
An authentic running app that will help you to finally get up from your couch and start running. How many times have you promised yourself that "you will start from Monday"? Installing this app is a great reason to start running as often as you can!
First of all, the remarkable feature of Couch to 5K is that it has its own 3D animated character that will be your personal coach. This character is a girl and it is no AI (so you can't really talk to it or interfere) but it is a really cool idea for making the app stand out from the thousands of similar ones.
Apart from that, the app will be tracking your every workout, it will compile a schedule of workouts for you and after a while, you will get daily and weekly statistics.
You also need to choose the type of running that you do – is it jogging, or, maybe, sprinting? Or maybe you are training for a marathon? Anyway, you need to put this information into the app so it would be able to provide the correct analysis of your workout.
It's been said before, but it's no harm to mention one more time the cool interface design of this app. Everything looks intricate and captivating, but, at the same time, the app is easy to use. By the way, during the workouts, you can choose whether you want your virtual "coach" to make comments, or mute her.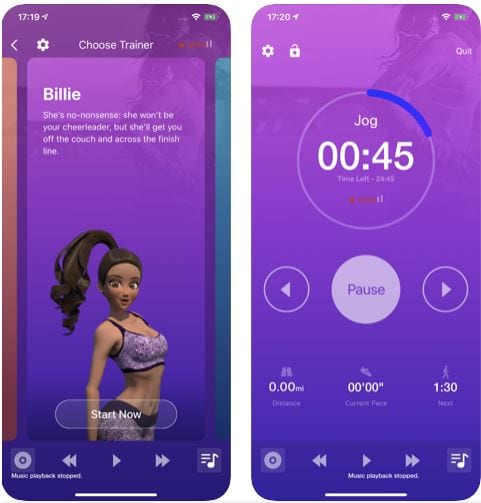 Weav Run: #1 Running Music
Are you inspired by music? Remember the incredible sensations when you fully adjust to the beat of the music, run to the rhythm of your favorite track, and the acceleration of the pace only motivates you.
Sometimes you can even get goosebumps on your skin. Weav Run chooses exactly that kind of music for your workouts. Even the toughest, longest run will be a pleasure if you recharge your body with beautiful music.
When you get started, Weav Run will ask you if you know your pace and speed and if you should keep track of it. When tracking, you can choose music at the same pace – to automatically stick to it or run at your own speed – and then the app will adjust the rhythm of the music you play.
Weav Run synchronizes your favorite tracks with your steps. BPM is the same as every time you touch the ground. Weav Run connects to your other running apps, such as Strava, to keep track of the pace and distance. The main idea of the service is that a higher BPM encourages you to move faster to keep up with the pace.
Focusing on the melody takes the thought of fatigue out of the question and you focus exclusively on training. Your route and distance will be recorded if you are running. It's also possible to use it in yoga, gymnastics, or other sports – a bit of music from 100 to 240 BPM allows Weav Run to fully adjust to you.
iSmoothRun
It's quite an interesting running app for iOS. Usually, the narrow-specific apps available only for one type of the OS can't brag for having the top quality, but iSmoothRun is rather an exception from this list. It includes everything that a runner might need.
The app is extremely simple but at the same time, it has every necessary section – the display with the time of running, distance measurement, slopes, intensity, rhythm, heart rate indicator, burnt calories counter, the section with maps, and the possibility to track your running paths, and the separate section to create new running workouts for various goals.
Did you actually know there are different types of running? Everything eventually depends on your goals – if you want to become a sprinter, you should practice the fast running, for the marathon, you should train the endurance, for calories burn you need the mid-tempo running and for a simple warm-up it is enough to make a slow-tempo run couple time a week.
After your workout is done, the app will compile the graph and will show you the statistics of the tempo of all the last runnings you made.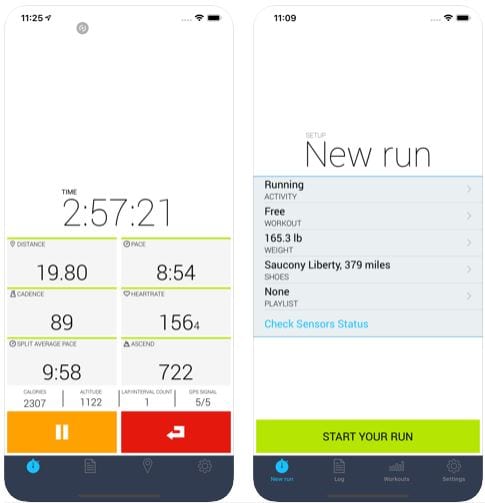 You can also check: 13 Best Health Coach Apps for Android & iOS
Weight Loss Running
Do you want more than just a training track? If your main goal is to lose weight or to have complete control over your fitness, we have developed the Weight Loss Running app for you. It's not just a tracker for your jogging, it's an arsenal of weight loss features.
You'll be able to lose weight without any difficulty or damage to your health, as well as instill healthy habits and generally include a love of a healthy lifestyle. Weight Loss Running includes running plans that are designed for weight loss.
So all you have to do is just stick to it. You'll also find a personalized fitness diet that's adequate and comfortable for you to eat during the day. During training, you can be encouraged by a virtual mentor – just choose which form you want to hear it in. This can be a gentle treatment or a tough one.
Music for running is also included in the functionality. Bright and rhythmic tracks will keep you motivated to achieve your goal. In general, this is a full-featured application for those who want to lose a few extra pounds – Weight Loss Running will fully control your weight loss by training and diet.
You don't have to have a desire to lose weight to start running. Your jogging will be a pleasant habit, fun and just a charge of good spirits for you. Nowadays, we often work in inactive areas, offices, shopping malls.
You may not always have time and money for permanent visits to fitness and gyms. Running is the easiest and most pleasant way to keep yourself in shape and have a little activity during the day. Develop a training plan that suits you, choose your music and tie sneakers – no need to be afraid to start.