How to save iPhone voicemails and forward them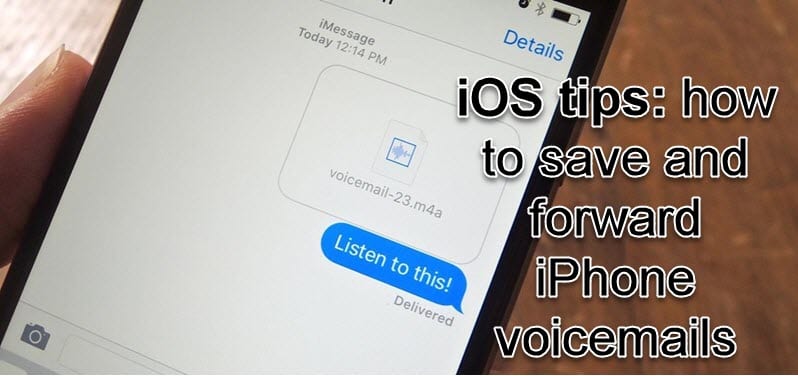 Do you often get voicemails? Surely, yes! And do you know that it is already possible to save and share voicemails on you Apple's phone? It is a new option on iPhones that is not widely known yet. Many iPhone users are not aware it exists. But it does…
We all receive voicemails from our friends, family members, co-workers. It becomes a usual thing. A voicemail can contain an important information that you wish to share with somebody else… Or it can be warm words from a beloved person which you'd like to save to listen to it again and again… So, nowadays iPhone users can save, share and forward their voicemails! This feature is available for the last versions of iOS (iOS 9 or newer).
This means you can easily share an important voicemail message with a colleague or friend, or save a specific voicemail to your phone to store it locally for later access and listening.
Saving and sharing voicemails on iPhone are remarkably simple.  In the article, we'll give you some tips how to save iPhone voicemails and forward them.
Save your Voicemail
It is possible to save any voicemail on your phone locally. You can store it in the Voice Memos app or in the Notes app. The saved voice memo/note can be listened to anytime you wish. There are some rules for saving voicemails.
Steps for saving:
From the Phone app you should choose "Voicemail" button – click on it.
Then select the Voicemail message that you'd like to save and tap on the following button  .
Choose"Notes" to keep the voicemail into a note/Choose "Voice Memos" to save the voicemail to the Voice Memos
So, the saved voicemail will be stored as m4a file and can be easily shared then.
  
Share your Voicemail
Sharing iPhone voicemails is as simple as saving it. It is a matter of tapping just a few buttons! Here they are.
Steps for sharing:
From the Phone app, you should choose "Voicemail" button and click on it.
Then you should select the voicemail message you wish to share with another person or forward to someone else and tap on the share button  .
Choose Messages, Mail, or Airdrop.
Write and send your message to the attached Voicemail. You can also share the Voicemail by tapping an AirDrop contact.
So, your shared voicemail will be delivered fast through messages or email. It will be received as  m4a file with the name "voicemail-#.m4a". This is the same type of m4a audio file that many audio players can recognise, including iTunes, which makes the shared voicemails universally available to just about any recipient, whether they're on iPhone, iPad, Android, Mac OS X, Windows, or Blackberry.
Listening to the forwarded voicemail is quite simple too. You should just tap on the "voicemail.m4a" file. Then play the voicemail as usual through the built-in audio player app.
Up until now, there wasn't much of a simple way to share or save voicemails from iPhone without recording them separately with another microphone, which is obviously inconvenient, or by using a third-party application, which was often paid and cumbersome to use. Now you know how to save and forward iPhone voicemails with ease!