How to search for music, browse and buy it on Google Play
Music is something more than just a sound. When I listen to music( especially, using headphones for better listening to every beat), I forget about any problems, just relax and enjoy sophisticated, romantic or lively tales, telling by a singer.
I think, that every person in the world is talented, but not everyone can find himself. But sometimes people find their life vocation, for example, famous songwriters and singers like Beyonce, Drake, Elton John or Eminem. They  found and developed their talent,created a specific style and formed a unique content and now the have become the most popular and well-paid singers all over the world.
Unfortunately, we are not able to go to every concert or a new album release because of the lack of money or pretty busyness.But I repeat again that now it is all about technologies and the internet. Due to services, we can listen to every new album of every singer or a music group. One of this services is

Inside this post you will find the information about:
How to search for music
If you are still with us and read our previous posts about abilities of Google Play, you will be able to search and browse music without our tips. But for those who  join us for the first time, we repeat all steps with a great pleasure.
Step 1:
Find a Google Play icon on your home screen, tap it, make sure that you if you are authorized you will be direct to the main interface or if you do not have a Google profile, create it with Google +.
Step 2:
Tap on Entertainment  and choose  Music in an orange bubble.
Step 3:
Tap on the white search bar. It is at the top of the screen
Step 4:
Enter a name of a preferable song or a singer if you exactly know who and what are you searching for.
Step 5:
There will be shown all results or closely related to your request.

There are more than million of songs of different singers and  genres and styles. So it is just impossible to not to find out a song which will stick in your mind and won't be able to get it out of your head.
If you have not already known what you are looking for, read next important information!
How to browse for music on Google Play
To browse lovely music repeat previous steps we have taken to search for music
Step 1:
Tap on Entertainment in the green bar near Apps  Games
Step 2:
Tap on Music in an orange bubble in a carousel below Entertainment.
Step 3:
Swipe left on the carousel to browse through the different music categories. In Google play, you are given the choice of choosing different categories from Top Songs, Top Albums, Genres to New Releases, and Pre-Orders.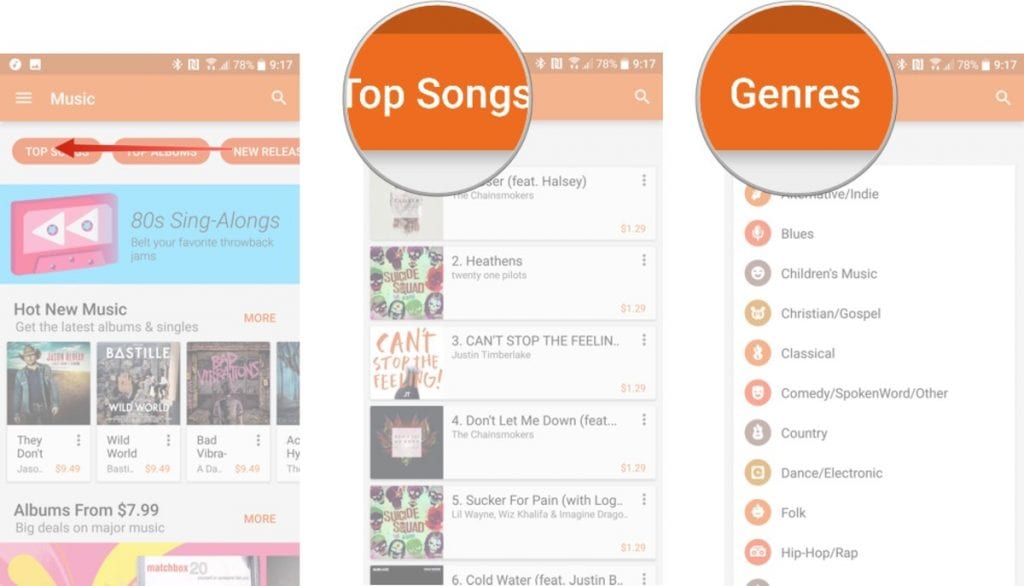 Step 4:
If you are looking for something more specific, tap on Genres and choose the one you interested in, But you should notice that some smaller genres, for example, Soundtracks, are included in the Top Albums , New Releases, and Top Songs charts. Speaking about large genres such as Rock or Pop , they consist of subgenres, some collections by singers, year of release or discount albums in addition to the genre's top charts.
Step 5:
Tapping on Top Songs, New Releases or Top Albums, you will get the latest,  most popular songs which are on the top of the Chart music on Google Play.
As for Pre-Order section, it includes future releases. You can read more about the date, music group or its singer there and make a pre-order of this album in advance so that to buy it as soon as it will go on sale. To my mind, it is a very useful option, because you don't have to observe every time to buy it immediately. Google play will do it instead of you.
How to buy music on Google Play
There are some features which you have to know before downloading an album or a song you liked. Noticed that purchased music in Google play immediately transport to your Google Play music library and are encrypted by the app. When you are buying a song and wanting to listen to it , using another music, there is only one way to do it. At first, you will have to download all music on a computer from the Google Play Music website or Music Manager with your Google account.
Step 1:
Tap on the preferable album or a song. There you will see its price.

Step 2:
Tap to the button Buy and wait for the payment window. There you can select another payment method.
Step 3:
Select convenient method.
Step 4:
Tap Buy
 

Step 5:
Make sure that you are authorized and confirm your purchase with a password or fingerprint if it is available.
Step 6:
Wait for the window "Payment successful "
After all, your purchases immediately go to the Google Play Music library and are able to listen.
Moreover, we recommend you to read more about a unique service – Google Play Music Access.
It's a highly competitive space, but Google has a compelling proposition; the service is integrated with the music section of the Google Play store, as well as your existing digital record collection. Add in some compelling discovery features and suddenly All Access is a difficult platform to ignore.