Those who are concerned about the privacy of your correspondence, rejoice! Meet ONE OF THE BEST ANONYMOUS MESSENGERS: Session – Private Messenger. It does not need to know your phone number or email. Thus, you will be ABSOLUTELY ANONYMOUS if you wish.
Session uses End-to-End Encryption, and it is based on an open-source blockchain without central nodes (information for professionals).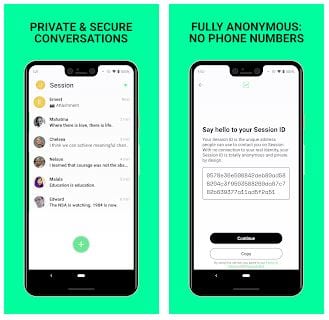 Good news! Session messenger is free. When you tap the icon, Session unusually greets you: the app immediately tells you what it is for and how it works. Just in case, if you do not know. This "summary" looks like a dialogue: a question – an answer. Intuitive and convenient way!
Right there, you can see two green buttons: "Create Session ID" and "Continue session".
When you first log in, you have to create your ID first. It will be done automatically and randomly: you DO NOT NEED TO PROVIDE any information about yourself. Therefore, Session is entirely anonymous. Next, enter the name that your recipients will see: your display name.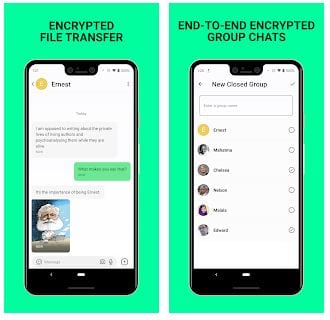 To proceed, you have to choose between the two modes of message notifications: fast and slow. The difference is that in fast mode notifications will be reliable. The app personally recommends the first one for more safety.
You can finish your security protection to the full by saving your recovery phrase. Their security level is more than impressive for a messenger, is not it?
Now you can start messaging! Session app offers three options for that:
1. to add a new contact (ID number) or share your own ID
2. to join an already existing open group
3. to join the closed group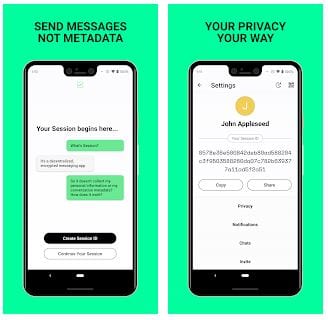 There is an exciting feature of this app: to join a group or start a dialog you can just scan a QR code of this specific group or recipient, using built-in Session camera! If you wish, there is no more need to copy and share ID numbers.
To sum up, Session Private Messenger is an ideal choice for those who prefer complete privacy of their correspondence. Secret agents of special services approve Session, and we definitely recommend it!