Shoutem Black Friday & Cyber Monday Sale 2016
Hey, guys! About a few weeks ago we were talking about 25 Amazing Tools to Create a Mobile App For Free . One of these services has stuck in my mind and I can't get it out of my head. Today we will talk about Shoutem, its features and special offers for Black Friday and Cyber Monday.
Few words about Shoutem

A colorful and attention grabbing service, which can help your app come to life. As for many users, I appreciate a simplicity of working process. Shoutem is definitely one of the minority of services that don't require any coding , designing skills and that kind of things.
There are several types of apps you can choose from: Loyalty app – for retaining customers and increasing your revenue. Event app – for those who want everybody will get know about the best event ever. Commerce app – by the way, mobile stores are really profitable start-ups.  Business app – show your company to everyone, get people know about its description,location, contacts and so on. Community app – we believe you will become a new Mark Tsukerberg and create a social network, standing out among the others. And Local app – a using of maps, locations and some information of your town are the best choice for a local app creation. A huge library of layouts and your imagination will help you to design your first app, create an outstanding content, but Shoutem, in turn, will take care of advertising and technical side of creation.


After designing and CMS working, think about your the future of your app. Module Monetization can help you to turn the app into a real business and money maker. Then you should check your app before publishing and correct some details which are not perfect. Remember , you can do it whenever and wherever you want – your app is a real-time art project. You can do it, using an Analytics – the way of monitoring the progress, popularity and so on. After all, Publish it and observe the Analytics all the time.
Another benefit of Shoutem is that it has a unique system for Resellers (Agencies) – people who create paid applications for other people.
You will be able to provide customers with your own branded dashboard, using your own domain. As Shoutem team says: " It's 100% customizable for you to make your own" .
Your clients also will be able to manage their apps, moderate content, update information, send push notifications and a lot more. Agencies just need to give clients secure accounts.
Basic pricing :
Standart $19,90/ month – HTML5 App, No iOS acct. required
Advanced $49,90/ month – iPhone App, Android App, HTML5 App, Push notifications
Unlimited $119,90/ month  – iPad App, iPhone App, Android App, HTML5 App, Push notifications, API access / data sync
Black Friday and Cyber Monday Sale for Single Apps
You definitely have to know about famous Black Friday sales. Traditionally, Black Friday is the day following Thanksgiving Day in the United States .It has been regarded as the beginning of the Christmas shopping season in the U.S. So such tool for making apps as Shoutem also make a big discount on its range. Hurry up, guys, discounts are already available!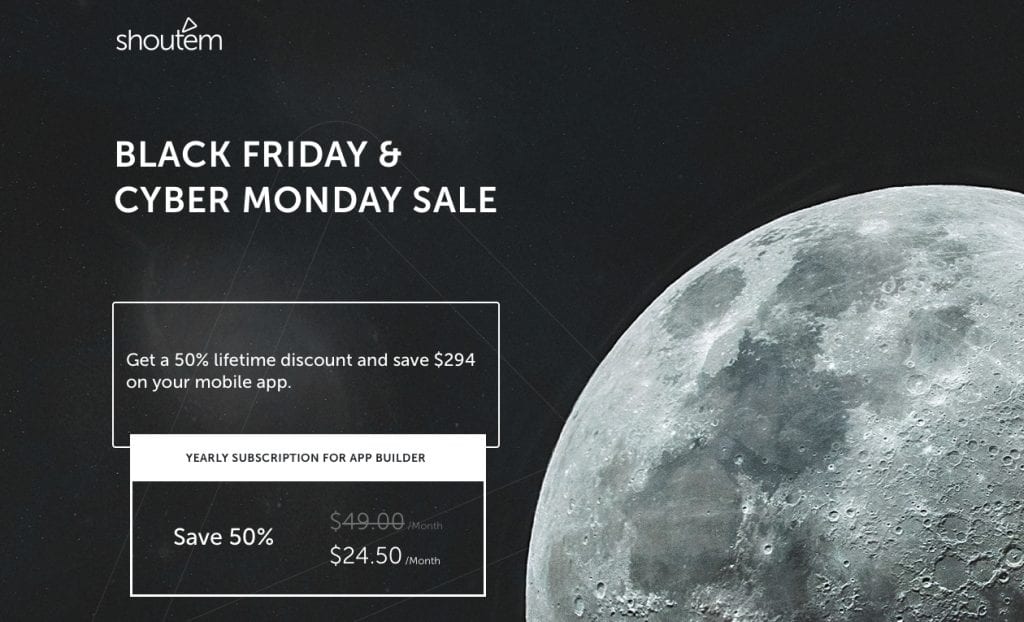 If you are a newcomer in the mobile universe, it is a good chance for you to create your first secure account and begin to build an app. And if you are an ambassador, you exactly are sure that Shoutem is proven by a long period of time.This fact that you will get a 50 % lifetime discount and save $294 on your first art or business project, has to persuade you to create more and more.
WHAT WILL YOU GET FOR $245 PER YEAR   

An ability to create an iPhone App
An ability to create an Android App
By the way, independently, what plan you chose , you always have an access to:
Unlimited support, maintenance, free updates and upgrades

Integrations: WordPress, Drupal, Ning, Facebook, Twitter

 

Content types: news, videos, event listings, photos, music, people, wines, shop items, deals…

 Social networking: fan wall, user profiles, status and photo updates, comments, likes

 Customization: design, colors, icons, backgrounds, home layouts

 CMS backend: update app content at any time in easy to use dashboard

 Location based: places, directions, contact details, categorization, search, list and map view

 Tools: advertising, analytics, push notifications, automated publishing to iOS and Google Play
Black Friday and Cyber Monday Sale for Resellers
Resellers also will get their Christmas presents: Shoutem gets 50% lifetime discount on a yearly plan ($145 instead of $290/month) and 30% lifetime discount on a monthly plan ($203 instead of $290/month). Just imagine, you will be able to save up to $1740 on Shoutem's white-label reseller program. We sure, you will find better use for $1740.
WHAT WILL YOU GET FOR  $1740.00 PER YEAR or $203 PER MONTH

An access to own branded CMS dashboard
Domain
Dashboard access to your clients
Premium Support like : to priority email and phone support, you'll receive initial app-creation training, plus a dedicated support person.