9 Best Sleep Apps for Apple Watch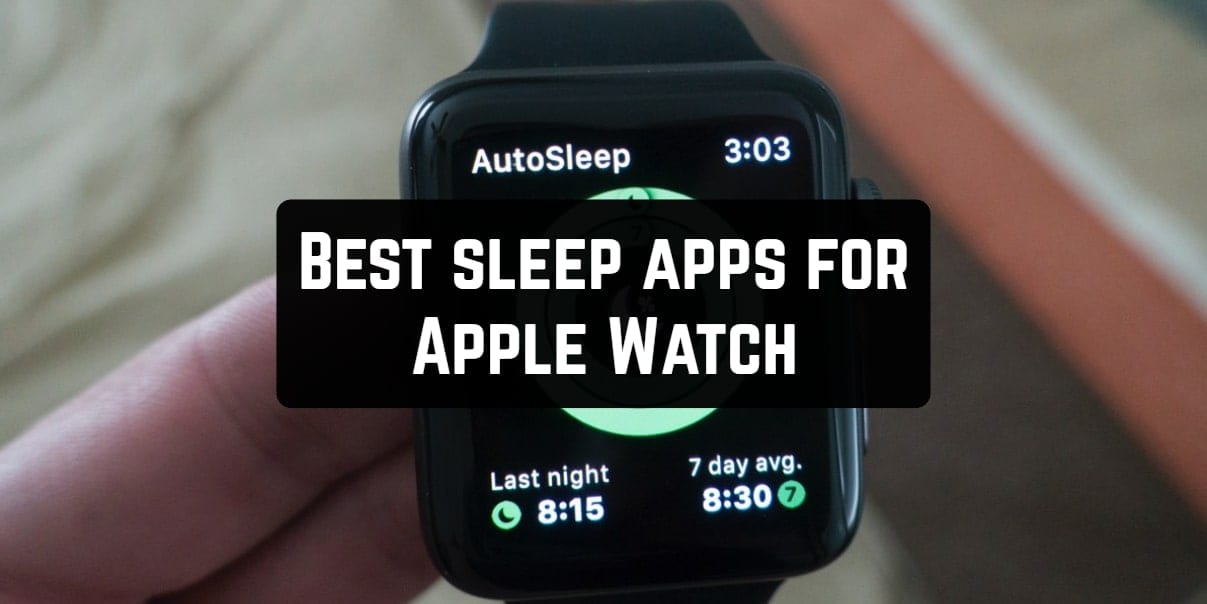 According to statistics, almost a third of his life a person spends in a dream. Unfortunately, not all this process is favorable and productive. Not everyone can fall asleep quickly and relax.
A large number of people suffer from insomnia and severe awakening. This can lead to chronic fatigue or diseases of the nervous system. Besides, poor sleep makes a person irritable and negatively affects his activities.
You can also check: 15 Apps to help you sleep well (Android & iOS)
To solve these problems help modern technology. These include applications that improve sleep quality. This list contains the best sleep trackers for Apple Watch. Thus, you can improve your well-being.
AutoSleep Tracker
AutoSleep Tracker is one of the most popular applications for the Apple Watch, sleep tracking. The application is able to determine the time of falling asleep and awakening.
It can provide advanced data based on the heart rate sensor and accelerometer. All statistics can be viewed in the watch itself, which is a good advantage. After a certain period of time, you can get complete data on trends and changes in sleep quality.
The AutoSleep Tracker application receives information about the quality of sleep. The app forces the Apple Watch to send sound waves that are indistinguishable to the human ear. They are reflected in the user's body.
It formes your silhouette, information about movements, breathing speed, and heart rate. Neural networks interpret the data and form a detailed summary of the quality of sleep.
The application does not use sensors other than the microphone and speakers. Thus, the user does not need to wear the watch on the arm. Simply put it on the bedside table.
Advantages of the application AutoSleep Tracker:
Automatic sleep tracking
Easy to use
Offers comprehensive sleep programs
Besides, the application has a built-in alarm clock that will wake you up at the best time for the body. It also forms individualized recommendations that contribute to a better rash. The application AutoSleep Tracker may recommend replacing the pillow or mattress.
You may also like: 13 Best Health Coach Apps for Android & iOS
Pillow Automatic Sleep Tracker
The application Pillow Automatic Sleep Tracker is one of the most popular applications with such functionality. The main interface of the application includes a start and stop button.
Also here you will find a small chart showing the quality of sleep. When connected to a smartphone, statistics is synchronized with the Apple Health app. For the application to work, you need to put on your watch while you sleep. The application automatically recognizes your dream and analyzes the quality.
You can view reports for the last night or the last days. All data is stored in the calendar. All these functions work in automatic mode. Besides, you can use manual control. To do this, before going to bed, you need to click "start". When you wake up, hit stop.
The main features of the application Pillow Automatic Sleep Tracker:
complete statistics on the history of your sleep sessions
history for the last night, week, month and year
record sounds during sleep
nap mode
change the alarm clock to your preferences
the ability to listen to soothing music before bedtime
personal advice
export of the received statistics and information
Besides, the application Pillow Automatic Sleep Tracker will not only assess the quality of sleep. It also helps to compare the pulse rate during sleep and during activity. It is able to automatically determine the time of falling asleep or waking up.
The data is displayed in easily readable graphs and is highly accurate. The obtained data is stored and systematized in a very convenient application. The application Pillow Automatic Sleep Tracker is absolutely free.
Sleep++
Sleep++ is a smart application that helps you track your sleep quality. A smart alarm clock built into the app will wake you up during the easiest sleep. The app will record sounds all night. So you can learn about talking in a dream or snoring. You can export or delete these sound recordings.
Also in the application, you will find various sound recordings to help you fall asleep. As an alarm, you can choose any music track from iTunes. Get useful tips to help you improve your sleep.
The application Sleep++ has in its functionality an advanced and unique algorithm. This will allow you to learn about heart rate and sleep phases. For example, the time when there was a deep or light sleep. You can also view average statistics for the last days. Compare your sleep rates with standard rates.
The application analyzes the cycles of your sleep. Based on this data, it will offer you the best time to go to bed. When this time is approaching, the application will inform you and the need to sleep.
Get individual recommendations. Learn the latest sleep data and other interesting information. Synchronize your saved data with your other devices. You can also share this data with other applications.
There are several modes available in the application. Choose between a short, restorative, or full-cycle sleep. You can also enter your mood data after waking up. Add notes with your personal information to all sleep sessions. The app Sleep++ will help you determine how they affect your state and quality of sleep.
Sleepzy
Sleepzy is a unique Apple Watch app that helps you track sleep quality. The multifunctional program uses advanced methods that determine how long you slept.
Put on your watch at night and track the process. In the morning you will receive a report for the last night.
You can also use the functions of this application without putting on the watch. To do this, press the "start" button before going to bed and "start" when you wake up. But, you will get the most concise information about your dream.
The app automatically tracks sleep duration, heart rate, and sleep stages. It will help you to know when you had a light sleep and when you slept very well.
With the application Sleepzy you can find out:
what time do you usually fall asleep
what time do you usually wake up
a period of restlessness and rest throughout the night
After prolonged use of the application, you will receive statistics about your sleep. Also, the application will save data on the movements and sounds that you made during sleep.
If you like to sleep during the day, then you do not have to turn on the sleep tracker. It automatically recognizes the moment when you start to fall asleep. After that, you will also receive detailed information about your daytime sleep.
Add notes about your mood and well-being after waking up. View the history of your sleep phases in recent days, weeks, and months. The free app Sleepzy will help you keep track of how productive you are sleeping.
You may also like: 33 Best Health Apps for Android & iOS
Sleep Watch by Bodymatter
The Sleep Watch by Bodymatter application is intended for those users who cannot sleep for a long time or do not feel rested in the morning. This program is perfectly executed both functionally and in terms of usability.
So, the main task of any such "sleep tracker" is to determine the duration and phases of sleep. It has the identification of problems and making recommendations for the user.
Naturally, for this, you need to enter the relevant information in the application. Yet, it is much easier to integrate data with the Health app on iOS. The application Sleep Watch by Bodymatter analyzes your sleep based on all available data (habits, stress, etc.). Then, it wakes you at the best time with a slight vibration or a loud signal.
There are many options to choose from. It takes into account the phases of the moon, recommends more or less physical activity, and so on. All information collected by the application is stored in an organized magazine. You can sort it by the desired criterion and identify the causes of insomnia or lack of sleep.
Besides, there is a diary for recording dreams and morning mood. It allows you to link your emotional state with the effectiveness of sleep. View the collected statistics.
Find out what factors positively or negatively affect your sleep. The application Sleep Watch by Bodymatter has a nice interface and intuitive functionality. Download this free app and improve your health.
Sleep Cycle alarm clock
With the application Sleep Cycle alarm clock, you can improve the quality of your sleep. Track duration, phase, and effectiveness. View statistics for the past week, month, or year. With the built-in smart alarm, your awakening will be more pleasant.
See how your habits affect your sleep quality. State whether you smoke, play sports, or consume a large amount of coffee. You can also synchronize this application with the Health program. Thus, you get general statistics about your well-being.
To use the application you need to wear a watch on your hand. In this case, the indicators will be accurate and true. A smart alarm clock will pick the best wake-up time for you and wake up at a particular moment.
For this, it focuses on the phases and cycles of your sleep. The application also takes into account the phases of the moon and its effect on your sleep. In the period of light sleep, you will hear the alarm and wake up with great well-being and mood.
For you, the application Sleep Cycle alarm clock has different alarm signals. Choose the most pleasant or add your own. You can also turn on automatic daily replay. Each time you wake up, the application recommends marking your mood. This will tell you what events have affected your sleep and whether you slept well.
All data is stored in the application history. You can export them to any other device for more detailed study. The application Sleep Cycle alarm clock has a nice design and useful functionality. It is absolutely free.
Beddit
If you want to use sleep cycles to your advantage, the Beddit application will find the optimal time when to go to bed. This will help you feel well-rested.
The program evaluates your sleep cycles. You can also choose the time at which you want to wake up. The app will show you the time when you should go to bed.
The application is quite easy to use. Open it before going to bed, and choose the time when you need to get up. You can also post notes here.
This program helps to analyze the phases of sleep and set up a smart alarm clock. It turns on in the right phase, charging you with the energy of pleasant music and the sounds of nature. The watch must be worn on the hand.
The longer you use the application, the more accurate the forecast will be. The application allows you to take into account individual habits and characteristics. For example, how much you train, drink coffee and alcohol, as well as how critical the level of stress is.
The application Beddit will track your movement using an accelerometer. It will always wake you up during the light phase of sleep, and not deep. In the morning you can see a complete sleep analysis.
Attached more than 59 different sounds. You can choose several. There is also a playlist with sounds. It is designed specifically to help achieve a certain stage of sleep faster. There are also sounds to help you sleep better. You will also be able to check whether you slept well and figure out how to improve your sleep.
Sleep Tracker: by Sleepmatic
A Smart Alarm Clock Sleep Tracker: by Sleepmatic tracks sleep cycles and wake you up at the most appropriate time. It helps to fall asleep with the help of pleasant melodies and sounds of nature.
You can create your own soundtrack of any duration and volume. Select sounds from the built-in library. If the standard set of sounds is not enough, then you can download others. The application also provides the ability to install extra sleep tracking features.
While we sleep, we have alternating fast and deep sleep phases. Depending on the phase during which we wake up, our well-being depends. The application analyzes the dream, taking into account the surrounding vibrations and sounds. It chooses the right time to wake up.
A smart alarm clock can also hear snoring and record night conversations. This is a very useful thing for those who often change time zones and experience sleep disorders.
This application knows exactly how much time you need to sleep. The program removes and analyzes the metrics of your sleep. It identifies qualitative and quantitative deficiencies. It then gives you helpful recommendations for improving sleep quality.
The application Sleep Tracker: by Sleepmatic measures the quality and duration of sleep. It allows you to keep a diary and even helps determine which phases of the moon are best suited for rest.
To work correctly, the watch must be worn. At night, the device's sensors will record movement. This will help determine how often you moved in your sleep and how deep your sleep was.
Check also: Sleep Better with Runtastic app review
NapBot
Apple Watch is a device that was created not only for fun but it can be an extremely beneficial assistant for your life and health. It can seriously track all your health indicators on the daily basis along with helping you with the statistics. NapBot is another sleep tracking app that will assist you on the way of improving your bedtime.
The market for sleep improvement apps is quite flooded, and it is difficult for a separate app to stand out from the crowd. However, NapBot is a high-quality sleep tracker that is worth your while.
If you've been noticing that the quality of your sleep obtained a tendency to get worse, that you are disturbed at night by noisy neighbors or outdoor sounds, then this app will help you figure out for sure if it is true or not.
Just launch the app before you go to sleep and it will make a record. After several records, NapBot will compile the sleep statistics where you will be able to see how qualitative your sleep is.
In addition, it will also give you a chance to follow your sleep patterns and habits, so maybe you'll be able to explore your nature more and make some physical improvements to your bedtime.
The app integrates well with Apple Health, with which it not only shares data but pulls data: its heart rate analysis comes from the Health app rather than trying to reinvent the wheel.