Hey, what's up, adventurers! This post will be as intriguing for you as skydiving for the first time. Let me explain.
I don't know a man who has never traveled or hasn't wanted to travel. It doesn't matter, whether traveling abroad or around your own country. There are thousands of unexplored distant corners of the world, where no man has never trod. Also, it doesn't matter, whether you are an intrepid traveler, searching  for adventures and considering his life as a challenge, or just a tourist, relaxing in resorts and watching popular places inside a city. 
Today not anyone has an eye for ground, can search different attractions , racy places, and avoids tourists traps. For those who appreciates travelling in various forms, we have prepared a collection of best ever travel apps for iPhone and iPad, which allows you travelling with a pleasure.
And take care about how you will talk with a foreign people in a country you are going to visit. You can check our previous post about 15 free dictionary apps for iPhone and iPad or 12 free interactive whiteboards for iPad to draw something you want to say, but forget a word.
I decided to select travel apps by different categories for comfortable reading.
Hotels, Flights, Places
1. TripAdvisor Hotels Flights Restaurants
This app is my the biggest love! The first time I used it was my trip to Euro tour. And it has never let me down. Hotels are one of the most important parts of a trip. Everything should be okay : clean rooms, a high room service level, what is included in a price and what is not, is wifi in every room free or there is no wifi in a hotel in general. In this case, travelling reviews from other tourists will help you with making a right choice. I am not kidding you, it is a worldwide popular app, which is used by famous travellers all around the world. There are thousands of reviews,including Travelers' Choice award winners, so you can watch photos of hotels, rooms, and their atmosphere and make a decision without any prejudice.
About Flights :
You dictate your flying planned date and it shows you all variants, including lowcosters ( an ability to fly on a plane for less money in some air companies than ordinary), and you just need to choose the best one. You did it many times, I think there will be no problem with booking.
About restaurants and places :
The app uses your location to find intriguing and curious places around you. There are also a lot of photographs and reviews from real users. Discover cool things to do in any destination or explore restaurants and reserve tables online.
Interesting! You can book a hotel, reserve tables, and buy air tickets online and without adding a fee.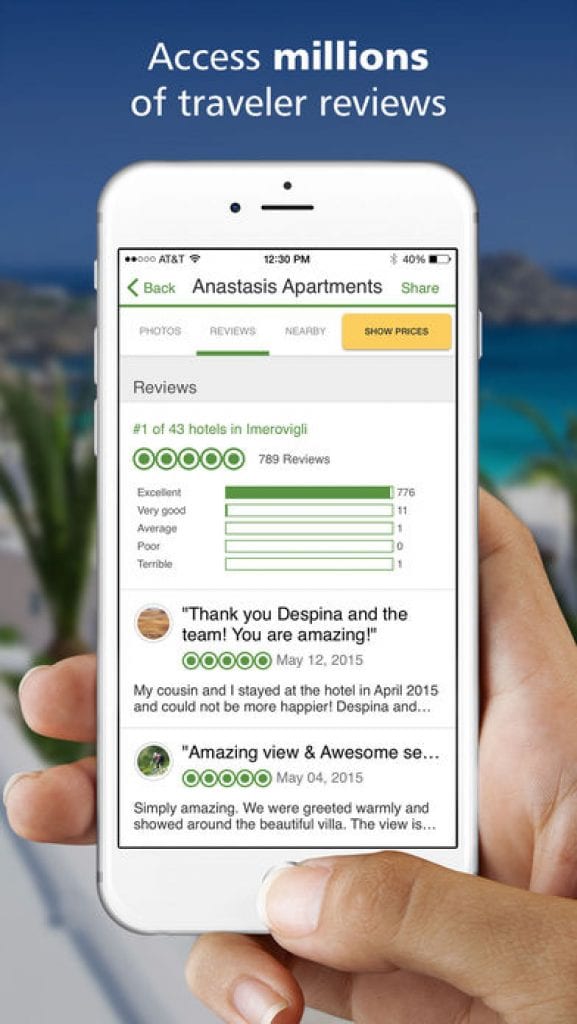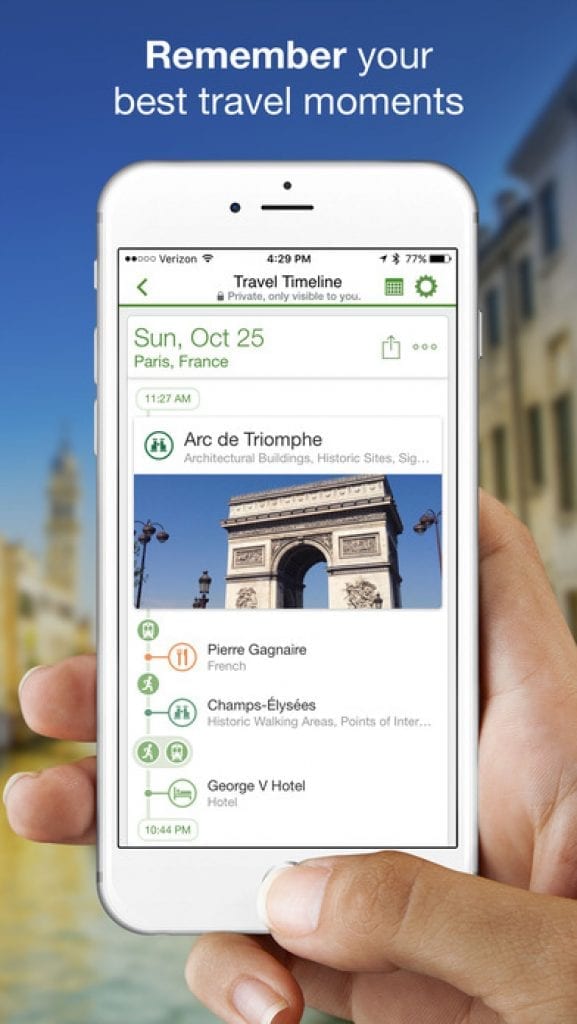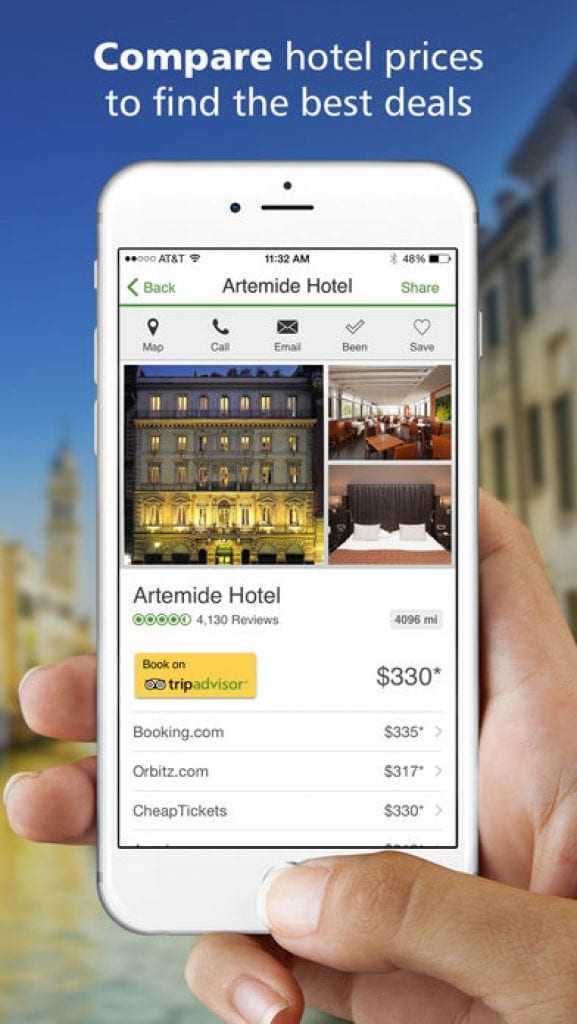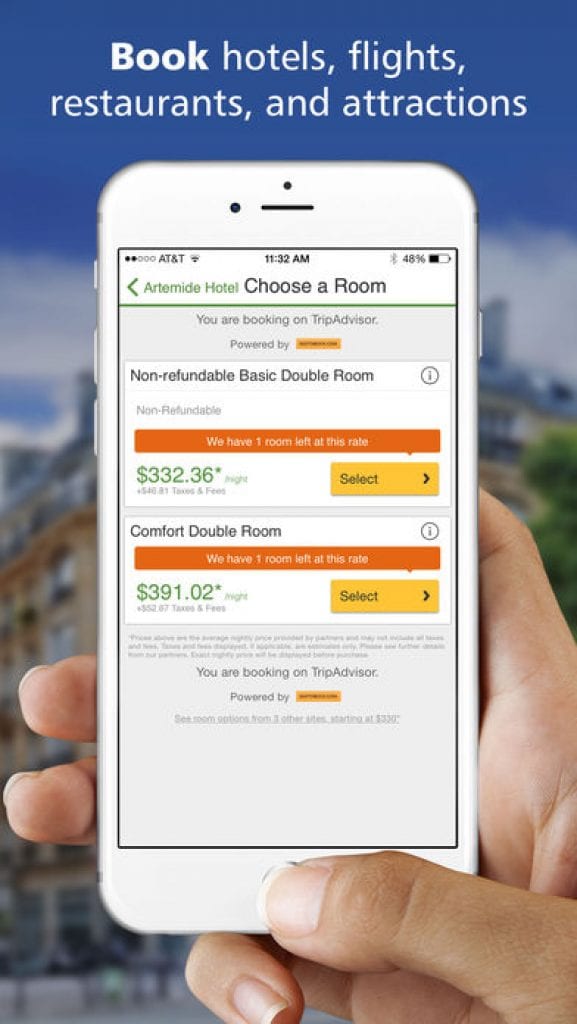 2. Viator Tours & Activities
Your pocket traveller, helper, and friend. You think you know your native town like the palm of the hand. You mistake. Viator tours & activities give you pieces of advice where you can see something you haven't see yet, where you can find some cool activities and have fun. Not only in your city but all around the world! From Eifel Tower to Inka's ancient town on Machu- Picchu. Browse over 48,000 top-rated tours, activities, and attractions.
Due to full- screen local videos you can check the atmosphere of a place you are going to travel before you do it, and then you can decide distantly, whether you should go there or not.
Viator tours and activities- is a follower of a TripAdvisor, i.e is created by the same developer's team. So it guarantees the quality of its service and activities.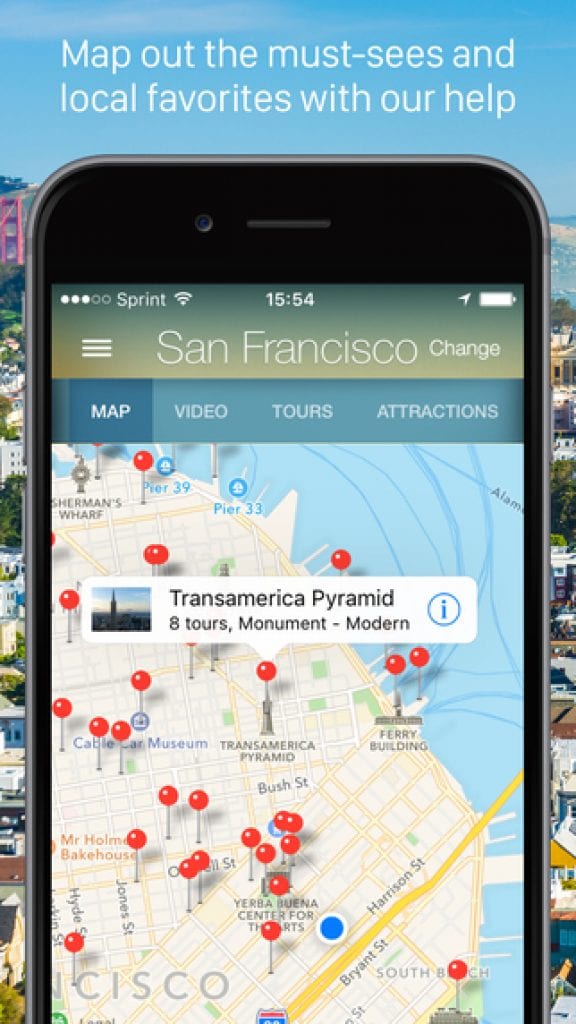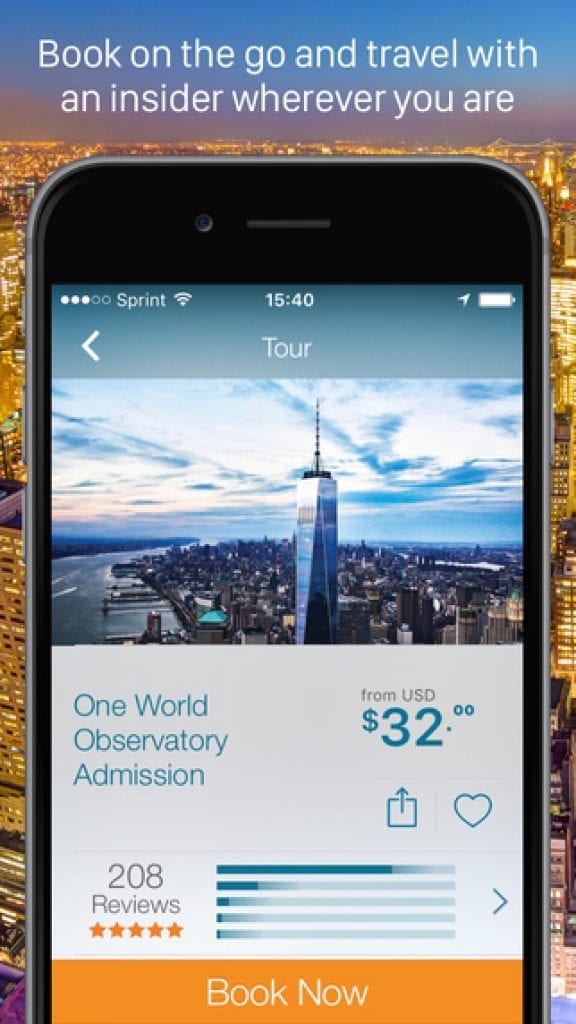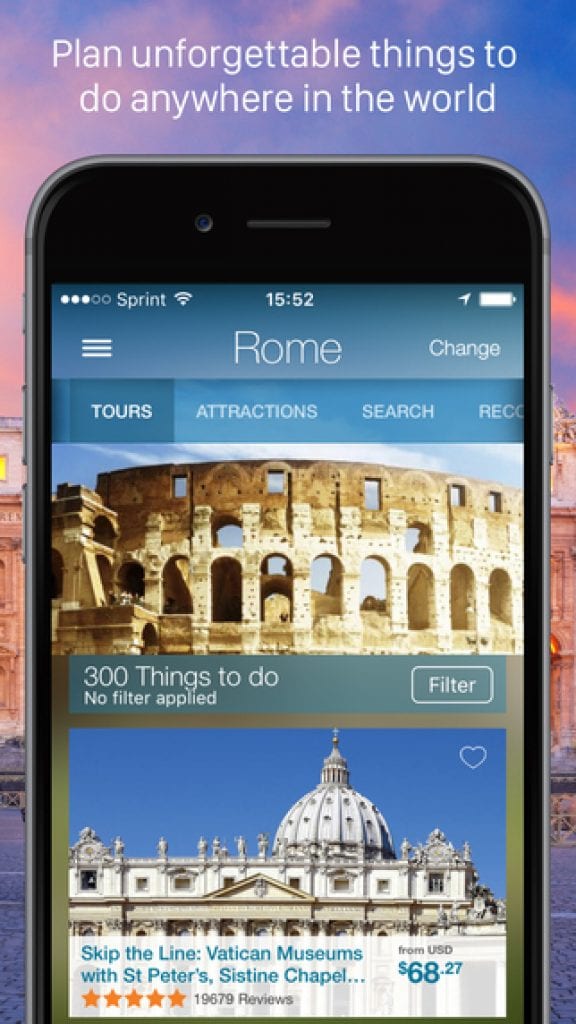 3.Hopper – Airfare Predictions
Do you prefer to travel by car ( old school 🙂 ), exploring new locations, meeting new people or by plane with a comfort, free drinks, and friendly stewardess. If you have chosen the last, this app will be your great companion. The Bunny ( the name of a searcher) analyses and monitors billion of flights and their prices daily. It is necessary to find the best deals, date and time you can book , advising you to buy now or wait for a better price. sends you personalized tips + deals, and makes booking your flight a breeze. That's why you can save up to 40 % on your next flight. It is cool, isn't it? Moreover, you will never leave a chance to buy a ticket at the moment that a price drop. Hopper will notify you every time they drop and before they are about to rise.
The Hopper sends you personalized tips + deals and makes booking your flight a breeze.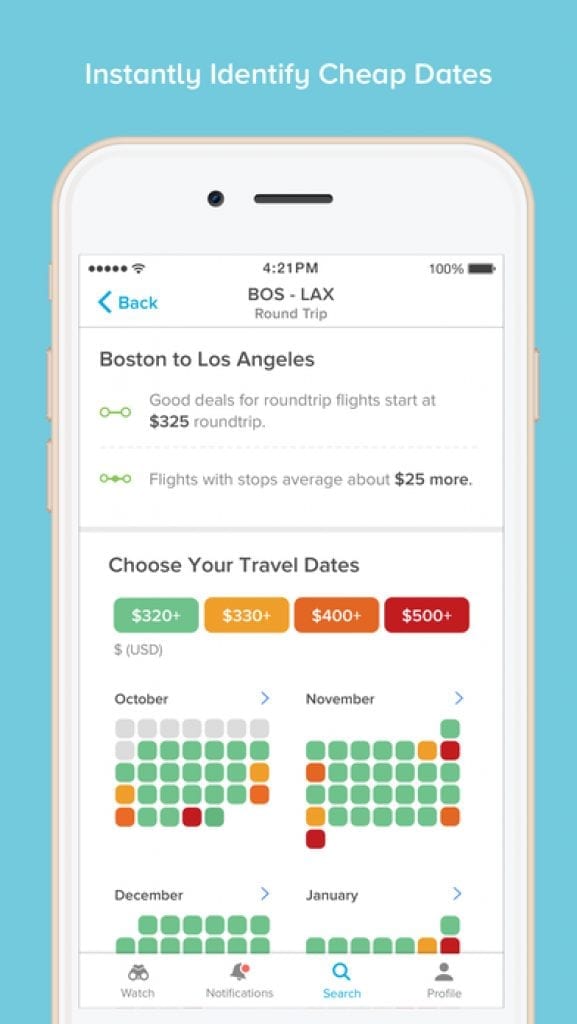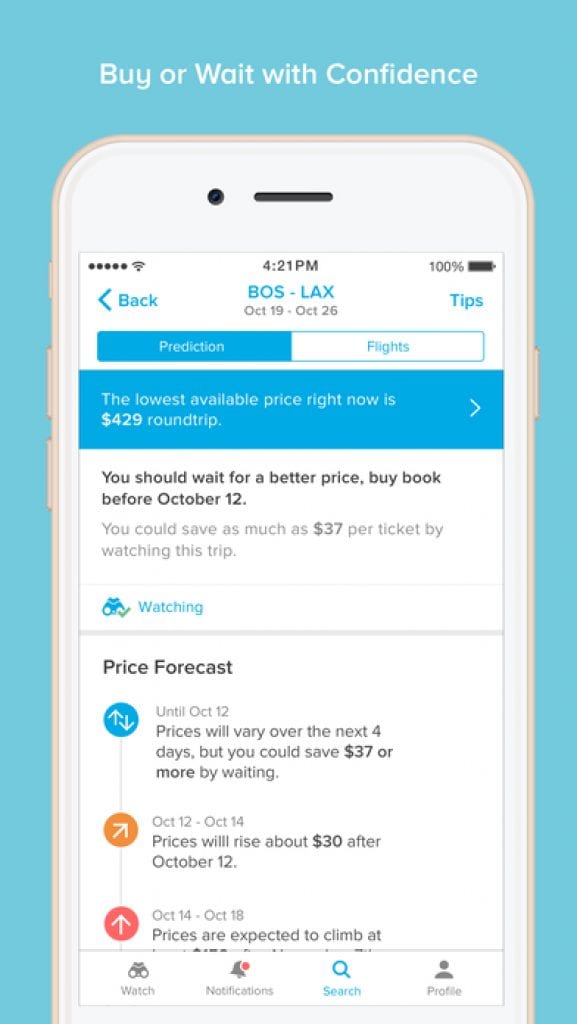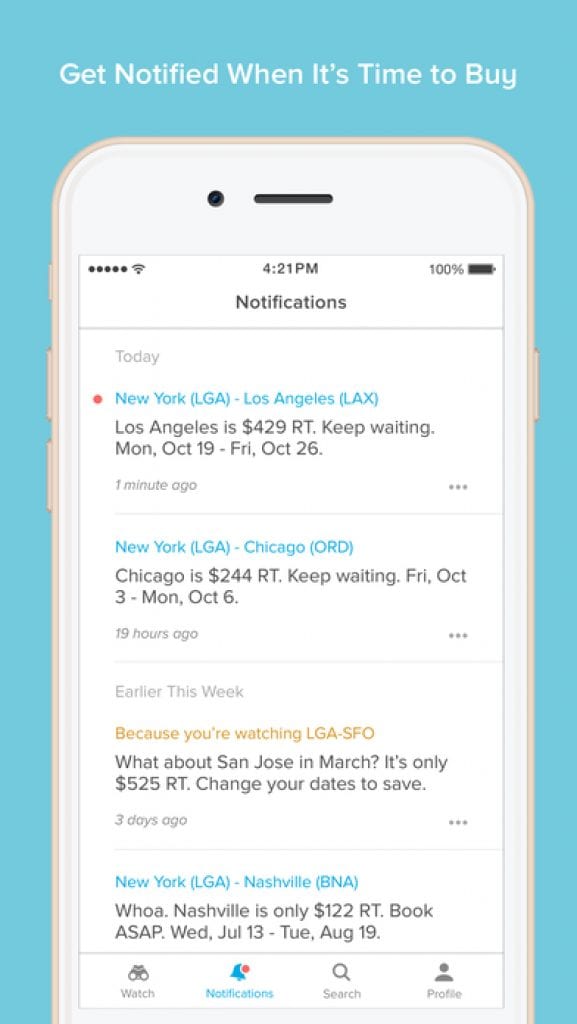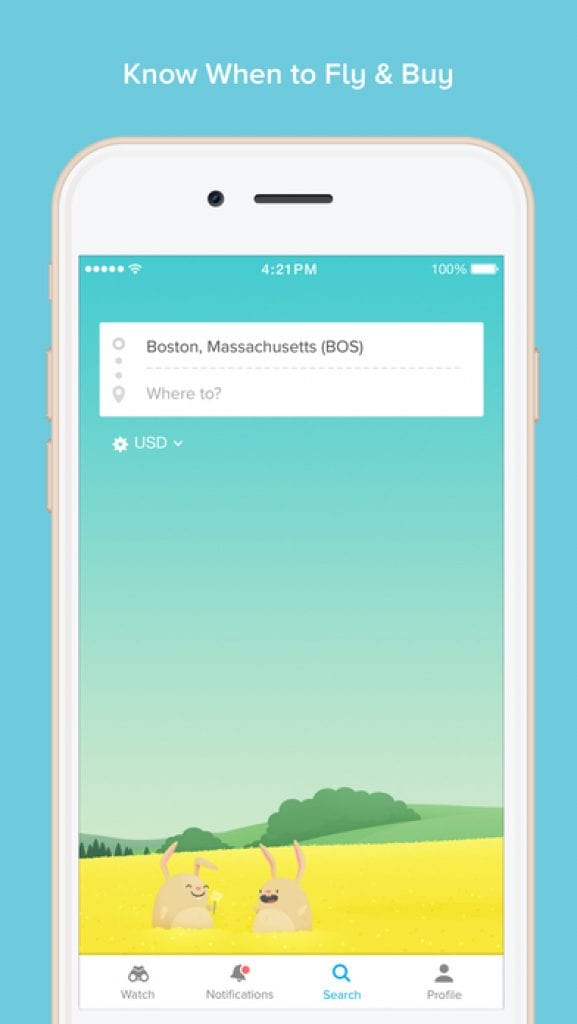 4. Expedia Hotel, Flights, Car Rental & Activities
I really want to say that all travel apps look like the same, but it is not true. Yes, they have the same options :hotels booking , searching activities and attractions, buying tickets and etc. But they are unique. For example Expedia  Hotel, Flights, Car Rental & Activities offers you to book a hotel, participating in a discount program, so you can save up to 40% with mobile-exclusive hotel deals for tonight, view unprejudiced reviews from real guests.
About flights: It sorts them by price,duration or departure and arrival time, choosing the best option for you.
About car rental : you can reserve a car rental up to 30 minutes and it arrives in your airport with no cancellation fee. You can choose a car according to  your status and needs: from standard car rental to luxury autos.
About activities : Exactly here I found what I was searching for. It is an ability to get tickets for a tour ,shows and theme parks and museums  wherever I travel to. The app will always notify you about all events, upcoming trip details , hotel address information and etc.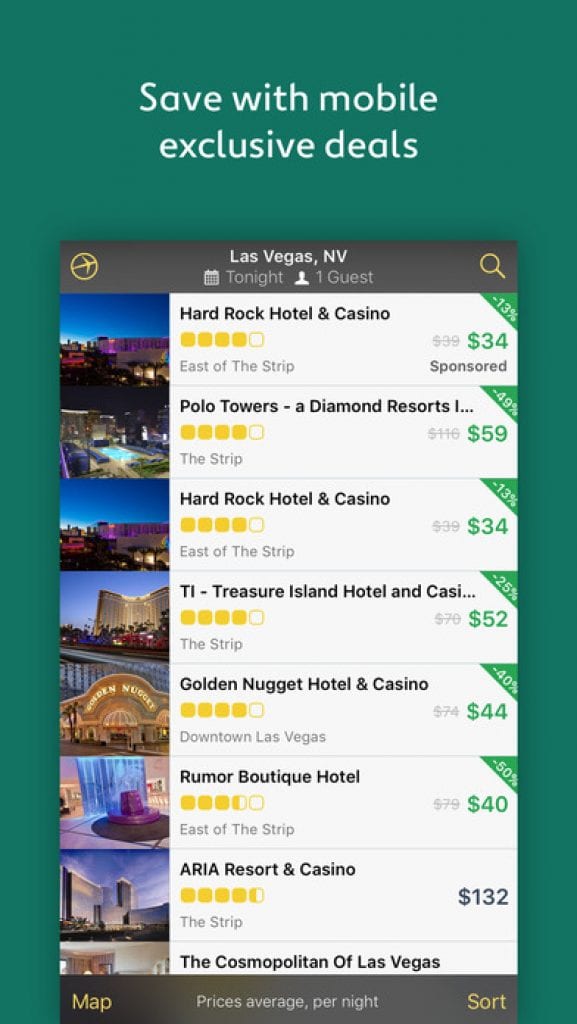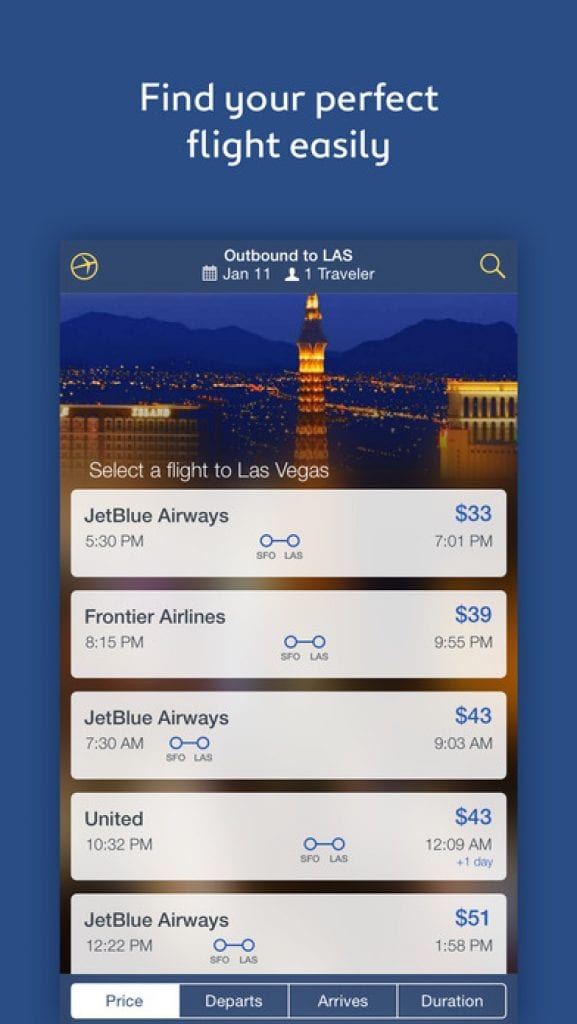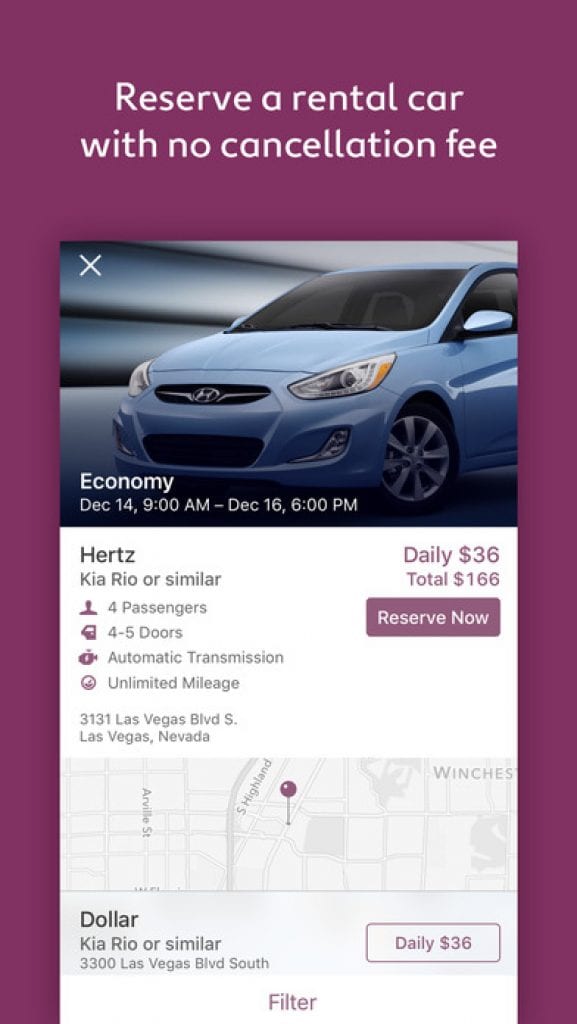 5.AirBNB
I think, there are no people who have not heard about Airbnb at least one time. If we are talking about travel apps, let's look at the Airbnb from the side of travelers.
At first, it is a start-up, created for AppStore, which opens doors to the world's most interesting places to stay for some money. It is convenient, fast and pleasant because you can rent an apartment, looking at its photos, reading a description and reviews. Often apartments on Airbnb are always clean, well-designed, and cozy. And if you want to turn your trip into something magic and unusual, there are some apartments of celebrities such as Angela Merkel, Michael Jackson , Vincenzo Peruggia , Court Cobain and others.
Find long-term sublets in thousands of cities .Access your itinerary, message your host, and get directions to your listing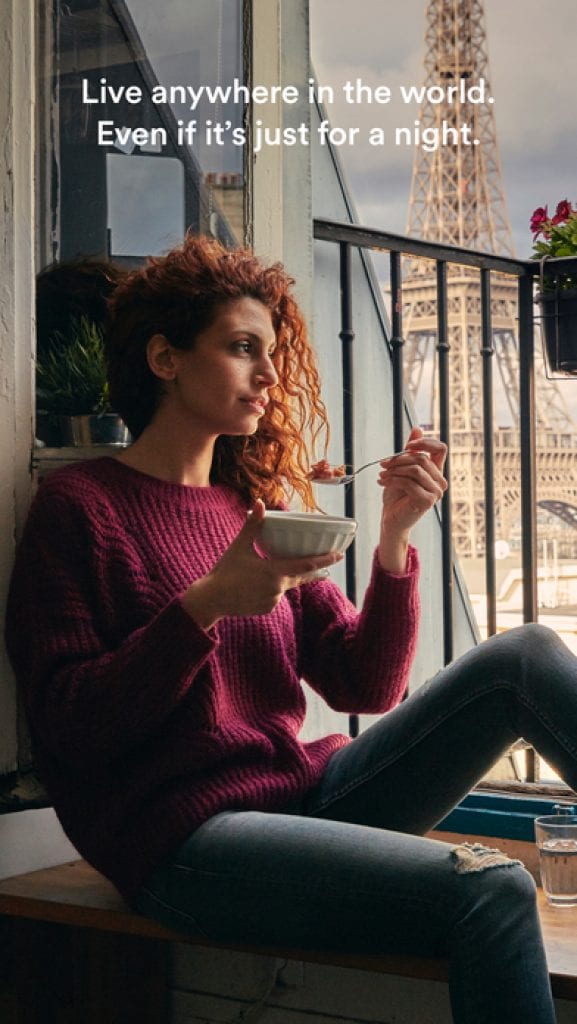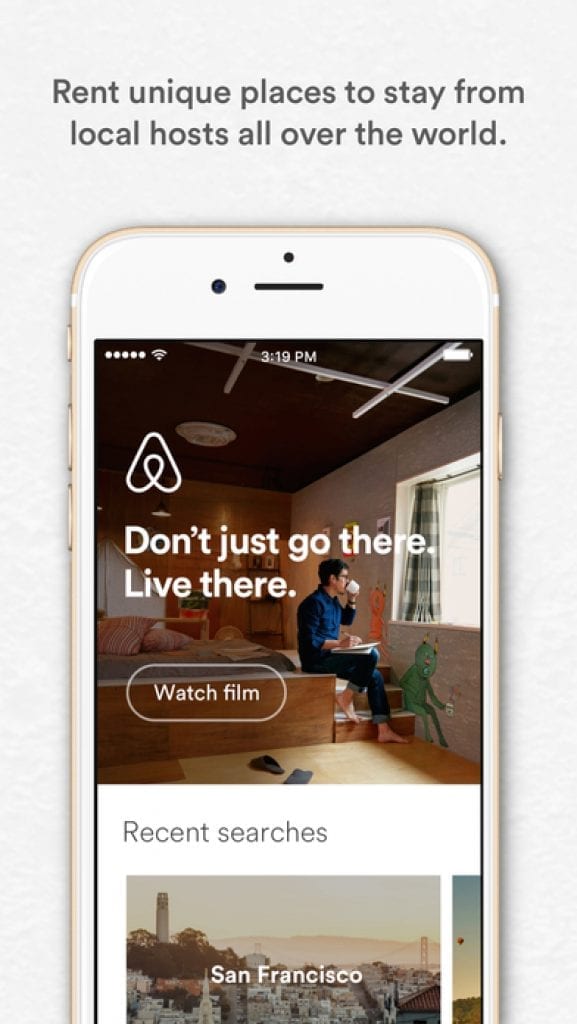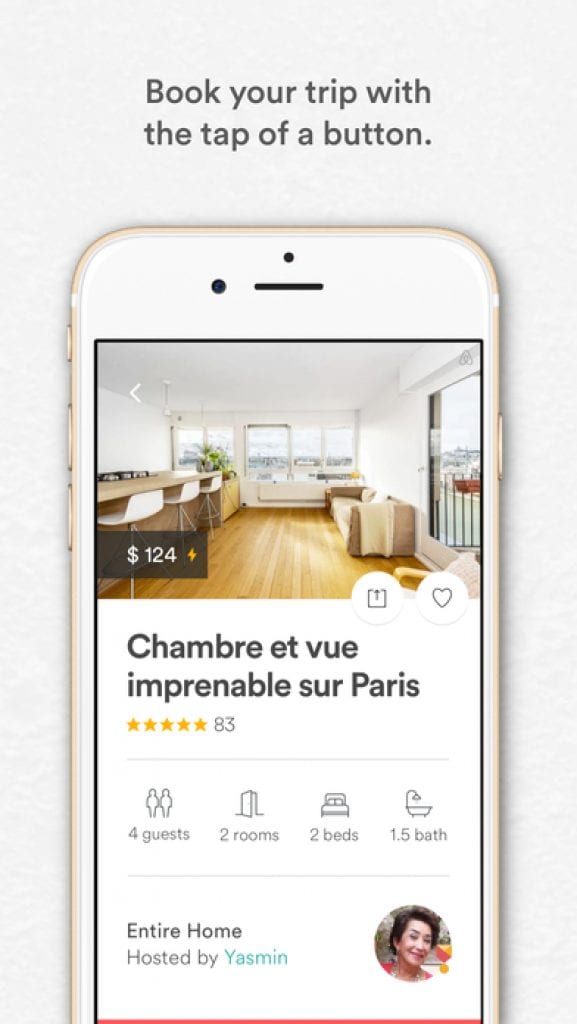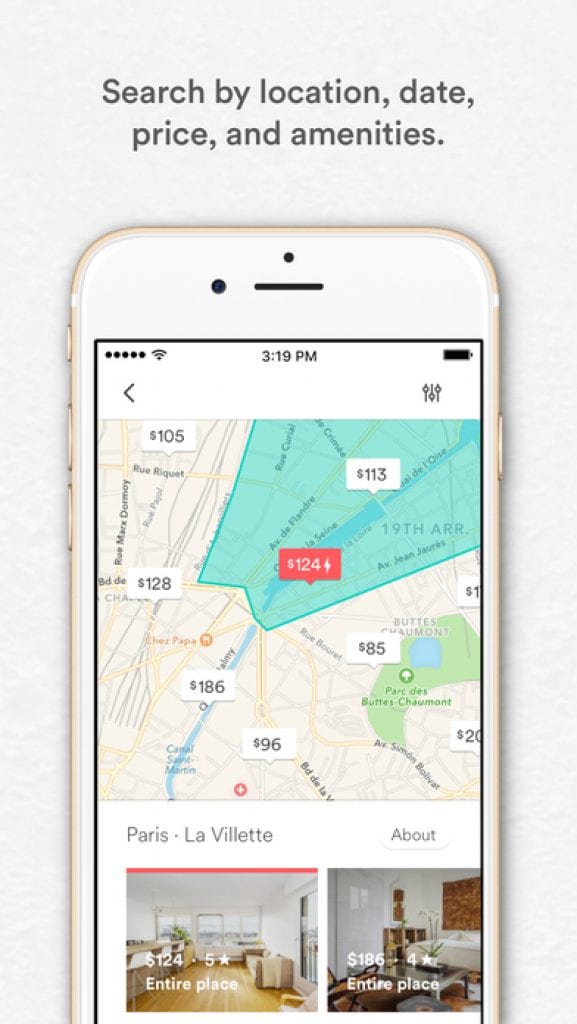 6. Booking.com Hotel Reservations Worldwide & Hotel Deals
I consider this hotel booking app as one of the most efficient, beautiful and convenient apps ever. Booking.com apps never let me down. Often I arrived at a city for a very short period and hostels were the best option for me to stay for a night. Booking.com immediately showed me all available hostels around me on the hotel's map, their prices per night and photographs of rooms . Also , I could read reviews from other clients to make sure that I can stay safety.
Also, I use it when my parents come to my university town and they have nowhere to stay. I fast write all requirements which a future accommodation have to have, such as normal price, a good district , number of people who are gonna to stay  and location,so that to make sure that a hotel is where my parents want to stay and Booking. com shows me all results and I choose the best hotel and pay for it in the app!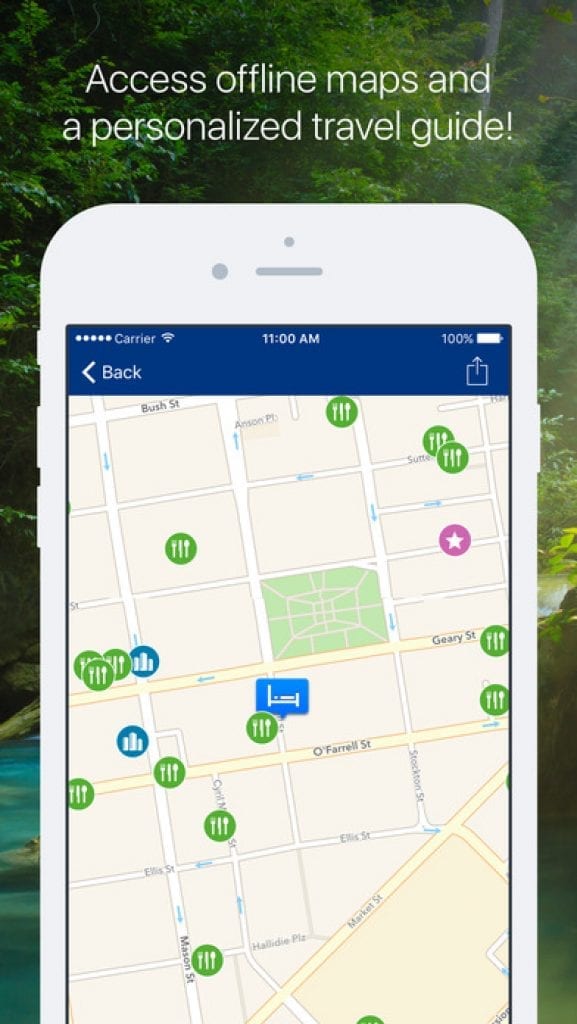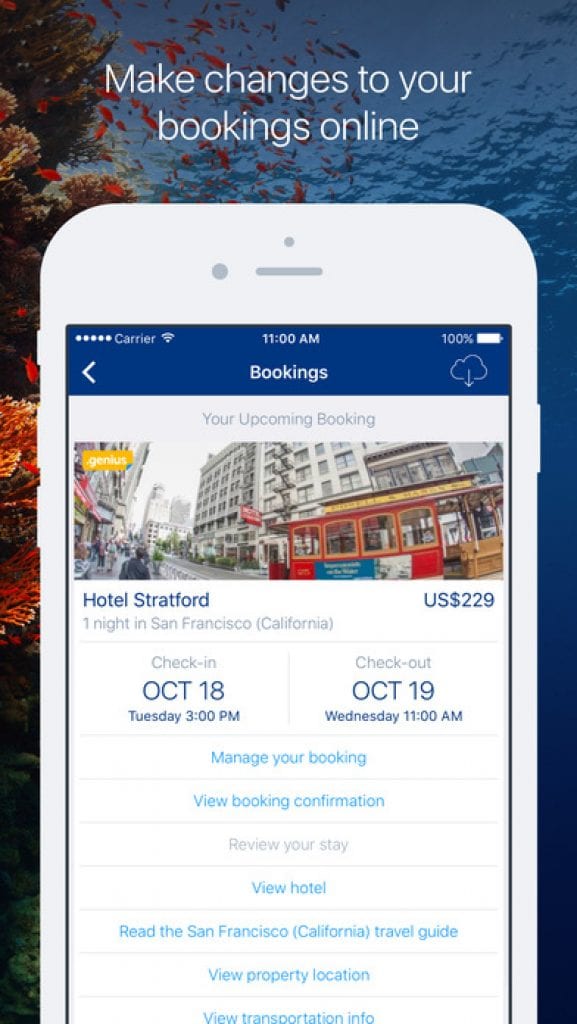 7.Travelocity Deals on Hotel, Airfare, Car & More
If we are talking about the all-in-one app – here it is. Everything you need to have a great weekend somewhere abroad or in your own country you can find here. Avoid tourist traps, booking hotels on the street, do it, using Travelocity! It guarantees to find the best hotel for a night or a long period for you. It is possible due to easy-to-use map view and sorting results by deals ,prices, location or reviews. Also, chose, looking at the description, photos, and amenities from real guests. Pay for your apartments when you book or when you arrive at the hotel. It doesn't matter.
Last minute bookings welcome – Our Mobile-Exclusive deals offer up to 40% savings on Hotels for tonight, or anytime.
Speaking about air ticket booking, it is also a simple-to-use process. For your comfort, they are classified by a price, date, arrival time and departure, So you can compare attractive offers and chose the most convenient and fast.
Rental cars : Search thousands of cars to find cheap, quality rentals. Save big when you book in-app!Plan round trip rentals from any airport in the world to make your vacation, holiday or getaway a total breeze.
As for activities, book tickets to the museums, theme parks, tours all around the world. And you can visit them without a turn. And if you have not a shuttle to airport, just book it and it arrives at the right time to your hotel or hostel or another destination.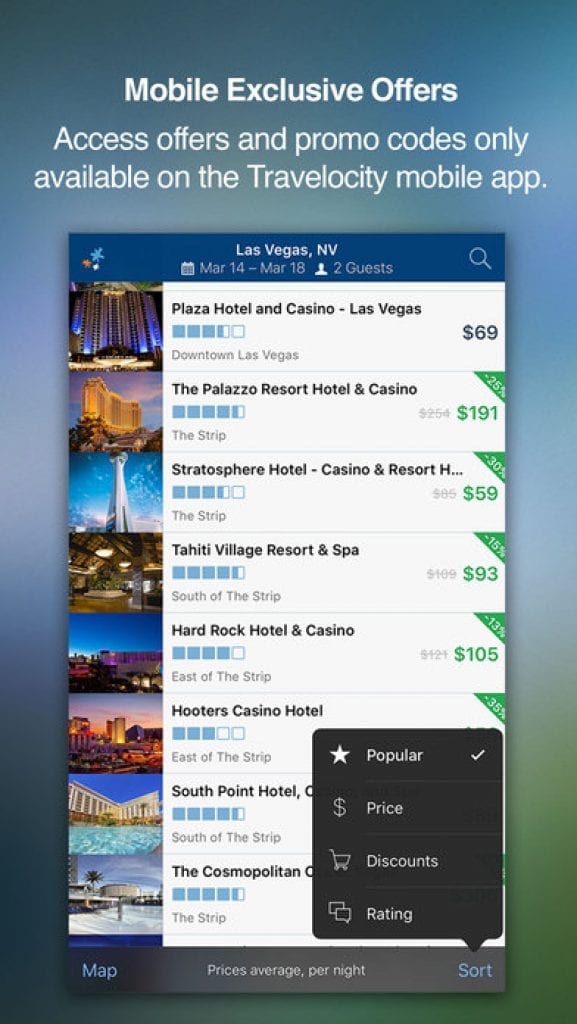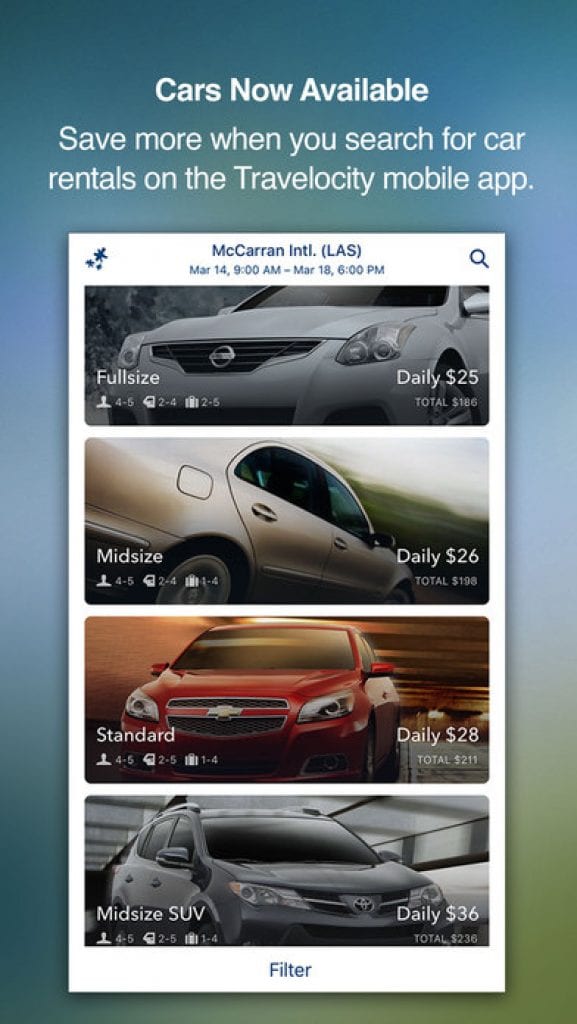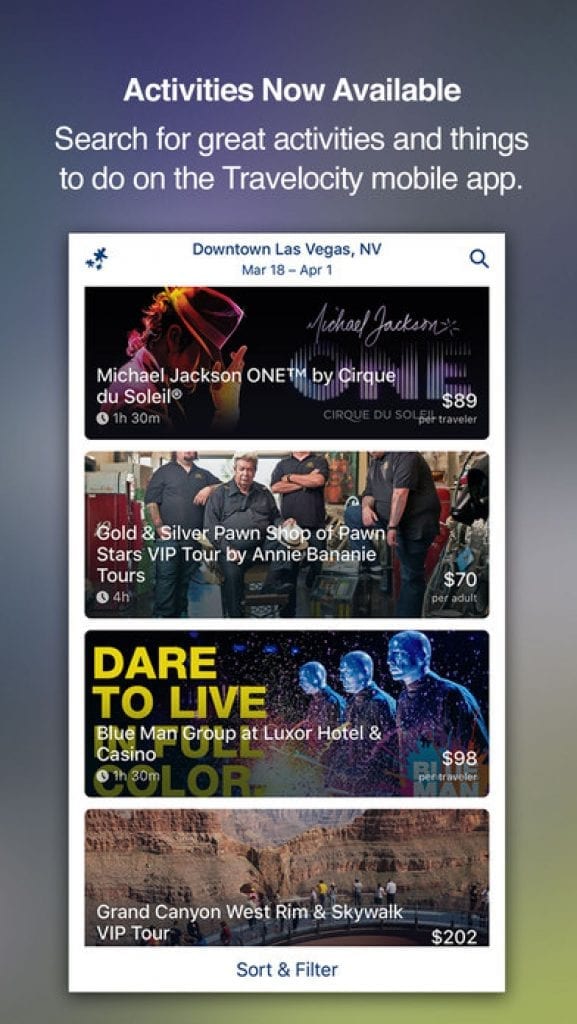 8. Triposo – Your Smart Travel Guide
Need a smart friend during a trip. Meet Triposo – your smart travel guide, smarter than your friend. Why ? There are several reasons for it.
Firstly, my favourite criteria is a minimalistic, graceful and simple design of the whole app. And this app wins the award. I am so impressed by the interface. Just friendly- to-use app with a lot of advantages. It delivers recommendations of everything things you can to do across more than 50,000 destinations! You think that in a small town you have arrived there are no interesting places or events you can visit? You are a mistake, Triposo finds everything you need to have fun in a very-very small town from booking a hotel or hostel, finding terrific sights to buying a ticket to a music festival!And the main feature is that Triposo works offline so you can avoid expensive roaming charges and data plans – offline maps, offline routing, and offline city walks all at your disposal.
Also, it finds  high- quality restaurants and gives you an ability to book as many restaurants as you can visit seamlessly in this app! If you are afraid of mistake with a restaurant, do not care about this, plan and personalize your trip with suggestions and tips from the experts.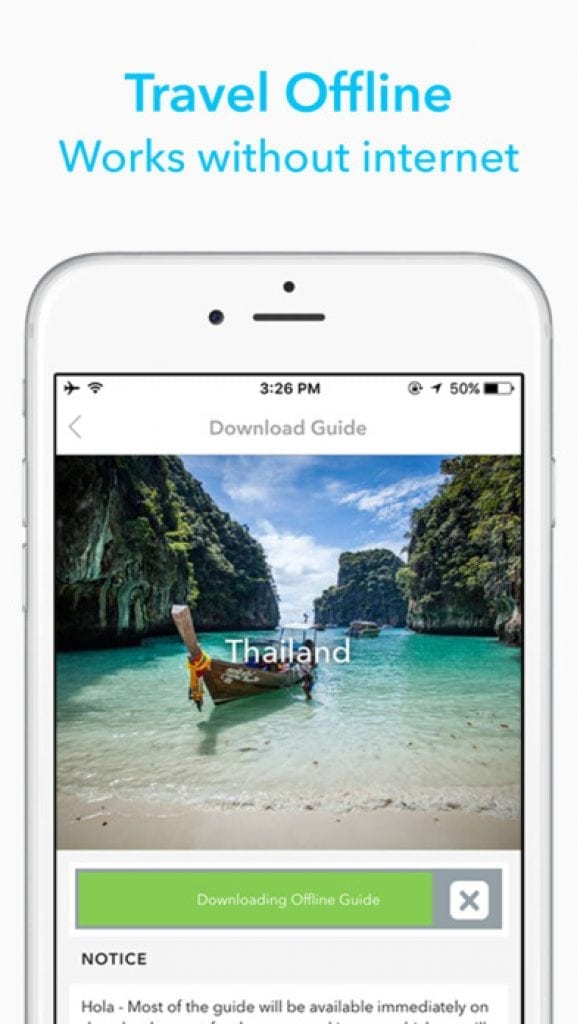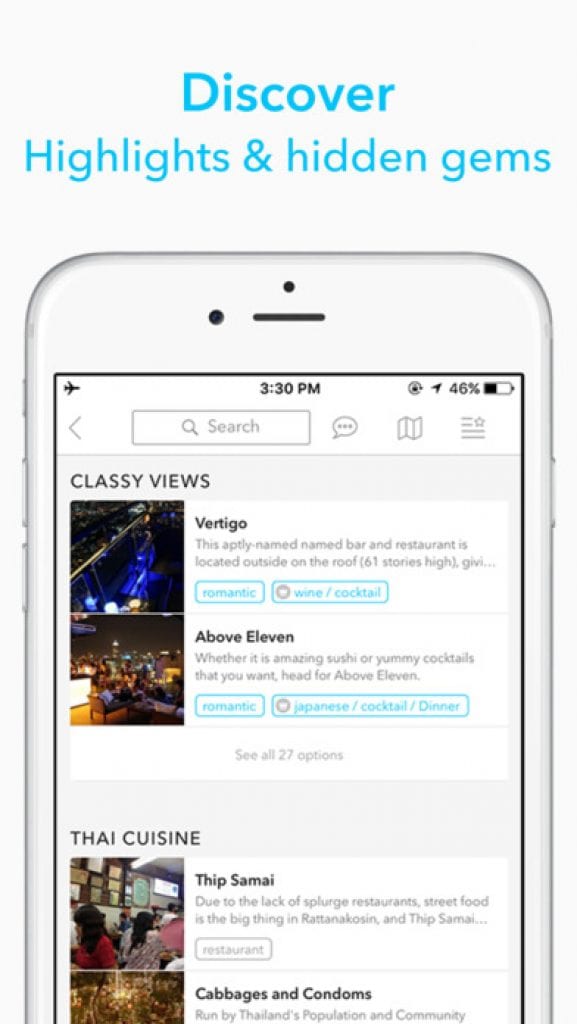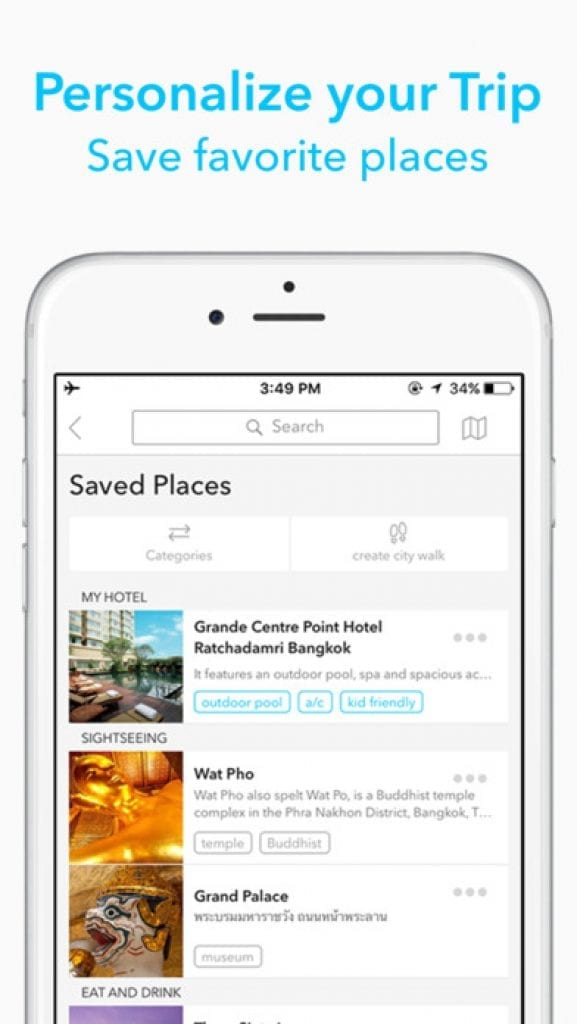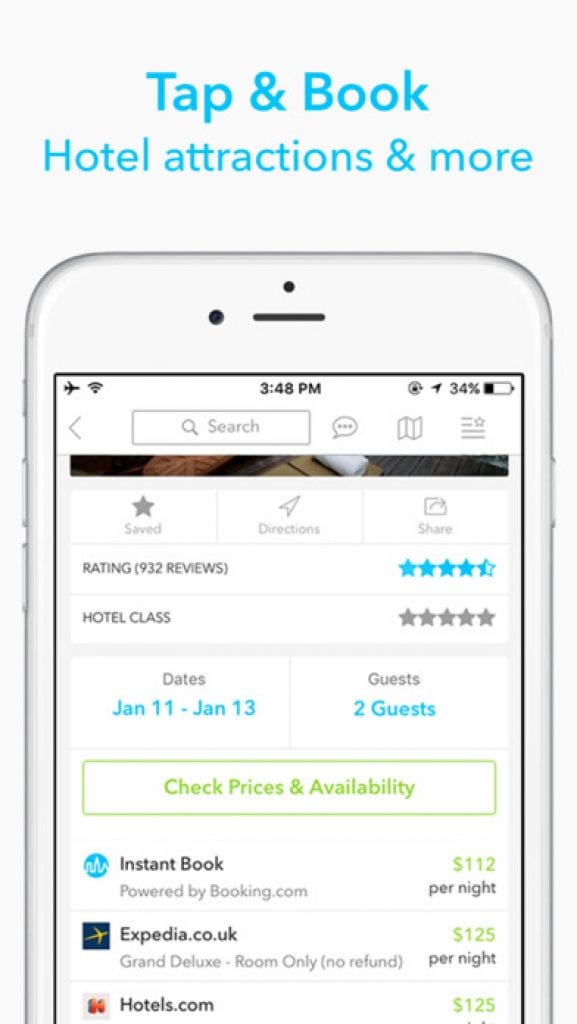 9. Momondo – Cheap flights, hotels & travel
Momondo looks like a birthday cake! And if you are interested in cheap flights and perfect hotels, this app absolutely will make your trip unforgettable.
At first, about flights. This app is developed to compare cheap flights so you can choose a flight, fitted to your graphic ,necessary date and time. Momondo searches major airlines, lowcoasters, and travel agencies to give you a variety of flights. Then you can book it directly from this app, it's very convenient, especially if there is no terminal or computer with an internet access around you. But you can no hurry and wait for a few days for showing the estimated prices on different dates in an interactive Price Calendar. When you find your dream, buy it at the moment or save your results for later or share them to email, facebook, so that not to forget or lose.
It is the same situation like a hotel booking. While searching, it sorts results by different categories like cheapest, closest, best review from real guests or by popularity. Hardworking robots find all hotels in your destination town and show them to you by prices. Also, you can play with developers who said: " Get the peace of mind with our Best Price Guarantee – find it cheaper within 24 hours and we'll refund the difference". Will you play?
Customize your own Momondo profile where will be saved your preferences, history, favorite flights, and hotels.
A tip! More By Mamondo you can find a lot of popular cities guides with maps, places, restaurants , many photographs, and reviews.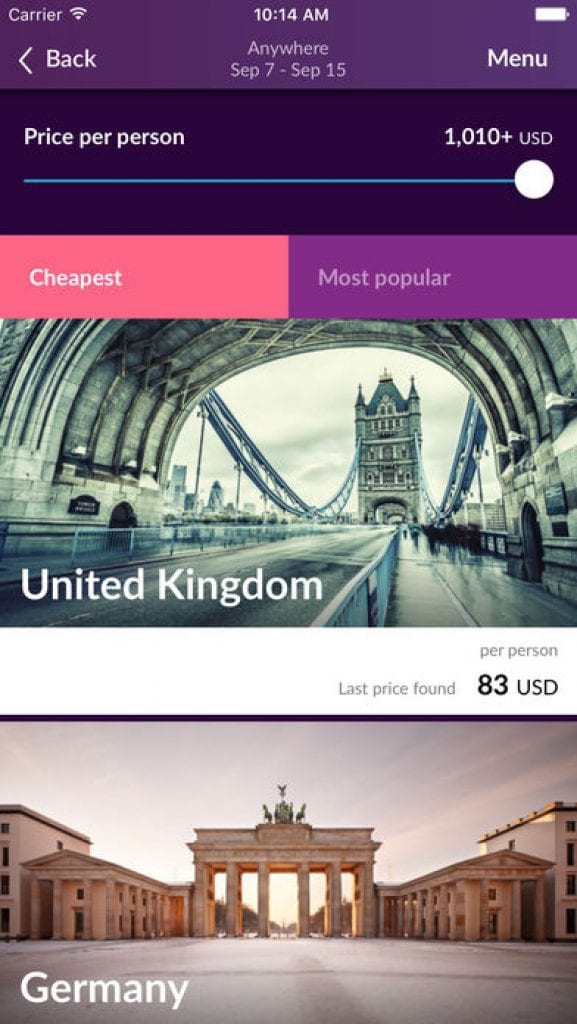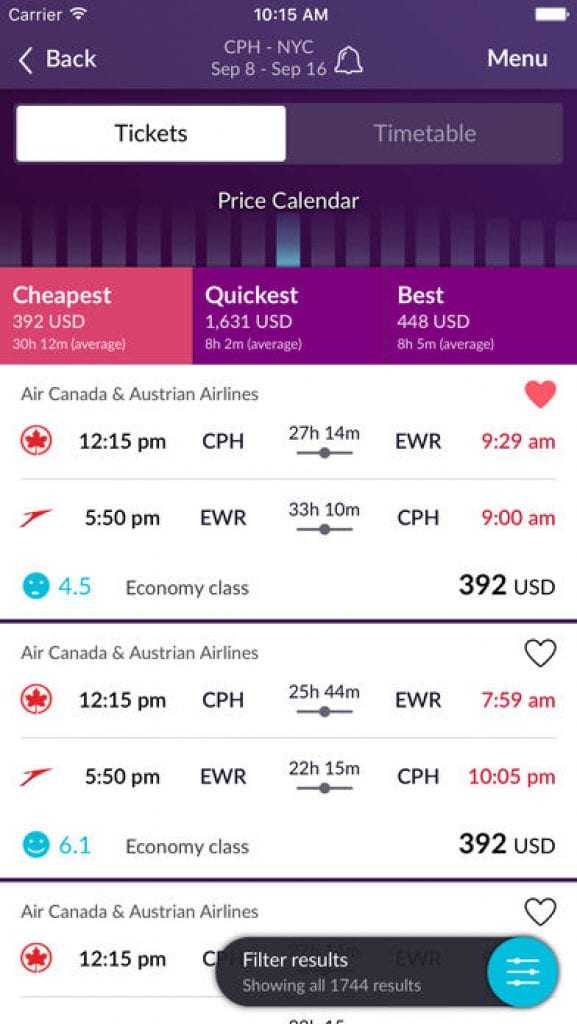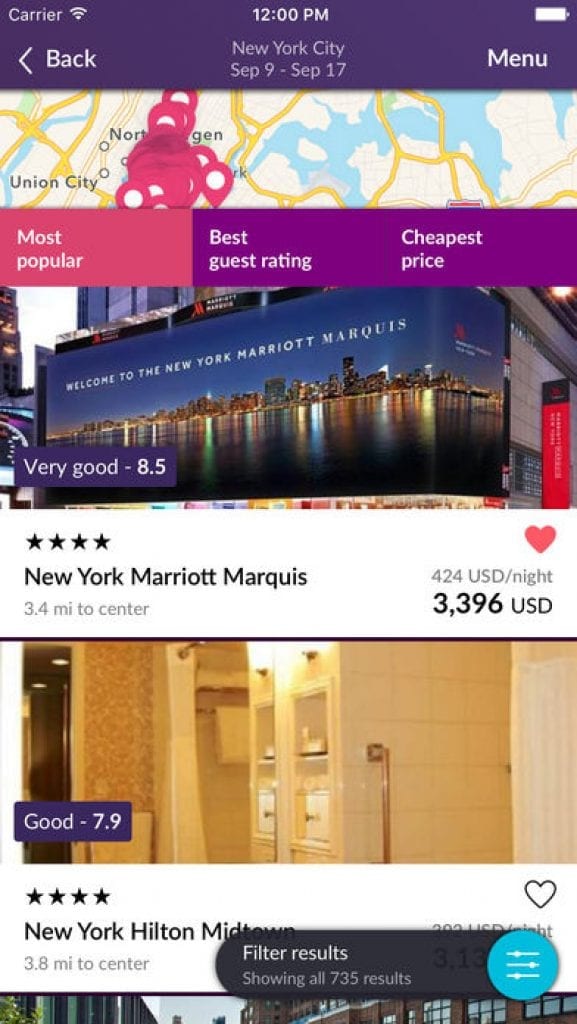 10. Groupon – Deal, Coupon & Discount Shopping App
If you have a limited amount of money and travel by auto-stop preferably, Groupon is a real find for you! Groupon delivers unbeatable deals for 50—70% off the best stuff to do, see, eat, and buy in more than 500 cities located mostly on earth. You just need to download Groupon app and you will begin to notice then you waste few dollars for all day. But all deals are available at the moment, and a few minutes later there can be no offer anymore and will lose a chance to eat a whole pizza for  2 dollars, for example.
Groupon allows yo instantly redeems vouchers for on-demand deals on food, fun, fashion, and wellness. Just imagine that you go to the concert of your favorite music group with a 50% discount.
Put down the coupon book and pick up the Groupon iOS app—your ticket to explore the best each city has to offer at savings of up to 70% off. To my mind, there is no better app for saving money than this one.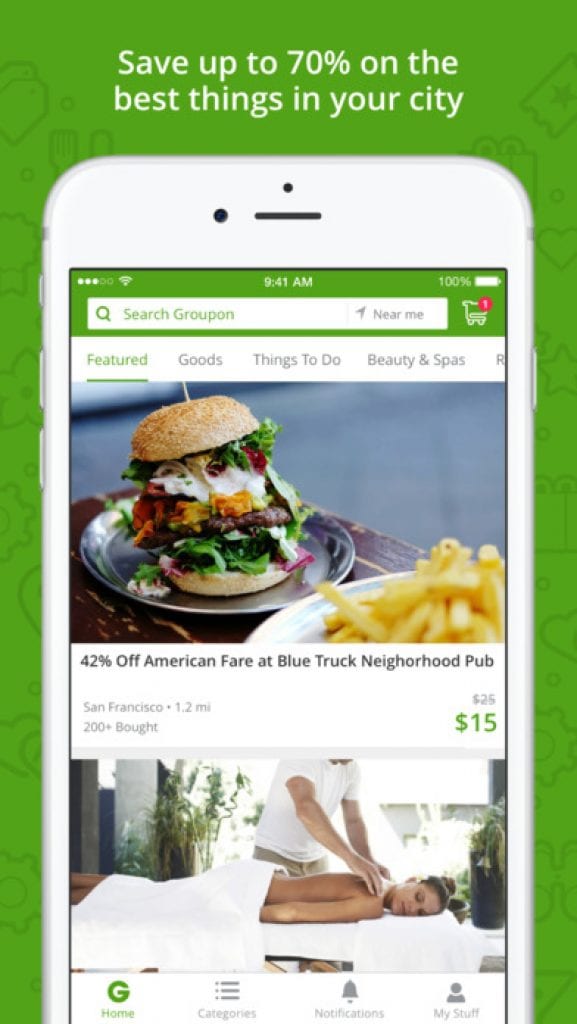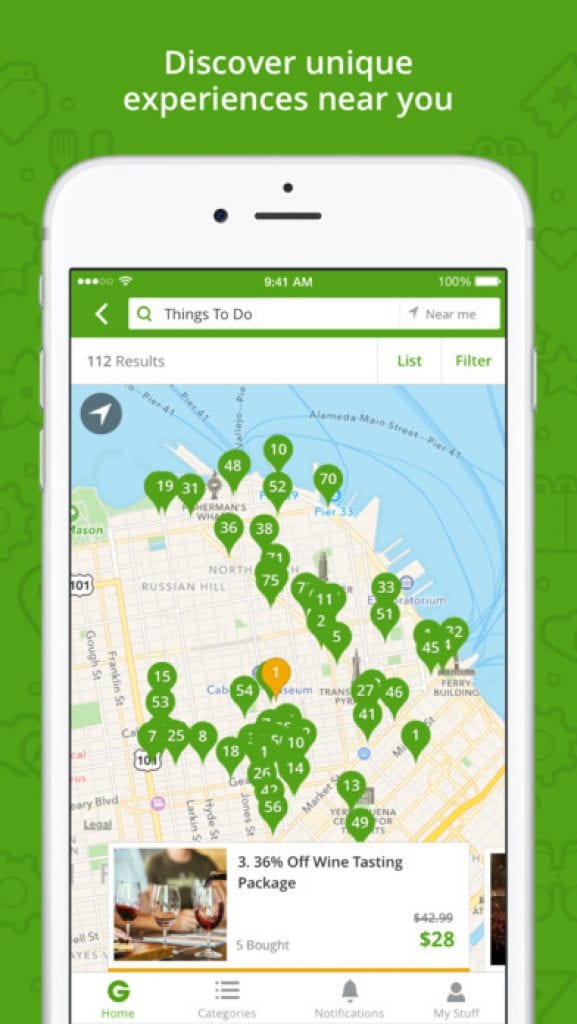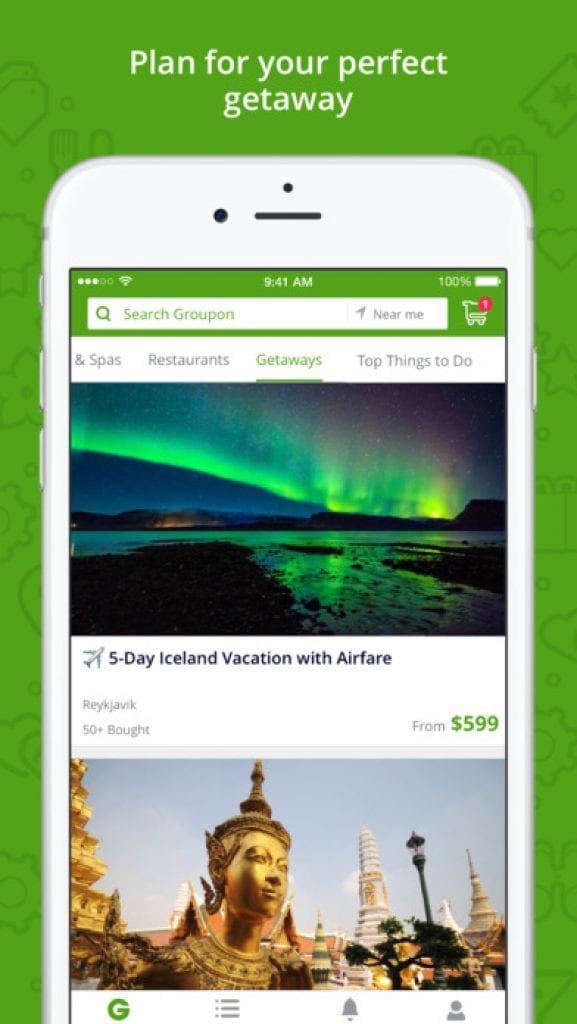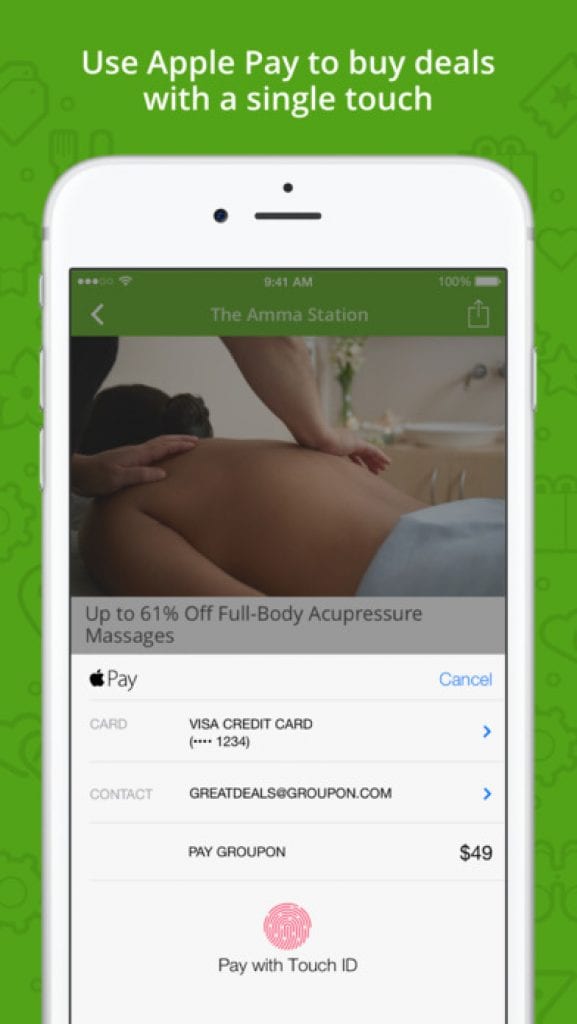 11.Roadtrippers – Road Trip Planner Map & Travel Guides
Every working day we are dreaming about a long holiday somewhere far away, whether in mountains near a crystally clear lake or on a sunny beach. Roadtrippers is a travelling map which contains all necessary information to spend a memorable holiday.
You wait for thousands of exciting places, local dinners, colorful roadside attractions, scenic point, parks, and hotels, of course. We take care of your dream.
Plan your future desirable trip whatever you want. Add walking path or a road route, attractions and sights you want to see, hotels to stay and so on. Share you plan with your friends, maybe they will want to join you.Friends can add suggestions to the itinerary
Note: Content currently the USA focused only. Continued use of GPS running in the background can decrease battery life.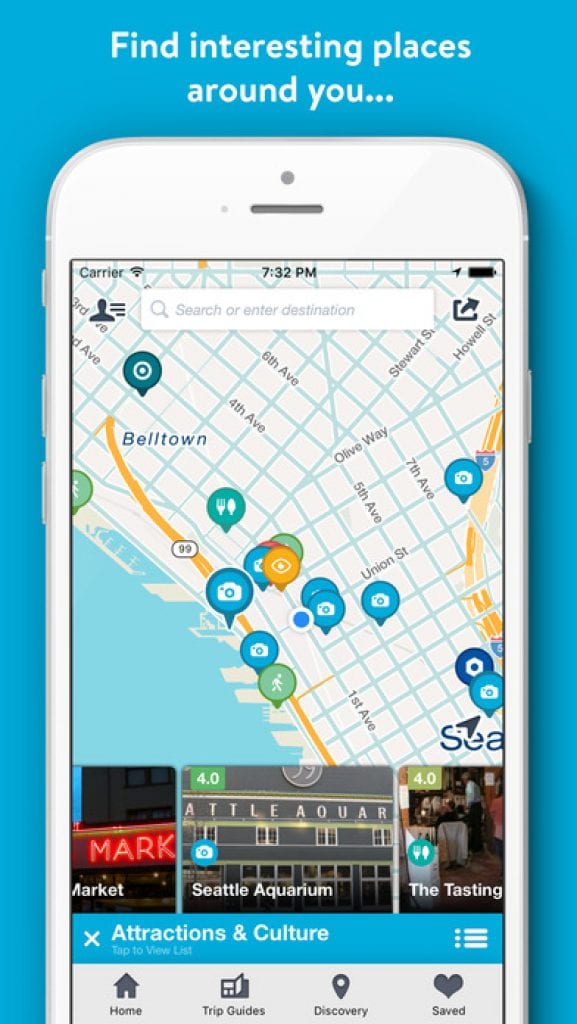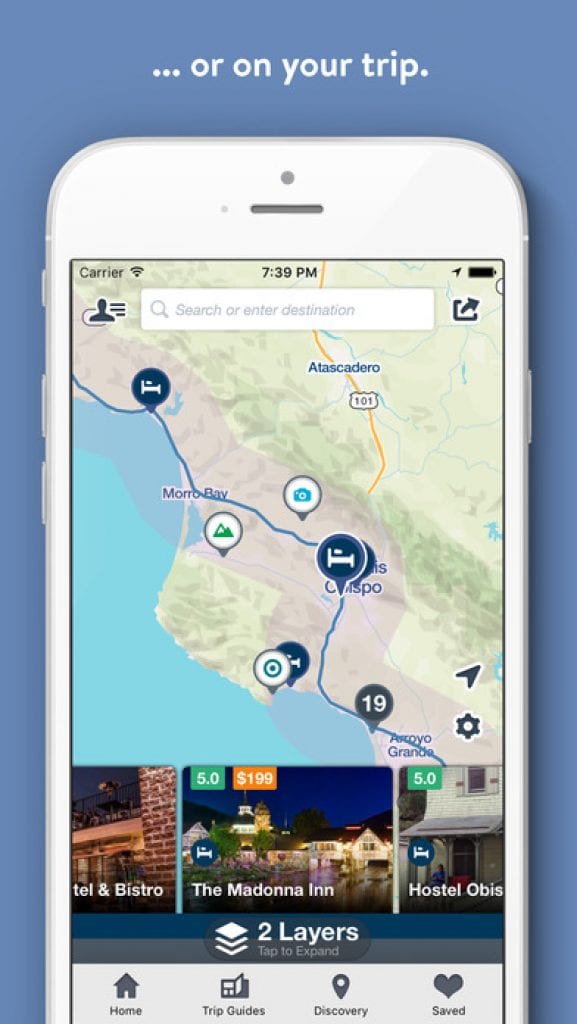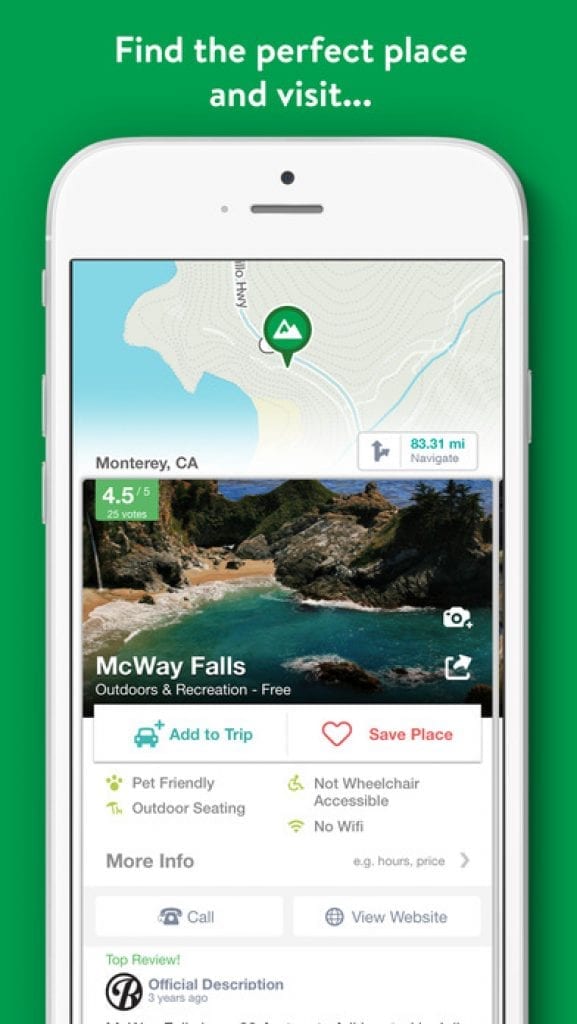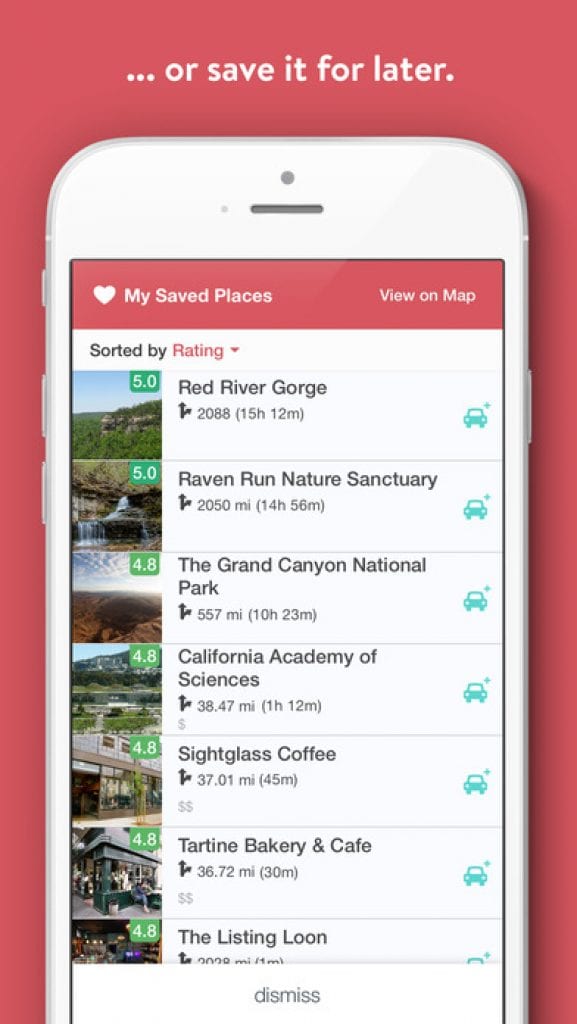 12. Yonder – Outdoor Adventures
You are a traveller, who don't appreciate a comfort and prefer to sleep in a forest or on the top of a mountain. " Life is a challenge" -is your lifestyle? So , begin your big trip with Yonder- Outdoor Adventures and plan your next adventure carefully. Yonder will help you, connecting you to the people, places, and experiences that inspire.
Want to go on a hike? Maybe kayaking? How about rock climbing? Yonder will show you how real travellers relax or inspire you to travel. There are thousands of magnificent geo-located images and videos from travellers who somewhen were the beginners. After your first trip, you also can share your discoveries with other users. Explore 25 activities together with other people interested in adventures. Follow bikers, hikers, climbers, skiers and more from around the world . Save your favorite destination to your list and remember these days.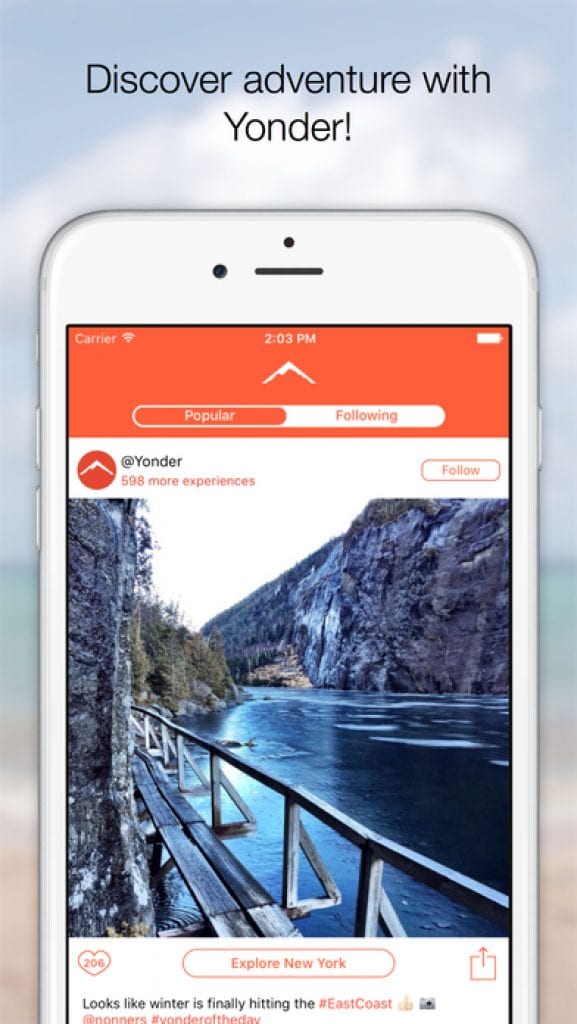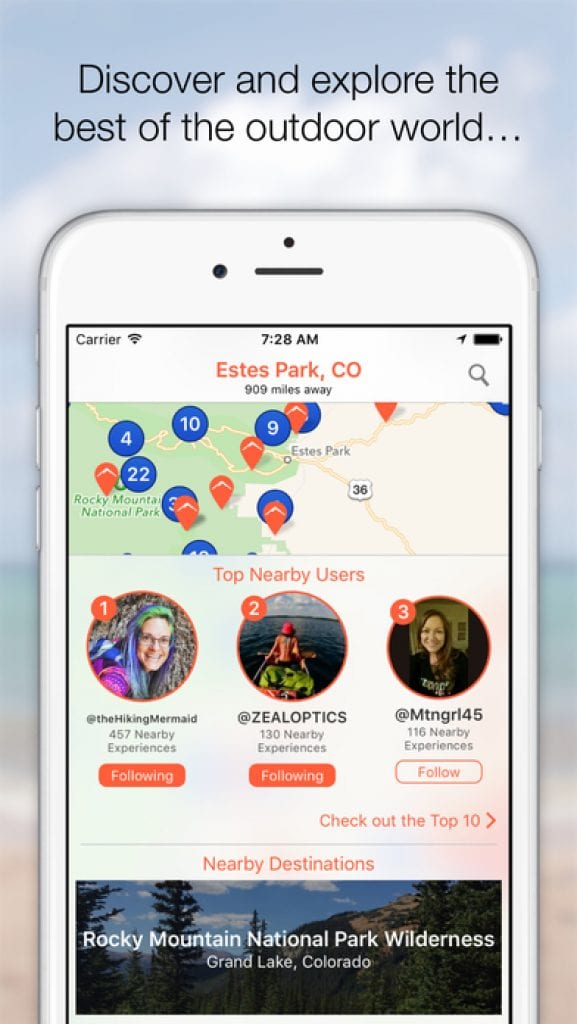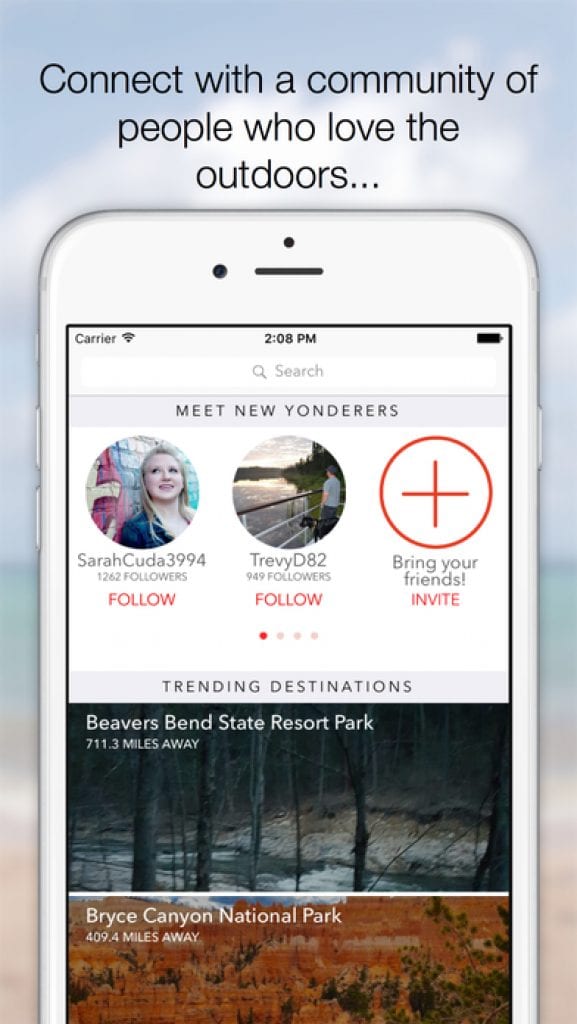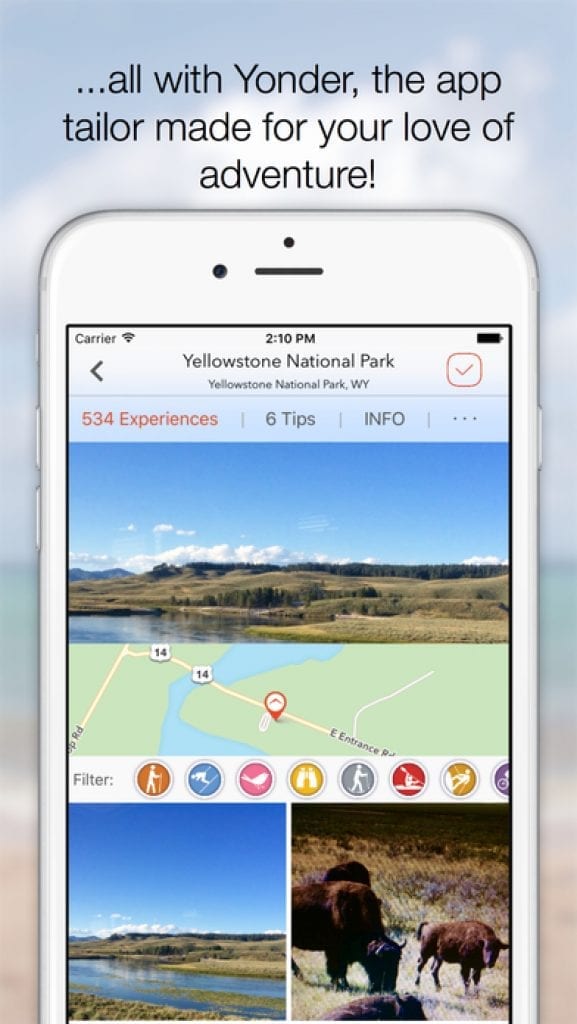 13. TripCase
If you want a perfect holiday, organize all of your trip details and travel plans into one streamlined itinerary. Be responsible for your followers. TripCase lets you manage flight itineraries, hotel bookings, and rental car reservations in one app
You will get all necessary information about your flight, hotel and car rental booking directly from the app because it will receive notifications  if something goes wrong or changes. When you need to make adjustments, it will search alternative flights as good as your previous flight.
Plan your activities and actions. Perfect for business and family trips.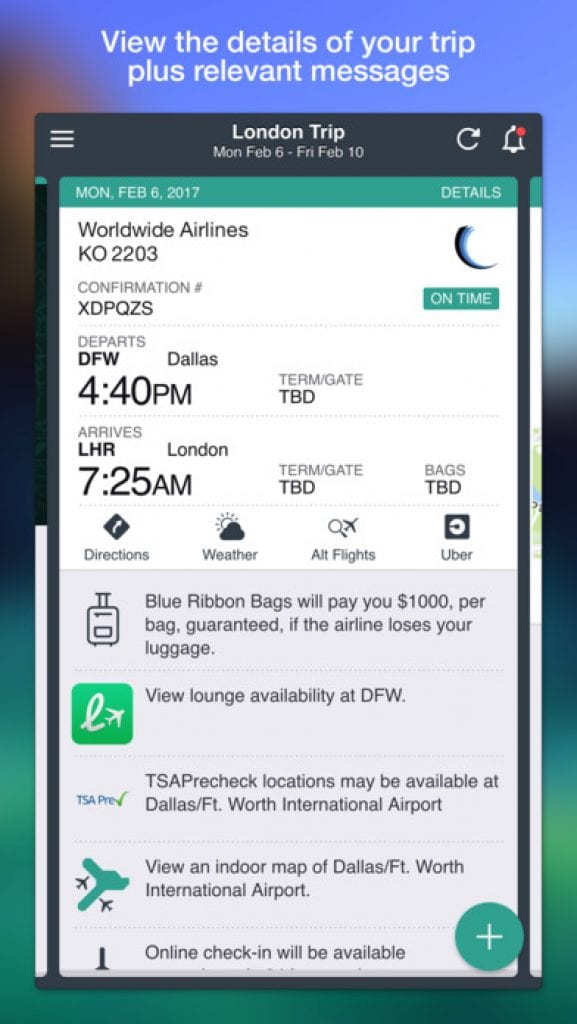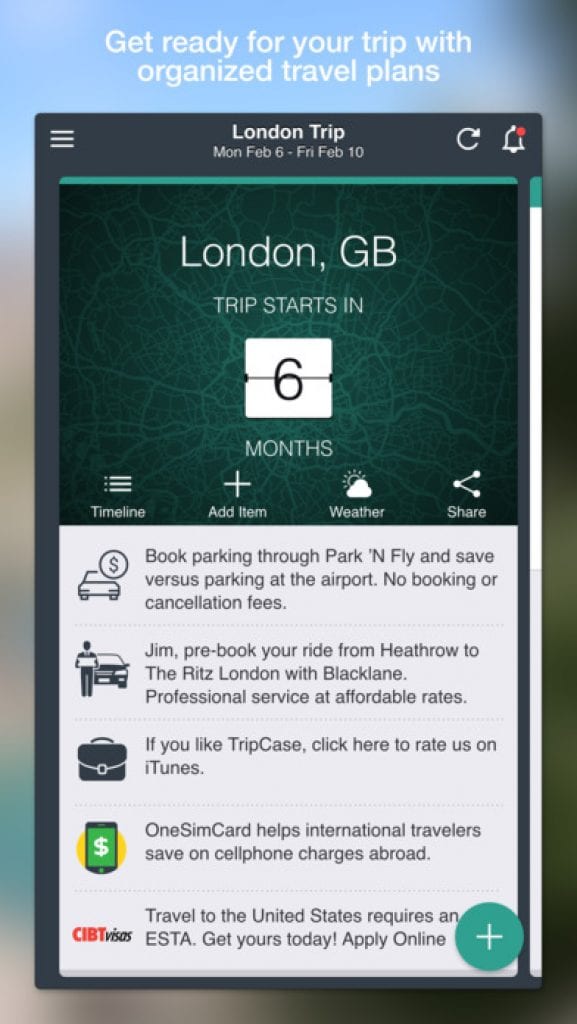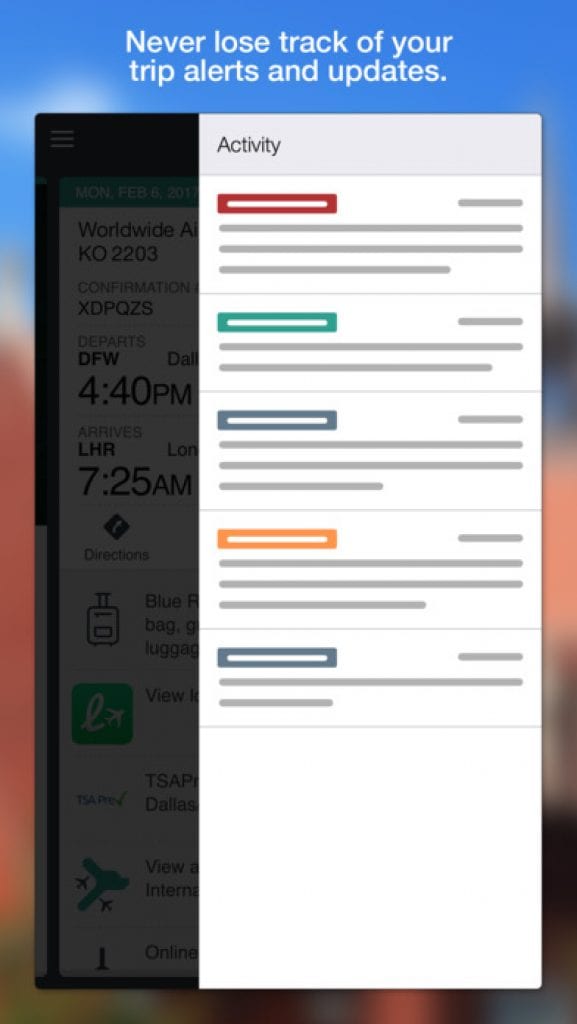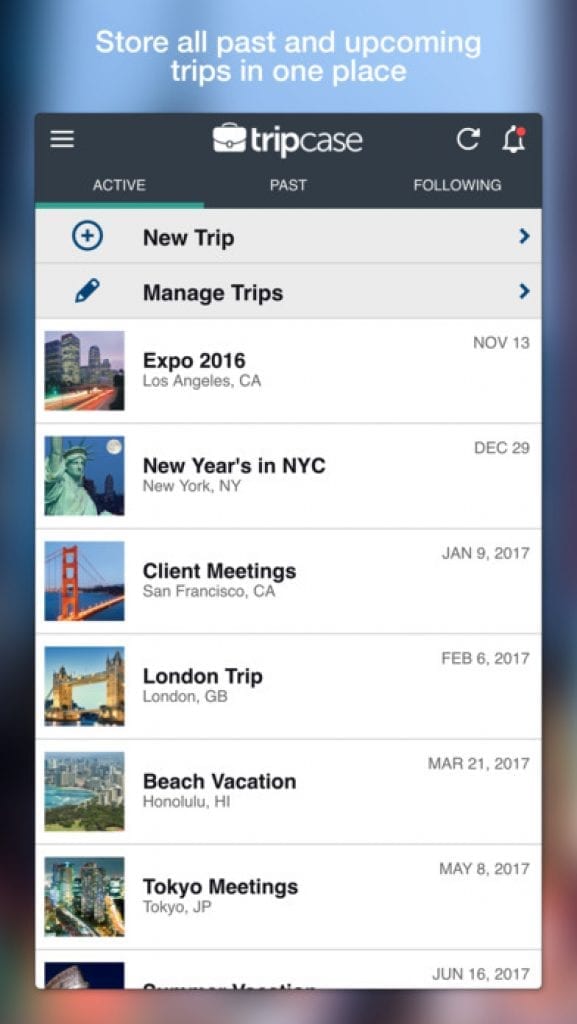 14. Gogobot – City Guide for Activities, Restaurants, and Hotels
If you have no idea what to do ,where to stay or what to see in a strange city or a foreign country, use your pocket guide for exploring the world.
With Gogobot, you will exactly know where is delicious food, where is the coziest atmosphere, what are the main attractions and what hotel you shouldn't book for some reasons. People's reviews will help you not to make a mistake. Gogobot uses your interests, the time of day, the local weather, and your location to help you discover the best attractions, events, restaurants, and hotels. Book & save on hotels recommended by the Gogobot community – compare prices across Expedia, Hotels.com, Booking.com, Priceline, Hotwire and more.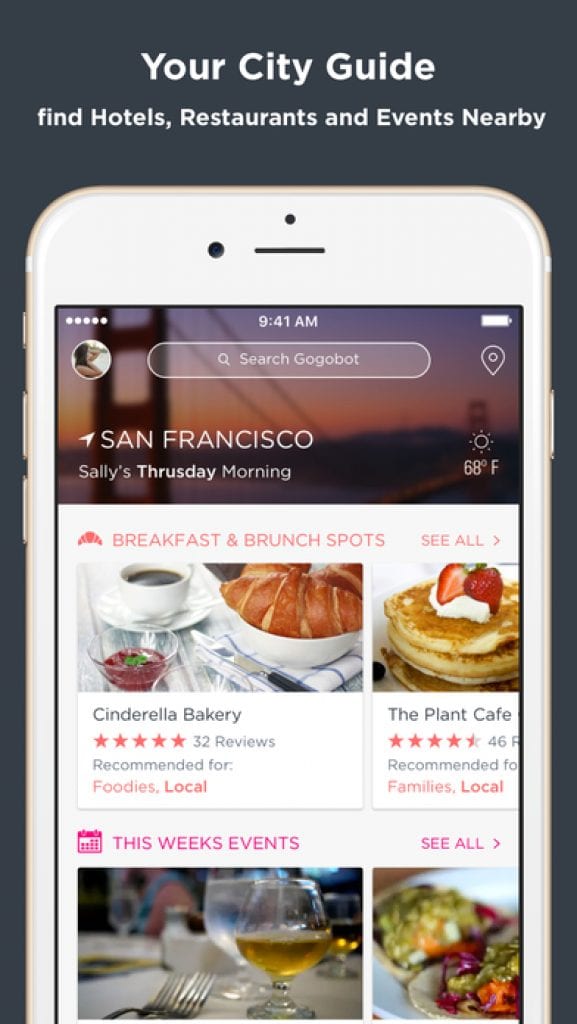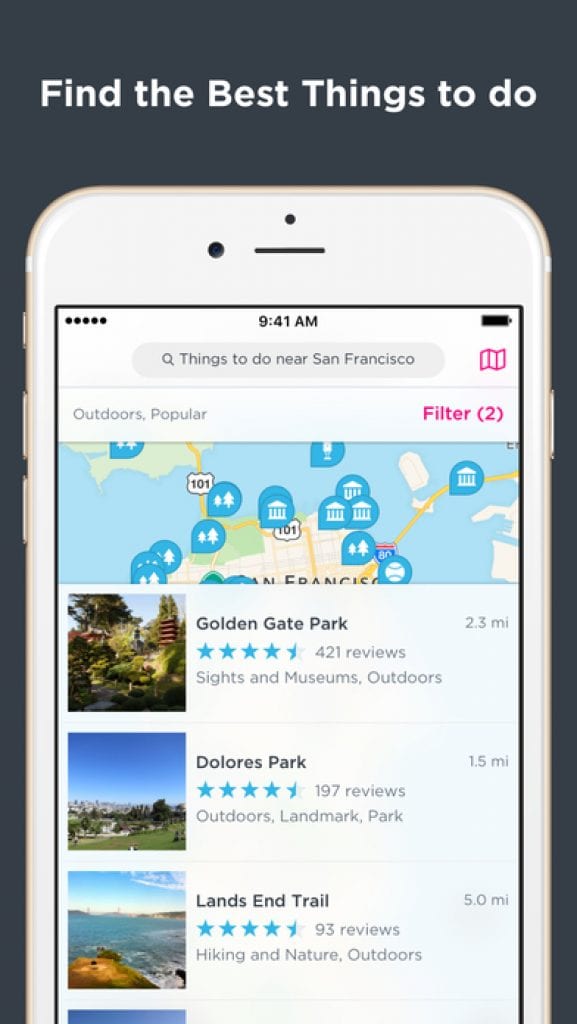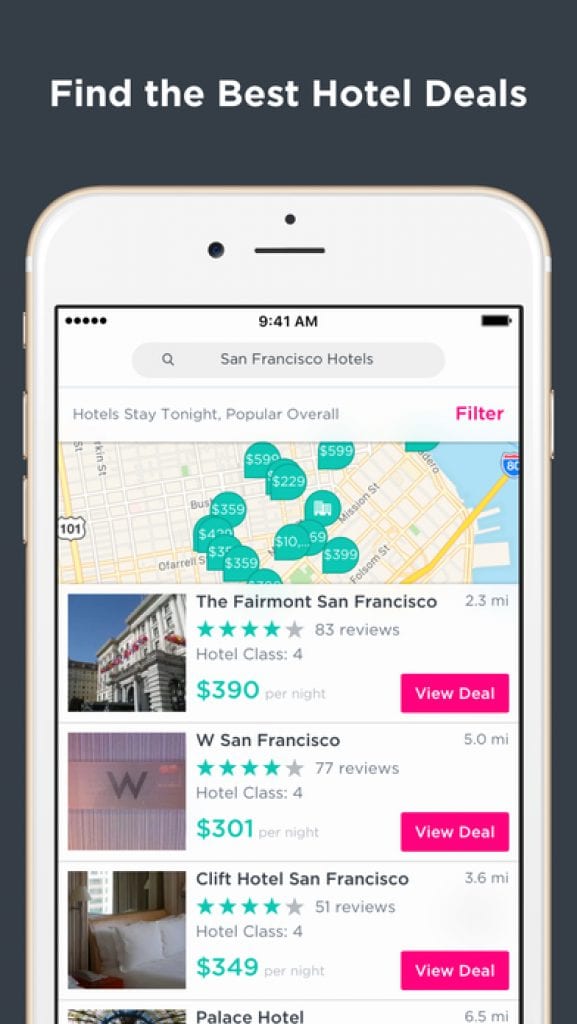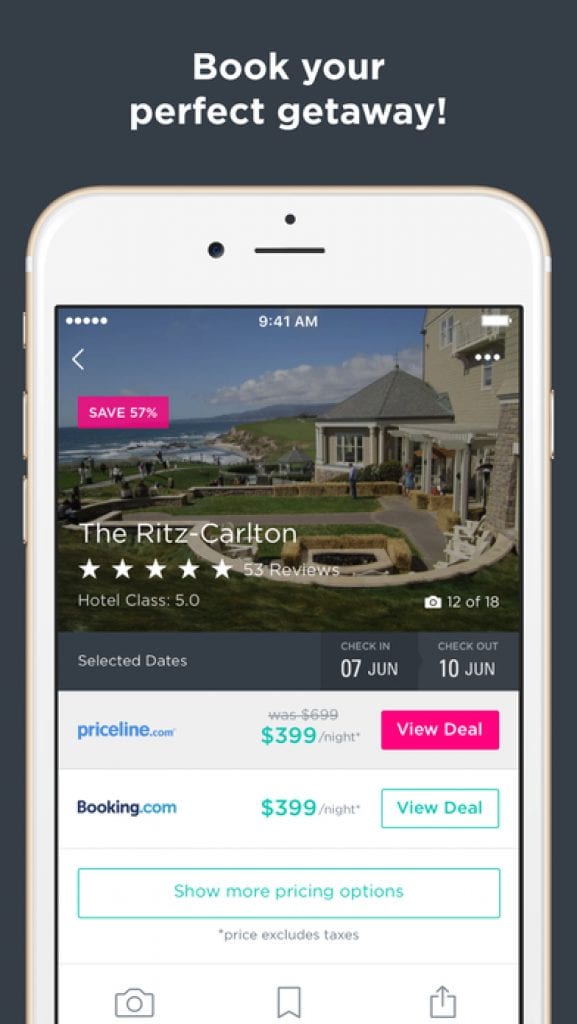 Take care of your transport
15. Uber
The world popular taxi app is famous for its comfortable cars, polite drivers and saving trips. You can choose the level from low-cost to premium and feel like a prince or princess.
Uber uses your credit card or PayPal to pay for a trip, your fare will be charged automatically at the end of your ride. I think, this way has a lot of advantages, for example, if you forget your wallet at home. If you don't have enough money on your card, split the fare with your friends if you ride together.
Unfortunately, Uber available not in every country, so check necessary country in question of Uber taxi at the site https://www.uber.com/cities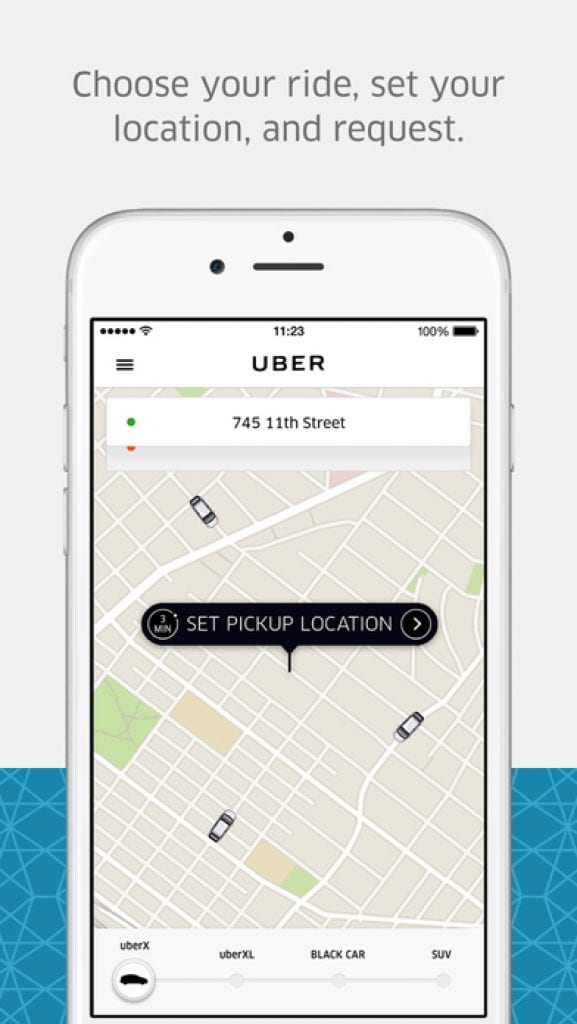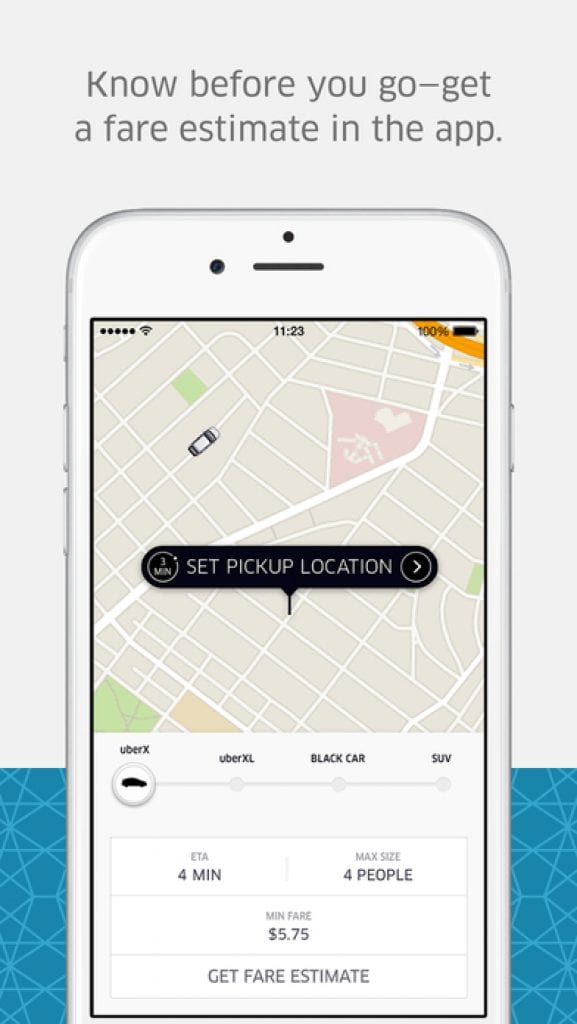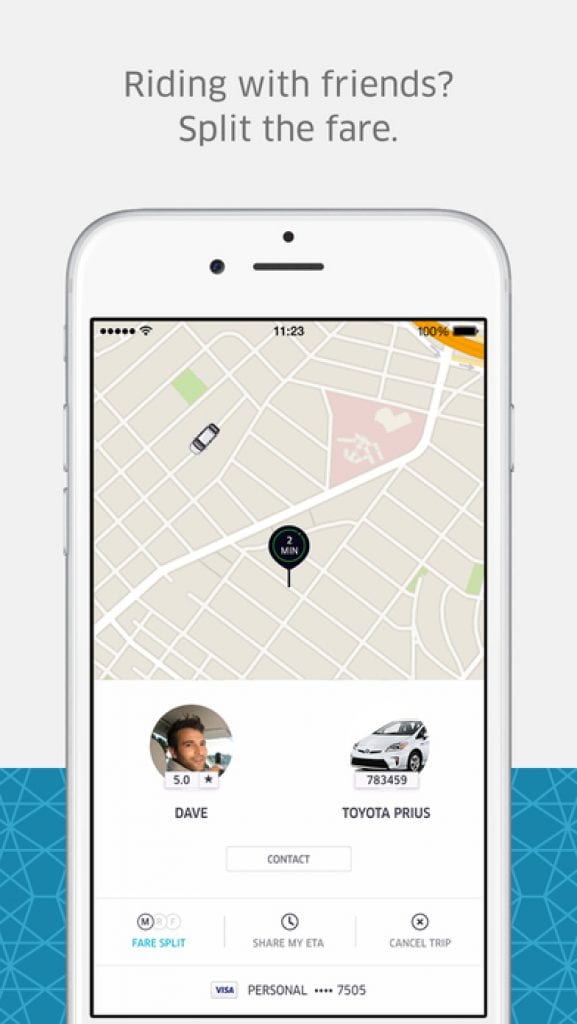 16. BlaBlaCar – Trusted Ridesharing
" To see a Paris and die" -said one famous person . STOP, it's too early to die. At first,you need to go to the Paris. And how to do it cheap and comfortable. Of course, use BlaBlaCar. Have you ever heard about it ? It is an app, searching for people who is going your way. You can be as a traveler with a car, offering a trip, or you can be a traveler, searching for a car to go to destination. Check profiles of the members you are going to ride with , their age, car, trip cost, and other details.
I use it every time I go home from my university town. At the beginning, I was so afraid of maniacs and people who can heart me, but now I really enjoy such trips because of comfort, meeting different people with their life stories and making new friends.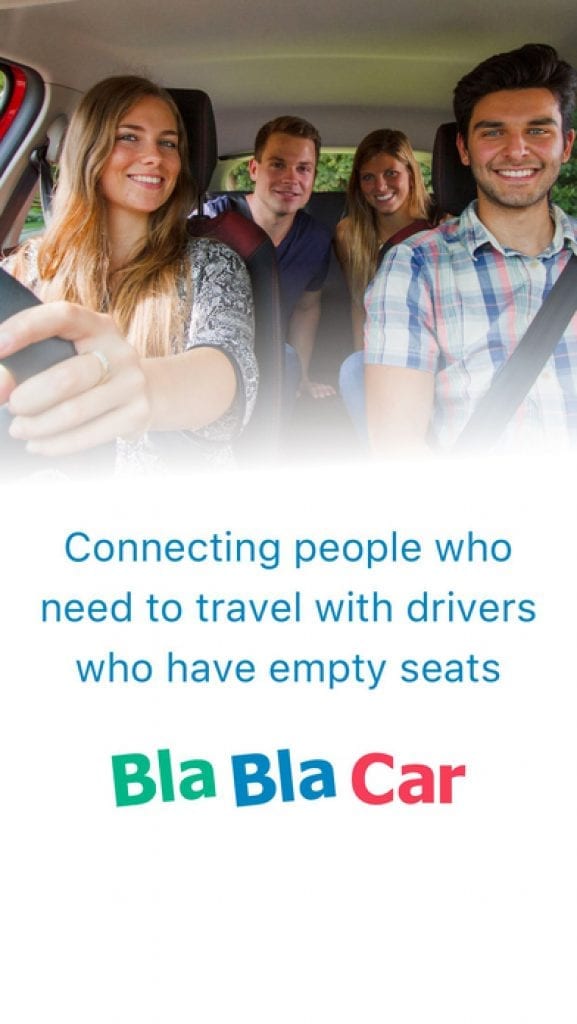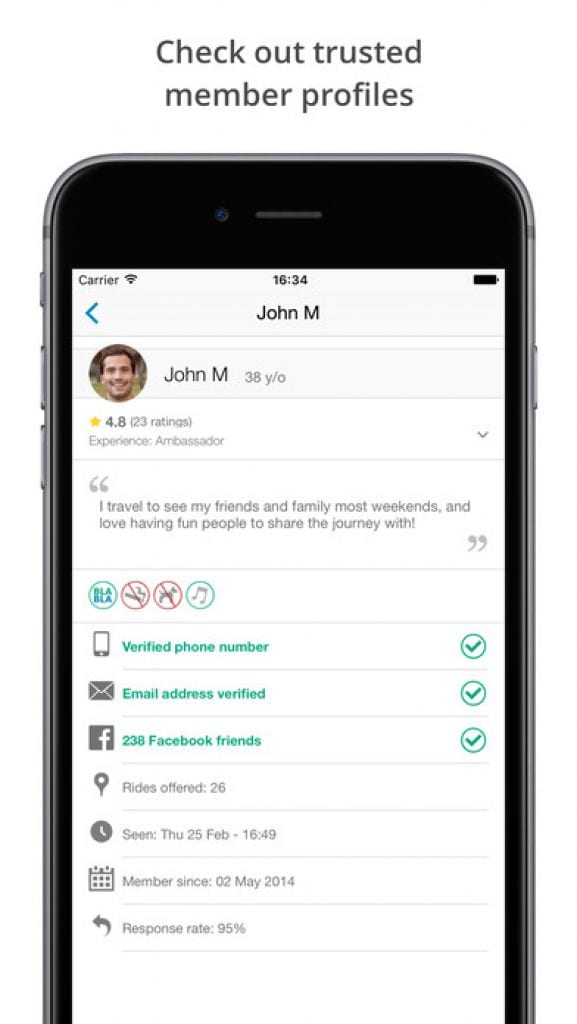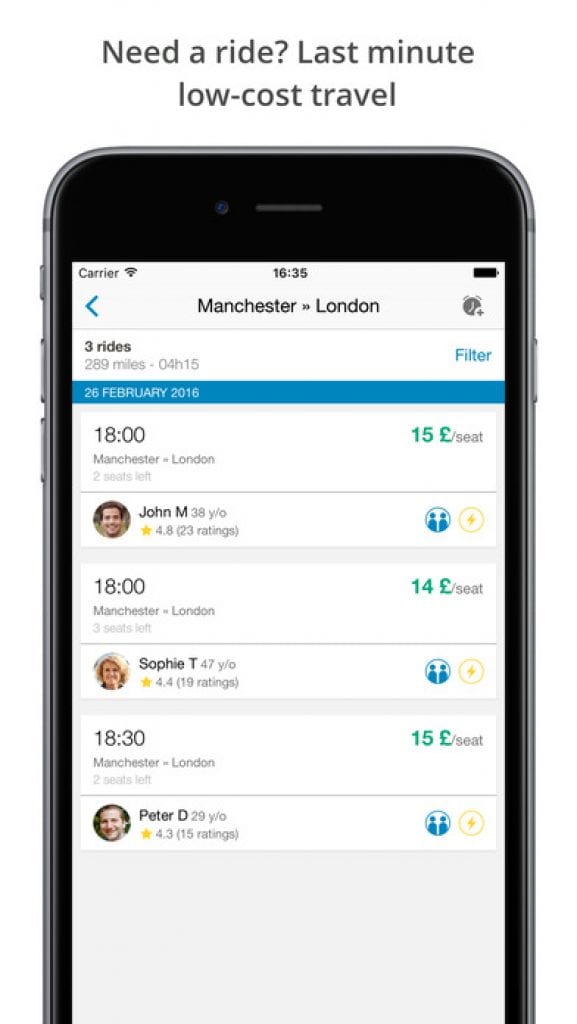 Useful Maps
17. MAPS. ME – Offline Map with Navigation and Directions
Where can I see the picture" Mona Lisa"? What the name of the street where the White House is located ? How can I go to the Venice Beach? Stop asking questions! Use Maps.me and find all you want to in this app. There are  345 countries and islands. Everywhere is covered. Now it is more detailed. Millions of points-of-interest (POIs) to discover: restaurants, tourist destinations, gas/petrol stations, ATM machines and more. Find the shortest and most accurate way to your destination. Discover the world on foot! And the main feature – it doesn't require any internet access because it works offline!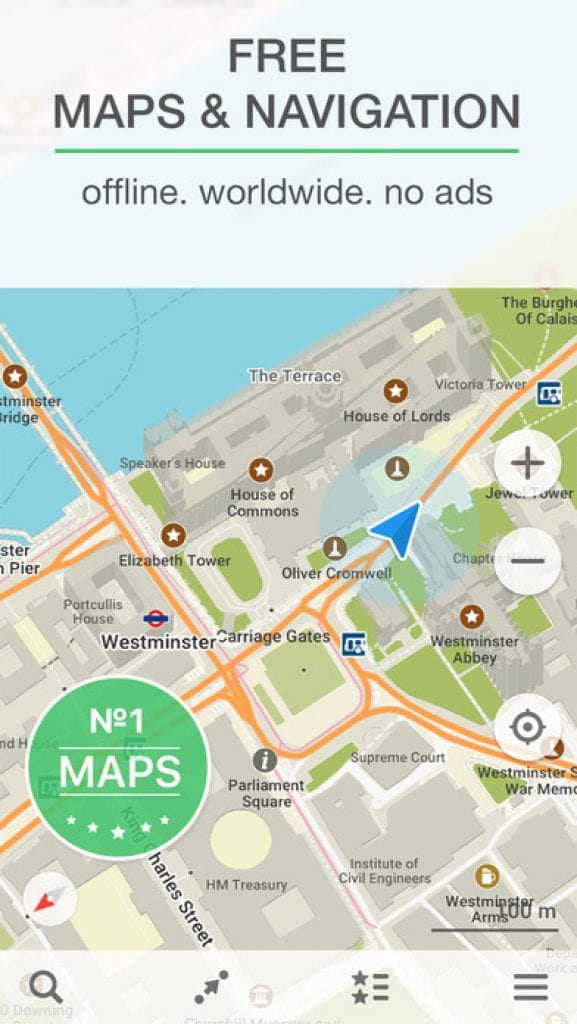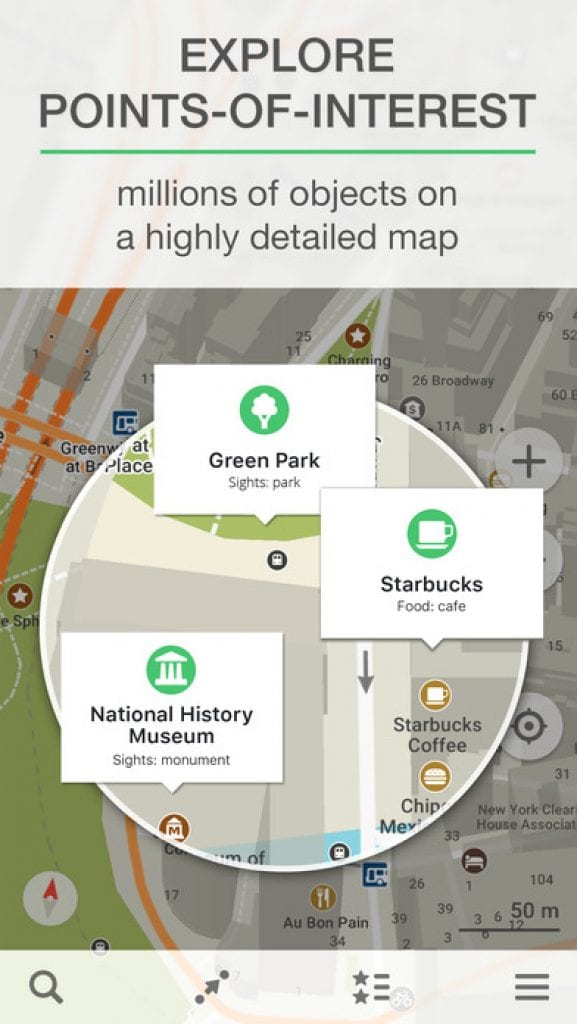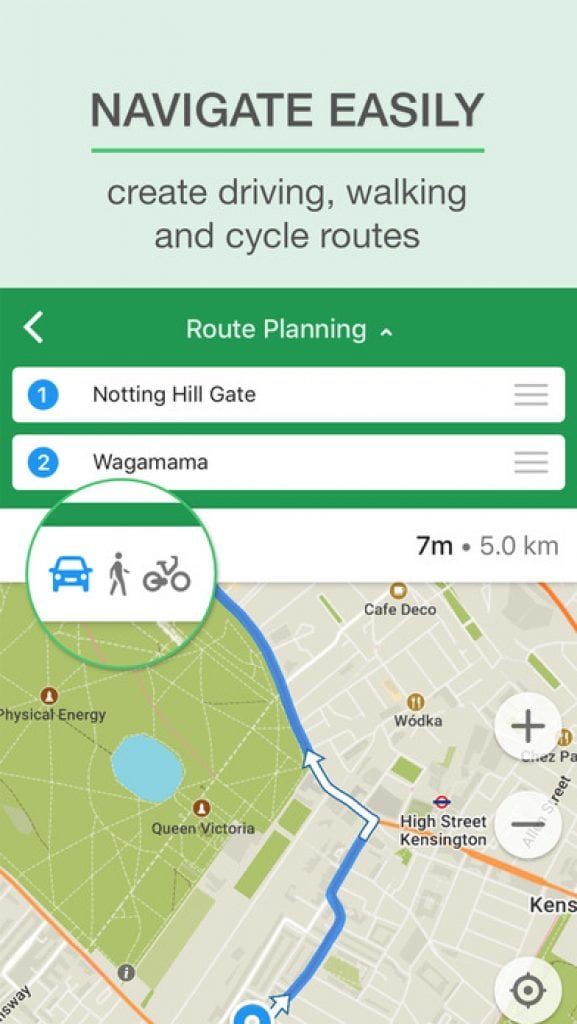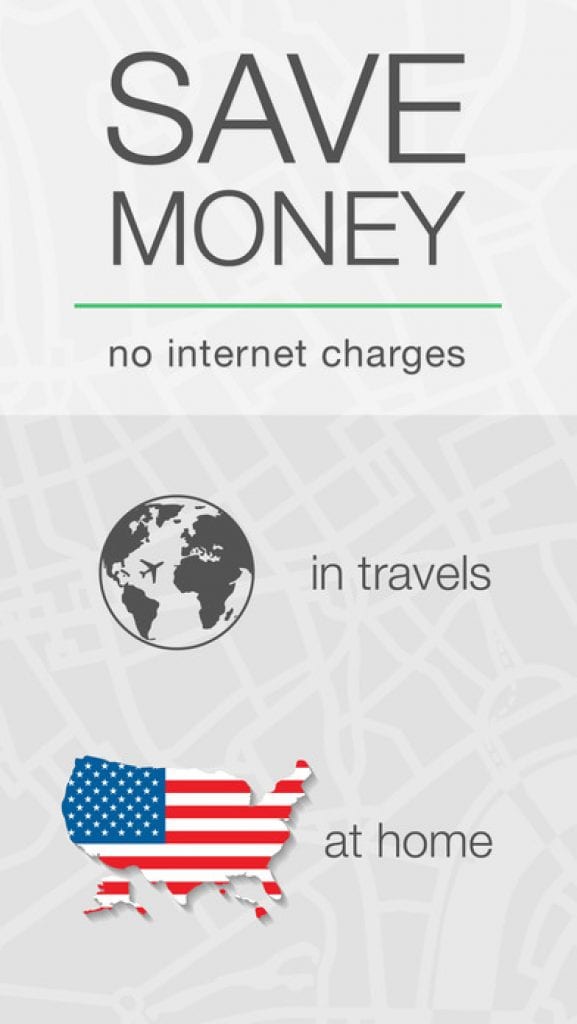 Bonus
18. Couchsurfing Travel App
Absolutely new way of finding a home for a night or some days. As developers said :" You have friends all over the world, you just haven't met them yet. Couchsurfing is a global community of over 9 million travel lovers in 120,000 cities who broaden new horizons and build meaningful connections across different cultures.
How it works. You set a request that you need a bed for a night, using the app , and someone who is very kind invites you to his home to sleep for free or for a small petition. Using this app, you meet new people, learn more about traditions and cultures.
I think, it is a great heart app, isn't it?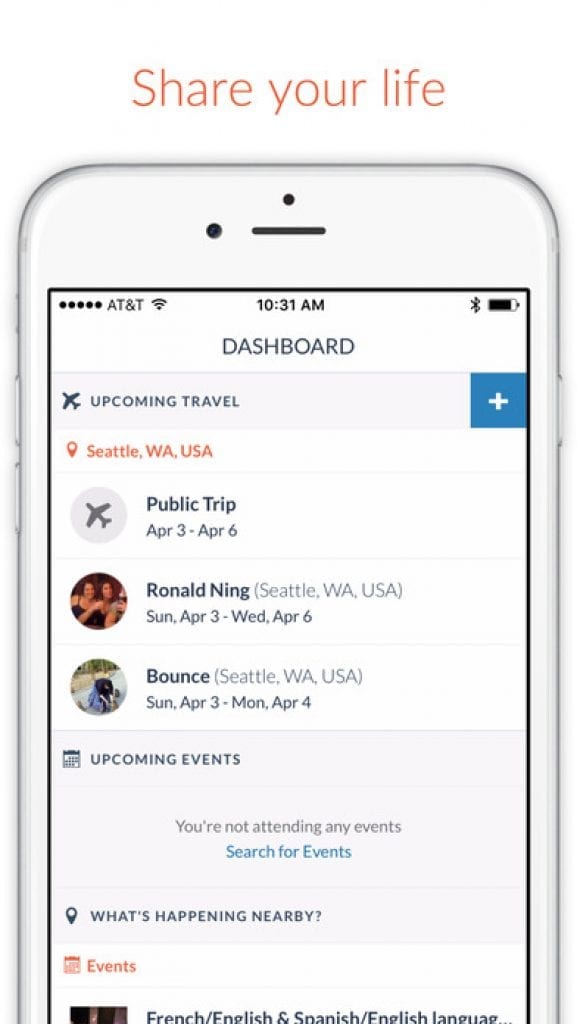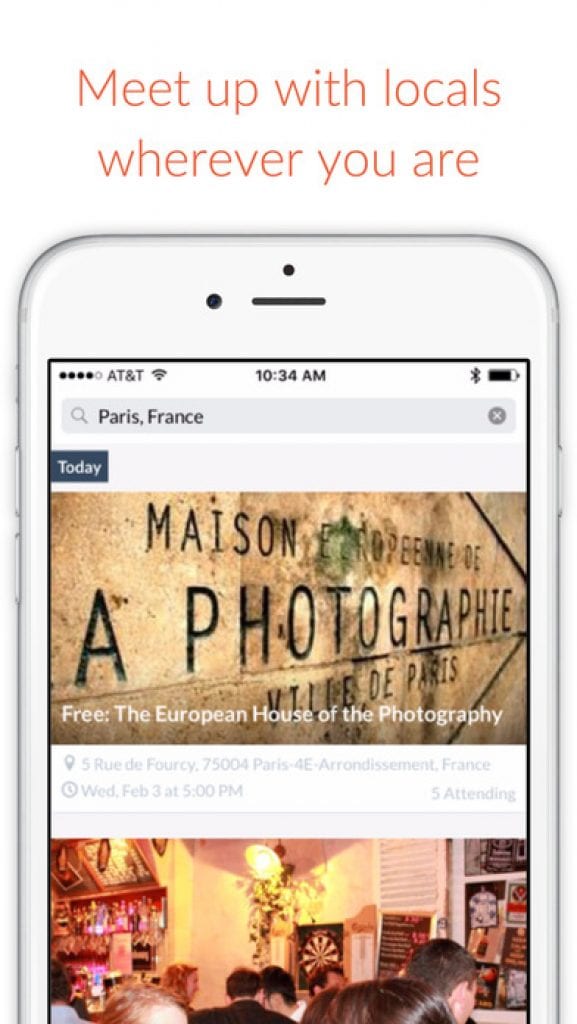 19. KAYAK Flights, Hotels & Cars
A friendly- to -use app which akin to two apps above. There is a simple interface without annoying advertisements  where you can choose necessary date and time. After all, you are shown a variety of flights and its airfares , so you can compare them and choose the best one. I think it is very convenient when you can book a hotel, looking at its reviews,a ticket on a plane and see some interesting places online and free! It is worth it. Moreover, now you can rent a car for faster travelling on a road.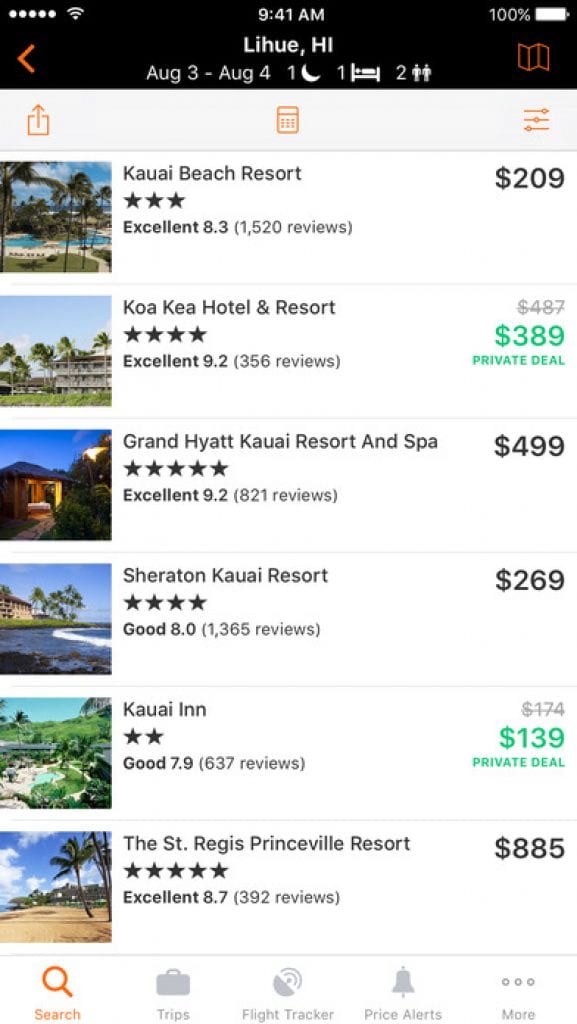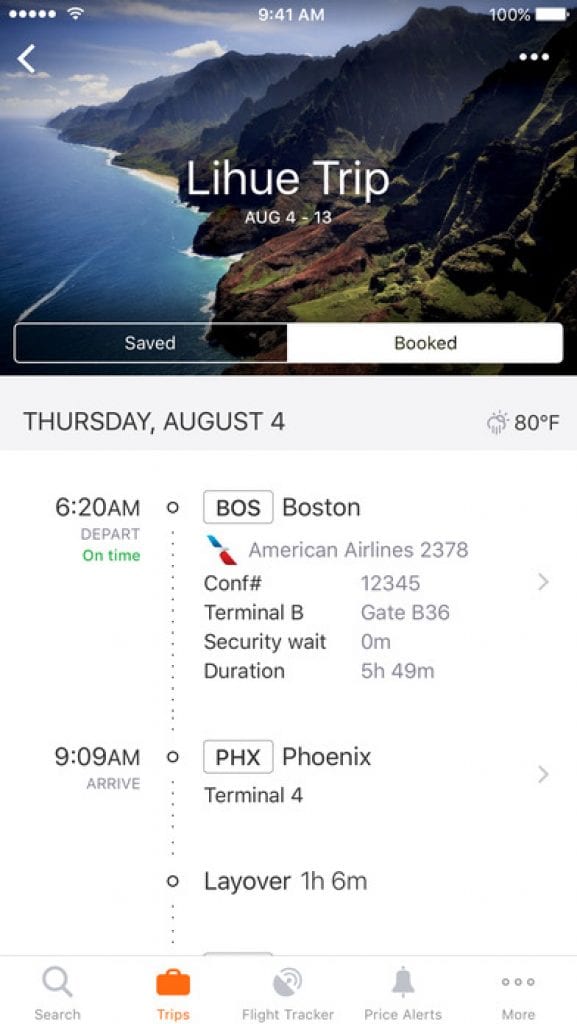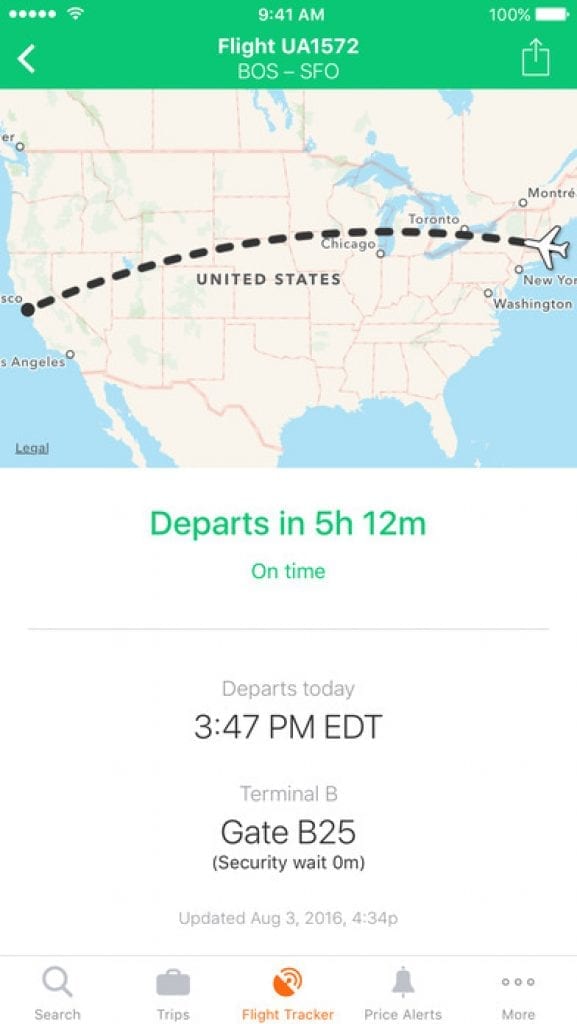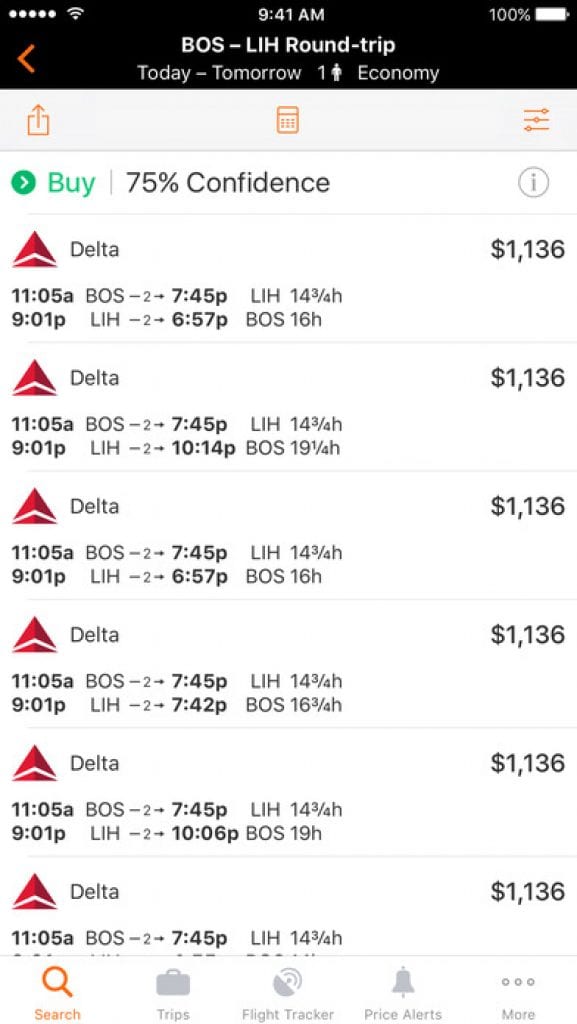 20. Skyscanner – Flights, Hotels & Cars
As for me, I use Skyscanner often than other apps, searching for flights. For example exactly here are the majority of international air companies, so I can travel to the most distant corners of the world. Of course, flights for 1000 dollars is out of my budget, so Skyscanner finds all good options for me and compares them by cost, time, date and so on. Moreover, it is available in over 30 languages.
Book the best hotels as simple as buying a bread in a shop. Set some parameters, look at the hotel's map and choose a high-rated and closest to you directly from the app or in a hotel. Notice, that Skyscanner just searches for the best offers and don't sell anything. You will be navigated to the site of a hotel or a travel agency.
Search the world's car rental companies in seconds. Choose from 30,000 airport or city locations, then filter by vehicle type, fuel type, and features to find just the car you want at just the right price. What's more, our Fair Fuel Policy flag makes sure you don't get ripped off on fuel.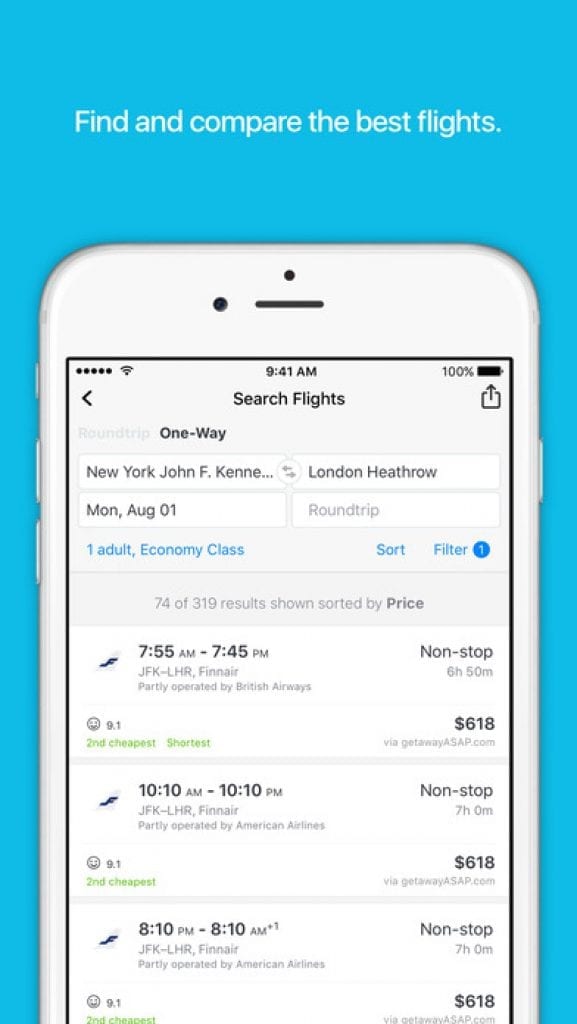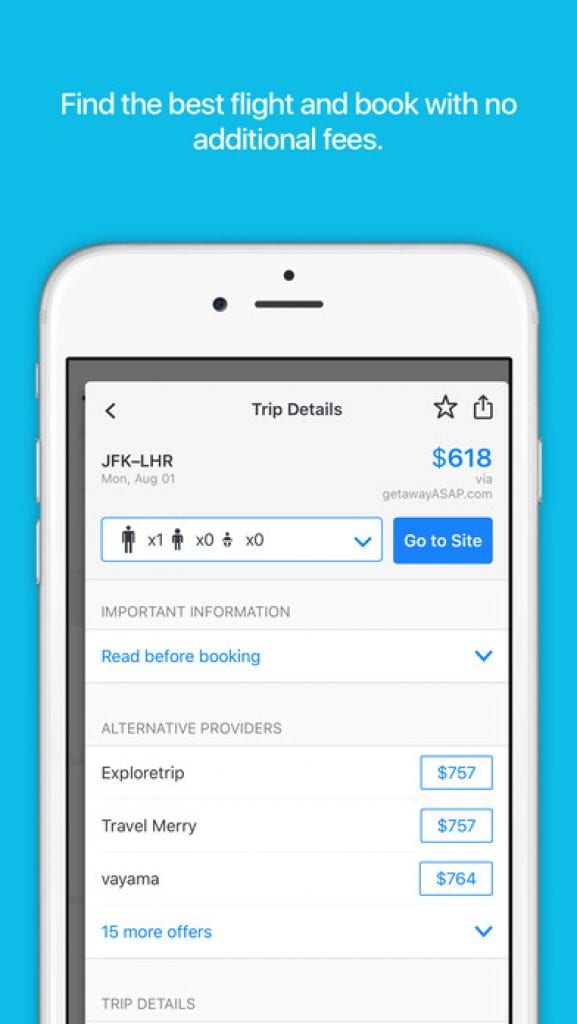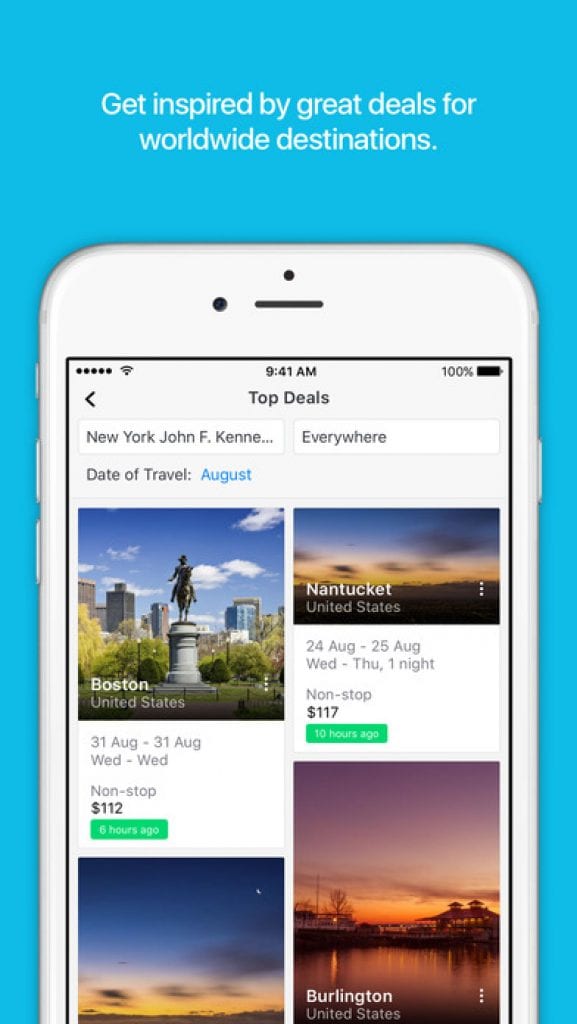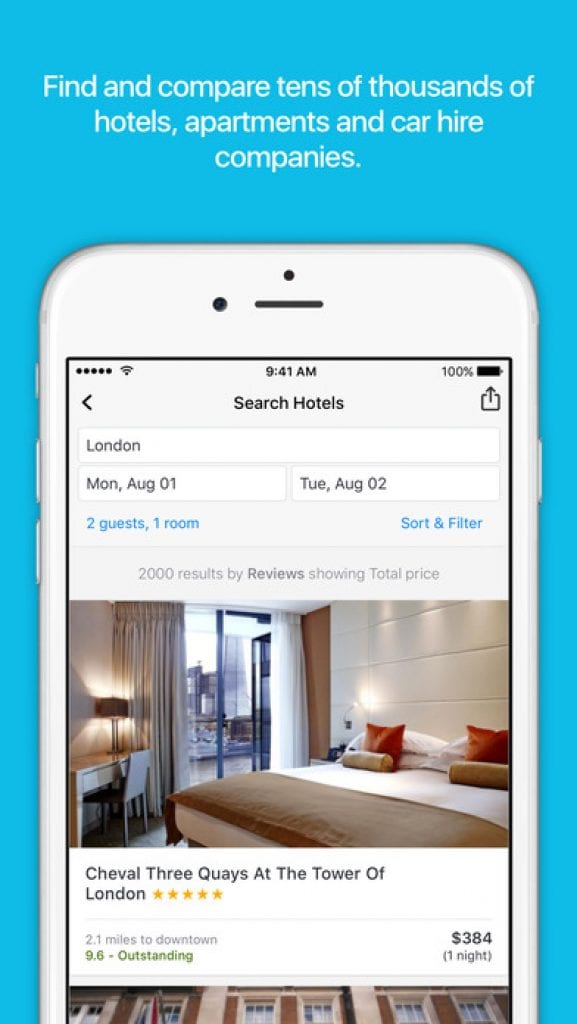 Plan your TRIP
Hope, your future adventure will be amazing!