11 Best Weight Lifting Apps for Android & iOS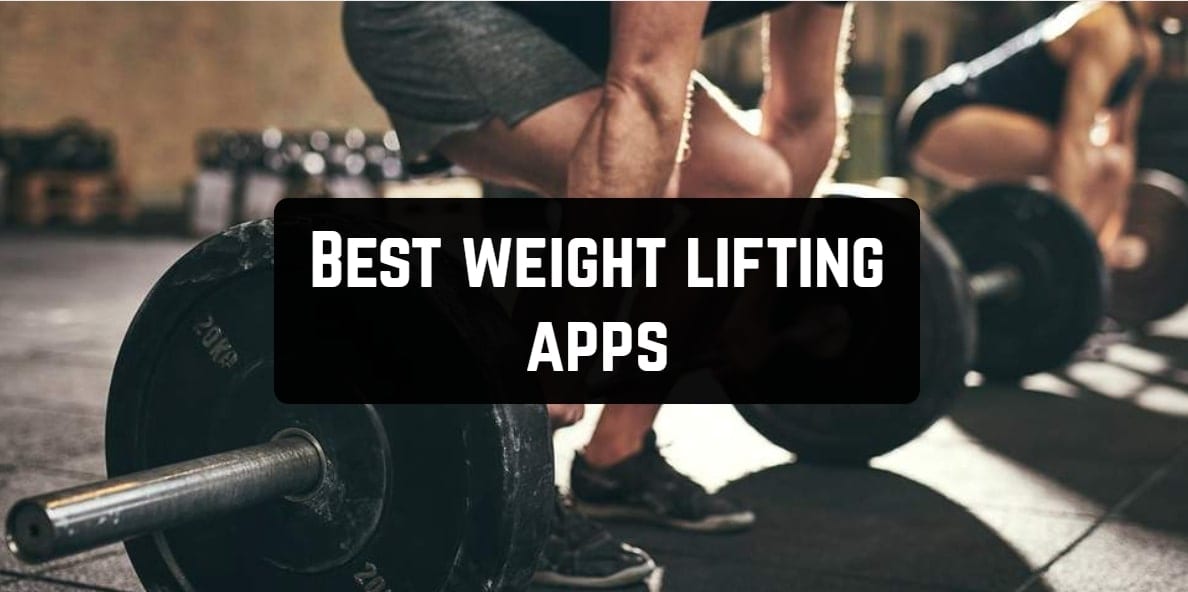 Sport is an integral part of modern life. Most people want to get the best physical form, and some live professional sports.
Each sport is interesting in its own way. You can do swimming, fitness, football or just improve your form. But weightlifting will help you to increase strength and muscle volume.
Modern technology does not standstill. Many professional athletes and coaches use mobile apps for easy training. They help to learn more interesting exercises. Besides, today there is a trend of online workouts. You can practice your favorite sport with a professional trainer using your phone.
Want to improve your progress in weightlifting or build muscle? This list contains the best applications for training in weightlifting. These applications will help you get the desired shape and increase strength.
JEFIT
The application JEFIT Workout Planner Gym Log received the highest score for its information. It is one of the best in the number of ready-made workouts. A lot of exercises for weightlifting, which shows the necessary sports equipment.
There are sections with exercises for lovers of intense Crossfit and workout. The application is translated into many different languages. The application has a large list of exercises with video. You can search by name, apply filters by weighted muscles and equipment, add to favorites. If you have not found the right exercise, you can add your own.
It is very convenient to make your own program. Specify the day, add exercises, edit the number of exercises, set the rest time. You can change the weight and number of repetitions, complete the exercise and turn on the rest timer. Workouts completed are displayed on the calendar.
Benefits of the application JEFIT Workout Planner Gym Log:
many training programs
Health Kit support
detailed audio support
download individual workouts
the creation of their workouts and exercises
add exercises to favorites
widget
descriptions of exercises
Besides, this application contains the best bodybuilding exercises. You will get free access to all workouts. Additionally, you can buy individual training programs. It will help you achieve the necessary goals.
Also, there is the possibility of consultation with a professional trainer. They will explain to you the technique of doing the exercises using audio, photo or video. You can do the exercises not only in the gym but also at home. However, you need a special sports equipment for training.
You can also check: 13 Best Health Coach Apps for Android & iOS
Stronglifts 5×5 Weight Lifting
Stronglifts 5×5 Weight Lifting is a completely free application for training in weightlifting. There are more than 150 workouts available in several directions.
The application is suitable for both beginners and advanced athletes. Also, you can copy the previous exercise with one-touch during training. After each approach, you can start the timer for rest. In the "Information" section you will find the description of the exercises and its technique.
This application is distinguished by its reliability and ease of use. It can replace a personal trainer. The application also tracks all workouts to make an accurate analysis. This is the most reliable and convenient application.
Advantages of the application Stronglifts 5×5 Weight Lifting:
attractive design
no in-app purchases
many training programs
detailed audio support
the ability to download only individual workouts and delete downloaded content
the presence of a section with useful articles
no advertisement
availability of training programs with the ability to customize
Attached you will find workouts for each muscle group. You can work out both in the gym and at home if you have the necessary equipment. For each exercise, there are images of the muscles involved. You can customize the training based on your goal.
You also get access to creating your own workouts and exercises. It also has a convenient training calendar and timer. All your workouts are saved in the application history. If you have any questions, you can contact the application support team. The answer usually takes about two days.
Workout Trainer: fitness coach
Workout Trainer: fitness coach is a great app for athletes involved in weightlifting. It will help you track your progress. You can choose ready-made workouts or create your own.
In the database of the application, you can search for exercises by name. Add them to your favorites. It simplifies the search and preparation of the program. For each exercise, you can choose the desired weight and number of repetitions.
The application will calculate the number of calories burned. Also, it will show you the results for the selected period of time. You can plan your workouts with the help of a special calendar. The application saves the history of your workouts. It helps to check progress.
After training, you need to enter the weight of the equipment, the number of exercises and its speed. This will help the application to calculate the calories burned. History can be viewed in the diary, indicating the desired period of time.
The app also compares your every workout with previous ones. It will show whether you are achieving your goals. You can also repeat the workouts already completed. During a workout, a new window opens every time you add an exercise.
You can create a specific goal. The app will remind you of workouts, which will help you not to miss classes and always stay in good shape.
Gym Workout Planner – Weightlifting plans
You need regular workouts to get better results in weightlifting. This application Gym Workout Planner – Weightlifting plans will help you. This is a multifunctional training app for weightlifting. All workouts are based on the best sports techniques.
This application is great for men and women. Here you will find exercises on all muscle groups. For each workout, you will need special equipment. Here you will find videos for all exercises, which consists of its technique in detail.
You can also choose the "personal trainer" function. This will help you follow the technique and accuracy of the exercise. You will get some tips to help you improve your progress and make your workouts more interesting.
The application Gym Workout Planner – Weightlifting plans includes workouts for 9 major muscle groups:
forearm
pectoral muscles
press
legs
shoulders
biceps
triceps
buttocks
back
Video exercises will help you follow the correct technique and get amazing results. During a workout, a separate window opens to add a new exercise. It displays previous weights and repetitions. After the approach, a timer for rest activates.
Free training plans with a training schedule are also available here. Before each workout, you will receive reminders on your phone. The application saves the history of your workouts. You can see your diaries in the "Training" section of the calendar. You can find some statistics on the main screen.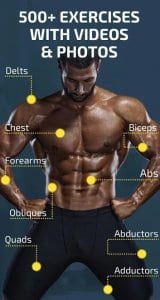 GAIN Group & Personal Training
This app is an addition to a famous fitness website called GAIN. Here you will be able to get your personal online trainer who will build the training system for you according to your goals. If your goal is to gain muscle weight then the trainer will tell you about the necessary equipment and you will need and the right nutrition.
Basically, GAIN is the app that works just like if you had your personal trainer in the gym, but via the app, you can stay connected to the trainer form all around the world. The platform is incredibly user-friendly and has everything for organizing a plan for gaining the weight.
First of all, there is a section for you to build your schedule of workouts. You trainer can build the schedule for you, along with listing all the exercise with the equipment required for your goal.
What is more, after each workout you are going to enter the data about your results into the app, thus, after a while, it will compile the statistics about your progress. For better convenience, there is a timer built-in right into the app so you could measure each part while you are lifting weights.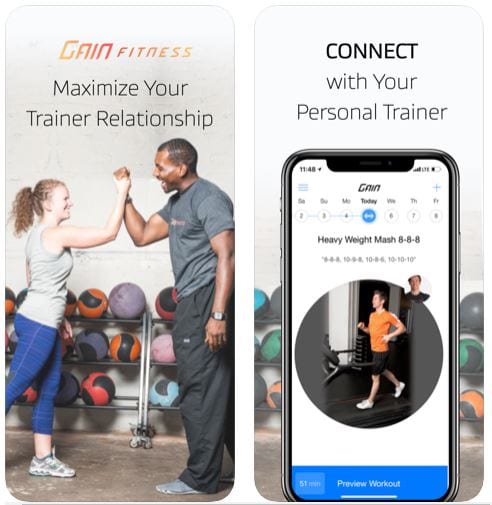 You may also like: 9 Best random workout generator apps for Android & iOS
Nike Training Club
In weightlifting, nutrition plays a key role. To the beginners, it might seem like training hard and augmentation of the weight lifted is the main secret to success, however, this is far from the truth. In order to be able to live the greater amount of iron you need your muscles to grow first, for them to become strong the tough.
For that, you need to constantly consume the protein (for the most accurate diet it is better to contact the specialist), then work with a little bit bigger weight so the fiber in the muscles gets destroyed and then gathered again in the bigger and stronger form. That's how powerlifting works.
What's for the training, Nike Training Club is another useful software if you want to find exercises, techniques, and advice on how it is better to work with weight. To be completely honest, this app is rather good for doing some separate general exercises – a warm-up or stretching after the main workout.
However, if you dig deeper, you might find something interesting about powerlifting as well. And, of course, it should be mentioned here that Nike Training Club is one of the most popular sports apps on the market and many video tutorials here are recorded featuring the world sports stars.
Following their workouts is easy and fun. Though Nike Training Club cannot fully replace a trainer for you, so it is perfect to use this app sometimes after or before your main gym sessions.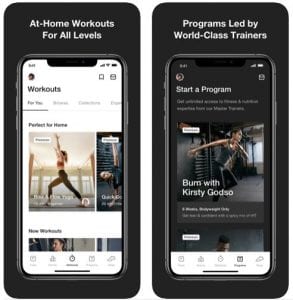 Daily Strength Workout Planner
Daily Strength Workout Planner is the best assistant for training in weightlifting. The app summarizes the experience of professional athletes and fitness instructors. If you strive to improve yourself and your body – this application is for you!
The application contains more than 50 detailed exercises. It is grouped into four main groups of workouts:
Warm-up: light short workouts to warm up the muscles
Gymnastics: exercises with your own weight
Cardio: running, jumping and more
Weightlifting: exercises with a barbell, weights and other sports equipment
The main advantage of the application is that every day you can pick yourself a new workout. Each workout has its own specifics and level of difficulty. You can also create your own workout from your exercises.
Even the most detailed description cannot convey all the nuances of the exercise. It takes into account the individual characteristics of each user. Thus, if you have questions, you can get personal advice from professional athletes.
The app Daily Strength Workout Planner contains a very large variety of workouts and exercises. So, it is suitable for both beginner athletes and professionals.
The application history saves the data on the completed workouts.
Application Modes:
Warm-up
Gymnastics
Cardio
Weightlifting
Gymnastics + Cardio
Gymnastics + Weightlifting
Weightlifting + Cardio
Weightlifting + Gymnastics + Cardio
Your own training
Download the application on any device and enjoy using it for free.
WORKIT
WORKIT is a program for the effective implementation of training in weightlifting. Create training programs, keep a journal, and analyze your results.
Manage your workout programs:
Create your exercise program with your exercises or select them from the list
Group and sort your exercises in a workout program
Set the number of sets, weight, and number of repetitions that you want to perform in the exercise
Set different settings for the exercises
Edit workouts:
Change exercise
Create your own exercises
Specify a muscle group to choose the right workout
Add notes to your exercises
In this application, you can view your workouts and save them in a special journal. This will give you quick access to all completed exercises. You can study the statistics of your workouts. Also, you can switch to the next exercise after saving the current one.
After the training, you will receive detailed information about your progress. A special indicator will show you the progress of the workout.
Watch for rest between exercises:
Choose between classic and graphic timer.
Set the desired rest duration
Autostart function
Follow your progress:
View your exercise log by specifying the desired date or muscle group.
Track average, total, the largest and smallest weight and number of repetitions
Save and share your workout history.
Track your body measurements and analyze your progress.
It's free to download for iOS and Android users.
Freeletics Gym
Freeletics Gym is an application for those who want to improve their effectiveness in weightlifting. Pick up the necessary training program, save the results, and check the progress. The application stores the results of training in a convenient magazine. Here you will find all kinds of exercises.
Rest Timer selects the right time. After the time expires, the application will give a special signal. The best training programs from professional trainers are also available in the application. Using certain parameters, you can choose a program for any purpose.
You can also enter information about your level of training. After you choose your favorite workout, you can change some parameters.
All exercises have a detailed description of the technique. Descriptive videos and photos are also available. Using the search by name, you can easily find a suitable exercise. In the filter, you can specify the type of exercise and inventory.
The application allows you to create your training program. You can share this program with your friends to study together. You can also take part in the discussion of specific workouts and exercises.
Reviews will help to learn some of the features of the exercise technique. You can always ask for advice from more experienced athletes. The application Freeletics Gym analyzes the workouts performed.
View previous results. Thanks to this feature you can plan your next workout. Also, the application will tell you which parameters should be improved. Compare your results with the progress of your friends over a certain period of time. Determine who has the best training results.
Gym Exercises & Workouts
The application Gym Exercises & Workouts has a large selection of effective training in weightlifting. Also, it is a mobile trainer who will draw up a training program based on your goals and training indicators.
You need to select the appropriate program and specify the level of sports training. You will receive a detailed training program, which will be updated every week. The application uses the latest algorithms based on a variety of workouts. You have to select all parameters to get an increase in muscle mass and strength indicators.
Chat is available in the application is available. You can learn some information about the exercises from professional coaches or athletes. They will describe the correct technique of exercises and answer all your questions. Training programs in the application divides exercises into male and female ones.
Training programs for men include:
a set of lean body mass
the upper body training program
training program for arms and legs
the whole body workout program
the cycle of powerlifting training
training to increase strength
Training programs for women:
the training program with an emphasis on the buttocks
a common set of lean body mass
stable weight loss
fast weight loss
balanced training program for the development of the whole body
Besides, other types of exercises are available in the application of Gym Exercises & Workouts. It will help you to improve your indicators. A distinctive feature of the application is the section of the relevant information. You can find the latest news from the world of weightlifting and professional sports.
Also here are various tips from professional trainers. You can comment on various articles and discuss them with your friends.
Check this: 11 Best apps for swimmers 2019 (Android & iOS)
BodySpace
Developers of the application BodySpace are professional athletes in weightlifting. They decided to share their experiences. Thus, they created an application that is suitable for beginners and professionals.
The application tracks the progress of training and makes a detailed analysis. It will help you to improve the results. The application stores the history of your workouts. Sort them by week, type, or results. A variety of athletics exercises are available in the app.
You can edit them or add your own exercises. For this, there is a large selection of parameters and characteristics. For example, the type of exercise, the number of repetitions, or the weight of sports equipment.
Ready-made training templates are also available in the application. You can share your workouts with friends or send them to other devices. This process takes a few seconds.
The application attracts with its interactivity. You can chat with friends, other athletes, or professional coaches. Get useful tips, share useful information, and learn the latest news from the world of sports. You can also add your results and get on the leaderboard.
For ease of use, you will be available to various functions. For example, you can check the duration and effectiveness of your workout in real-time.
You will also receive a personal review of your workouts. This feature includes training statistics, records, and achievements. Analyze your workout results, duration, and more. View your progress in each exercise. The application is completely free. There is no annoying advertising and unnecessary features.