With regard to the current situation, many people were out of their job. And this is the problem that concerns all of humanity. The unemployment rate increased due to the fact that COVID-19 has shaken the whole world economy.
The prices have risen, people have lost their job, and the economy is suffering. In order to ensure people's financial security, they have to take out loans. In the article down below we tried to collect the best loan apps for the unemployed in the USA.
And for those who want to try to buy a house, we can recommend the home loan apps.
Chime – Mobile banking
Chime is a payday loan app for USA residents that allows people to get up to two hundred dollars with no fees on their credit cards. People are able to get a loan up to two days early if they create an account with direct deposit.
Moreover, there are not any monthly payments, any constant fees for overdraft, any unexpected chargers for balance minimum, and, finally, any payments for foreign transactions.
Advantages:
Lack of monthly payments. People may be sure that money won't be charged from their eWallet
Credibility. This app is used and loved by millions of people so that people that did not encounter Chime can be convinced of the security of their cash. Chime sends users daily balance alerts, there is authentication and the possibility to block the card as appropriate
Opportunity to get up to two hundred dollars without any fees
Acquisition of money up to two days early. It is faster than in an ordinary bank
Opportunity to take out money without having a job, but with a regular income
Tracker of costs and incomes. People can keep tracking their costs and incomes
The design of the app is contemporary and minimalistic with bright green buttons that draw people's attention. It is a nice asset, especially for those who are out of their job.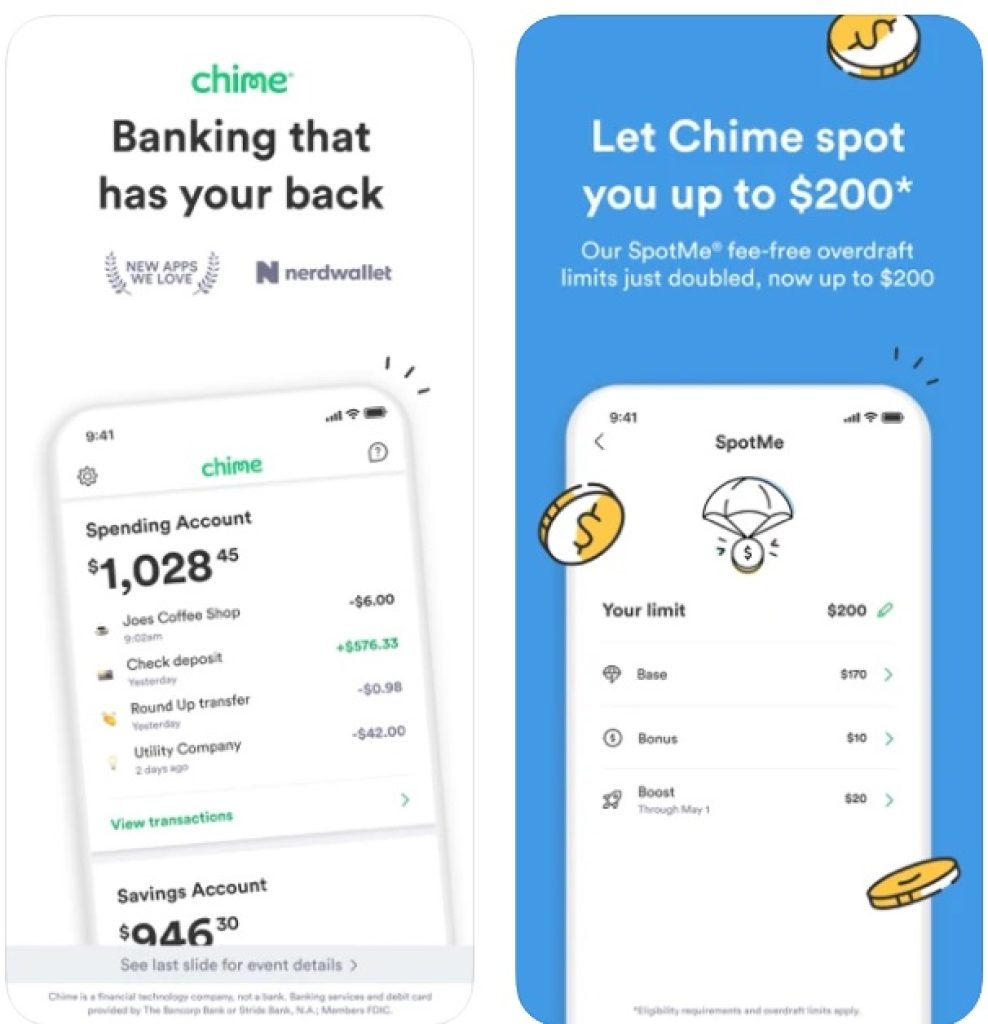 You may also like: 9 Best Payday Loan Apps for Android & iOS
Dave – Banking & Cash Advance
Dave is a lending app with no fees at all. The app's main aim is to help people to control their budget and take loans whenever they need them. In addition, Dave is famous for their loyal buddy that desires to aid too.

People are able to get cash up to two hundred and fifty dollars and start to use its financial tools for managing the budget.
As in Chime, Dave proposes to pay money up to two days early with the registration of direct deposit. In addition, people have the opportunity to build their credit history with Dave (the buddy is waiting for you right now, so join him).

People will get a cash advance to cover daily costs if they provide the information about regular income.
Advantages:
Opportunity to build own credit. Dave cooperates with a company named LevelCredit in order to help build loan history
Get money up to two days early without any hidden fees
Opportunity to have up to two hundred and fifty dollars
Find a job through the app. Dave proposes to apply for a job right from the app, it is only about remote work
What about the design, after downloading an interesting buddy meets users, with his help people can use the app. It has a bright and contemporary design.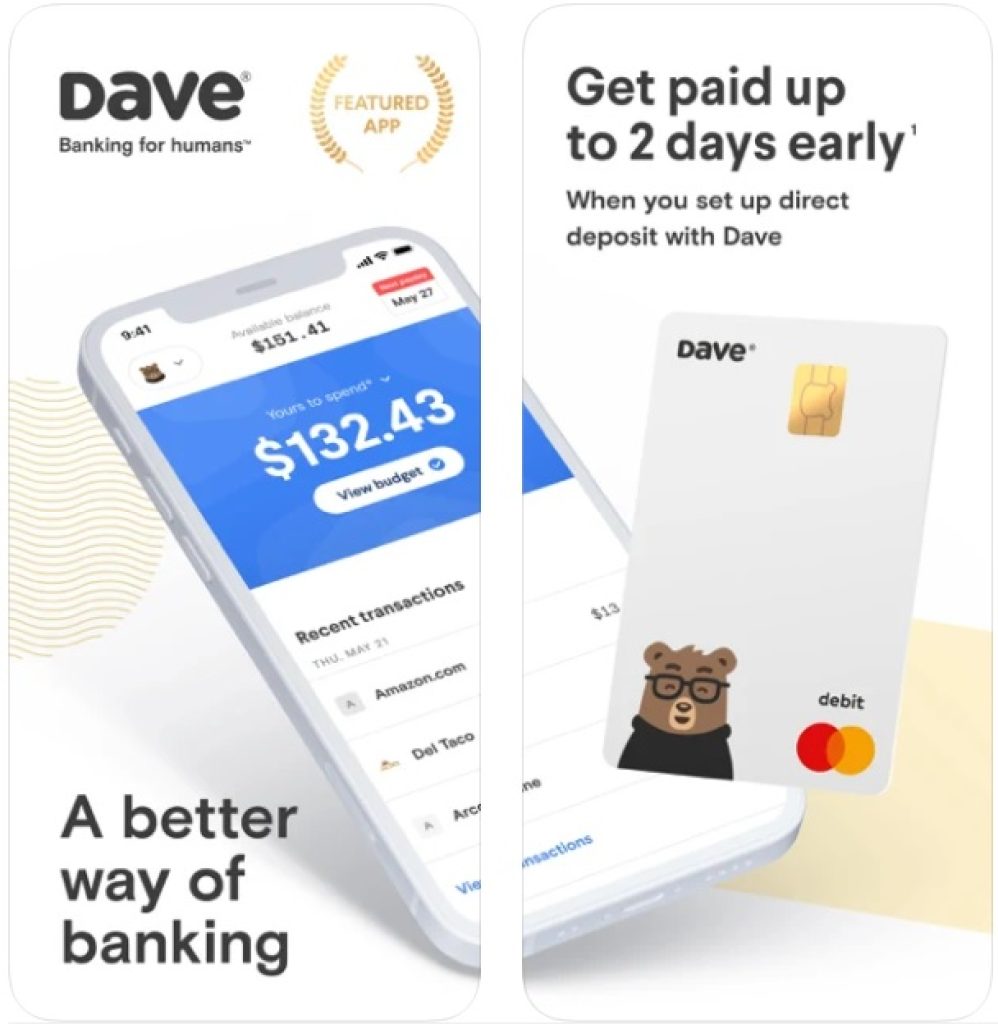 MoneyLion: Bank & Finance App
MoneyLion Bank is one of the most comfortable platforms for investing, financing, and saving money for Americans. The bank is based in New York and has monthly fees so Americans call it as a "Netflix of finance".
What is MoneyLion famous for?
It helps to build a credit card system. People are able to create or rebuild credit cards for twenty dollars a month.
The program has mobile banking so this app is comfortable to use. There are many features for people to finance their money
The app has the opportunity to track people's finance. Due to this fact, users must be confident that their finances are out of danger
Cash advances. Customers are able to get two hundred and fifty dollars without any commission
There is a benefit for those that are out of a job. They can get cash advance up to their next income
Advantages:
Customers can quickly sign up without any difficulties
Financial tracking
Benefits for unemployed people
Low commissions
Availability of more than fifty-five thousand ATMs
Cash advances up to two hundred and fifty dollars without any fees
Disadvantages:
Lack of physical branches
Opportunity to have only small loans
The design of the app is the same as in the apps mentioned above. It is contemporary and minimalistic.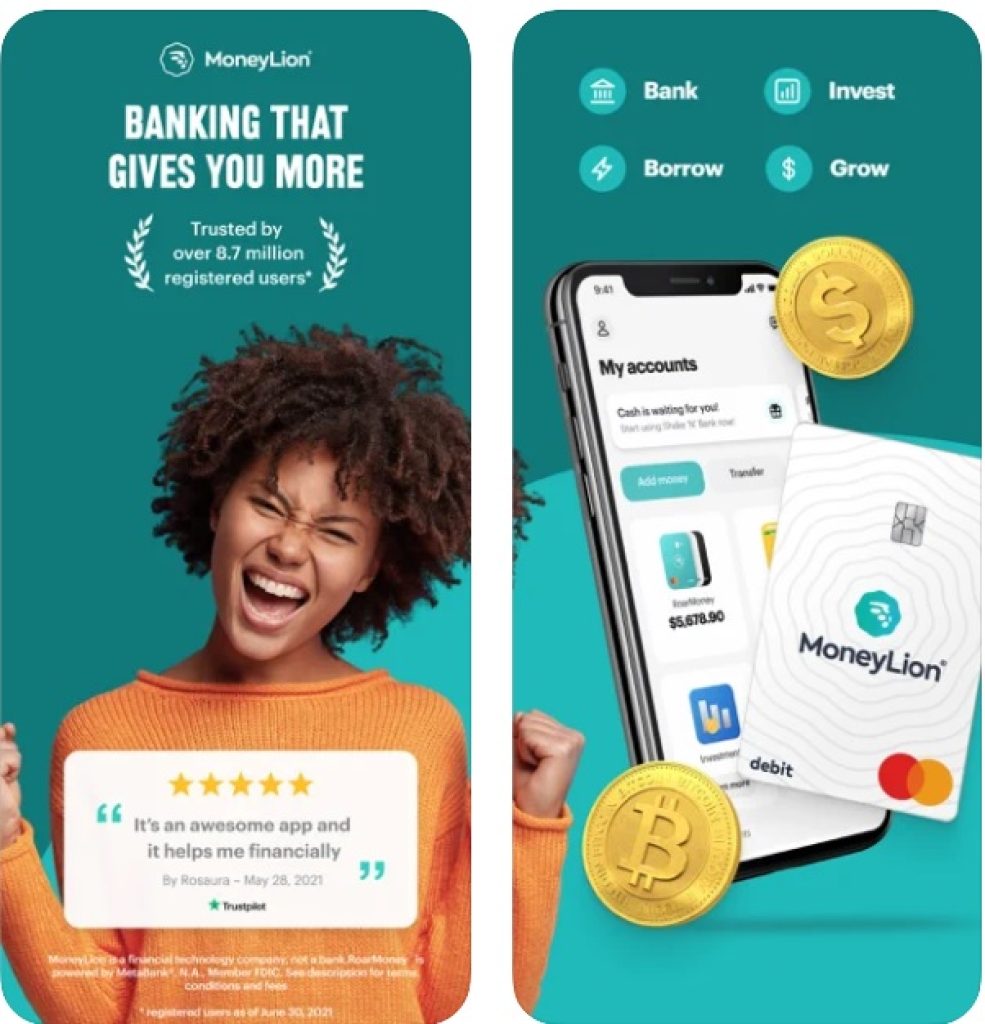 Earnin: Your money in advance
Earnin is a specific program in the USA that should be used only as required, not regularly. The app proposes people get earned salaries before payday. However, in order to use all the features people need to have a bank account. Only with the help of it users are able to get loans.
App's features:
Earnin might be cheaper than taking a payday loan if people use it properly.
Opportunity to donate tips. Due to these tips, an annual percentage rate can be lower than rates from lenders
Earnin demands the availability of digital schedules or user locations. Moreover, the app tracks hours that people have worked and based on it withdraws them before they are paid.
To begin with, customers can get only up to one hundred dollars, but when they constantly use the app, the amount of loans is increasing.
When any income comes, Earnin writes off the amount of borrowed money
Advantages:
Lack of constant fees
Fast financing
Benefits for unemployed people
Disadvantages:
Access to users' bank account
Impossibility to use it constantly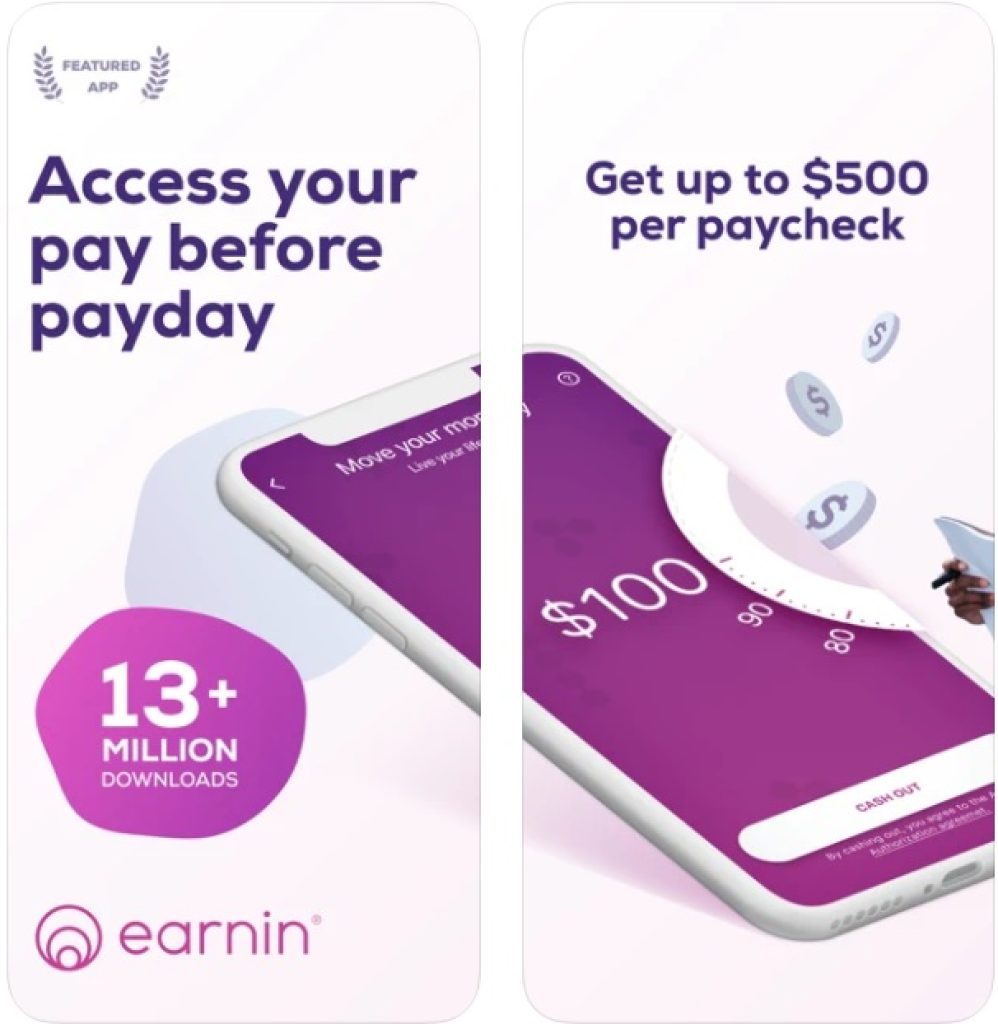 Albert: Banking on you
Albert is more than just a bank, it is the complete financial system that grants access to a lot of its features (saving, investing, building credit cards, and taking out loans). Customers are able to take up to two hundred and fifty dollars and get it up to two days early with the help of direct deposit.
Features:
Financial tracking. The app tracks all the incomes and salaries, and people are able to save them. Moreover, for saving money they can get cash bonuses.
Taking out up to two hundred and fifty dollars. Without any monthly fees, any credit check, any interest.
Reliability. Albert uses special security technology so that people can be confident in the safety of their personal data
Opportunity to invest money with Genius. Also, this feature helps people to build financial goals
Opportunity to ask experts about the problem at any time
Benefits for unemployed people
Advantages:
Fast financing
Contemporary and minimalistic design
Lack of any fees
Trusted by millions
Availability of Genius
Security
Moreover, the app has a signup bonus and cash-back terms. I claim this app is valuable for those who want to control or immediately take out loans.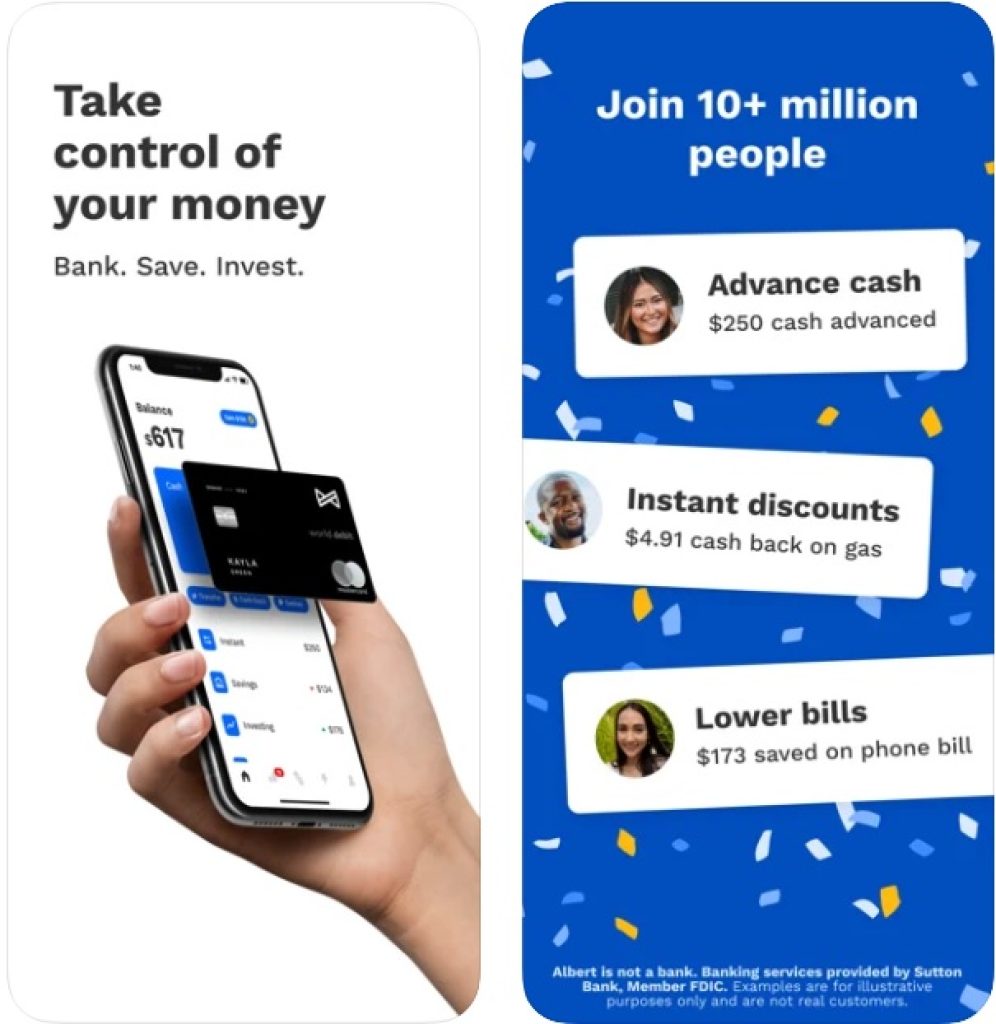 Empower: Instant Cash Advance
The app is intended only to offer cash advances. The maximum amount of money that people can get starts with twenty-five dollars and can be increased up to two hundred and fifty dollars. Empower shows off with negative reviews because of some mistakes.
Empower has three free variants of financing including free two of them: funds transfer to a debit card or a settlement account through ACH.
Features:
Customers ought to have a bank account opened no less than two months.
They also ought to have an income of no less than one thousand dollars
Availability of monthly fees amounting to eight dollars
Opportunity to take out loans on the same day
Quick withdraw up to two hundred and fifty dollars
Benefits for unemployed people
Advantages:
No creditworthiness check
Quick withdraw
Lack of any fees and percentages
Availability of minimum withdraw
Security of people's personal data
Disadvantages:
A monthly fee amounting up to eight dollars
Users' negative reviews more than positive
Customers ought to have a 60-days bank account
People should use the app when they already have Empower account and they are pleased with the app.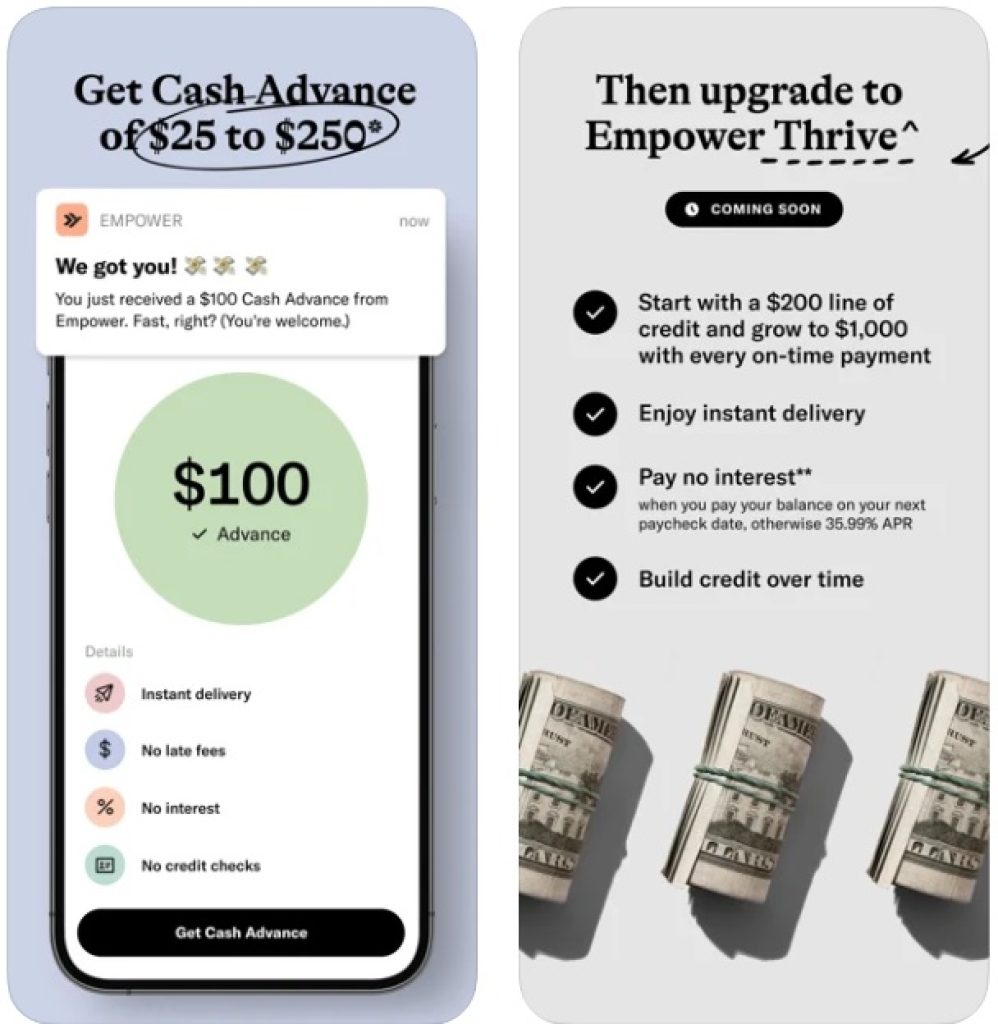 You may also like: 16 Best Money Transfer Apps for Android & iOS
Brigit: Borrow & Build credit
Brigit is a financial app that allows people to take out loans and build a financial future. As in previous apps, Brigit proposes borrowing up to two hundred and fifty dollars. Moreover, users are able to get paycheck advances without any fees.
Brigit plus options allow users to get cash advances, track their finances, and get identity theft insurance up to one million dollars.
Features:
Availability of overdraft predictions
Loan up to two hundred and fifty dollars
Availability of Brigit Plus
Quick repayment options
Balance notifications
Benefits for those that are out of a job
With the help of Brigit Plus, people can get the whole information about their financial results in the future, present, and past. Moreover, there are such options as instant cash and transfers that are included in the membership. People are able to build their own credit system and track it in the app.
Other features:
The app requires success in the bank account
The app is incompatible with Chime and other apps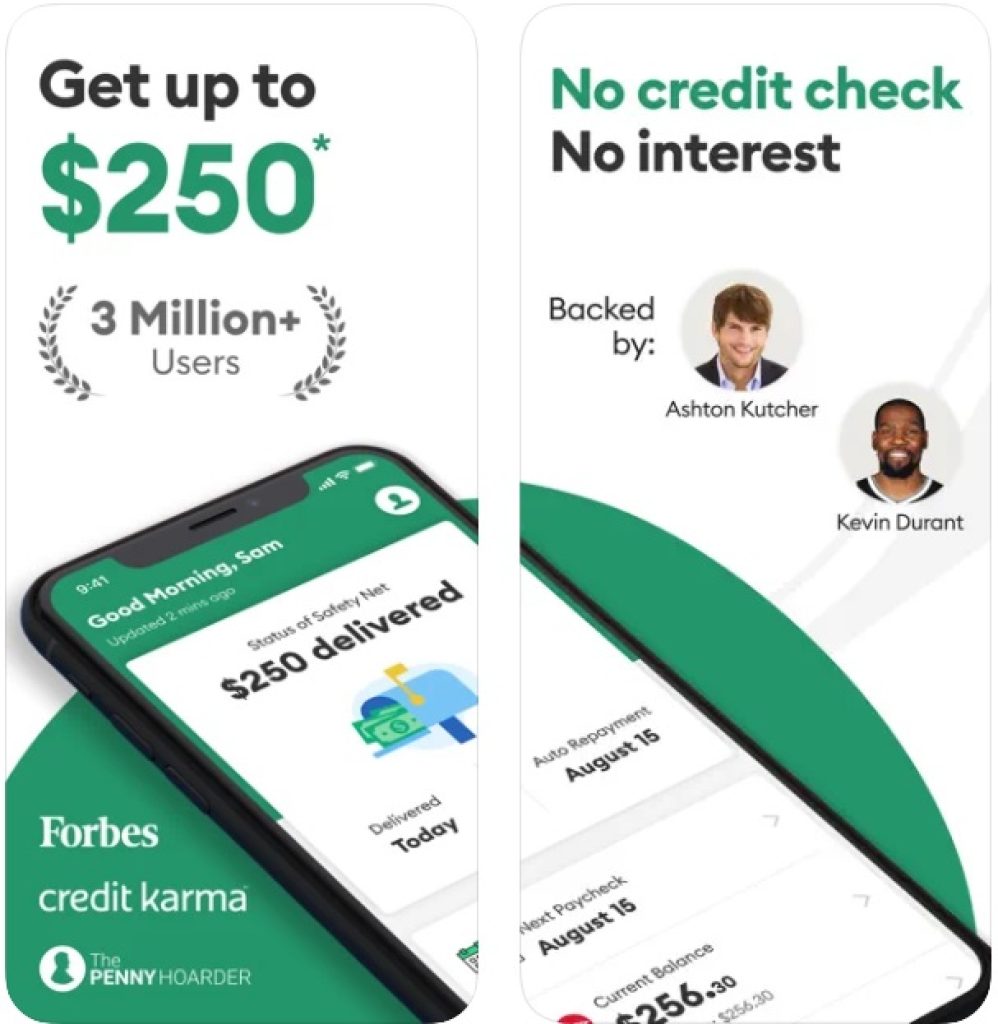 Payactiv
Payactiv is an app for not only taking out loans but also building financial literacy. The program is funded in twenty and twelve years, but the first client appeared in twenty and fourteen years.
The app grants access to the earned money before payday as a short-term loan. Payactiv works with employers, so it can have information about workers' attendance and time.

The worker has just to sign up with the unique ID so that the app would not ask them for additional personal information; however, it is still secure and safe.
To put it mildly, employers pay the salaries through Payactiv and workers are able to get up to fifty percent of their not paid wage.
Features:
Security. The app has a few authentication options to save the data
Receipt up to fifty percent of the salary before payday through employers
Learning about financial literacy
Availability of the discounts for app users
Availability of Payactiv's card that allows people to quickly cash withdrawal, check their income any day, have a direct deposit
Advantages:
Access to fifty percent of the salary
Instant cash access
Proposes financial literacy
Discounts for users
Disadvantages:
Workers are able to use the app only if the employer signs up
Slow update of worked hours
The app is not simple in usage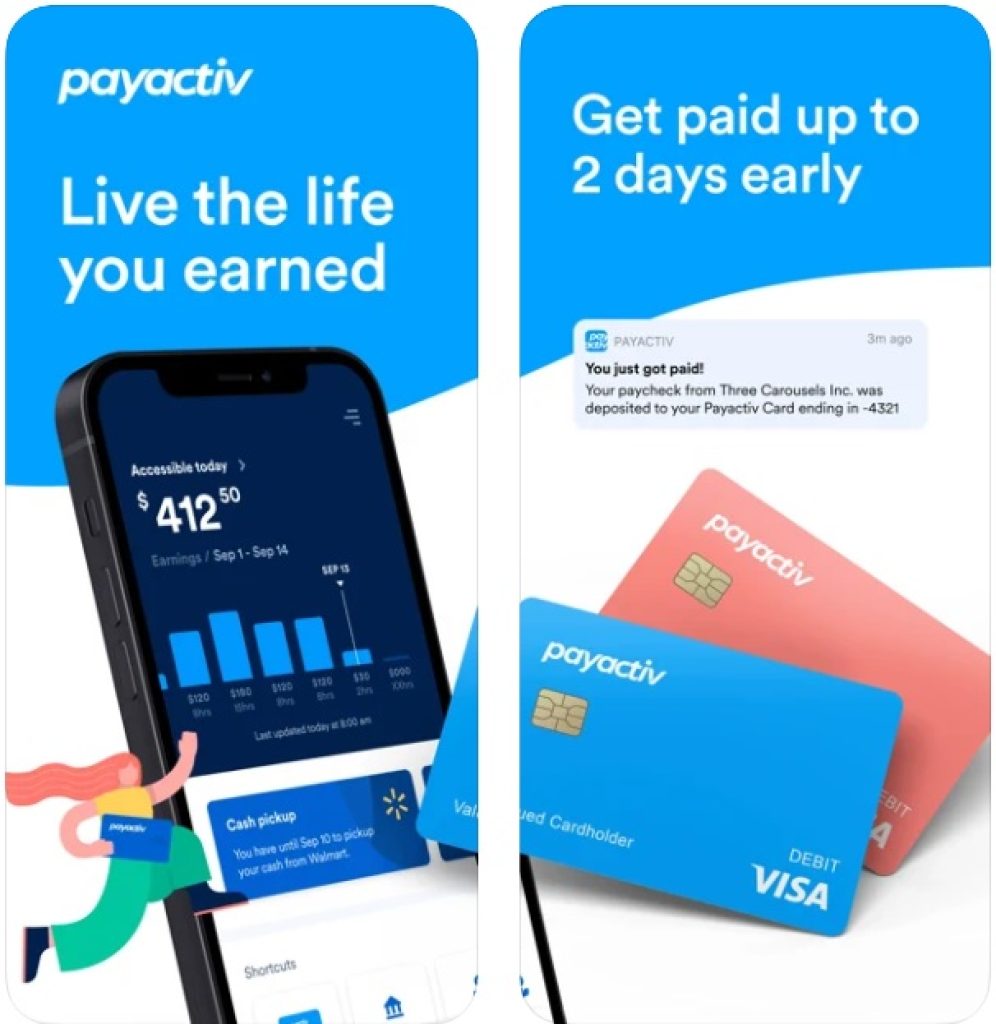 CashNow USA
CashNow is the platform that proposes people get short-term loans and create a report about their creditworthiness. Moreover, the app services people from a lot of countries.
To use the app the full user needs to be a UAE resident and at the age of twenty – fifty-five, have a bank account and personal ID.
Features:
The app identifies the user through his ID so he can be confident that the whole personal information about him is confidential
The app is suitable for those with UAE bank account
CashNow is simple in using. The user just needs to download the app and verify himself with the ID system
The app protects personal data and has authentic options
With the help of the UAE bank account, people are able to get loans from five hundred up to ten thousand dollars, it depends on the product they have selected
There are fees and interests for loans
People are able to repay the loan from ninety-one to one hundred and eighty days
The app is extremely user–friendly with a minimalistic design and bright buttons. Moreover, CashNow is popular among people because of its functional features and security.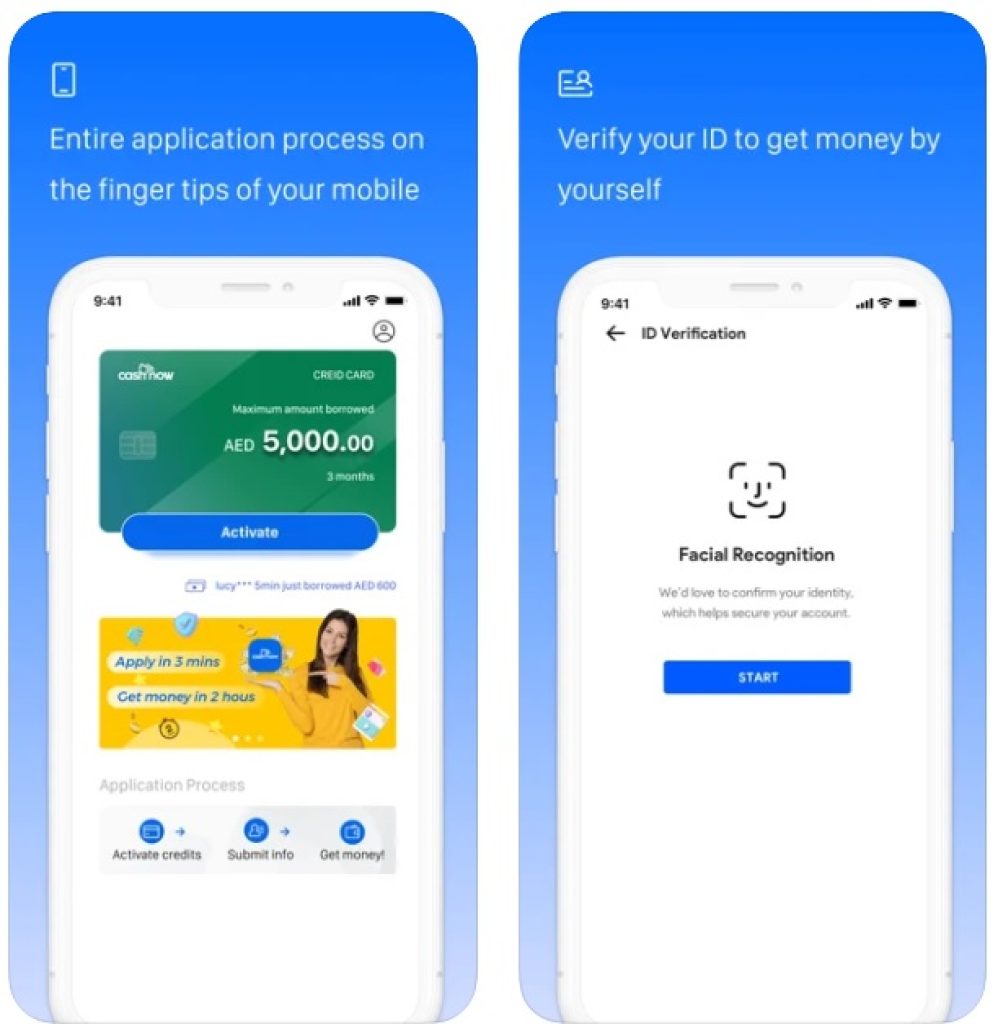 Loan app – Get Cash Instantly
The loan app is suitable for borrowing money in one click even with bad credit. When people encountered some financial problems, they need to take out short-term loans, and their Loan app comes to the rescue.

The app requires only basic personal information. For instance, age, work, income, and so on. Even unemployed people have the opportunity to take out loans from the app,
Advantages:
Opportunity to use the app at any time and anywhere
Lack of hidden fees
Benefits for unemployed people
Quick work
Security
People repay from three to thirty-six months
APR rates from six – thirty six percent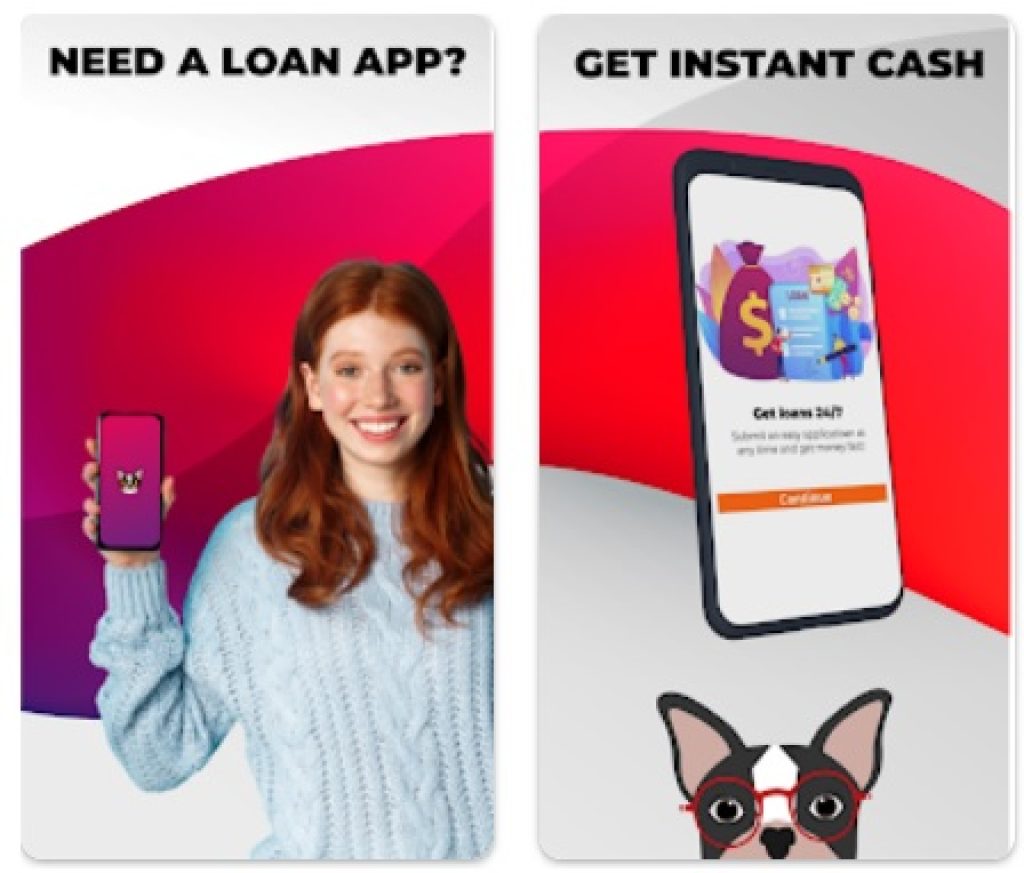 You may also like: 7 Best Money Counter Apps for Android & iOS
Cash Money
The app will help people to get a loan quickly. Only people have to do is sign up and indicate personal information. The design of the app is extremely bright with a lot of bright buttons that draw users' attention
Actions:
Download the app
Sign up
Indicate the data
Get a cash loan in the bank account within twenty-four – forty-eight hours
Features:
Loan access continuously
Opportunity to get a loan even with bad credit history
Benefits for unemployed people
Lack of hidden fees
APR ranges from five to thirty-six per cent