Many people attempt to learn foreign languages through reading which is not easy at all. In fact, reading is one of the most complicated ways to learn since the book style is harder to understand. It includes a lot of sophisticated words and you need at least the powerful tools to check every unknown word immediately.
By the way, we also have a really cool list of free reading comprehension apps for adults. Check it out!
Luckily there are multi-tasking readers which have in-built dictionaries. They support various formats of books and have a lot of other useful functions being capable to make your reading process as comfortable and productive as ever before.
Librera
For the comfortable reading of books, documents, and files – use this app. It supports all the possible formats: PDF, EPUB, EPUB3, MOBI, DJVU, and many others.
What is more, catalogs with free books are also available here. One of the advantages of this app is that it doesn't occupy a lot of your memory space but it's still multi-functional.
This app was completely developed according to the wishes of the readers, so it has everything you need. By the way, more than 10 million people are already utilizing Libera.
While reading the books, you can change the color of pages, add different textures, can adjust the size of the font. You can choose how to read – right to left or left to right.
There is a night mode of reading and the possibility of notes and reminders creation right in the app. PDF documents can be transformed into regular text.
Moreover, there is a function of reading the text out loud with voice. Considering the languages studying, you will be able to see the meaning and translation of words in such dictionaries as GTranslate, Dictionary.com, Oxford, Longman, and other reliable sources.
Besides, there is an excellent function for musicians. The app can scroll down the notes documents with any speed, switch quickly from one document to a document, make remarks right on the pages and create notes on the pages you want.
The app can also import books from zip. If you want to find a particular word – you can search it in several files simultaneously.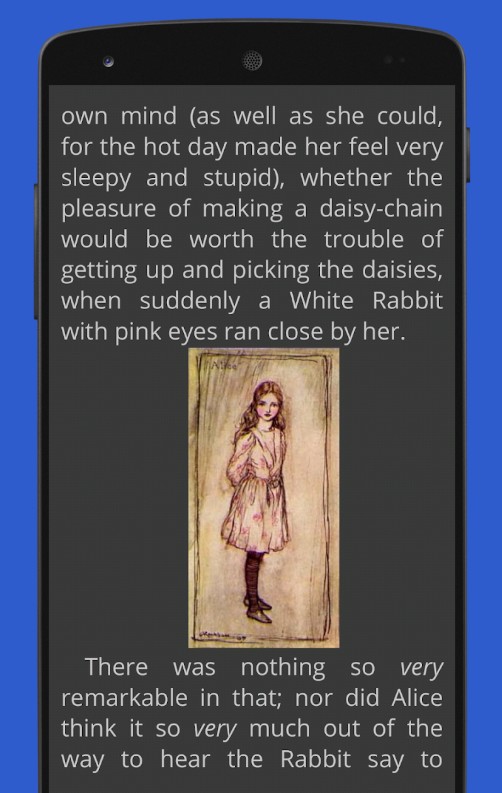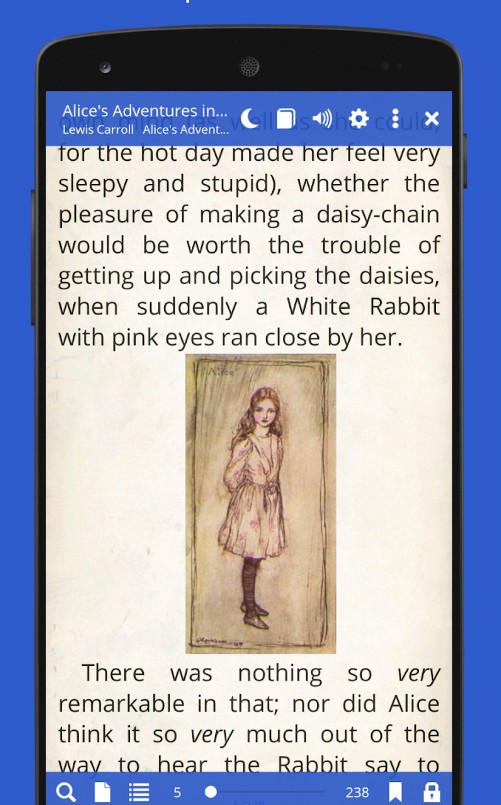 You may also like: 11 Best address book apps for Android & iOS
eReader Prestigio
The app supports a number of various formats in more than 25 different languages. You will also get access to more than 50000 in 25 languages, 5000 of which are free.
Has it ever happened to you that you get stuck in a traffic jam and you wish you could read a very interesting book? With the function text to speech, you can not turn a textbook into an audiobook. A stylish interface, intuitive navigation, and understandable structure contain your book collection and your notes.
In the side menu, you have access to all app functions. The file manager will help you to handle all the books and text files on your device. Audiobooks are available in various languages as well. You can highlight words and see their meaning in other languages. You can choose the size of the fonts and pages.
All your books will be arranged on digital shells. Besides, it is possible to synchronize the app with cloud storage and import books from there. If you have your app on several devices, all the pages in books where you stopped reading the last time will be saved on all of them.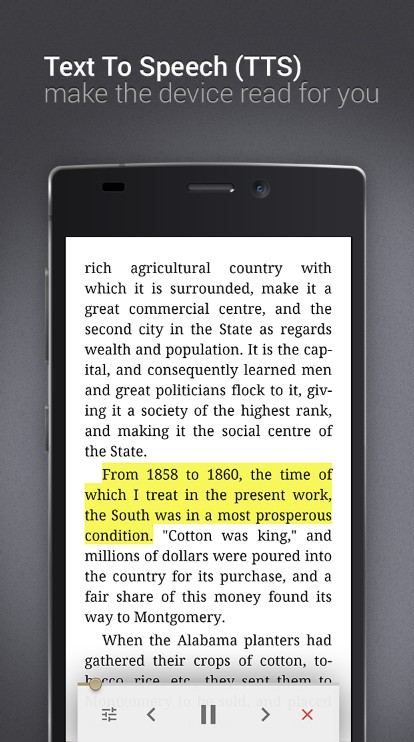 AlReader
AlReader is an app for reading fiction from tablets and cell phones. With this app, you can read any book, including technical ones. It supports text sounding, network, and local libraries, multilingual interfaces, and dictionary programs. It is possible to edit fb2 and txt files even from the archive.
You can completely change the appearance of the text with color profiles. Change the font, and screen brightness, and adjust the text and indentation in it. Two-page mode allows you to create a paper book effect, auto-scroll frees your hand, moving the page at a comfortable speed for reading.
The open book is flipped by swiping your finger across the screen or scrolling up and down. The animation of real flipping works. At the bottom of the page, there is a progress bar with a marking of the active page and bookmarks.
Clicking on this bar brings up a window with the desired page input and a slider. You can enter the desired page or move the slider to it.
On the top panel are buttons to toggle reading mode, content view, search, and bookmarking. The settings set functions to change the appearance, book management, library, and more subtle settings.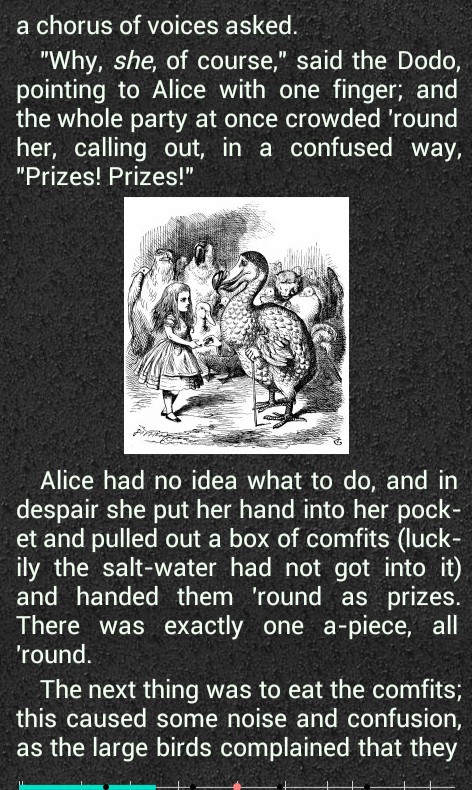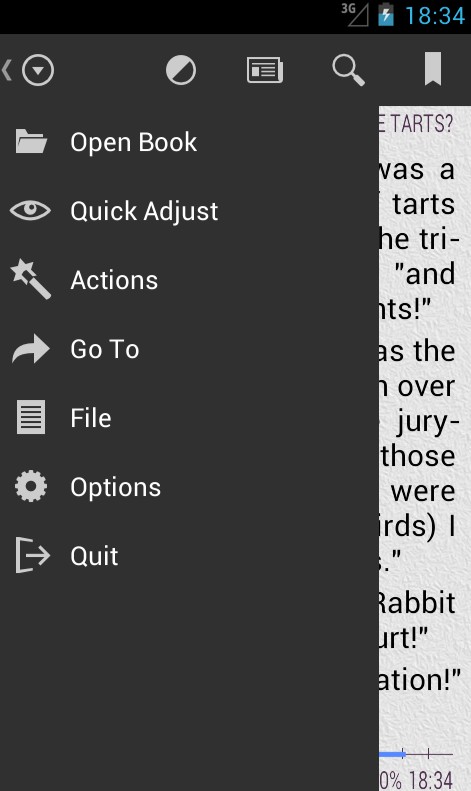 Moon+ Reader
This is one of the most popular readers on Google Play. Why? Well, it has a bunch of functions for all kinds of readers and it works without any interruptions so let's get a closer look to it.
First, the app includes thousands of free electronic books and it also supports online libraries. Secondly, there are cool graphic effects here, such as turning the pages. Then, here are the formats supported: EPUB, PDF, DJVU, AZW3, MOBI, FB2, PRC, CHM, and many many more.
For better convenience of reading, you can adjust the appearance of the text according to your abilities. You can set the space between the lines, you can regulate the type and size of the font. The interface can be changed and customized with more than 10 different themes, including daytime and nighttime modes.
When you read the app automatically moves the blocks in the text, and cuts or transfers single sentences to more comfortable places on the page, excluding the extra gaps. It supports hyper nation and lining.
There are also annotations and dictionaries, such as ABBYY Lingvo, ColorDict, and translations of the texts. The app also filters out the blue light so your eyes are less damaged.
Besides, the app supports multitouch and includes no ads. It creates the statistics of reading for you. If you want to restrain access to the app you can set up a password. Moon+ can be manipulated via Bluetooth headphones.
What is more, using this app you can place icons on the home screen. Two pages mode in reading is also supported along with the function of turning the pages as you shake the device.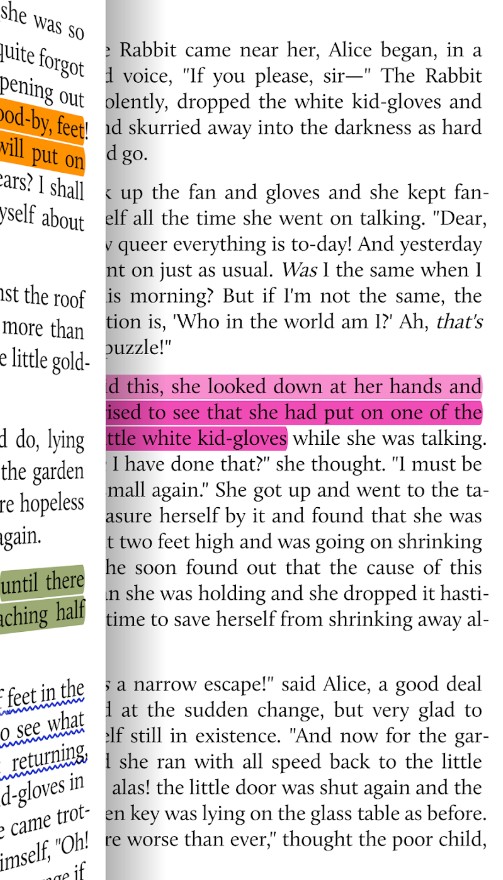 ReadEra
The ReadEra app is designed for reading books and documents in different formats. It has a wide range of settings for comfortable reading.
The app supports a large number of document formats. For convenience, it allows you to scan your device and download all available and readable documents to your library. It helps you sort all materials by format, series, author, or manually created collections. You can also send documents to your reading or wishlist.
There are no ads in the app, so nothing will distract you from reading. You don't need to create a personal account or buy a subscription to use all the tools. Conveniences include the ability to run files in different formats with extra settings.
In ReadEra, you can use flexible settings for the most comfortable reading experience. Adjust the page flip vertically or horizontally, and change the size, boldness, and font type.
Choose the color scheme for comfortable reading in different lighting conditions. You can edit the text format: line spacing, text alignment, and page margins.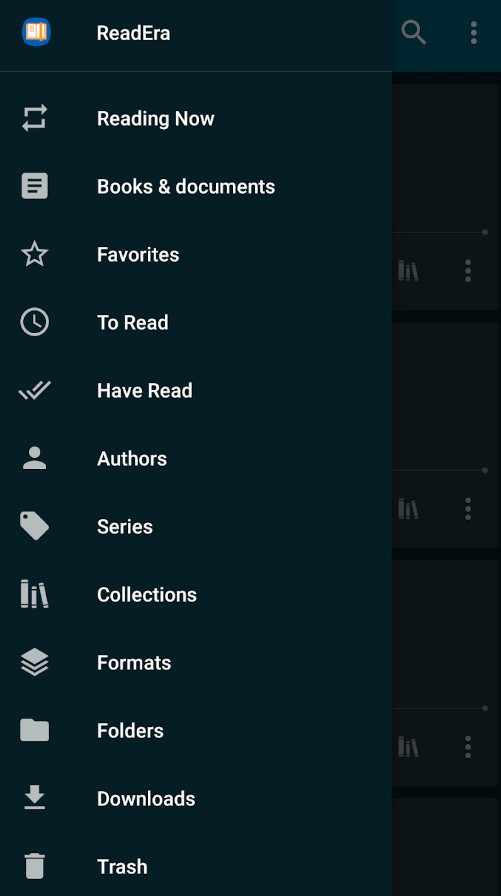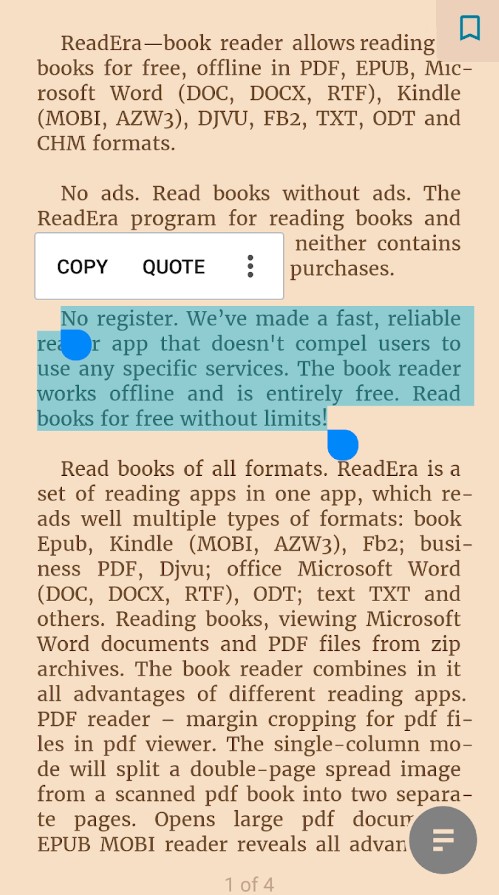 You may also like: 15 Free Apps To Read Comics Online for Android & iOS
Smart Book
Unlike all the previous apps, the smart book is a mix of a reader app and a translator. Therefore here you can upload a book in any language in the most popular formats, and can read it Friday in the app without the necessity to translate it in advance.
What is more, you can also highlight a specific amount of text and translate only this part. This will be especially useful for those who already speak the language, but know how challenging it is to read the book in the language that you study.
The Smart Book supports such translator services as google, Microsoft, Reverso context, Oxford dictionary, deep owl, and so on.
Therefore, you can compare translations from various services.
What is more, you can just point and mouse to a certain word, and the app will show you the translation of it. The interface design in this app is quite straightforward though it's a little bit boring, overall, it's quite Pleasant in usage. The abundance of functions and their structure have quite a wise placement in the app.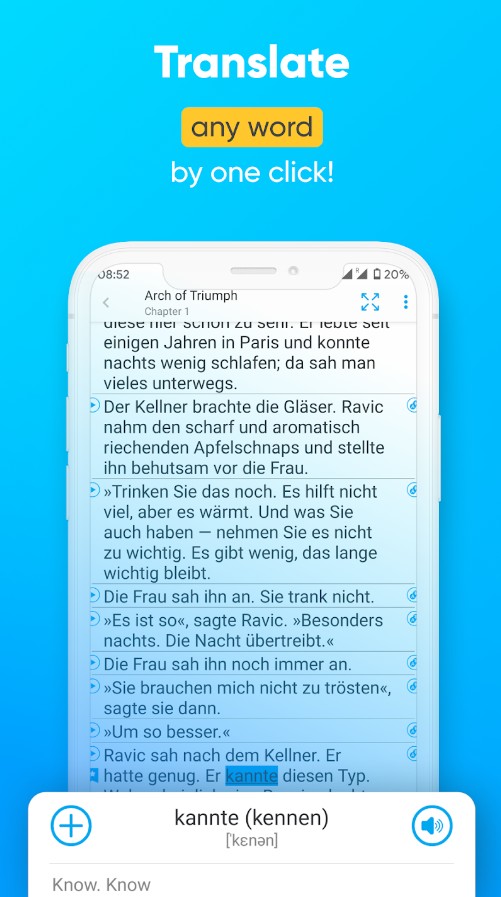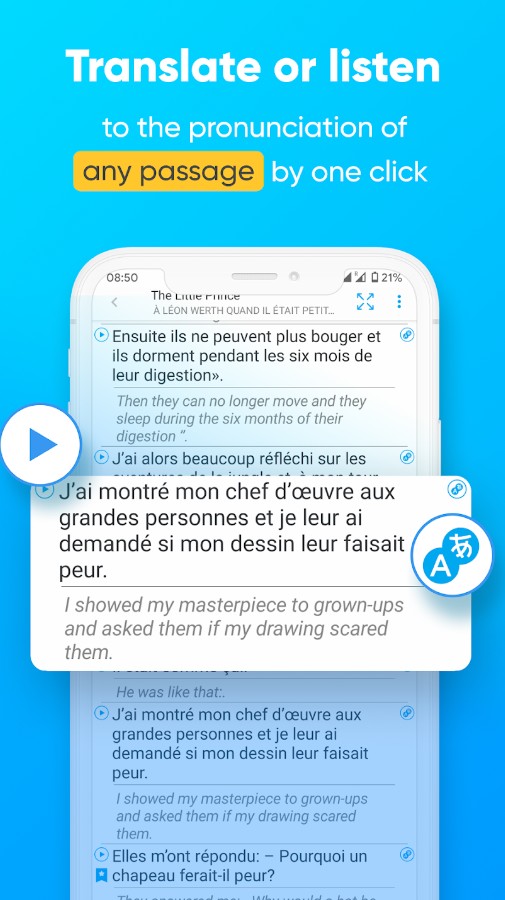 PocketBook reader – any books
PocketBook Reader is an app that allows users to read various types of books and dictionaries on their mobile devices. The app provides a wide selection of ebooks, audiobooks, and dictionaries, catering to different reading preferences and interests.
The main menu of the app is well-organized, making it easy for users to navigate through different features and settings.
The app offers different reading options, including font sizes, styles, and themes, allowing users to customize their reading experience according to their preferences. It also provides offline reading support, enabling users to enjoy their favorite books even without an internet connection.
Overall, PocketBook Reader can become your best mobile library as it has plenty of books to read and a lot of options to make this activity as comfortable as only possible.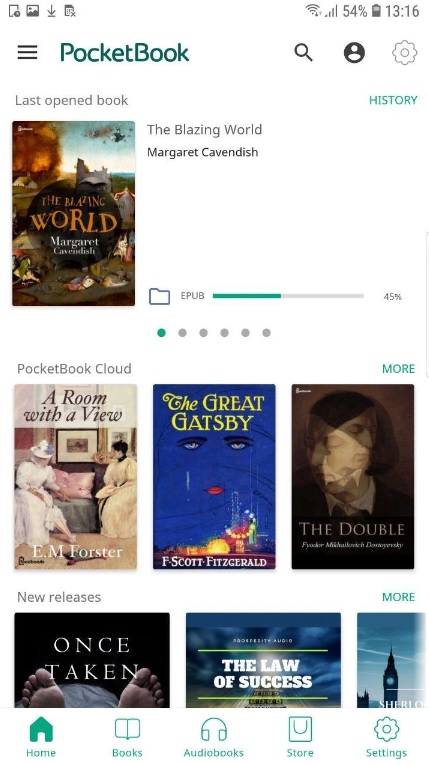 Goodreads
Goodreads is a popular app for people who are fond of reading and would like to have access to the huge library all the time.
The app provides a vast collection of books, including classic novels, contemporary fiction, non-fiction, and more. Users can discover new titles, read book reviews, and create custom reading lists based on their interests and preferences.
The app's benefits include the ability to track and organize books you've read, want to read, or are currently reading, making it a helpful tool for managing your reading list.
Users can also find recommendations based on their reading history and interact with other readers through book clubs and community forums.
In addition, Goodreads offers a feature that allows users to scan book covers or barcodes to quickly add books to their virtual shelves. This feature simplifies the process of cataloging physical books and ensures a comprehensive record of your reading history.
All in all, I can recommend you this app. Goddreads is a great choice for those who can be called bookworms.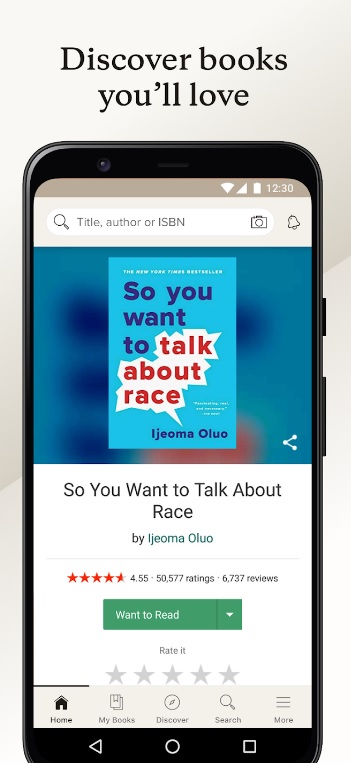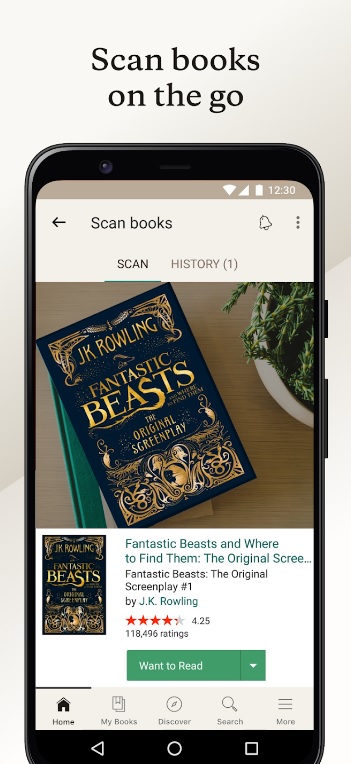 eBoox
This is also a nice rear app for Android users. In fact, the productivity of this app is its main advantage. Apart from that, the prominent feature of this eBoox app is that you can customize its settings according to your needs.
The pages are loaded instantly and you can upload your books both from your SD memory card and from the internet. The interface design is quite straightforward and the end user will find it convenient. What is more, this app has file synchronization for all Android devices. It also includes a built-in dictionary.
By the way, one more cool aspect of this eBoox app is its virtual assistant ginger cat. When you just launched the app, the cat will meet you and will tell you a quick guide about ebooks.
And we're pleasantly surprised to find out that when you open the app there are already four books which are waiting for you. There are also instructions on how to download the books. eBoox has great user reviews. In general, this is one of the cutest readers that we've seen.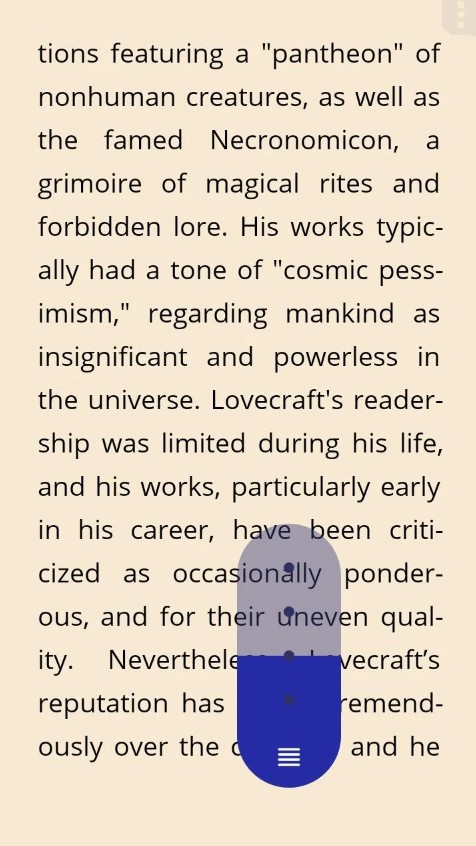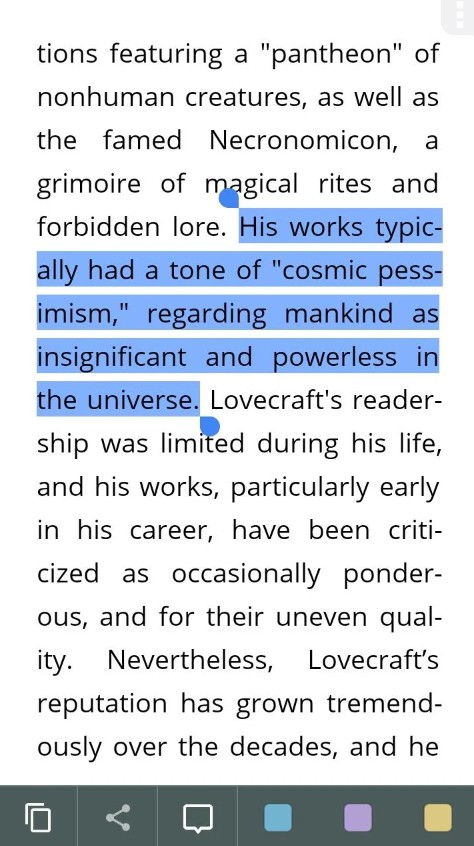 Cool Reader
If you have a more simple Android device or just like old-fashioned reader apps then this could be a suitable choice for you. At least, simplicity is one of the crucial elements in the segment of the reader apps and Cool Reader has it. Moreover, it has an exquisitely looking design, so if you are into elaborate elements, you'll like it.
The app supports the following formats of books: fb2, epub (без DRM), txt, doc, RTF, HTML, CHM, TCR, PDB, PRC, Mobi (no DRM), pl.
The app can also read the CSV tables. You can adjust the fonts and styles of a book right in the app. Various configurations, such as screen brightness, day and night profiles, voice reading, bookmarks, and export of notes to the text formats are available.
Therefore, you can upload your dictionary to the app.
Moreover, there is an interesting feature as the auto flip. You can set up a certain amount of time that you need in order to read the page – the app will be turning them over automatically and you won't have to do anything. Thanks to the titles at the beginning of every book, Cool Reader can take you to any of those parts – you just need to click on them.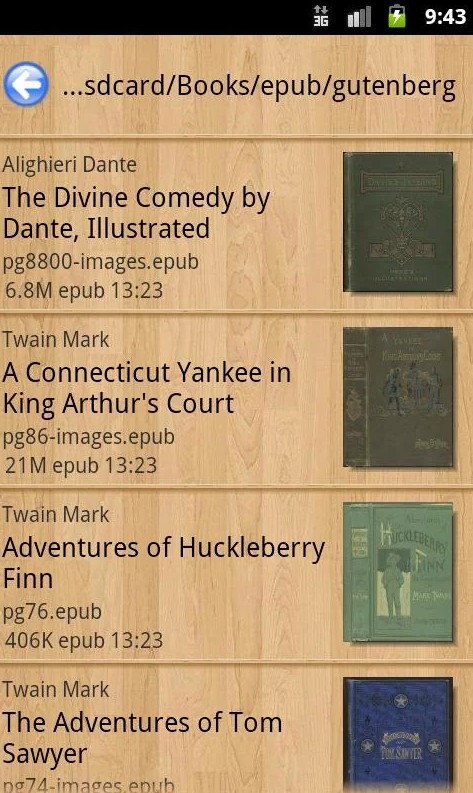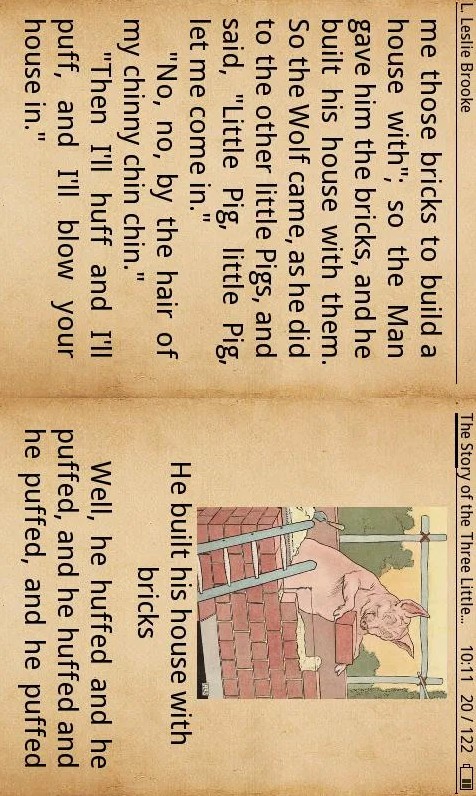 FullReader
If you're looking for a more multifunctional, or, better say multi-formats app for book reading, you should look no further than this app. Here you have a friendly interface design with easy-to-understand navigation and convenient placement of all the functions and tools.
The app has two main themes the classic bride theme and the energy-saving black theme for AMOLED displays. What is more, you can select between the ways elements displaying.
There's also a file manager that is a convenient provider with the ability to scan the storage of your device in order to find all the documents that feed into the app's formats.
There is also a function of book search according to various criteria and additional parameters. You can add books to your favorite creating your library.
What is more, FullReader works with such cloud services as Google Drive, Dropbox, and OneDrive so you can save the memory space of your gadget and just store all the books there and still use this app to read them. The toolbox is also customizable. The Voice reading is available as well.
FullReader even has a built-in translator or a dictionary, however, its quality is rather questionable. You can make your notes and bookmarks just like in any reader app.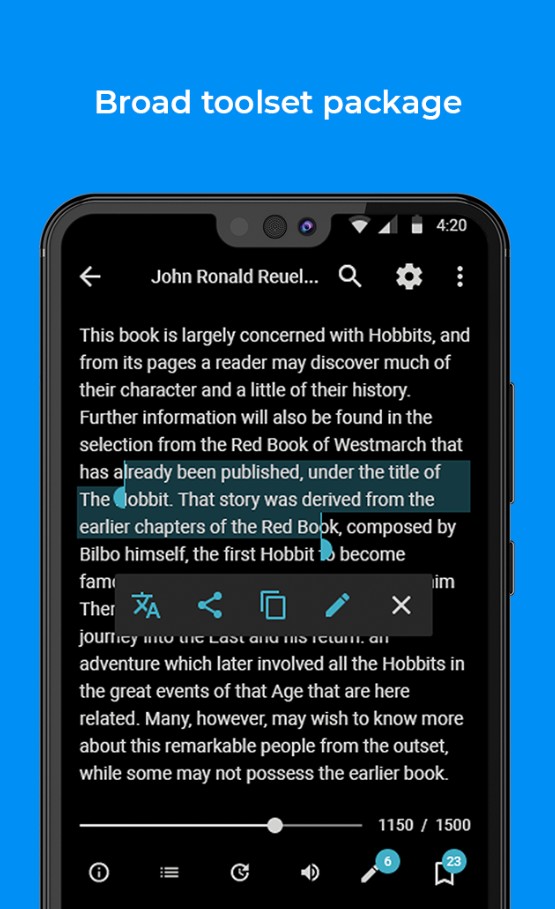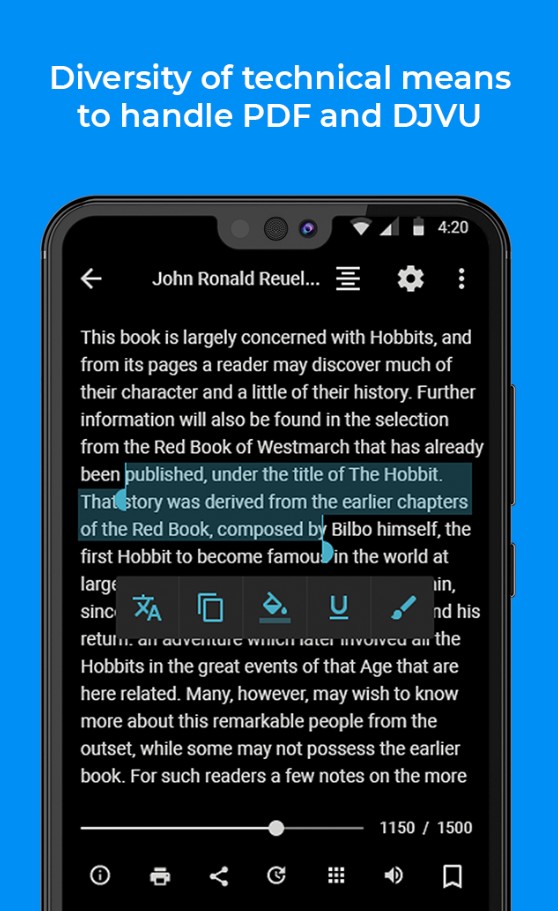 FBReader
Have the reader creates the library from the book which is already on your device and, of course, it allows you to read them.
The app supports the most popular book formats and also some rare formats, such as RTF, and HTML.
If you want to read comics using the FBReader then you will need to install an additional module or go for the premium subscription.
The subscription works in the way that you just pay once and you have access forever. What is more, you can read the books in the offline mode. But in case you are online, you can use some additional features, for example, free catalogs and other things.
And of course, you can download and upload the books to the app. There there is a dictionary function that allows you to quickly see the meaning of the highlighted word. Various translating services such as Fora dictionary, freedictionary.org, Leo dictionary, and others are supported.
What is more, if you decide to go to the premium version there is an inbuilt translator that uses Google Translate services. All the settings are configurable. You can also adjust the looks of the app and choose the theme for it.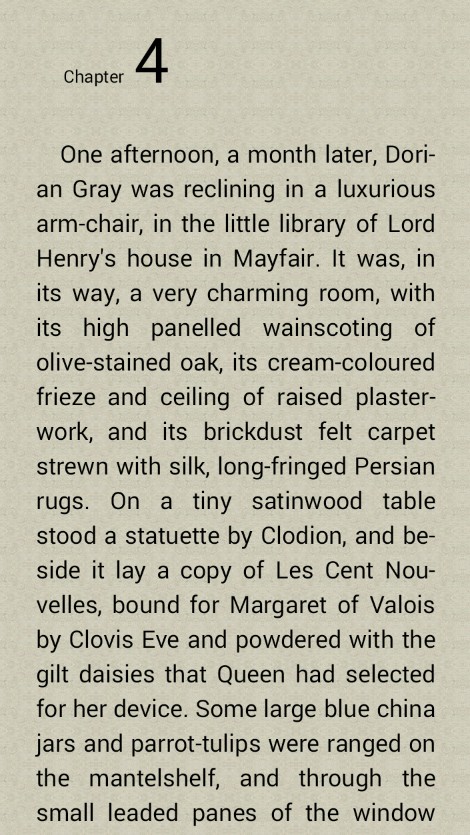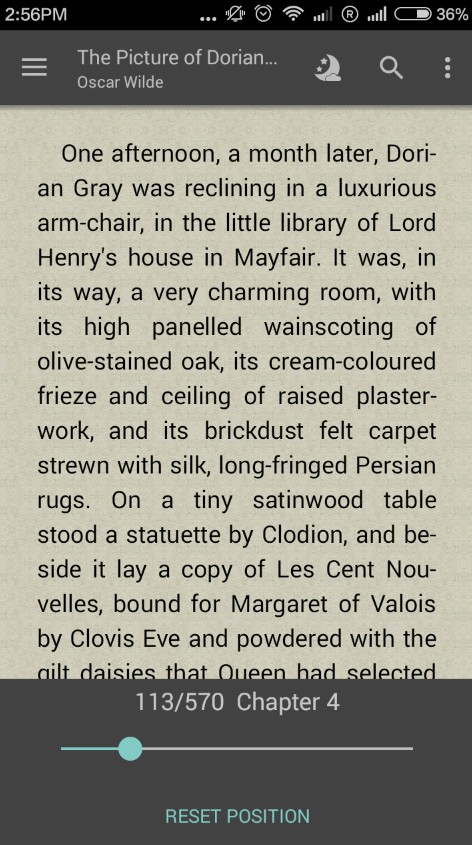 You may also like: 9 Free Reading Comprehension Apps for Kids (Android & iOS)
English Reader
This reader app will be a nice catch for those people who only start learning English. English Reader provides books written in English on several levels, so the person with any level of English will find this suitable book to read. What is more important, the app has both online and offline translation services.
Any book can be translated just in one click. And, English Reader app includes a feature that forms your personal dictionary. Another interesting feature of the English Reader app is that it has a section with the latest news and this news are again, written in several levels of English.
It's really cool that the whole Digital Book Library here is totally free.
In addition, the app has the mode of learning new words and it can translate the word from other apps. Considering the technical aspects, the app supports a number of the most popular book formats. And the main goal of this app is to help you to learn English and learn how to read books in this language.
The only thing is that the interface design here is rather quite complex and it's so obsolete. Apparently, the app hasn't been updated for several years already.