5 Best Android reader apps with dictionary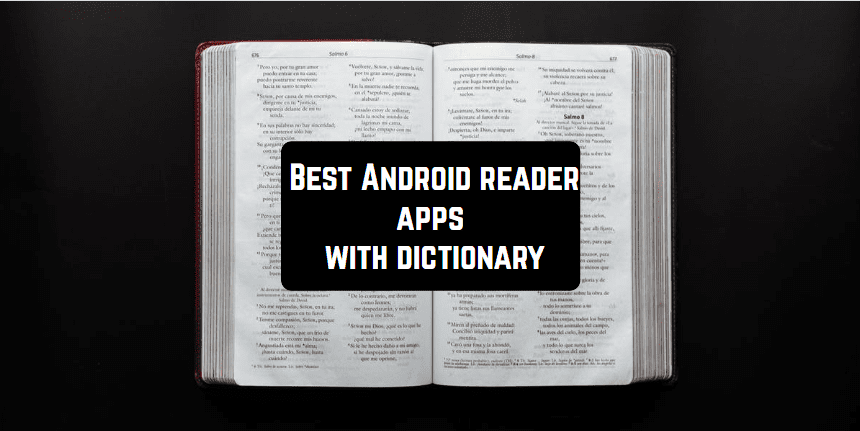 Many people attempt to learn foreign languages through reading which is not easy at all. In fact, reading is one of the most complicated ways to learn since the book style is harder to understand. It includes a lot of sophisticated words and you need at least the powerfull tools to check every unknown word immediately.
Luckily there are multi-tasking readers which have in-built dictionaries. They support various formats of books and have a lot of other useful functions being capable to make your reading process as comfortable and productive as never before.
Librera
For the comfortable reading of books, documents, and files – use this app. It supports all the possible formats: PDF, EPUB, EPUB3, MOBI, DJVU, and many others. What is more. catalogs with free books are also available here. One of the advantages of this app is that it doesn't occupy a lot of your memory space but it's still multi-functional.
This app was completely developed according to the wishes of the readers, so it has everything you need. By the way, more than 10 million people are already utilizing Libera. While reading the books, you can change the color of pages, add different textures, you can adjust the size of the font. You can choose how to read – right to left or left to right.
There is a night mode of reading and the possibility of notes and reminders creation right in the app. PDF documents can be transformed into a regular text. Moreover, there is a function of reading the text out loud with voice. Considering the languages studying, you will be able to see the meaning and translation of words in such dictionaries as GTranslate, Dictionary.com, Oxford, Longman, and other reliable sources.
Besides, there is an excellent function for musicians. The app can scroll down the notes documents with any speed, switch quickly from a document to a document, make remarks right on the pages and create notes to the pages you want. The app can also import books from zip. If you want to find a particular word – you can search it in several files simultaneously.
You may also like: 11 Best address book apps for Android & iOS
eReader Prestigio
The app supports a number of various formats in more than 25 different languages. You will also get access to the more than 50000 in 25 languages, 5000 of which are free.
Has it ever happened to you that you get to stick in a traffic jam and you wish you could read a very interesting book? With the function text to speech, you can not turn a textbook into an audiobook. Stylish interface, intuitive navigation, and understandable structure contain your book collection and your notes.
In the side menu, you have access to all app functions. The file manager will help you to handle all the books and text files on your device. The audiobooks are available in various languages as well. You can highlight words and see their meaning in other languages. You can choose the size of fonts and pages.
All your books will be arranged on the digital shells. Besides, it is possible to synchronize the app with cloud storage and import books from there. If you have your app on several devices, all the pages in books where you stopped reading the last time will be saved on all of them.
AlReader
AlReader is an app for reading fiction from tablets and cell phones. With this app, you can read any book, including technical ones. It supports text sounding, network, and local libraries, multilingual interface, dictionary programs. It is possible to edit fb2 and txt files even from the archive.
You can completely change the appearance of the text with color profiles. Change the font, screen brightness, adjust the text and indentation in it. Two-page mode allows you to create a paper book effect, auto-scroll frees your hand, moving the page at a comfortable speed for reading.
The open book is flipped by swiping your finger across the screen or scrolling up and down. The animation of real flipping works. At the bottom of the page, there is a progress bar with a marking of the active page and bookmarks.
Clicking on this bar brings up a window with the desired page input and a slider. You can enter the desired page or move the slider to it. On the top panel are buttons to toggle reading mode, content view, search, and bookmarking. The settings set functions to change the appearance, book management, library, and more subtle settings.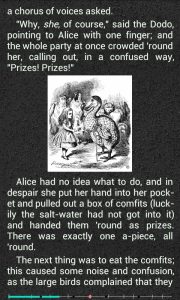 Moon+ Reader
This is one of the most popular readers on Google Play. Why? Well, it has a bunch of functions for all kinds of readers and it works without any interruptions so let's get a closer look to it.
First, the app includes thousands of free electronic books and it also supports online libraries. Secondly, there are cool graphic effects in here, such as turning the pages. Then, here are the formats supported: EPUB, PDF, DJVU, AZW3, MOBI, FB2, PRC, CHM and many many more.
For better convenience of reading, you can adjust the appearance of the text according to your abilities. You can set the space between the lines, you can regulate the type and size of the font. The interface can be changed and customized with more than 10 different themes, including daytime and nighttime mode.
When you read the app automatically moves the blocks in the text, cuts or transfers single sentences for more comfortable places on the page, excluding the extra gaps. It supports hypernation and lining. There are also annotations and dictionaries, such as ABBYY Lingvo, ColorDict, translations of the texts. The app also filters out the blue light so your eyes are less damaged.
Besides, the app supports multitouch and includes no ads. It creates the statistics of reading for you. If you want to restrain the access to the app you can set up a password. Moon+ can be manipulated via Bluetooth headphones. What is more, using this app you can place icons of the home screen. Two pages mode in reading is also supported along with the function of turning the pages as you shake the device.
ReadEra
The ReadEra app is designed for reading books and documents in different formats. It has a wide range of settings for comfortable reading.
The app supports a large number of document formats. For convenience, it allows you to scan your device and download all available and readable documents to your library. It helps you sort all materials by format, series, author, or manually created collections. You can also send documents to your reading or wishlist.
There are no ads in the app, so nothing will distract you from reading. You don't need to create a personal account or buy a subscription to use all the tools. Conveniences include the ability to run files in different formats with extra settings.
In ReadEra, you can use flexible settings for the most comfortable reading experience. Adjust the page flip vertically or horizontally, change the size, boldness, and font type. Choose the color scheme for comfortable reading in different lighting conditions. You can edit the text format: line spacing, text alignment, page margins.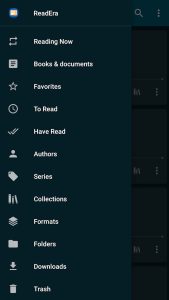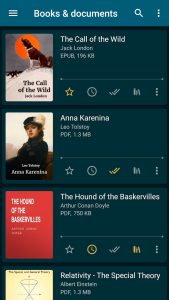 You may also like: 15 Free Apps To Read Comics Online for Android & iOS