Each of us likes performing various hits, and there is no point to deny it. The only difference is that some people do not hesitate to show their talent to the public, while others prefer to leave it in the bathroom.
Regardless of belonging to a particular group, you can find predisposition for singing and support your voice in the right form without harm to others will help singing applications. It is with their best representatives that we will get acquainted today.
In this article, we classified applications into those that will help you learn how to sing better, and those that give you the opportunity to sing from the heart or more commonly known as karaoke applications. So here is the list of best singing apps for Android & iOS devices.
Enjoy your leasure time with your microphone and these best karaoke apps.
Sing Sharp, Learn to Sing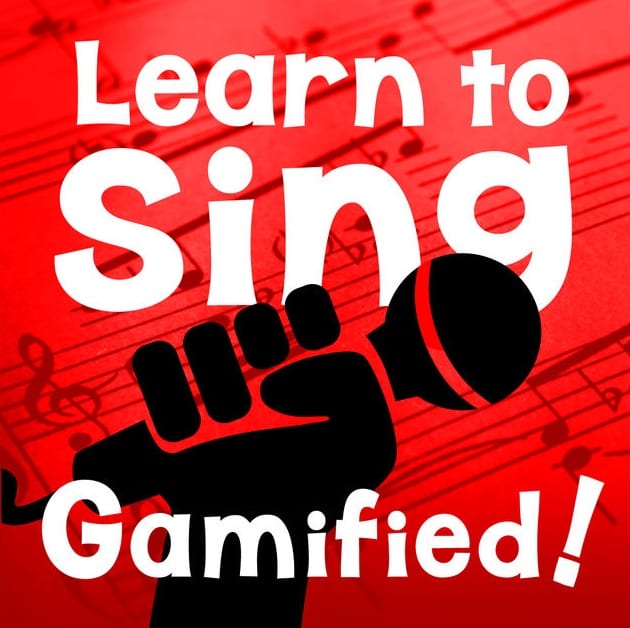 Do you want to learn how to sing by notes, keeping the pitch? Then, certainly, download the application Sing Sharp, Learn to Sing.
Here you will find the following exercises:
vocal;
singing;
hearing training;
vocal training;
singing lessons.
The application has an interface that is similar to the game, so now you will have no difficulty with learning to sing! The essence of the program is as follows: in real time you sing a song, and the program determines how much you hit the notes in order to later correct your singing.
You can also not just sing, but also record and listen to your voice. Download the application and learn how to sing like a star!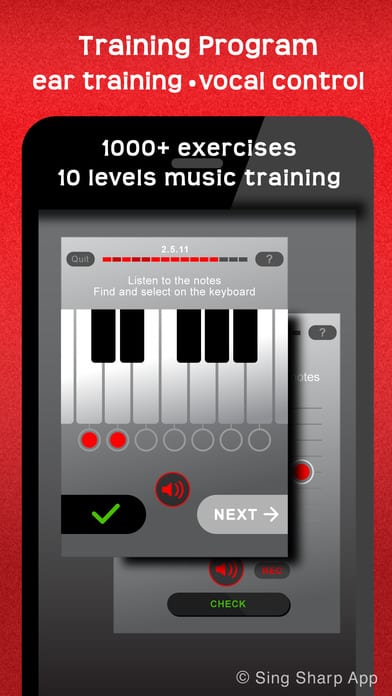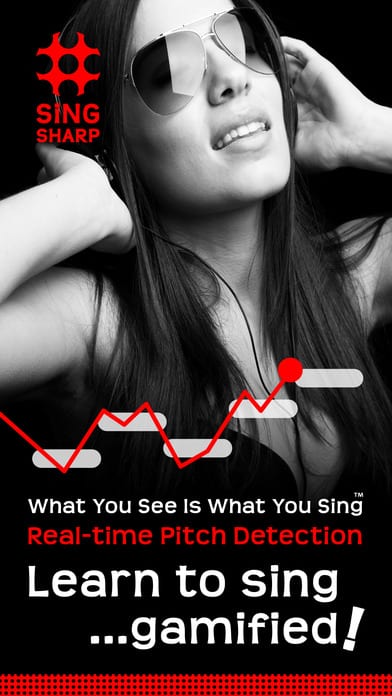 You may also like: 11 Free Singing Recording Apps for Android & iOS
VocaLive
Musicians are not deprived of the attention of developers of applications for the iPhone but VocaLive stands out even against the background of numerous karaoke programs and tutorials on vocals.
Proudly called the first virtual vocal processor, the VocaLive application was developed, first of all, for professional vocalists and songwriters.
What can VocaLive do? First of all, the program allows you to rehearse and prepare for the performance, allowing you to store single and multi-channel recordings.
When the microphone and headphones are connected, the performer will be able to record and listen to the sound of his own voice, load the melody and impose on it a voice, processed by special effects. Any operations on vocal processing and voice overlay on the sound line are available to users of this powerful vocal processor.
VocaLive is the first virtual vocal processor for the iPhone!
Effects of vocal processing in VocaLive:
Five vocal effects available in real time, when there is a simultaneously recording a voice with instant processing and imposing a tone correction, a chorus accompaniment harmonizer, using a modifier, a voice doubler and a de-esser to eliminate otherworldly noises-wheezing and hissing when recording a voice. All effects of the program are available "by default" according to generally accepted standards, but the settings can be changed as desired by the user.
Seven sound effects for overlaying an already saved voice record including a parametric equalizer, reverberation, delay effect of the sound track, compressor, imitation of a choral sound, the effect of "floating" sound and an auto-quaker.
Also, using the VocaLive application, you can download ready-made phonograms from the library of a smartphone or PC to record a voice with a finished audio track, sing under "minus one" when you turn off the voice recording mode when playing a melody in karaoke, set up a metronome for vocal warm-ups and much more.
VocaLive is a powerful application for beginners and professional vocalists, which is available both in paid and free trial versions on the AppStore website.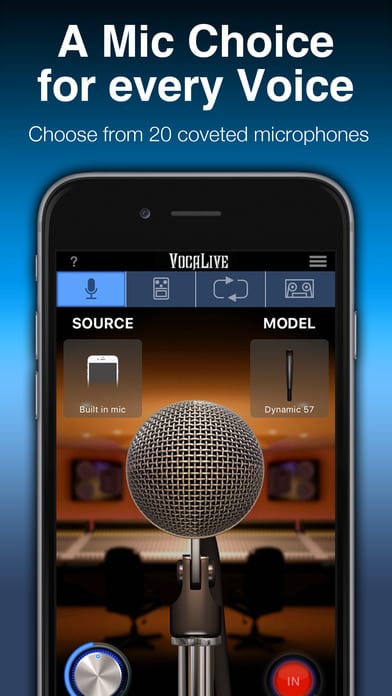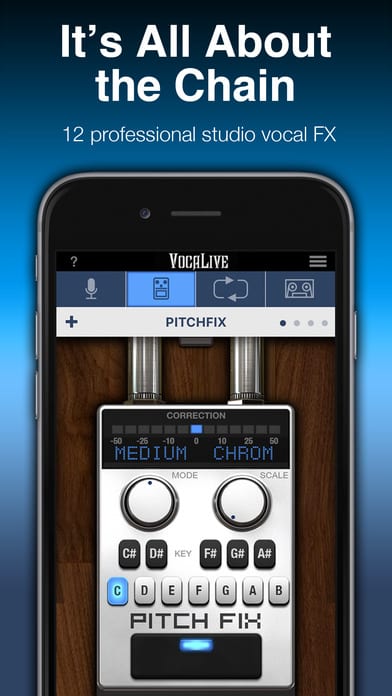 Voice Training – Learn To Sing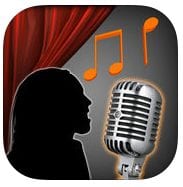 This application reproduces a note or notes that you must sing right now. The piano keys are highlighted, and with it, you understand what and how to reproduce.
With this application, you can track progress, by means of getting new stars, for a well-done job. In general, this is a great training before you sing in karaoke.
This application is great for beginner singers since here you can sing in unison. A large number of exercises will help you expand the range of singing. A color keyboard will help you not to be mistaken when singing.
Improve your talents in singing along with the application Voice Training – Learn To Sing.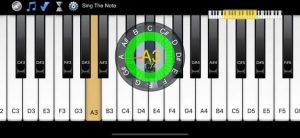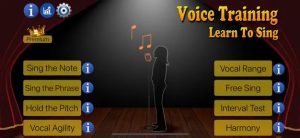 Singing Course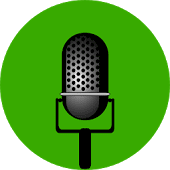 Before you, there is a whole course of studying the correct technique of singing, voice control in order to achieve the most natural and beautiful sound, while making minimum efforts.
After all, a voice is the instrument of our mind, the physical and mental state of our body. Therefore, it is so important to learn how to sing beautifully!
The app includes exercises on various aspects of vocals. The program supports several languages.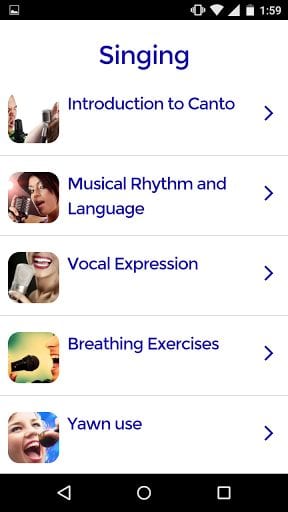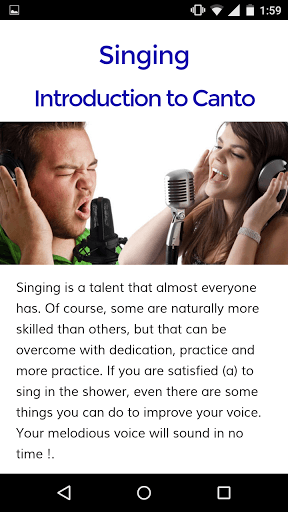 SingStar Mic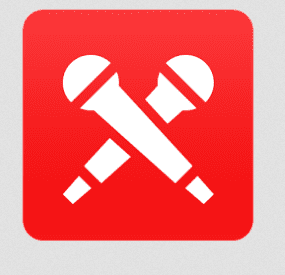 SingStar Mic – is an application that will turn any Android or iOS smartphone into a karaoke.
Now, to feel yourself in the role of a pop artist, it's enough to just download several correct applications and get the right hardware. As you probably already guessed, it's now about karaoke.
If suddenly you have a PS3 or PS4, then, in this case, we have great news: with SingStar and SingStar Mic for Android and iOS devices you can find out which of your friends has the coolest vocal skills.
The main difference between SingStar and ordinary karaoke is that the game takes into account the pitch of the singing. The old kind scheme "who shouted louder – that very cool singer" does not work anymore.
Of course, this news might upset someone, but lovers of the beautiful will obviously be pleased. And so, call your friends, run SingStar on PS3 or PS4, install the SingStar Mic application on your smartphone (you can ask your friends about it beforehand), and the vocal contest is ready.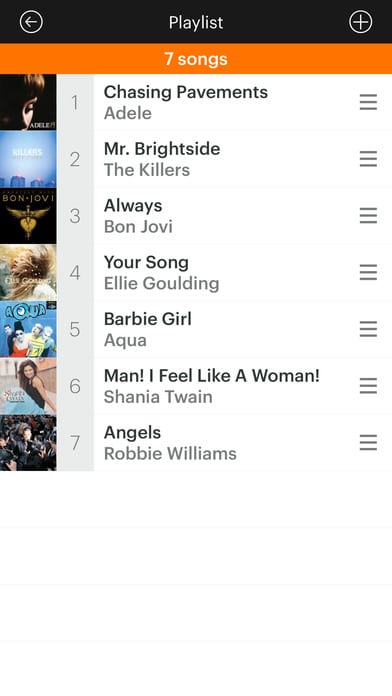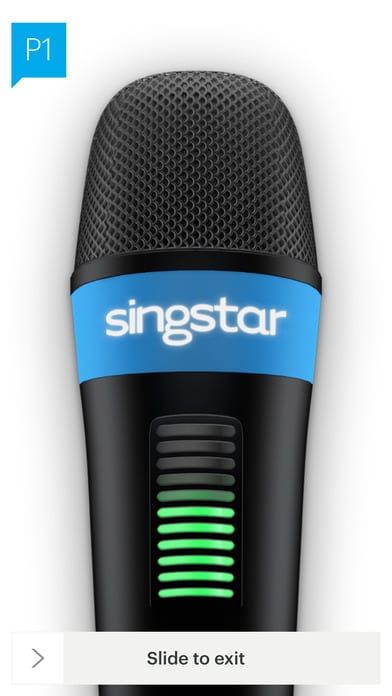 Vocal Warm Up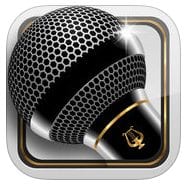 It's no secret that you need to take care of your vocal voice. To have a voice always in shape, you need a daily voice warm-up. The Vocal Warm Up by Musicopoulos application is exactly what we need.
Although the program is aimed at vocalists, but many breathing and articulation exercises will help anyone who is going to spend the whole day at the microphone.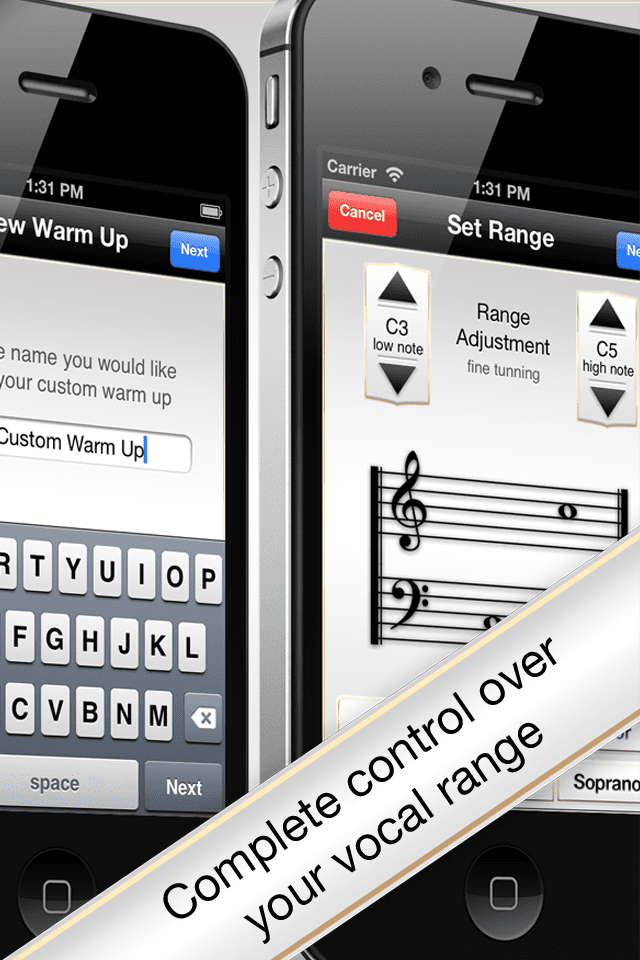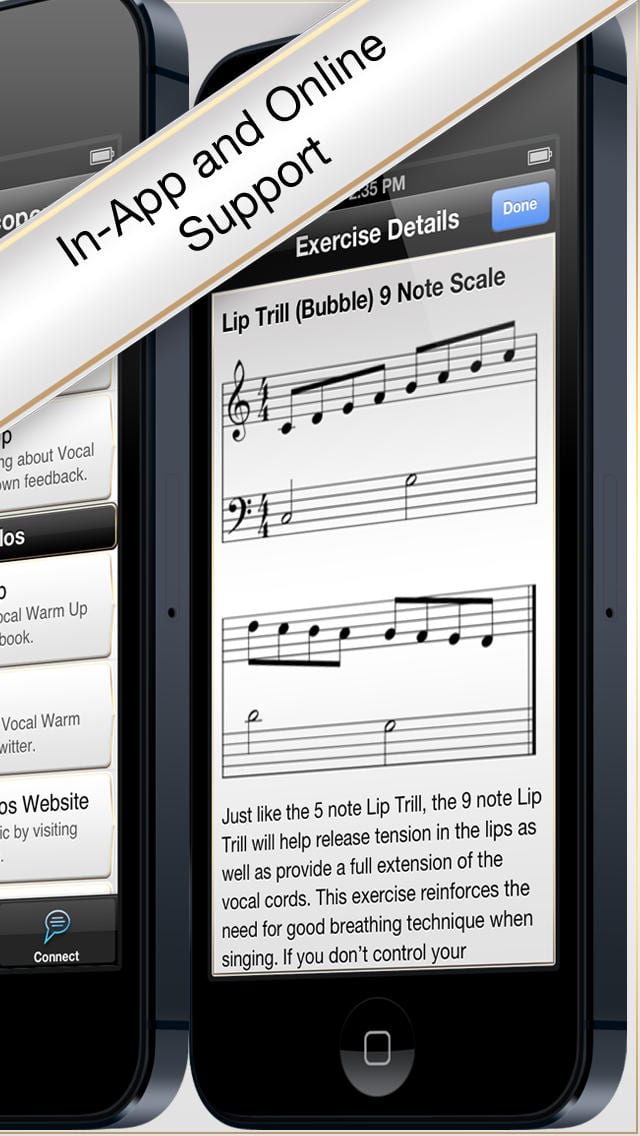 Yokee Karaoke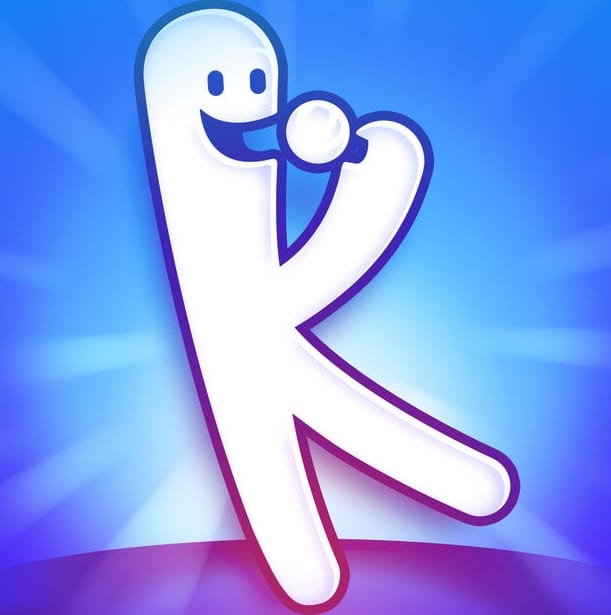 The first and, perhaps, very big plus of the application is clear already from the title – all tracks available for execution are free since the application is "tied" with Youtube.
The second plus is also connected with YouTube – it is constantly replenishing the catalog of songs.
So, if you are in a good company, or just wanted to sing your favorite song, then we advise you to look in the application, register and click on "Start Singing"! And further, the application will do everything for you, or rather transfer you to the small world of music.
First, we connect the headphones to create an additional effect. And then, before you, there is the standard menu of five sections on the bottom panel, which includes: "Your entries", "Search", "You", "Your friends" and "Playlist".
In order to start singing, the first thing to do would be to find a suitable song. To do this, you need to use a search that contains a decent list of various musical compositions, which, as noted earlier, is regularly replenished.
Three, two, one … go! Now your task is to beautifully sing the song you like, but do not forget to write down the whole thing and share it with your friends on Facebook, and also put the video on YouTube!
By the way, the application has one more interesting feature – it offers you to perform songs similar in genre.
All recorded songs are stored in the "record" tab. Also, you have the opportunity to create your playlist from your favorite songs in order to have quick access to them. Well, since the application has a small social bias, do not forget to include some information about you in your profile and add friends.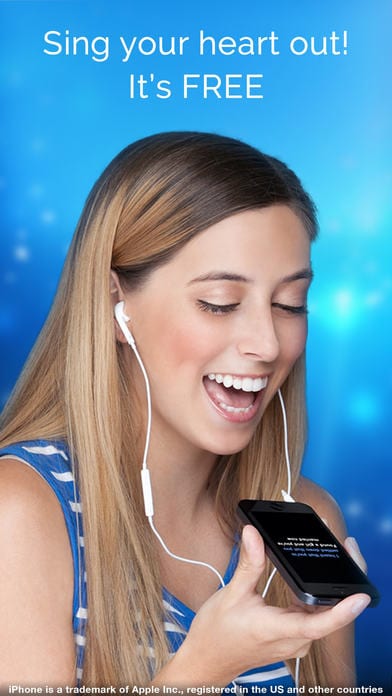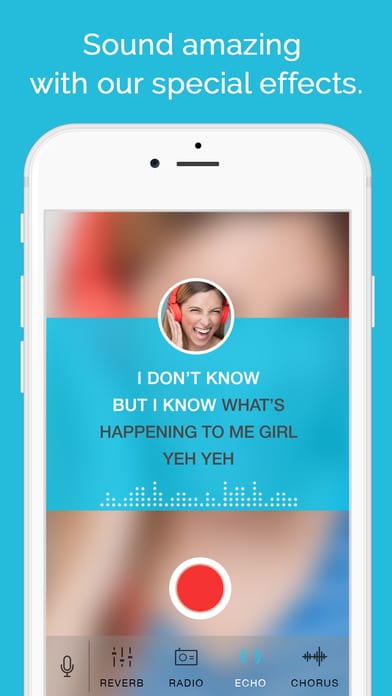 Sing! Karaoke by Smule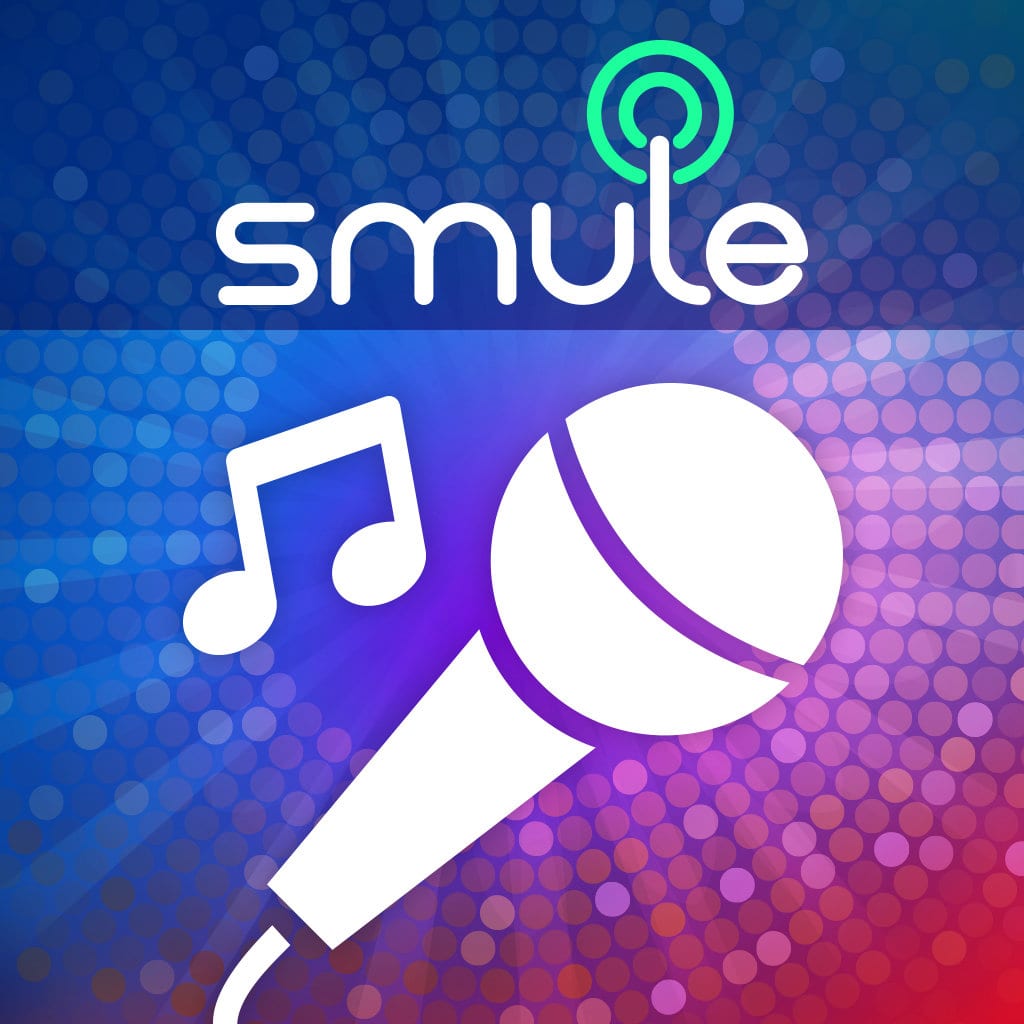 Sing! Karaoke – app for Android which will definitely appeal to fans of singing. Here you can find a broad base of popular artists, hits all genres: free, new, baby, pop, fun, etc. Also, when selecting songs you can use the search by song title or artist.
This program gives the user the possibility of recording a duet based on her original performance. You can also record your own version, save it to your device or share with friends in social networks or with other users of the application. Collect points by liking other members, chat and have fun with karaoke.
The global karaoke party begins here and now! All that is needed for it – is a good company, a great mood, and the program Sing!
Features:
Perform your favorite hits using stunning video effects. Record video and enjoy what you saw.
Option to enhance the voice, which allows you to make a real superstar.
With duets and groups singing favorite songs even more fun.
The global audience is constantly expanding. Listen to how others sing, comment and mark what you liked the most!
New songs are added every day!
You can share your performance with friends on Twitter and on Facebook.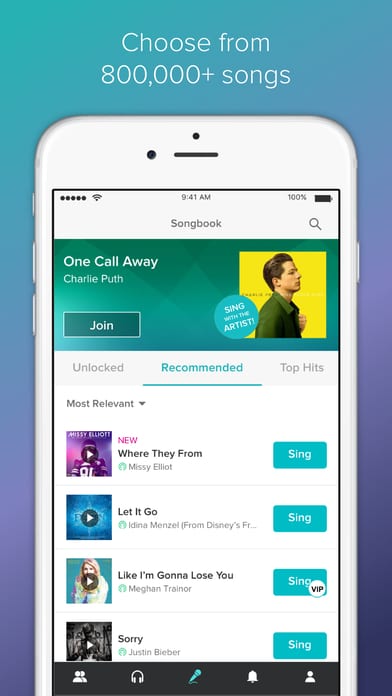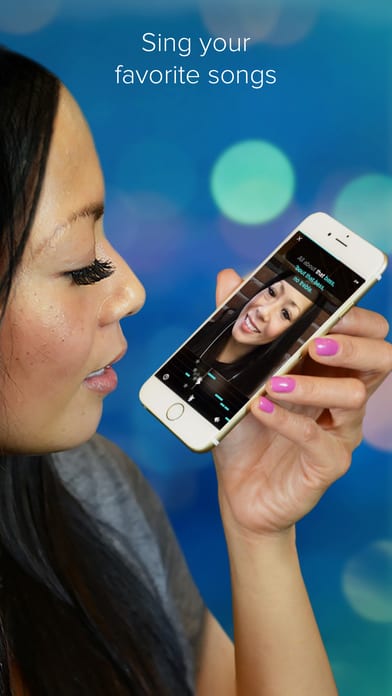 Voloco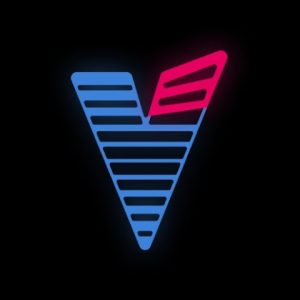 This app allows you to make music and create your own songs from home. This recording studio is suitable for anyone who wants to realize their musical potential. Here you can create compositions of any genre.
Try yourself as a rap, pop, or rock performer. Recording your own unique tracks, you can use all available features: backing inserts, repeats, intros, and so on. The sound will be as high quality and clean as possible, so you won't need to use noise reduction.
You can try for yourself all the available free beats to create unique compositions. You can also use your own beats by importing them from other sources.
After you record a track, you can listen to it an unlimited number of times. This will allow you to identify problem areas and replace them with new ones without having to record the music again.
You'll have a wide range of instruments and functions available to you for this purpose. This way you can edit and process your tracks to perfection. In the app, you will be able to record the lyrics of future tracks and export the finished result to other venues.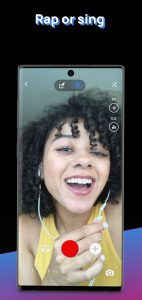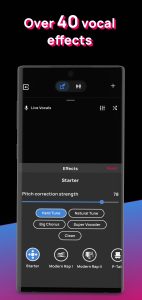 Karaoke Anywhere

This is an app that comes with 50 pre-installed free karaoke songs and if you have a subscription, you can get thousands of backing tracks.
In addition, you will be able to join the same name community, where you can arrange karaoke competitions and receive awards.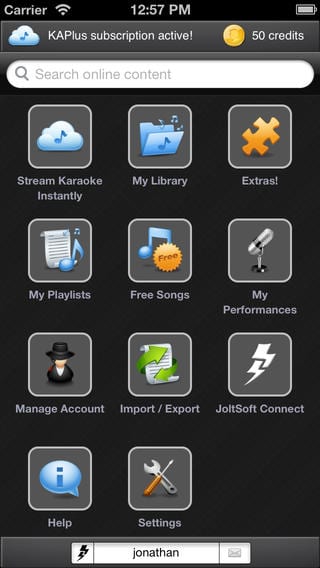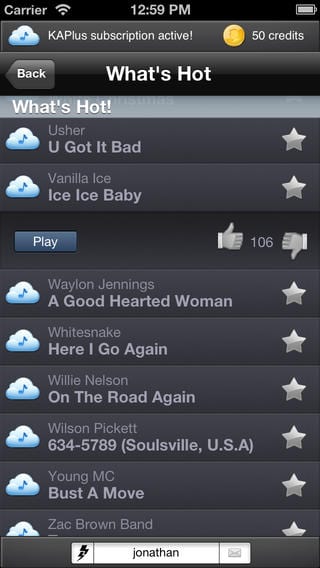 The Voice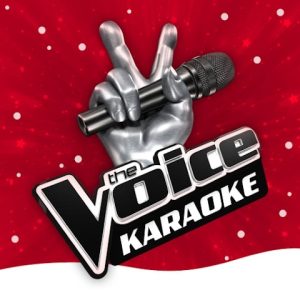 Now you don't even need to leave home to enjoy karaoke. You can feel like the star of a music project with the help of this app. In the service, you will be able to choose any track you like for solo or group karaoke performances.
The free range of songs will allow you to sing them throughout the party. The sound quality will be exactly the same as in real karaoke, so you will get maximum pleasure from singing. You can also record your creations and share them with your friends.
There will be various effects available for you that will make the singing even more interesting and unusual. You will even be able to perform a duet with your favorite singer in this feature-rich app.
Besides, videos and clips of covers of famous popular hits will be available in the app. You can not only watch them but also repeat them. Become a celebrity by singing your favorite songs from the comfort of your own home with this karaoke service.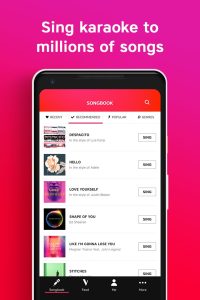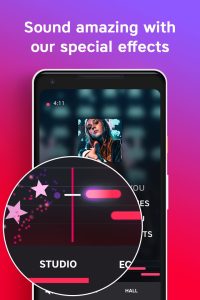 AutoRap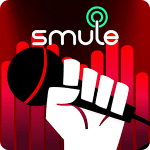 Are the words and rhythms your element? Is the rap a state of your mind? If yes, then you definitely need to download AutoRap by Smule to your device, because this app is able to turn any person into the best rapper of the Internet.
Description
AutoRap by Smule – the original application from the studio Smule, known for its music programs.
The principle of the application is to impose the spoken text on a rap melody with automatic rhythm adjustment.
To create your own track, you must press the record button and say the finished text. Trying to follow the rhythm and recitative is not necessary – the "smart" application will independently adjust the text to the music.
In Auto Rap there are two recording modes:
speech mode – here, the artist simply reads the text, not caring about his coincidence with the melody;
rap-mode – this type of recording is suitable for those who are already familiar with the technique of recitative, since "reading" will be conducted under the bit specified by the program.
Whatever mode you choose, try to pronounce the text as clearly as possible – the quality of the final "product" depends on this.
An incredibly simple interface is available even for the child. In fact, there is nothing here except a track list for creating a song and a big red button that activates the beginning of the recording.
The design is made in a stylish red and black color scheme, there is nothing superfluous on the screen. Especially for beginners, with the first launch, a little training will be shown.
After downloading Auto Rap, you will have an access to an extensive music database, featuring a huge variety of styles and beats, as well as "minus one" from the legendary rap artists: Eminem, 50Sent, Snoop Dogg, Chamillionaire and other celebrities.
However, only a few melodies are available free of charge, the rest will be available only for premium currency. You can buy songs for real money, but you can try to make money directly in the application by watching commercials.
The finished creation can be saved to itself, and also, to send to friends through a social network Facebook or Twitter.
Functional
The main functions are only two – complete adjustment of the voice to the music and "adjustment" of the read text to a given bit.
From the additional options, there is the ability to mix rhythms and select "minus one," save the final result and send it through social networks.
[wpsm_column size="one-half"][wpsm_pros title="PROS:"]
A large base of "minuses" and bits, from which almost all belong to cult rap artists.
Qualitative "fit" of the voice and "reading" with two modes.
Convenient switching between two recording options.
A minimalistic and simple interface with a stylish design.
Synchronization with social networks, allowing to share the result with friends and subscribers.
Speech is processed and superimposed on the music in just a few seconds.
[/wpsm_pros][/wpsm_column][wpsm_column size="one-half" position="last"][wpsm_cons title="CONS:"]
Most of the tracks are paid. In the free version, there are only a few melodies available, for additional music you have to pay.
[/wpsm_cons][/wpsm_column]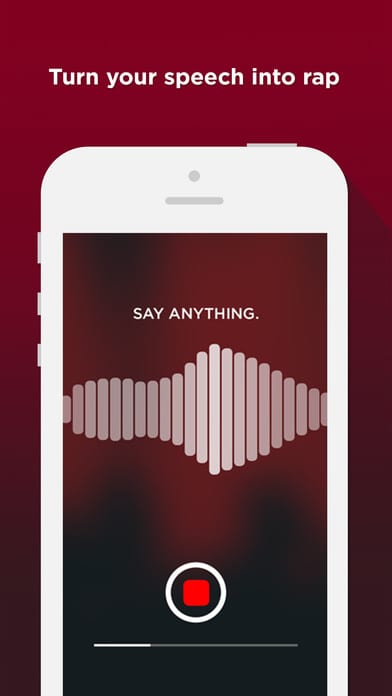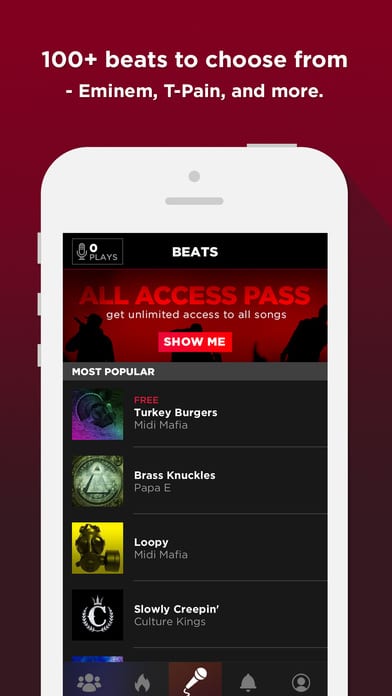 Singing Machine Karaoke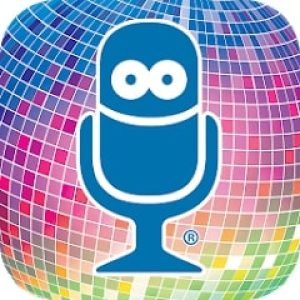 This app can easily replace a real karaoke club because it is enough to organize a music party at home. You can connect your device via Bluetooth to your TV screen to enjoy singing your favorite hits. You can select any tracks of famous artists and genres.
The app gives you access to a huge assortment of music tracks. You can choose both songs for solo and collective performance. The loud and high-quality sound will be hard to distinguish from real karaoke. So you will feel like a real artist and star, performing tracks from the program.
You can browse through popular song selections to enjoy new releases and hits of the last months. The app's library is constantly being updated, so new songs will be available to you absolutely free of charge. You can also search for tracks by artist, selecting your favorite ones to sing.
Every Friday, a novelty playlist will be updated for you, so you can have karaoke parties at your home on any weekend.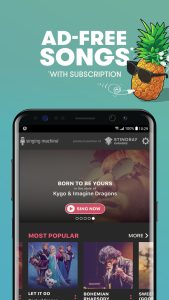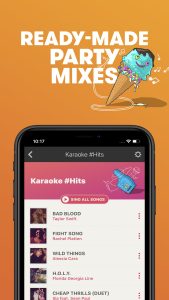 You may also like: 11 Free Lip Singing Apps for Android & iOS
StarMaker Karaoke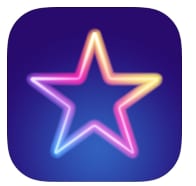 StarMaker Karaoke is software that gives you an access to over half a thousand songs. In addition, you can buy new karaoke songs, record favorite, share with friends you like through Facebook and Twitter.
Also this app promises you a lot of fun and laughter! Enjoy your singing with the app StarMaker Karaoke!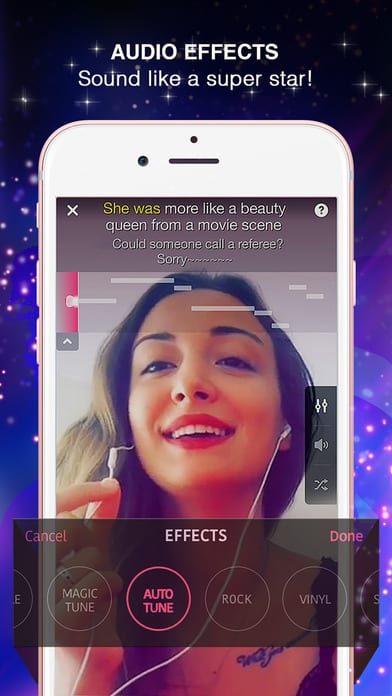 Sing Karaoke, Sing & Record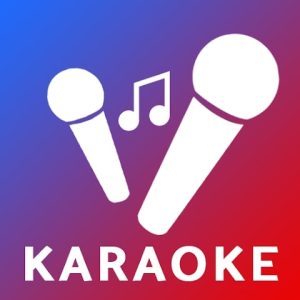 With this app, you'll be able to sing karaoke even from the comfort of your own home. In addition to over 20,000 tracks available for performance, you'll be able to try individual song selections by popular artists.
You will not only be able to sing, but also record your masterpieces to share with your friends. All tracks and music compositions will be available to you absolutely free. Thus, you can easily realize your longtime dreams of becoming a real star or an artist.
You can find tracks to perform in any language. So you can practice with any popular or rare hits. The karaoke app will be available both online and offline. This will allow you to sing even where there is no internet access.
Save your favorite tracks in the app to sing them over and over again. You can add an unlimited number of songs to your favorites. Search the service by title, artist, or genre. Or you can use ready-made playlists, categories, and so on.
StarMaker Lite – Sing Karaoke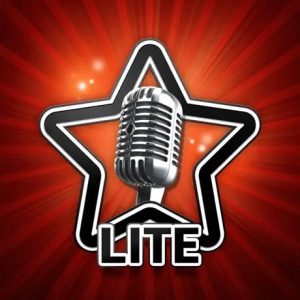 The application is reminiscent of popular television shows such as "Become a star", where a participant can perform his favorite songs in karaoke, demonstrating their talent to the jury.
The program evaluates the "accuracy" of singing and can help to adjust the voice. The jury traditionally listens to the performer, turning their backs on him, but if they like the performance, they immediately turn their faces!
The game supports integration with social networks – you can share your songs, sing a duet or a group, and compete with other participants. The trial version includes several popular songs, and to gain access to the weekly updated extensive library, you need to subscribe to a paid subscription.
Another interesting feature of the game – is the opportunity to purchase a docking station Philips, to sing into a real microphone.
This game will please absolutely all users because thanks to this application, you can have a great time alone or with friends, singing songs of various performers, and also doing vocal.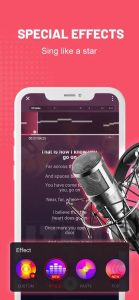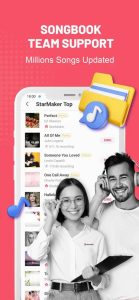 Singa – Karaoke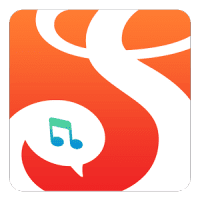 A half-game, a semi-program for fans to sing in the kitchen, in front of the computer, in the park, in the car (but only in the parking lot or in the passenger seat!), or in any other place, and all you need is your smartphone and the Internet access.
Singster allows you to connect to the community of karaoke lovers and try yourself in the role of listener and performer. In its collection, there are more than 1300 songs in five languages, but only a little more than 30 of them will be available for free.
For practice, it is enough, and if you enter the taste, you can choose one of the subscription plans. To sing the program offers in a microphone built into the smartphone and at the same time, it takes you to the camera, the front or the main one – you choose. As a background, you can choose either a cover of a song, or an instrumental version.
During singing, Singster displays on the screen words and visual series, as well as evaluates your ability to score points.
As practice shows, in the case of singing under a cover these glasses have no value, the application literally listens to itself, and even in the case of "fair" performance, even if you simply moo into the microphone, you will get some points as well.
Upon completion of the process, Singster will give you the opportunity to view and listen to the recording and upload the file to the general court online.
If the musical possibilities of the program seem simply interesting, then the social ones are seriously impressive.
Singster is a kind of "Facebook" for karaoke fans, here you can not only listen to songs performed by people from all corners of the globe but also evaluate their abilities, follow the career development, make friends and even participate in local competitions.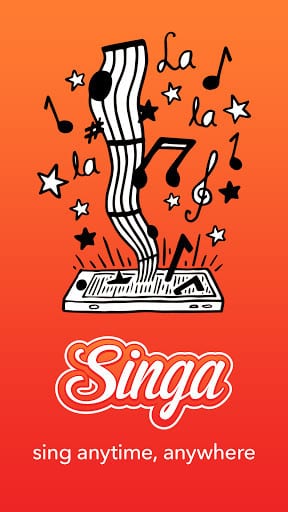 Mixit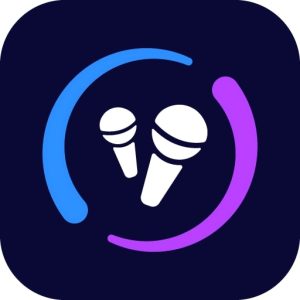 This app allows you to sing karaoke or create your own hits to perform them. You can upload any track you like to the service and edit it so that it suits karaoke. Remove vocals, add running lyrics, and sing with pleasure.
Choose your favorite hits from the service itself, and search for your favorite tracks. You can also record your performance and then edit your music the way you want. You'll have a wide range of features and instruments available to you.
You can even change your voice by changing the tone or mode. Try making your performance in 3-D and 8-D to feel like an artist on the big stage. You can also record your tracks on video so you can export your material to other venues later.
You can also become a companion for your favorite artist to perform a shared track. You can save your favorite songs to your favorites to sing them together with your friends and family in the future.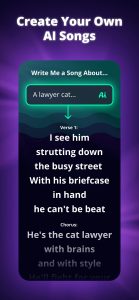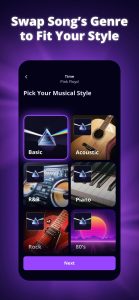 Riyaz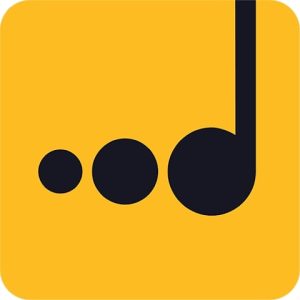 With this app, you can develop your musical talent. To do so, you will have the opportunity to practice, exercise, and warm up your vocal cords. For singing lessons, you can choose any song you like from a variety of genres.
You'll also get feedback to help you determine the effectiveness of your lessons. Virtual systems will quickly highlight mistakes you've made during your exercises, so you can correct them instantly.
This app recognizes any tone and pitch of voice, so it can be used by children and adults alike. All of your learning data will be stored in the service, allowing you to track your progress. With constant updates, you'll be able to practice your musicianship even after you've achieved some success.
Since there are different styles of music lessons available in the app, you will be able to try out any genre for yourself. Thanks to the lessons in this app, you will be able to improve your singing skills.
Also, you will improve the quality of your sound and vocals. The service allows you to try singing in chorus, opera, and so on.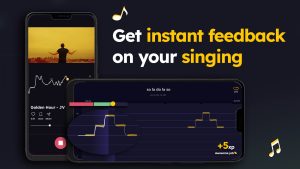 KaraFun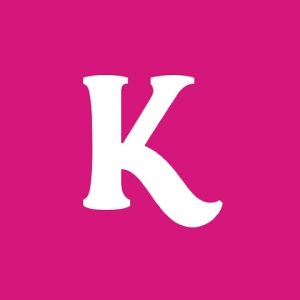 This app will allow you to sing songs at any convenient place in karaoke mode. You can choose your favorite tracks and add them to a special folder.
You will be able to organize a real party, even out of town, where there is no internet because the app works in offline mode. You can also find any tracks by artist, style, and genre.
The app has more than 40,000 songs, all of which are available for free karaoke. Besides, the app is regularly updated with an assortment of songs. So you can sing the latest new songs and even edit them according to your preferences.
To do this, you will have an assortment of editing functions available to you. You will be able to change the playback speed, tone, pitch, and so on. Thanks to this, you will be able to perform your favorite tracks according to your vocal data.
To feel like a real artist, synchronize your smartphone with other devices. This will allow you to sing songs while looking at the big TV screen and so on.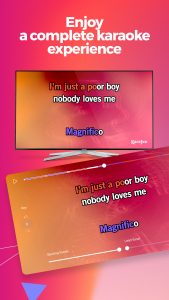 Karaoke Party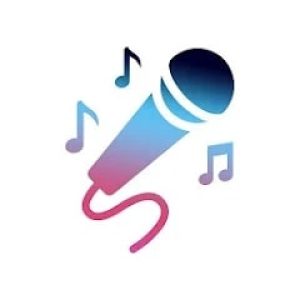 With this app, you can sing karaoke absolutely free. You can find any songs and artist tracks in the program search.
Make playlists according to your personal preferences to have a real karaoke party with your friends. Over 10,000 songs will be available for you to sing solo or as a team.
High-quality tracks will allow you to perform songs of all genres and styles. You can also enjoy the high-quality video and matching speed lyrics on the ticker. You can search for music not only through search but also through ready-made categories.
You can even find soundtracks from your favorite movies, cartoons, and TV series in this app. Additionally, you can subscribe, the cost of which will be automatically deducted from your account every week. After you pay for a subscription, new features will be available to you.
For an extra fee, you can view the history of tracks played, select songs based on your preferences in special selections, create playlists with time limits at the beginning of songs, and even get the ability to delete videos and leave only subtitles.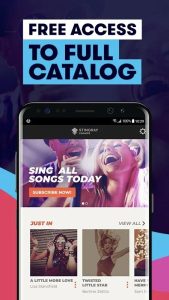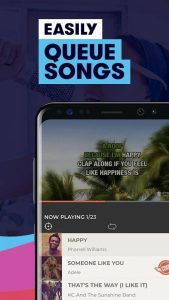 You may also like: 11 Best Apps that Improve Your Singing Voice (Android & iOS)
iSing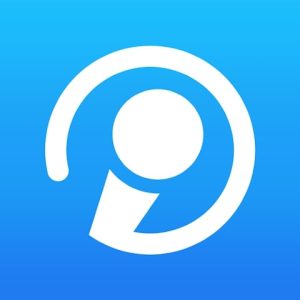 Thanks to this app, you can practice playing various music tracks. Karaoke recording will be available for you, so you can sing and save your masterpieces in the app. You can also create a personal profile to share your creativity with other people.
You'll have access to other artists' videos that you can view, like, and comment on. You can also subscribe to other users of the service to follow their creativity.
For singing, you are offered quality tracks with deleted vocals in any style and genre. Play all the songs an unlimited number of times absolutely free. You can also try different effects and animations that will help change your voice and make it even more unusual and interesting.
New tracks and hits will be updated for you every Friday. So on weekends, you'll be able to practice by trying new songs for yourself in karaoke mode.