Spectacular battles are one of the public's favorite entertainments. Wrestling is a fully staged struggle with elements of the show, which is aimed at attracting the attention of the audience.
In the United States, people really love wrestling, and the clubs in which the battles take place, in the days of the show are simply filled with people. Every year WrestleMania is held – it is one of the largest shows, where the most spectacular competitions are held.
Wrestling fans annually watch the athletes who take part in these fights. Perhaps you even had the idea to participate in such an event on your own – but for this, you need to be in good physical shape.
If you really want to get in shape on your own, you can do it with the help of the 15 Best Bodybuilding apps for Android & iOS. But still, most fans prefer to stay as a spectator and enjoy what is happening in the ring.
If you don't have the right spectacle to watch now, you can create it on your smartphone. We suggest you learn 12 Best Wrestling Games for Android & iOS.
WWE SuperCard – Multiplayer Card Battle Game
WWE is a full-fledged entertainment universe, which has many fans all over the world. Like any large company and franchise, they have special branches and products for fans in different areas.
Such an application is WWE SuperCard – a collection card game. Here you will find all your idols or bright personalities in wrestling, which you are used to watching on the screen and during the battles. The game is a combination of two genres, in which the strategy and card gambling are presented.
The whole WWE league will be on your smartphone – you can access the strongest fighters and representatives of the battles. You can collect your own deck in WWE SuperCard, including fighters from WWE, NXT, and other bright leagues.
In the game, you will participate in loud tournaments and matches in different modes – even King of the Ring! For interaction with other players, there are PvP battles and team battles, which will take place in real-time. Expand your deck to defeat as many opponents as possible and hold on to the title of champion.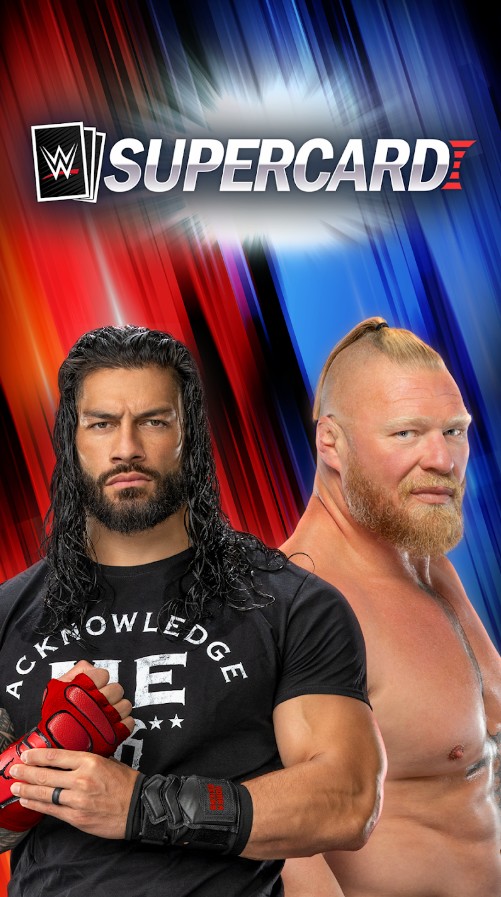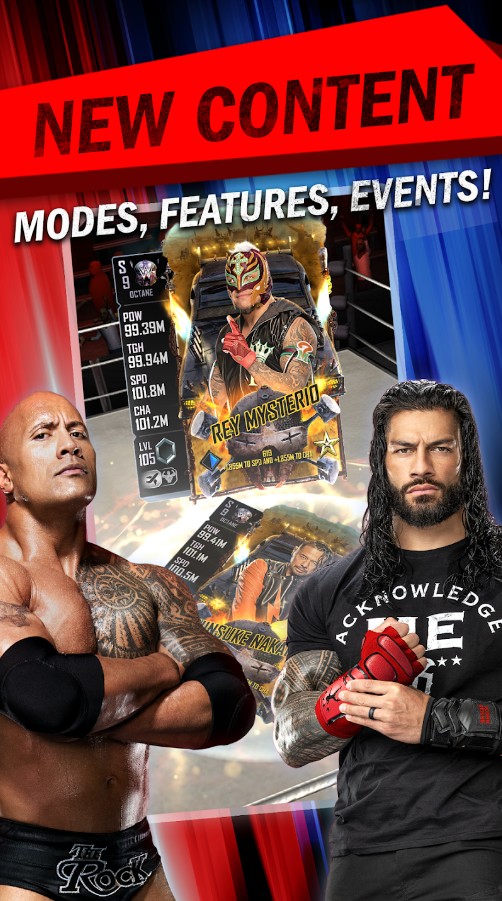 You may also like: 12 Best Push Up Apps for Android & iOS
Wrestling Empire
Wrestling Empire gives you a chance to create and customize your own wrestling persona.
From appearance to wrestling style, you have full control over your character's identity. It is possible to immerse yourself in the drama and excitement of professional wrestling with the game's Story Mode. Create rivalries, form alliances, and make decisions that will impact your character's career.
Ypu can also challenge your friends in multiplayer mode and prove who the ultimate wrestling champion is. Wrestle against real players from around the world and climb the online leaderboards.
Wrestling Empire offers an open-world environment where you can explore different venues, interact with other wrestlers, and truly experience the wrestling lifestyle.
Finally, with its diverse wrestling styles, character customization, engaging story mode, and multiplayer options, it offers endless hours of wrestling entertainment.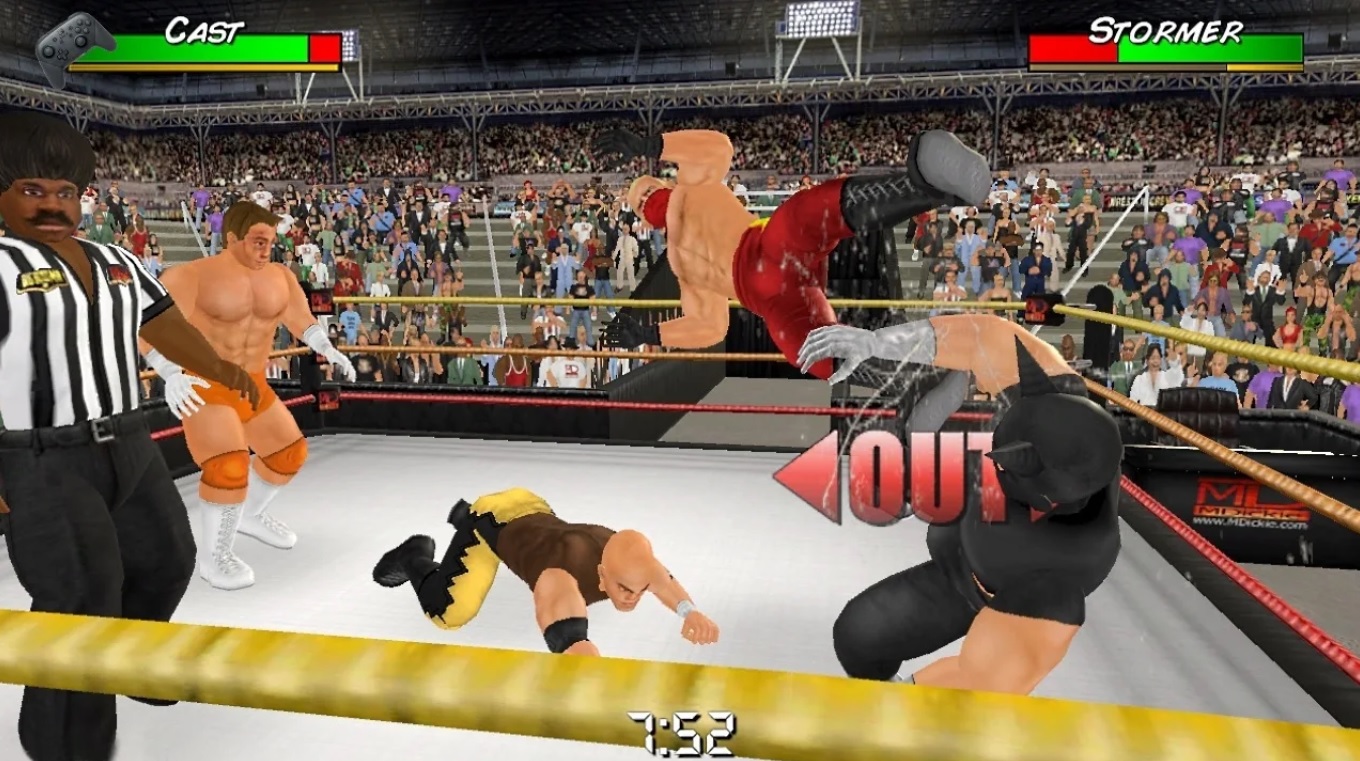 Rowdy Wrestling
Rowdy Wrestling is an interesting and fun fighting game, where many opponents are already waiting for you in the fight for the golden belt. The game attracts the attention of users with its pixel design, funny animations, and even designs of locations in which you will fight.
All your battles in Rowdy Wrestling will be accompanied by different sounds and shouts, so for a full immersion into the atmosphere, we recommend you to play with the sound on.
Rowdy Wrestling has 4 gameplay options. You can fight on your own against all your opponents, be in the same team with your partner and stand with him for as long as possible in the ring, and you can also build your own career.
Here you will need to get to the treasured golden belt, driving your opponents to exhaustion and taking them out of the game.
It's funny that in Rowdy Wrestling sometimes people with different tools may appear behind the ropes of the ring – you will need to manage to take them and use them on your opponent – it may be a baton, lamp, or even a simple wooden board.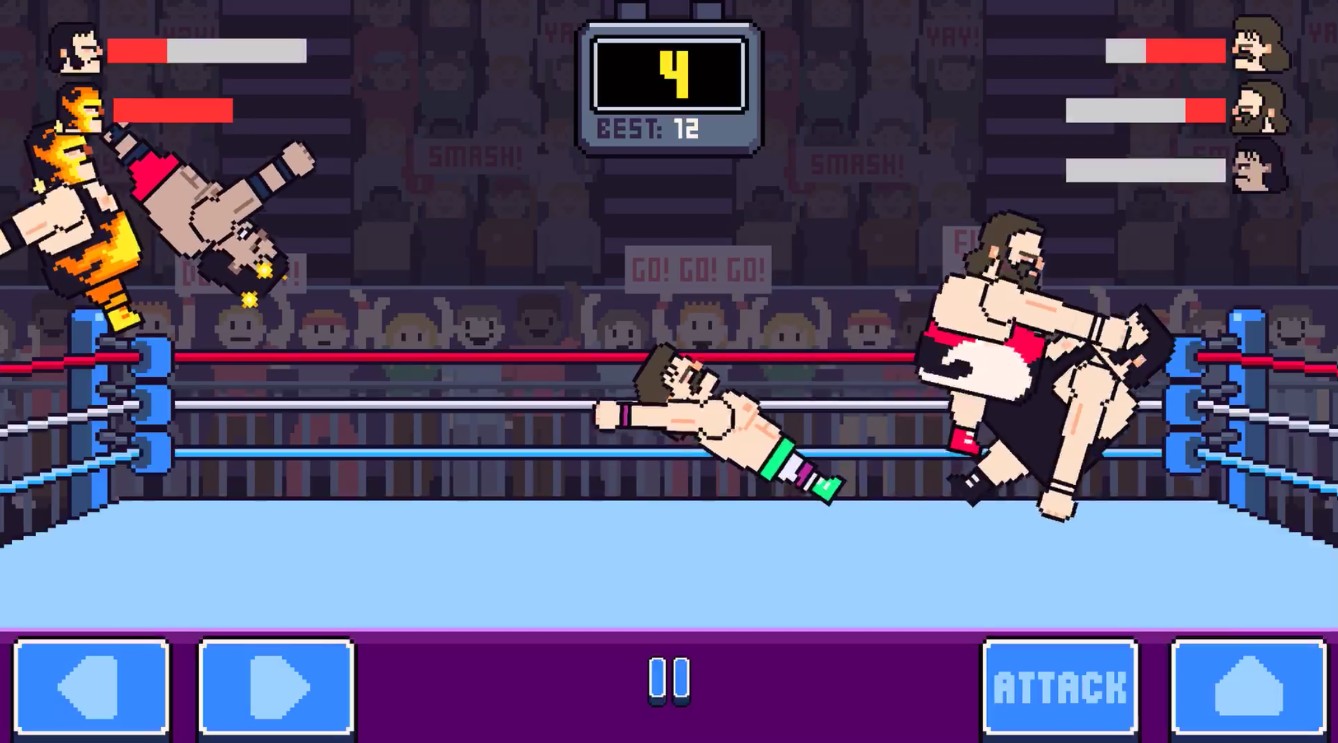 The Muscle Hustle: Slingshot Wrestling
If you find games boring, where you will be engaged exclusively in wrestling, we want to tell you about The Muscle Hustle. This game is not just a battle in the ring – here you can find elements of pinball, marble, and billiards.
We doubt that you have ever played something like this, so we sincerely recommend you to try The Muscle Hustle. You will have to train hundreds of wrestlers so that they can move on and defeat any opponent. For each match, it will be possible to create an ideal team – both for a single company and PvP battles with other players.
In The Muscle Hustle, it is possible to combine different heroes so that they complement each other in their skills. Don't forget about the audience: you can do various tricks to make your character to please the audience.
You can fight with only one hand so that even a child will be able to control The Muscle Hustle. During each of your battles, you will be able to hear fun phrases from commentators, so the game will be also great entertainment for you.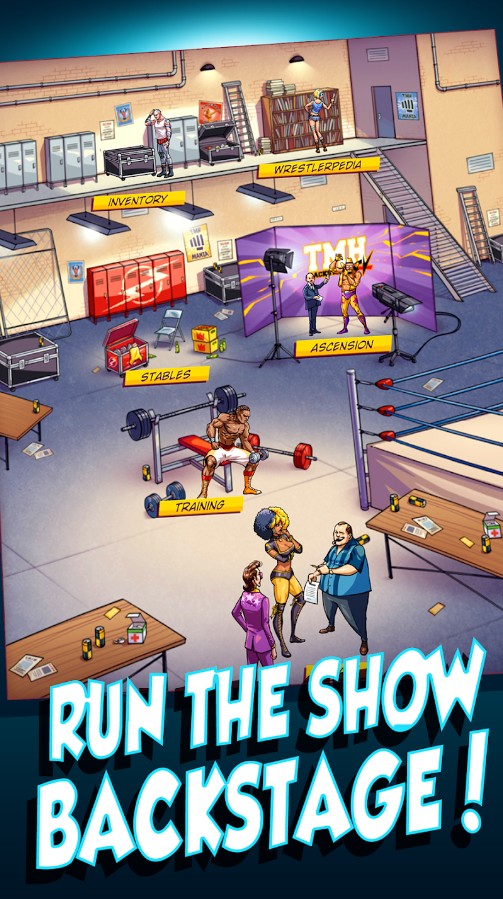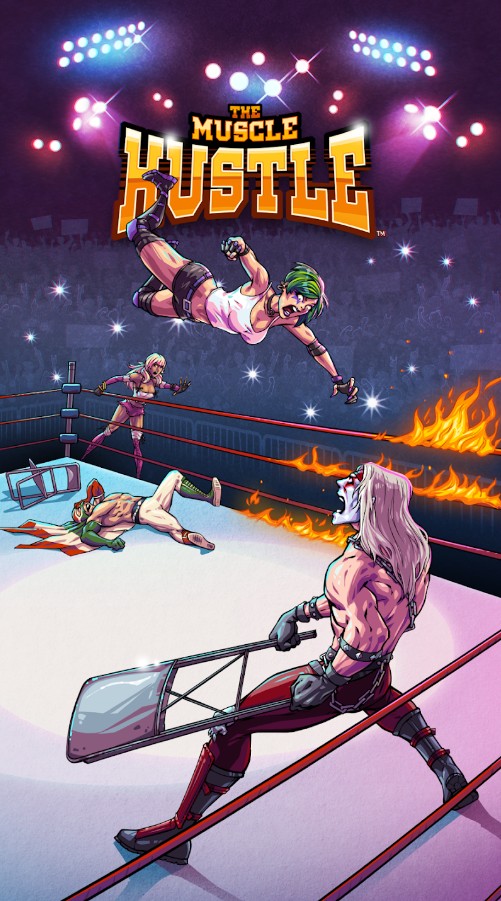 WWE Mayhem
WWE Mayhem is a dynamic arcade game where you will dive into the world of wrestling together with the best fighters and stars of the ring. Here you will be able to control John Sina and your favorite other superstars that you have previously seen in real TV shows.
Who is your favorite fighter – who do you admire and whose strength and movements make you excited? WWE Mayhem allows you to choose him as your character and start development as soon as you finish downloading the game.
The game will allow you not only to control the wrestling stars but also to confront and interact with other popular fighters. Since the game is online, you can spill your anger and fight with other players around the world.
The WWE Mayhem hosts weekly events in which you can participate, such as Monday Night Raw, Clash of Champions, and other bright matches. In order to suddenly turn your defeat into a victory, you will have to think and build a whole strategy – so you can make a real show, just like the stars do in real life.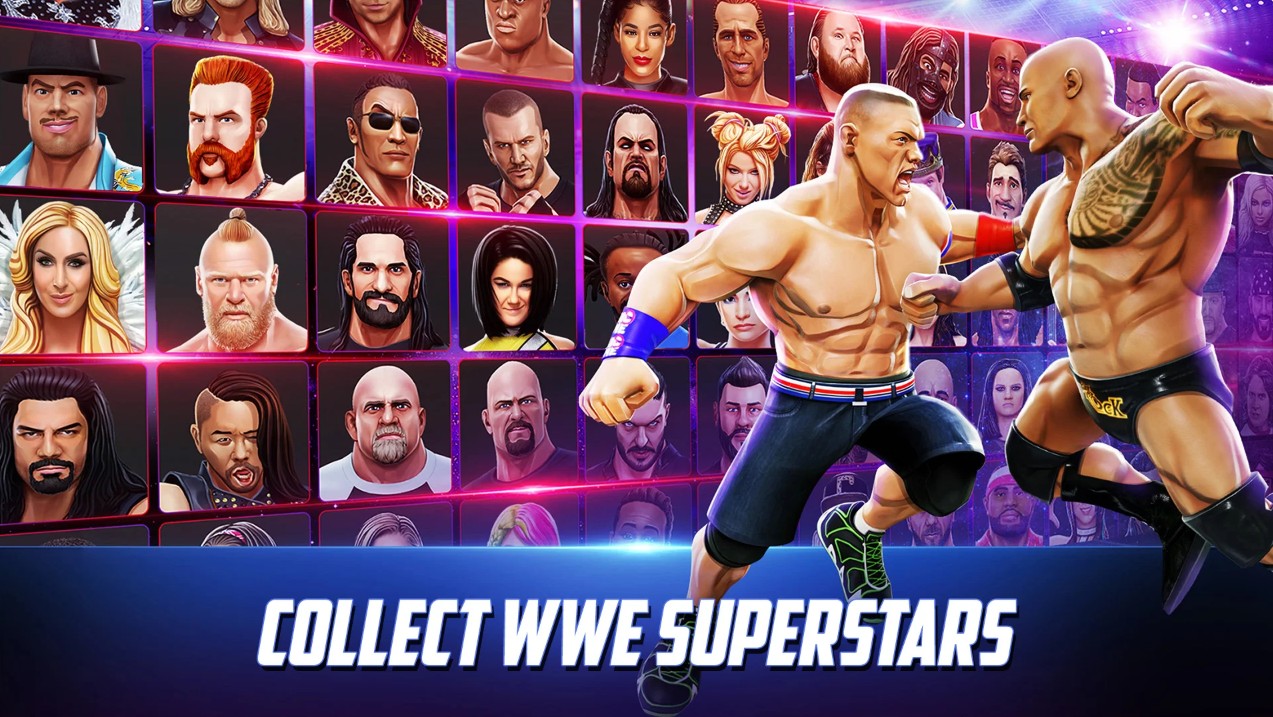 You may also like: 10 Best Wrestling News Apps
Wrassling – Wacky Wrestling
Perhaps you immediately noticed a distorted name with the word Wrestling. This game represents in itself a specially modified process of battle, where on the terrible pixel arena in a deliberately miserable graphics will fight terrible fighters.
Wrassling game will be appreciated not by classical fans of wrestling – if you literally worship this sport, the game will seem to you a real mockery or ridicule. If you are ready to laugh and have some fun, then we recommend you to pay attention to the game.
In Wrassling you play the role of a purple fighter, whose main goal is to remove all the other guys in the arena. Your score will represent the number of opponents that you were able to throw out of the ring.
Once you remove all of them – consider that you have won. Wrassling allows you to rotate the fighter's hands in different directions like nunchakus, move around the arena in all directions and even jump.
Despite the strange appearance, the fighters in the ring can throw each other over the back, balance on the verge of falling, and even take an uppercut – you will laugh when you see everything.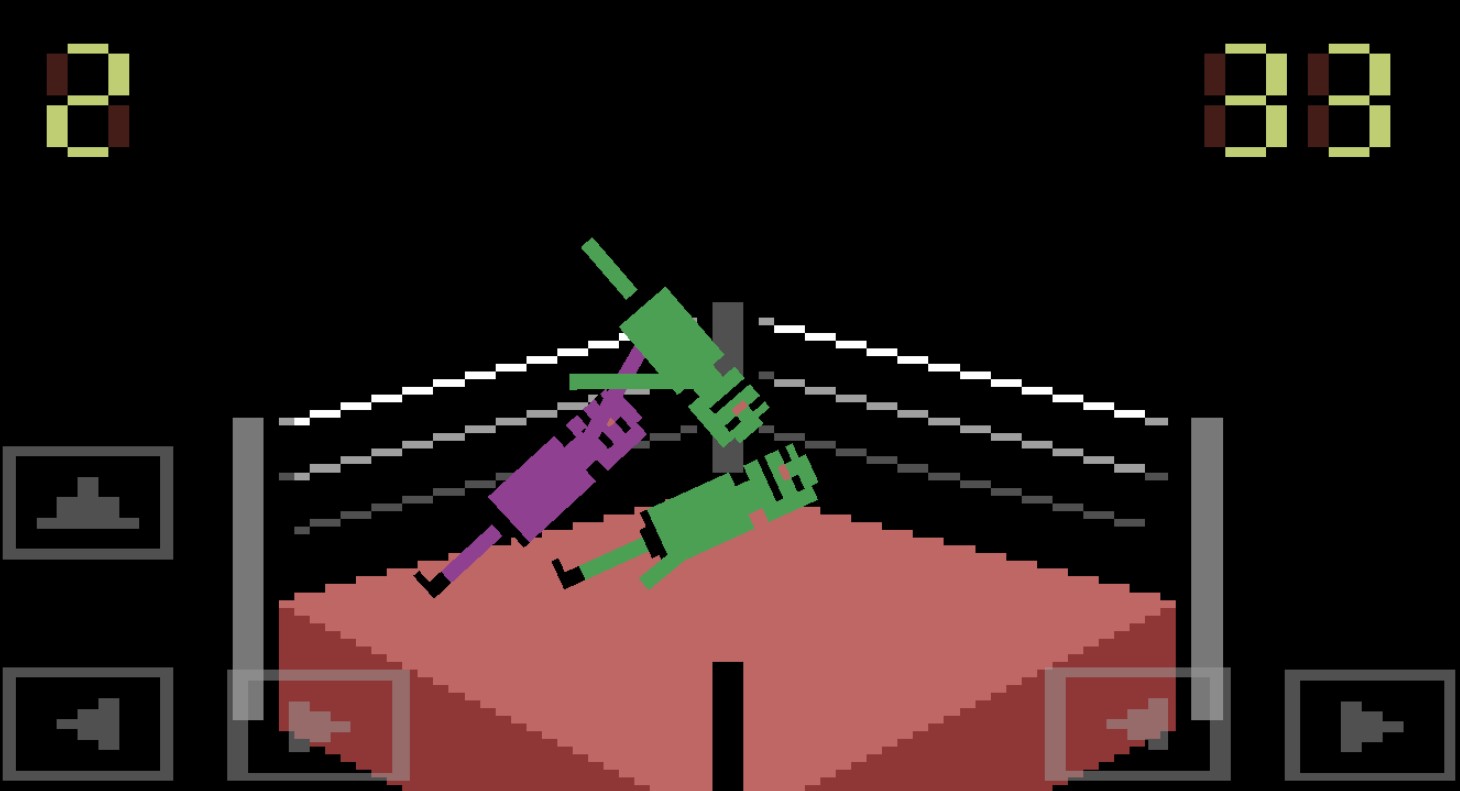 WWE Champions
This unique mobile app combines the adrenaline-pumping action of wrestling with the brain-twisting challenges of match-3 puzzles.
WWE Champions is all about matching gems to unleash powerful wrestling moves. Create combos, choose your moves strategically, and watch your favorite WWE Superstars perform their signature attacks in jaw-dropping fashion.
What is more, you can collect and upgrade a roster of WWE Superstars, from legendary icons to rising stars.
Experience the drama and intensity of WWE with a captivating storyline that unfolds as you progress through the game. Join forces with other players in faction events and rise through the ranks together.
To sum up, I'd recommend you WWE Champions as it provides a unique and addictive blend of puzzle gaming and WWE wrestling action.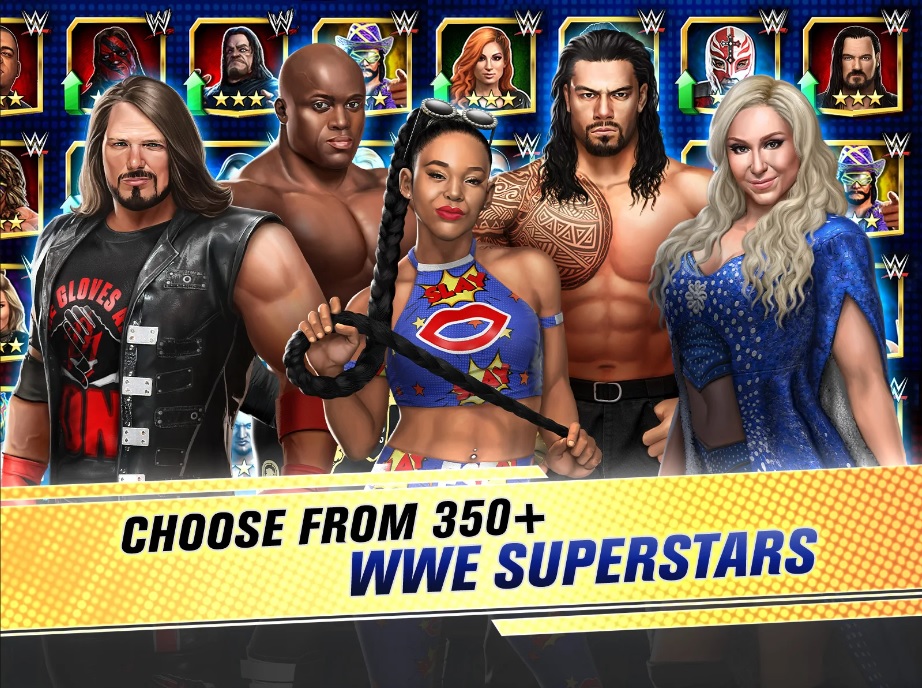 Modern Mania Wrestling GM
This app lets you take the reins of a wrestling promotion and guide it to glory. If you've ever dreamed of being the mastermind behind the scenes, this game is your ticket to that exciting world.
Modern Mania Wrestling GM allows you to create your wrestling universe from the ground up. You can develop unique storylines, craft engaging feuds, and sign a diverse roster of talented wrestlers. From muscle-bound behemoths to high-flying daredevils, you'll find a variety of characters to recruit.
You'll need to strategize and manage your resources wisely to succeed. Whether it's booking matches, marketing events, or upgrading your venue, every choice impacts the success of your promotion. Modern Mania Wrestling GM lets you test your skills as a wrestling promoter against friends.
As for me, Modern Mania Wrestling GM is an ideal game because it allows to enjoy both strategy and wrestling.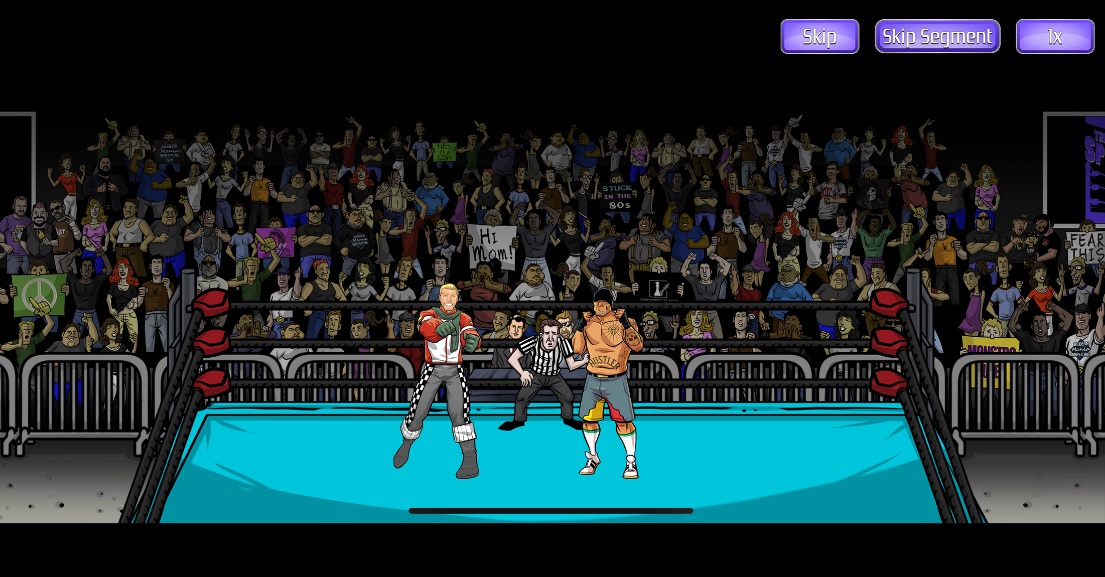 Wrestling GM
This app lets you live out your dreams of managing a wrestling promotion, making strategic decisions, and overseeing every aspect of the wrestling business.
In Wrestling GM, you have the power to create your wrestling universe. You can design your own characters, build your roster of wrestlers, and customize every detail of your promotion. Craft engaging storylines, book thrilling matches, and watch as your creation comes to life.
Moreover, this game offers an immersive and strategic gaming experience for wrestling fans and mobile gamers alike. Create and customize your own characters and competition. Make critical decisions that impact the success of your promotion. Compete with friends in a friendly wrestling management rivalry.
In conclusion, I find Wrestling GM a must-have for anyone who's ever wanted to be a wrestling promoter. It combines the excitement of wrestling with strategic gameplay, and it's a fantastic way to test your skills in the world of professional wrestling.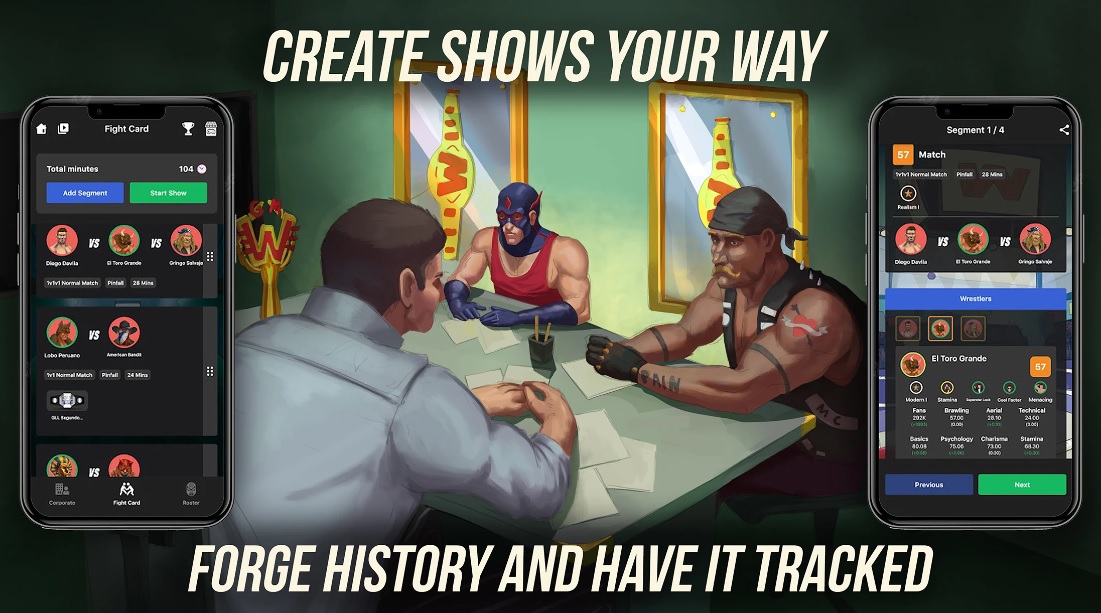 Wrestling Rumble Superstar: Extreme Fighting Games
Among wrestling games, there are those that have a small plot or background of the hero. Wrestling Rumble Superstar offers you to play for a young man James – he is a beginner wrestler.
His main dream is to become a world champion in wrestling, and you can realize this dream. In the story, James moves to New York, where his journey into the world of wrestling begins. Extreme fights will be a great way to achieve fame and improve your fighting skills, and you will have to reveal them.
Wrestling Rumble Superstar offers you to fight against the best wrestlers of New York, watching as the enemy loses. The game has different modes and levels, which you will choose for yourself.
By the way, you won't be able to advance to another level if you don't earn enough points: for this, you have to work hard and knock out a lot of opponents. In order to raise your mood and give you a push to move on, the developers of Wrestling Rumble Superstar added a lot of sounds and visual effects during the fight in the ring.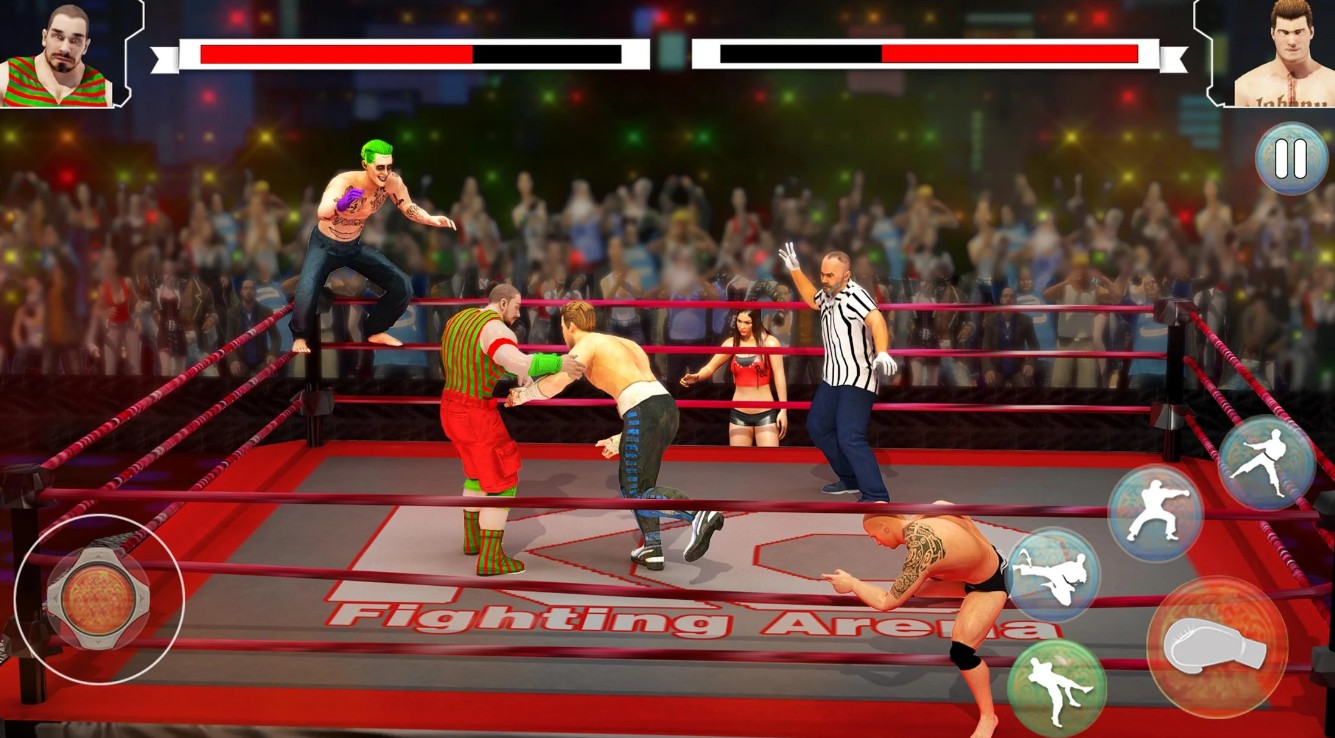 Indie Wrestler
If you've ever dreamed of creating your wrestling persona and climbing the ranks to become a champion, this app is your chance to shine in the squared circle.
One of the standout features of Indie Wrestler is the ability to create your very own wrestling character from the ground up. You can customize every aspect of your wrestler, from their appearance to their personality traits. Give them a unique name, select their fighting style, and design their signature moves.
In Indie Wrestler, you won't just be limited to one type of wrestling match. You can compete in a range of matches, from standard one-on-one bouts to hardcore, ladder, and tag team matches. Each match type offers a different challenge and requires different strategies to win.
In conclusion, Indie Wrestler is a must-have for wrestling enthusiasts and anyone who's ever wanted to step into the world of professional wrestling.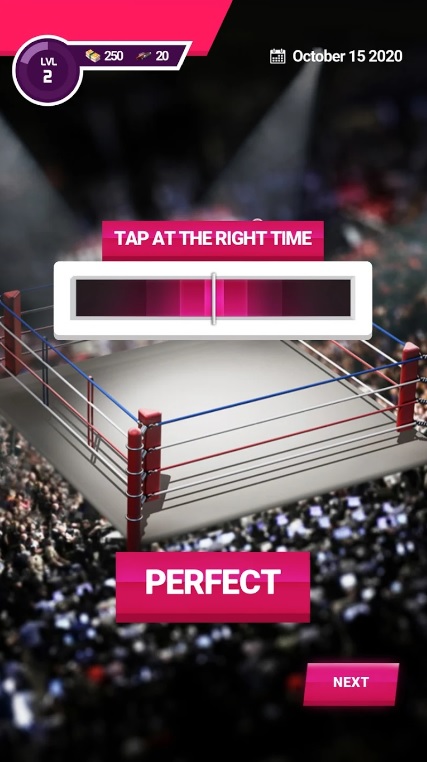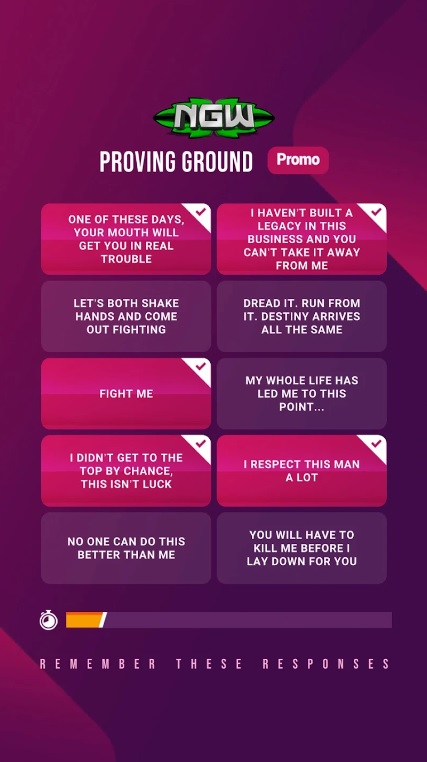 You may also like: 17 Best Boxing Games For Android & iOS
Wrestling Revolution 3D
Wrestling Revolution 3D – this game is also presented by the MDickie developer, so you already have an idea about the gameplay. Here the whole graphics is more traditional for wrestling games and for this reason it is more popular and widespread.
It is free to download, but some details in the game can be unlocked only after their purchase – you will always have the opportunity to upgrade and expand the abilities of the fighters. In total, Wrestling Revolution 3D features 20 different fighters in different rings – all you will be limited by your imagination in battle.
You can also control the cursor and buttons, and with the sensor. The game is compatible with controllers, but it should be noted that it is not quite convenient for smartphones.
Wrestling Revolution 3D is designed for real fans of fights and wrestling because here you will see a lot of cruelty and various combat techniques. In order to make all the fighters, and the game graphics loaded on your device quickly and qualitatively, you need a good enough and powerful smartphone.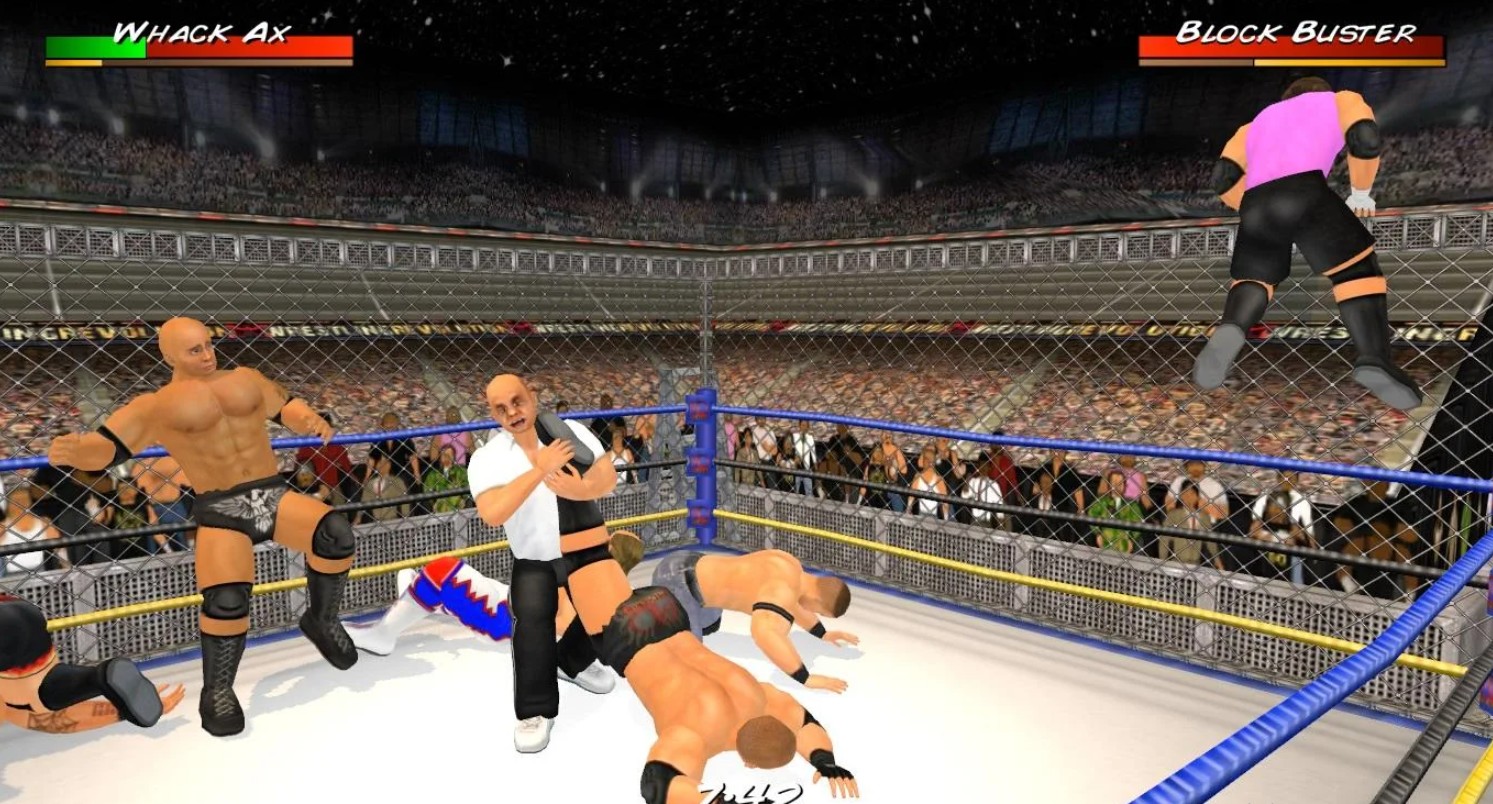 You can become a cool wrestler in the game – it will only take some time to develop your character and participate in the battles. You can also learn a little more about the sport in games – for example, about its subtleties or special techniques that athletes use during competitions.
The most devoted fans will even be able to try on the role of the main wrestling stars, choosing them in the games as their character. Professional wrestling requires stiffness and strength, and you can see it all in your smartphone in excellent graphics – most games have a chic and realistic interface.
We hope that we were able to find interesting and relevant games that you immediately wanted to play.