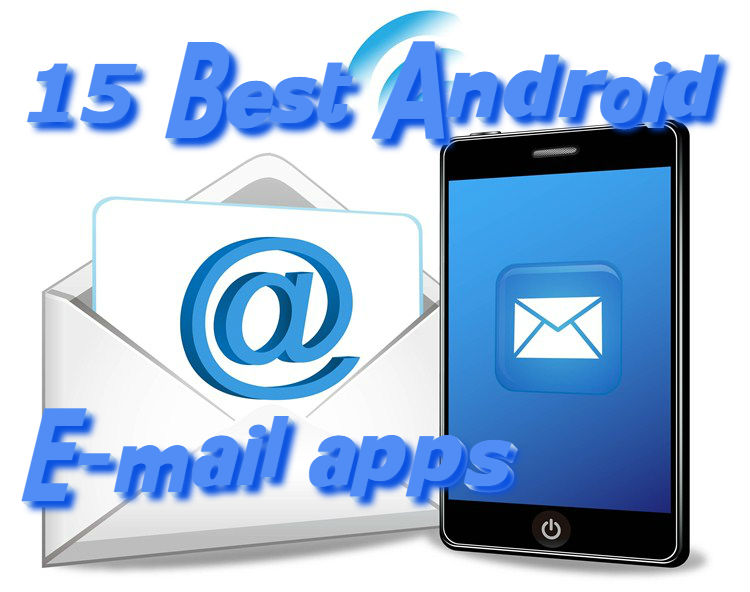 The digital world is increasingly covering the functions of the ordinary world. Social networks have become a platform for meetings in virtual reality; pay a bill or make a purchase can be done without leaving the house. Well, and for such things as e-mail, everyone has long grown accustomed from the very first stages of development of the Internet. In this post, we will focus on the Android E-mail apps that are designed for the convenient use of our email boxes.
myMail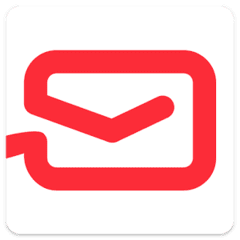 Next, in our list, there is an application which enjoys great popularity among the users. A key feature of the email client can be called the support of the most well-known services such as Hotmail, Gmail, Yandex, Outlook, Rambler and Yahoo. Also, there is support for POP3 and IMAP.
The mail client has an intuitive and easy-to-use interface through which the user can find the information he needs quickly. It has a function of rapid response, for which several templates are provided. Also, you will find a fine-tuning that will be useful for those who use multiple e-mail accounts.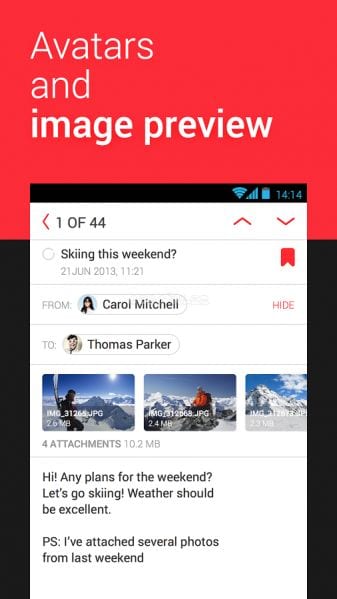 back to menu ↑
MailDroid Pro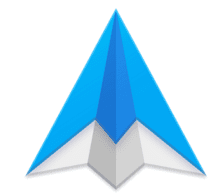 MailDroid developers proudly claim that their application's users can safely forget about the existence of not only the native e-mail client, but other analogs.
Interface again pleases by the absence of superfluous elements, and information gathering, as well as its storage, is done by the client resources. Among the features and benefits of MailDroid can be mentioned the possibility of caching emails, the advanced interface of downloading attachments that allows you to save them to a memory card. To be most effective there is the possibility of a quick response to an incoming email using a template, the text of which can be changed in the settings. Note that in the configuration also there is the ability to change the font size.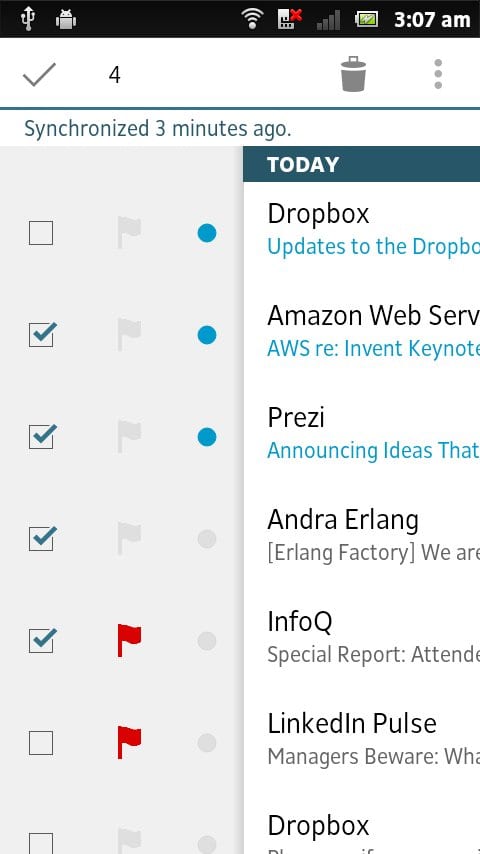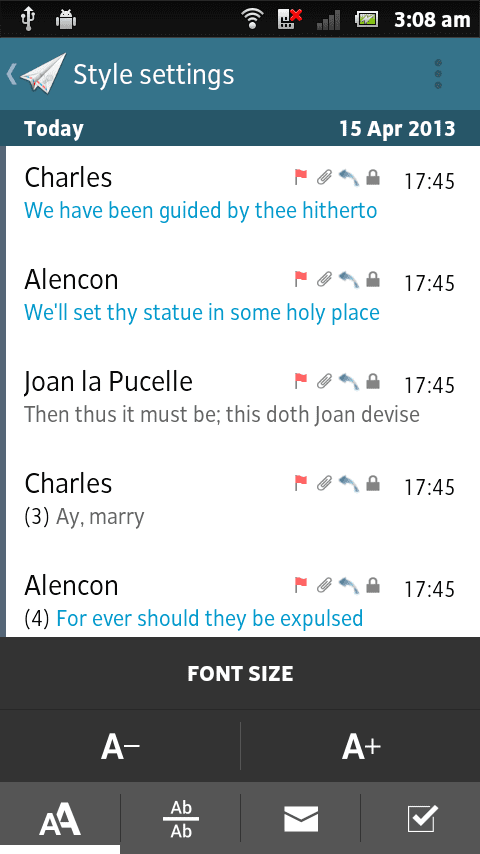 back to menu ↑
Aqua Mail
It is an e-mail program which will help to manage multiple email accounts in one convenient place and help to use two types of widgets for quick access to email. The program has the ability of quick setting while working with the mail Yandex, Rambler, Gmail, Yahoo, Hotmail and other email services, including Google.
Aqua Mail program allows you to work with other e-mail programs in accounting using an existing folder structure for sent, deleted messages and drafts.
In addition, the program has a convenient widget of two kinds: the counter, and a list of messages, support for gestures in the message list, the message forming function in the chain and matching letters under the screen, text formatting and insert images.
Among the nice features of Aqua Mail app, there are also:
support of Android Wear;
an abundance of options for fine optimization of program work under the individual needs of users;
the ability to create individual settings for connections to WiFi and cellular networks;
archiving and recovery settings via cloud services;
integration with Light Flow, Cloud Print, etc. as well as with Tasker to start checking email or create events on reports.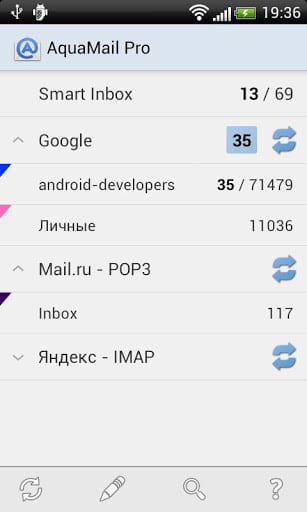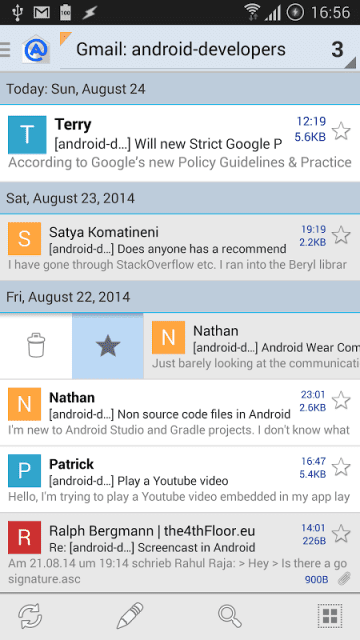 back to menu ↑
Blue Mail
Blue Mail is an alternative email client for Android, which allows you to combine all your email addresses in one application. To work with a large number of letters, the developers offered a very concise performance and several interesting features.
The appearance of Blue Mail is incredibly simple and similar to the closest analogs. The main menu contains inbox selected address, and a sliding panel contains folders, switch accounts and the combined mailbox for incoming mail from all synchronized accounts.
There is the possibility of deletion, archiving and tagging posts or you can postpone correspondence later. The last function can be very useful. For example, if you cannot quickly respond to the letter, the app will remind you of this need after a specified period of time.
On top of that, the application supports the "quiet hours", allows to customize the notification (sound, vibration, LED) and protect the conversation password. Also, you can find the night mode and two themes.
Thus, Blue Mail is extremely easy and at the same time highly functional mail client. The program makes it easy to manage multiple accounts, in a convenient format to store and distribute all mail and create a useful reminder. The application is absolutely free without any pitfalls.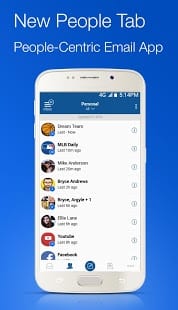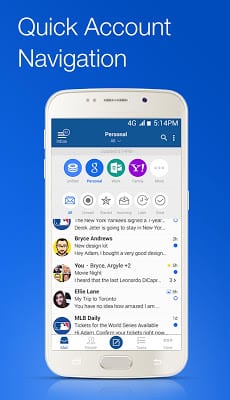 back to menu ↑
 Gmail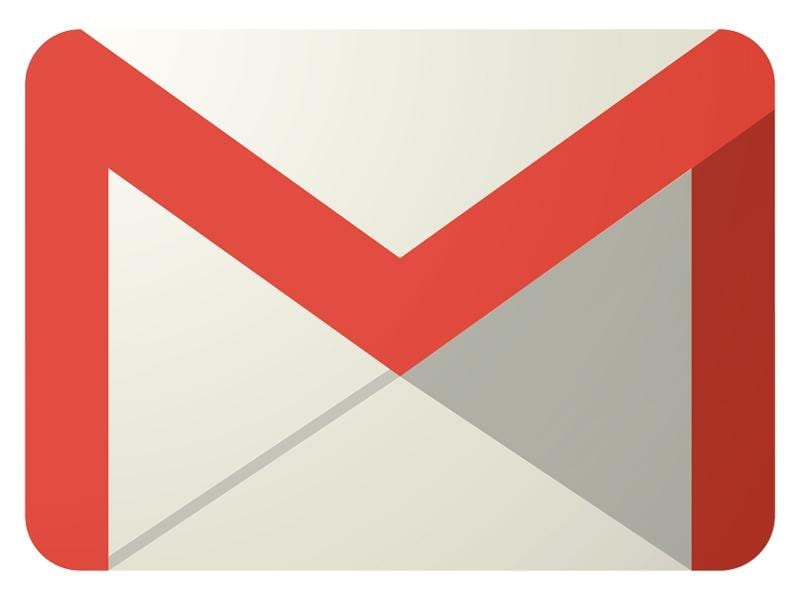 Gmail is one of the best Android-applications to work with e-mail, designed by Google.
The program combines all the most necessary features and tools, such as spam protection, automatic sorting mail on incoming mail notification, built-in search in the mail, support for multiple email accounts and much more.
The user has the ability to read messages and replies to them without an Internet connection, to mark selected messages, to change their labels, to ignore unwanted messages, to block the selected senders, to send the print, to move them to the selected folder and more.
Key features of Gmail:
Ability to read messages and reply to them without an Internet connection.
Built-in search through the mail.
Automatic sorting of mail.
The presence of anti-spam protection.
The built-in storage for 15 GB.
Support for multiple mails accounts.
Management of gestures.
Confirmation of deletion, archiving and sending emails.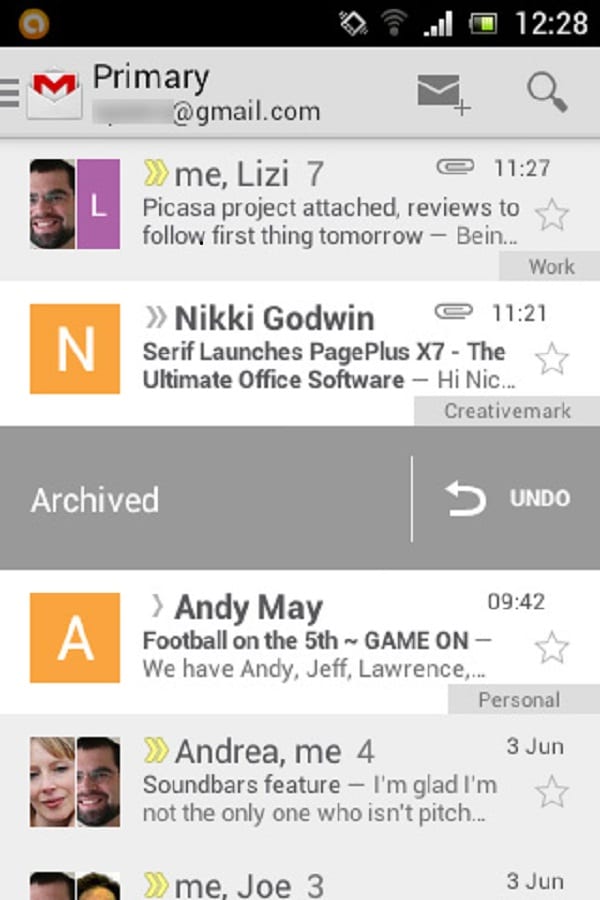 back to menu ↑
K-9 Mail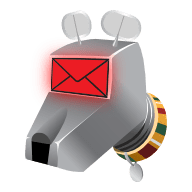 It is an excellent email client for Android devices. After downloading and installing the program K-9 Mail, you get to the operational work with e-mail, as well as to carry out any action with several mailboxes.
Features:
High download speed and work.
A lot of useful functions.
Excellent interface.
The application supports POP protocol, IMAP, SMTP.
Constant updates.
The ability to sync with multiple mailboxes.
Supports synchronization with Exchange 2003/2007 server for corporate e-mail.
Ability to save all messages on a memory card.
Ability to archive messages on a memory card.
Work with attachments.
Download only message headers to save bandwidth.
Filtering of incoming mail.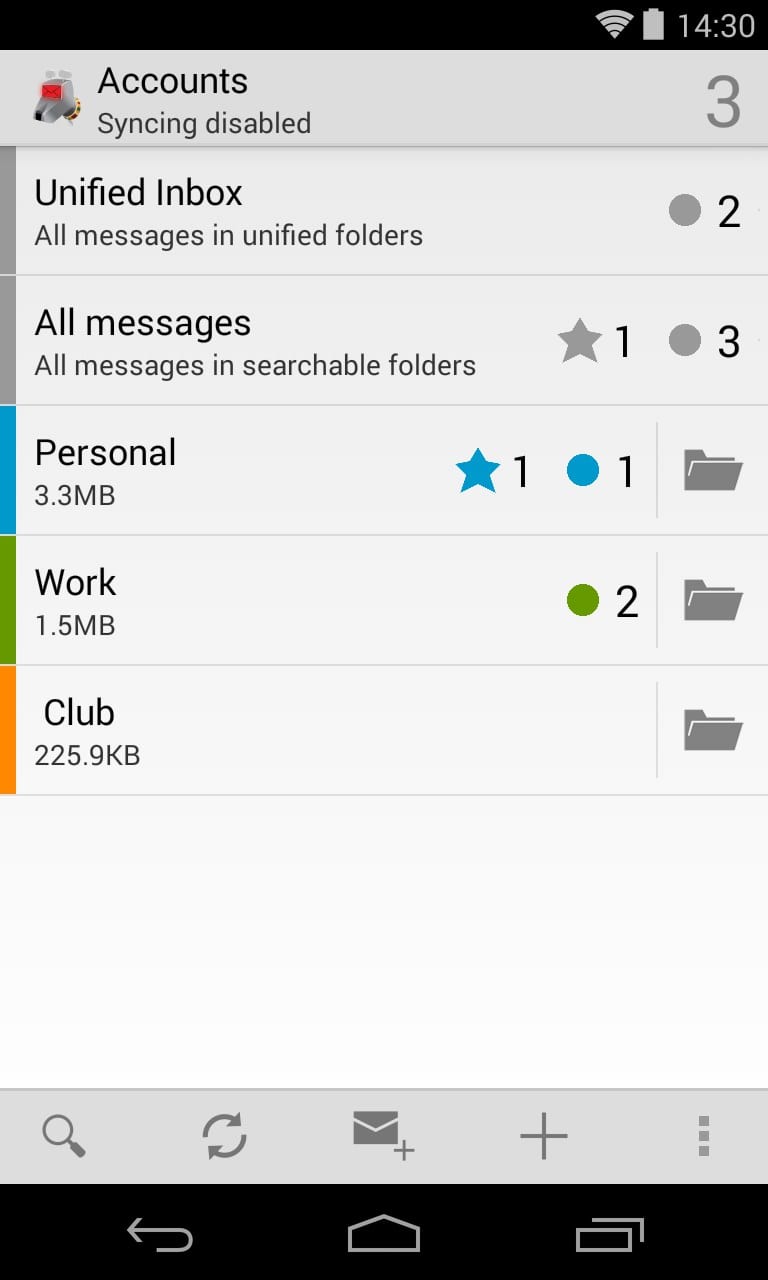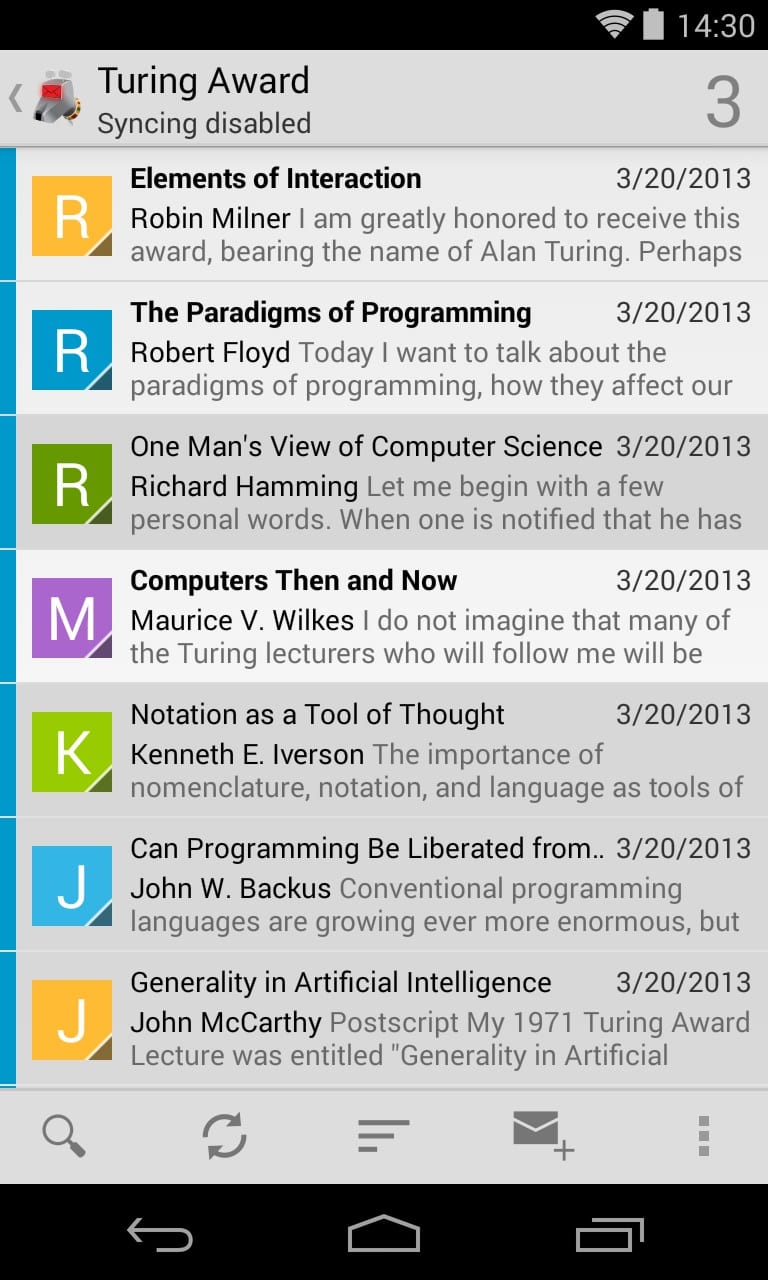 back to menu ↑
MailWise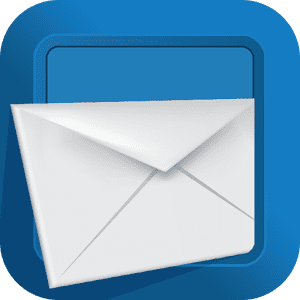 It is a convenient multiprotocol email client with a nice design. Supports IMAP, Microsoft Exchange Hotmail, ActiveSync, Outlook, Yahoo, AOL, Live.com, MSN, Gmail, GMX. Knows how to get administrator privileges on the device server requirements (Exchange security bypass), synchronizes calendar and tasks.
It can display messages in the form of chains, there is customizable swipe control. You will find the ability to control the letters from notifications. Support VIP-notification contacts with individual settings (in the paid version).
Features:
Receiving and sending emails.
Calendar synchronization and task list.
Swipe management.
VIP-contacts.
back to menu ↑
Nine
Using the mail for all of us has long been a standard habit. It is difficult to find someone who would not use it or a company that does not have email addresses. This application was created for effectively using your e-mail, it is synchronized with all of your email addresses, and displays all information on an easy and simple interface.
Features:
Direct Push Synchronization with Exchange ActiveSync.
Beautiful graphic interface and amazing convenience of use.
Support for multiple accounts.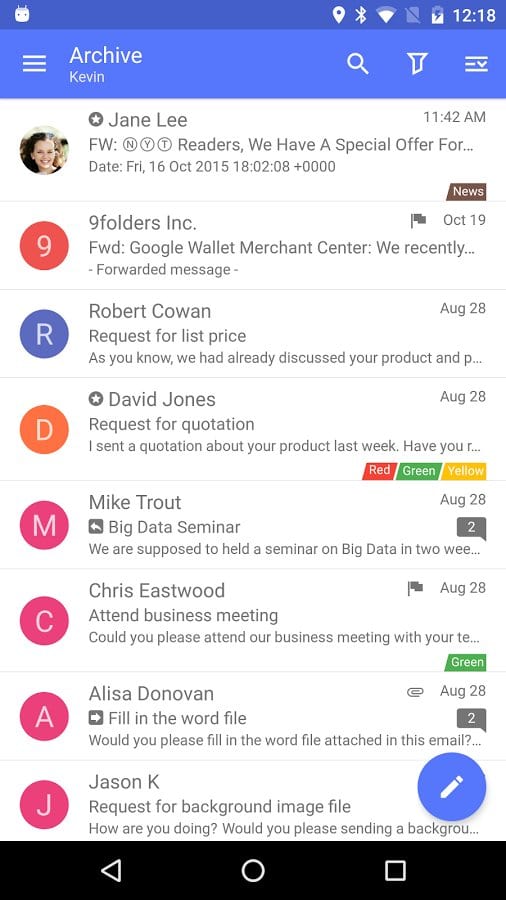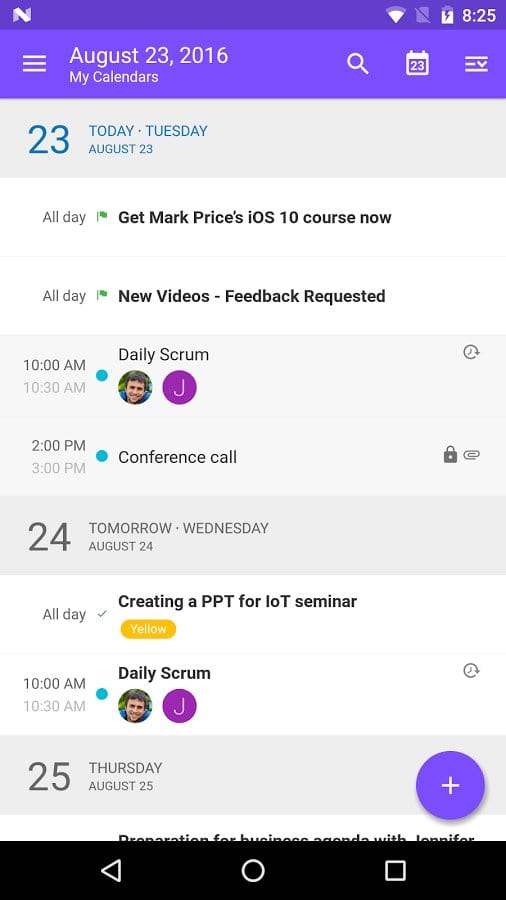 back to menu ↑
Yahoo Mail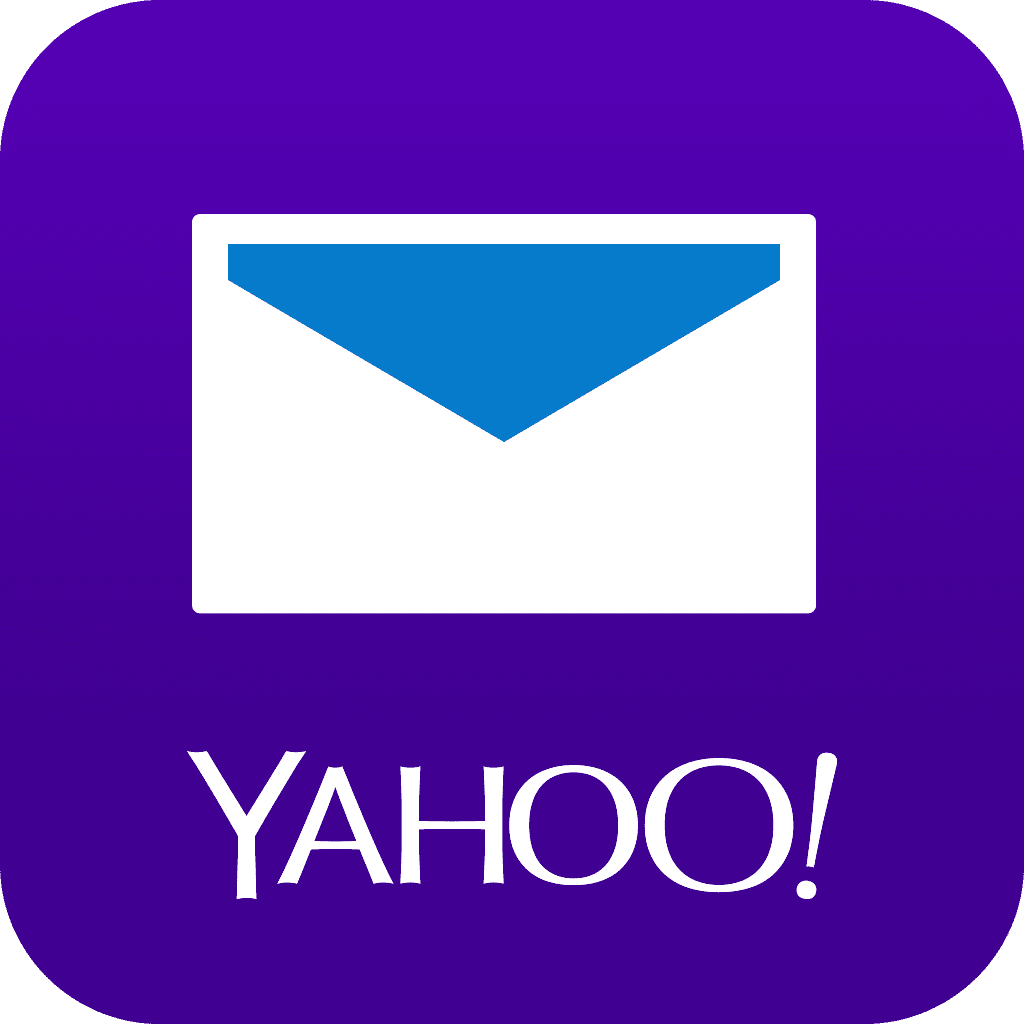 It is a postal service with the possibilities to make not only letters and view office documents with photos, but also to add a meeting, schedule, manage contacts. The app also has 1TB space for messages.
The possibilities of the service:
Access to the box with a click.
Notifications about messages.
Quick view of messages with continuous scrolling.
Completion of addresses as you type.
Isolation group of posts to expedite the work.
Accessing multiple mailboxes with the same account.
Attached photos when creating messages.
Viewing photo at the beginning of messages.
Search in messages and folders.
Search for friends, contacts, photos and attachments.
News & Weather.
Fast action.
Manage contacts.
Diary.
Notebook.
Instant messages.
Formatting of letters.
Integration with services Dropbox and Flickr.
Quick viewing of MS Office attachments (Word, PowerPoint and Excel) and PDF.
Notices about meetings.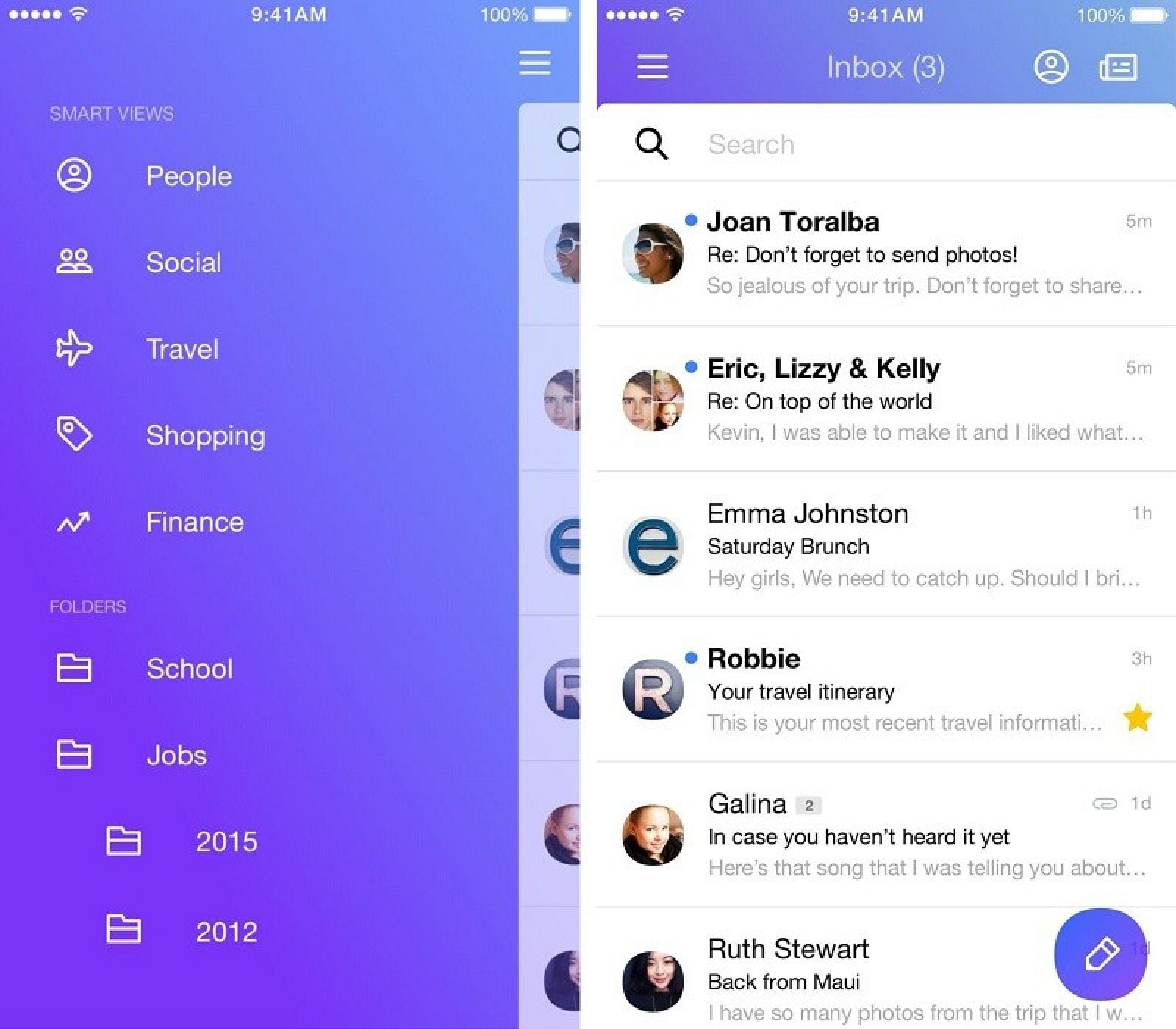 back to menu ↑
VMware Boxer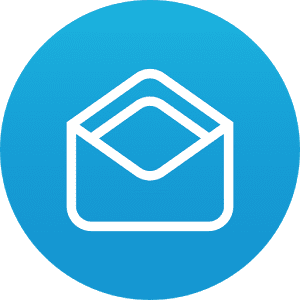 VMware Boxer is a mobile e-mail client, but with interesting and useful corporate functions aimed at improving the efficiency of joint work, such as canned responses, sending information about free slots in the calendar, etc.
Useful features of VMware Boxer:
Batch actions – the user selects several letters and with single tap acts some functions (delete, archive, or put a flag).
Sharing your calendar and availability – it is easy to send the time at which you are planning to meet. It is unnecessary to toggle between the calendar and mail.
Proposed folders – boxer gathers information about the folder in which you move your letters, and on its basis you rank them in the list. You do not need for a long time to scroll to the desired folder.
Extensive customization – you can adjust the notification, swipe gestures, the time of sending emails and other useful things.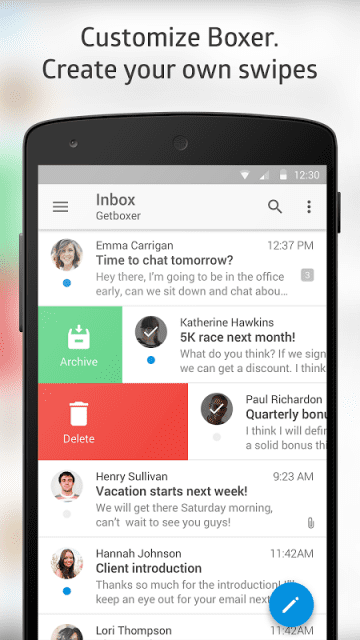 back to menu ↑
Microsoft Outlook
Outlook is an assistant to collect all messages in one place. It can facilitate communication with partners, colleagues, and the all company. What can he offer?
First of all, it supports Exchange ActiveSync. This will help not to miss meetings, messages or contacts. Push-notifications from your mailbox, data about meetings from Outlook and Hotmail resources is easily placed inside Outlook.
The app boasts an easy navigation. Quick exchange of information with the new panel, in which mail management options, calendar, contacts and tasks book are situated.
Also, it has social integration. Auto retrieve of the latest records from friends in popular social networks, including LinkedIn, Facebook, and others.
In the app you can find lightweight database management of contacts and meetings:
reviews. Easily view schedules, tasks, appointments and information, without distracting others;
contact card. Display in a single window, a number of contacts with the mass of information about them (with records from social networks). Thus, as soon as possible to find out the social
context, and remove duplicates;
collaborate on the calendar. You can enable viewing of calendar and scheduling, for example, all employees.
Search News:
search. You can quickly find the e-mail messages, attachments, information about meetings in your calendar and contact information;
filters and context menu commands. When pressed, the unit has the ability to instantly examine the plans for today, the coming week or a month in advance. It is also possible to choose one
of the best email filtering techniques;
information about the weather. View the forecast for the special panel to make plans for the day;
quick shortcuts for sending files from Dropbox and Box in the form of ordinary attachments or links.
back to menu ↑
CloudMagic
It is a universal email-client that supports Gmail accounts, iCloud, and any other email. When you first launch the app offers to login to accounts of popular services or to add any mail that runs through the connection to the IMAP-service. Accounts can be added later – through the settings.
It is possible to look through incoming mail the general heap – for all accounts, or individually for each mail box. If the user has configured filtering of messages into folders, CloudMagic allows you to look into them. To do this, expand Account menu and select the desired folder.
Opportunities to work with letters from CloudMagic exactly are the same as the majority of customers: you can reply to emails, forward them, delete, archive, or move from one folder to another. When you reply to a message it is impossible to choose the account which differs from to what it has come. That is, you cannot get an email to Gmail and respond it with iCloud box. When you create a new message there is an option to write on any account. The account from which the letter will be sent is specified in the settings.
Important emails can be marked with asterisks, and if you click on a star and to pull down, the menu will appear that allows to assign the notification of this letter. You can set separate sound on notification of an incoming letter for each of the accounts. If the user needs to securely protect his correspondence from unauthorized persons, he can install four-digit password on the launch of CloudMagic and specify how long after the last access to the application it will be prompted.
back to menu ↑
Inbox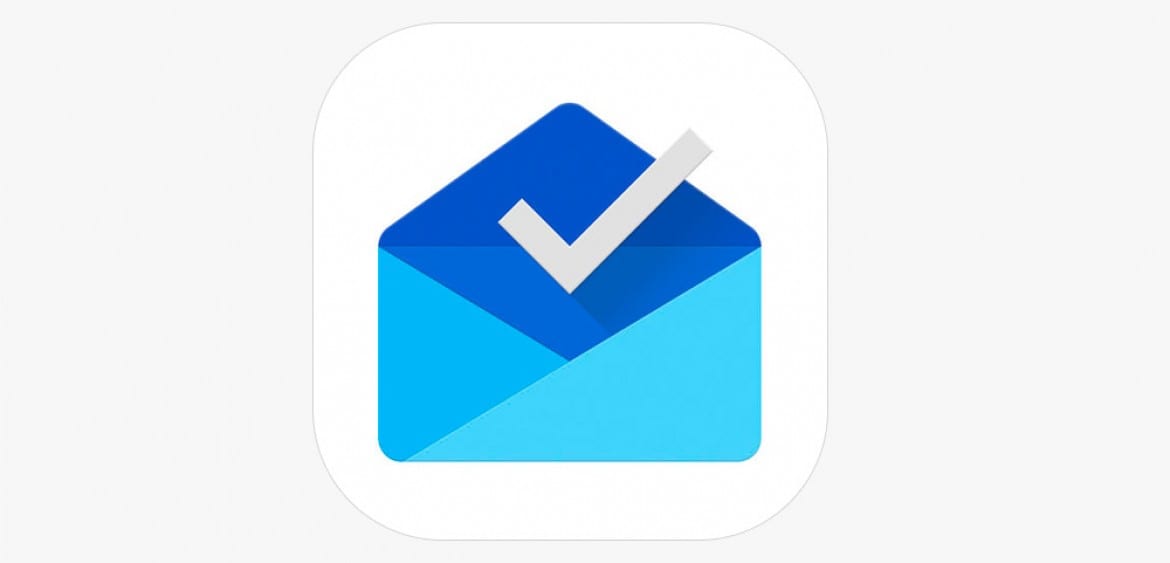 This e-mail application allows you conveniently to organize all the mail you receive, do not lose important emails in numerous letters and manage correspondence by means of several intuitive gestures. All mail is automatically sorted by groups, on the most important letter you can put notes.
It is very convenient that all the important information and investments in Inbox can be viewed without opening the email, and more convenient, that you can create notes directly from the postal service, which you will be alerted be the Inbox.
Like most Google applications, formalization of Inbox corresponds to Material Design concept. The number of connected account is not limited.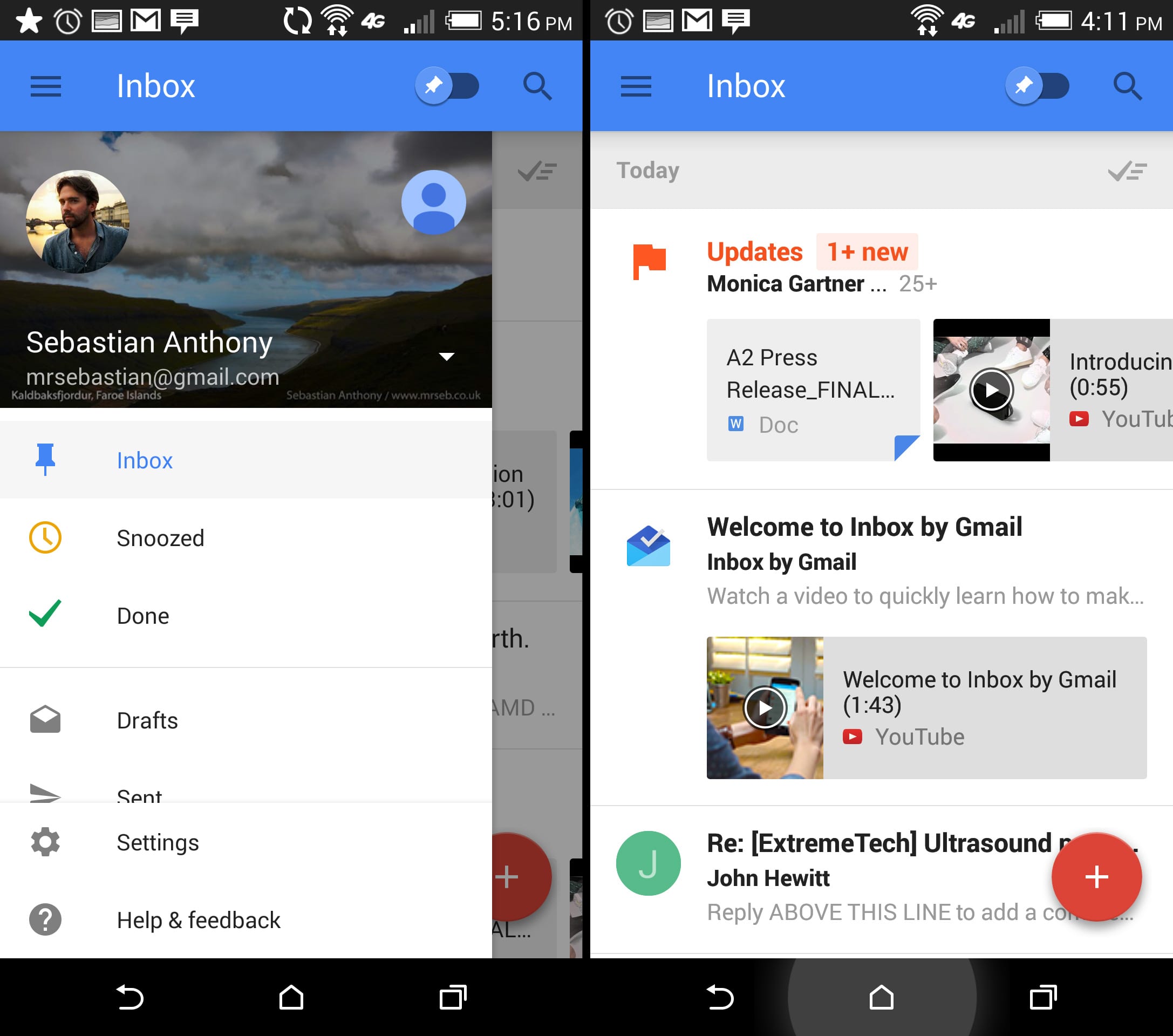 back to menu ↑
WeMail
This is a program, which is now available on Android, where the correspondence between people is represented like a chat. This structure of correspondence is included in such popular clients as Inbox and Sparrow.
Also, an important part of WeMail is the possibility to record and send short voice messages no longer than 20 seconds. If you read the letter with these audio recordings in conventional email clients, they will be displayed as a simple attachment that is not very convenient. In WeMail, of course, there is a built-in player for short recordings. The function is quite interesting and handy at times when it is easier to say something than to write.
Key Features:
All letters are grouped by senders, which is very convenient.
Contextual search for messages in real-time.
Organization of correspondence in the form of chat.
Recording and sendin voice messages.
Easy access to all the multimedia content of the letters.
back to menu ↑
Alto

Quality good e-mail client is able to facilitate the life of his owner. Alto is just one of these options. It can work with multiple accounts and has a built-in organizer function.
It provides a set of intuitive gestures. The special menu contains a list of pictures and attachments that it will quickly find the way in the correspondence. And it looks more interesting the ability to use the information cards, and for each destination, their content will be different. There is correspondence division by categories and search for messages.
The interface is executed in the best traditions of "material" design.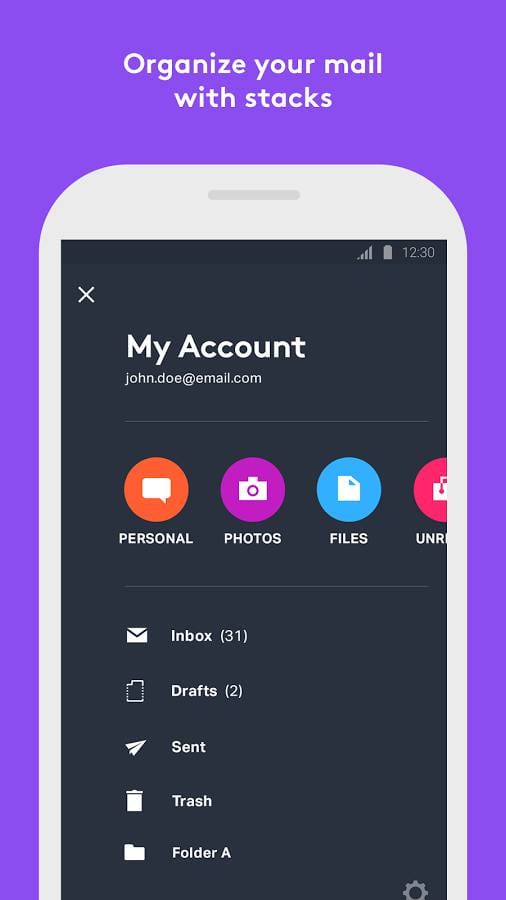 To send an e-mail quickly, you need a good internet connection and Wifi signal. Therefore, please check with 10 Best WiFi booster apps for Android.